We officially have 1 ½-year-old twins! Hunter and Jackson turn 18 months on May 14th. They are such special boys... funny, smart, and super active. They are growing and learning so fast that it's hard to keep up! They are sponges and this is such a magical age. They say new words daily and surprise me with the things they do and understand. Taking care of them is physically and mentally exhausting, but they are still true sources of joy in my life.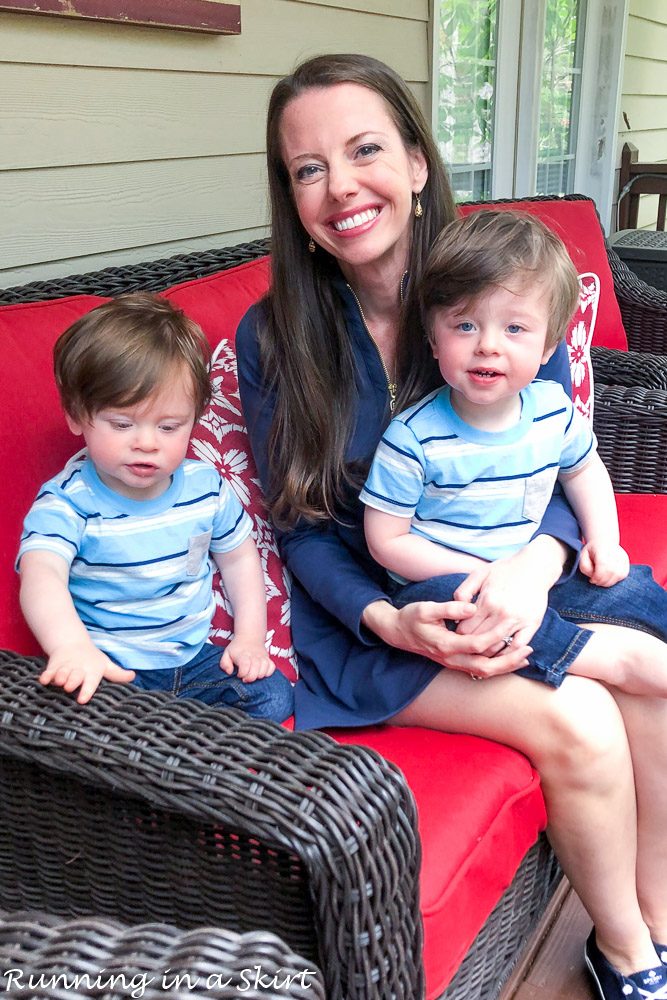 The past three months with the twins have been marked by more of what we haven't done that what we have done. We have spent most of the time at home because of Coronavirus and social distancing. Although they say it's not affecting kids as much, it's still a scary time to be a parent.
The twins were supposed to go on several trips, start swim lessons, play at parks, and go back to music class as flu season wrapped up. Instead, they haven't left our house and yard for more than stroller walks. It's definitely not something I ever could have imagined, but we've made the best of it.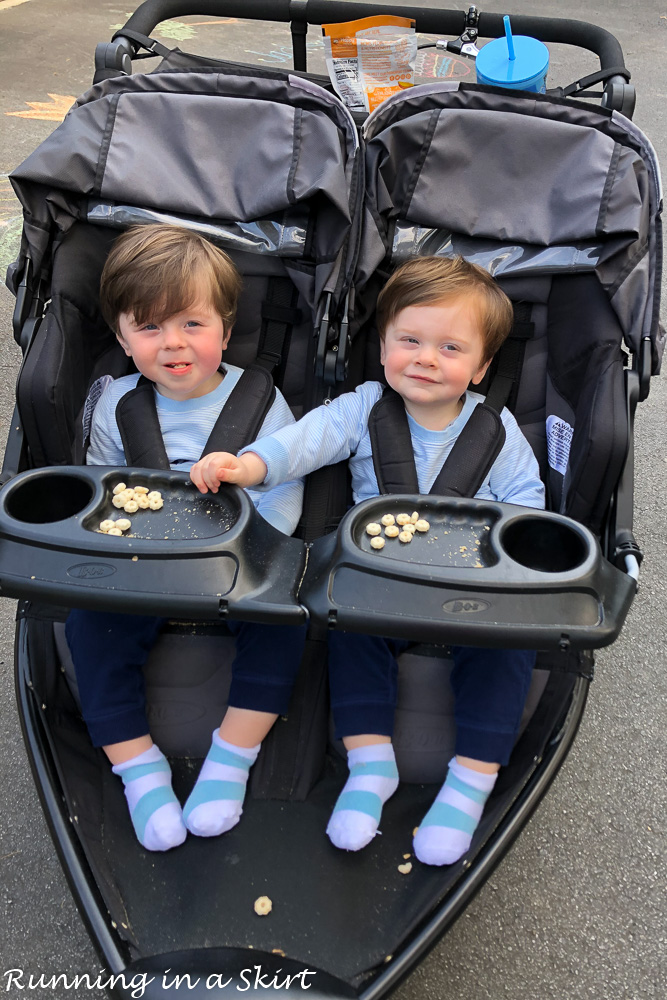 We are lucky that these cuties have no idea what is happening and bring the same joy and antics to every day no matter what is happening in the world.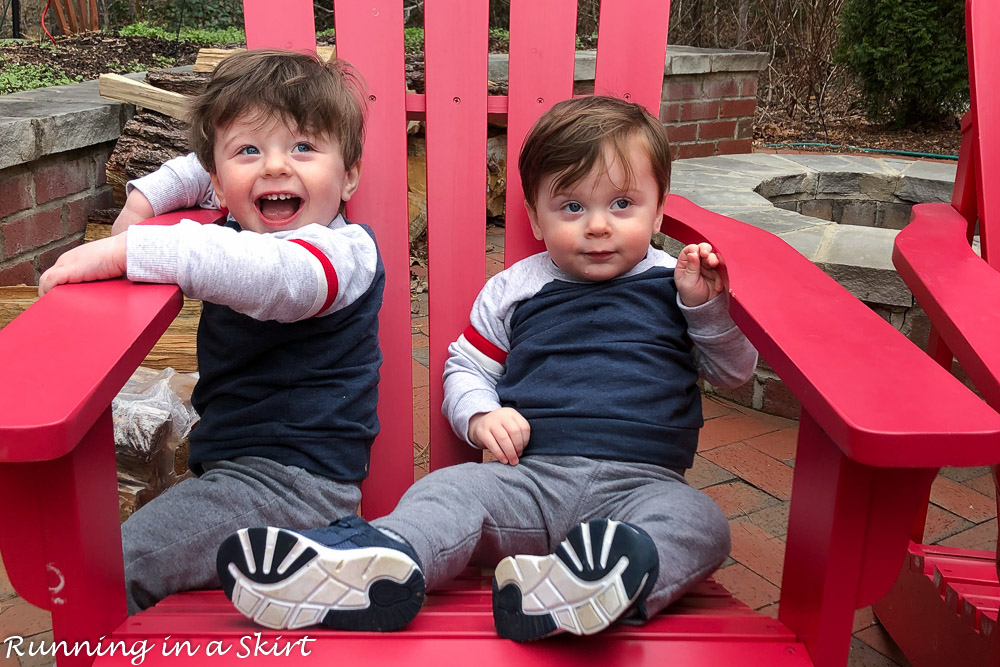 The weekend before life got shut down the boys got to meet their cousin Delilah. Tommy and Erica came to visit and it was so much fun seeing them together.
The boys were showing off for her and letting her know all the cool stuff she'd be able to do in a year too.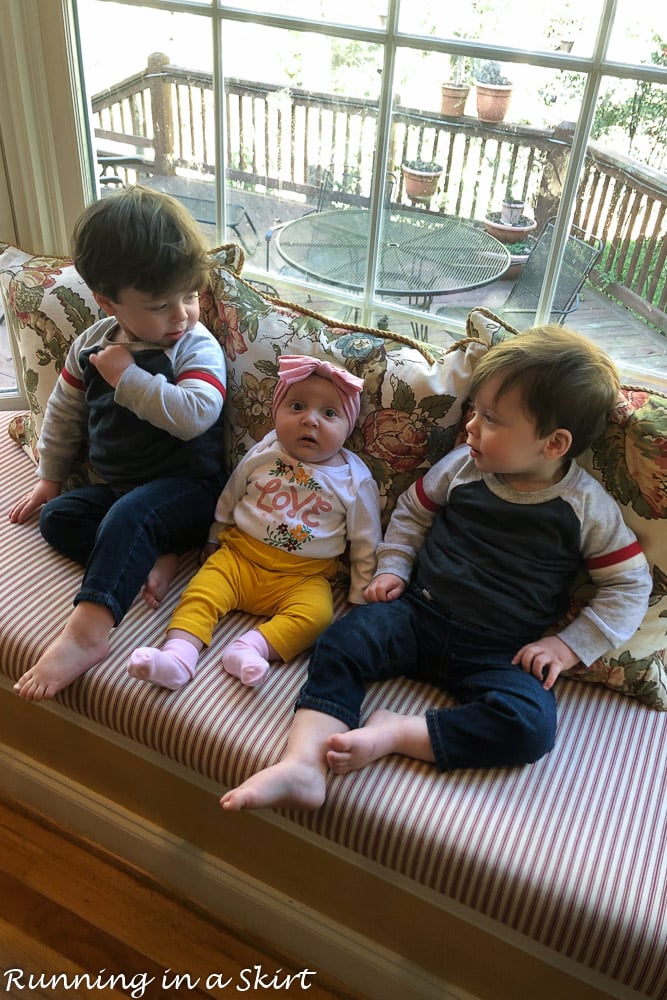 A few days after their visit we basically shut down going out and decided to keep our family safe we'd just stay home. Our state's Stay at Home Order followed shortly after that.
Luckily the late winter, early spring weather was fairly mild and we had lots of outdoor time with the boys.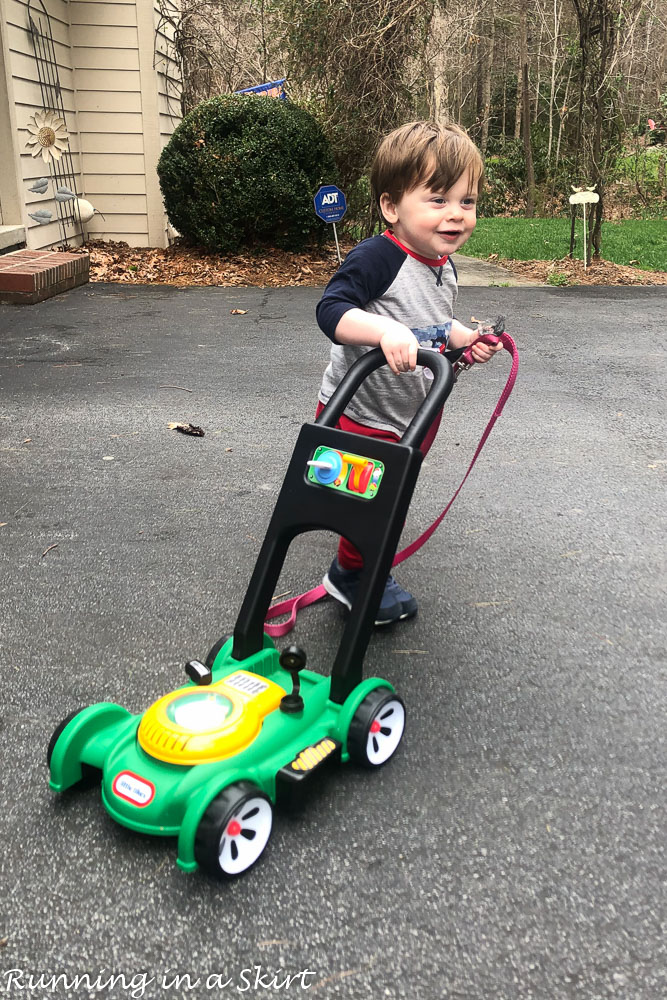 They got a big kick out of pushing lawnmowers up and down the driveway.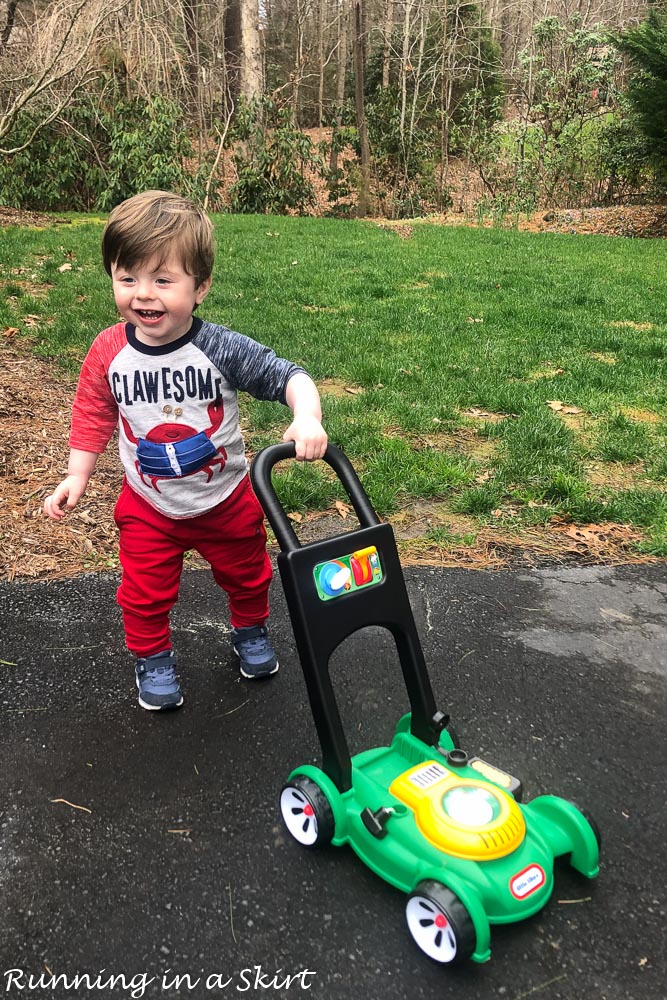 As the week's passed they also got a lot braver in the yard and chasing them around became a full-time job!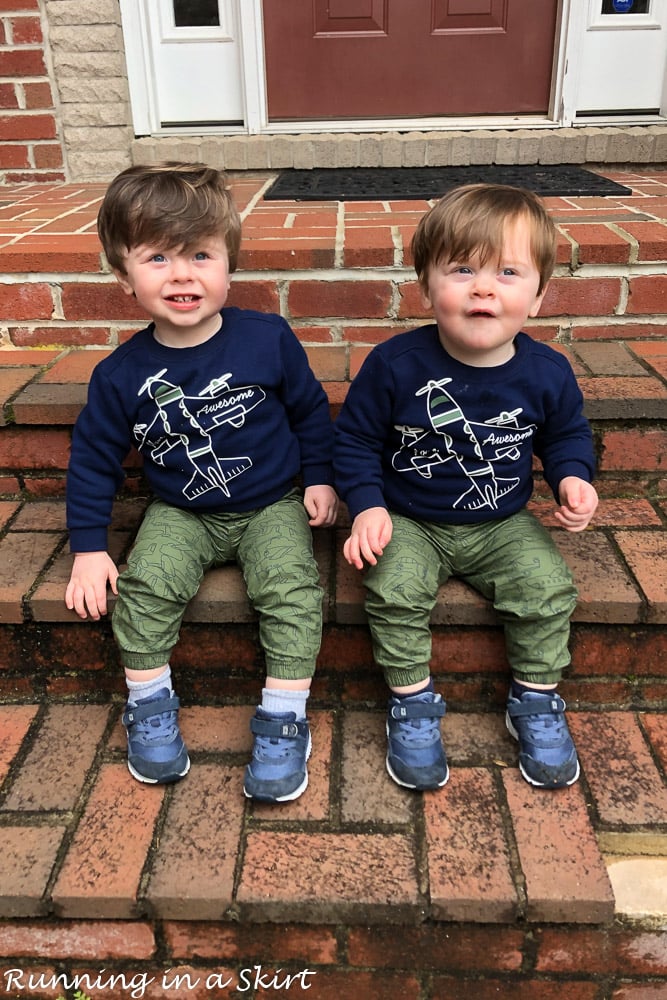 As winter turned to spring the boys got watch the flowers grow in and even "help" me garden a bit.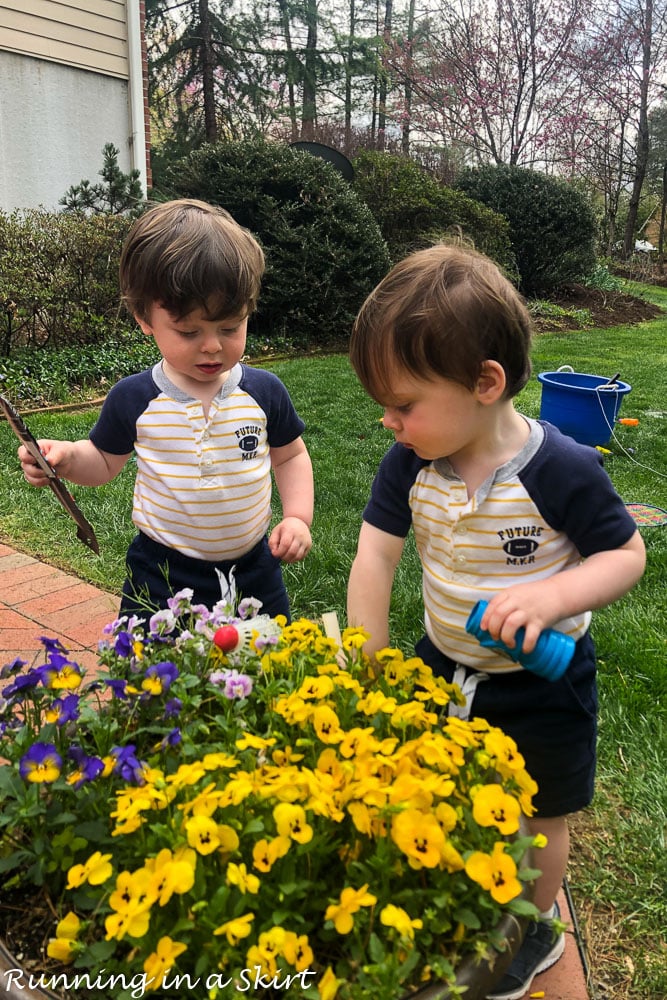 They also started to play with some sports equipment like baseball and baby golf clubs.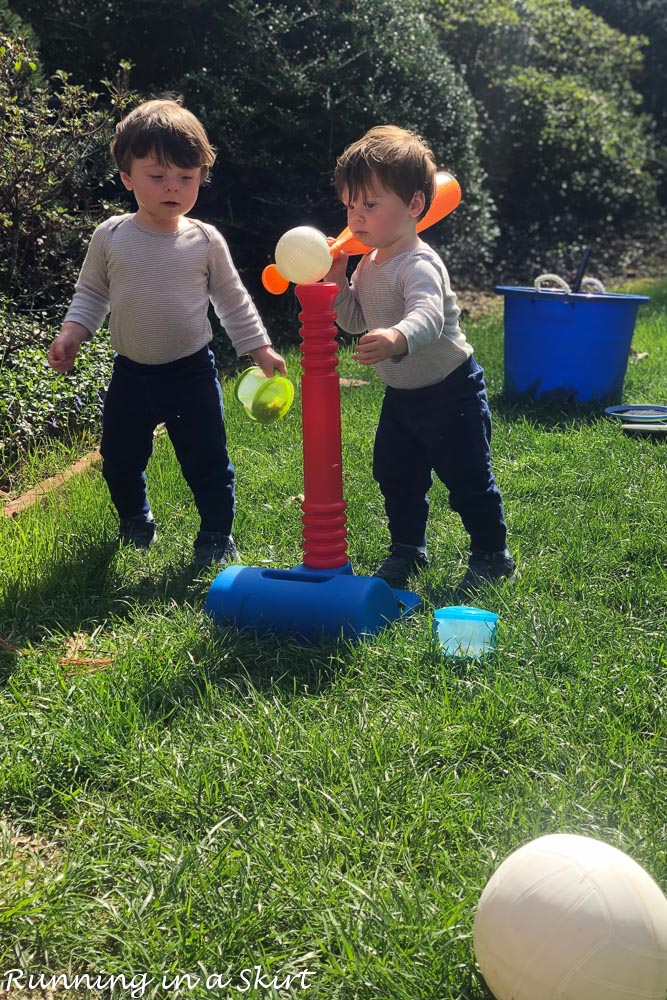 They loved the warm days and embraced being outside.
Their second Easter looked a lot different than I imagined. I wanted to do a neighborhood Easter egg hunt, go to church, brunch, and all the things you'd expect.
Instead, we spent Easter at home but it actually turned out to be a really lovely weekend.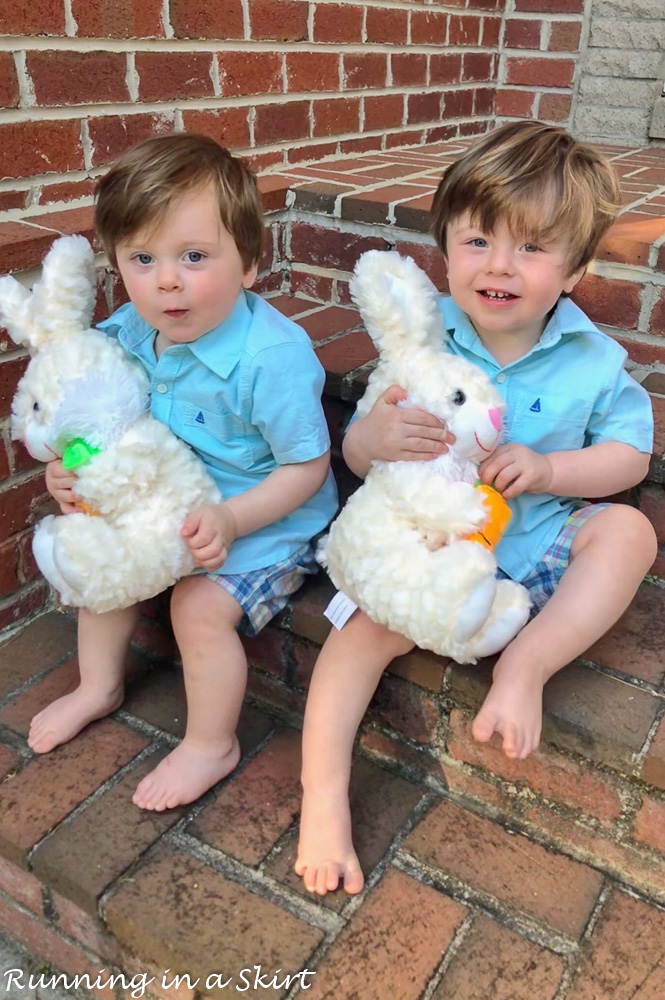 They had their own Easter egg hunt in the yard which turned into one of their favorite games.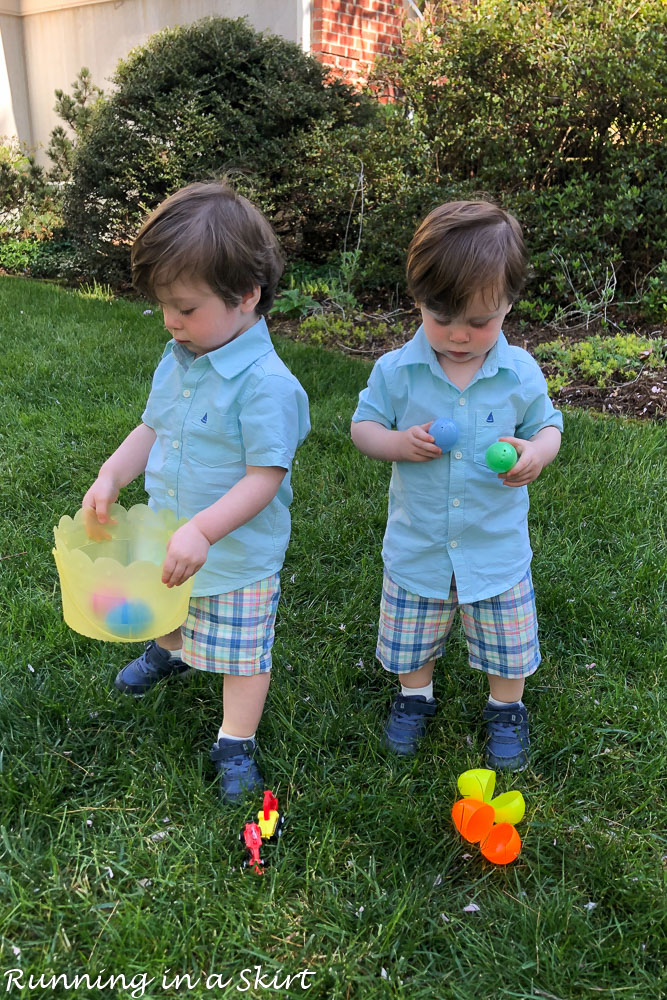 Since we can't go to the playground we got the boys their own toddler playset, which they love.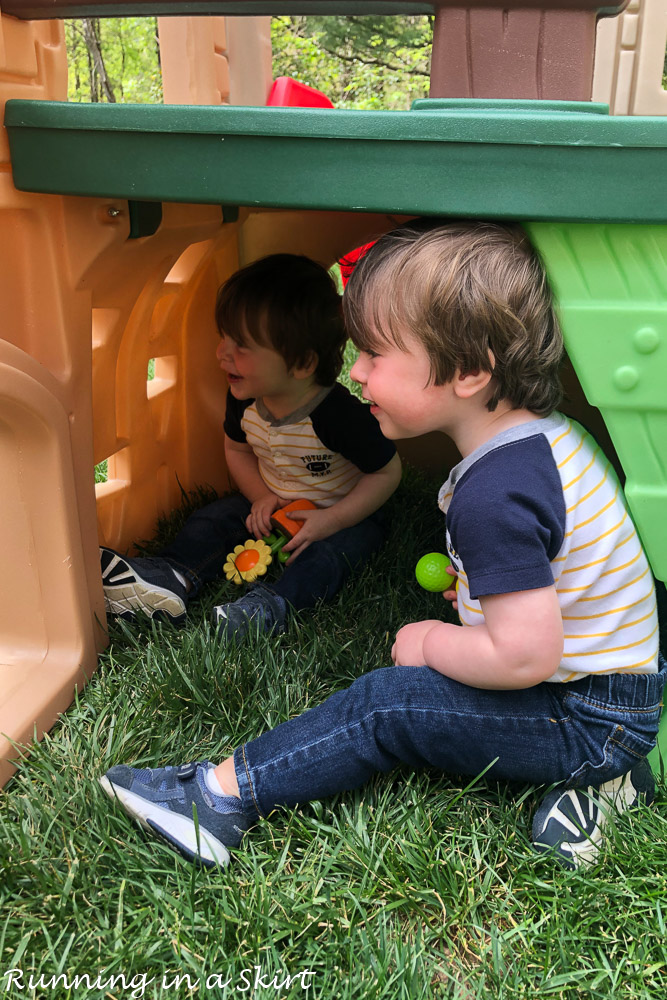 They spent hours climbing on it and going down the slide.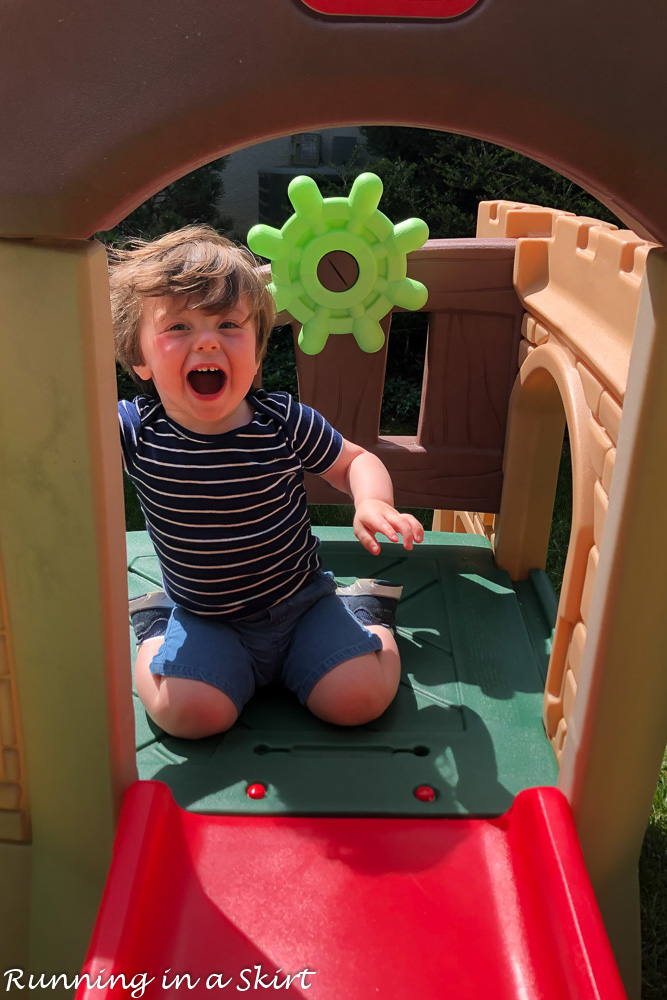 We also jumped summer a bit and brought out the baby pool from last year which they simply loved.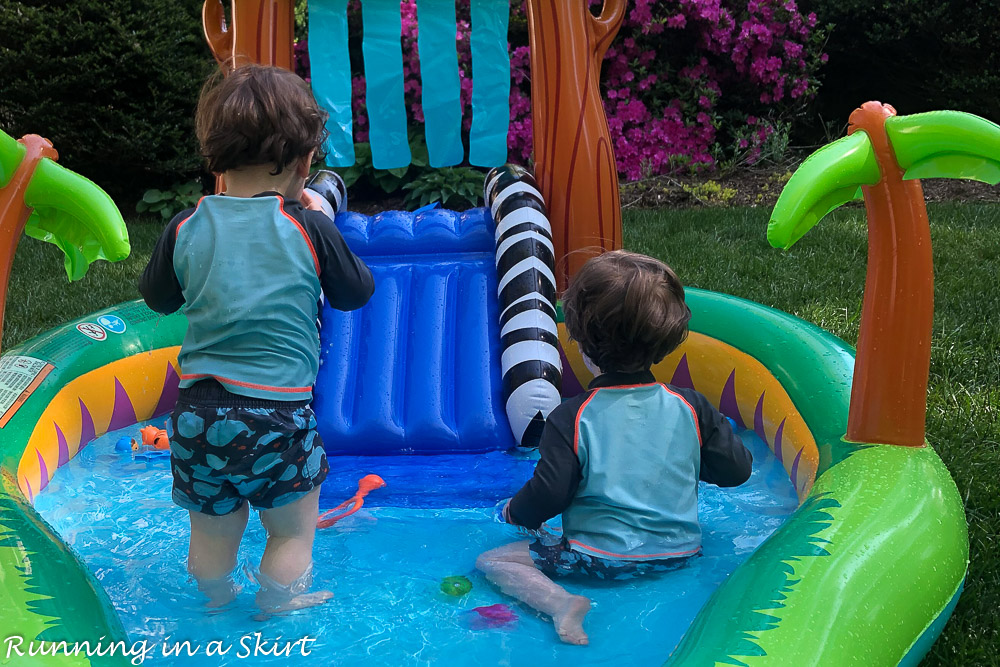 They also have so much fun getting pushed around in their red cars!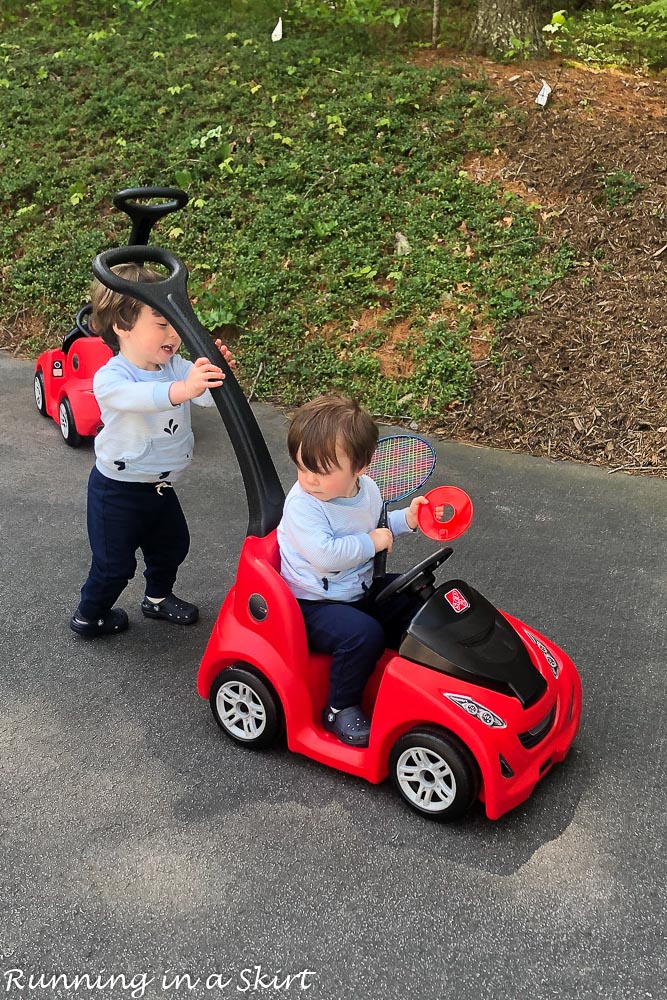 We may not have gotten to do as much away from home as I imagined, but we still made the best of this time at home. The boys have grown, played, and got to spend even more time with us which has been wonderful.
I love them so much and can't believe I get to be their Mama.
I know I group them together a lot but I wanted to also take a moment to share some of the individual things about them. They actually have very different personalities!
Hunter & Jackson: 16-18 Month Update
Jackson
Jackson is something else. When he is happy the entire world lights up with joy.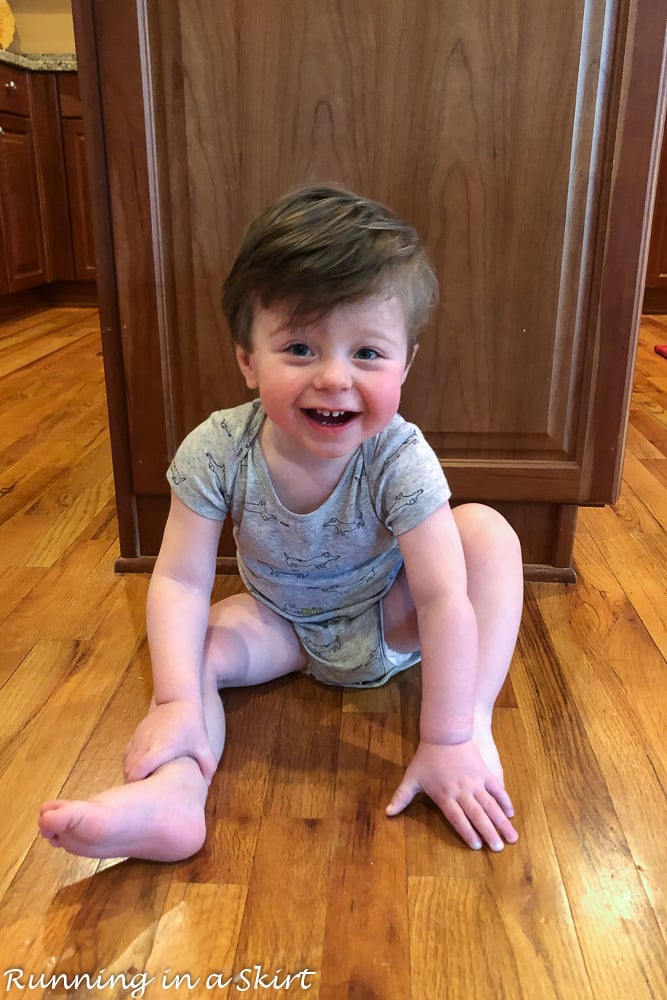 He's funny, a ham and has the best laugh. This baby can light up a room!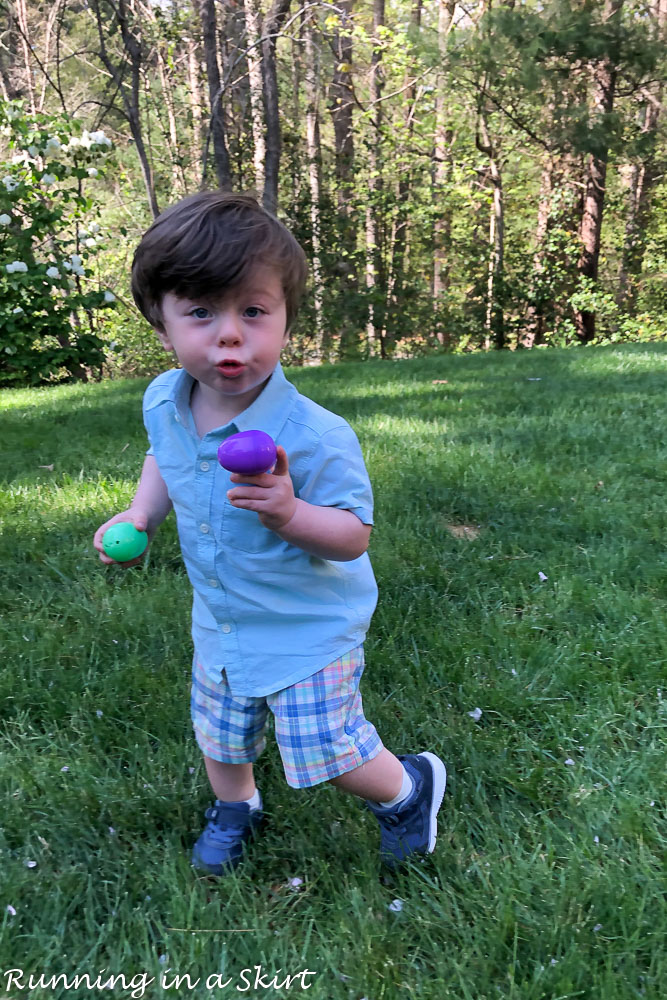 He's also learned to smile big for my camera. Watch out when he's not happy though... he will let you know it.
Jackson is a BIG boy and has outgrown his brother by several inches. He is so heavy and it is getting harder and harder for me to carry him.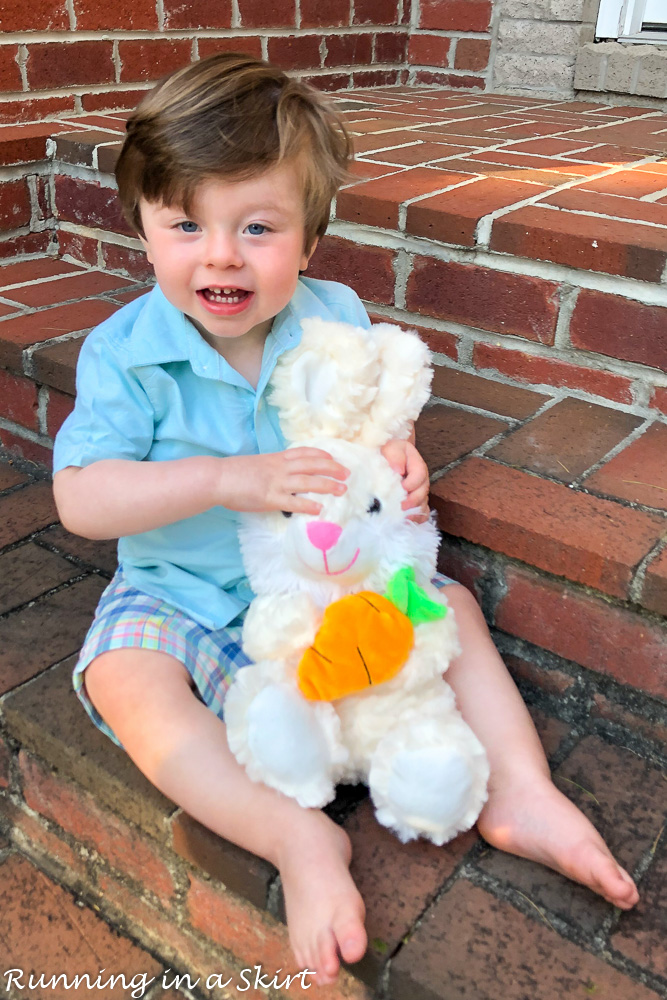 This sweet boy is also my talker and can repeat all sorts of words back to you. He loves to say "truck" and "vroom" vroom."
He runs, enjoys push toys, AND finds a way to much joy in pushing over anything he can. He likes to throw basketballs into our little basketball hoop. We call it "dunky-dunks." He thinks it's super funny to run down our driveway and into the cul de sac. 🙂
He's a great eater and will try almost anything you give him. His favorite right now are quesadilla, hummus, and banana.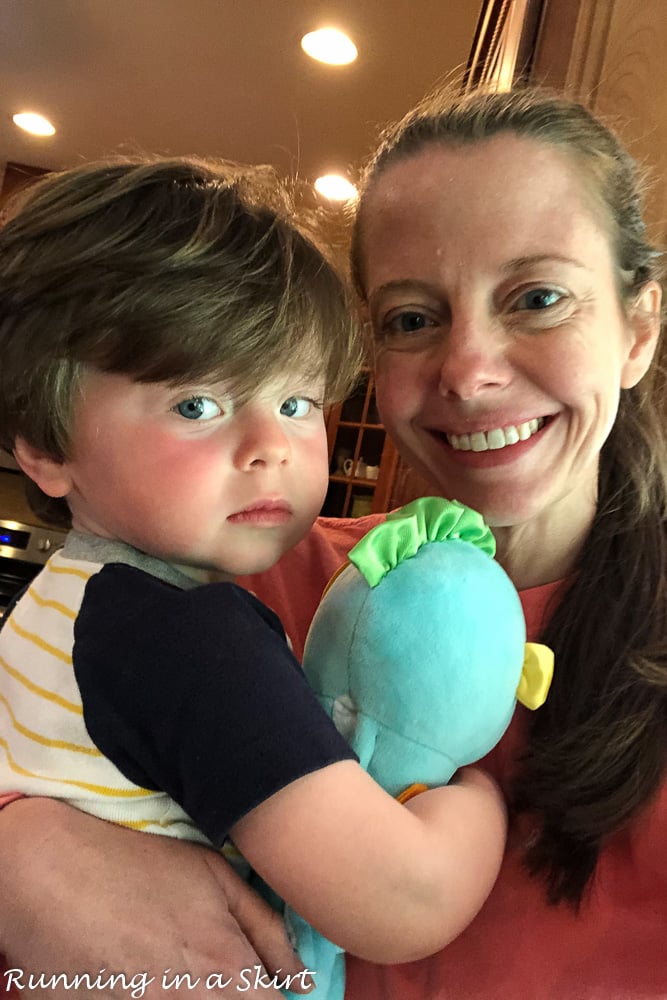 I am so lucky that this blue-eyed cutie is mine!
Growth
Jackson is huge for his age. He is 35 inches long and weighs a solid 30 pounds. He is solidly in the 24 month clothing I bought him for summer.
Hunter
Hunter is sweet and sensitive. He seems to always have this thoughtful smirk on his face.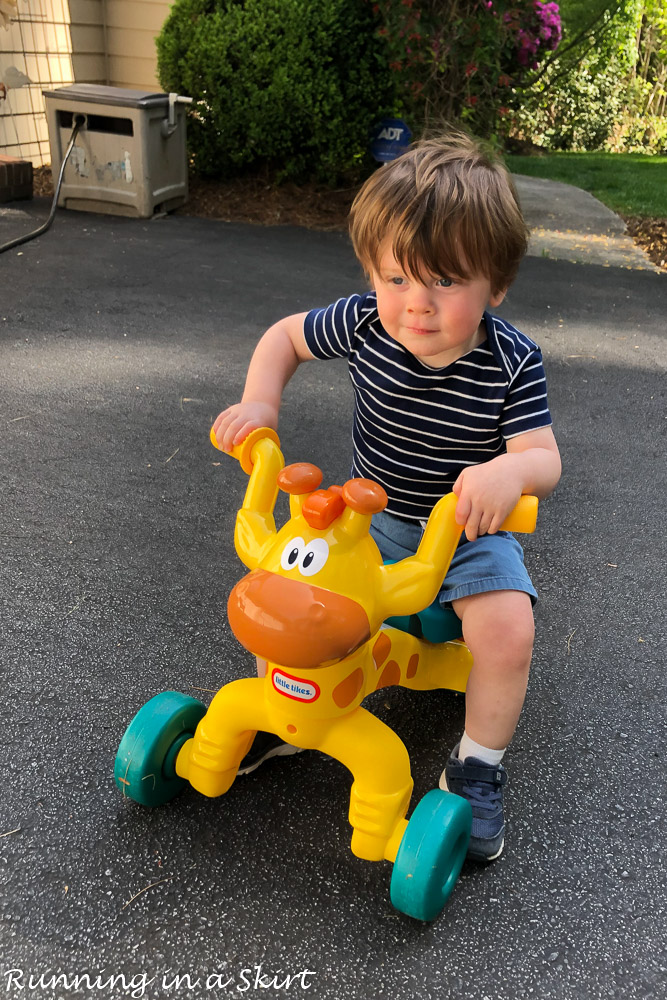 Hunter loves to run and be wild but is also my cuddler and demands to be held, especially in the house. It's hard sometimes but also super sweet and I know it will not last forever so I'm trying to enjoy it while we can. He also still loves soft stuffed animals and will pick up as many as he can.
He remains very strong and determined which are traits he had even as a young baby. When he WANTS something he will not stop until you give it to him, which can be hard sometimes.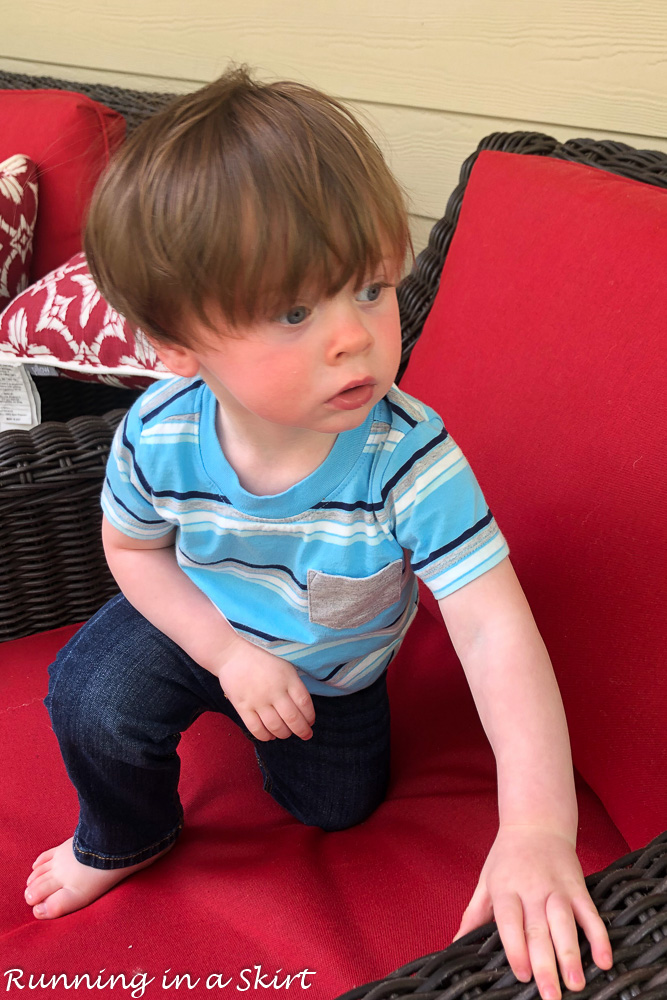 He also likes to hold and "collect" things. Whether it's a bunch of baby golf clubs, binkies, or bubble containers, you will often find his hands full of something.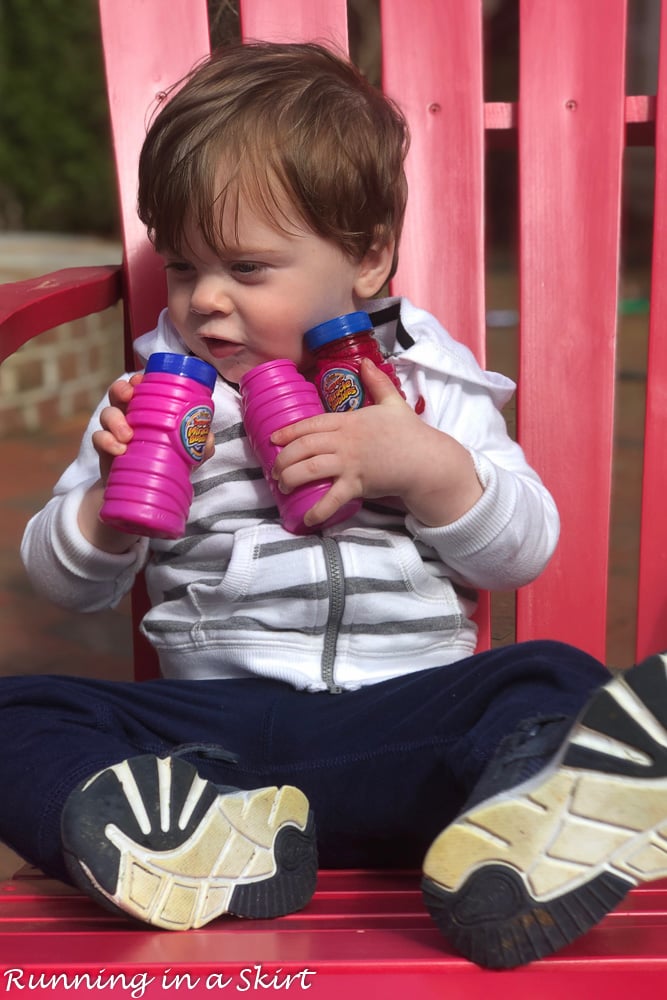 Hunter is also fascinated by putting things together. He loves anything he can pull apart and put back together again. He's even mastered the art of taking off and pulling apart his diaper. 🙂
He's a little pickier of an eater than his Brother. He'll throw things he doesn't want to try on the floor, which can be frustrating. His favorite foods are fruits including banana, strawberries, yogurt waffles, and quesadillas.
Hunter is catching on with saying more words but will often let his Brother talk for him. They absolutely have their own little language.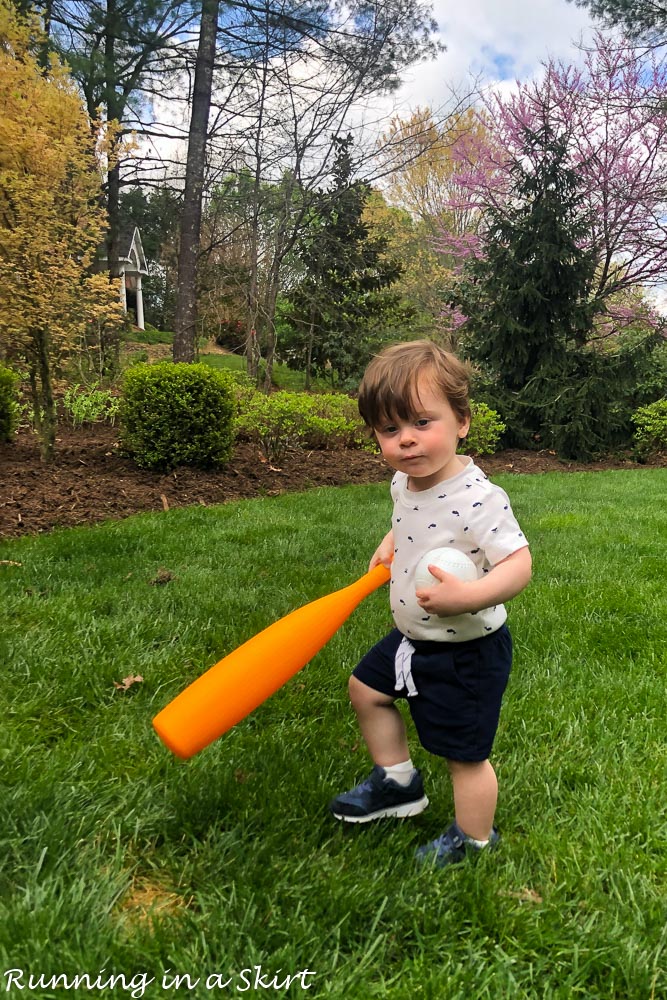 I love my little blue-eyed cuddle bug and am so grateful he's mine.
Growth
Although Hunter is smaller than Jackson he is still very big for his age. He's 28 pounds and 33 inches. He's also wearing the 24-month clothes I got him for summer.
Schedule
The boy's schedule has shifted a bit during this time period. They finally dropped their morning nap but we've still tried to have them go in their cribs for 30 minutes of "quiet time" in the morning. I give them toys and books. They also have finally made the transition to all sippy cups and no bottles. It was only in the past few weeks that we moved from the bottle of milk to a sippy cup before bed.
7 AM – wake up, sippy cup of milk and breakfast
9-9:30 AM – quiet time in the crib
10:00 AM – snack, sippy cup of milk
12 – lunch
12:40-3ish PM – nap
3ish PM – snack, sippy cup of milk
5 PM – dinner
6 PM – sippy cup of milk
6:40 PM – bedtime routine
7 PM – bedtime
Likes
Playing Outside
Push Toys
Red Cars
Slides
Baby Pool
Easter Egg Hunts
Going for Walks
Bubbles
Smelling the Flowers
Running
Dislikes
Car Seats
Baby Gates
Random Food - sometimes they get in a mood and an entire meal gets thrown on the floor.
Teeth Coming In - they both had at least six teeth come in including molars.
Firsts
First Easter Egg Hunt
First Playground
First Time Meeting Delilah
Favorite Toys
Things I Want to Remember…
How much fun they had going down their outdoor toddler slide for the first time.
How Jackson repeats words back to you.
How Hunter had to hold ALL the bubble containers.
How they would run around with their arms behind them.
How they cross their arms like l do.
How I hear them saying "Mama" over the baby monitor in the morning.
I never imagined having to raise twins during a pandemic. I had big dreams of all the things we were going to do this spring, but it's also been nice to slow down and just enjoy our time together. It's been a wild few months, but I am grateful every day to have these cuties in my world. The next update will be at 21 months and I can't imagine how much they will change between now and then.
Have you missed any Hunter and Jackson news? Catch up here…
If you missed any of the pregnancy journey you can catch up here…
This post contains Amazon affiliate links.