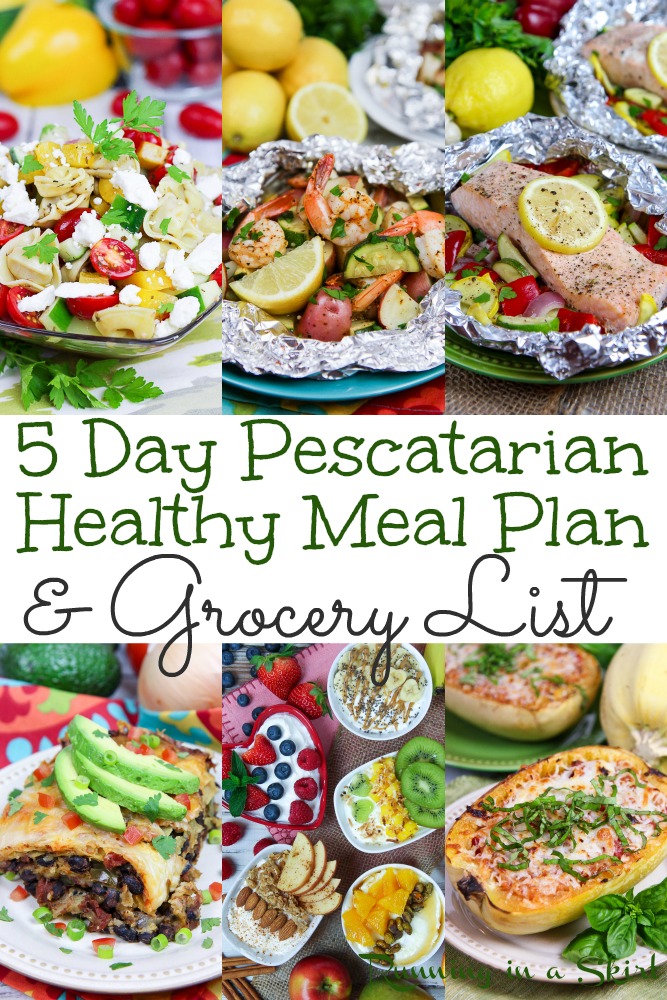 Looking for a pescatarian meal plan that's tasty and healthy? Here's a simple 5-day meal plan with delicious breakfast, lunch, and dinner recipes and a helpful Pescatarian Shopping List to get you started on this wonderful lifestyle. You can also find a Pescatarian food list with what exactly you can and can't eat on this diet, to add any of your favorite meals to your routine.
Learn More About the Pescatarian Diet: Pescatarian Diet Guide for Beginners, 15 Healthy & Satisfying Pescatarian Meals Where You Will Not Miss the Meat, Pescatarian vs Vegetarian, & Pescatarian Meal Prep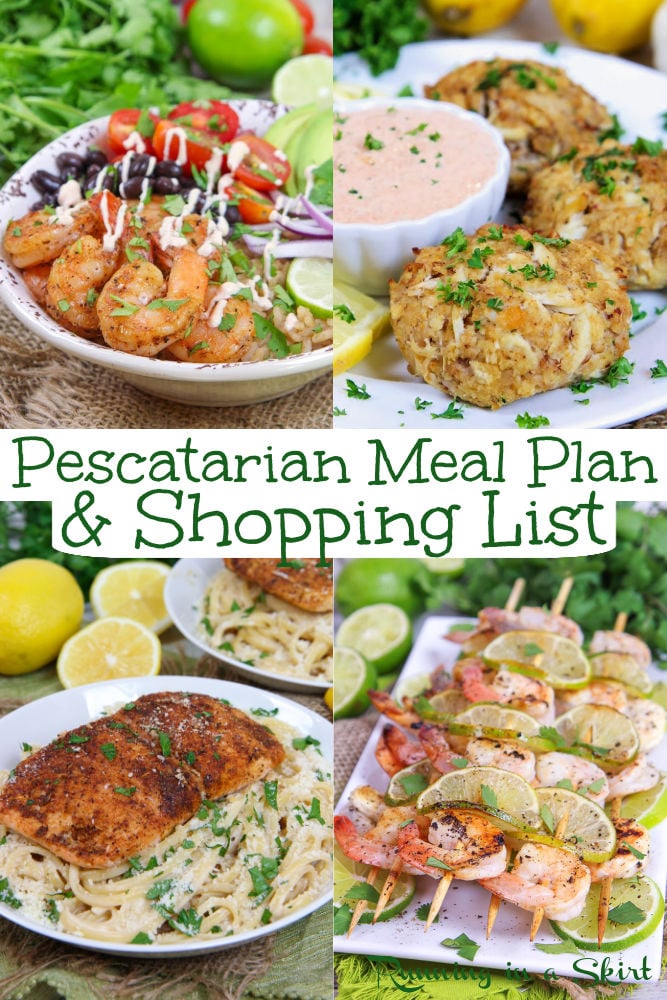 Pescatarian Meal Plan & Pescatarian Food List
Look no further for the perfect Pescatarian Meal Plan plus a Pescatarian Shopping List to help you eat pescatarian without a lot of fuss. I'm also including a Pescatarian Food List, so you can see what pescatarians do and don't eat, to add any of your favorite meals to the routine.
This guide includes lots of vegetarian and pescatarian recipes that are all easy to make in less than 30 minutes. They are healthy and filled with vegetables and fruits so you can eat and feel good. Start now to have a diet that has so many health benefits and can help with heart disease, diabetes, obesity, and more.
So what qualifies me to write this? I've been a pescatarian for over 20 years and a food blog developer for over a decade. In fact, this is a pescatarian blog that you are reading! The entire site features pescatarian recipes.
Now that alternative diets including flexitarian and pescatarian are becoming more popular I wanted to share more insight into this diet. If you are just starting out with the Pescatarian diet, start with these posts.
Make sure to start with those posts, but I wanted to answer a few key questions here too before we dive into that Pescatarian Meal Plan, Shopping List, and Pescatarian Food List.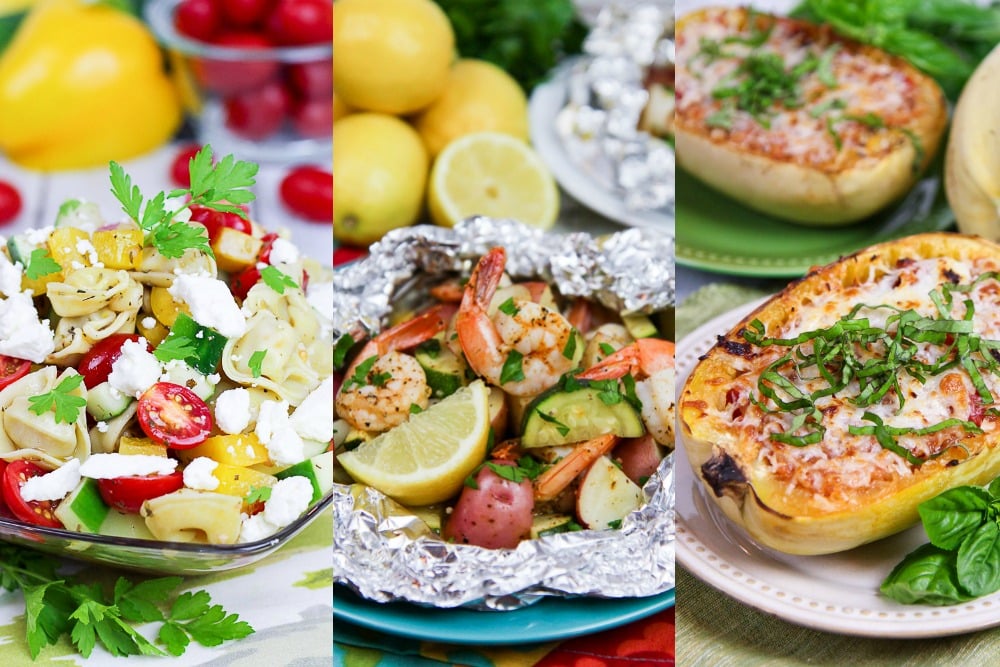 Pescatarian Meal Prep & Pescatarian Food List FAQ
What is a Pescatarian?
A pescatarian is a vegetarian who also eats fish and seafood occasionally. Pescatarians do not eat beef, chicken, pork or poultry. My version of the diet includes eggs and dairy but some people skip it. I try to focus on eating a mainly plant-based vegetarian diet with a few seafood meals thrown in a week.
The word pescatarian comes from the Italian word pesce, which means fish.
What are the Benefits of Being a Pescatarian?
There are so many healthy reasons to eat more fruits and vegetables. A diet with quality fresh plant-based foods can help lower blood pressure, and blood glucose, reduce cholesterol, and reduce inflammation. Adding fish to that plant-based diet can fill in some nutritional gaps a lot of not planned out plant-based diets can have. It adds protein, vitamin B12, and omega fatty acids. I find I am overall healthier when I have some seafood and fish in my diet.
Another benefit of being a pescatarian is the diet allows flexibility to an otherwise rigid vegetarian or vegan lifestyle. It makes it easier to eat out and cook for others. Because there is some flexibility in eating fish and seafood I feel like it is more likely to be a diet that sticks! The best diet isn't a diet at all but a lifestyle and the pescatarian lifestyle is a great one!
What Does a Pescatarian Actually Eat?
So what does a pescatarian actually eat? Here's my Pescatarian Food List with everything you and can't eat if you are a pescatarian.
Pescatarian Food List - What to Eat
Vegetables - fresh & frozen - broccoli, carrots, peas, asparagus, onions, potatoes, sweet potatoes, olives, ect.
Greens - kale, spinach, swiss chard, ect.
Fruit - fresh & frozen - apples, oranges, bananas, berries, ect.
Grains - rice, quinoa, ect.
Rice
Bread
Pasta
Diary - cheese, yogurt, etc. (optional)
Eggs (optional)
Nuts - peanuts, almonds, cashews, ect.
Seeds - flaxseeds, hemp seeds, chia seeds
Beans & Legumes
Tofu/Tempeh
Fish- salmon, tilapia, mahi-mahi, grouper, cod, mackerel, swordfish, tilefish, sardines, etc.
Seafood & Shellfish- shrimp, clams, mussels, oysters, lobster, crustaceans, etc.
Pescatarian Food List - Don't Eat
Beef
Poultry - chicken, turkey
Pork
Wild Game
Lamb
Deli Meat
Bacon
Any other type of meat!
What meat can you eat as a pescatarian?
If you are a pescatarian you only eat fish and seafood, you don't eat any of the meats or land animals listed above. If you want to eat this kind of diet, but occasionally add chicken to your diet, that's called the Flexitarian Diet.
Easy & Healthy Pescatarian Meal Plan
If you are trying to eat Pescatarian, here's a 5-day easy and healthy pescatarian meal plan. To help you out I'm sharing a week's worth of meals to get pescatarian food on your table without a lot of fuss.
I made this a 5-day pescatarian meal plan instead of 7-day because I'm assuming you will get some sort of takeout or eat out during the week like most of us do. This plan will serve two people. Double it for a family of 4. I've got your week covered from Monday, Tuesday, Wednesday, Thursday, and Friday.
At the bottom, I also made a pescatarian grocery list for your weekly shopping!
Breakfast
Curious about what do pescatarians eat for breakfast? I'm all about keeping breakfast simple and healthy. I'm sharing two different customizable ideas for breakfast that you can rotate and eat all week long. I know I don't have time to make a fancy breakfast every day and I'm assuming you don't either. 🙂
Mix and Match Greek Yogurt Yogurt Bowls
Greek yogurt is a great source of vitamins, protein, and probiotics on a pescatarian diet! Top off your favorite yogurt with toppings like fruit, nut butter, chia seeds, coconut, nuts, or granola. Use the topping sparingly because they are high-calorie.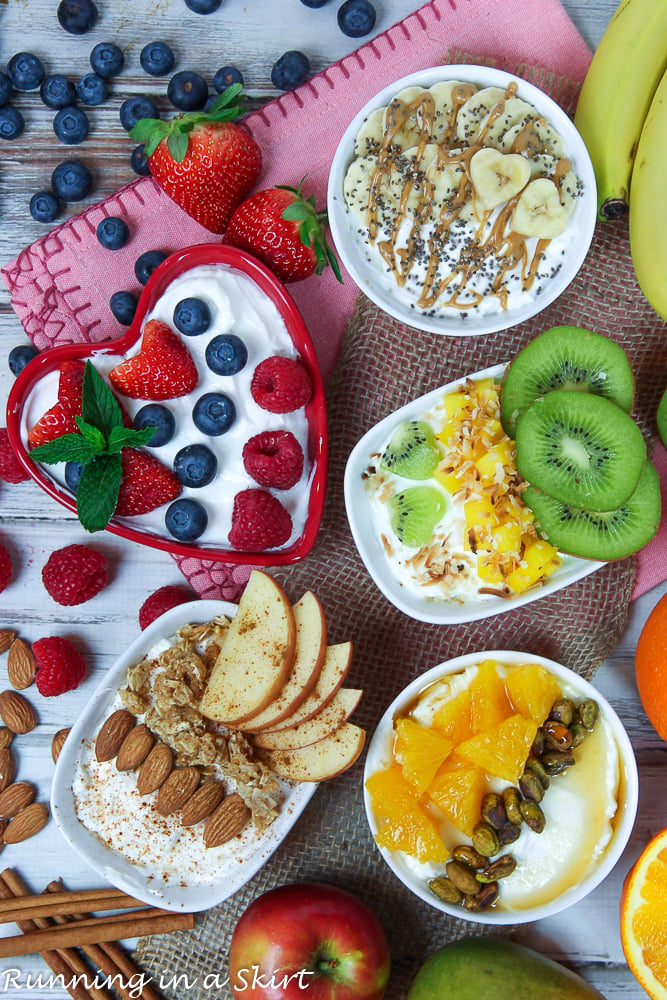 Avocado Toast, Eggs, and Fruit
Avocado Toast may be cliche these days but added with eggs and fruit and it's a great vegetarian breakfast. Make yours simple and keep it plain or try a few of these creative ways to mix it up below!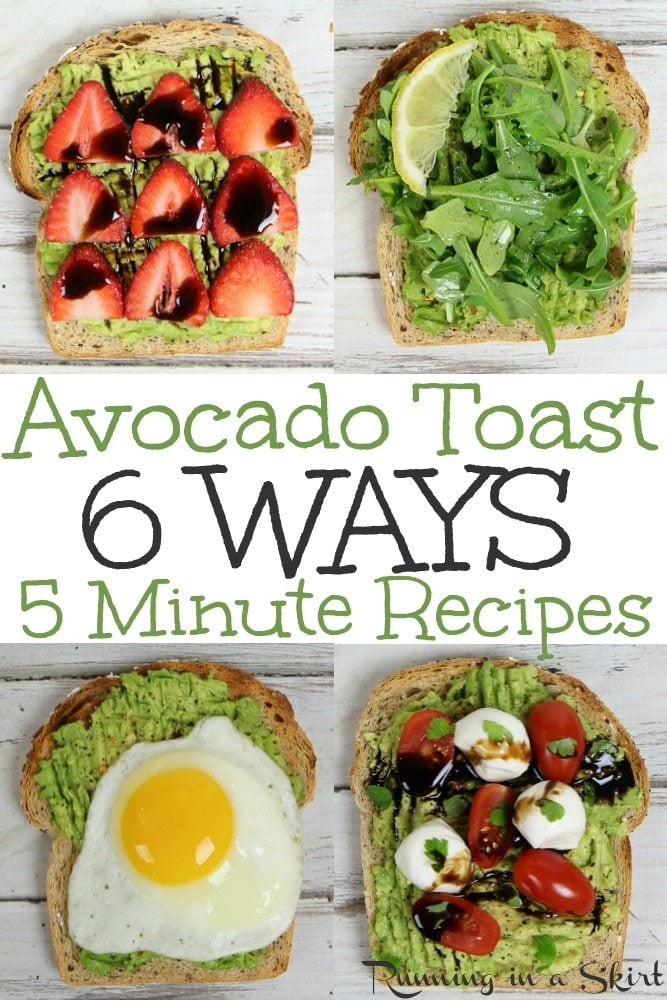 Lunch
I like to keep lunch on the simpler side too. Here are two recipes and there will also be some leftovers from my dinner meal plan to enjoy. I'm once again assuming you don't have time to make a separate recipe for lunch every day too, so one of the recipes is leftovers and another one makes enough for a couple of days.
This is such an easy and yummy recipe! Cheese tortellini makes it nice and filling but you still get a healthy dose of vegetables. Make this early in the week and you can enjoy it for a couple of meals. If you like to eat pasta, you could also make my Greek Chickpea Salad. It's similar but subs chickpeas for the tortellini.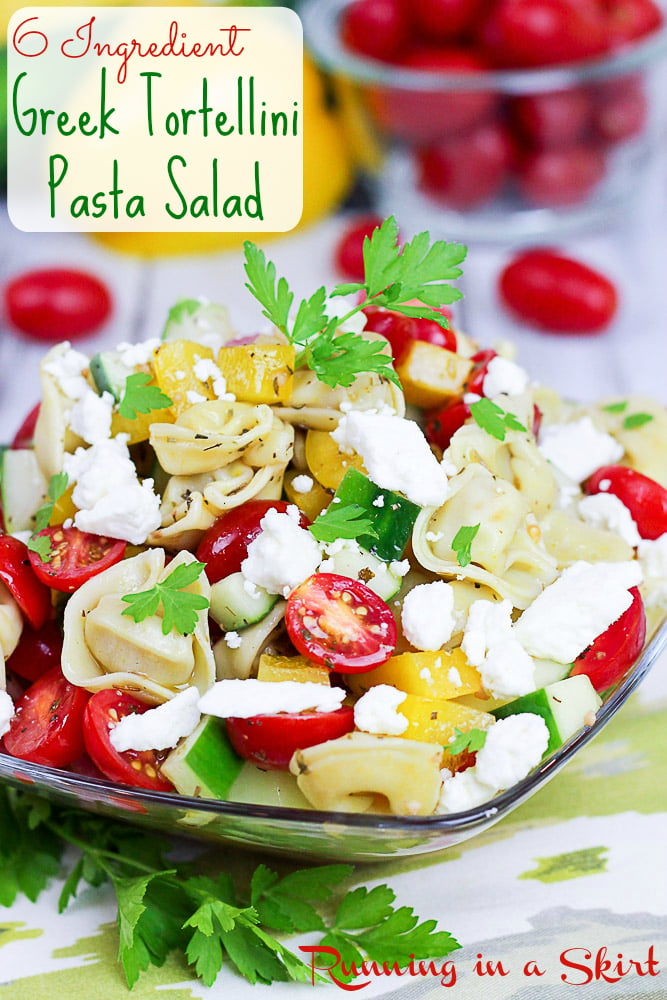 Healthy 3 Ingredient Greek Yogurt Tuna Salad
My tuna salad recipe uses no mayo and could not be easier. You'll already have the greek yogurt and bread from breakfast so it makes a lot of sense from the meal planning aspect. Make this recipe into a sandwich and add tomato. I like to add a simple bagged salad kit or make my Simple Healthy Salad Dressing with a bowl of your favorite greens and veggies.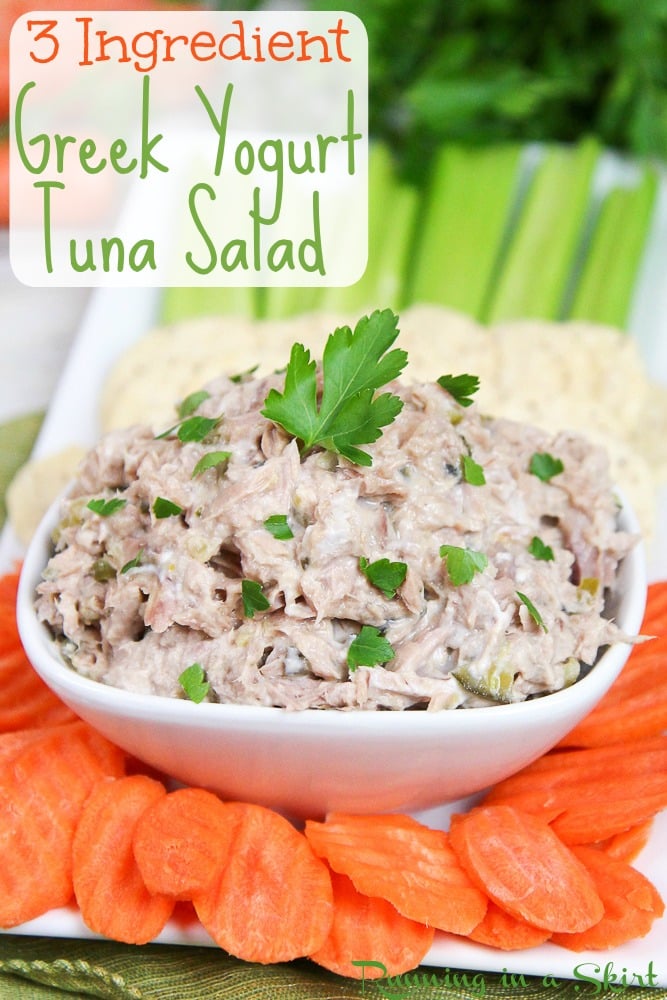 Leftover Mexican Enchilada Bake
I'm sharing this enchilada bake recipe below for a dinner idea in this healthy pescatarian meal plan. It makes a hearty portion and there will be enough for lunch too. Make it early in the week so you can enjoy the leftovers for the extra meal.
Dinner
Crock Pot Mexican Enchilada Bake
This is such a yummy recipe! It has corn tortillas, black beans, tomato, onion, bell pepper, and cheese. It's all stacked together for an enchilada bake that's easier to assemble than the traditional rolled kind. Think of it as a Mexican lasagna. If the slow cooker isn't your thing, I also have a recipe to make it in a pan in the oven. Either one works!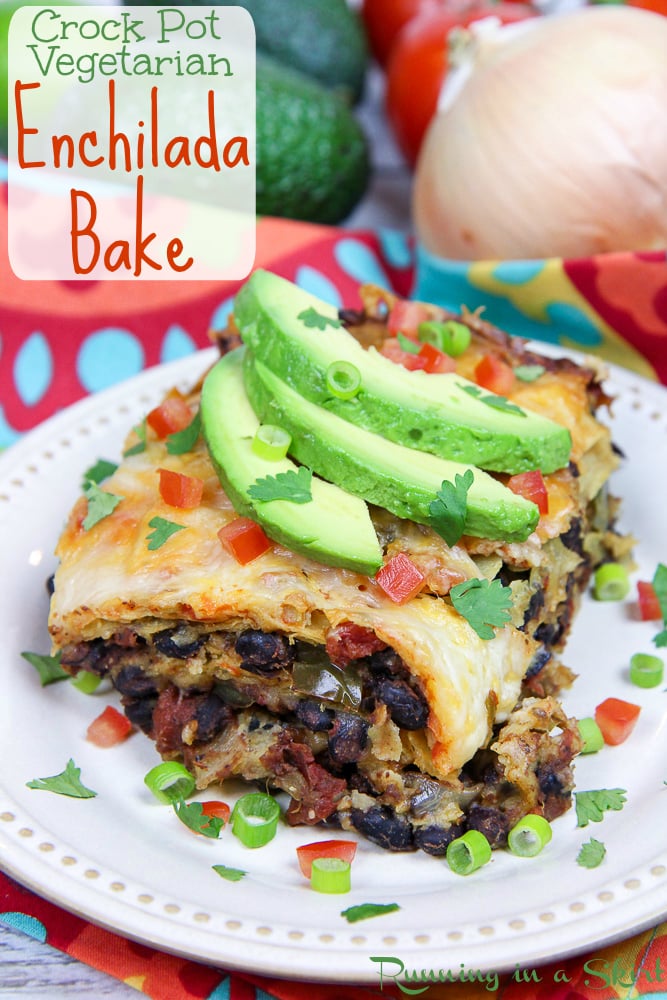 No Clean Up Healthy Grilled Shrimp in Foil
This recipe is my pescatarian twist on a low country boil. Instead of having sausage with the shrimp and potatoes, I added extra veggies like zucchini making this dish a great dinner option. Everything you need is in the packet. The foil packets are seasoned with garlic, lemon, and Old Bay. You can either cook these on the grill or just as easily pop them in the oven. If you are really hungry serve this with a salad.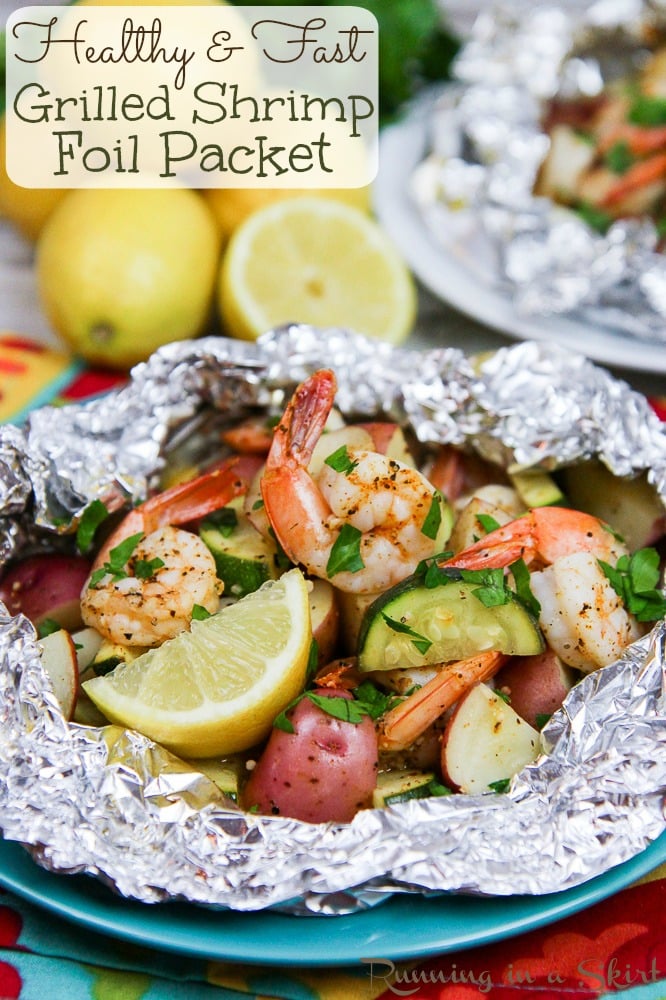 Lightened Up Three Cheese and Spinach Stuffed Mushrooms
I LOVE these easy stuffed mushrooms. They are simple, hearty and very satisfying. Serve this recipe with a bagged salad kit (Or my DIY easy salad) and a whole-grain roll.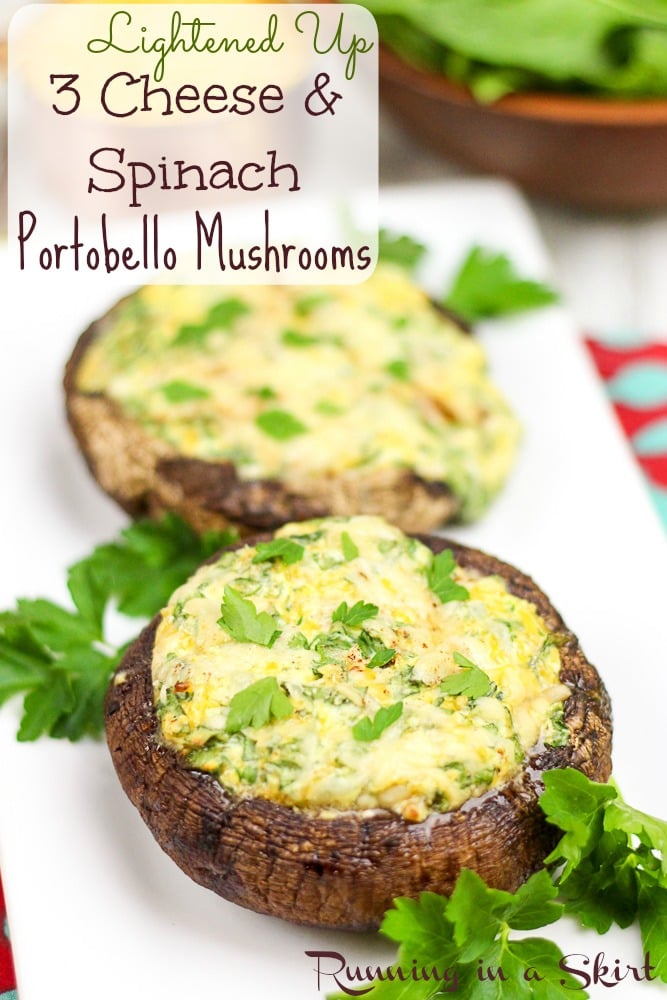 Lemon Salmon with Greek Yogurt Dill Sauce
This oven-baked salmon is really simple to make and tastes delish! You will love the simple sauce on top too. Serve this with my Herb and Garlic Baby Roasted Potatoes (OR a basic baked potato) and Lemon Garlic Roasted Brussels Sprouts.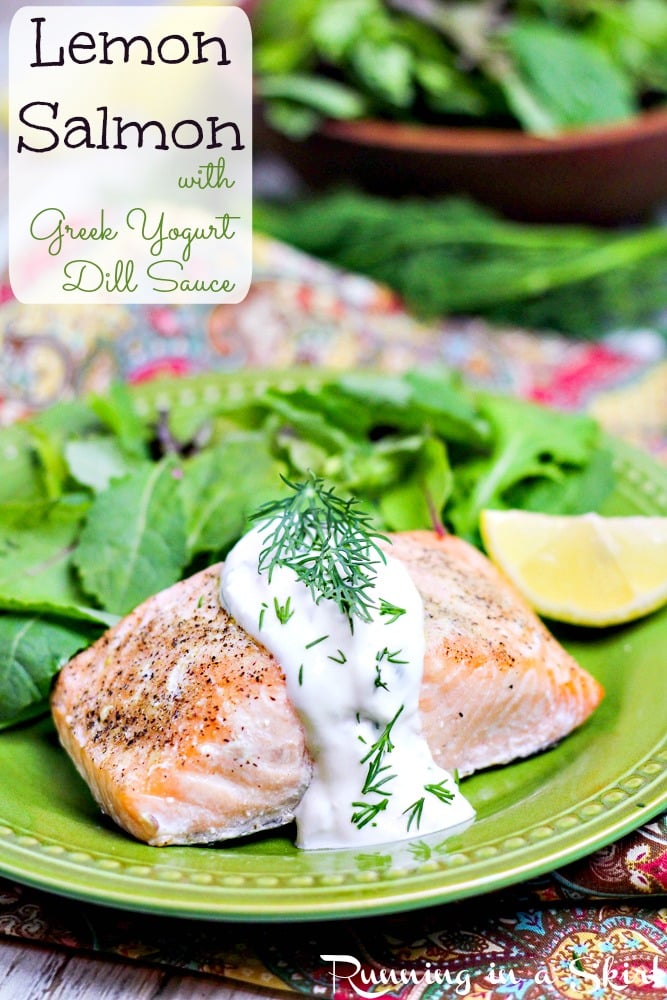 4 Ingredient Stuffed Spaghetti Squash Marinara
I love this easy recipe for weekday dinners. It feels like you are eating a big bowl of baked pasta but it's really just more veggie goodness in your life. It's crazy simple to make and is always a hit in my house. If you don't want to buy fresh basil just for this you can easily sub-dried basil. I serve mine with a whole-grain roll.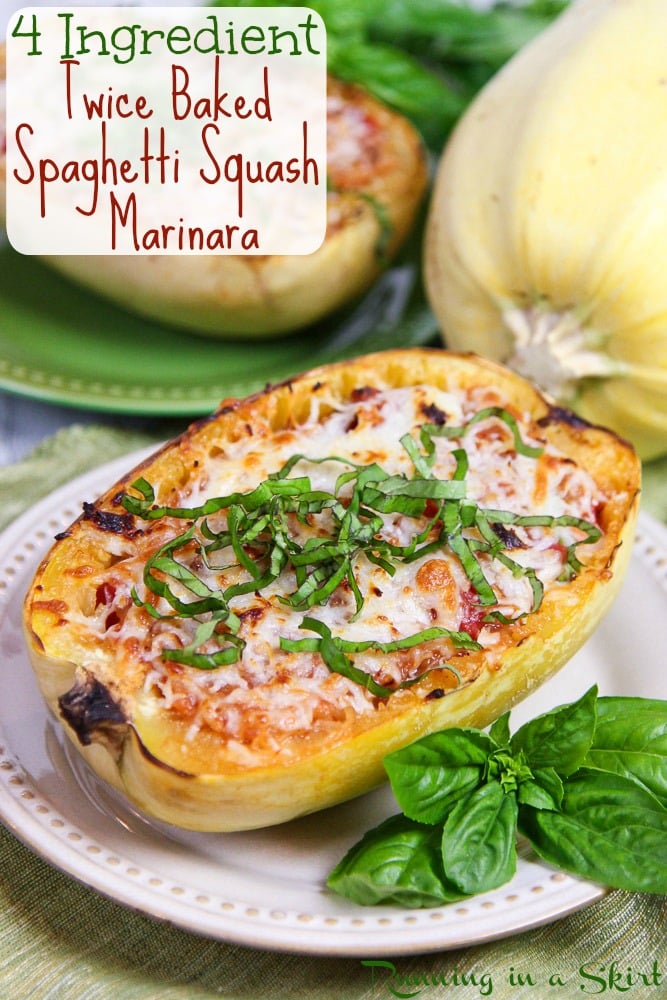 Healthy Pescatarian Shopping List - Pescatarian Grocery List
This pescatarian shopping list/pescatarian grocery list for my healthy pescatarian meal plan assumes you have some staples already in your house and fridge like salt, pepper, cooking spray, dried spices, olive oil, minced garlic, and honey. If you don't have a well-stocked spice rack or pantry, you might want to run through the recipes to make sure you have everything you need.
You can match this with my pescatarian food list to see everything here is included in a healthy pescatarian diet.
Produce
fruit - Pick your favorites to top the yogurt bowls and with the avocado toast breakfast. I also like to have extra snacks.
4 avocadoes
medium spaghetti squash
1 cucumber
2 bell peppers
1 sweet onion
1 shallot
1 pint cherry tomatoes
1 tomato
1 ½ pounds baby potatoes
1 small zucchini
2 large portobello mushroom caps
12 ounces brussels sprouts
2 cups fresh spinach
5 lemons
parsley
dill
basil
3 salad kits or your favorite greens and toppings for side salads
Fish & Seafood
½ pound raw large or jumbo shrimp
1 pound salmon
Center of Store
yogurt bowl toppings - nuts, nut butter, granola or coconut.
greek salad dressing
1 3 oz can tuna
1 15 oz can black beans
2 14.5 oz can fire roasted garlic diced tomato
1 4 oz can green chilies
16 small corn tortillas
jar of your favorite salsa
jar of your favorite marina sauce
sweet pickle relish
horseradish
parmesan cheese
Eggs & Dairy
dozen eggs
large container plain greek yogurt
4 ounces crumbled feta cheese
8 oz shredded Mexican cheese blend
8 ounces whipped cream cheese
4 ounces shredded sharp cheddar cheese
3 ounces shredded mozzarella cheese
Frozen
16 ounces fresh or frozen tortellini
Bread
loaf of whole-grain bread
whole grain rolls
Pescatarian Food List
I hope this healthy pescatarian meal plan, pescatarian food list, and pescatarian shopping list can help you decide exactly what meals you like to eat and helps make your life a bit easier! Give it a try and let me know what you think.
The Pescatarian Diet can be healthy, rewarding, and such a tasty way to eat.
My entire site is filled with healthy pescatarian recipes, so start at my Recipe Archives to search for healthy breakfast, lunch, and dinner ideas to add to your pescatarian meal plan in the future.
More Pescatarian Resources:
Pin for later!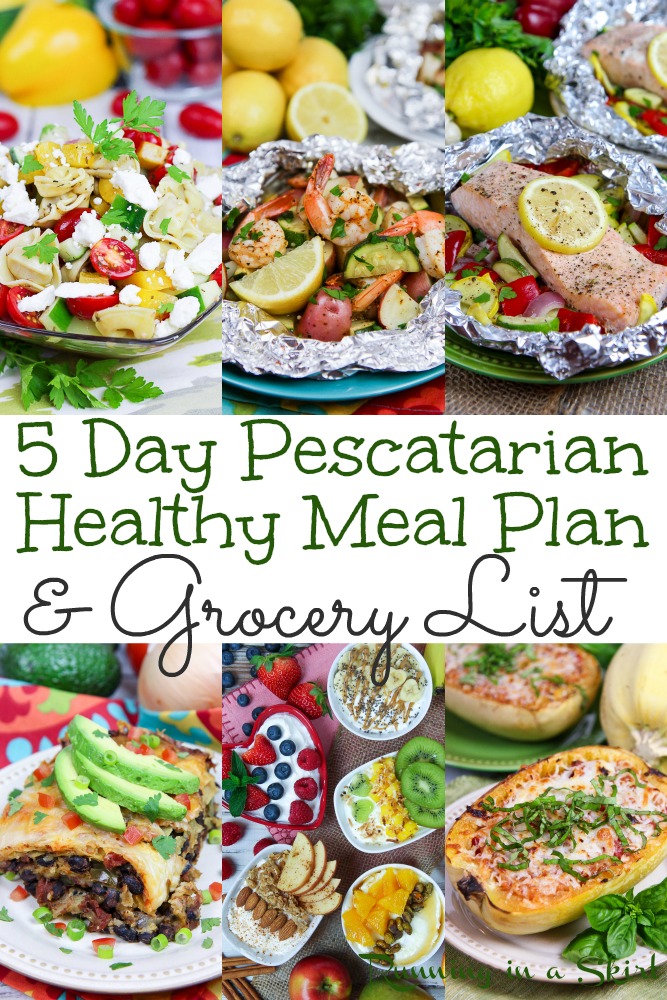 Your turn!
Which recipes catch your eye?