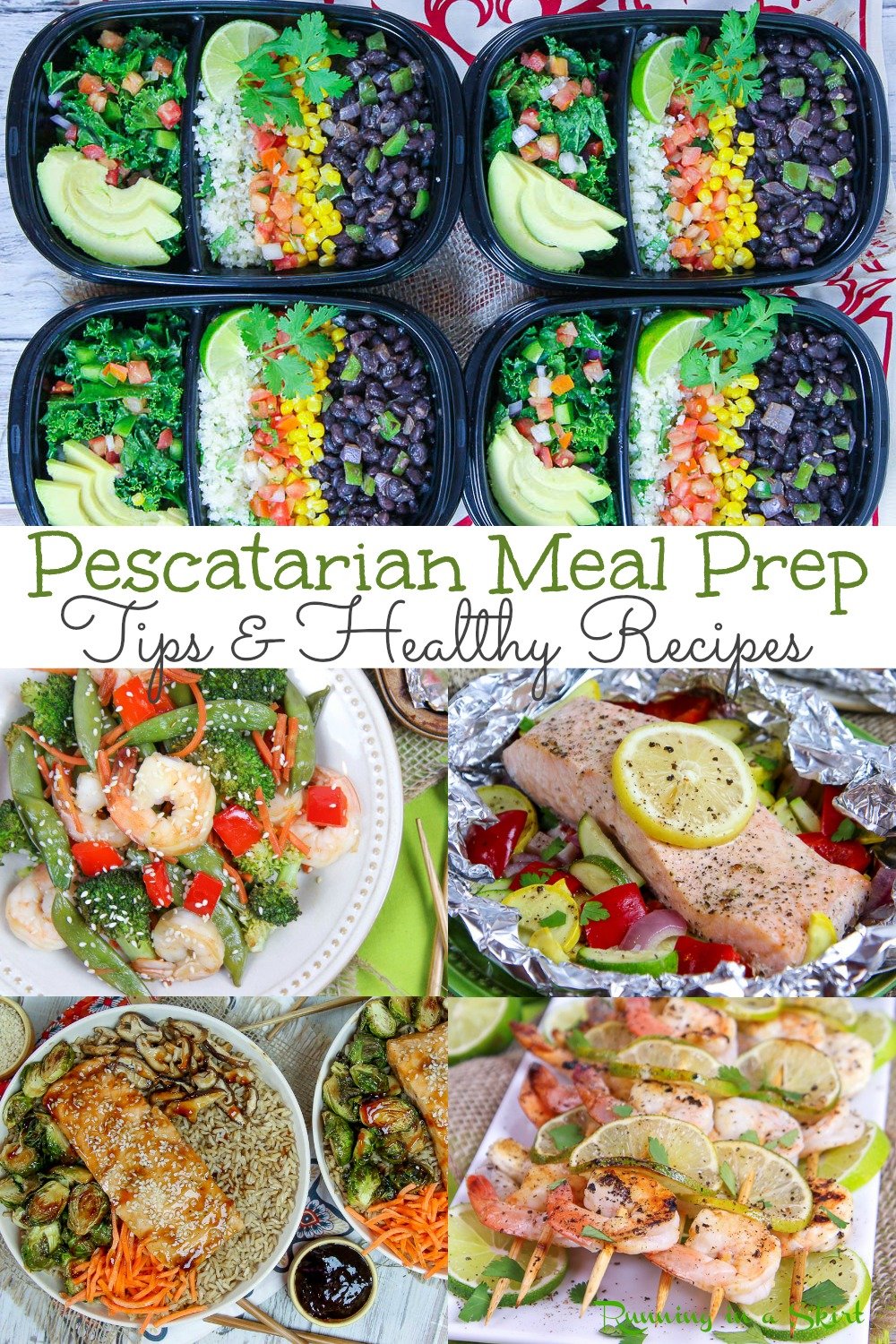 Interested in Healthy Pescatarian Meal Prep? I'm sharing my ideas to plan ahead to keep delicious, clean eating, and healthy meals (breakfast, lunch, and dinner) on the table day in and out. Keep reading for a pescatarian meal prep meal plan with recipes and my tips to succeed.
Learn More About the Pescatarian Diet: Pescatarian Diet Guide, 15 Healthy & Satisfying Pescatarian Dinners, 5 Day Pescatarian Meal Plan & Shopping List, & Pescatarian vs Vegetarian.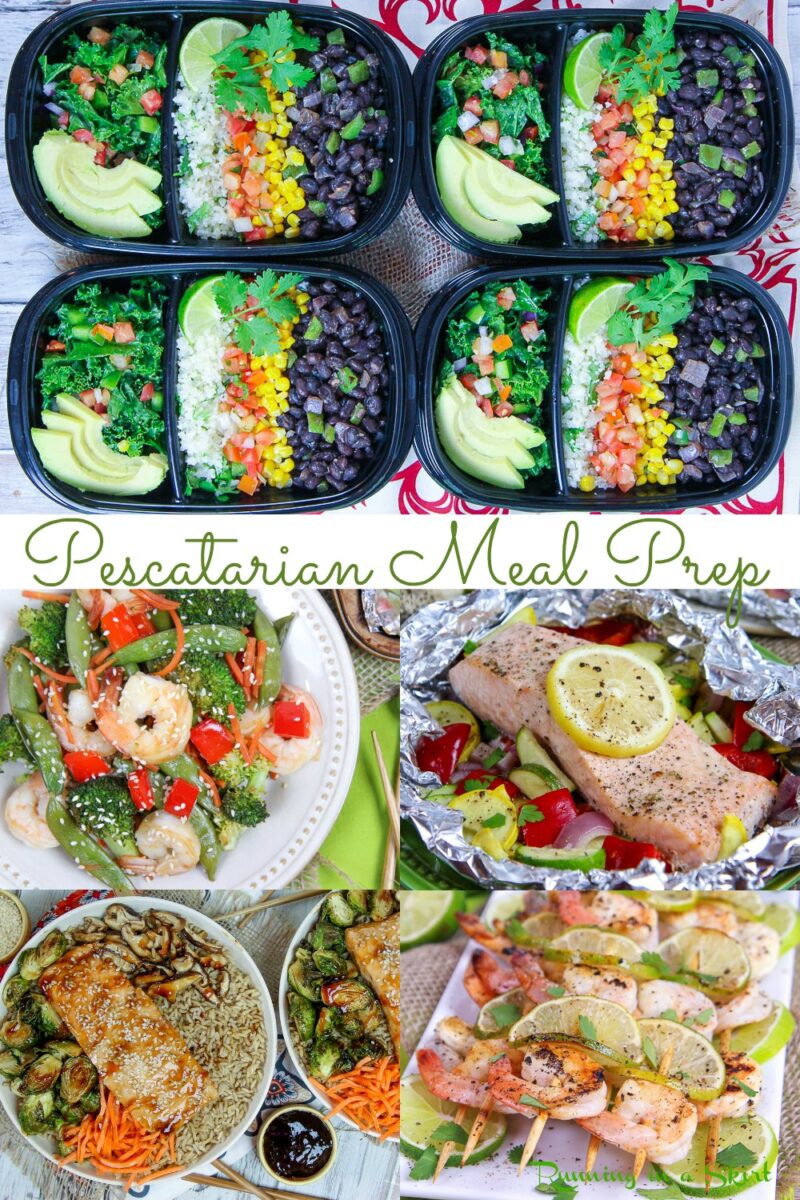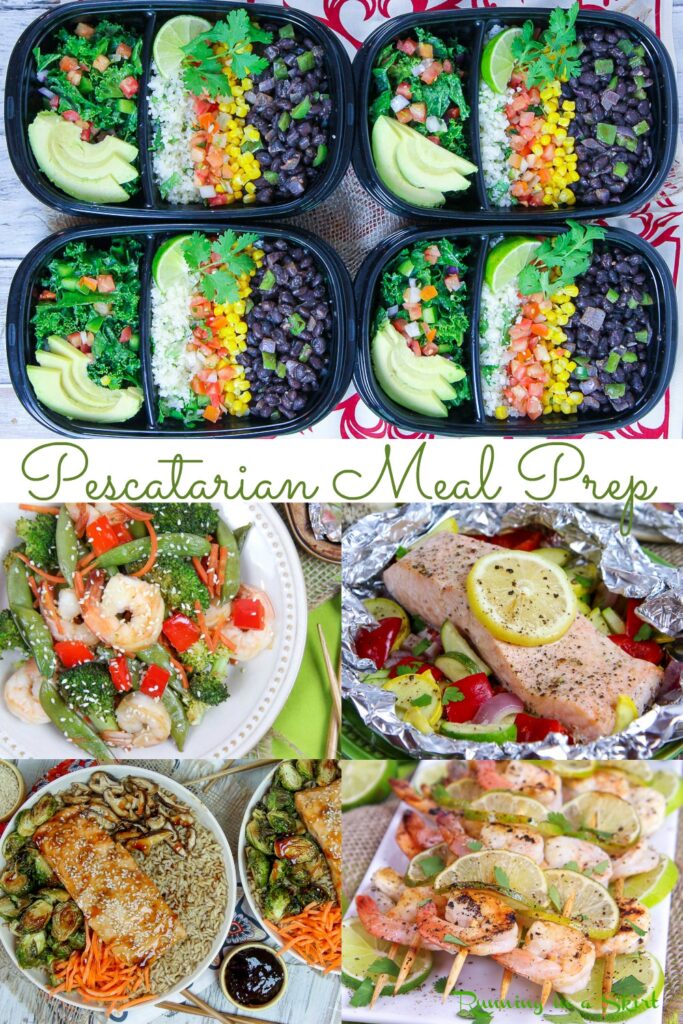 Pescatarian Meal Prep
Pescatarian Meal Prep doesn't have to be hard! I'm breaking down everything you need to know to plan a week of meals ahead of time on the pescatarian diet.
If you aren't familiar with the pescatarian diet, it's one where you eat mainly plant-based vegetarian foods but also eat fish and seafood. You don't eat other types of meat like beef, chicken or pork. The diet is healthy - like the Mediterranean diet - because you get lots of vitamins from vegetables, grains, and dairy but also an added protein boost and healthy fats - like omega 3 fatty acids- from fish and seafood. A pescatarian diet is rich in vegetables and plants and adds seafood or fish a few times a week. There are so many health benefits to this diet and it's easier to follow than some diets like vegan because it's not as restrictive.
I'm an expert in this diet because I've been a pescatarian for over 20 years, way before alternative diets were even popular!
This Pescatarian Meal Prep Guide is just part of my larger series on the Pescatarian diet including Pescatarian Diet Guide 101, 15 Healthy & Satisfying Pescatarian Dinners, 5 Day Pescatarian Meal Plan & Shopping List, & Pescatarian vs Vegetarian. I have all aspects of this diet covered if you are curious and trying to make a change for yourself.
Regardless of your diet, it can be hard and cumbersome to prepare healthy meals a day in and out. Whether you eat meat or enjoy a Pescatarian diet, it's often a lot of work to keep either yourself or your family fed. That's where pescatarian meal prep can help. If you can embrace some of the tricks and tips for meal prepping it can make your life healthier and less stressful.
In fact, you'll never have to have that 6'o'clock panic wondering what you are going to have for dinner again!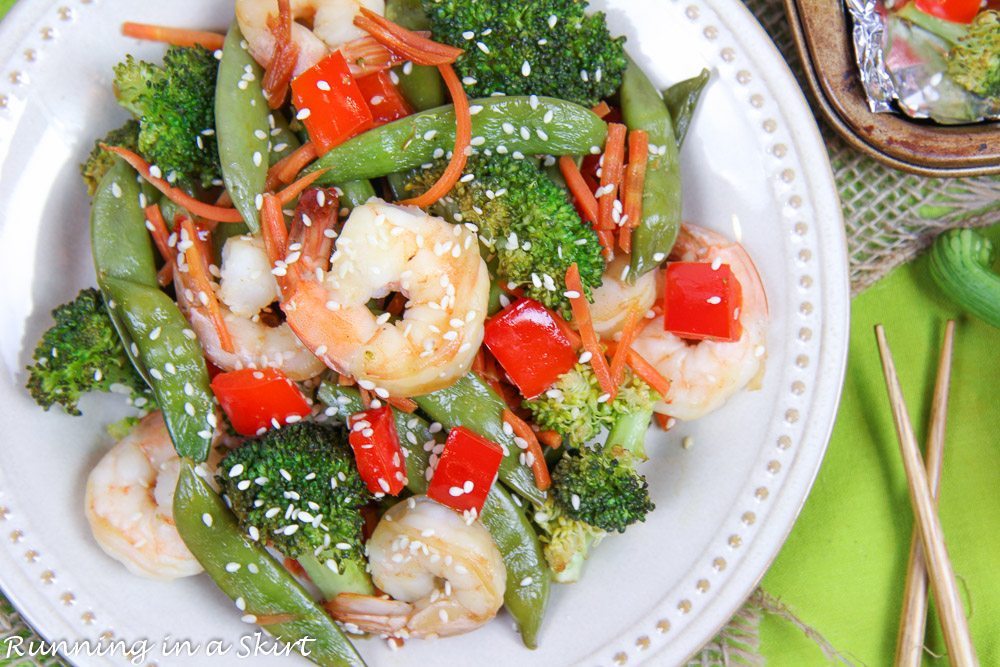 What is Pescatarian Meal Prep?
If you aren't familiar with pescatarian meal prep, it's the concept of planning and preparing some or all of your meals ahead of time. Preparing your meals ahead of time can help you save time by bulk cooking. It can also help you with weight loss or portion control because you put everything into smaller containers. It's a great idea for busy folks like us!
There are different ways to meal prep. You can either make all of your meals ahead of time or just some of them like breakfast and lunch. If you want to cook some of our meals fresh just make sure you prep your ingredients ahead of time by chopping vegetables and making sauces. The goal is to cut down on the amount of time you need to cook during the week.
Meal prepping can also be batch-cooking freezer meals!
Learn More About Freezer Meals: 12 Healthy Vegetarian Freezer Meals
Benefits of a Pescatarian Diet
So what about Pescatarian Meal Prep??? Just like any other diet, you can meal prep your pescatarian meals too! This can be a healthy way to eat because you aren't as likely to just grab whatever in the fridge that's unhealthy.
Just a reminder a pescatarian is a vegetarian who also eats seafood and fish. A pescatarian diet is rich in vegetables and plants and adds seafood or fish a few times a week. Pescatarians do not eat red meat, poultry, lamb, or pork. So here's what they do eat and what foods are included in this Pescatarian Meal Prep.
What DO pescatarians eat then?
Vegetables
Grains
Fruits
Legumes
Tofu/ Tempeh
Beans
Cheese
Eggs
Yogurt
Fish
Seafood
The pescatarian diet is great because it's more flexible than a strict vegetarian or vegan diet and allows for some fish and seafood. Fish and seafood add lots of nutrients to your system and I feel like it's easier to have a well-balanced week of meals eating this way.
The benefits of a Pescatarian diet are countless. Like most vegetarian diets you eat more whole and less processed foods. Seafood is also a great addition to the menu because it's low-calorie and high-protein. It's also much healthier than many meat options. Plus some fish are a great source of omega-3s, which have been shown to promote heart, brain, and eye health.
I've actually been a Pescatarian for well over 20 years and shared my story here on Running in a Skirt. I wrote about WHY and how I became a pescatarian. I also shared my favorite Pescatarian Meals Here AND a 5 Day Pescatarian Meal Plan here.
Learn more about a Pescatarian Diet: Pescatarian for Beginners - What is the Pescatarian Diet and Why I Follow It
Is pescatarian meal prep right for you?
Whether you are curious about the pescatarian diet or have been a pescatarian for years, pescatarian meal prep can be a great way to keep healthy food on the table. If you are a busy person who can set aside some extra time on the weekend to plan, shop and prep... this is a great way to make sure you are enjoying delicious and well-rounded food daily.
How do I go pescatarian on a budget?
Meal prepping is how! Carefully planning and preparing your food ahead of time can keep you on a budget! Also pick lots of vegetarian foods like beans, pasta, and fresh vegetables. Use frozen fish like salmon, shrimp, and mahi mahi to stay on track.
This pescatarian meal prep guide will help you do it!

How to Pescatarian Meal Prep
Curious about how to do pescatarian meal prep? It's easier than you might think! Here are some steps to get it done.
Plan Out Your Meals Ahead of Time & Write It Down
Decide what your meals are going to be and actually write it down like a menu. The process of actually doing this gives you something tangible to start with and will inspire you to make it happen. A good plan lets you start gathering and shopping for ingredients and gives you a place to start.
Put Together a Grocery List
Clean out your fridge and take inventory of what you have and what you need. You need a solid and complete grocery list to successfully meal prep. The last thing you want is to get in the middle of cooking and not have what you need.
Make a Schedule for Cooking
Look at your recipes and decide what you want to cook ahead of time. Check on how long recipes take to make and the oven temperature to decide the order you want to prepare your food. If you are cooking several recipes it might make sense to make something in a slow cooker to free up the oven. Often it will make sense to chop all your fruits and vegetables at one time and then move on to the next step.
If you spend a little time planning out your pescatarian meal prep, the actual cooking will go so much smoother.
Set Aside Time for Cooking
Depending on how much food you decide to make, it's important to set aside time to cook. Often meal preppers will cook on Sunday afternoons for the week. You'll want to chop and prepare your food according to your schedule.
Store it in Good Containers
If you are prepping a bunch of food in advance you will need lots of containers to store it in. Here are some options.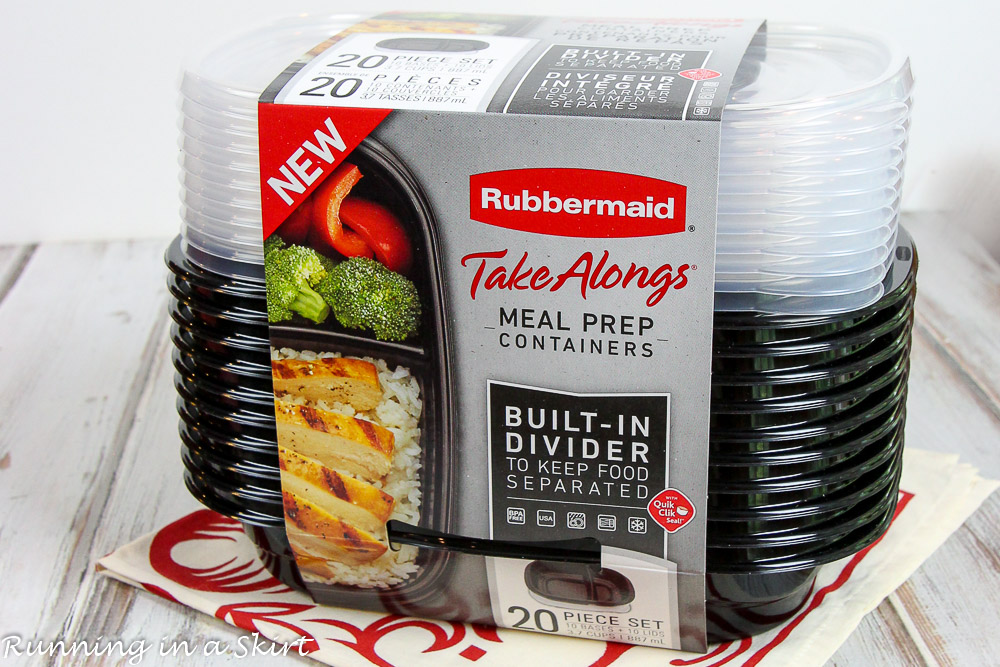 Tips for Successful Pescatarian Meal Prep
Keep it Simple
Don't try to make it too complicated! Simple meals often are best for meal prepping. If you make your plan too hard you probably will not follow through.
Don't Try Too Many New Recipes at Once
Making new recipes can be more stressful than preparing ones you are familiar with. Try one or two new recipes a week and make the rest of your meals with things you are familiar with. That way you'll also know that you have food you will enjoy.
Plan a Week in Advance
I think pescatarian meal prep works best when you plan a week in advance. It often makes sense to do your planning and shopping on Saturday and cooking/prepping on Sunday. Cooking a week of meals is an attainable goal without being overwhelmed.
You Don't HAVE to Cook Everything in Advance
Meal-prepping styles can vary. You can meal prep and make ALL your meals (breakfast, lunch, dinner) ahead of time and eat them out of the containers. You can also just prep your breakfast and lunch to save time leaving your dinners to cook in the evenings.
If that's not your thing you can still meal prep and save yourself time during the week by just prepping or chopping your vegetables and meat ahead of time. You don't have to cook your entire meals in advance but spending a little time at the start of the week to prepare SOME of the items can still get the job done. Making sauces or dressings ahead of time can also be a big time saver.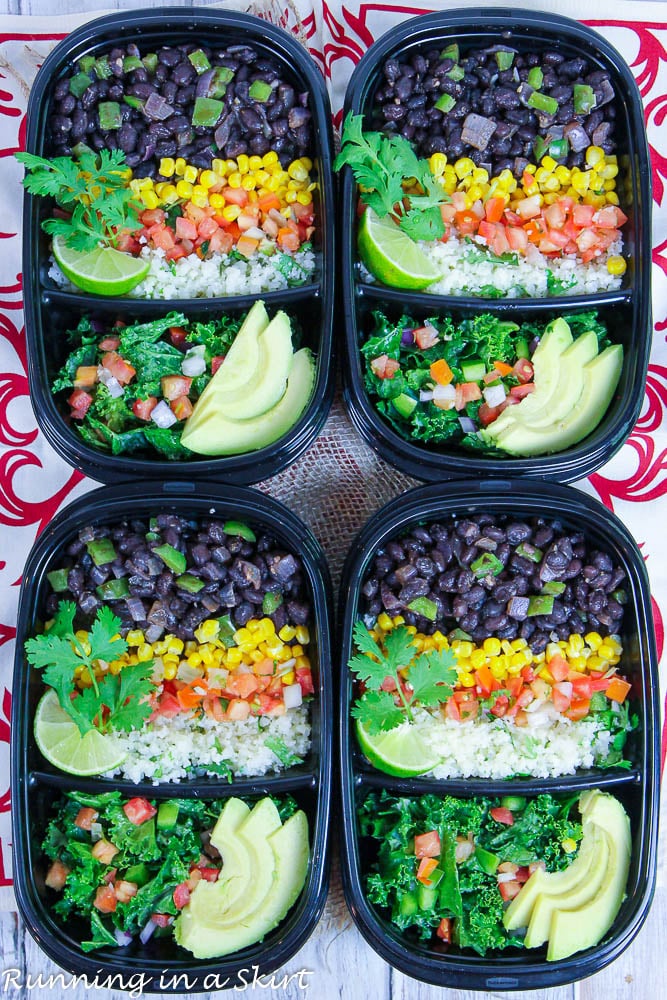 Recipes for Pescatarian Meal Prep
I know gathering the recipes for your pescatarian meal prep can be a bit daunting, so here are some of my favorites for breakfast, lunch, and dinner that you can mix and match to make your perfect pescatarian meal prep plan for the week. Remember that you'll want to keep it simple! You can make a double batch of something for lunch and eat it a few times!
Pescatarian Meal Prep - Breakfast
Overnight Oats
Overnight oats are the perfect healthy make-ahead breakfast idea for pescatarian meal prep. Try my 8 Dessert Inspired Overnight Oats that Are Actually Good for You.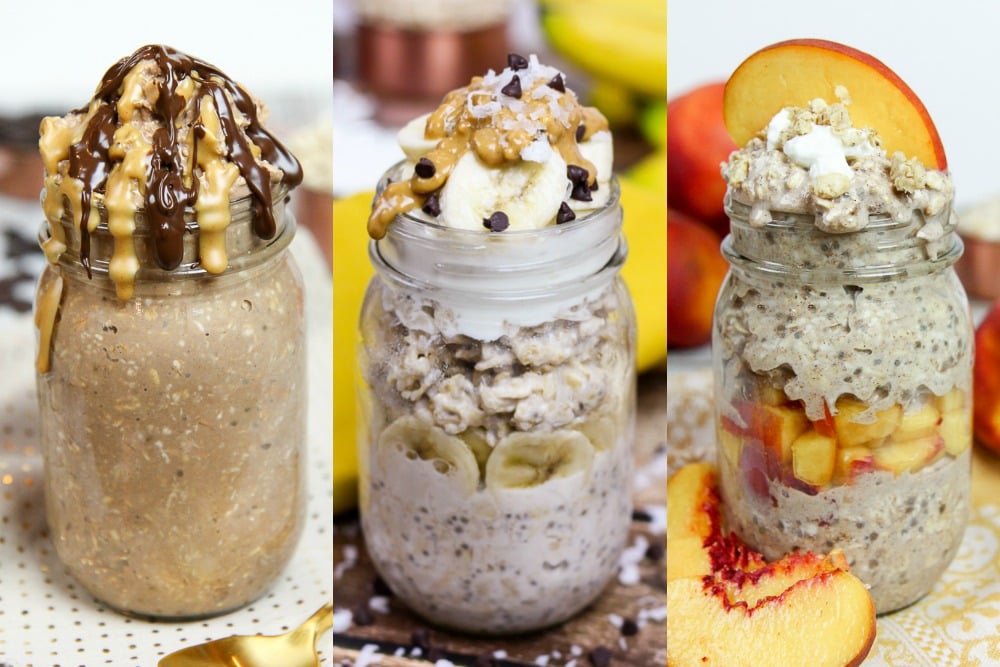 Baked Oatmeal
Baked Oatmeal is another great option for a meal prep breakfast. It's basically oatmeal, eggs, milk, and spices or fruit baked into a pan to cut like a cake or portable muffins as shown here. Both are delicious and healthy choices. Here are a few recipes to try!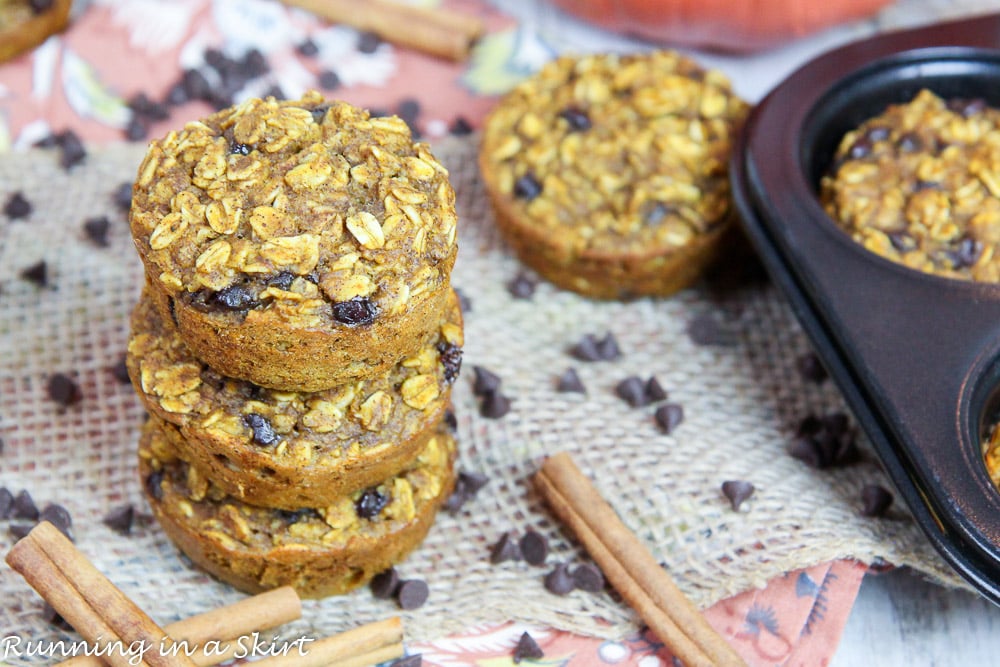 If you love eggs but don't want to make them fresh every morning, my Vegetarian Egg Casserole is a great recipe to make and enjoy during the week. It's made with eggs, frozen hashbrowns, mushrooms, peppers, and onions and then baked off in the oven. You can customize the vegetables to anyone you like.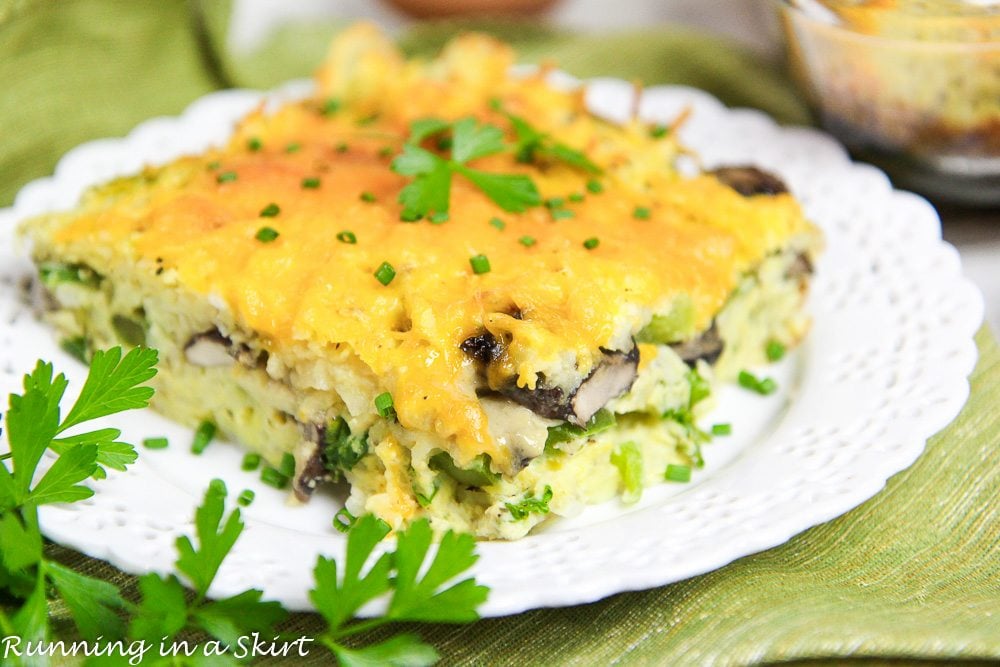 Yogurt Bowls
Yogurt Bowls are a great way to enjoy calcium, protein, and probiotic-rich yogurt with some fun toppings. It's a great way to add healthy dairy into your diet. Here's a bunch of great ideas to start.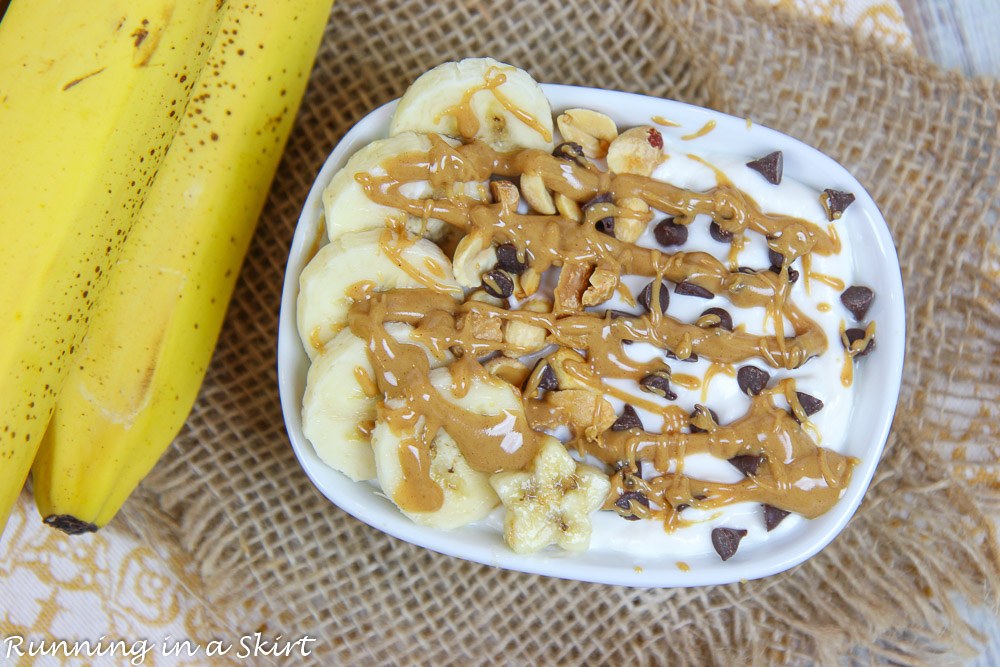 Pescatarian Meal Prep - Lunch
This simple White Bean Salad is crazy delicious and a great way to get some plant-based protein and a vegetable boost with peppers, red onions, tomatoes and cucumber. It stores well in the fridge. I love to serve it on top of a bed of greens or lettuce. You could even add some feta cheese.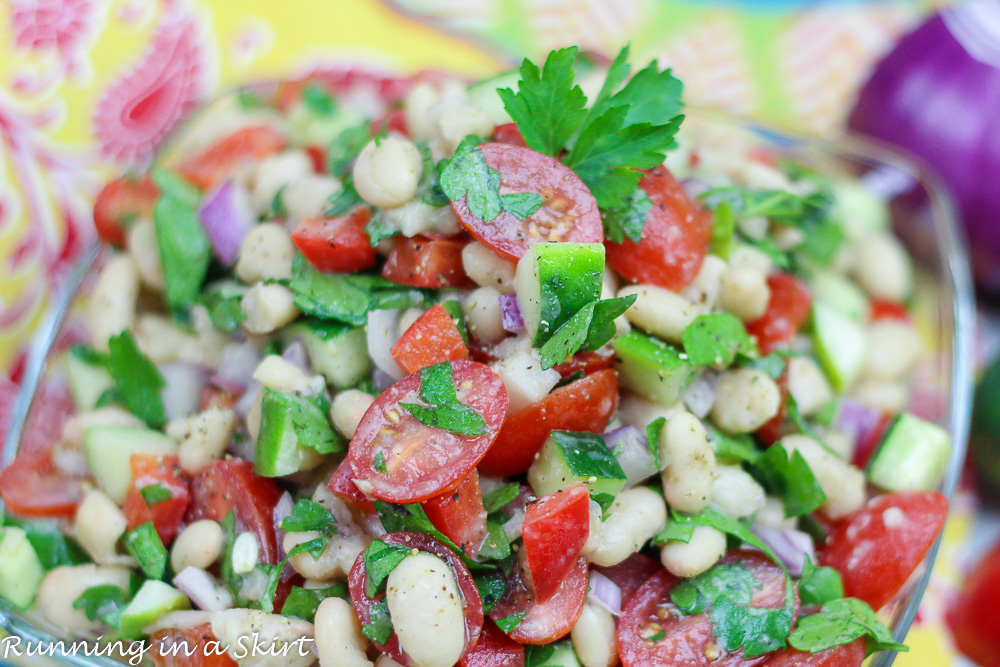 This recipe is perfect if you don't mind eating the same thing for lunch several days in a row. My Meal Prep Vegetarian Cauliflower Rice Burrito Bowls are super easy to assemble, tasty, and healthy.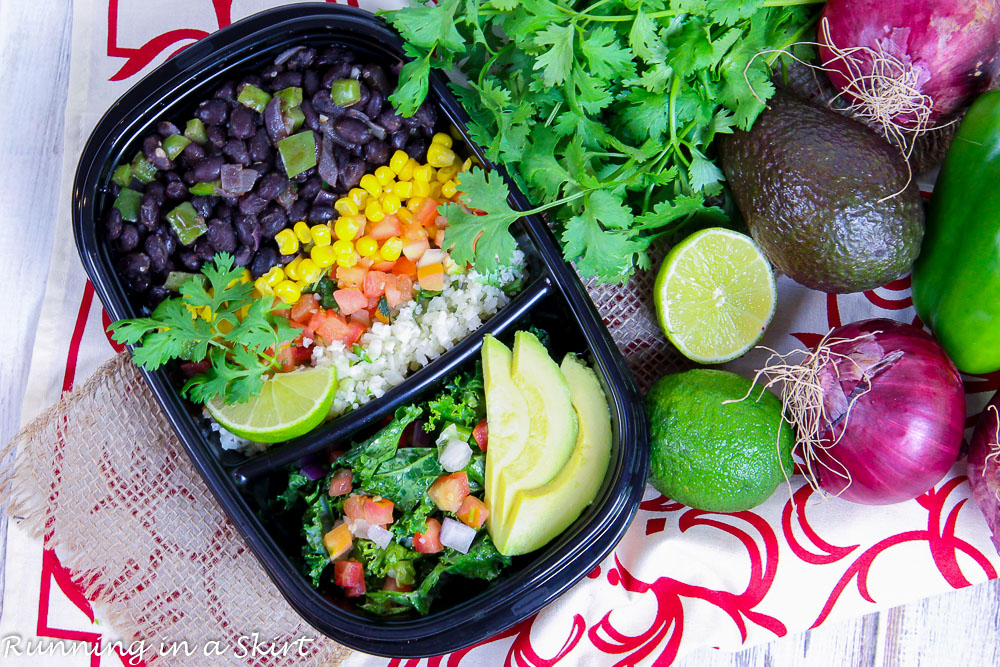 Salads often don't hold up well making in advance but this one would because it has leafy kale, roasted cauliflower, and quinoa! My Roasted Cauliflower Salad with Crispy Chickpeas and Tahini Dressing is a total vegetarian flavor BOMB.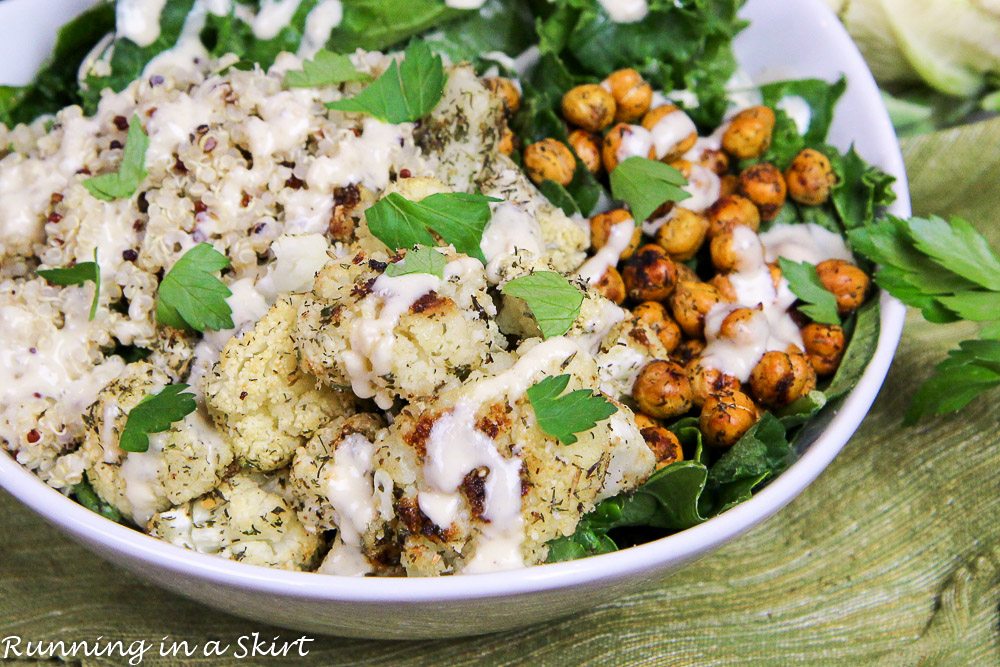 My Greek Yogurt Tuna Salad could not be simpler and more delish. It's made with just three ingredients and would be the perfect addition to your pescatarian meal prep.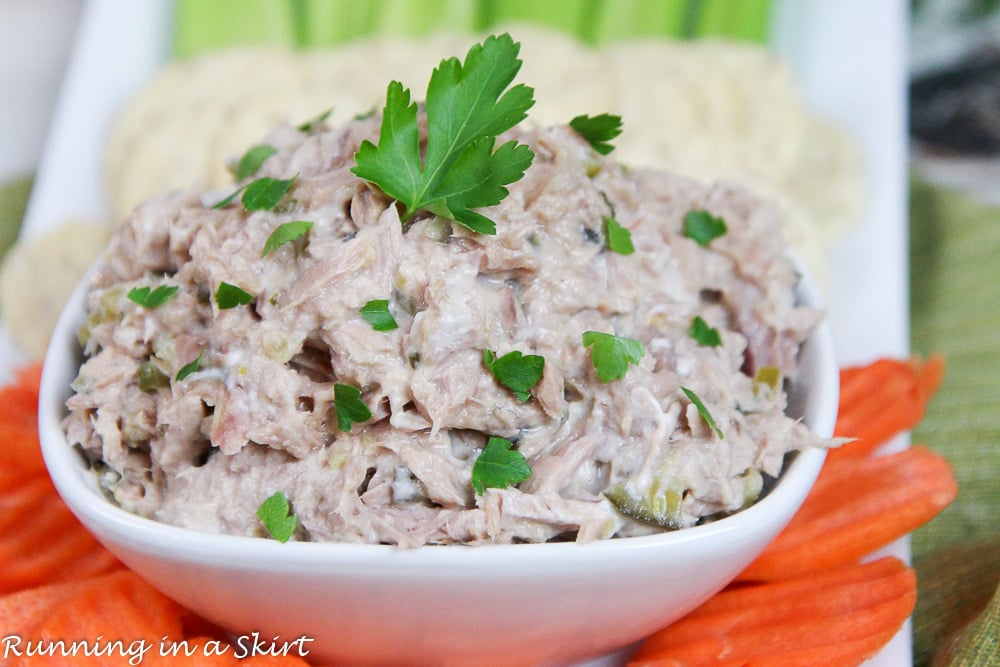 Quinoa Salad is a great pescatarian or vegetarian lunch! Here are 3 ways to make it different.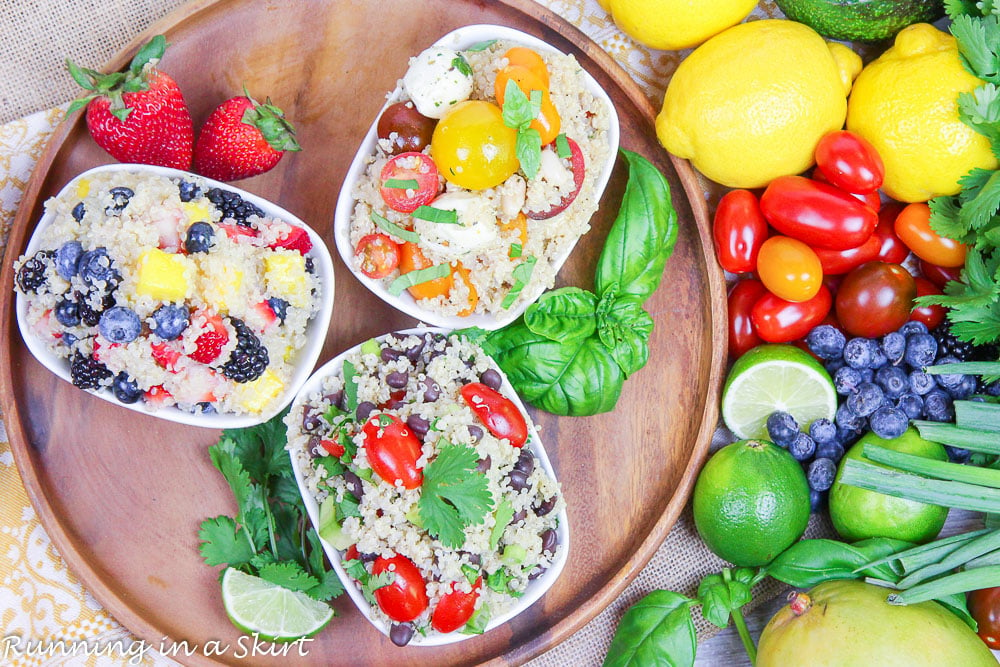 Pescatarian Meal Prep - Dinner
I LOVE sheet pan meals! These Sheet Pan Shrimp Fajitas are on regular rotation at my house. Thaw and season the shrimp and chop the veggies ahead of time if you want to cook them fresh.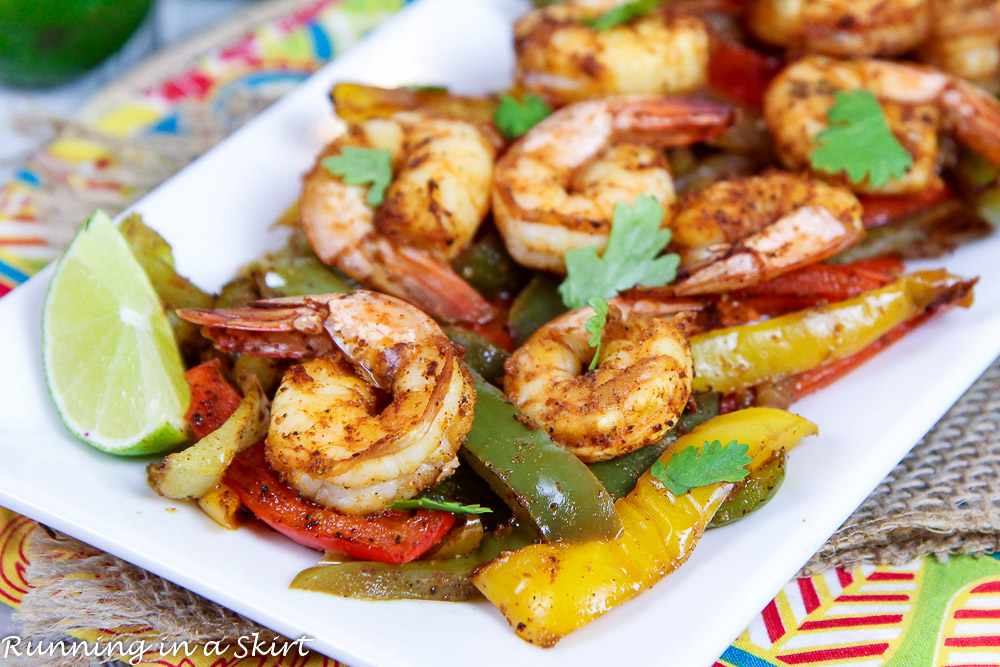 This Baked Spaghetti Squash Casserole is great made ahead and enjoyed during the week.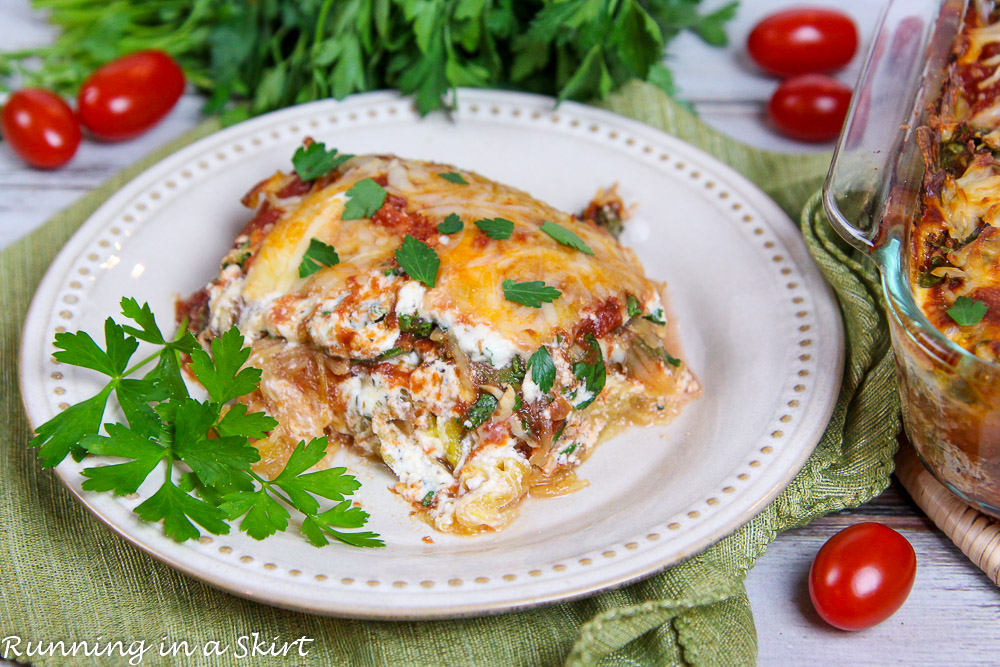 I love this 4-Ingredient meal that stores well in the fridge. My Caprese Pasta Salad is a perfect dinner.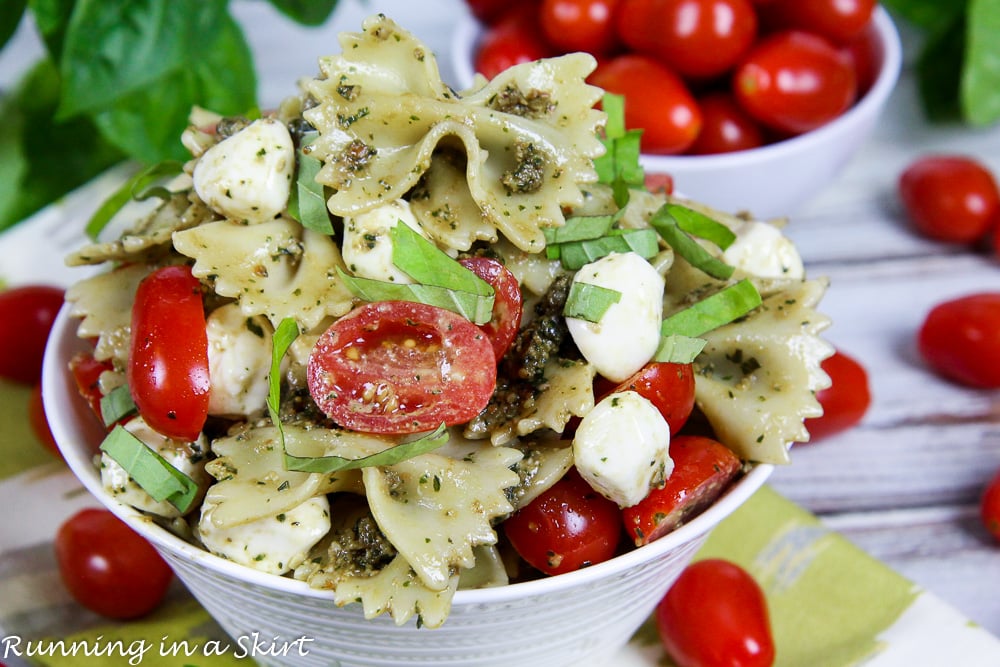 Make these salmon packets ahead of time and then bake them fresh when it's time to eat! This dish is full of healthy fats, vitamins from vegetables, and omega-3 fatty acids. Serve like this or over a bed of whole grains like quinoa or brown rice.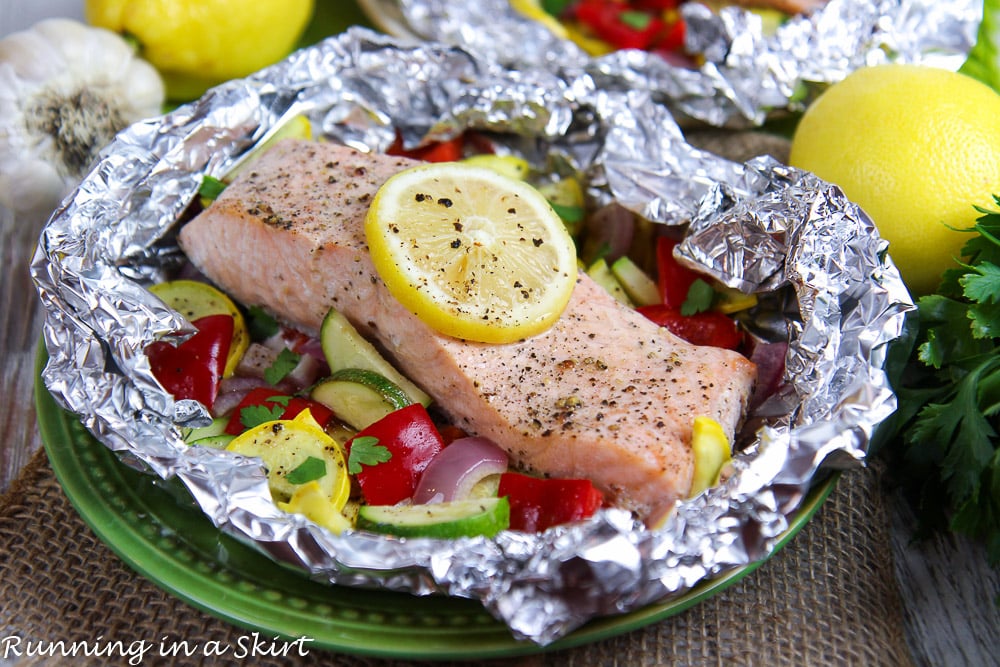 Any good pescatarian meal prep should include a healthy soup! One of my favorites is my Crock Pot Lentil Soup. Also, check out my 25 Healthy Vegetarian Slow Cooker Soups.
This is a must-make for any pescatarian! My Shrimp Burgers with Mango Salsa are delicious and totally irresistible. They actually reheat pretty well or you could do the prep work on the patties and make them fresh when you are ready to eat.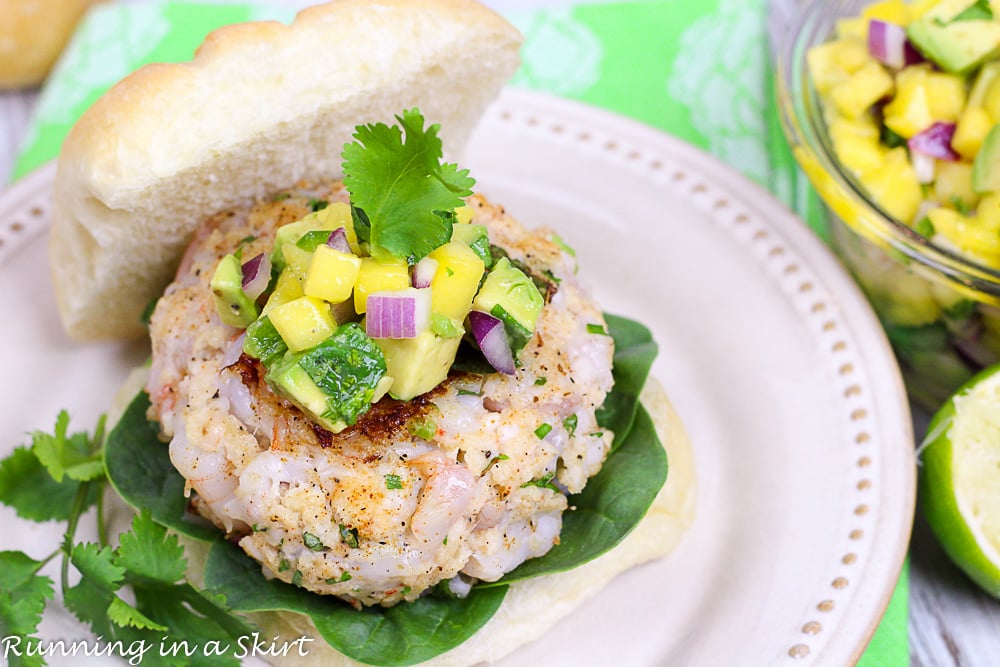 Healthy Pescatarian Meal Prep Summary
Pescatarian Meal Prep doesn't have to be hard or overwhelming. If you plan well and pick delicious recipes, it can be a great way to eat more well-rounded meals. I hope this guide gets you started on your journey. You don't have to use meal kits or meal delivery services, you can do this yourself.
If you want to learn more about being a pescatarian, start with my three-part series sharing more about my 20-year journey with the diet.
Pin for later...