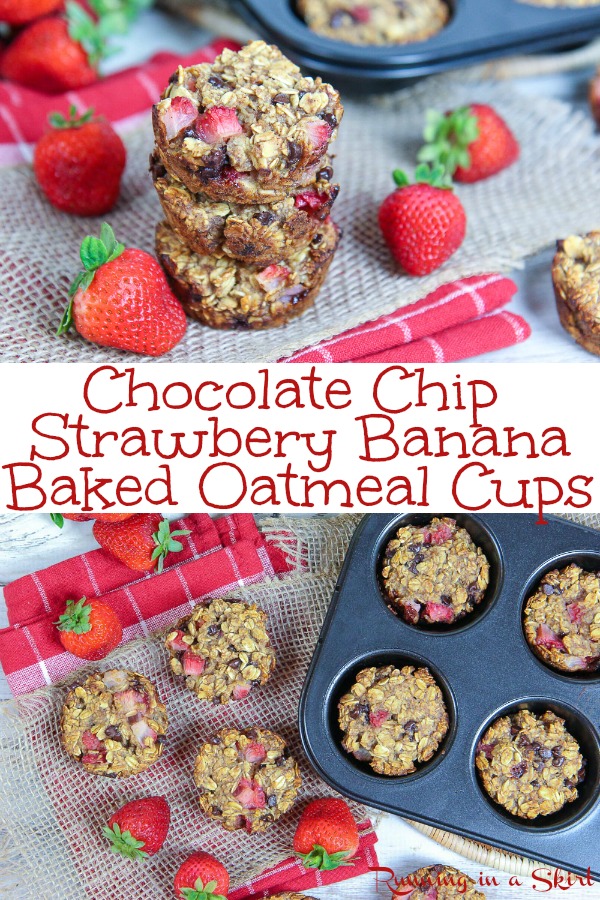 Breakfast just got a lot tastier! My Strawberry Banana Baked Oatmeal Cups recipe is the perfect make-ahead recipe to start your day.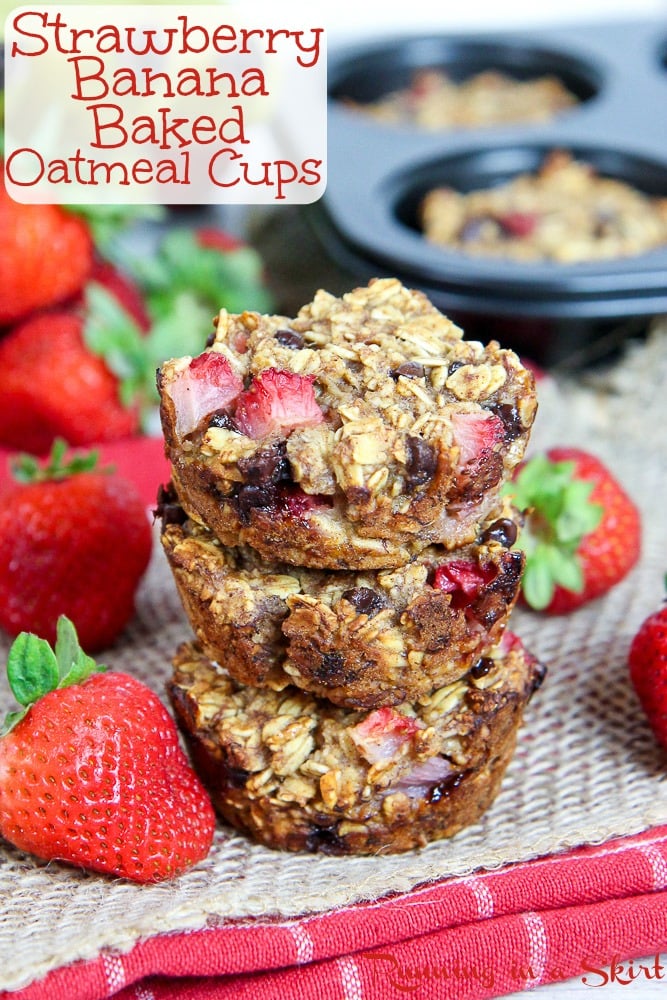 Hi guys!
I love this time of year when fresh strawberries start coming back into the stores at reasonable prices. When I find them on sale I tend to buy multiple packages and go through them faster than I care to admit. I'm a self-proclaimed strawberry-aholic.
So in spring, I always enjoy creating a few new strawberry recipes. First up this year is my Strawberry Banana Baked Oatmeal Cups recipe. It's full of flavor from fresh banana, gorgeous berries and touch of chocolate chips.
It's pure breakfast perfection. 🙂

Why you'll love this Strawberry Banana Baked Oatmeal Cups recipe...
This is one of those great little recipes that uses ingredients you already have on hand. I love baked oatmeal because it's basically foolproof baking. You can make it in a casserole dish or cute, perfectly proportioned muffins like this. You can make these on the weekend and enjoy them all week long.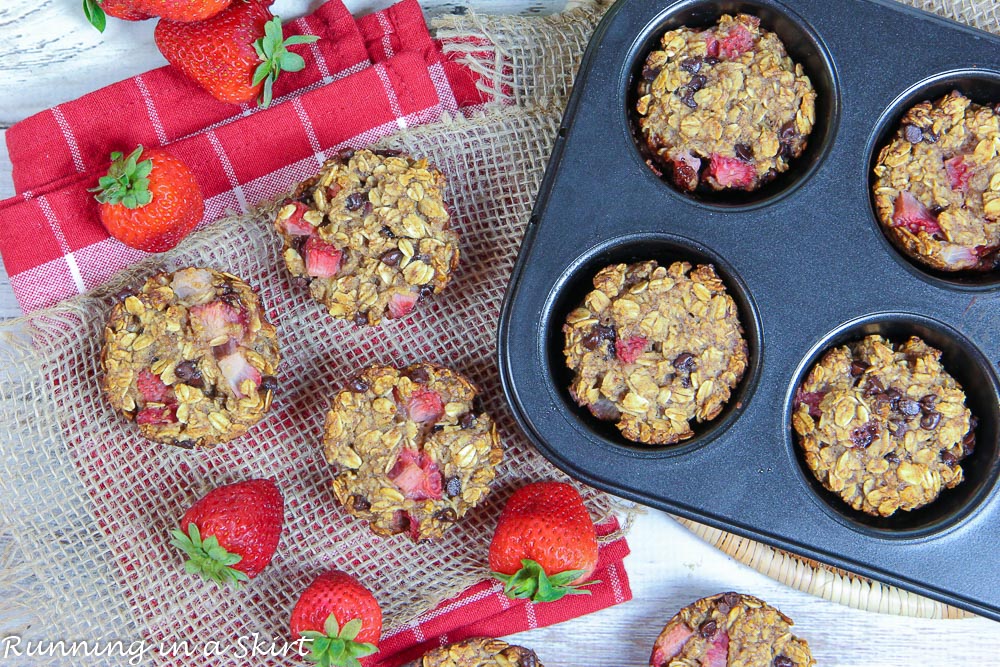 This baked oatmeal recipe is super moist, just sweet enough and loaded with flavor.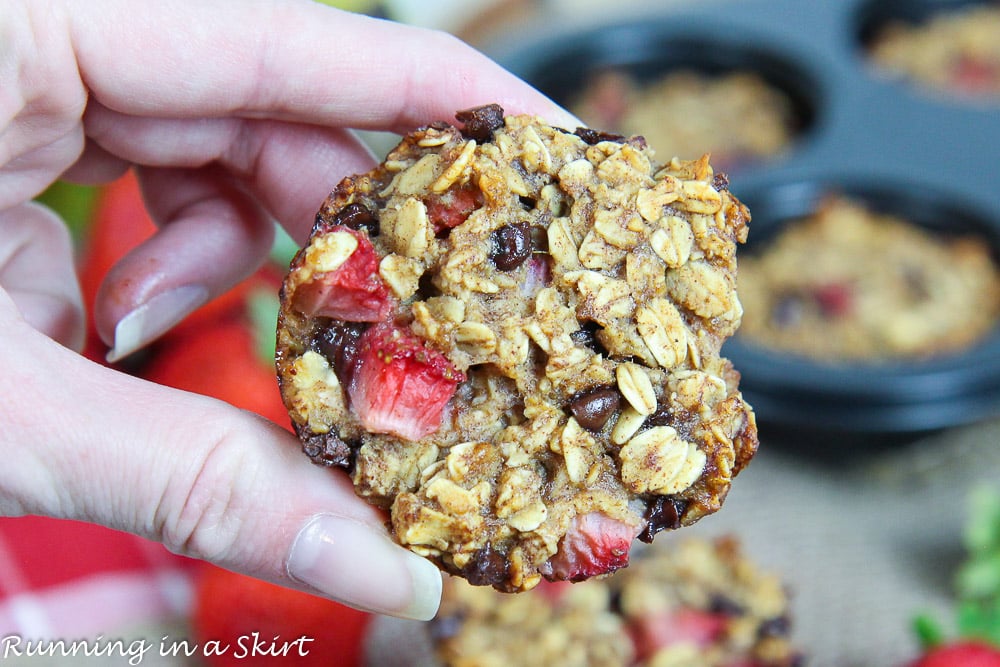 Here's what you'll need for this Strawberry Banana Baked Oatmeal Cups recipe...
oatmeal
egg
baking staples (baking powder & spices)
strawberries
ripe banana
honey
chocolate chips
If you want to leave them on the healthier side, you can leave the chocolate out but I love the little indulgence to start the day.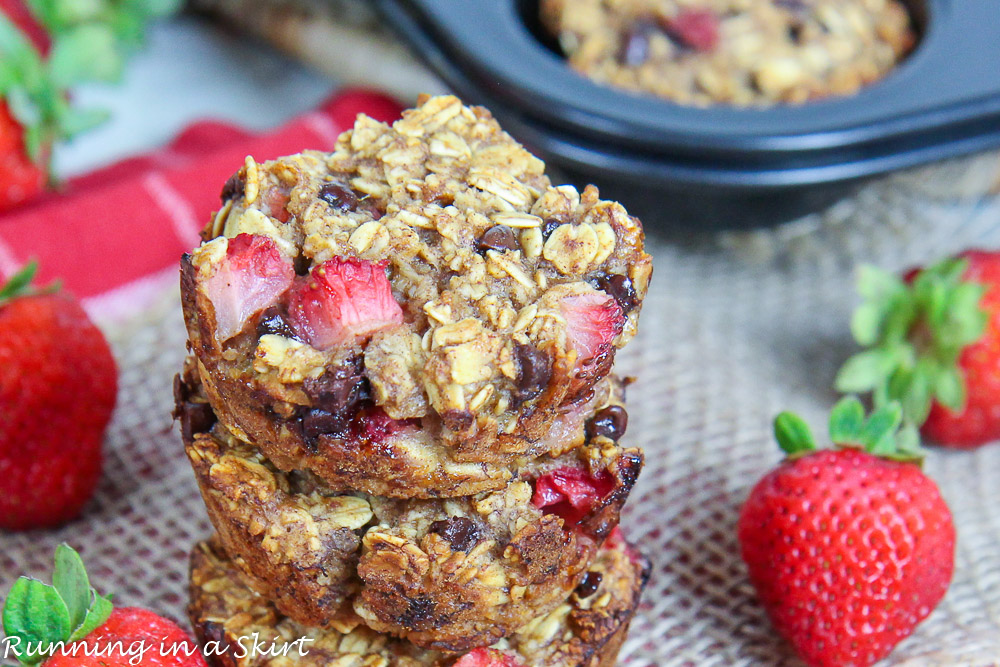 How do I make this Strawberry Banana Baked Oatmeal Cups recipe?
Mix all the dry ingredients in one bowl.
Mix the wet ingredients in another bowl.
Mix both together until combined.
Pour into a muffin tin and bake for 20 minutes!
It takes less than 40 minutes start to finish to enjoy these delish cups!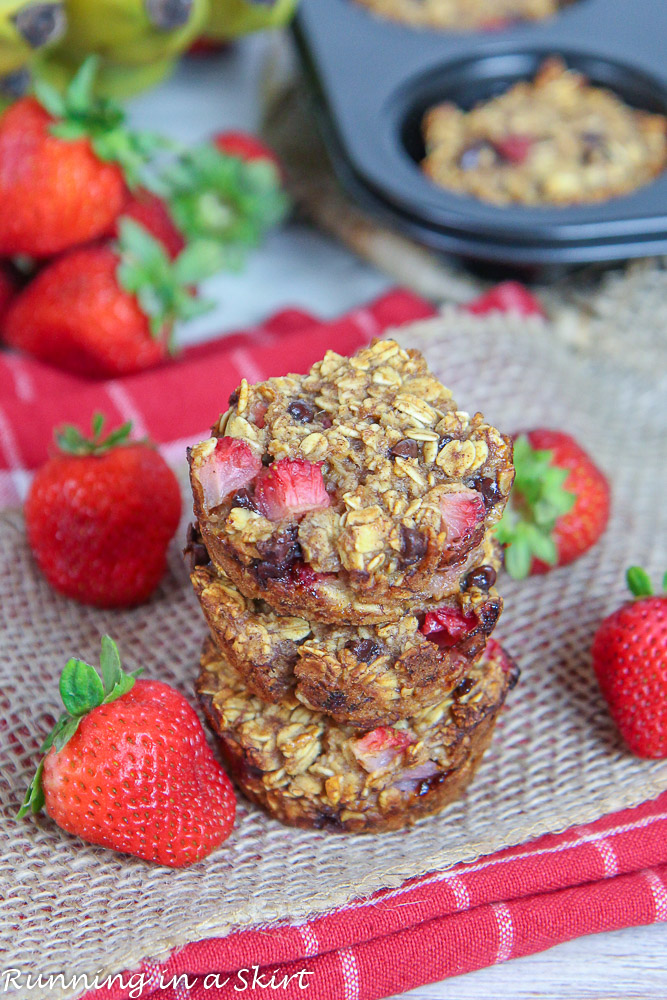 I love this healthy breakfast idea and hope you do too! It's the perfect way to mix up your morning oats.
Like baked oatmeal? Also try...
Pin for later!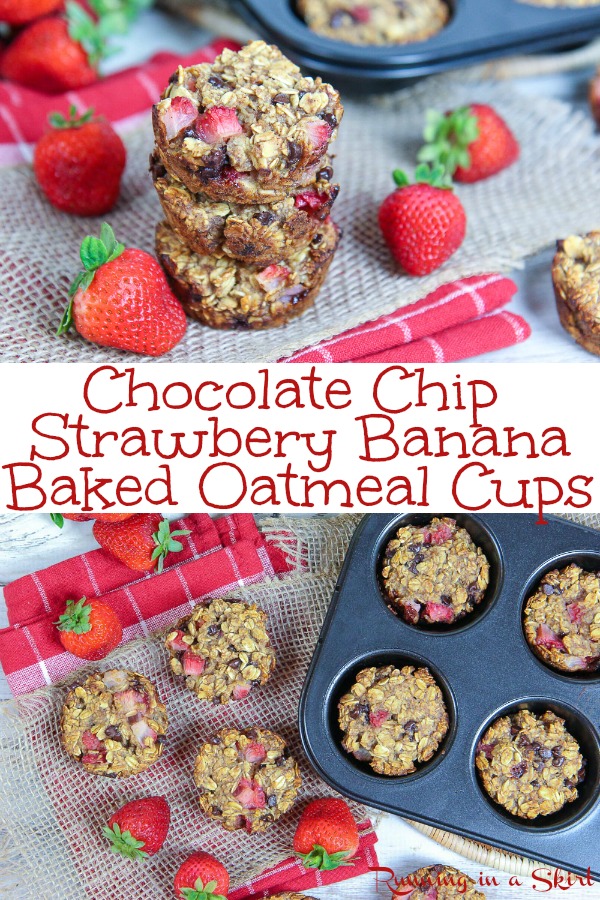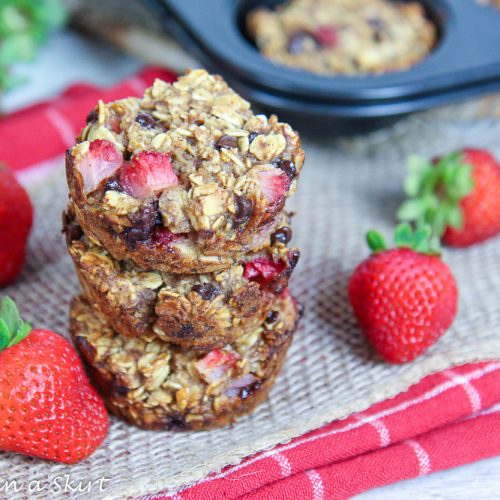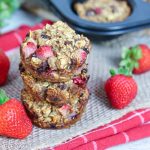 Strawberry Banana Baked Oatmeal Cups recipe
These Strawberry Banana Baked Oatmeal Cups recipe are a great make ahead breakfast for the week! Uses fresh strawberries and banana with chocolate chips.
Instructions
Preheat the oven to 375 and either spray 12 muffin tins with cooking spray or use liners.

In one bowl mix the oatmeal, baking powder, cinnamon, and salt together.

In a second bowl mix the egg, honey, vanilla, and mashed bananas together.

Mix the oatmeal mixture into the egg mixture. Fold in the strawberries and chocolate chip. Allow to sit for 10 minutes. Use a mini ice cream scoop to evenly distribute the mixture into the 12 muffins.

Bake for 20-25 minutes or until the center is cooked!
Notes
Store these Strawberry Banana Baked Oatmeal Cups in an airtight container in the fridge for 5 days.
Nutrition
Calories:
128
kcal
Carbohydrates:
25
g
Protein:
3
g
Fat:
2
g
Saturated Fat:
1
g
Cholesterol:
14
mg
Sodium:
69
mg
Potassium:
148
mg
Fiber:
2
g
Sugar:
13
g
Vitamin A:
41
IU
Vitamin C:
9
mg
Calcium:
39
mg
Iron:
1
mg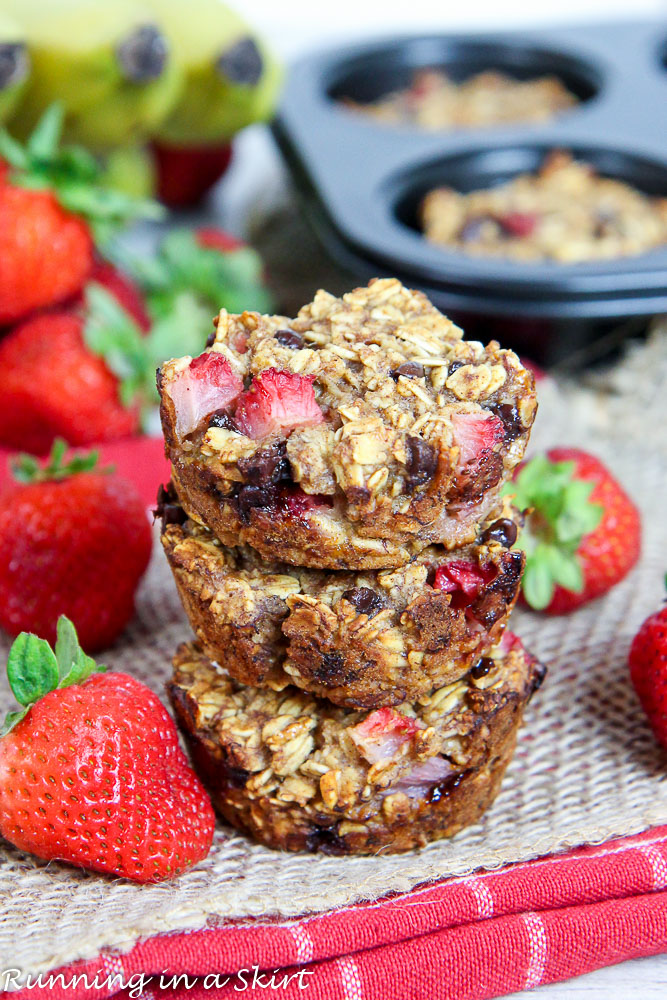 Your turn!
Have you tried baked oatmeal?