Hello! Hello!
It's been another fun week in twin world! Both babies have had pretty good weeks and are looking forward to Grandma... aka Bobby... to visit this weekend.
The most exciting thing to happen this week is we officially have TWO rollers. Hunter rolled last week from his back to front. Unfortunately the night he figured out how to roll he decided to practice ALL night and kept getting stuck and started screaming. There were a couple of nights where we didn't get a lot of sleep. So we spent the rest of the week practicing rolling the other way so he can get himself unstuck and it's getting better, but he still has his moments where he gets stuck and frustrated. It's been kind of rough after the babies started sleeping through the night to go back! Anyone else have this happen?
It keeps getting better each night, so I'm hoping he'll grow out of it soon.
THAT FACE THOUGH... I can't stay too mad.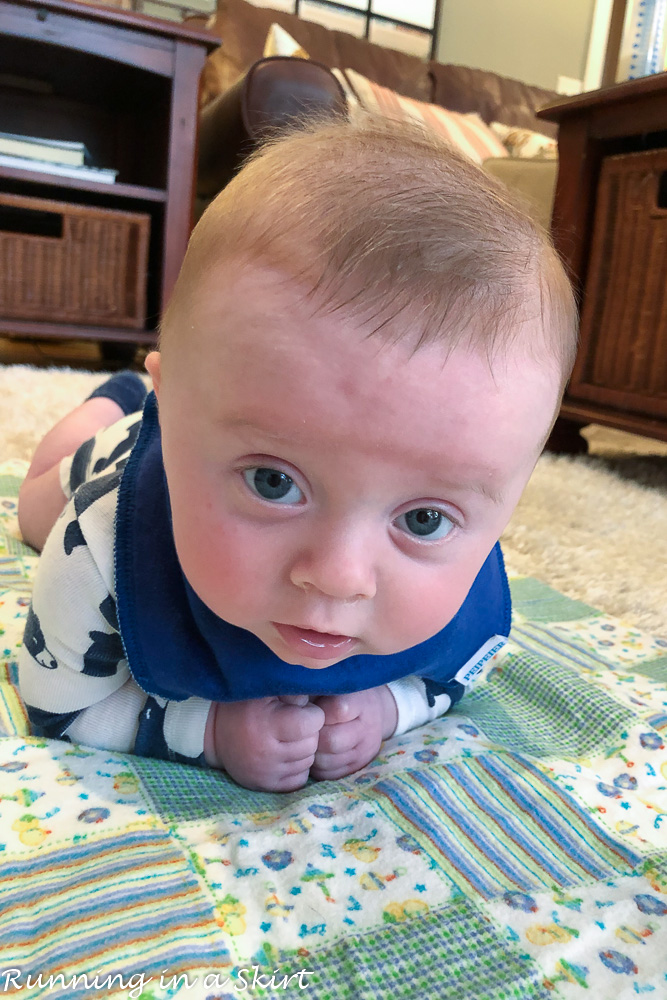 Jackson didn't want to be left out either. After showing no interest in rolling at all he out of the blue rolled from his stomach to his back Sunday! Hunter is our physically stronger baby right now, but I feel like Jackson is going to surprise us all.
I love this photo except for the little scratch on his face, which was actually put there by Hunter. I'm sure that will be the first of many accidents by twin.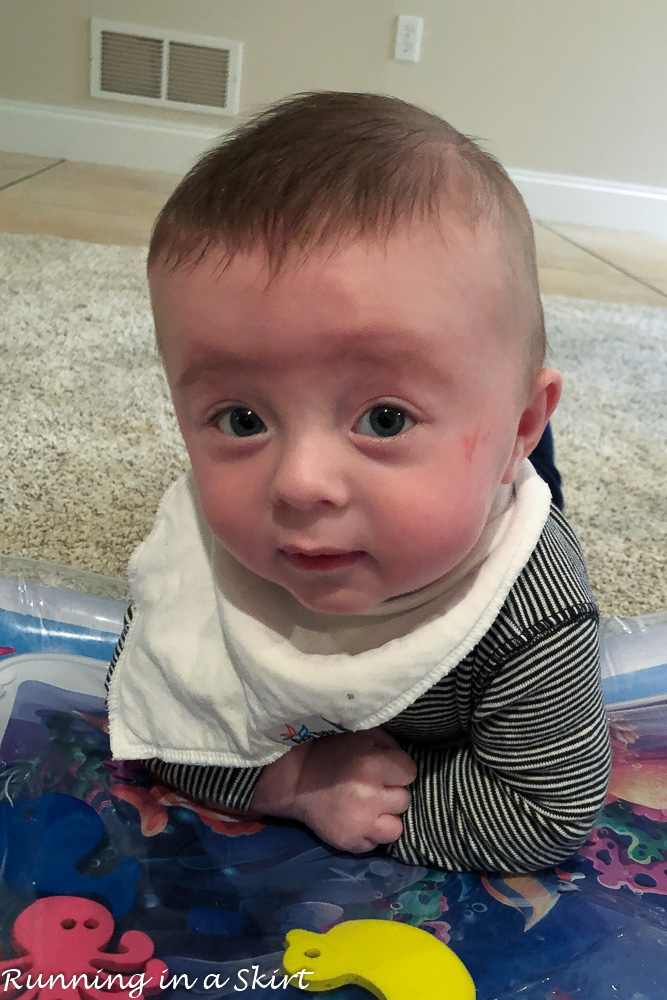 Jackson also has had a much happier week. We ended up switching him to the same heartburn medicine Hunter was on. It took about five days to kick in, which were pretty rough, but on Sunday he started eating more and smiling more! I'm hoping he is really turning a corner now.
Poor Makena has been quite the ham this week. She is bored, so she brings her gross dog toys to the boys and drops them on them. Hunter has her toy here (which I quickly took away after I snapped this!) She is so gentle and funny about it but it's definitely turning into a thing.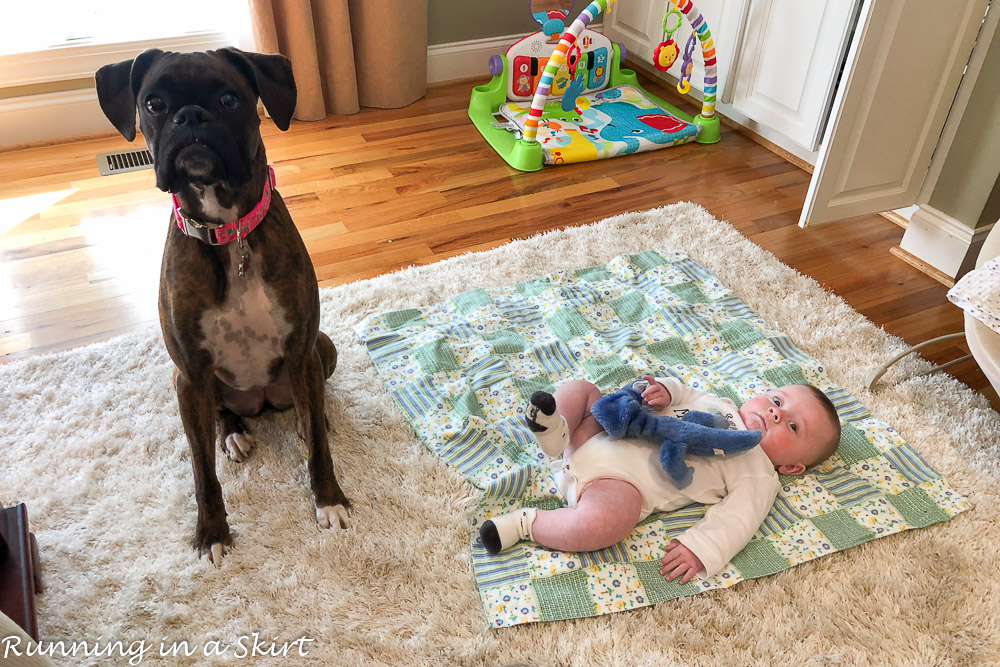 She also decided to take my floor chair as her own. I got this on Amazon after being so sore from sitting on the floor all day. In some ways, it must be so easier to have babies in your 20's!
If you are tired of sitting on the floor, I highly recommend this thing! It even folds flat so you can hide it under your couch. Affliate link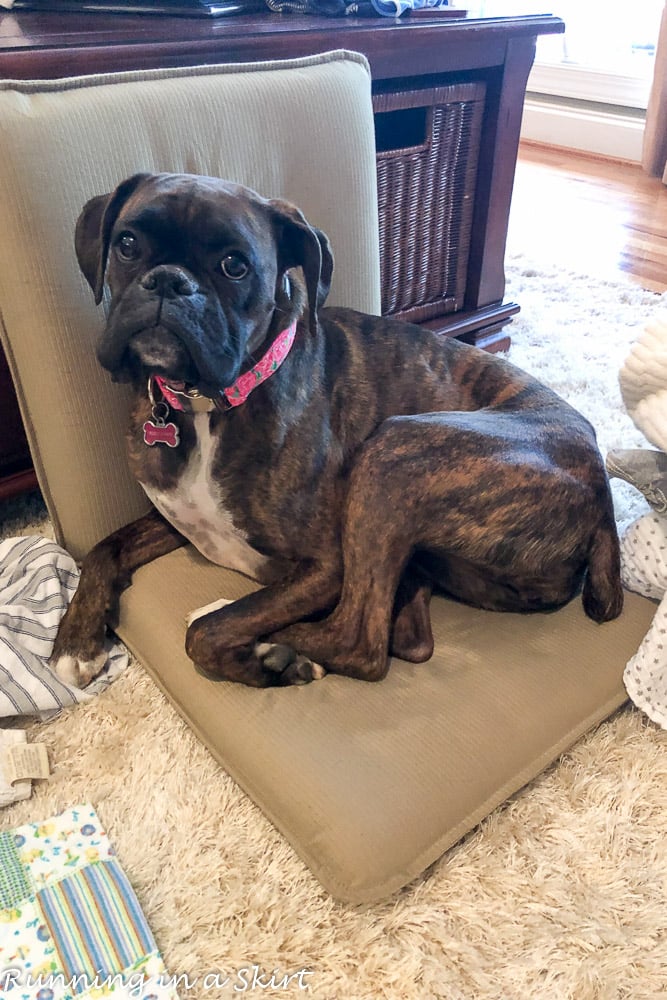 Other highlights this week include my dear friend and former WLOSer Jenny stopping by with her sweet children to meet the babies. We used to anchor the weekend news together before she moved to Orlando. We've stayed in touch ever since and I always love seeing her.
Her kids Skylar and Jackson were so cute with the babies.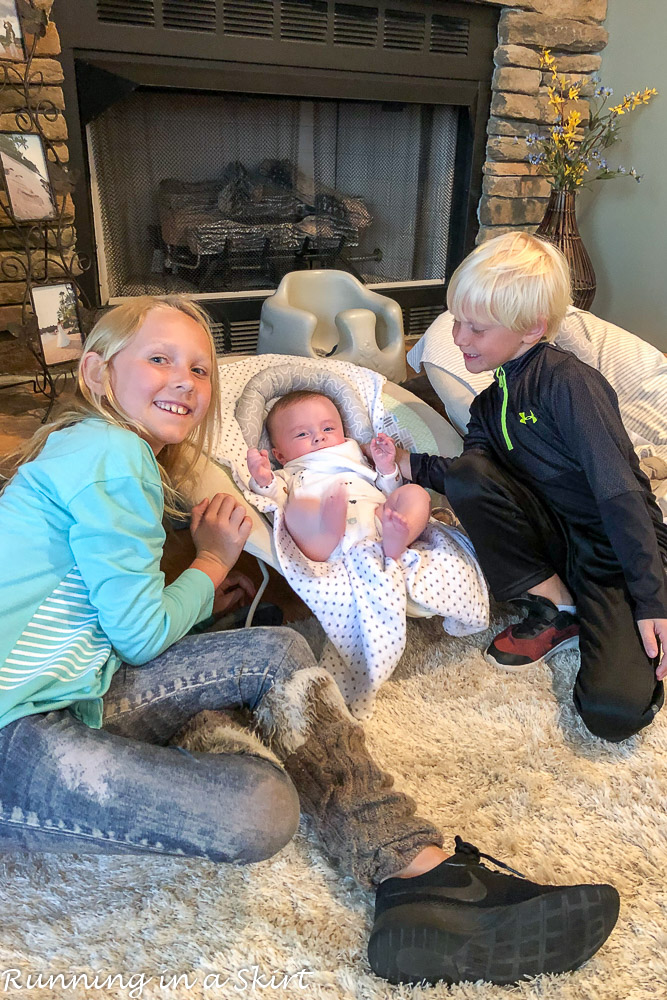 It was especially fun for her Jackson to meet my Jackson! I loved her name so much I borrowed it. If my Jackson is half as cute as hers, I'll be pretty lucky.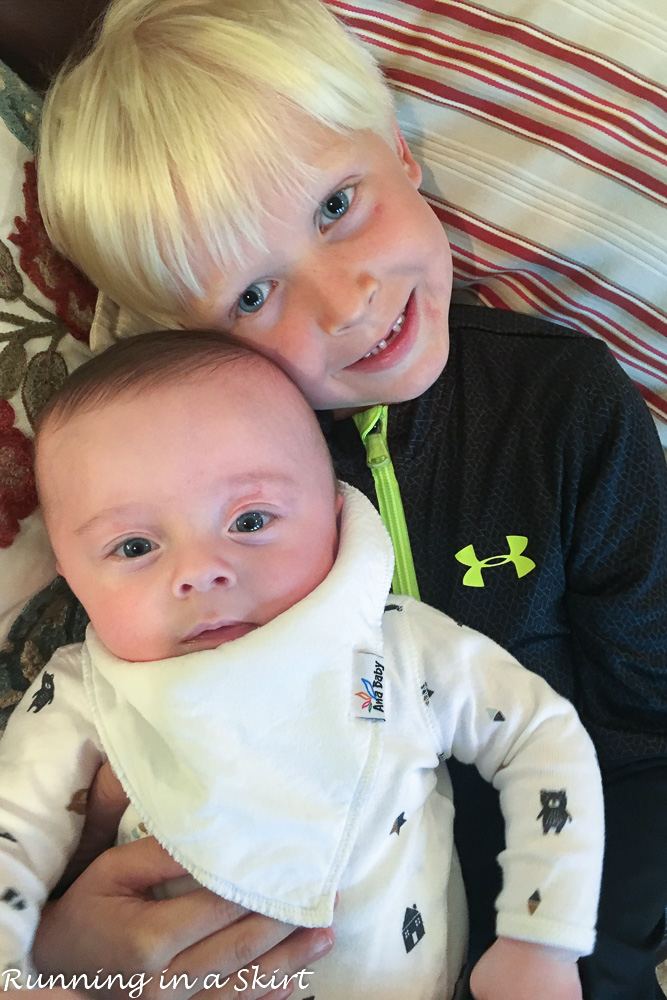 Sunday was gorgeous so the family went for a long walk. This stroller is getting SO heavy!!!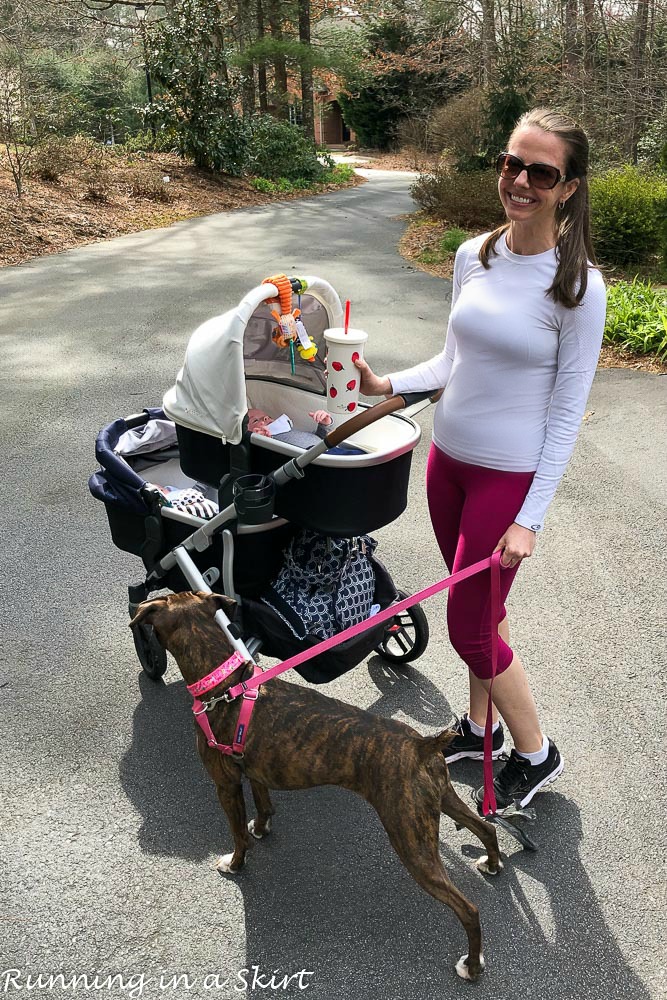 Spring has officially arrived in the mountains and I'm so happy for some milder days.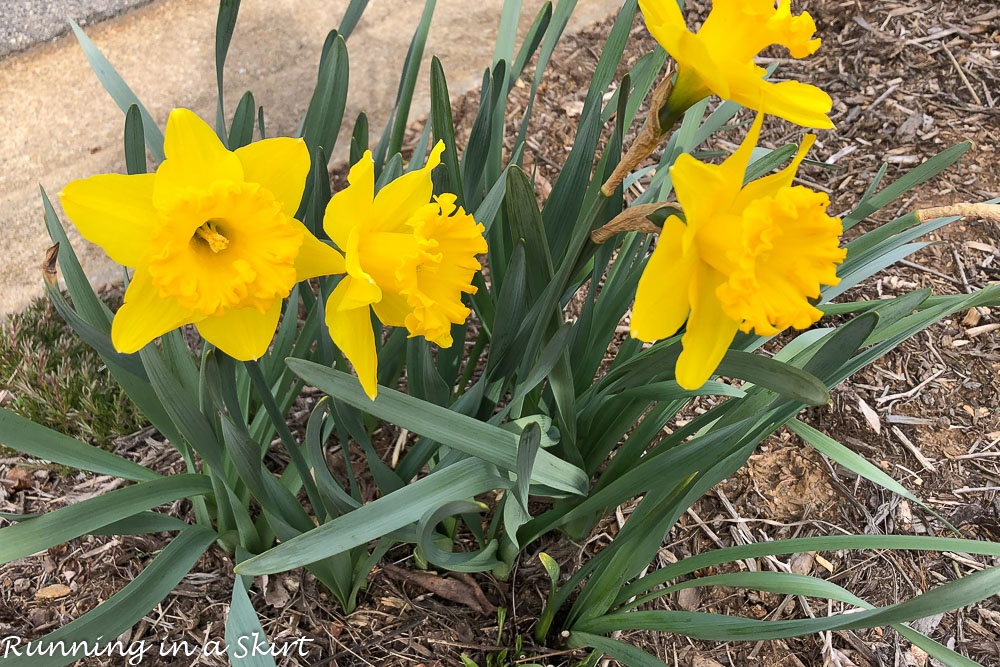 In non-baby news, The Hubs and I went to a quick dinner alone Saturday and I actually got dressed in real clothes. It's only happening a few times a week these days, so I took a picture.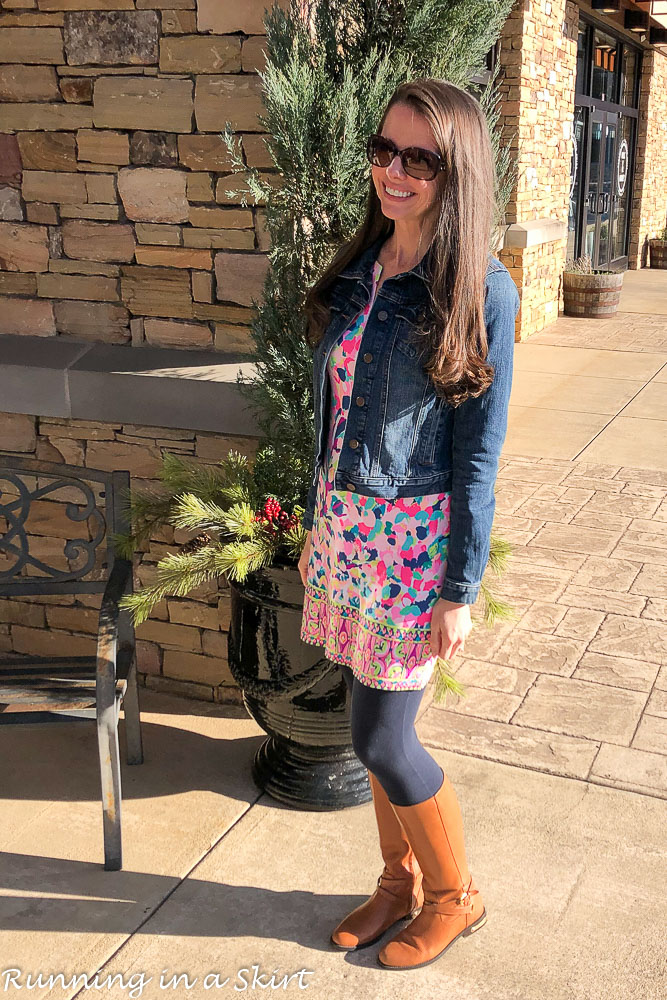 We brought home a pie flight from Baked, which was incredible.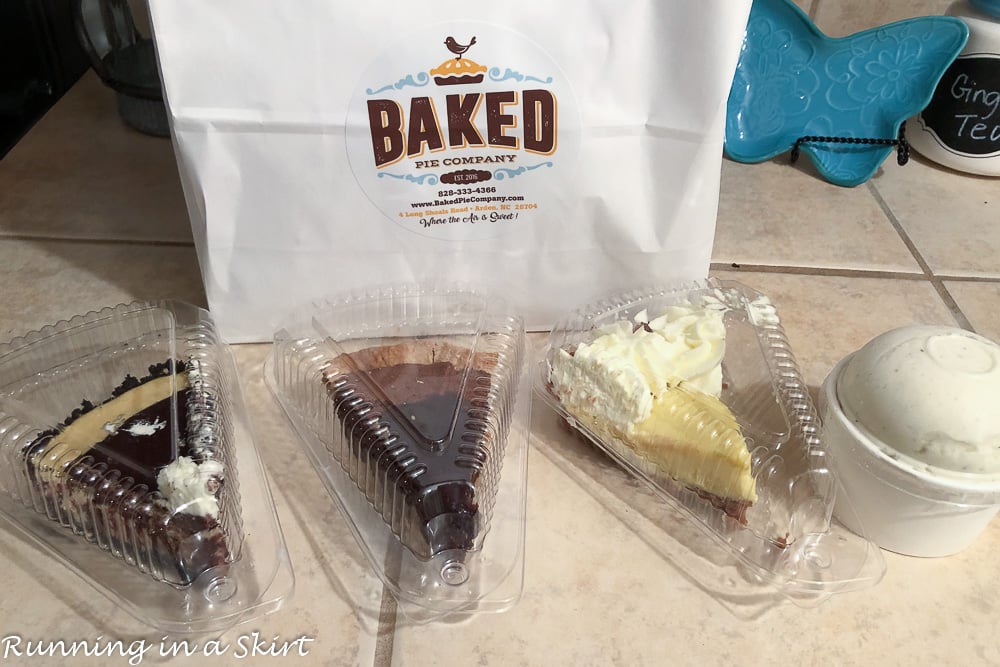 I also got to meet the Hubs for lunch and I really enjoyed this Shrimp and Kale wrap from The Blackbird.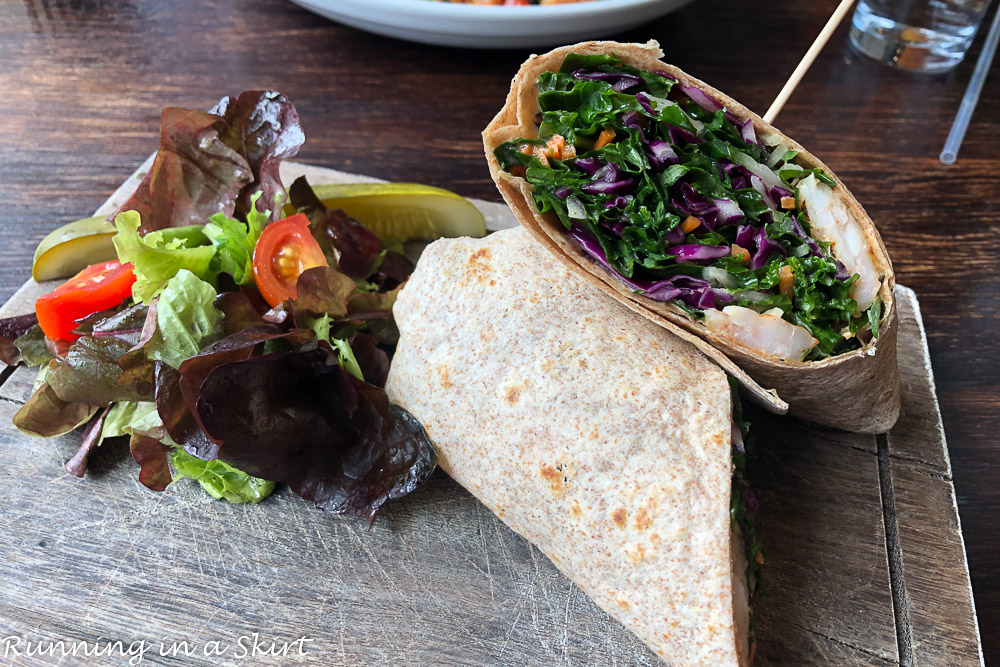 It feels like even with tax season we are really starting to get in a groove with the babies. They are being SO funny and playful lately and we've all had a pretty good week. I hope you did too.
Love, Julie