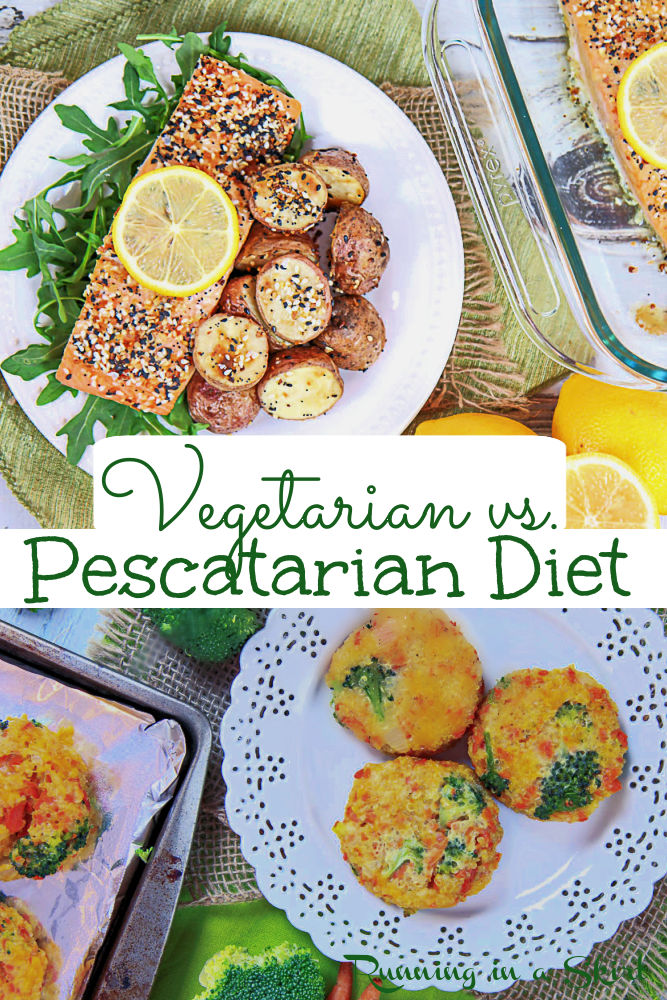 You might be wondering about the difference between a Pescatarian vs Vegetarian diet. This guide will answer your questions and help you decide if either of these diets will work for you!
Learn More About the Pescatarian Diet: Pescatarian Diet Guide for Beginners, 15 Healthy & Satisfying Pescatarian Meals Where You Will Not Miss the Meat, Pescatarian Meal Plan & Shopping List & Pescatarian Meal Prep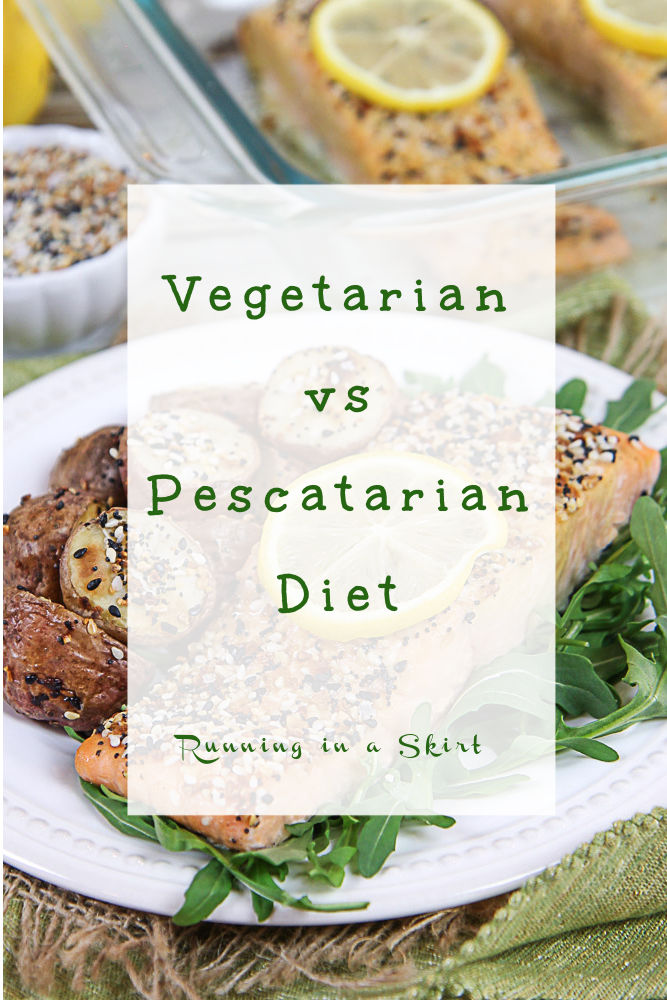 Pescatarian vs Vegetarian Diet
There are a lot of popular alternative diets these days from vegan, plant-based to flexitarian there are a lot of different styles of eating to explore. I'm breaking down the differences in the two diets that I've successfully done for years to help you understand the difference between the pescatarian vs vegetarian diet. If you are curious about either of these healthy diets, this guide is for you. If you want to know more about my personal journey that led me to eat this way start with the beginning of my guide, Pescatarian Diet for Beginners.
I've been either a vegetarian or pescatarian for nearly 30 years, which is before any of these diets were mainstream. I stopped eating most meat in middle school and went from being mostly vegetarian to pescatarian in college when I discovered that I enjoyed occasionally eating seafood, it made eating out easier (this was back when it was rare to find vegetarian food at restaurants) and I generally felt healthier when I incorporated it into my meals. Back then I'd never heard of the term Pescatarian so I'd simply say "I'm a vegetarian who eats seafood and fish." As you can imagine, I confused a lot of people over the years with this phase!
Luckily now so many more alternative diets are mainstream and it's much more common to have a slightly different diet. In fact, it's so easy to enjoy this lifestyle that people can know me for years before they realize that I eat a little differently than most. I'm still amazed at the alternative food I can get in the regular grocery store these days because you used to not be able to find anything.
So let's dive into the differences between the Pescatarian vs Vegetarian diet which is becoming more and more popular each year.
Pescatarian vs Vegetarian: Which Diet Might Work For You!
Click To Tweet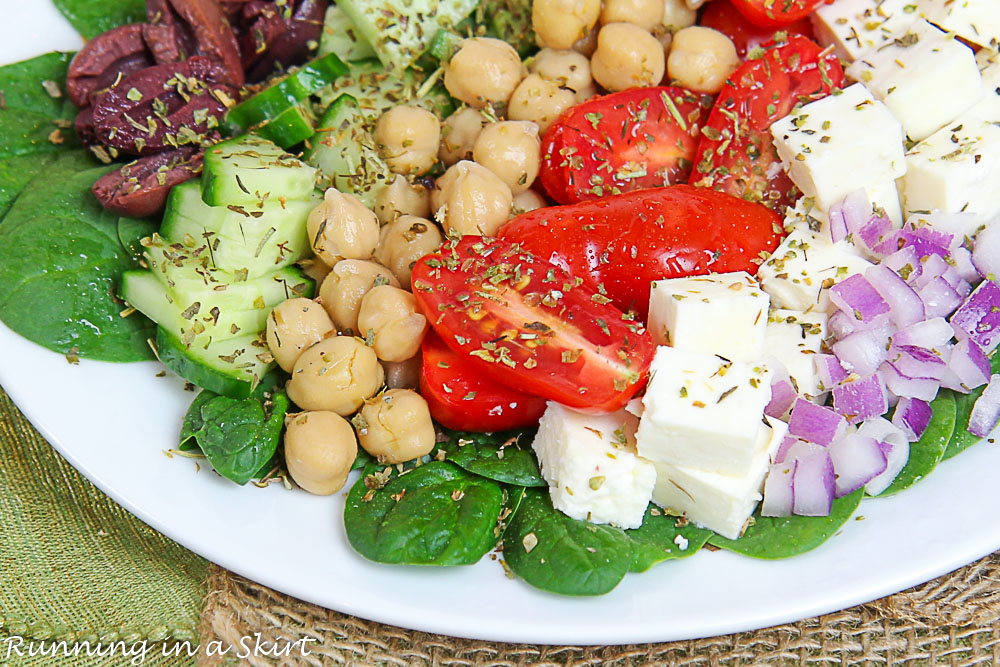 Vegetarian Diet Highlights
The vegetarian diet or lifestyle is one where you eat mainly food from plants and eliminate the consumption of all meat products including fish and seafood. The difference between a vegetarian and a vegan is that vegetarians eat some animal products including either milk/dairy, eggs, and/or honey. Vegans don't eat anything that comes from an animal including eggs, milk, cheese, and honey.
Here are a few different types of vegetarians.
Lacto Vegetarian: A person who eats dairy products including milk, cheese, cottage cheese, yogurt, and butter.
Ovo Vegetarian: A person who eats eggs.
Lacto-Ovo Vegetarian: A person who eats both eggs AND dairy products.
Do Vegetarians Eat Fish?
No! True vegetarians don't eat fish BUT pescatarians do.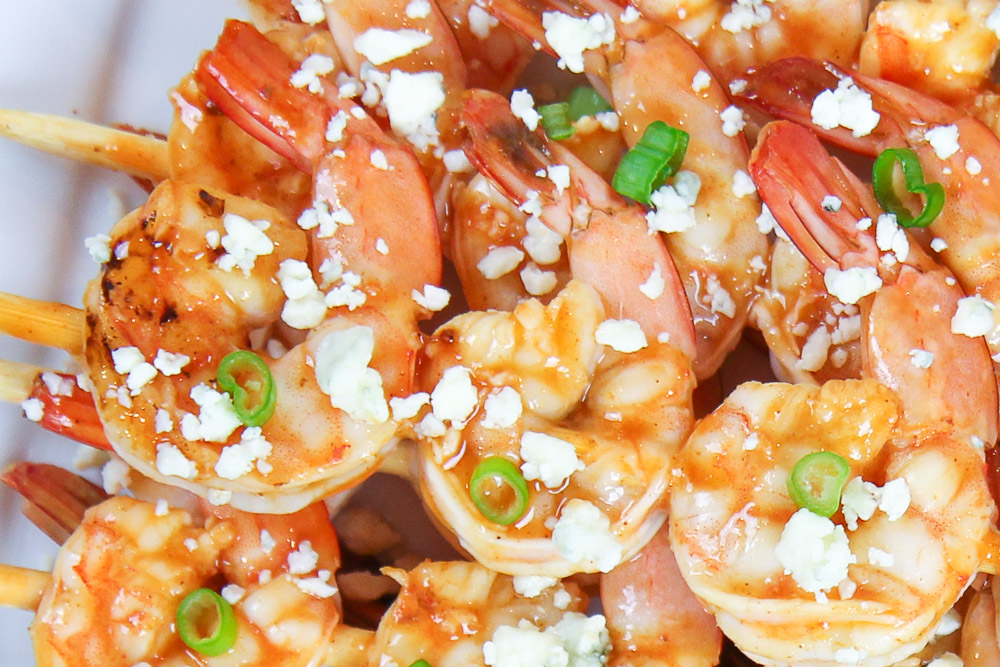 Pescatarian Diet Highlights
The difference between the vegetarian vs pescatarian diet is that pescatarians occasionally eat fish and seafood. They do not necessarily eat seafood at every meal and often eat a mainly plant-based diet adding seafood a few times a week. I eat this way!
A Pescatarian can also decide whether to eat milk or eggs too and come with similar definitions as vegetarians.
Lacto Pescatarian: A person who eats dairy products including milk, cheese, cottage cheese, yogurt, and butter.
Ovo Pescatarian: A person who eats eggs.
Lacto-Ovo Pescatarian: A person who eats both eggs AND dairy products.
Other than eating seafood, there aren't a lot of differences between vegetarians and pescatarians. Both diets aren't really a weight loss plan, but instead, a complete lifestyle choice that can help you be healthier. You can also be gluten-free or even keto WHILE keeping a pescatarian or vegetarian diet.
A fun fact is the name Pescatarian comes from the Italian word "pesce" which means fish.
What Does a Pescatarian and Vegetarian Eat?
Vegetarian Food
Vegetables (Fresh, frozen or even canned)
Greens (Spinach, kale, mixed greens, etc.)
Fruit (Fresh, frozen or canned)
Bread (Whole grain is best.)
Pasta (Regular, whole wheat or protein enhanced, etc.)
Grains (Quinoa, rice, brown rice, wheatberries, etc.)
Nuts and Seeds (Almonds, Sunflower Seeds, etc.)
Beans (Black Beans, Kidney Chickpeas, etc.)
Legumes (Lentils, etc.)
Tofu/Tempeh
Eggs - Optional
Dairy - Optional
Honey - Optional
Pescatarian Food
A pescatarian eats everything on this list above PLUS a few more! It's really an extensive list of things you can eat.
Fish - salmon, tilapia, mahi-mahi, tuna, sardines, grouper, cod, ect.
Seafood - shellfish including shrimp, clams, mussels, lobster, oysters, ect.
Both vegetarians AND pescatarians don't eat meat in any other form including chicken, pork, lamb, duck, or beef. If it's not found in the water, they don't eat it.
Favorite Pescatarian Recipes with Fish or Seafood:
Vegetarians eat food with just vegetables but when you are pescatarian you can add recipes like this to your meal prep and meal planning.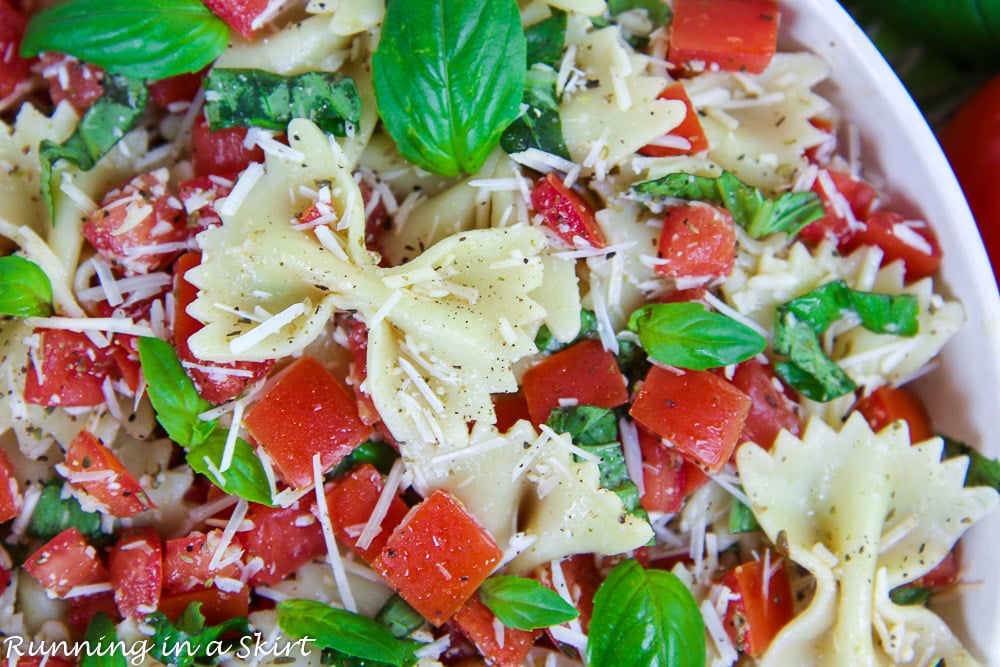 Reasons to be a Pescatarian vs Vegetarian...
Ethical Reasons and Environmental Reasons
Many people becoming vegetarian or pescatarian for ethical reasons. Whether it's to reduce their carbon footprint, or they just don't want to eat animals, this is often one of the most common reasons to make the conversion. Even if you are a pescatarian you are still reducing your carbon footprint by a lot.
In middle school, I decided to stop eating meat because I really loved cows. Now I just don't have a taste or desire to eat it. Whatever reason you pick, this is the most common reason to become a vegetarian or pescatarian.
Health Benefits
When done right, any diet that is based on eating more plants will be healthier. Eating a vegetarian or pescatarian diet can often be much healthier and eating less meat can have lots of health benefits including:
Reduced Cholesterol Levels
Reduced Inflammation
Better Control of Blood Pressure & Blood Glucose
Improved Heart Health
Reduced Cancer Risk
Increased Brain Function
The health benefits are profound and can make a huge difference in your weight and how your feel. Just remember that a healthy vegetarian diet isn't one that's just pasta, bread, and cheese. It's best to enjoy more vegetables and include those in moderation. Eating a Mediterranean diet without other meat is a healthy way to be a pescatarian. Look for nutrient-dense, whole foods for the best results.
Fish is generally low in saturated fat but rich in other nutrients and vitamins making it a great protein choice. It can also help with weight loss when done correctly and you reduce your overall calories with healthy foods.
There are some risks to eliminating food groups from your diet, but if you watch what you eat you can lead a very healthy (if not healthier) lifestyle than your meat-eating friends. If you eliminate either eggs or dairy from your diet you'll have to be more careful to replace some of the nutrients you find in those foods.
Is it healthier to be vegetarian or pescatarian?
One huge benefit of being a pescatarian is you get lots of healthy omega-3 fatty acids which are great for heart health. Often a purely vegetarian diet would benefit from a supplement including this if you aren't eating any fish or seafood at all. There is also less risk of having general nutritional deficiencies if you eat seafood. That being said, if you are careful about what you eat you can get all of your nutritional needs from being a vegetarian you just have to be somewhat aware of what you are eating to hit those nutritional goals.
Studies show that both pescatarians and vegetarians tend to live longer than people who regularly consume red meat and poultry.
Do pescatarians have high cholesterol?
NO! Studies have shown that higher consumption of fish with omega-3 fatty acids is related to a lower risk of heart disease including having generally lower cholesterol. You get the most health benefits from this diet when it's rich in vegetables and whole grains.
Why could the pescatarian diet be bad?
One risk of the pescatarian diet is eating too much fish. You do have a risk of mercury poisoning if you eat large fish on a regular basis. Make sure to become knowledgeable on which fish put your more at risk and enjoy those less frequently. As a pescatarian, I don't eat fish daily! I enjoy it a few times a week and focus most of my eating on plant-based foods.
If you are pregnant it is recommended you avoid raw fish like sushi and watch out for fish with higher mercury levels. Young children also want to be cautious and avoid high-mercury fish like swordfish, shark, king mackerel, tilefish, marlin, and tuna.
However, I was safely able to stay a pescatarian while I was pregnant with twins by eating lower mercury fish and seafood just a few times a week.
Another con of the pescatarian diet is it that fish can be more expensive. However, if you load your cart up with fresh and frozen vegetables plus whole grains... a few servings of seafood a week should not break the bank.
You should also be aware of getting enough B12 vitamin, which is often found in traditional animal products. You can get less of it while eating a pescatarian or vegetarian diet and it's important to monitor your intake. You can get vitamin B12 from food like tuna, sardines, eggs, dairy, fortified cereals, and nutritional yeast.
One last con is you should also be aware of what fish is caught sustainably and how it is farmed.
What is a pescatarian vs flexatarian?
A pescatarian is a vegetarian who eats seafood or fish occasionally while a flexitarian is someone who primarily eats vegetarian, plant-based food but occasionally will eat chicken, pork or beef. They do focus mainly on the vegetarian diet. This is another great choice for health if you don't want to give up meat completely. Keep reading for a list of all of the alternative diets like these.

Why am I a Pescatarian vs Vegetarian...
After decades of being a pescatarian, I can easily say that this will be my permanent lifestyle choice. I don't want or crave meat in any way. I personally don't like the idea or concept of eating it.
However, I'm not judgmental of anyone who does. I even feed my twins more of a Flexitarian diet (a mainly plant-based diet that just occasionally eats meat of any kind.) I'm definitely not going to point you to any disturbing information about eating animals. If you feel in your heart you don't want to eat them, then don't. If you are ok with it, I'm fine with that too.
I do eat seafood because I honestly really enjoy it and feel like it makes hitting any protein goals I have for myself easier. I also feel like the benefits of getting the omega-3s in natural vs. supplement form outweigh any reservations I have about eating it.
I think the Pescatarian diet is great because it's not as strict as being a vegetarian and gives you so many more options of things to eat. I think the less strict you are about any diet change, the more likely you are to keep it. If you decide to go vegan and love cheese... you are going to have trouble sticking with it. So I believe finding a flexible diet you can maintain is better for you in the long run.
Is the Pescatarian Diet Right for You?
At the end of the day though deciding whether to be a pescatarian vs vegetarian is a choice everyone has to make for themselves! Every person is different and feels differently with what they eat so you should honestly eat what makes you feel the healthiest. If you are curious about it give it a try for a few weeks and see how you are feeling. If you notice that you are eating overall more fruits, vegetables, and whole grains this might be a great choice for you. Notice if you have more or less energy and how your body feels overall. If you are worried about getting enough protein or vitamins, it's never a bad idea to consult a doctor or dietitian before making the change.
At the end of the day though, you are the only one who can decide if the pescatarian diet is the best choice for you.
Other Diet Lifestyles to Consider
There are a lot of terms out there right now describing how people chose to eat. Here are a few popular other ones to consider.
Vegan: A person who doesn't eat any products from animals including dairy, eggs, and honey. Often this person will not use animal products either like leather.
Fruitarian: A person who is vegan but consumes all or mainly fruit.
Flexitarian: A person who chooses to be plant-based most of the time but occasionally eats a meal with meat in it. They see the health benefits of mainly eating vegan, but don't have a moral objection to eating meat just sometimes.
Macrobiotic: A person who doesn't just eat certain foods, but finds balance in their food choices. They follow a formula to determine how much of each food group to eat. Things like dairy, eggs, red meat, and refined sugars are not allowed.
My Full Pescatarian Guide:
Pin for later...