This easy Vegan Bean Salad features great northern beans (white beans,) tomato, cucumber, fresh herbs and a simple zesty Italian salad dressing. Served cold, my White Bean Salad recipe is the perfect vegan and hearty vegetarian salads for cookouts and more!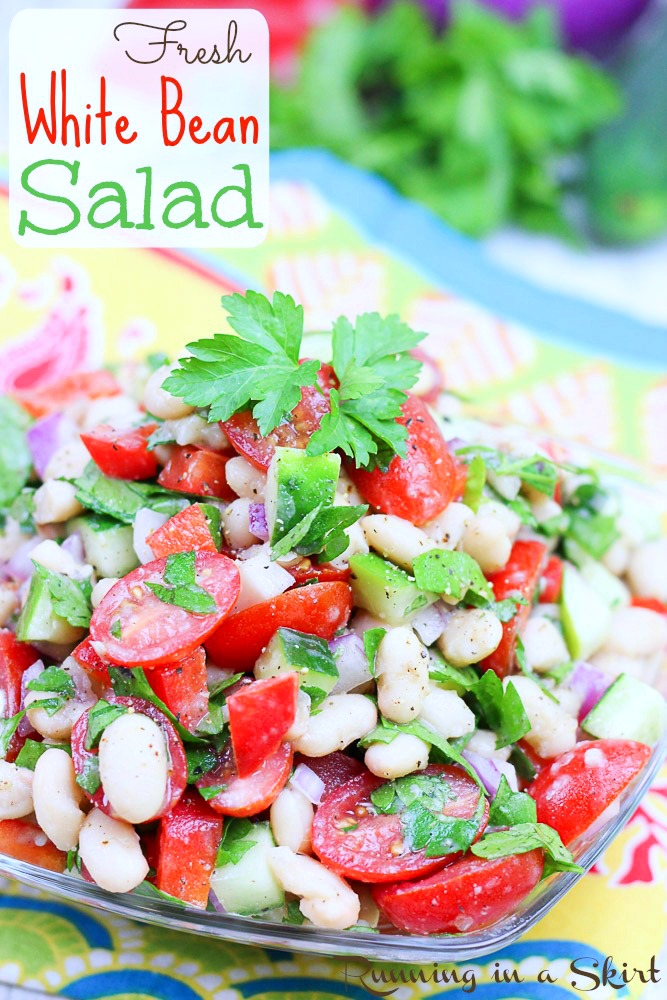 Hello! Hello!
Today's recipe is compliments of my rock-star brother, Tommy. It's his Vegan Bean Salad recipe. This really is the BEST White Bean Salad!
It's actually kind of funny that both Tommy and I ended up working in the food world (he's a manager at Morton's in Charlotte and loves to cook.) Our Mom cooked growing up, but she basically was just doing it to feed us, not because she enjoyed it. We both fondly remember her making meatloaf in the microwave. That might actually be why I'm a vegetarian/pescatarian... but that's a story for another day. 🙂
So neither of us were really taught to cook... it's just something we both picked up and grew to love on our own. I think it comes from the fact that we both just love to EAT good food like this simple salad.
His zesty Vegan Bean Salad is filled with goodness like Great Northern Beans (white beans,) tomato, cucumber and fresh herbs. It's topped with the best simple White Bean Salad Dressing recipe we could find. The humble combination of flavors makes this a hearty vegetarian salad that everyone loves.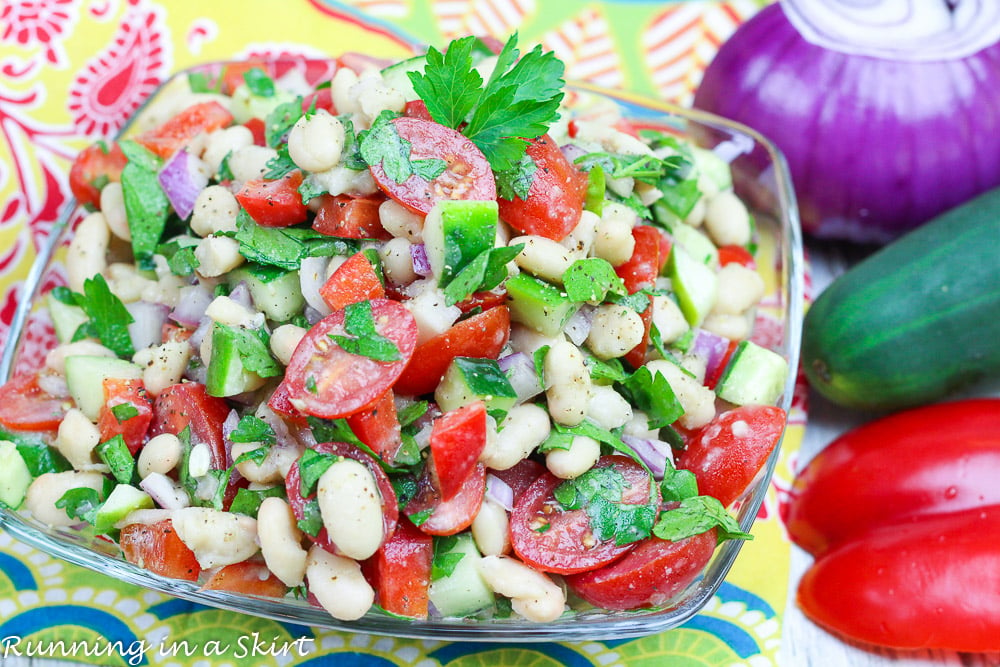 Vegan Bean Salad recipe
I was at Tommy's house the other day and he made the most delicious swordfish with a horseradish topping. On the side, he served this crazy simple Vegan Bean Salad. He called it a White Bean Salad. No matter what you call it, I could not get enough of it. The soft white beans paired perfectly with the fresh veggies, light red wine based salad dressing and piles of fresh herbs. This Italian White Bean Salad was legit.
In perfect food blogger style, I came back home and recreated it just like my bro. I think he will be proud.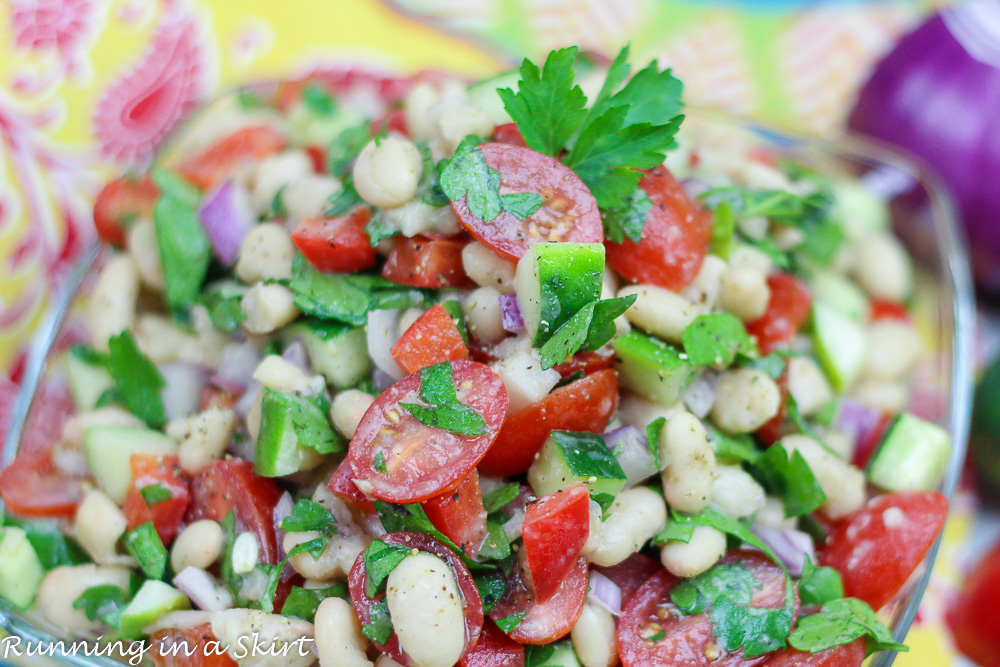 Hearty Vegetarian Salads?
If you are looking for hearty vegetarian salads... this is it! It's colorful, protein-packed and crazy easy to make. My Brother made it as a side dish but as I was eating it I realized how versatile it really is. The Great Northern Beans definitely make it more of a vegan meal. This dish is the perfect side, vegetarian/ vegan main course or even wonderful piled on a bed of greens for more pizzaze. If you aren't vegan you could add some shrimp on top.
This Vegan Bean Salad is one I will make again and again.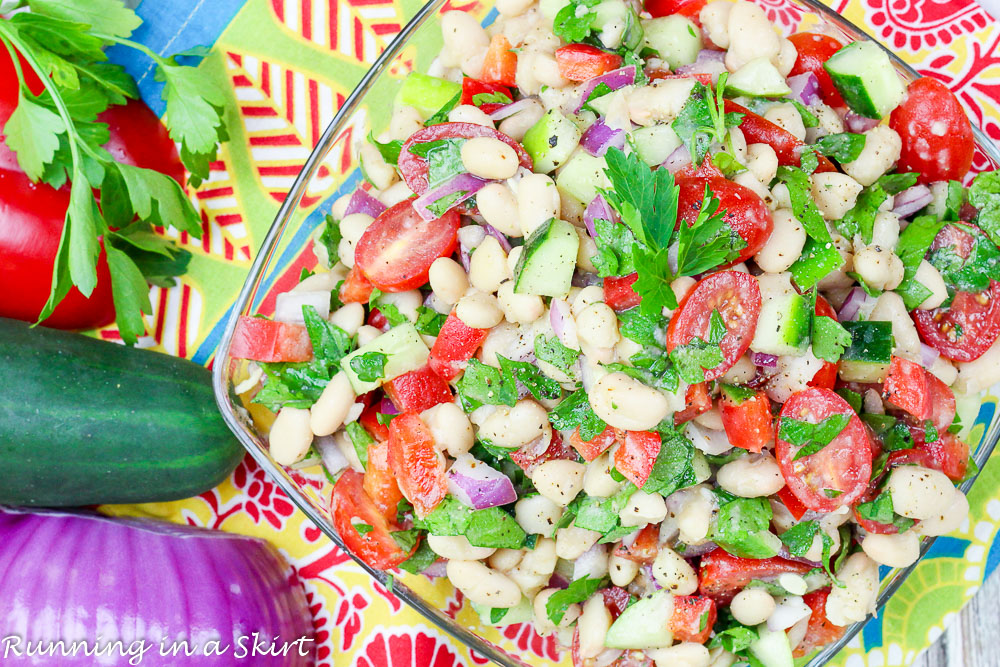 What's in this Vegan White Bean Salad recipe?
This Vegan White Bean Salad recipe is only 8 ingredients, many of which you might already have in your pantry or fridge.
Canned Great Northern Beans: Also known as white beans, Great Northern Beans are a perfect protein filled base for this bean salad recipe.
Tomato: Fresh tomato is the ideal colorful addition to this white bean salad.
Cucumber: Crunchy cucumber gives this salad color and bit of a bite.
Red Onion: The savory red onion adds loads of flavor and more color to this simple bean salad.
Bell Pepper: I also love the color and zest of a fresh bell pepper! Use any color you'd like.
Fresh Herbs: This salad could be made with dried herbs, but fresh give it a zesty punch and liven up the canned beans.
Red Wine Vinegar: A good red wine vinegar provides the perfect base for this white bean salad dressing recipe.
Good Olive Oil: Go for a quality olive oil here! I linked to one of my favorites.
This cold bean salad works great as a dish for a cookout or something you can make and enjoy for lunch all week.
How to Make Vegan Bean Salad...
This healthy Vegan Bean Salad recipe is only a few steps!
Rinse and drain the beans.
Cut your veggies
Toss everything together.
Serve cold as is or on top of a bed of greens.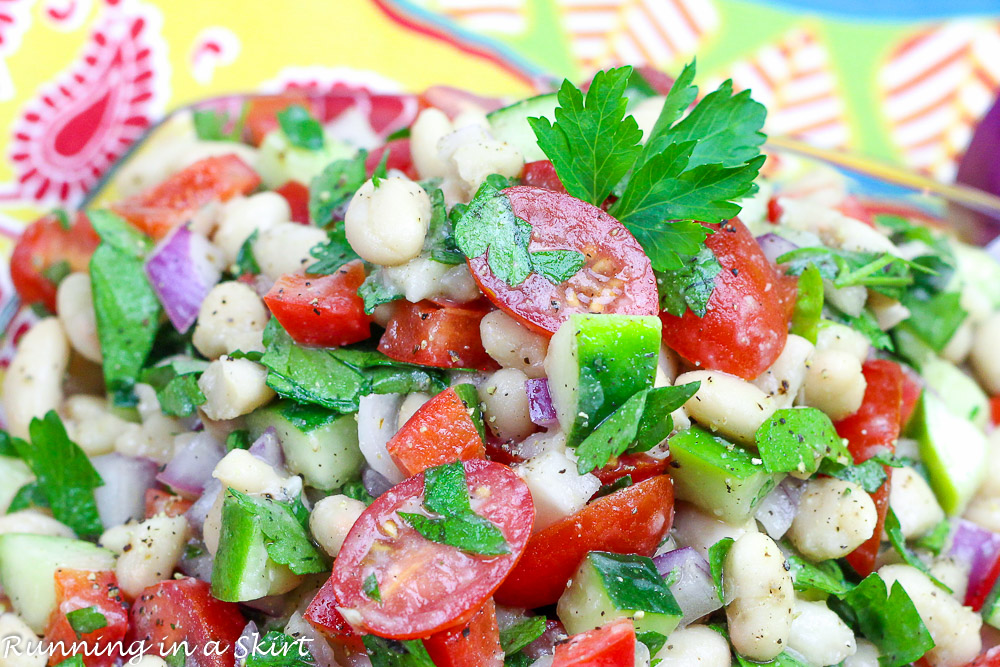 Variations & Pro Tips
Skip the homemade white bean salad dressing and use your favorite bottled Italian dressing.
Mix up the fresh herbs using basil or oregano.
If you don't have fresh herbs use a couple teaspoons of a dried Italian seasoning blend.
This salad would also be great with chickpeas!
Add some lemon to brighten it up.
I love serving my Brother's White Beans Salad with my lightened up Three Cheese Portobello Caps. They are a perfect pair for an outdoor spring or summer meal.
I think I'm going to have to start getting more recipe ideas from Tommy because this one is a winner! Enjoy.
Want more hearty & healthy vegan salads like this?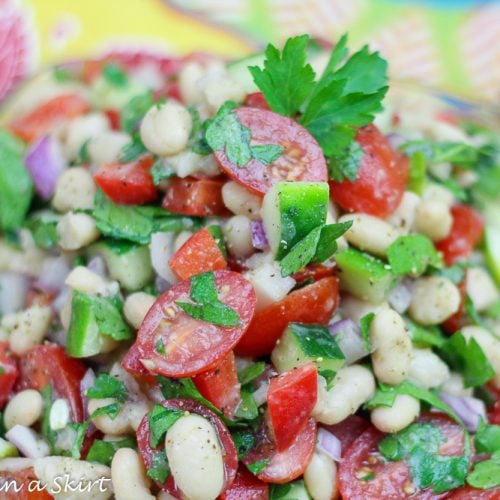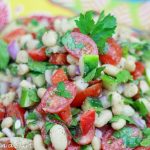 Vegan Bean Salad recipe with White Beans
This Vegan White Bean Salad recipe is the perfect, hearty vegetarian dish for cookouts and more. Eat alone, as a side dish or add it to the top of a bed of lettuce.
Instructions
Put all the ingredients in a bowl and fold together until mixed well! Serve cold or at room temperature.
Notes
Serve this Vegan Bean Salad cold for a potluck or on top of a bed of greens for a hearty vegetarian salad.
Nutrition
Calories:
233
kcal
Carbohydrates:
35
g
Protein:
12
g
Fat:
5
g
Saturated Fat:
1
g
Sodium:
17
mg
Potassium:
735
mg
Fiber:
9
g
Sugar:
2
g
Vitamin A:
1310
IU
Vitamin C:
36
mg
Calcium:
105
mg
Iron:
3
mg
Pin for later!
This post contains affiliate links.