Hi guys!
I'm back! We all got back into town Wednesday after a trip to Orlando to visit my Dad and a beach resort along the Palm Coast. We got to celebrate Easter at the beach, which was lovely. The boys even kept their cool for long enough for us to enjoy a lovely brunch out AND meet the Easter bunny.
I've been busy unpacking and taking care of babies. The trip went overall really well and while it was a lot of work, I'm really glad we went. I'm planning on putting together highlights of Orlando to share with you Monday and Palm Coast the following week. You don't want to miss the cute beach babies outfits!
In the meantime, I thought I'd share a few Things I'm Loving Lately!
Things I'm Loving Lately 43
Twins Studio Photos
When the Hubs Mom was in Asheville a few weeks ago she helped me take the boys to get some studio photos taken. I'm taking a lot of pictures of them, but I'm just not getting much that is of great quality so I wanted to see what we got with a professional.
They both were in rare form during the photo shoot, were fussy and we got a lot of pretty ridiculous photos. BUT just a few turned out cute enough that it was worth our while. I thought you'd enjoy seeing them too!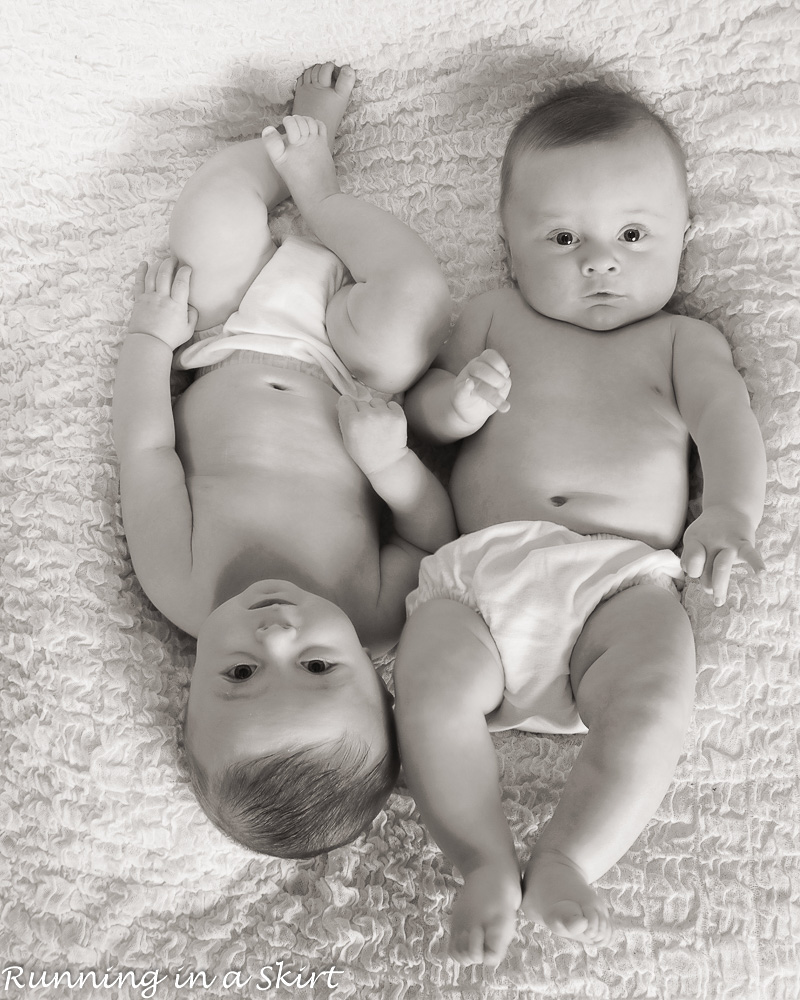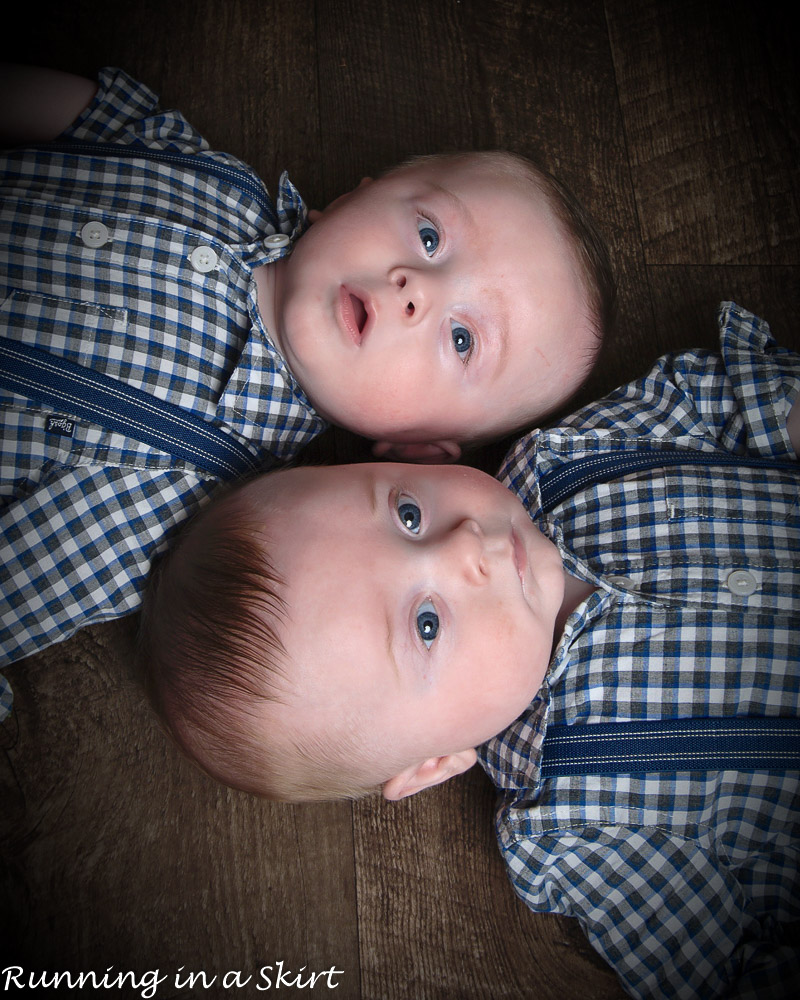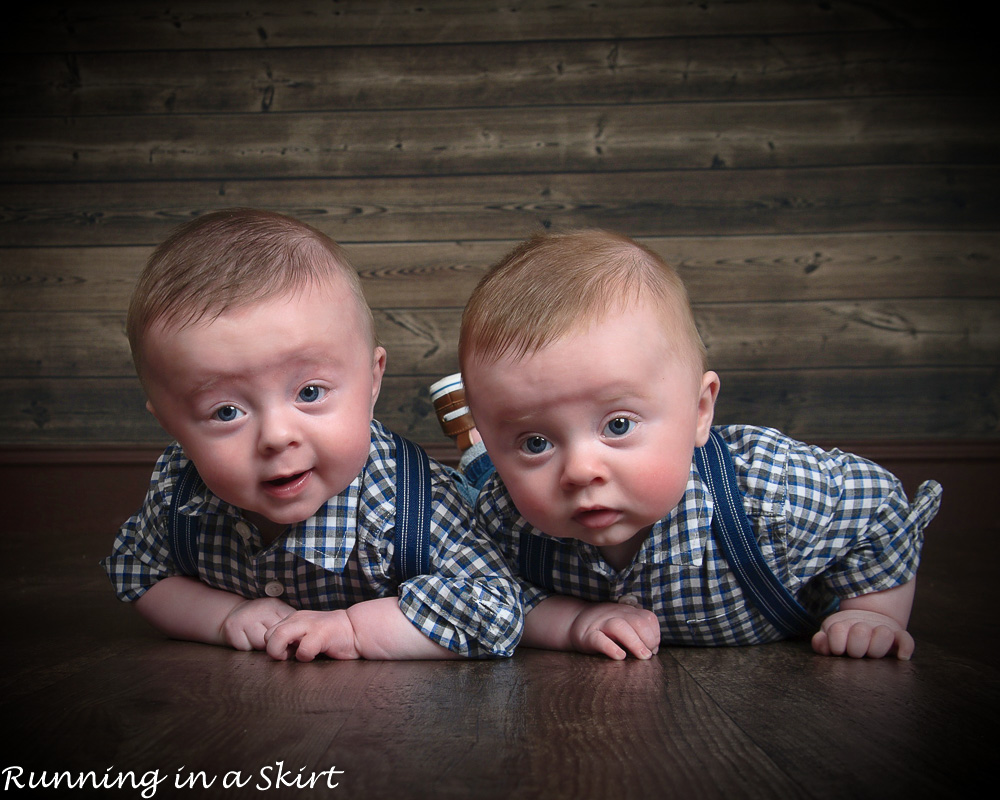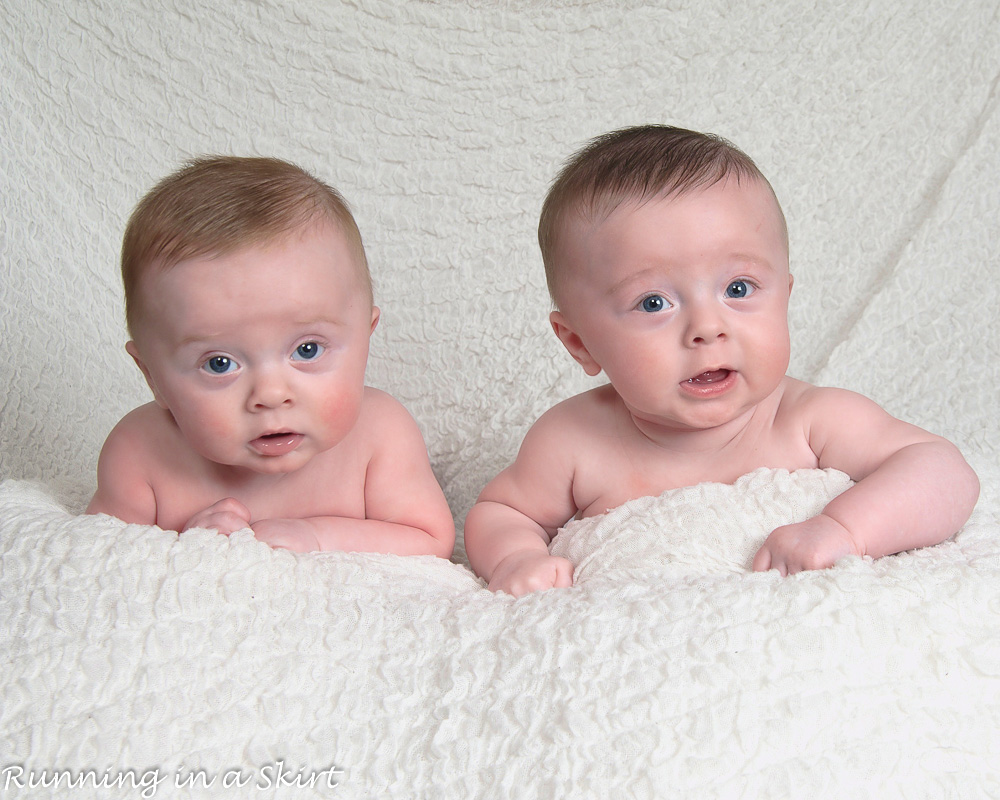 I'm kind of heartbroken because I had this gorgeous Easter outfit my best friend's Mom, Charlotte, made for the boys but none of the photos in that outfit were cute. Poor Jackson was making the worst faces in all of them. The outfits are so special that I'm going to have to try to take some at home.
5 Month Growth Pictures
The boys hit 5 months before we left four our trip! I set up some lights for this photo and I think they are finally turning out better. FYI... it takes THREE people to make this happen.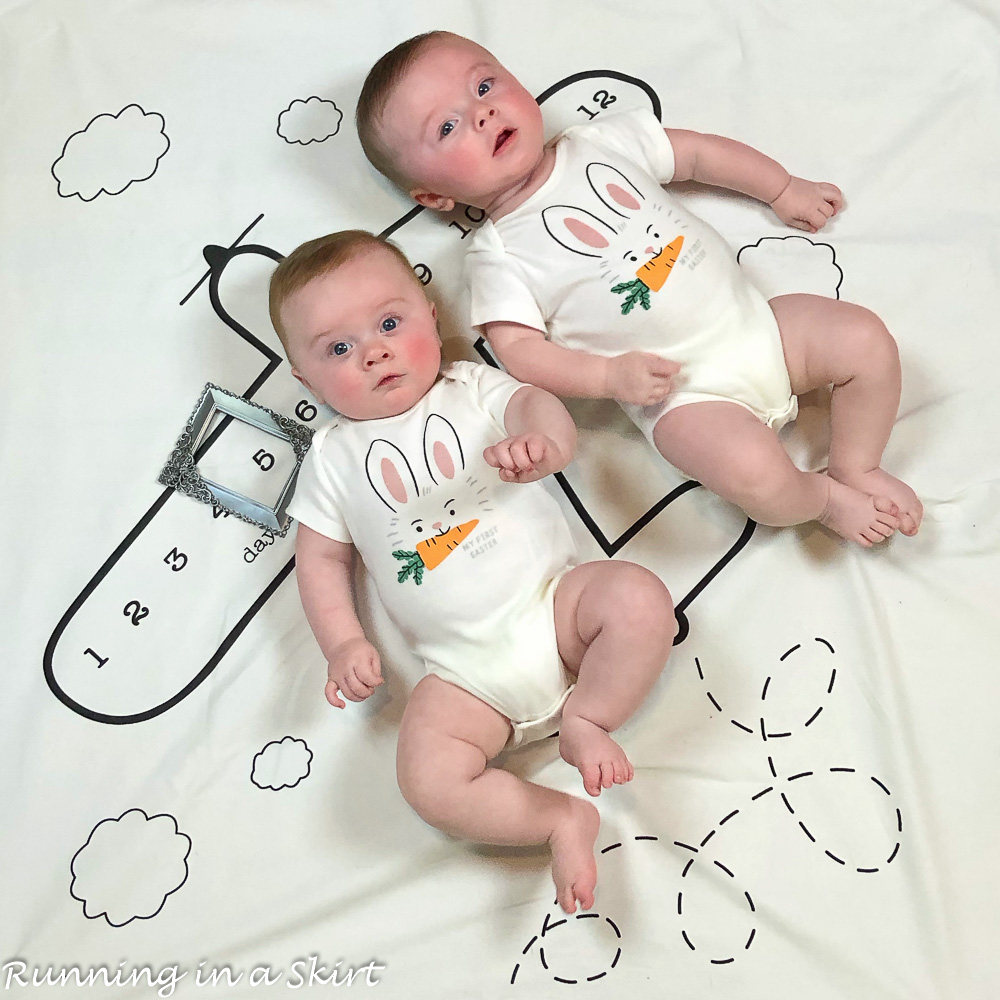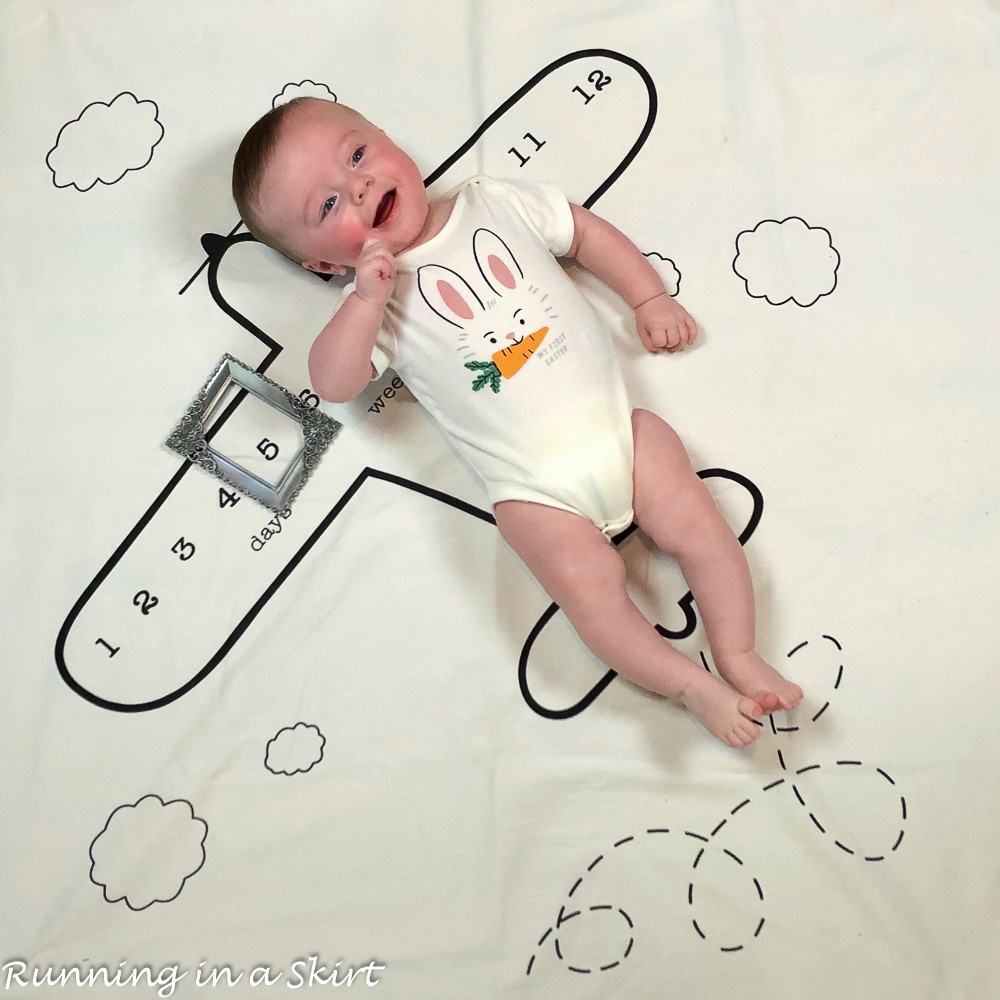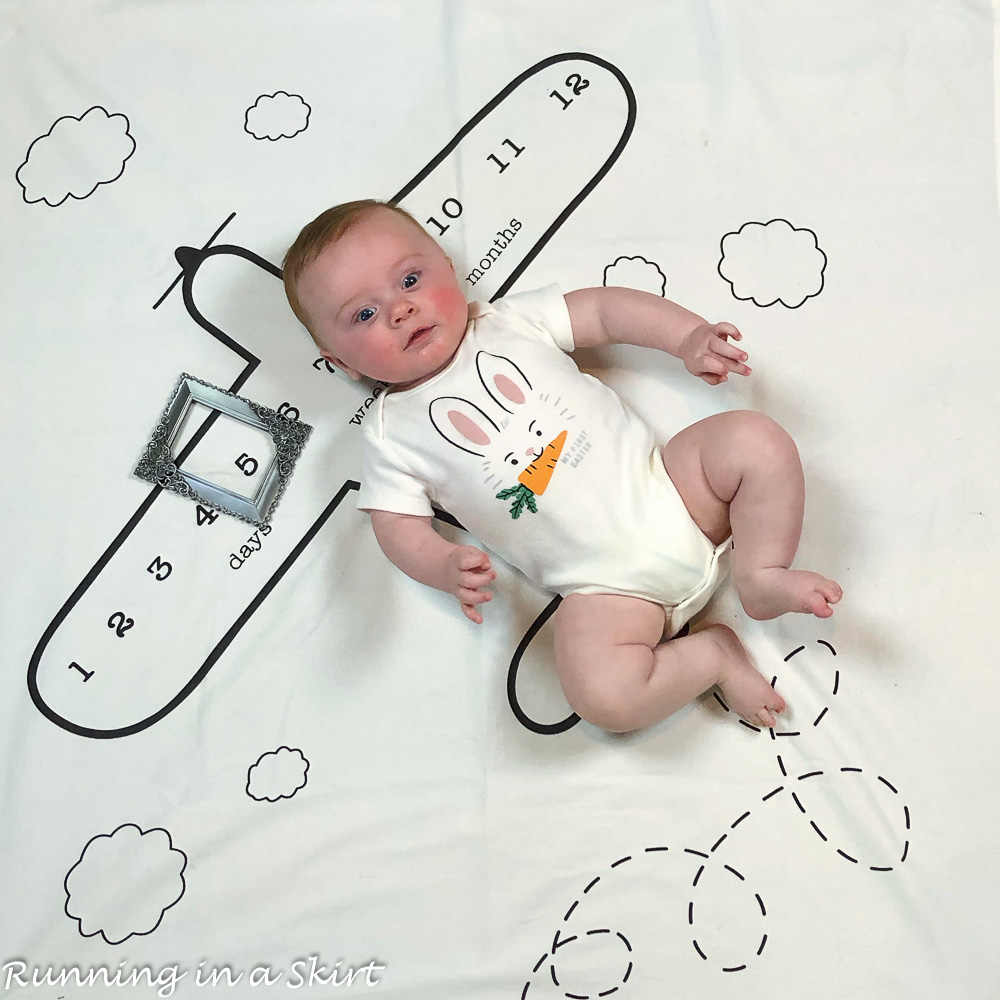 Baby Travel Gear
Since we are planning several summer trip the Hubs and I invested in some baby travel gear. We were sad to discover they had already outgrown the sweet bassinets in their twin pack and play.
We LOVED these Lotus Travel Crib. They weigh only 13 pounds each and fold up into a backpack. Our original plan was to rent baby items when we got to our destination, but it seemed like that would really get expensive after a few trips. We're hoping the boys remember them from a trip to trip and sleep better while we are gone. They are a little pricy, but I wanted to get something that would be safe for them to use for a few years. Some of the less expensive models seemed like babies could flip them when they get older and can stand.
My Dad also got us these adorable portable baby bouncers.
They also fold up and travel well! I see us using them outside a lot this summer. It was so nice to have something to put the boys in to entertain themselves for a bit.
Prince Charming Onesies
When we were in Orlando we went to Disney Springs to walk around and I had to get these for the boys. Yes, they are spoiled rotten.
RUNNING
I'm finding myself falling in love with running all over again. I've been working on increasing my speed again and I broke 30 minutes for a 5K before we left for our trip. The weather was just right and I pushed myself pretty hard to hit that, but it felt amazing. I'm hoping to get more consistent with that in the next month or so. I'm even thinking about looking for a race!
Sunny Weekend at Home
I'm so excited about this upcoming weekend at home. The Hubs is NOT WORKING and we can just enjoy being a family again. The weather looks nice, so I'm planning on doing as much outdoors as possible. Spring in the mountains is all kinds of magical and I'm so happy we'll be here for it.
Alright! I'm off to work on my post on the Orlando part of our trip which will publish Monday. Hope y'all have a wonderful weekend.
Catch up on the other Things I'm Loving Lately here!
Your turn!
What are you loving lately?