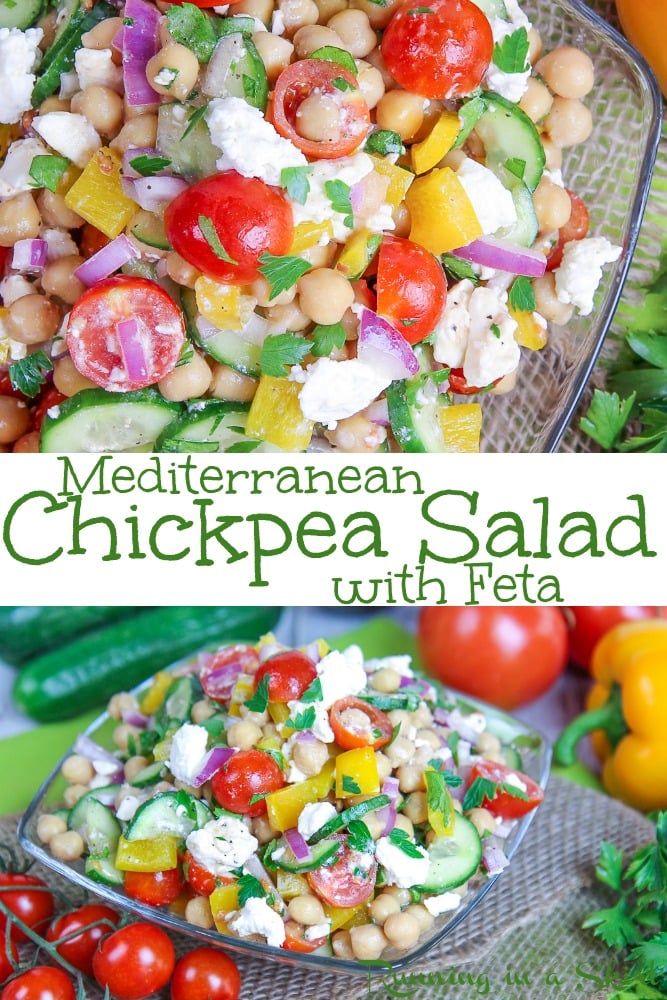 Looking for a fast meal idea? My Mediterranean Chickpea Salad with feta is tasty and so simple to make.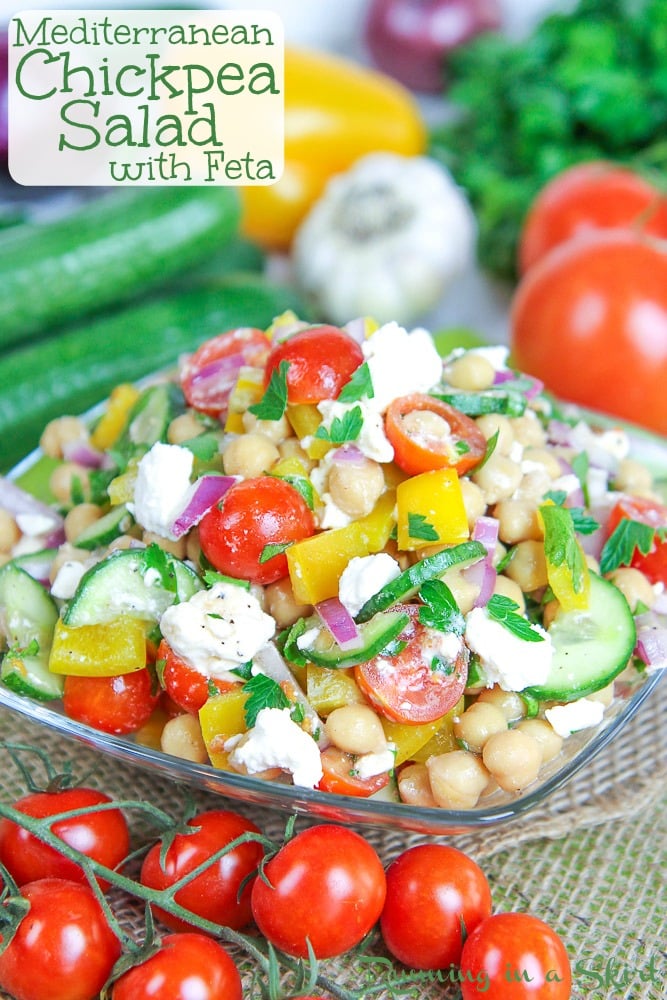 Hi guys!
We are officially back from the beach and while I totally embrace indulging and enjoying a vacation to the fullest, it also always feels nice to settle back into life at home and normal eating. I love seafood at the beach, but there is only so much I can eat before I'm craving a healthy homemade vegetarian dish.
On the menu this week is my Mediterranean Chickpea Salad with feta! I'm surprised I haven't posted this one before because it's an easy dish I make pretty regularly. It's packed with crisp summer veggies, simple canned chickpeas, a homemade greek dressing and of course creamy and salty feta.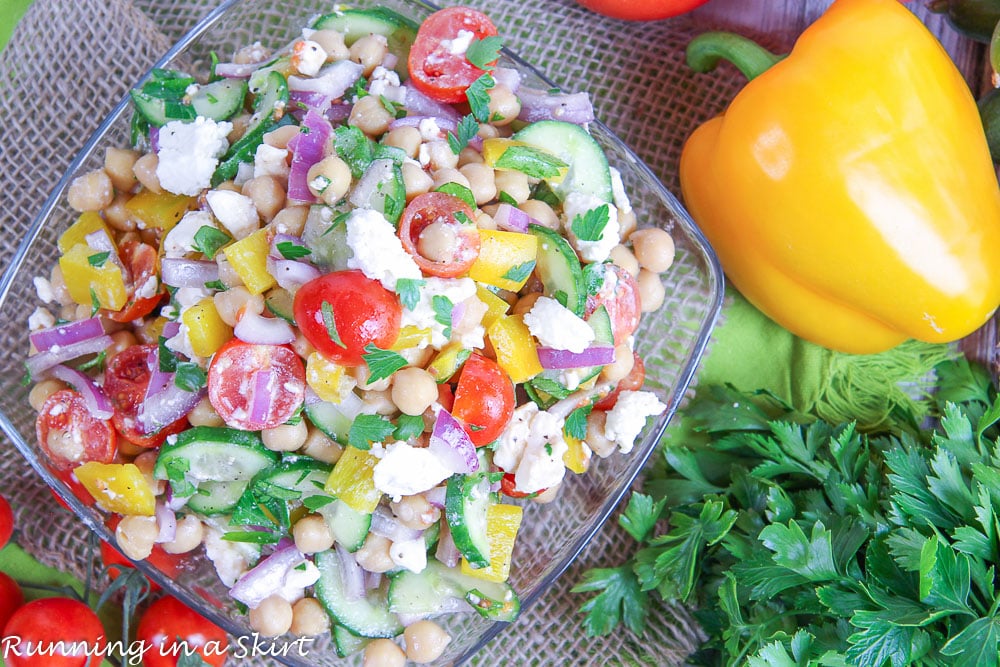 This Mediterranean Chickpea Salad with feta is SO TASTY!
This is one of those dishes that doesn't seem like much BUT when you taste it the flavors explode in your mouth. I love making it this time of year because I often have many of the fresh veggies in my garden. Right now I have fresh cucumber and pepper. I skipped planting tomatoes this year, but I usually have those as well.
You can easily enjoy this dish year-round (I do!) but in the summer it just tastes better because the veggies are so fresh.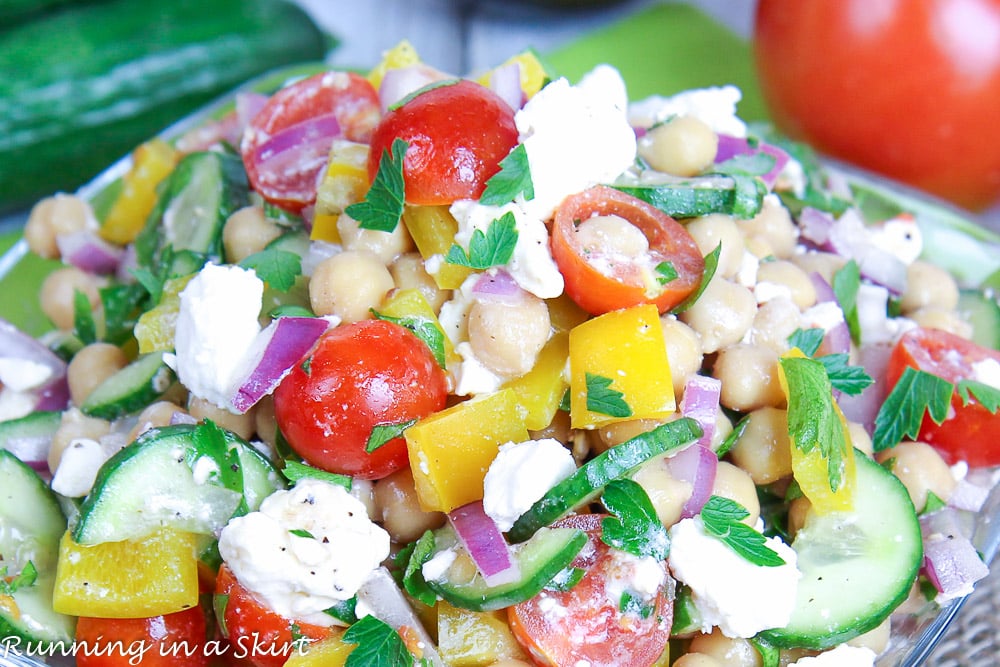 What makes this Mediterranean Chickpea Salad with feta special is the Homemade & Healthy Greek Salad Dressing, which just happens to be one of the most popular recipes on Running in a Skirt and has been picked up by Buzzfeed. The dressing is made with pantry staples and a healthy dose of fresh lemon, which makes the dish come alive.
This salad also POPS with flavor from fresh herbs and creamy feta. I'm a firm believer that feta makes everything betta 🙂 (better.)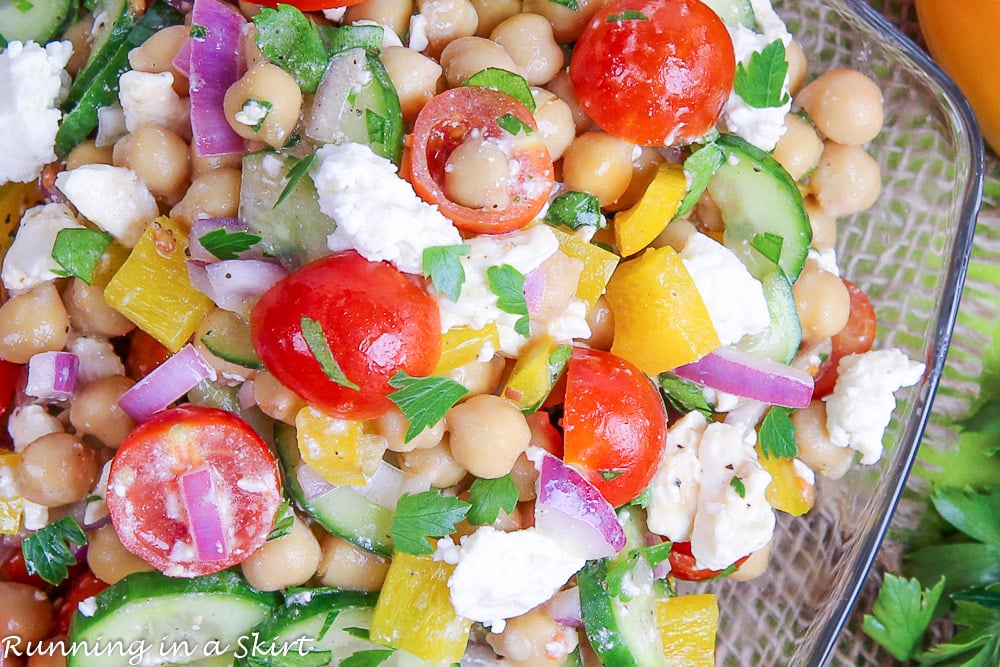 Ingredients in Mediterranean Chickpea Salad with feta
Fresh summer vegetables
Canned chickpeas
Fresh Herbs (optional!)
Feta
This is a great use of canned beans! They are such an inexpensive and easy to use plant-based protein. I always keep my pantry stocked with them.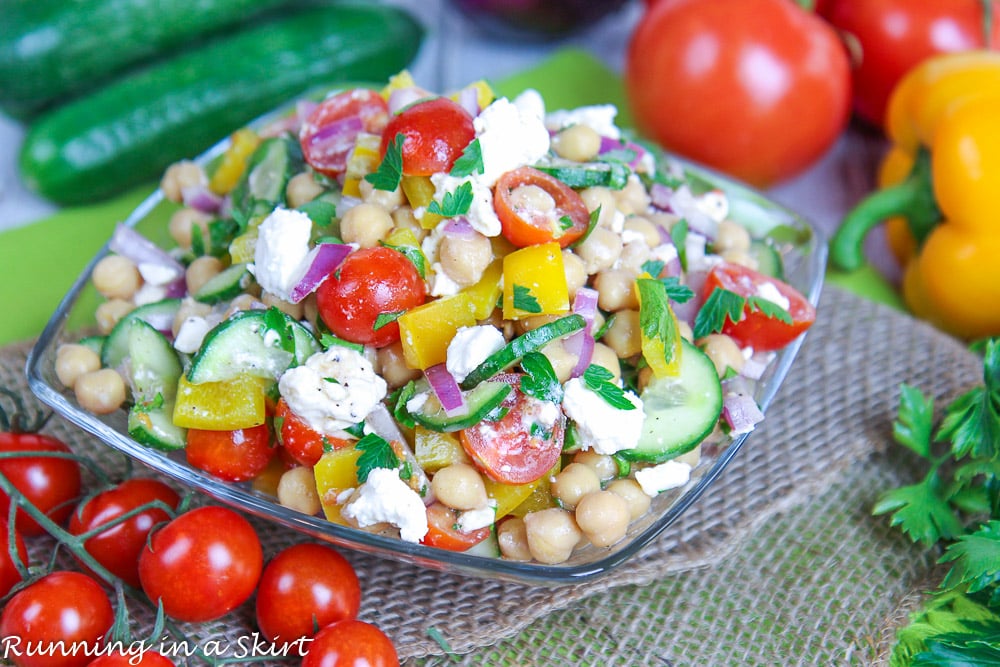 How to make Mediterranean Chickpea Salad with feta...
Making this vegetarian dish could not be easier!
Cut the veggies.
Toss everything in a bowl.
Enjoy!
Eat this dish on its own or as a side dish. I also like to pile it high on a big bed of fresh greens like spinach or kale.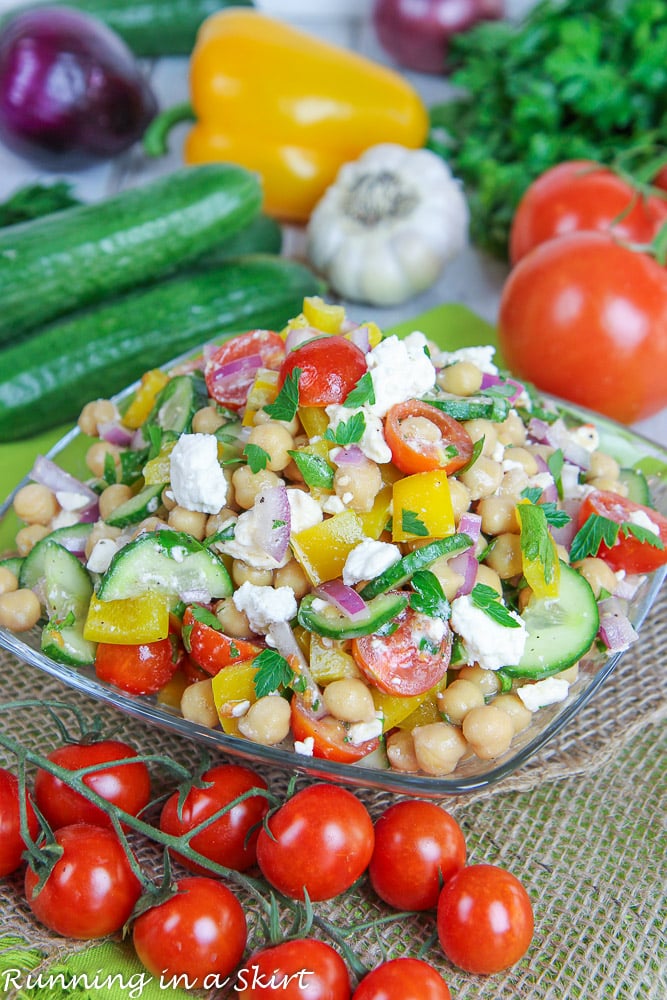 This Mediterranean Chickpea Salad with feta is simple, healthy and downright delicious. I know you'll love it too. Now I'm back to unpacking! Is it time to go back to the beach yet?
More recipe ideas with a can of chickpeas...
Pin for later...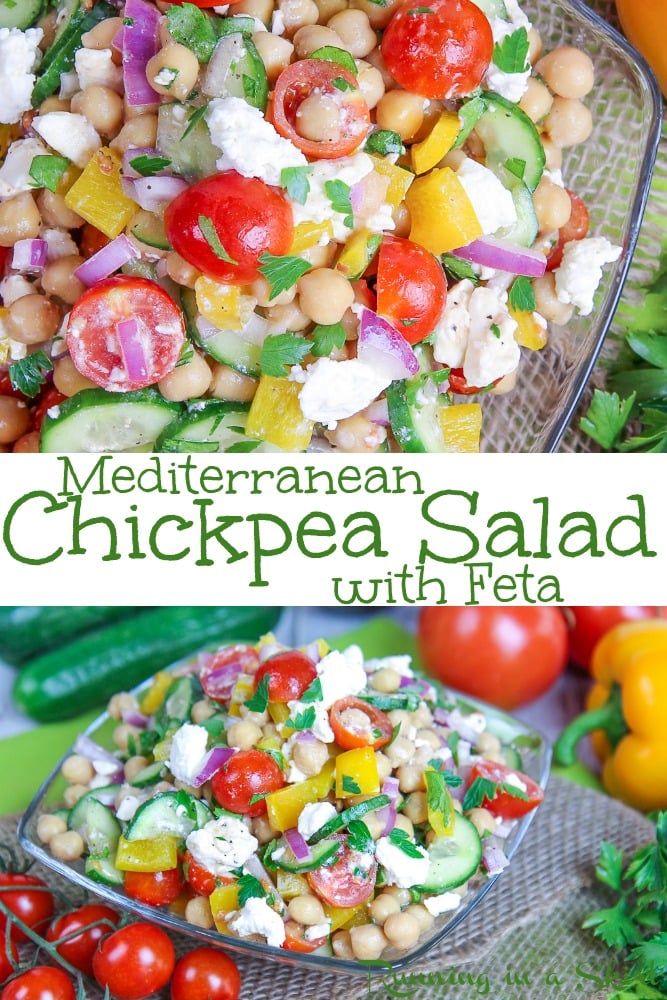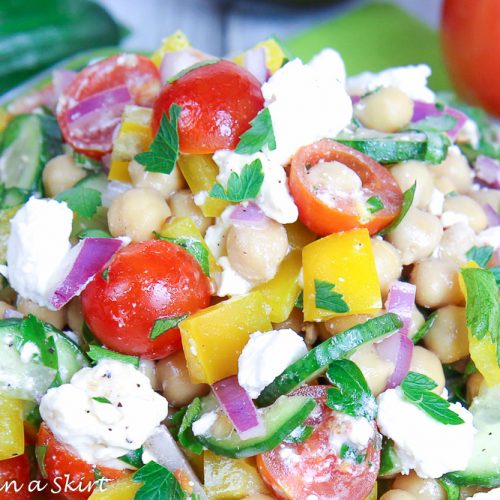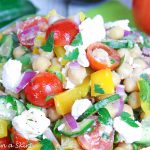 Mediterranean Chickpea Salad with feta
This healthy Mediterranean Chickpea Salad with feta is the perfect vegetarian meal!
Instructions
Put all of the ingredients except for the feta in a bowl and toss. Sprinkle the feta on top.

Serve room temperature or chilled.
Nutrition
Calories:
407
kcal
Carbohydrates:
46
g
Protein:
19
g
Fat:
18
g
Saturated Fat:
7
g
Cholesterol:
39
mg
Sodium:
1157
mg
Potassium:
882
mg
Fiber:
13
g
Sugar:
7
g
Vitamin A:
811
IU
Vitamin C:
133
mg
Calcium:
306
mg
Iron:
4
mg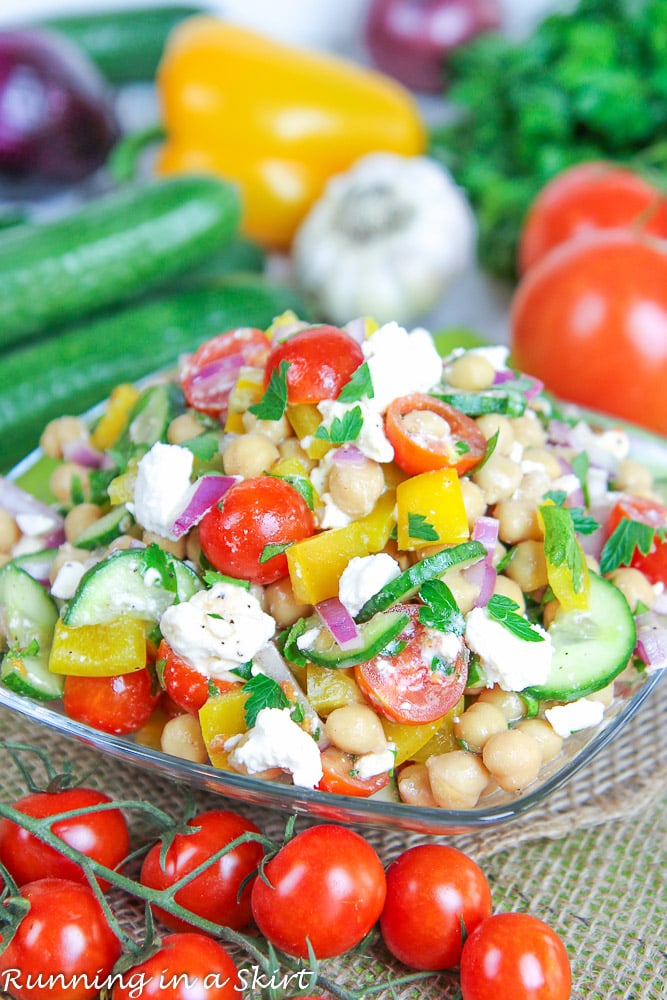 Your turn!
Do you use canned beans in your cooking?