Everything Bagel Hummus is a creamy homemade hummus that tastes just like your favorite everything bagel. It's spiced with savory garlic, onion, poppy seeds, sesame seeds, and salt for a flavor-packed and irresistible snack.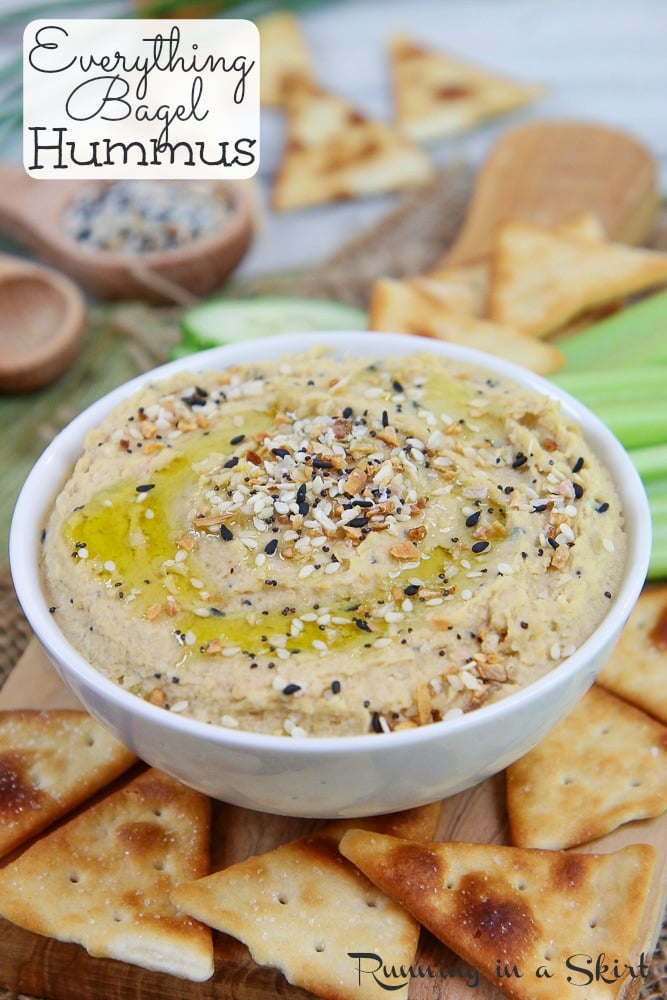 I have a deep love affair with everything bagels. My favorite weekend breakfast is a big EVERYTHING bagel sandwich with egg and cheese. It's like sheer foodie bliss for me.
So it's no surprise I also love the popular Everything Bagel seasoning. Whether you buy Trader Joe's Everything But the Bagel Seasoning or whip up your own DIY version as I do, the combination of flavors like garlic, onion, poppy seeds, sesame seeds, and salt take me back to my favorite breakfast food. It's also pretty cool that so many different stores like ALDI now offer their own versions now too.
Everything Bagel Hummus
It's crazy how versatile Everything Bagel Seasoning is! Over the years I've created Everything Bagel Sweet Potato Chips, 4 Ingredient Healthy Everything Bagel Dip, Crispy Everything Bagel Chickpeas, and Everything Bagel Guacamole. Now that we are heading into the holidays I wanted to add a new dip to my EVERYTHING spread and decided to create Everything Bagel Hummus.
Turns out hummus is the perfect platform for Everything Bagel Seasoning. The blended chickpeas make an ideal creamy base for this delightful spice.
My friends, it's smooth, creamy, and downright DELICIOUS.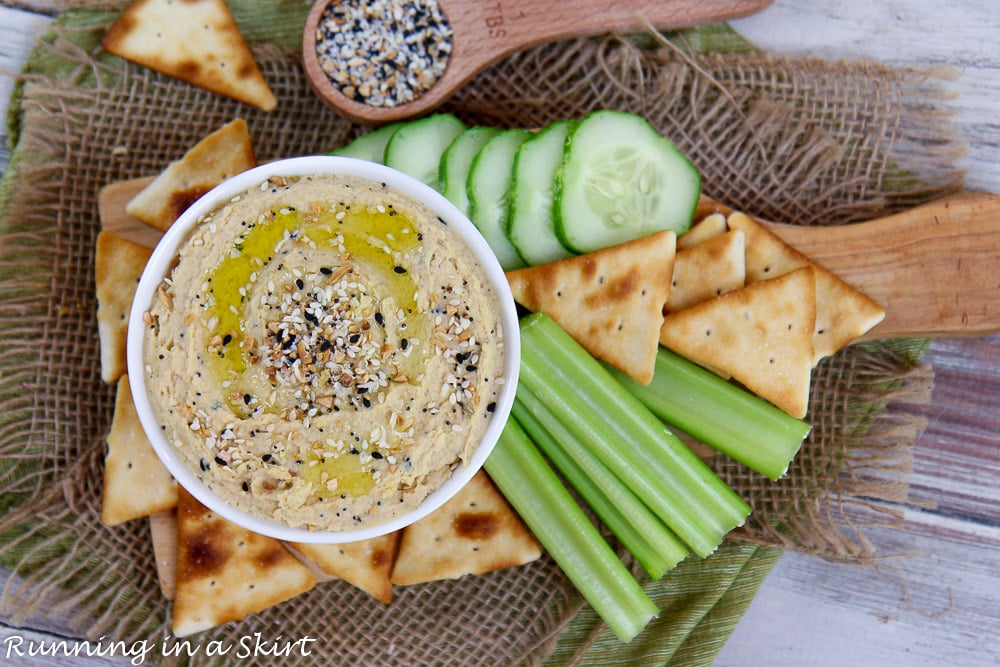 Why you'll love this Homemade Everything But the Bagel Hummus?
Everything But the Bagel Hummus now comes packaged for sale (Tribe Everything Hummus, Sabra Everything Bagel Hummus, or Boar's Head Everything Bagel Hummus) BUT why buy it when you can mix your own up with just a few simple ingredients! That way you control what actually goes in there and it has fewer preservatives.
Plus the storebought kind often has lots more oil than a homemade hummus making it a bit unhealthier. My version still has just enough oil but not TOO much to make it greasy or heavy.
The not so secret ingredient that really takes this Homemade Hummus over the top is Everything Bagel Seasoning. You can buy the pre-mixed kind or I have a simple DIY version on the blog. Just make sure to use flakey sea salt, minced garlic, and minced onion when making yours at home. It does have a much different texture than table salt, garlic powder, and onion powder.
Ingredients in Everything Bagel Hummus:
Canned Chickpeas: I buy the low sodium kind and make sure to rinse and drain them well.
Tahini: Tahini is just ground sesame seeds. It gives hummus that creamy and delicious flavor. If you have trouble finding it in the store, pick some up from Amazon here. (affiliate link)
Minced Garlic: You can use fresh garlic cloves or minced garlic found in the produce section. If you use fresh garlic cloves, start with 2 cloves and add more if desired.
Olive Oil: I only used 1 tablespoon of olive oil in my recipe to keep the calorie count lower and this hummus healthier.
Lemon: A lemon is optional BUT I love the fresh zest it gives to hummus.
Everything Bagel Seasoning: Buy yours HERE or make your own DIY version. (affiliate link)
You will also need a touch of water to give this hummus enough moisture. If yours still feels dry, add a few more drops until you hit the right consistency.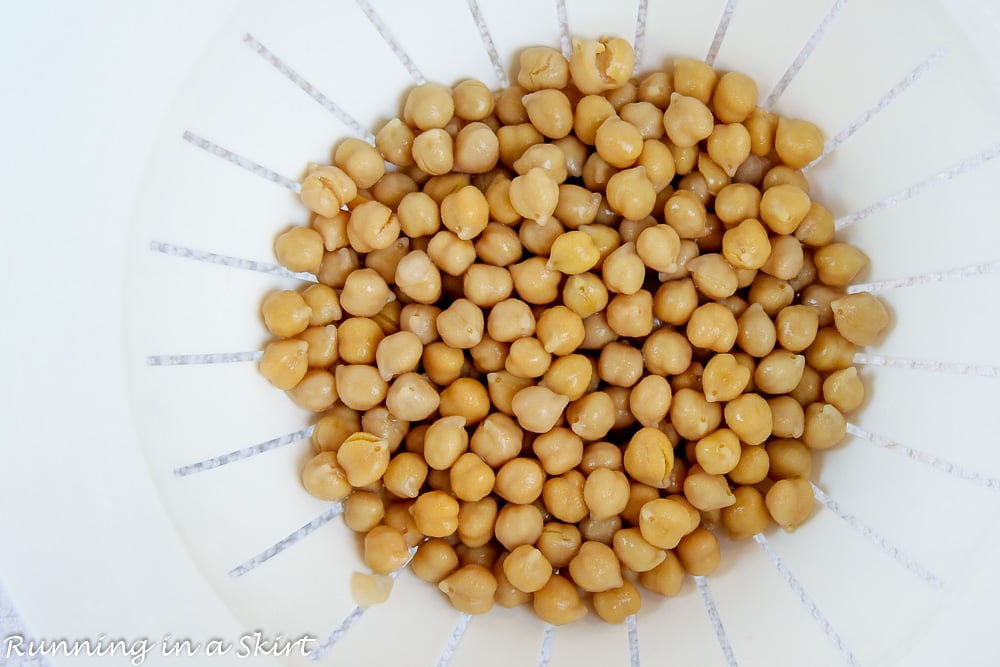 How to Make the Hummus:
Making Everything Bagel Hummus at home could not be easier. It takes less than 10 minutes with minimal mess and cleanup. You can use a high-speed blender or get a food processor like this one. I love mine that converts from a food processor to a blender. (Amazon affiliate link)
Rinse and drain your chickpeas.
Put all the ingredients except for the Everything Bagel Seasoning in the food processor and blend until smooth. If it feels a bit dry, at a few more drops of water until you hit the desired consistency.
Add the Everything But the Bagel Seasoning in at the end. You want it to be well combined but not pulverized, so just give it a quick mix before transferring the hummus to a serving bowl.
Top your hummus with extra seasoning and olive oil if desired.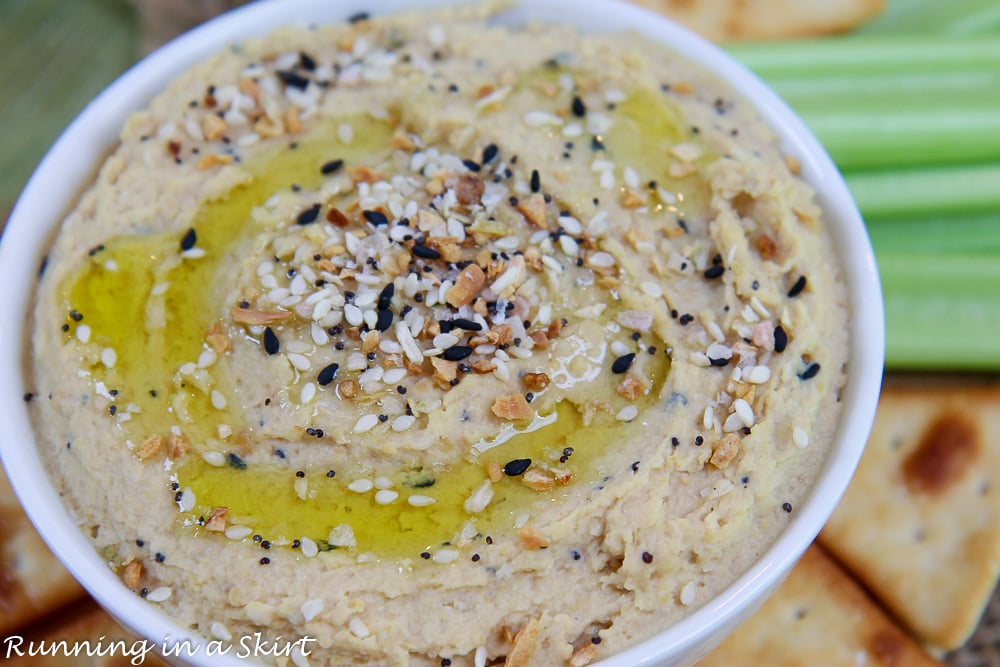 What to Serve with Everything Bagel Hummus
This Everything Bagel Hummus works great as a dip OR spread. Use as a base or condiment in a sandwich or wrap. It's also great with dippers! Try some of these:
Crackers
Chips
Carrots
Sliced Cucumber
Sliced Bell Pepper
Celery
Toast
Bagels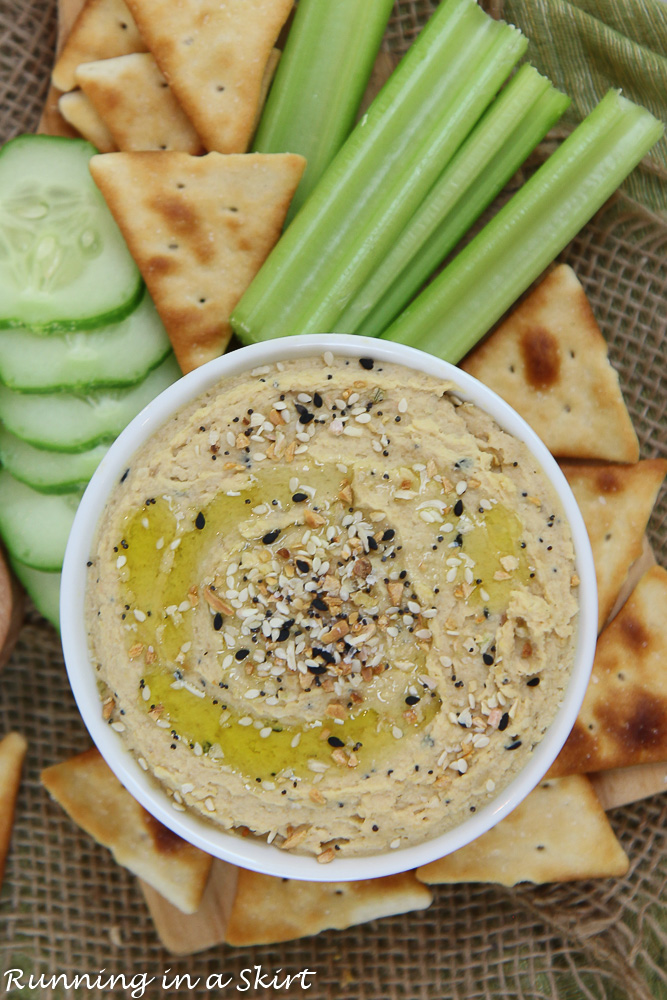 More Tips for Making Hummus
How do you make a super smooth hummus?
For an extra smooth hummus, you can warm up your chickpeas before blending them! Just pop them in the microwave with some water for 2-3 minutes. You can also remove the outer skin of each chickpea. Just pinch the chickpea and it will come off.
The hummus turns out good without these steps, but if you want to take the time to do them it will be a bit creamier.
Is hummus good on a bagel?
YES! Hummus is great on a toasted bagel and this Everything Bagel Hummus is exceptional. Mix it up by topping this homemade Everything Bagel Hummus on a plain, egg, sesame or onion bagel OR go to EVERYTHING heaven and use it as a topping on an Everything Bagel.
What is the purpose of tahini in hummus?
Tahini is one of the main ingredients of hummus and gives it that rich sesame flavor. It's basically just purred sesame seeds! It adds smoothness and texture. You CAN make hummus without it BUT it's easy to find HERE and is a great addition to the hummus. I recommend keeping a jar around for recipes like this one.
Is it cheaper to make your own hummus?
Sometimes! A tub of hummus can run between $3-$5 depending o where you buy it but you can usually buy the ingredients to make your own for around $2!
Where to buy Everything Bagel Seasoning?
So many stores now sell Everything Bagel Seasoning including Trader Joe's, ALDI, Whole Foods & Publix! Or you can buy it online HERE or make your own DIY version from my recipe.
This Everything Bagel Hummus is so much better made at home! I know you will love it. Give it a try and let me know what you think.
If you make this recipe, I'd love to hear what you think! Leave a comment and a star rating ★ below. Make sure to follow me on Instagram, Pinterest, and Facebook too!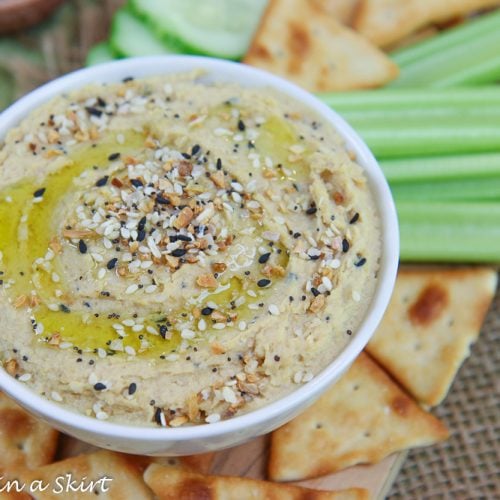 Everything Bagel Hummus
Everything Bagel Hummus is a creamy homemade hummus that tastes just like your favorite everything bagel.  It's spiced with savory garlic, onion, poppy seeds, sesame seeds, and salt for a flavor-packed an irresistible snack.
Ingredients
1

can

chickpeas

,

rinsed and drained

2

teaspoons

garlic

¼

cup

tahini

1

tablespoon

olive oil

1

lemon

,

juiced

2

tablespoons

water

1

tablespoon

Everything Bagel Seasoning
Instructions
Combine all the ingredients in a food processor and mix until smooth. You may need to add a touch more water to get the consistency you want.

After the rest of the ingredients are smooth add in the Everything Bagel Seasoning. Mix together but don't break apart the spices too much.

Serve with an additional sprinkle of Everything Bagel Seasoning on top.
Notes
If your hummus isn't smooth enough add a bit more water to it!  
Serve this Everything Bagel Hummus with your favorite crackers and veggies like sliced cucumber, carrots, or bell peppers.
Nutrition
Calories:
153
kcal
Carbohydrates:
14
g
Protein:
6
g
Fat:
9
g
Saturated Fat:
1
g
Sodium:
346
mg
Potassium:
179
mg
Fiber:
4
g
Sugar:
1
g
Vitamin A:
11
IU
Vitamin C:
10
mg
Calcium:
47
mg
Iron:
1
mg
Pin for later!