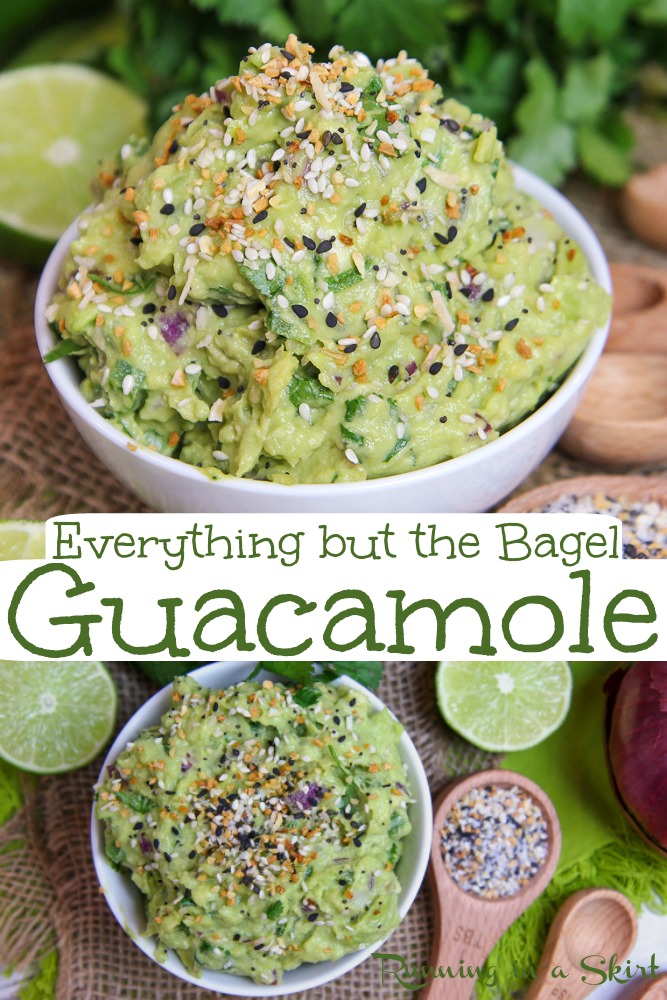 Thought guacamole couldn't get any better? You have to try my Everything Bagel Guacamole recipe!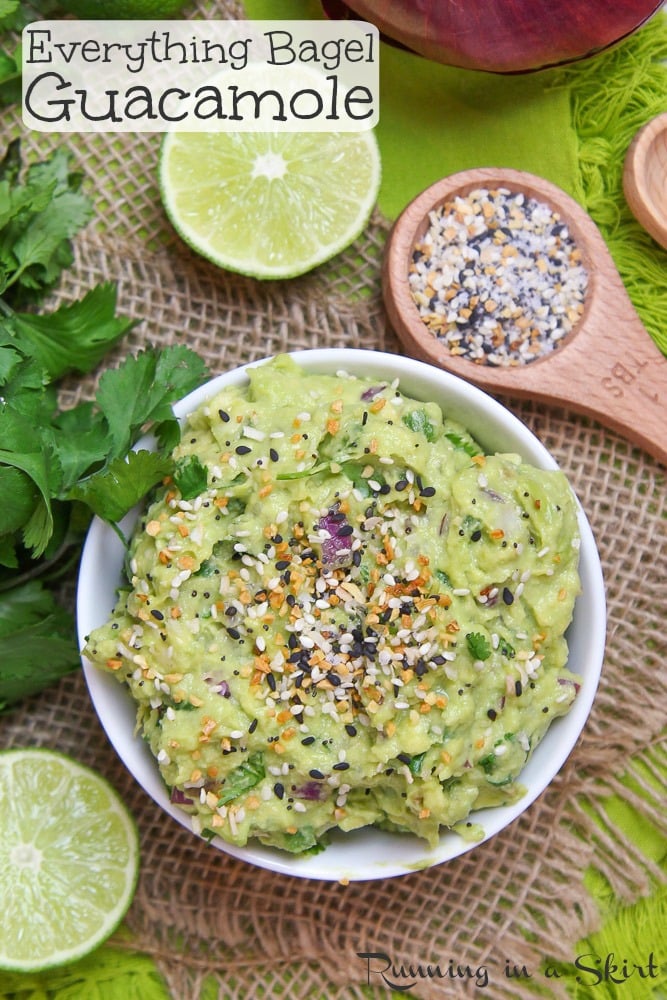 Hey guys!
Like most folks, I have a solid adoration for everything avocado and guacamole. In fact between the babies and me, we've been known to go through a bag of the plump fruit a week. I can eat an entire batch of guac in one sitting and We all love a perfect slice of avocado toast on a piece of crusty whole-grain bread. I top mine with everything bagel seasoning. The babies can each eat their OWN slice which feels crazy since they are only 15 months old. But their wild appetite (which they definitely got from me) is probably a story for another day. 🙂
One day I munching on a decadent slice of avo toast when it hit me.... wouldn't this combination of flavors make the perfect guacamole? So I went out on a food blogger ledge and combined avocado with everything bagel seasoning to make a simple Everything Bagel Guacamole recipe.
The result was sheer perfection and total flavor BOMB! I'm honestly wondering how I haven't been making this all along.
Everything Bagel Guacamole recipe
Like all really good recipes, this one is simple, has just a handful of ingredients and really lets the flavors shine! I simply loved the way Everything Bagel Seasoning combines with avocado so it's natural for making good, homemade guacamole. The garlic, salt, and sememe seeds really makes the flavors pop. It's the perfect combination to creamy and ripe avocado.
The base of the guacamole is much like your other favorite guac recipes with avocado, cilantro, lime, and jalapeno.
This is such a unique twist on guacamole that somehow makes it EVEN BETTER!
In fact, it's kind of EPIC.
What is in the Everything But the Bagel Seasoning recipe?
Beyond the delicious and ripe avocado, the star of this recipe is the Everything Bagel Seasoning or Everything But the Bagel Seasoning. If you aren't familiar with it it's basically the entire spice blend that goes on an everything bagel... but without the actual bagel. Trader Joe's first starting selling the spice blend but now many other grocery stores sell their own version including ALDI. You can even find it on Amazon now.
It's a perfect mixture of flavors and goes well on so many things!
Everything But the Bagel Seasoning recipe
Minced Garlic
Minced Onion
Black Sesame Seeds
Sesame Seeds
Poppy Seeds
Sea Salt
You can buy the spice mix or make your own. I have a recipe showing the exact proportions if you want to mix up your own batch!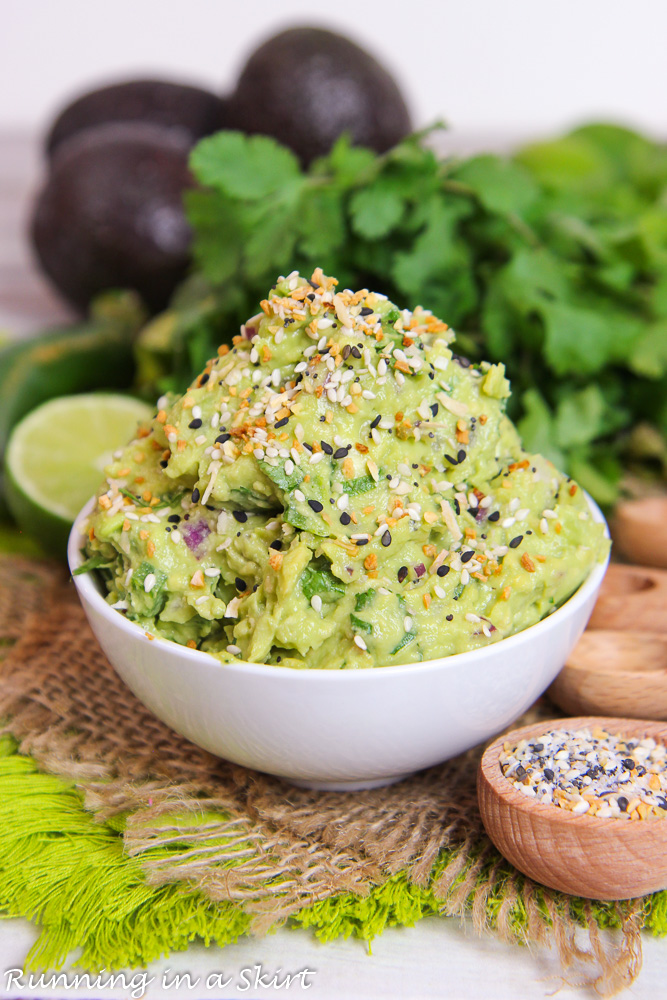 What goes with guacamole?
This Everything Bagel Guacamole recipe goes with so much! You can eat it with chips, crackers or even spread it like an avocado bagel spread. I think it would be so delightful on a brunch spread.
My personal favorite is with a hearty portion of Hint of Lime Chips. Those things are my kryptonite.
Any way you serve it... it's bound to be delicious.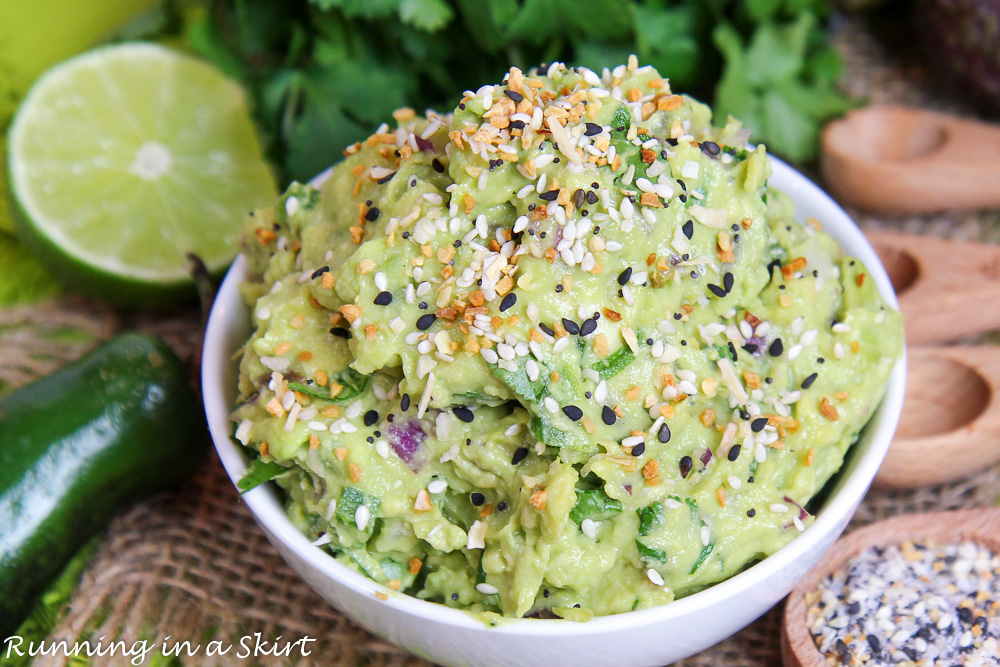 What's in this Everything Bagel Guacamole recipe?
This is another 6 ingredient recipe!
Avocado
Lime
Cilantro
Jalapeno
Red Onion
Don't you just love when recipes are that simple?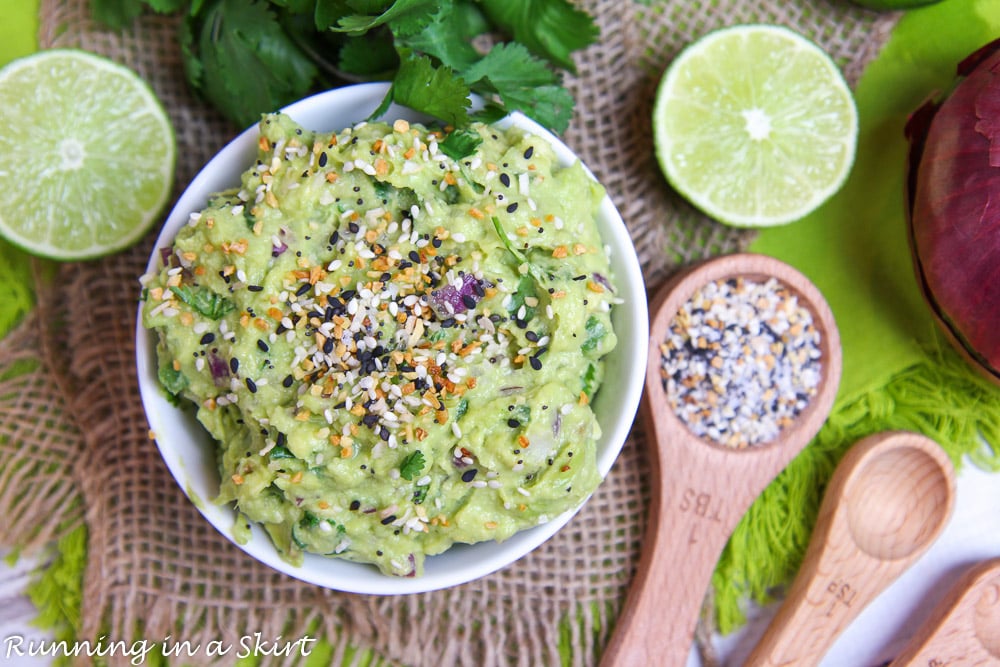 How to make my Guacamole from scratch?
Making my Everything Bagel Guacamole recipe from scratch is easier than you might think.
Here are my tips.
Mash the avocado with a fork first but leave it a little chunkier than you'd like.
Add the onion, cilantro, lime, jalapeno, and everything bagel seasoning. Carefully fold them in.
Mix it all together until you hit your desired consistency. I like to leave mine chunky.
Top it with some EXTRA everything bagel seasoning because it's that good. 🙂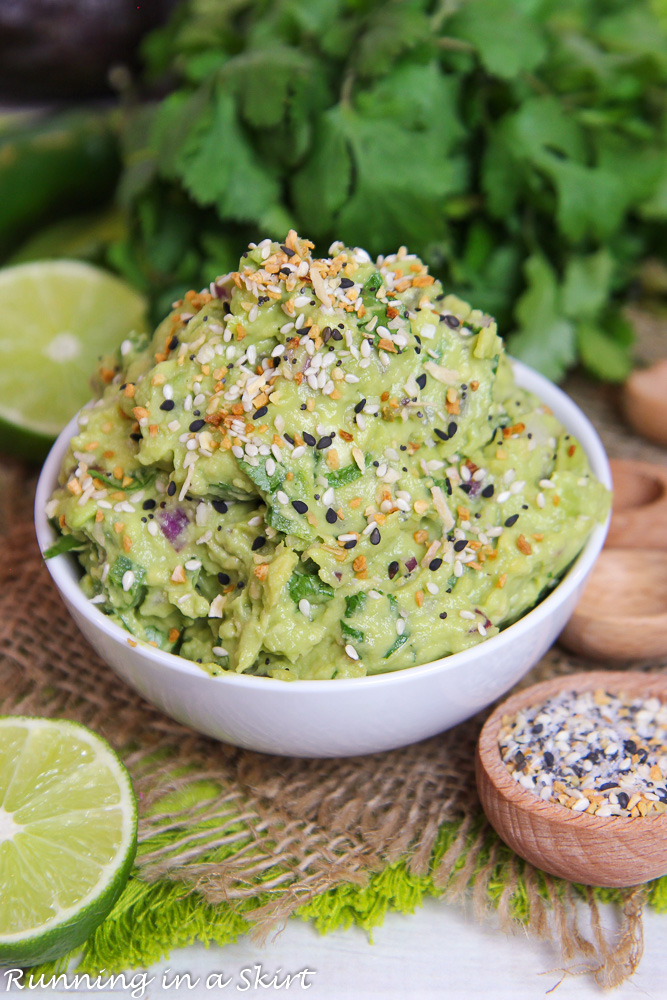 I hope you enjoy my fun twist on guacamole. If you love avocado toast with Everything But the Bagel seasoning as much as I do... I know you are also going to really enjoy this Everything Bagel Guacamole recipe. It's really a foodie no brainer.
Give it a try and let me know what you think!
Love the Everything Bagel Seasoning Blend? Also try...
Pin for Later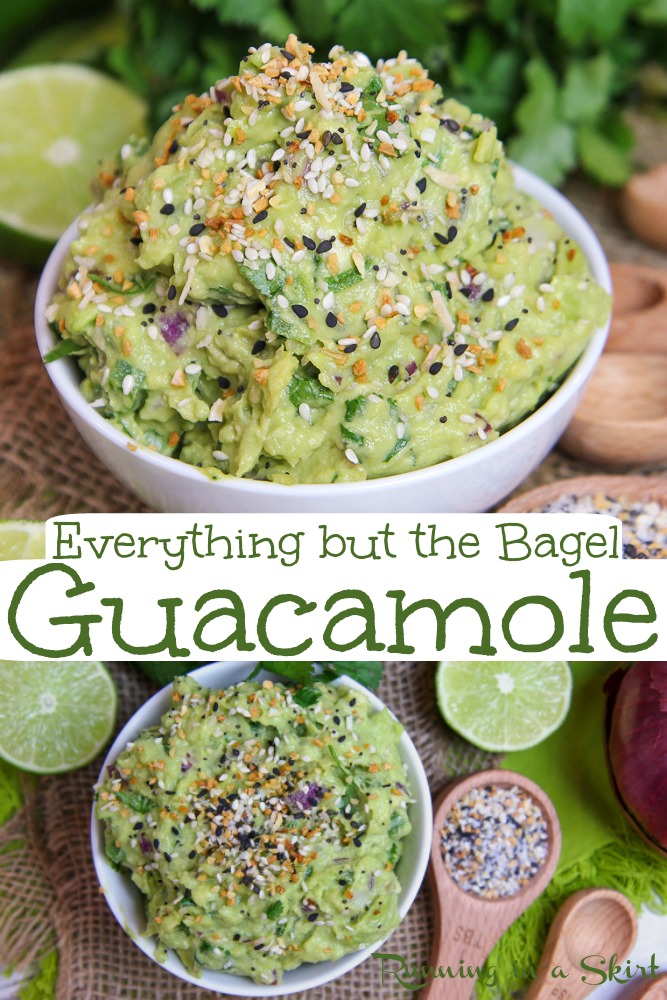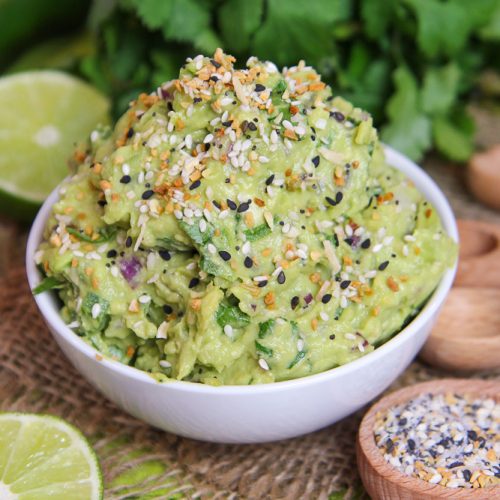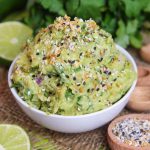 Everything Bagel Guacamole recipe
This Everything Bagel Guacamole recipe is the perfect tasty twist on guacamole!
Ingredients
4

small avocados *

¼

cup

cilantro

1

jalapeno

,

seeded and finely diced

½

small red onion

,

finely diced

1

lime

,

juiced

2

tablespoons

everything bagel seasoning **
Instructions
Mash the avocado with a fork leaving some chunks behind. Then stir in the cilantro, jalapeno, red onion, everything seasoning, and lime. Check the seasoning and add any additional salt and pepper to taste that you would like.
Notes
* If your avocados are medium, you could use three and if they are very large two should be enough!
**Use a premade everything bagel seasoning OR use my homemade, DIY version.
Nutrition
Calories:
106
kcal
Carbohydrates:
10
g
Protein:
2
g
Fat:
10
g
Saturated Fat:
2
g
Sodium:
205
mg
Potassium:
506
mg
Fiber:
7
g
Sugar:
1
g
Vitamin A:
199
IU
Vitamin C:
15
mg
Calcium:
16
mg
Iron:
1
mg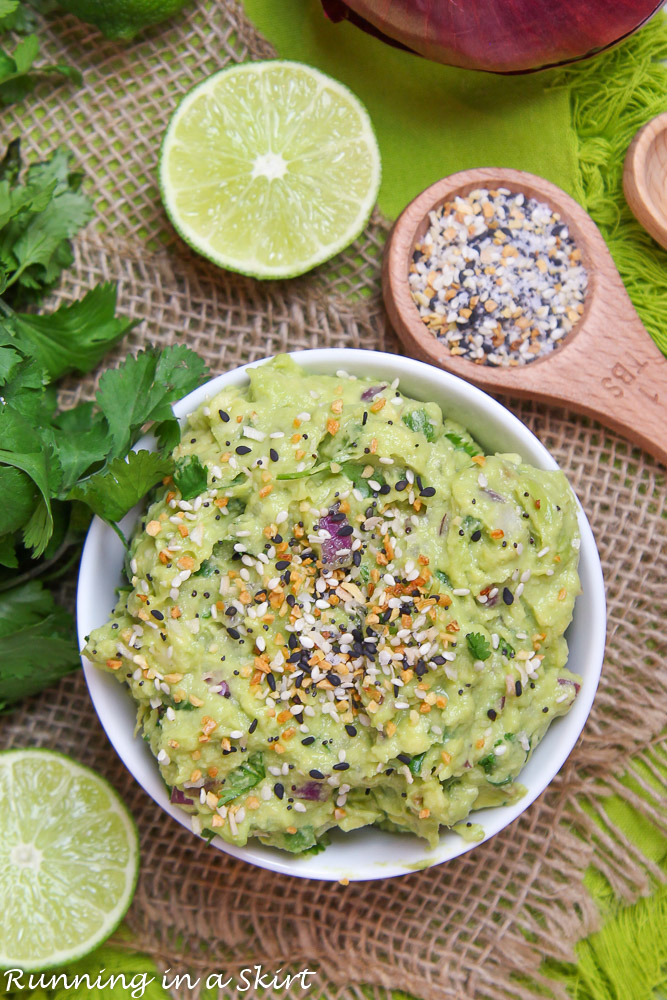 Your turn!
What's your favorite type of guacamole?