Sometimes it's hard to stay positive. Here are 25 ways to turn one of those days around.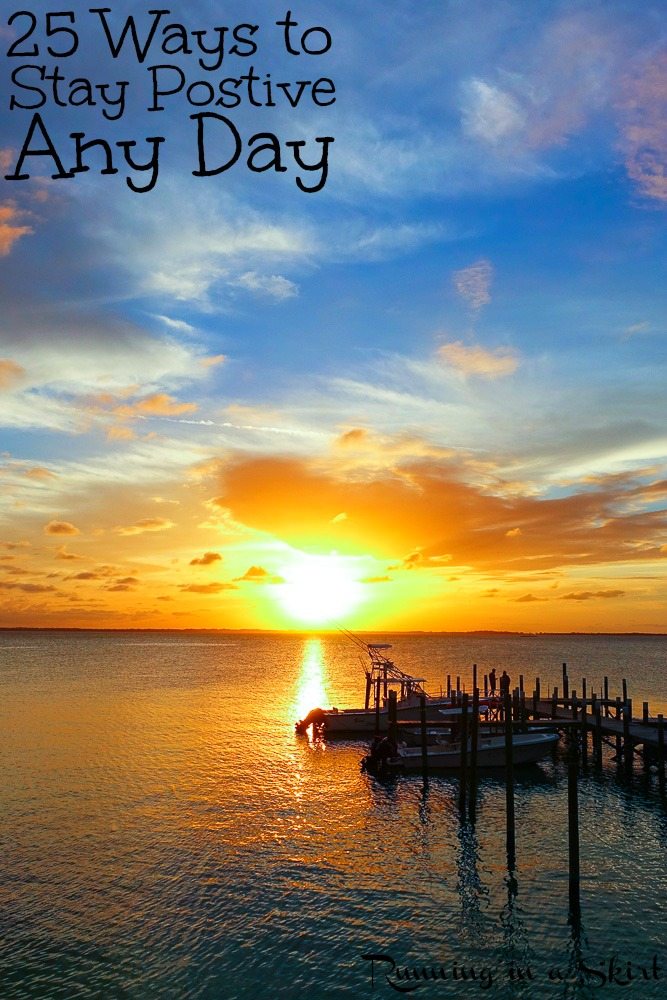 Hi friends!
With the new year here, I've been thinking a lot about how to be the best version of me. I try to be positive, but like everyone I struggle and have days where everything that comes out of my mouth sounds negative and like I'm complaining. I hate it when it happens. I am pretty good at looking a the bright side of things most of the time, but like everyone I have moments, days or even weeks where I struggle. I know I can't be the only one that feels that way. We are all human.
Today I thought I'd share some of tricks that help me stay positive any day... even on THOSE days where nothing seems to be going my way. Hopefully they will help you too.
15 Ways to Stay Positive Any Day
1. Keep a happy book or gratitude journal.
2. Fake it till you make it,
3. Help a friend,
4. Help a stranger,
5. Enjoy the little things,
6. Write a handwritten thank you note,
7. Find a good mantra,
8. Listen to this song...
...or this one.
9. Find time for self care.
10. Be as nice to yourself as you are to your friends.
11. Go for a run.
12. Go for a long walk... better yet go for a hike.
13. Spend more time outside than inside.
14. Eat a rainbow of food and drink lots of water.
15. Try yoga.
16. Try meditation.
17. Surround yourself with positive people.
18. Do what makes you happy.
19. Remember that most people are fighting some sort of battle (whether they talk about it or not).
20. Don't let yourself get worked up about things that go wrong. Don't let other people determine your emotions.
21. Spend time with animals.
22. Count your blessings. Again.
23. Live to see beauty.
24. Refuse to dwell on the negative.
25. Just keep smiling.
I firmly believe you attitude can make or break you! And even in hard times, you can put a positive spin on what it going on.
Best of luck, friends! I hope these ideas help you as much as they help me.
Like this post on 25 Ways to Stay Positive Any Day? Pin this to your favorite Pinterest board!


Tomorrow I'm sharing a new Fashion Friday with a cute Lilly Pulitzer outfit.
Your turn!
Help me add to the list... how do you stay positive?