Step out of your comfort zone with this bold hike to Lookout Mountain Montreat near Asheville, NC.
I've partnered up with LISTERINE® Brand to share this hike with you! As always, all opinions are my own.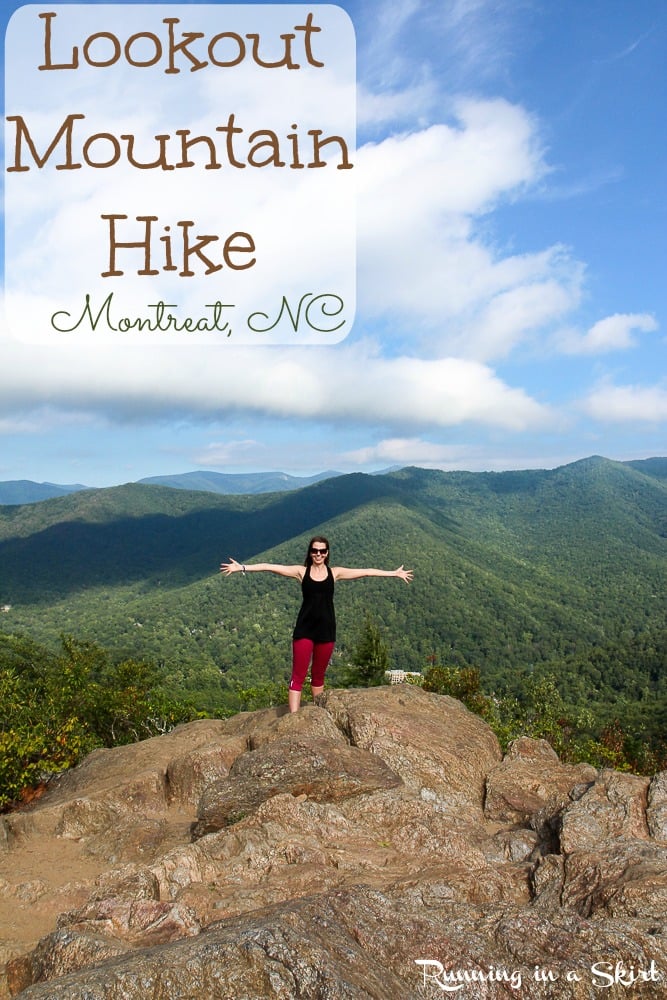 Hi everyone!
I've been feeling a little blue lately and honestly have been in a great need of a pick-me-up. Luckily I live in a place where there are endless places to clear your mind... like Lookout Mountain Montreat.
The mountains have a certain way of healing your soul.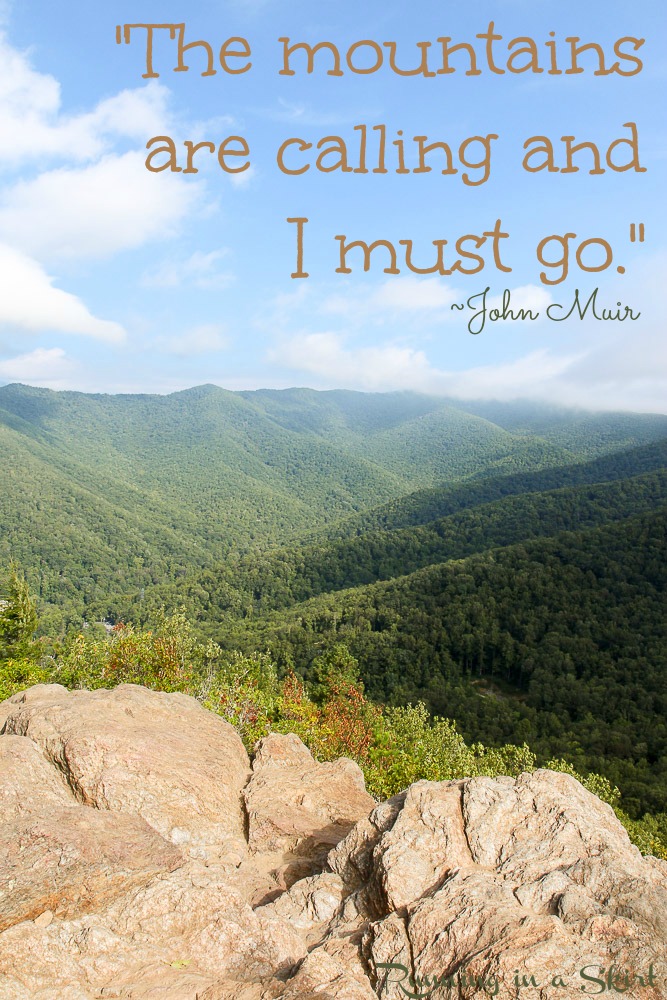 My good friend Marilyn and I have been talking about doing some mid-week hiking for a long time and our schedules finally freed up last week to make it happen. Perfect timing to get me out of my funk and go do something BOLD! Even sweet Evelyn was up for the adventure. Remember Evelyn's baby sprinkle?
Evelyn is already a hiking pro, trecking dozens of miles with her family through the mountains.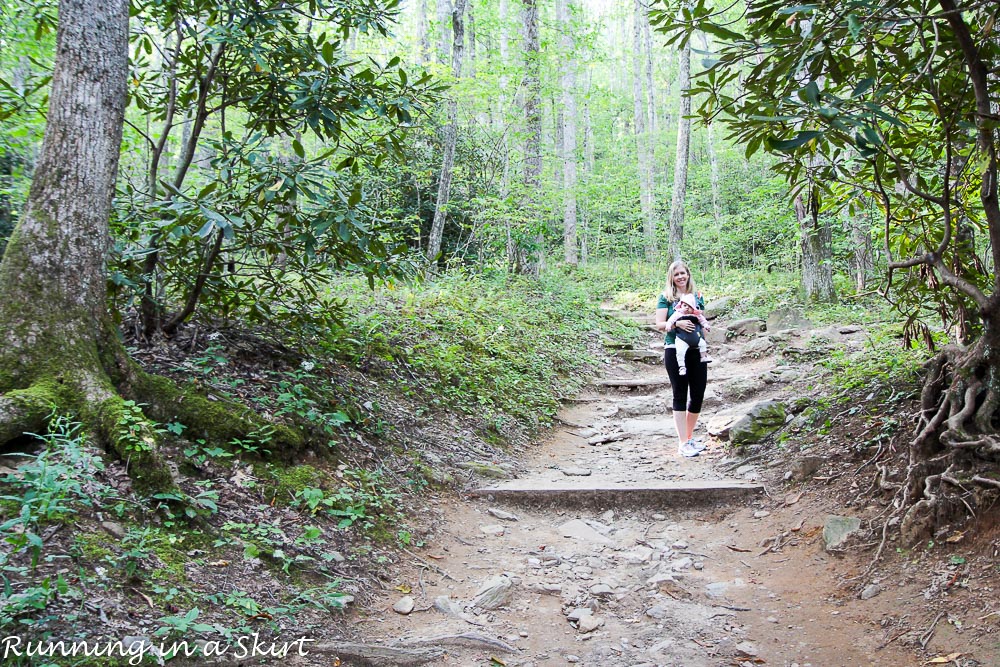 Marilyn and I decided to tackle Lookout Mountain Montreat for a new adventure. Neither of us had done this hike before and we heard it's a pretty intense climb to the top!
The trailhead was well marked and easy to find.
I'll include more specifics on getting there at the bottom of this post.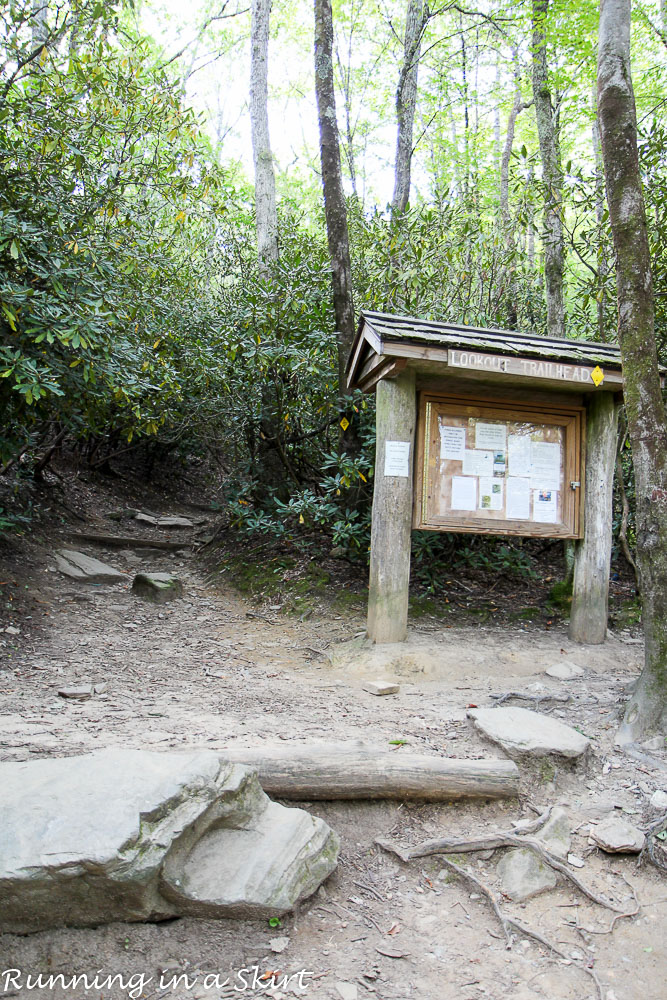 The hike starts off pretty mellow with a sloping grade to the top.
Signs and blaze yellow arrows lead the way.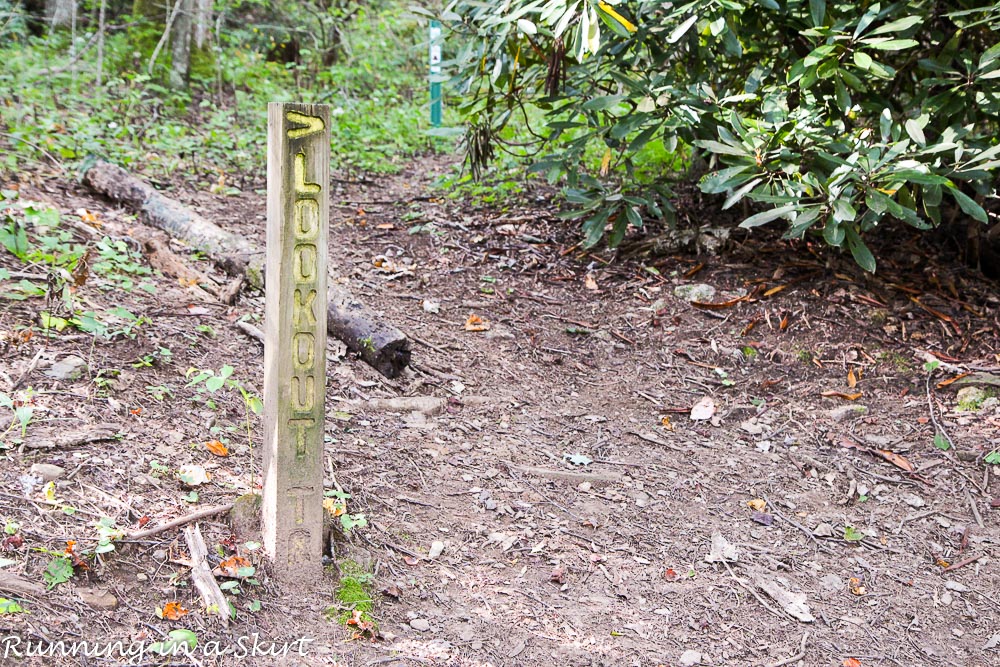 At this point we are loving life!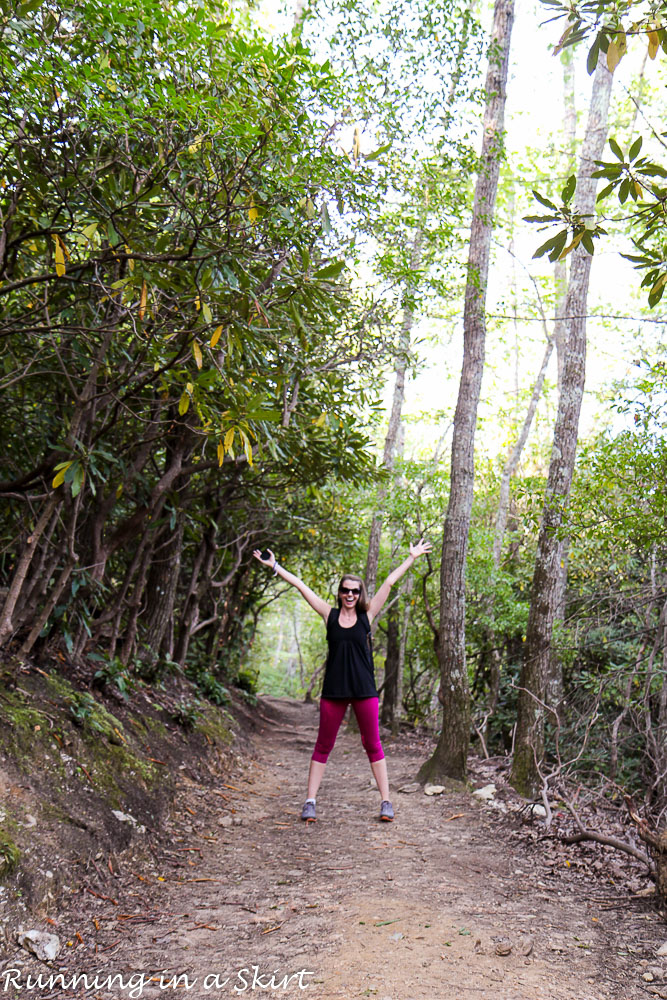 The hike quickly starts gaining elevation. The well-traveled path has steep wooden stairs that carry you up.
On average this hike is near 25% grade and climbs 700 vertical feet. We were feeling the burn in the quads!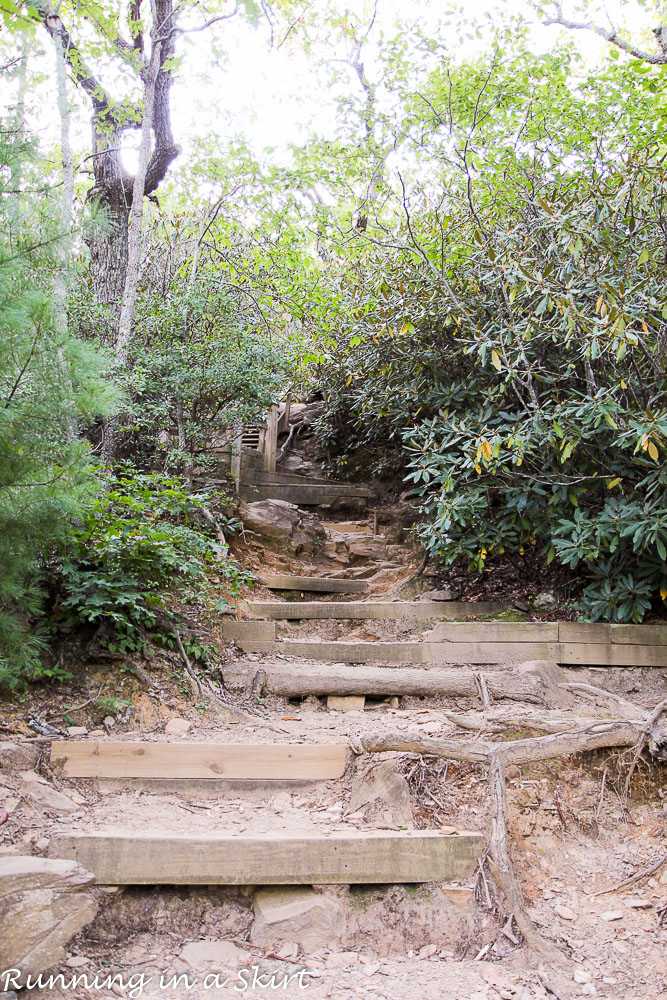 The tricky part is right before you reach the summit.
We approached these rocks and weren't exactly sure how we were going to maneuver them. But a closer look showed a pretty worn path to climb up to the top. They looked a little scarier than they actually were, but you have to be pretty good on your feet to get past this.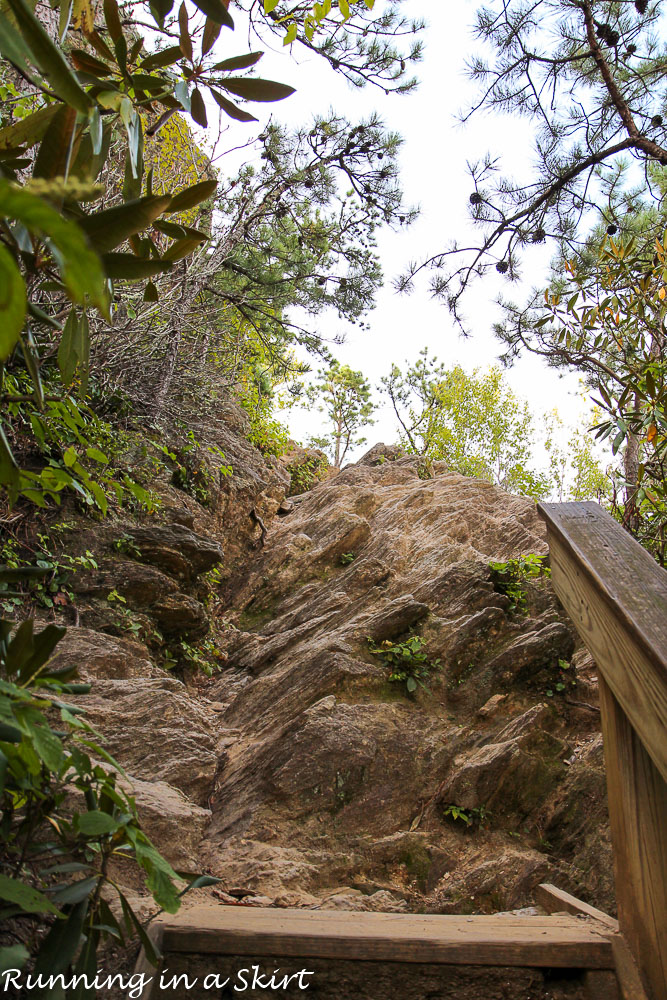 There were three rocky sections like this one before getting some of our first views of the day.
So pretty!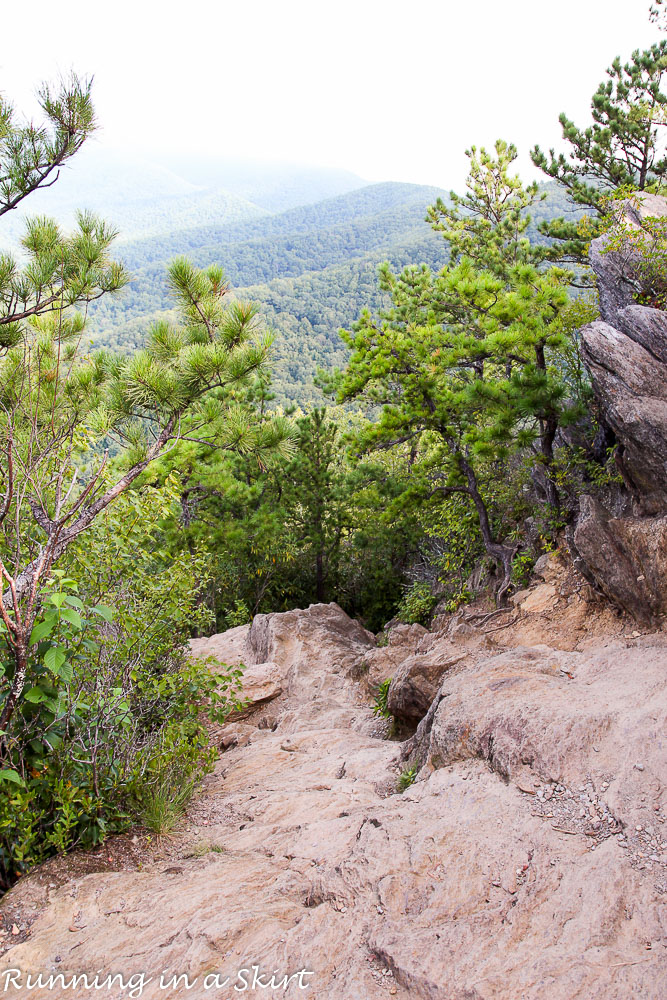 But just around the corner we found the big payoff!!!!!
How's that for a bold move?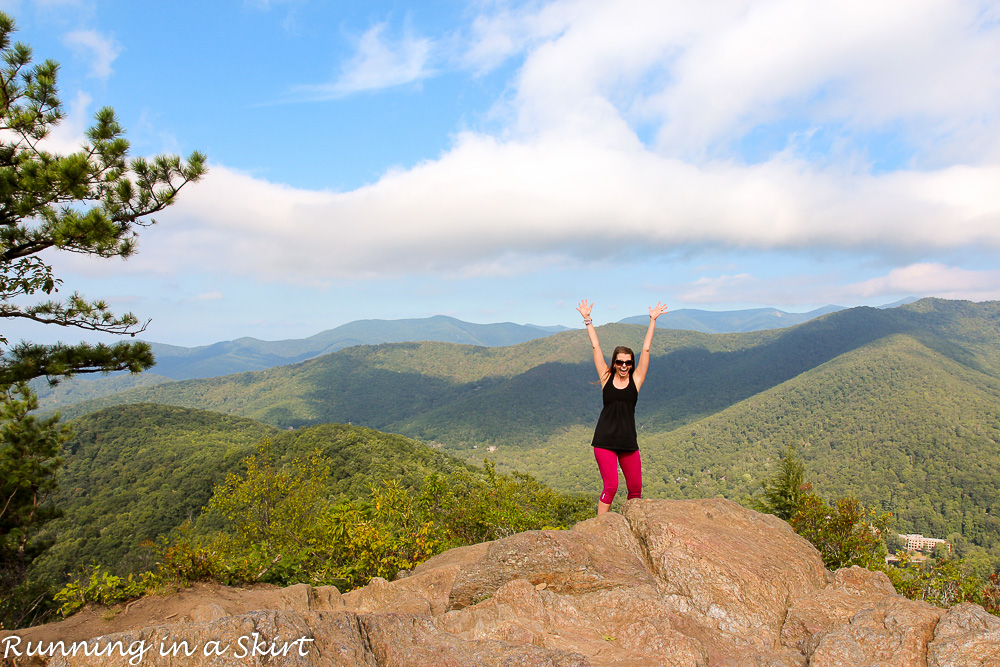 I could quickly see why they call this hike Lookout Mountain Montreat! The views are insane and you can lookout for miles and miles!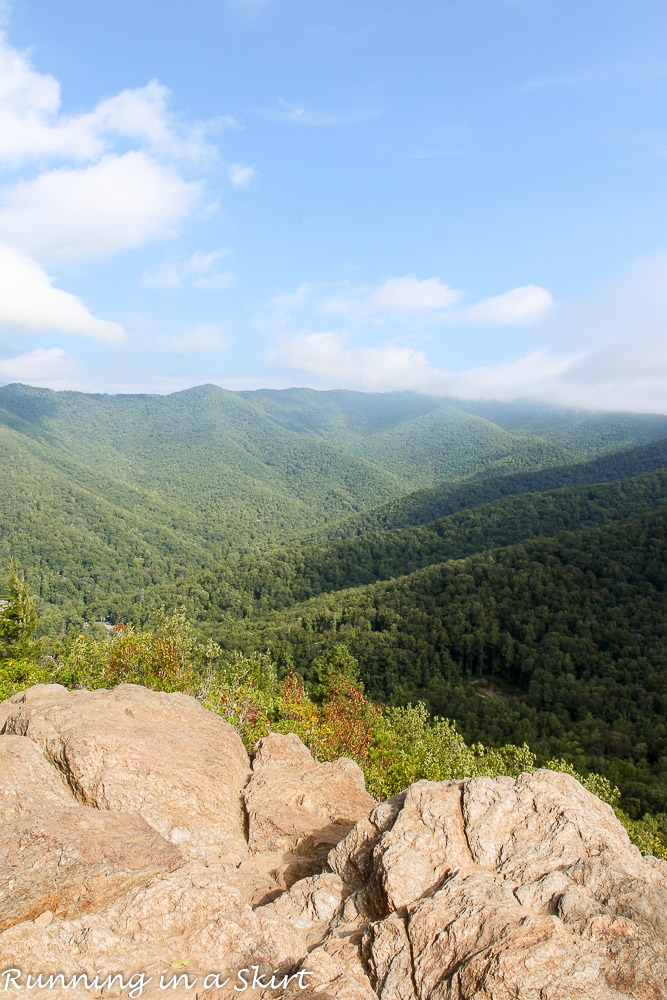 Sweet baby Evelyn could not stop laughing! She thought our hiking skillz were pretty funny... or maybe she just thought I was funny. 🙂
Don't answer that...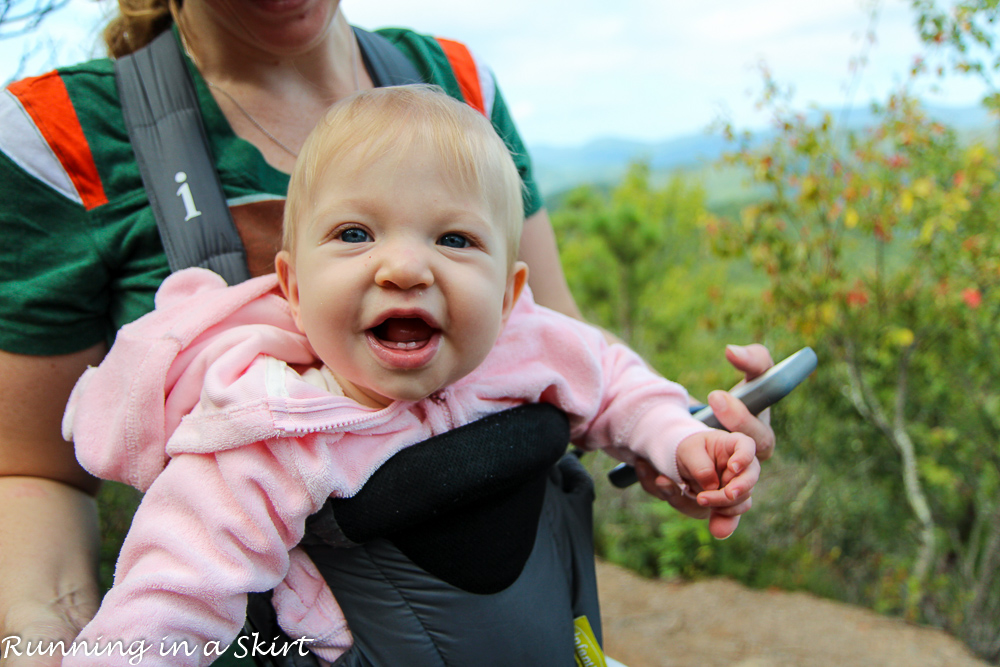 We snapped a few more photos and took in the views.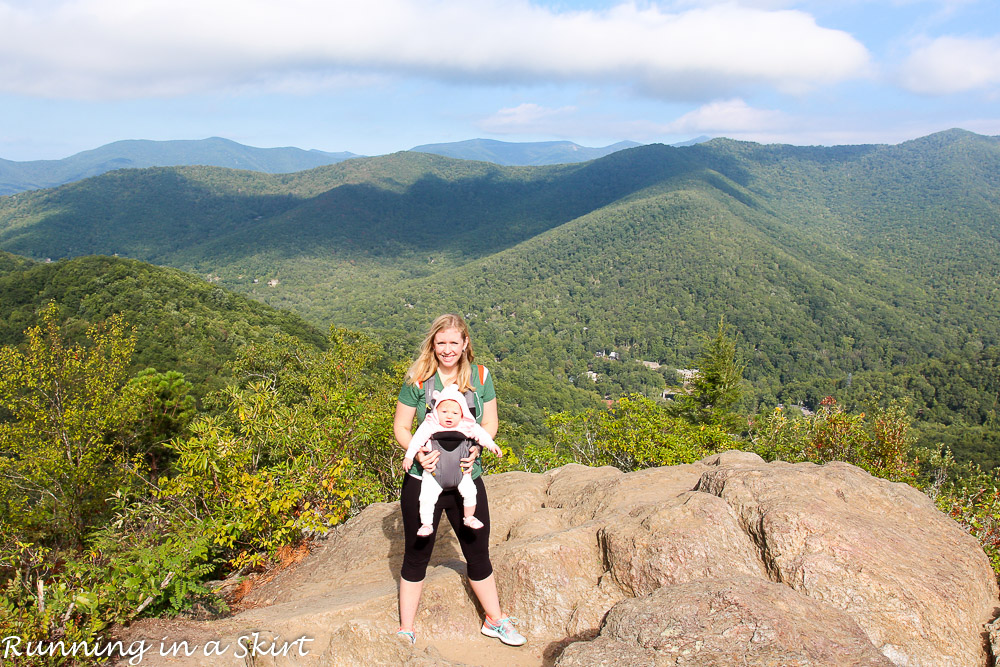 I instantly felt less stressed and calm.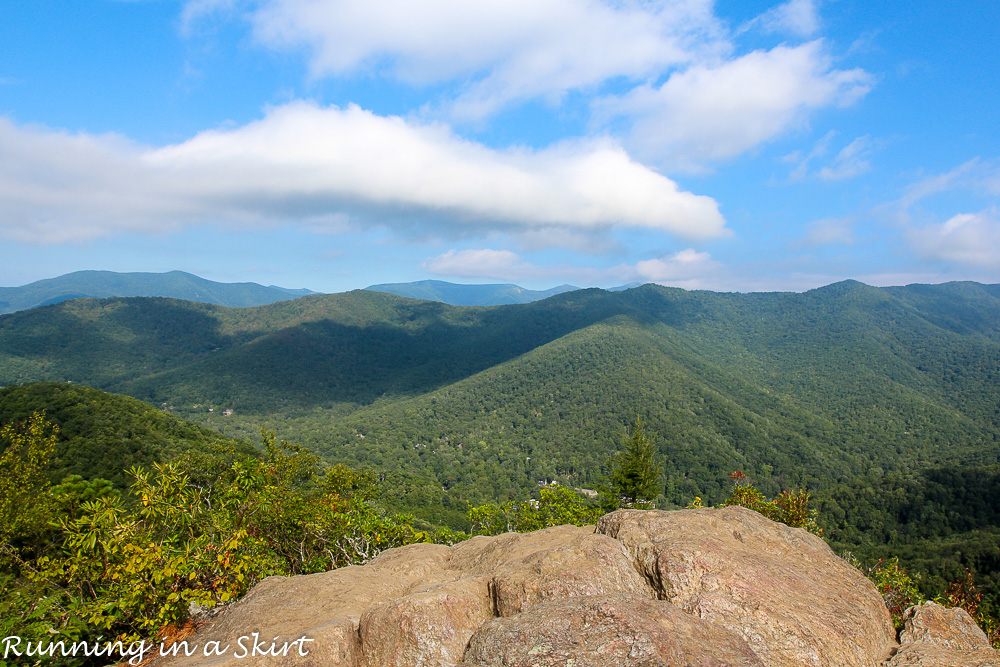 The mountains are pretty powerful.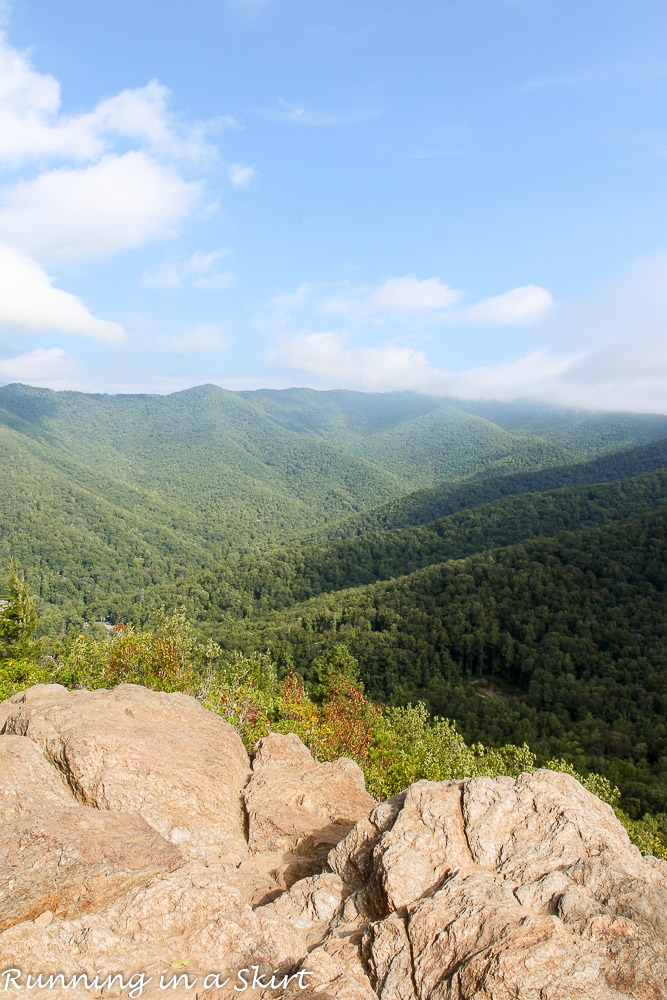 I had so much fun on my bold new hike, that I'd like to encourage you to do the same! Whether it's this same hike at Lookout Mountain Montreat or some other adventure, take a step outside your comfort zone and be adventurous, courageous, daring, strong or even just silly!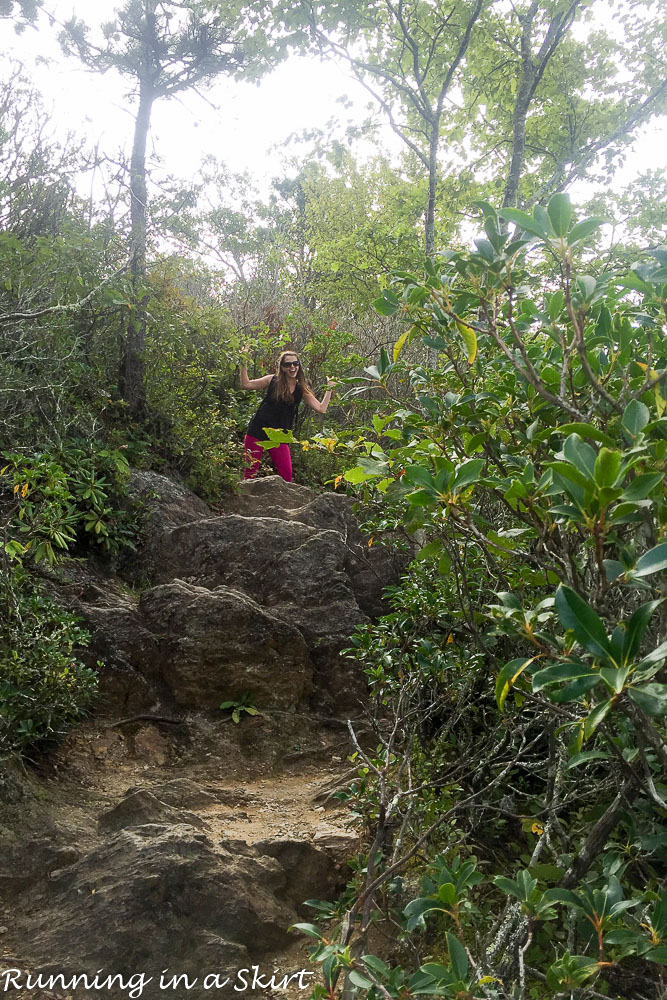 Bold is fuel that ignites to exceed your own expectations and take on a world of possibilities. Being bold is having a passion for life, new experiences, knowledge and people... all things I try to embrace daily! I'm a firm believer that adventure comes in many forms and is a key to a happy life.
For me being bold this week was going on a hike with one of my best friends. Perhaps next week it involves flying in our small airplane. Either way, the sky is really the limit.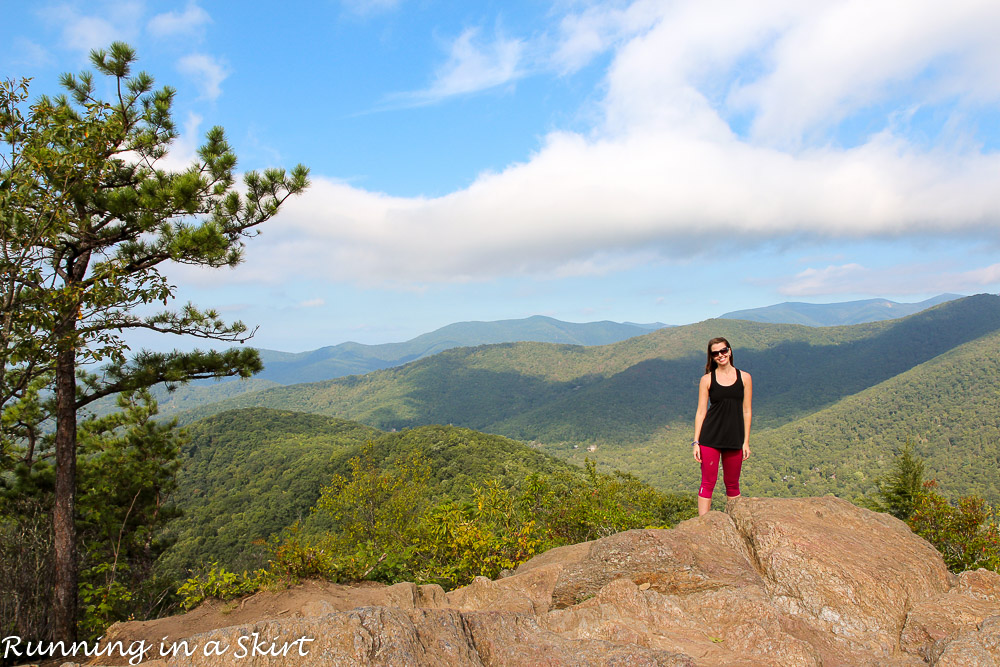 Did you know LISTERINE® users are actually much more likely to do bold things than non-users? I stand behind that statement because I am a huge LISTERINE® fan and a lover of all things adventure.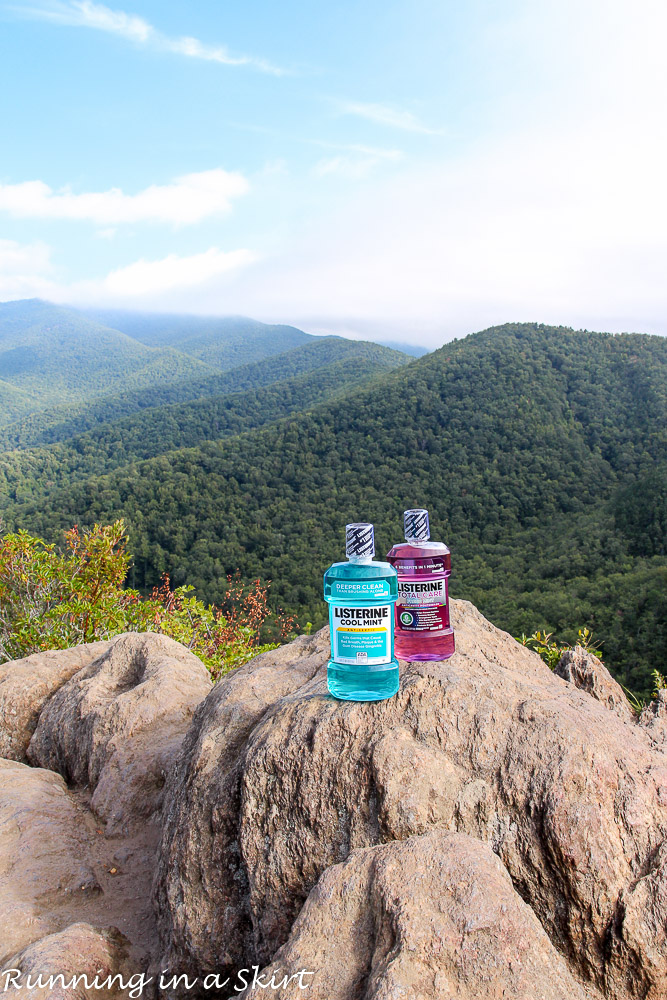 Now, LISTERINE® is celebrating the BOLDNESS of users like you and I by launching the Bold Percent program. The Bold Percent program will reward consumers for their boldness by giving away a range of fun, bold prizes.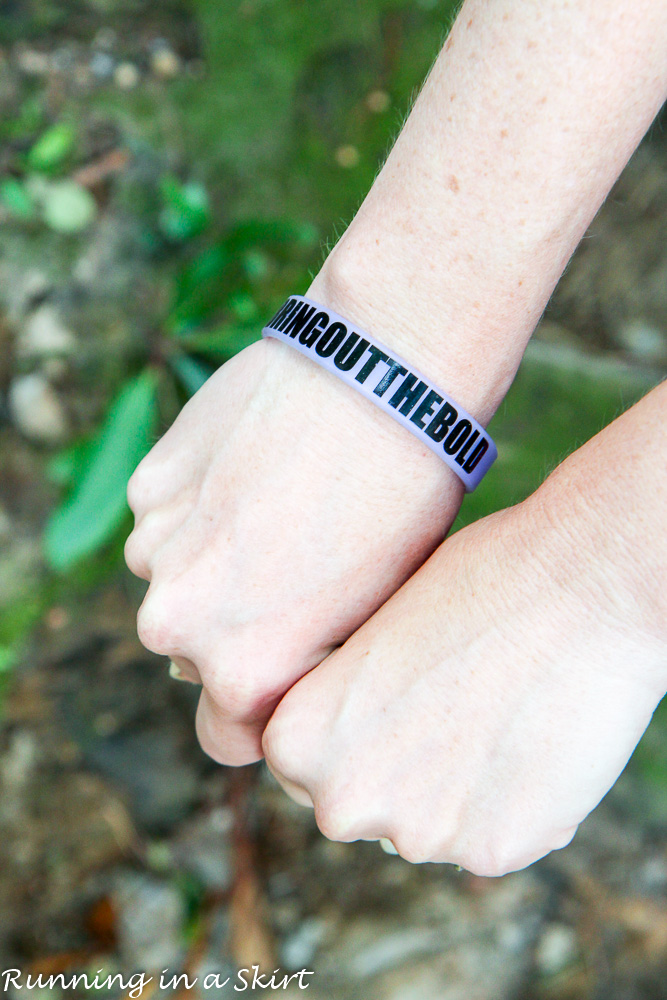 I've joined the LISTERINE® Brand to join the Bold Percent – and you should too!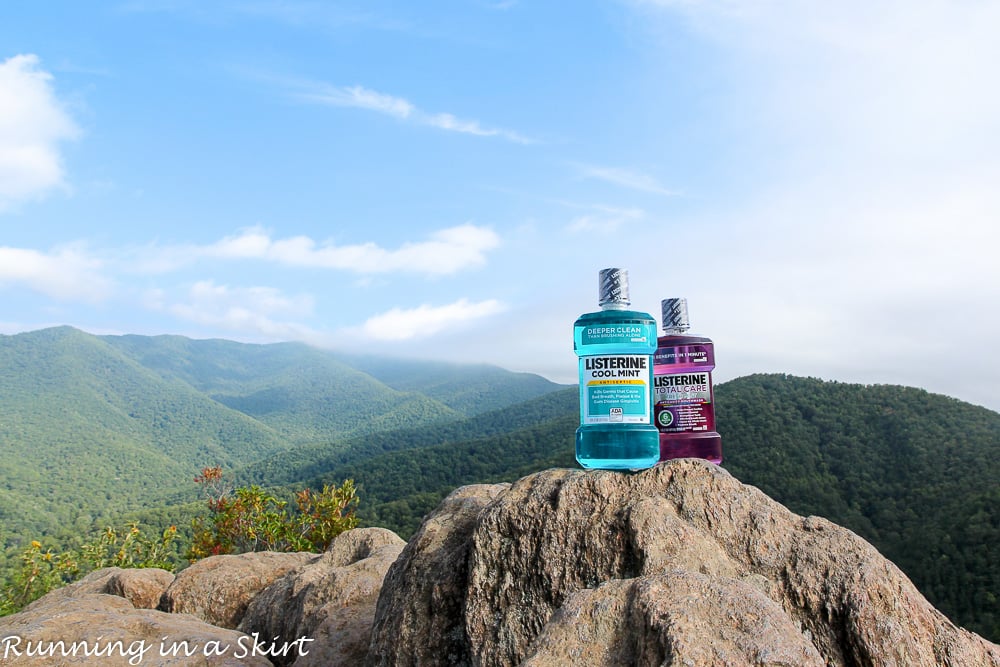 Between now and December 7, you can join the Bold Percent by registering on www.BoldPercent.com to unlock inner boldness, win rewards and earn sweepstakes entries towards bold prizes.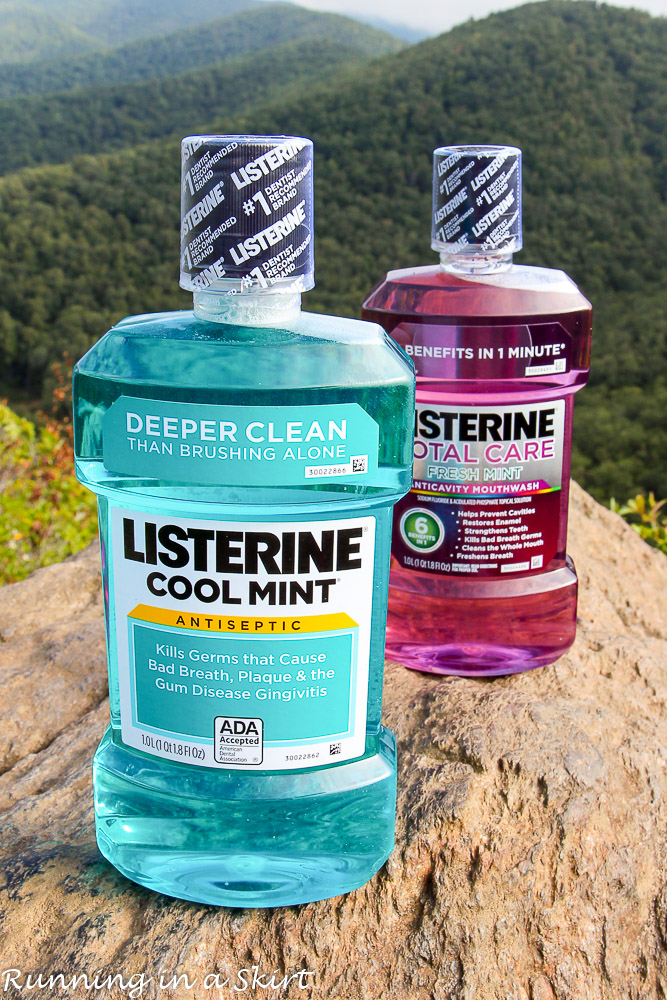 Sweepstakes prizes includes:
1 Grand Prize of a trip to one of six bold destinations (Australia, Zambia, Alaska, Hawaii, New Orleans, & Spain)
15 Level 2 Prizes of bold excursions – from surfing lessons to racecar driving
30 Level 1 Prizes of bold-themed packs of high-end gadgets and gear in themes such as "Outdoor Adventure," " Bold Fitness," and "Tropical On-The-Go"
Bold Percent members can be even bolder by uploading a receipt showing the purchase of LISTERINE® Mouthwash to receive an additional 50 sweepstakes entries to the Bold Grand Prize.
Enter HERE! Good luck everyone!
Lookout Mountain Montreat Hike Details:
Take the only road into Montreat (NC 9) past the stone entrance. One mile beyond the gate, turn right on Lookout Road. Drive for about a half mile and you will see the well-marked trailhead to the right.
This hike is just under .60 mile one way, but it is steep, gaining 700 feet in that distance. You will need to scramble up rocks to reach the top. It's not hard, but make sure you can maneuver well before heading out.
Want to try this hike? Pin this to one of your favorite boards for later!

I'll be doing more BOLD adventures in coming weeks! Can't wait to share them with you.
This is a sponsored post written by me on behalf of LISTERINE® Brand.
Thanks so much for stopping by today! Come back tomorrow for a fall inspired Crock Pot Granola recipe.
I'm linking this post with Marvelous Monday, Jill Conyers for Fitness Friday & Inspired to be Fit, Amanda for Thinking Out Loud Thursday, Coaches Corner, and Annmarie for Wild Workout Wednesday.
Your turn!
What would you consider a BOLD activity?