Hi guys!
How has your week been? Mine has been has been a little hectic, but I'm looking forward to a very short weekend getaway. The Hubs and I are heading to Dollywood! They invited us over to see some of the new rides in the park and the brand new resort, DreamMore. I am a HUGE Dolly Parton fan, so I'm stoked about the trip. And y'all know I love a nice hotel! I'll be posting on Instagram and Instagram Stories throughout our little adventure. I used to LOVE roller coasters, but it's been years since I've been on one... so I guess we will see if I still love them! haha!
For Fashion Friday today, I wanted to share a few new super COMFY pieces I've added to my wardrobe for fall. Don't you just want to feel comfy and cozy this time of year?
When I find something this good, I've just to share!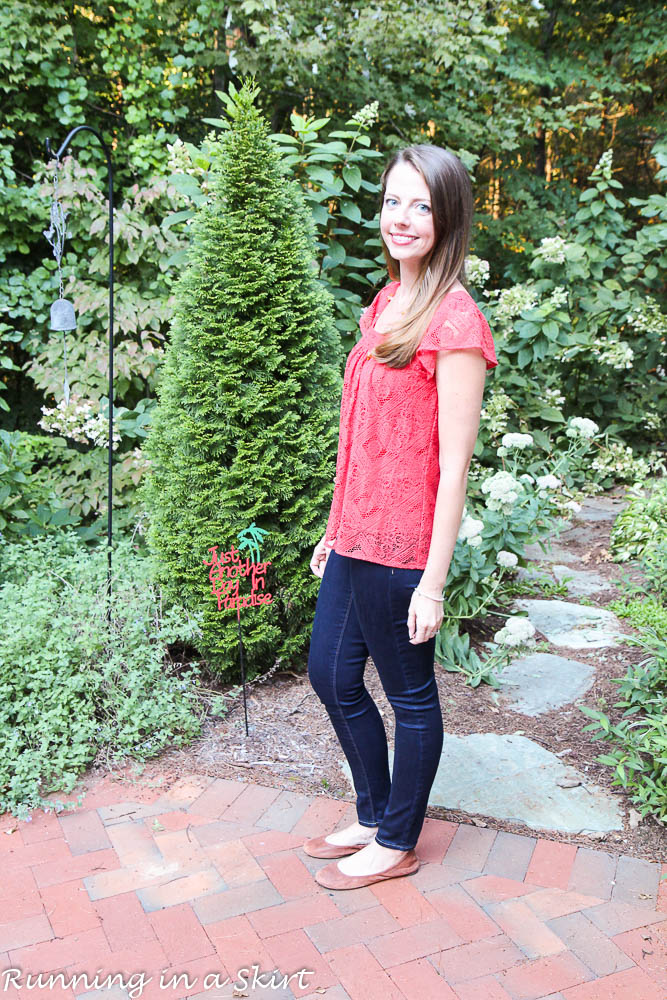 First let's talk about the look. I feel like this combination is early fall perfection. A pumpkin spice lace flowy shirt, with jeans and brown shoes. I added a long necklace and dangly earings to keep the look fresh. Cool enough for September in the mountains, but it still looks like the season.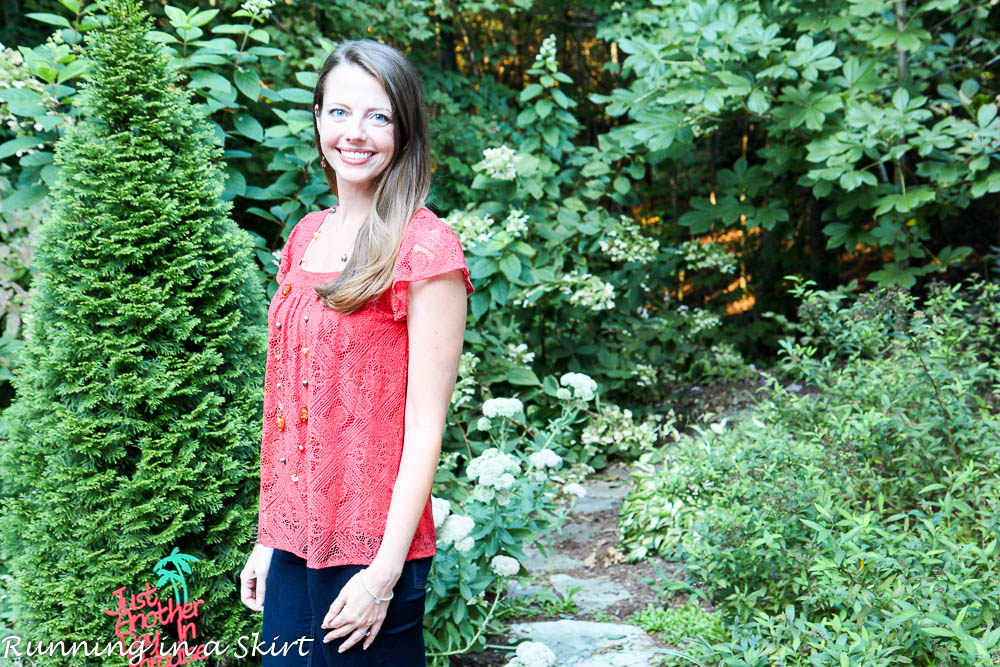 So here's my COMFY secret... these are actually JEGGINGS! Bahhhh..... leggings that look like jeans.
When I first heard about jeggings I honestly thought.... "Well that's going to look good." I was imaging fabric that only kind of looked like denim. But then I stumbled across this pair from White House Black Market and it was a total game changer for me. They have a zipper and button, pocket details and look like refined nice jeans BUT they are made out of leggings like material and feel like a dream. If you are like me and can never find jeans that are comfortable... go out and get these and thank me later.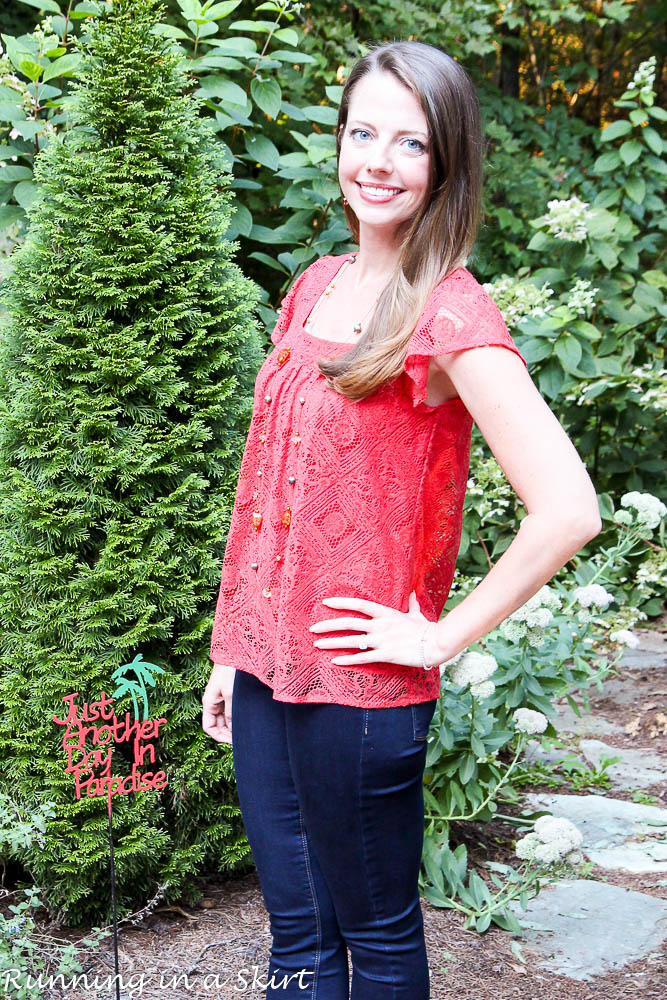 My next COMFY find are my Lucky shoes. I LOVE my Tory Burch flats as much as the next girl but honestly they are not the most comfortable flats I own. These Lucky Brand shoes are. I can walk all day in them. They are cushioned and don't rub my feet. I love them so much I've thought about snagging up an extra pair for when I wear these out, which I know will happen!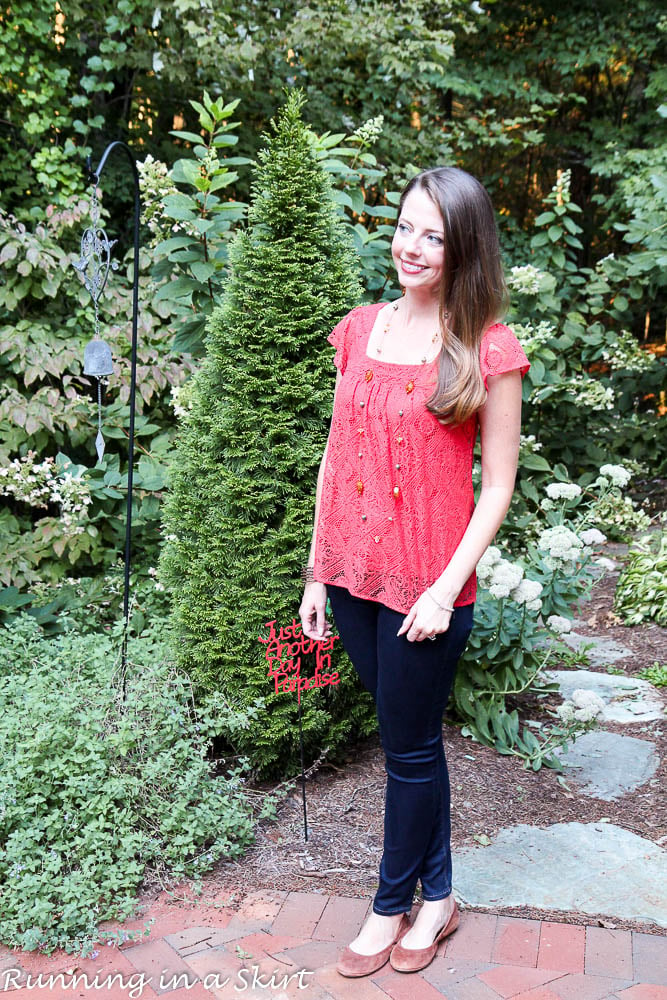 So there you have it, a fun new fall look and a few of my comfy secrets. Wish me luck on the coasters! 😉
Shop the Look
Jeans: White House Black Market Jeggings
Shoes: Lucky Shoes
Shirt: Nordstom Rack, similar HERE or HERE
So nice to see you today. Have a great weekend and come back Monday for a new hiking adventure. I'll be sharing more from Dollywood Wednesday.
This post is not sponsored, but contains affiliate links. I do make a small commission for clicks and purchases. It cost you nothing. Thank you for supporting Running in a Skirt.
I'm linking up with: Nicole for the Fit and Fashionable, Jolynne Shane for Fashion Friday, Turning Heads Tuesday and On the Edge. Thank you so much for the lovely linkup ladies
Your turn!
Have got any great new fall pieces to add to your wardrobe?
What are you doing this weekend?