* This is the second installment in series of posts called "Find Your Sunshine." My hope is you will find a little ray of light, joy or inspiration through the series.*
This post is from my first year of blogging! For more up to date inspiration from Running in a Skirt with better images, check out my Motivation and Inspiration page!
A mantra is a sound, syllable, word, or group of words that is considered capable of "creating transformation."
Run faster. Be stronger. Stay happier.
The right words can make you think and inspire you to try to live differently.
A mantra.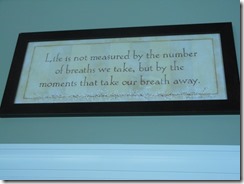 When I was running the Chicago Marathon my mantra was "Pain is temporary, Pride is forever." I kept saying it over and over again in my head and it kept me moving through the "wall" I hit at mile 20-23.
I not only keep mantras in my head as reminders, but I also surround myself with positive words that inspire me to try to be a better person.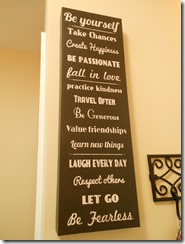 This sign is next to the door to our garage.
Mantras I try to live by.
Be Yourself… because it can be exhausting trying to be someone you aren't.
Take Chances… because you never know when your wildest dreams might come true.
Create Happiness… because it's not going to be handed to you on a silver platter.
Be Passionate… because a life without passion can feel empty.
Fall in Love… because love is the center of a happy life.
Practice Kindness… because it makes the world a better place.
Travel Often… because you will see and experience more than you ever imagined.
Be Generous… because giving is better than receiving.
Value Friendships… because true friends don't come around very often.
Learn New Things… because you can never know enough.
Laugh Every Day… because it's the best medicine.
Respect Others… because if everyone does it, it can change the world.
Let Go… because it's too hard to hold on.
Be Fearless… because it gives you the ability to do anything.
I don't know about you, but I feel like these daily reminders are like little rays of light.
Having mantras by my door gives me a since of security as I head out into the world. Even if no one else wants to play along, this is how I will try to live my life.
These are my mantras.
I even wear some of these reminders on a beautiful charm bracelet my mother in law gave me.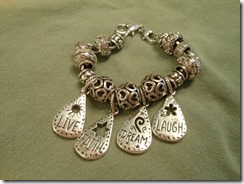 If I'm feeling a little off during the day these words guide me back.
LIVE.
FAITH.
DREAM.
LAUGH.
Four pillars to a sunny life.
You may not need the physical reminders (signs & jewelry) like I do…. but positive mantras really help me FIND MY SUNSHINE when I'm feeling a little gray.
Your turn!
What are your mantras?
Which mantra of mine will you adopt?[/fusion_builder_column][/fusion_builder_row][/fusion_builder_container]