I am almost glad I didn't have time to jump on the blog and write a post about the Boston Marathon bombings earlier this week.
As a runner and marathoner I immediately felt like the bombings were a personal attack on the sport that I love. A gruesome act of violence, at a such a symbolic place as the Boston Marathon finish line seemed to cut right to the core of a runner's heart.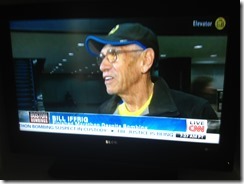 I know when I was training for the Chicago Marathon last year, I spent much of the time I was training visualizing that finish line. The idea of crossing it brought happy tears to my eyes. I wanted to overcome and defeat the physical and mental toughness of running 26.2 miles. I wanted to feel strong.
And I have never felt as strong as when I crossed the finish line at the Chicago Marathon.
But after the events that unfolded Friday, that post just didn't seem as important. What happened in Boston wasn't just an attack on runners or the sport I love. It was a cowardly siege of an entire city. It was an act of terror to try to weaken the heart of not only Boston, but the nation.
But look what happened; The city came together to fight back. They all cooperated with law enforcement and worked together to finish the terror. Talk about physical and mental toughness … catching the second suspect was like symbolically rebuilding the glory of that finish line.
The city of Boston proved they are strong. Just like marathoners, they have a spirit that cannot be broken and they finished what two cowards started.
Boston Strong.
I would like to remember and honor the lives that were lost or forever changed from Marathon Monday through Friday. I will be praying for the victims in a 2.62 mile run as soon as I am physically able. I still am not quite up to running yet after my recent surgery.
I encourage you to do the same. Use the hashtag #2.62BOSTONSTRONG
Run. Walk. Ride…. 2.62 miles. Honor and remember those who lost their lives. Show respect to a city that kept going to finish the race.
-----------------------
QUESTONS:
What are your thoughts on what happened in Boston this week?
Share your 2.62 experience?