Happy Fashion Friday!
After a way too long hiatus Fashion Friday is back this week. Hopefully I look better in this outfit than my onesie from earlier this week. 🙂
Here's a quick update on the bathroom... the demolition is almost over! Hopefully next week will be a little quieter when the new tile and such are going in. I nearly had a meltdown Tuesday, but after that I figured it was worth it to just get out of the house for a few days while the noisiest stuff was happening even if it meant I was behind on blog stuff.
Now back to the outfit. Y'all know I love COLOR so it's no surprise that I'll find a way to wear bright clothes even in winter. I picked up this cute top just before Christmas and have been wearing it all of the time.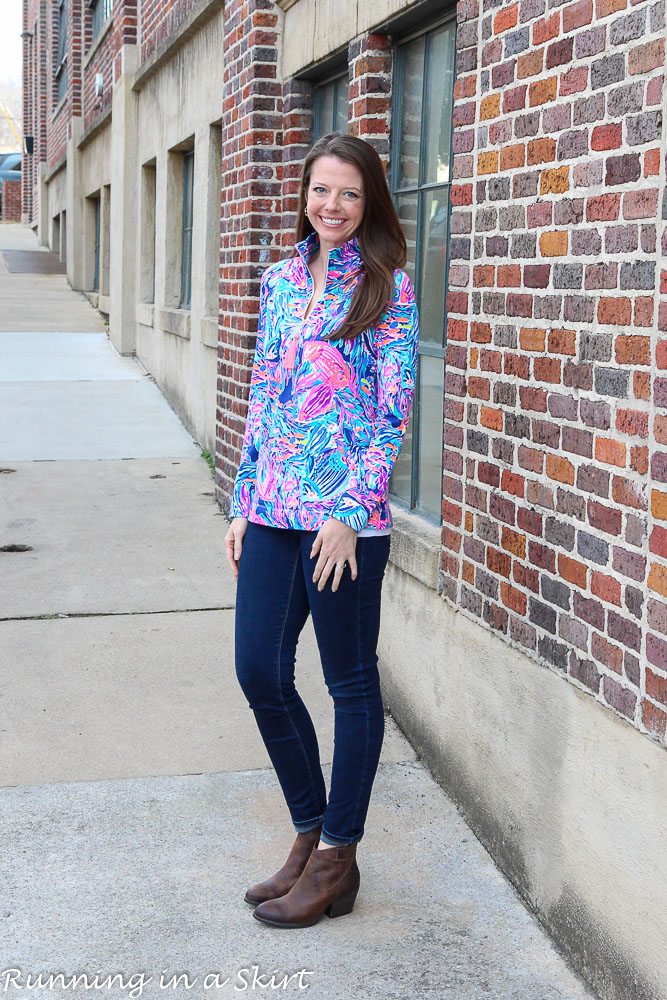 I love this Lilly Pulitzer print for winter because it has a navy base that looks adorable with jeans. The colors are bright but don't scream summer to me, like many Lilly prints do. This outfit is so easy to pull together but looks a lot more polished than a regular sweatshirt and jeans.
Plus it gives me a taste of the beach in the mountains.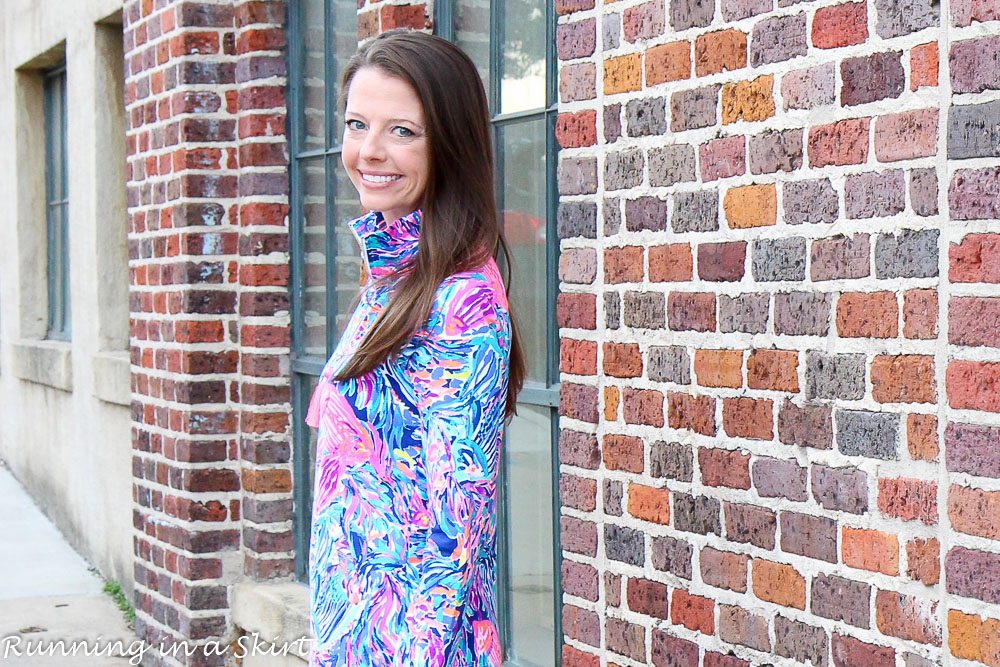 My favorite part by far though is the sweet tassel on the zipper.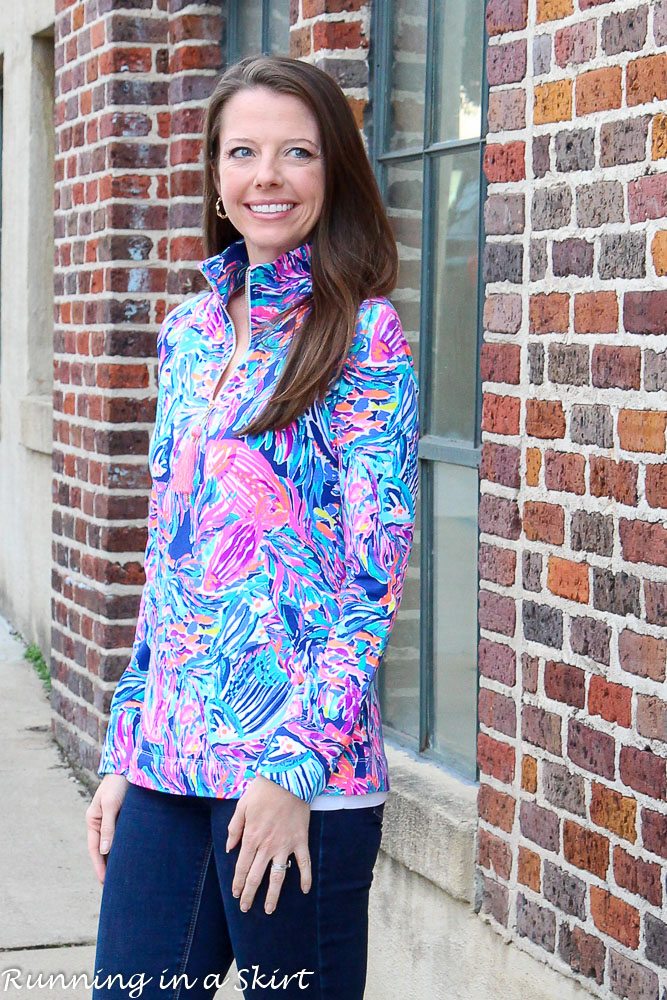 This exact print is only available in an XS. but the Lilly Pulitzer site has many different patterns to pick from in this style.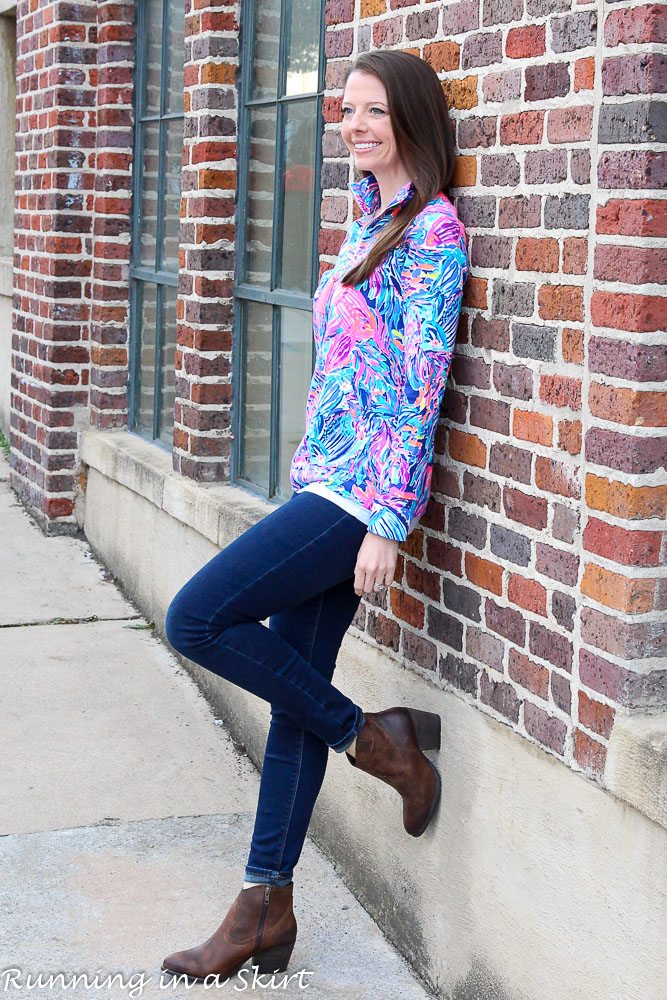 Shop the Look
Lilly Pulitzer Popover, also check HERE
White House Black Market Jeans
Ankle Boots (last season), similar HERE, HERE or HERE
I have a charity event tonight and have to pick out some fixtures for the bathroom, but hopefully the rest of the weekend will be calmer. I hope yours is great too.
So nice to see you today. Have a great weekend and come back Monday for a weekend recap.
Your turn!
What are you doing this weekend?
This post is not sponsored, but contains affiliate links. I do make a small commission for clicks and purchases. It cost you nothing. Thank you for supporting Running in a Skirt.
I'm linking up with: Nicole for the Fit and Fashionable, Jolynne Shane for Fashion Friday, Turning Heads Tuesday. Thank you so much for the lovely linkup ladies