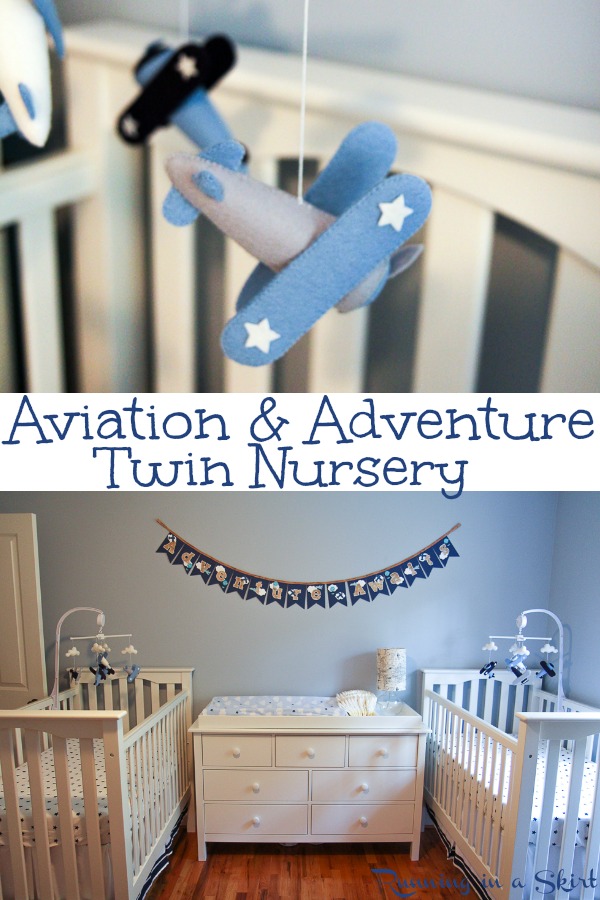 The twins aviation themed nursery came together with the perfect blend of planes and adventure!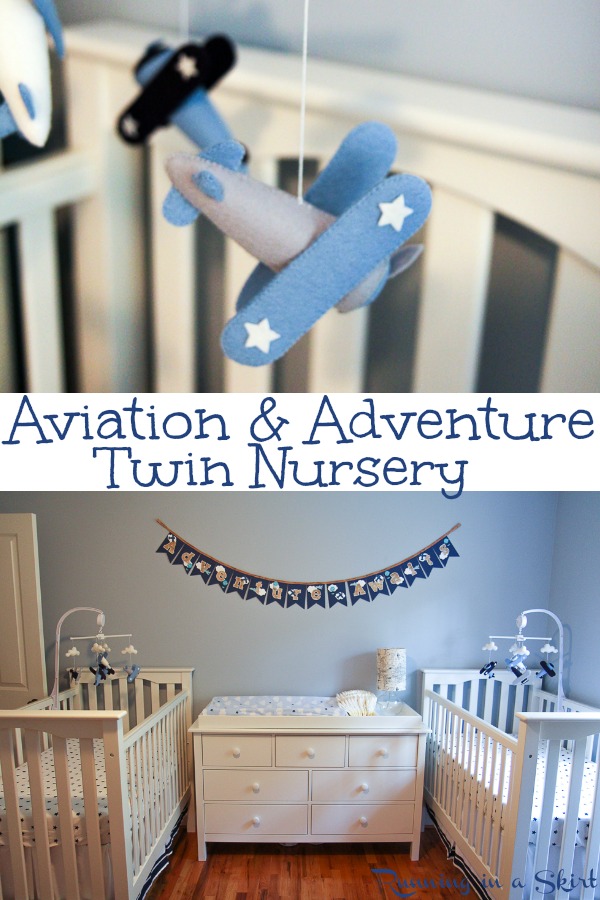 Hi guys!
In case you missed the news, Hunter and Jackson arrived just before Thanksgiving and had a great first week at home. This week has been hectic and filled with twin feedings, diaper changes, snuggles, and naps. After a rough bout of nausea, I'm also starting to finally feel a bit more normal but I still feel like it might be a while before I'm 100%. I'm hoping to be able to get some energy back this weekend. Can't believe the twins hit two weeks old this week!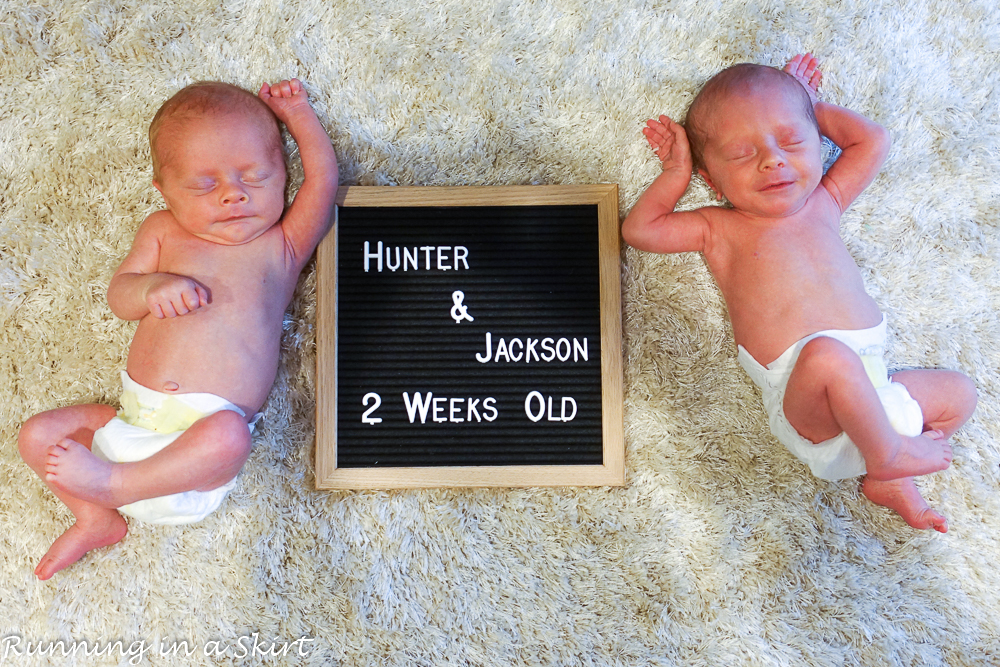 I'll have more photos to share of them next week but for now, I'm so excited to finally share the twins aviation themed nursery with you!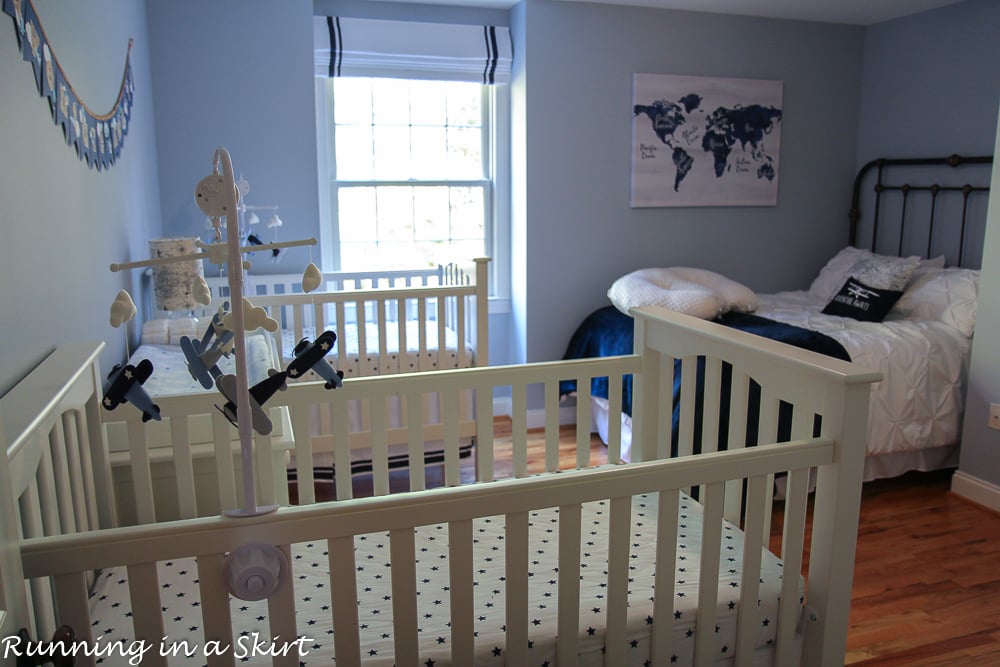 When I was deciding a nursery theme I wasn't falling in love with any of the prepackaged nursery themes from the stores, so I decided to come up with my own. Since the Hubs and I love flying and aviation I started there! Along the way, I added some adventure, travel and Peter Pan quotes to the mix to round out the look.
The Twins Aviation Themed Nursery
We started with classic white cribs and a changing table from Pottery Barn.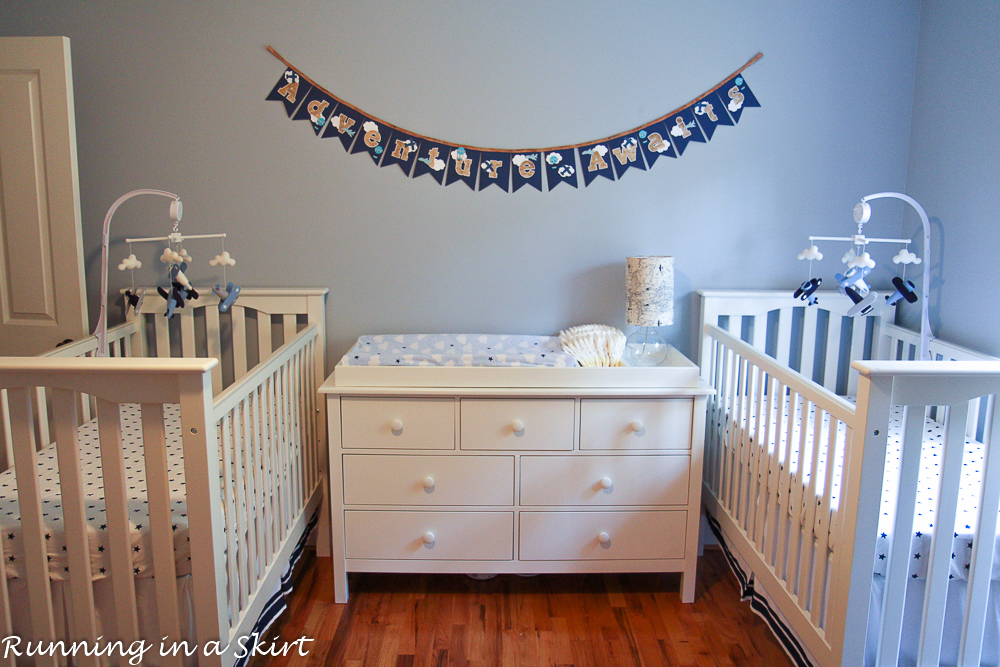 I wanted simple cribs and I could put against the wall either way since we needed two.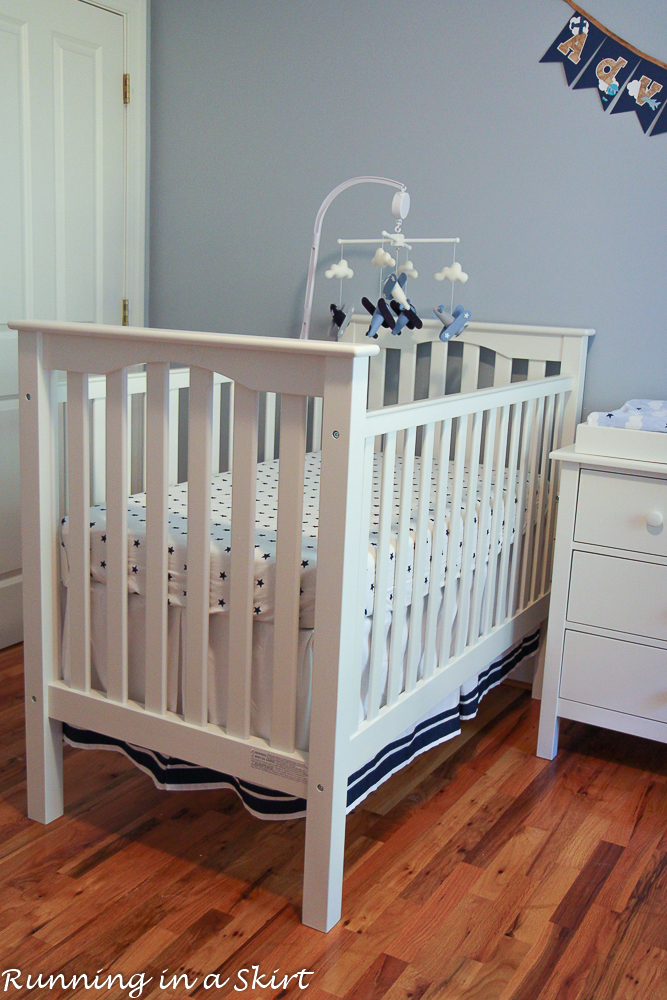 I went with simple bedding with navy pops on white to highlight the decor.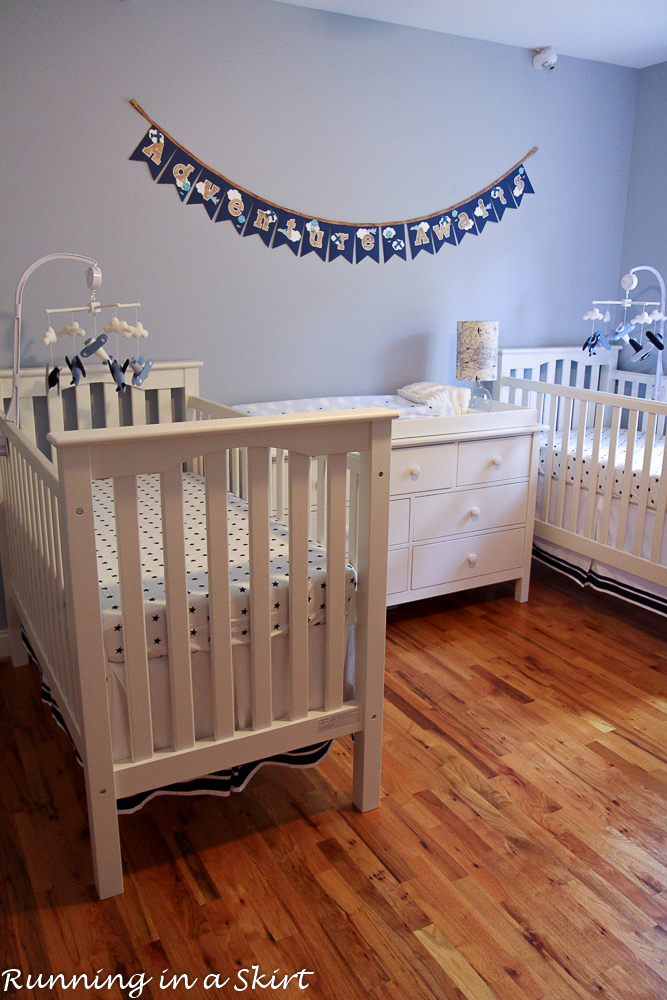 I also got the matching roman room darkening shade for the window.
The changing pad cover has stars and clouds, which I pulled into the theme. I like how it compliments everything but isn't matchy- matchy.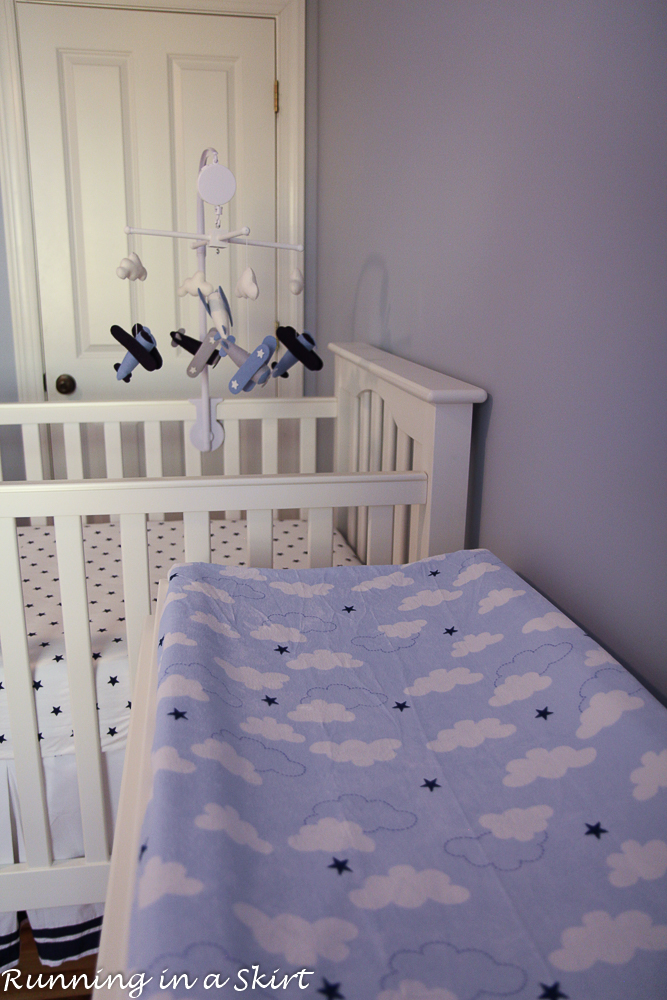 The lamp shade also features a flight map.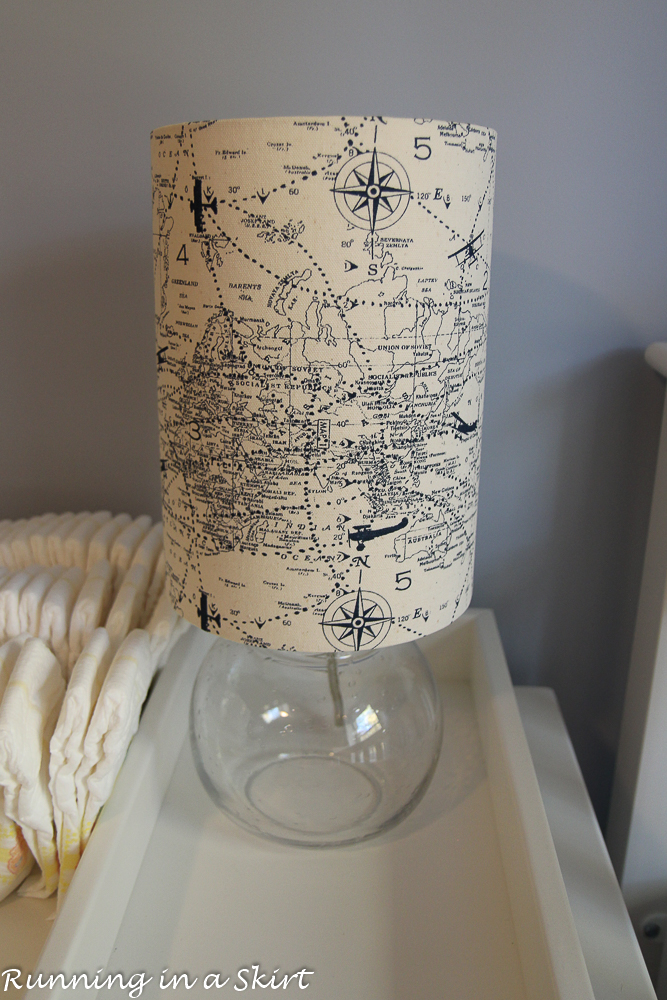 A few of my favorite parts of the room are these gorgeous handmade mobiles from Etsy. They are so special and really bring the room together.
The detail on them is incredible.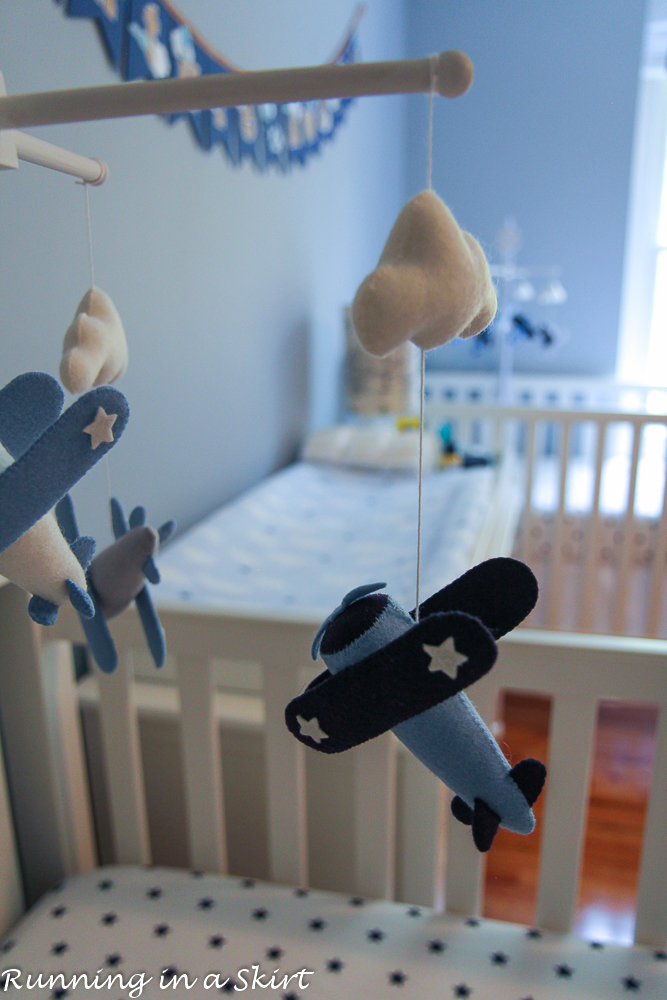 I also adore this world map, which I hope the boys find inspiring one day.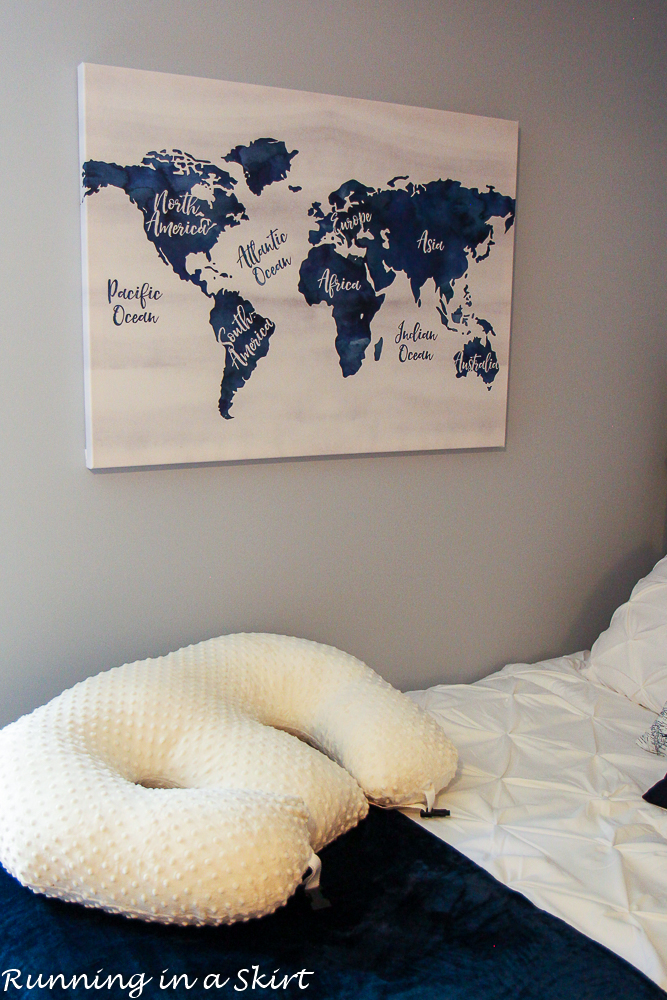 Some of the most special details of the aviation themed nursery are items handmade by my friends.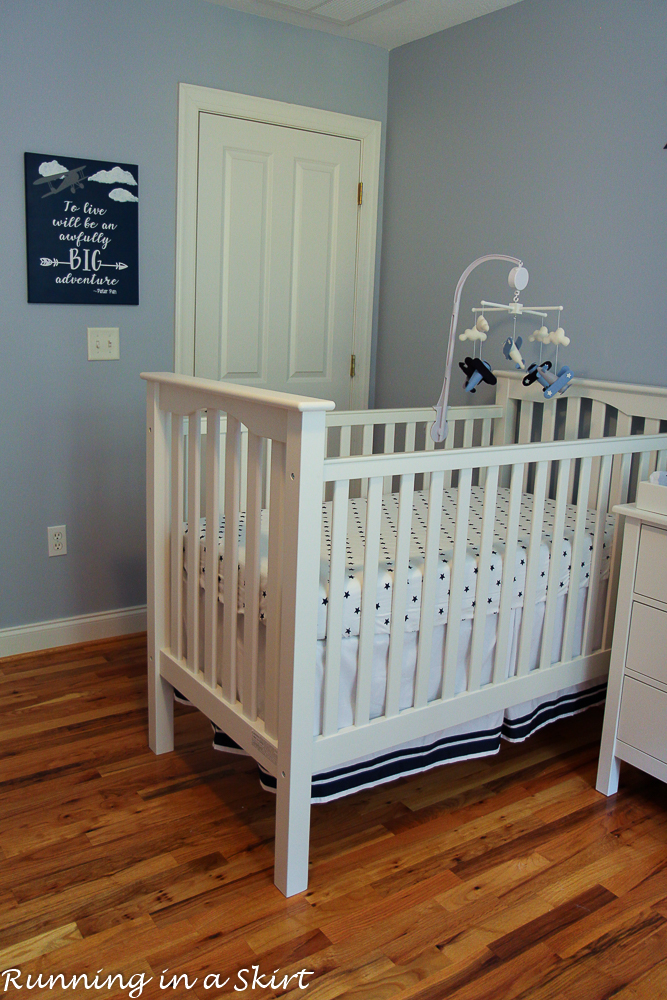 This sign my friend Jaime made for me.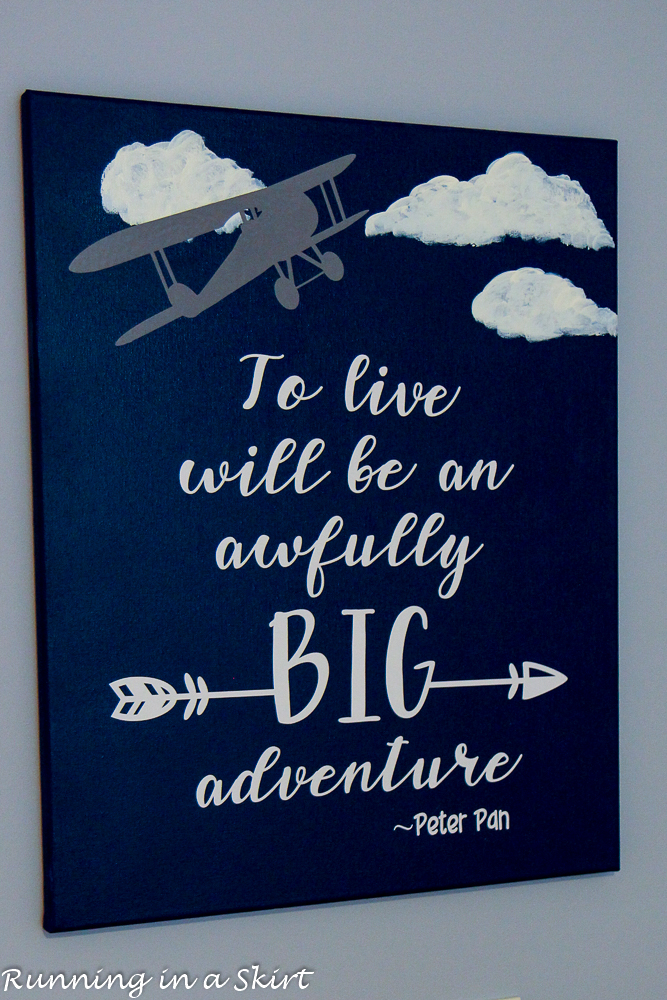 I also adore these two sign handwritten by my lifelong best friend Sarah. All three of these feature Peter Pan quotes for the boys.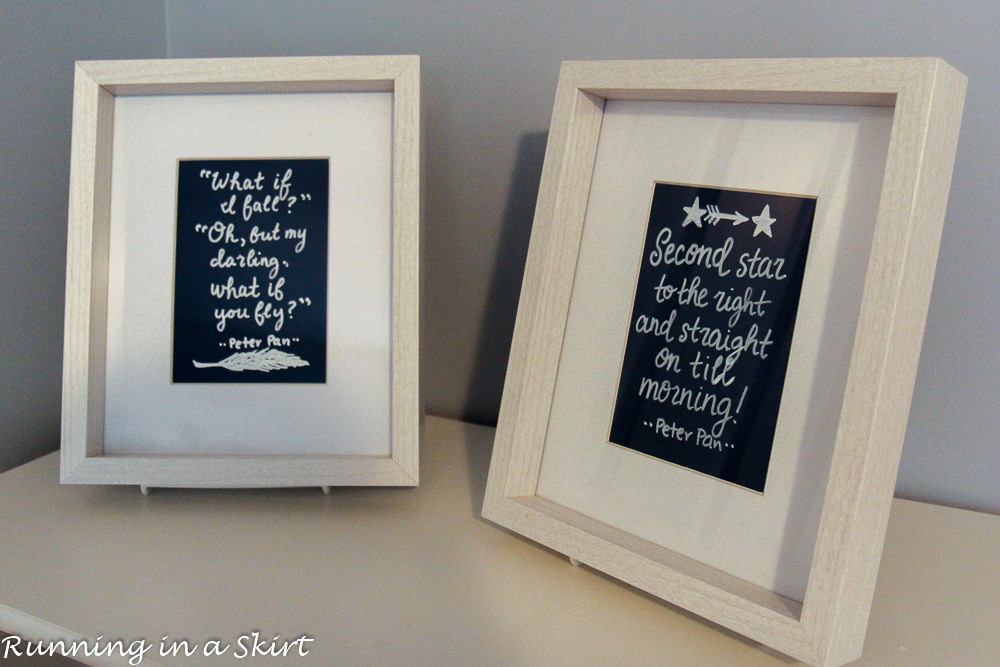 PLUS Sarah and her friend made the banner over the cribs for my aviation shower and I could not resist taking it home for the nursery.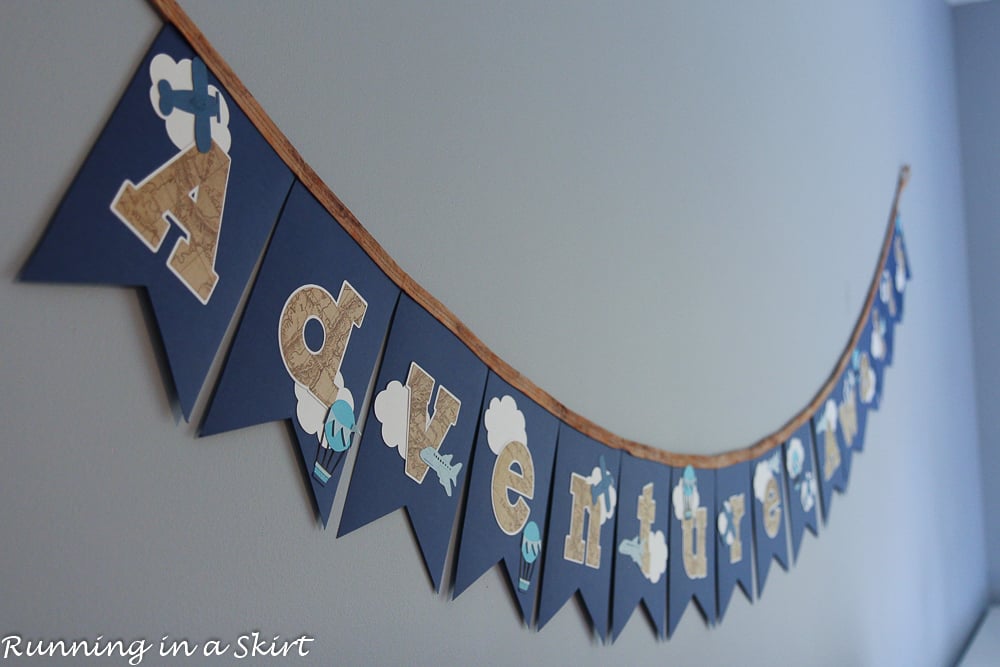 It is filled with so many cute details that tie together the room perfectly.
For now, the Hubs and I decided to leave the bed that was in the room in the nursery. Our plan (if you can have a plan with newborn twins- lol!) is to rotate sleeping in the room until we can get them on some sort of schedule so someone is always getting at least a little sleep. The comforter that was in the room clashed, so I bought an inexpensive white one to make the room look nicer for the time we use it.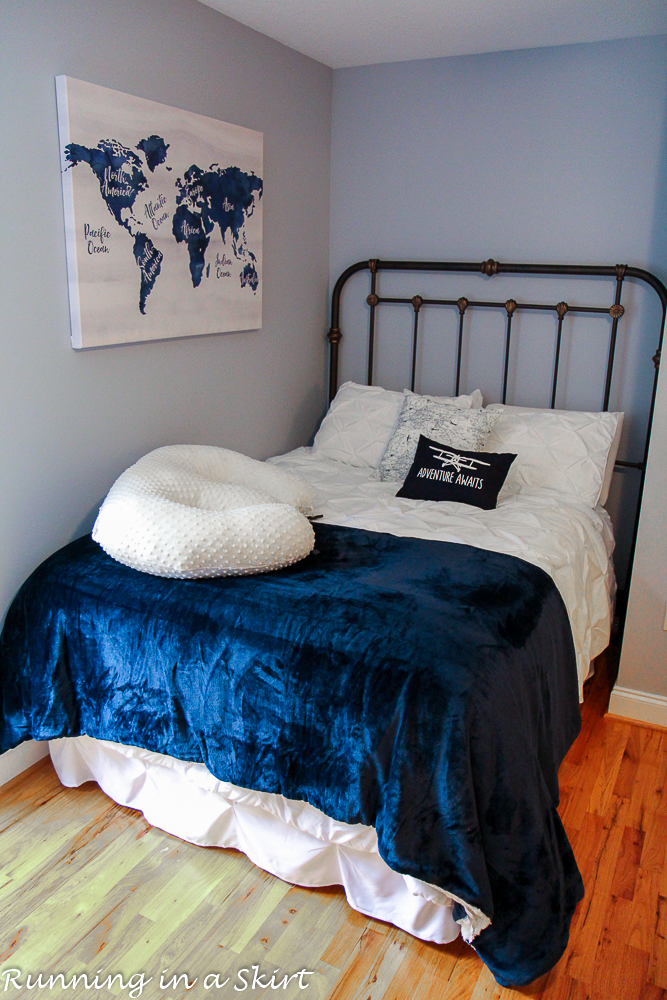 I also wanted to paint the bed frame white but decided that was too much work for something that was only going to be in the room on a temporary basis. Eventually, we will rearrange the room and possibly make this area into a reading nook. I added this pillow and this pillow to tie in the theme.
The new closet organizer came together so nicely too. This kit was from Home Depot and I think it looks as nice as the professionally installed one we did in our master closet.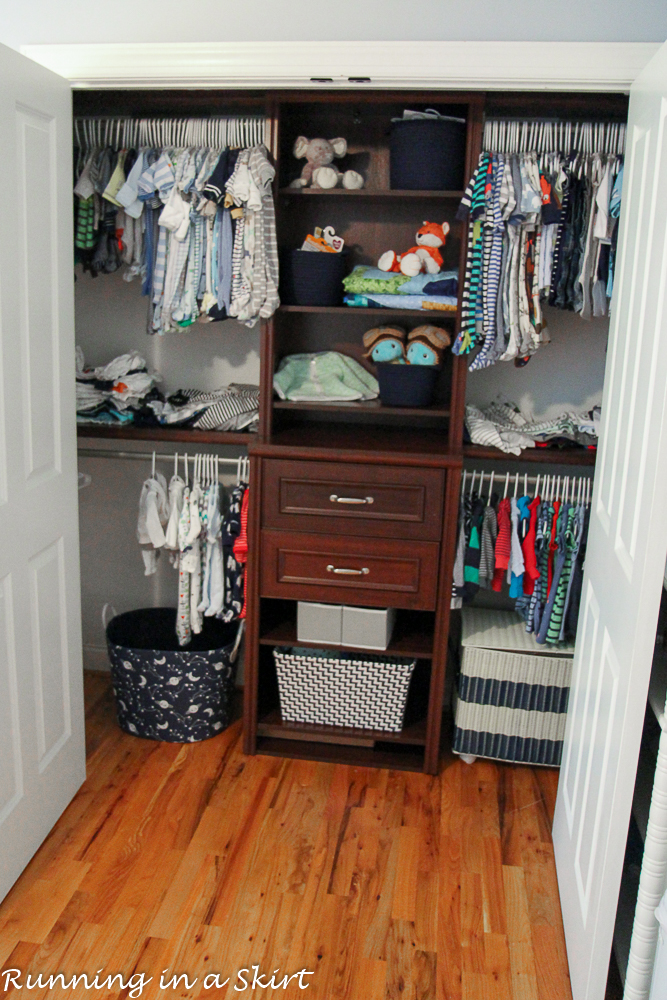 We also added a bookshelf to store all the beautiful books friends and family have already given us.
And I could not resist adding this fun cloud mobile above it.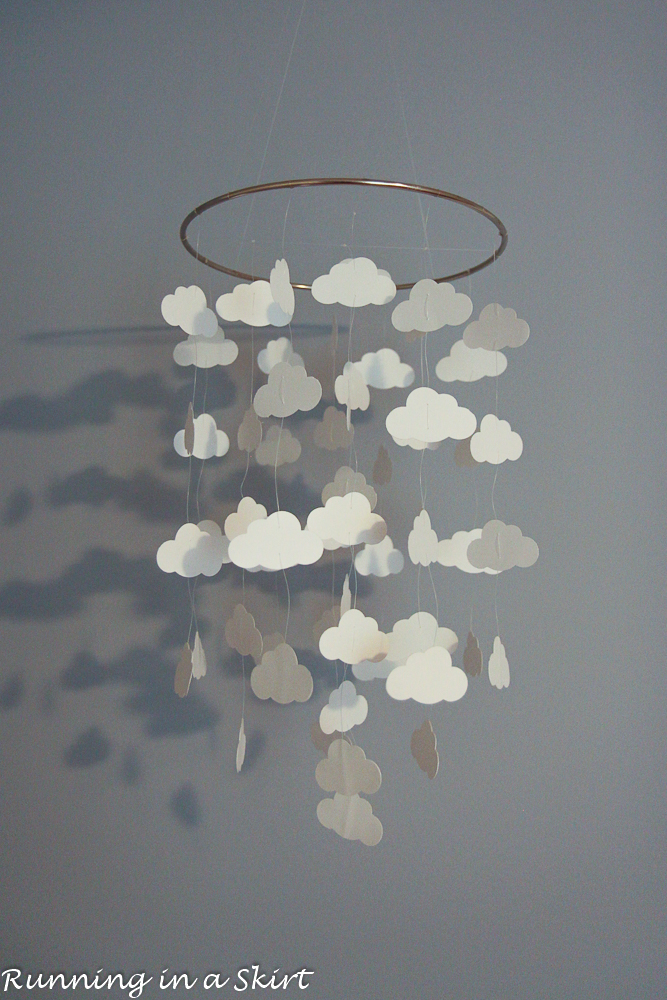 That's a tour of my aviation themed nursery! At points, I was worried I was picking out a hodgepodge of stuff, but I think it all came together beautifully in the end.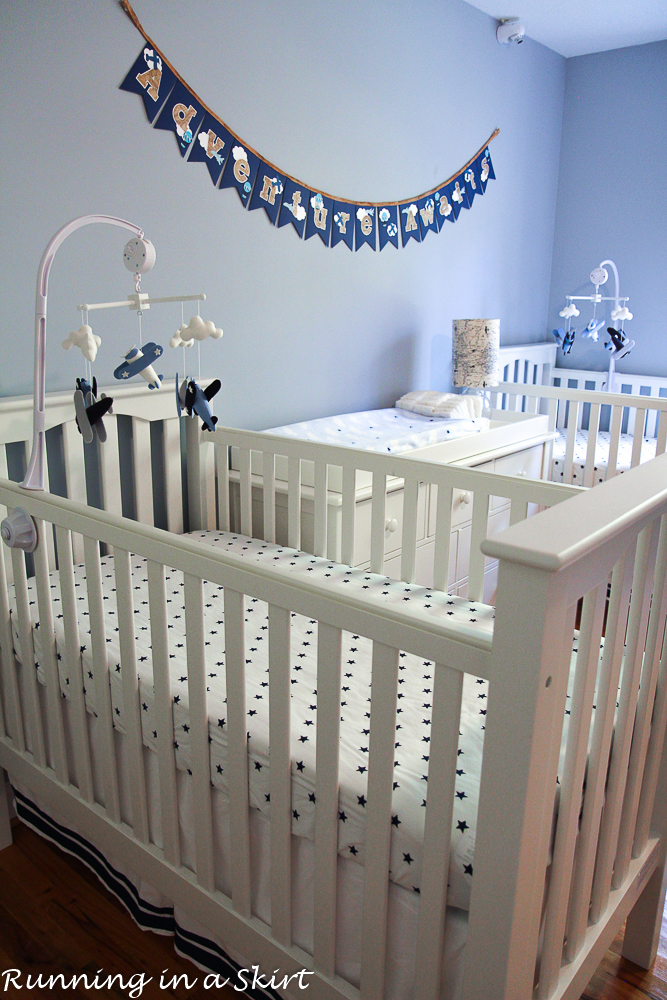 I love the way the pale baby blue walls soften the navy and all the white in the room. I know we will love spending time in it for now and I hope once the boys understand they love it too!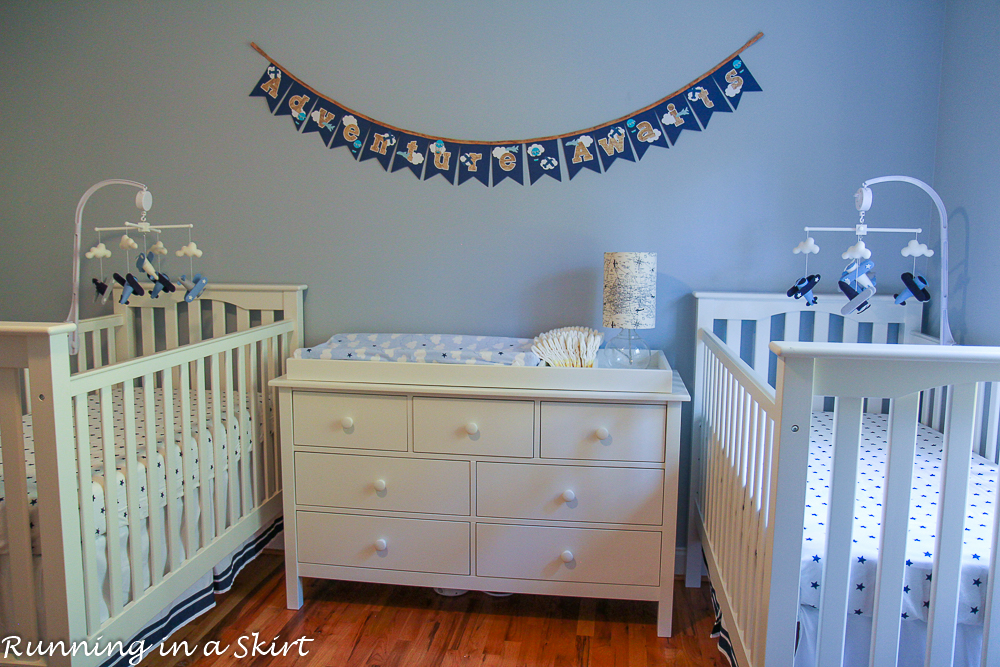 Aviation Themed Nursery - where to shop...
Pin for later...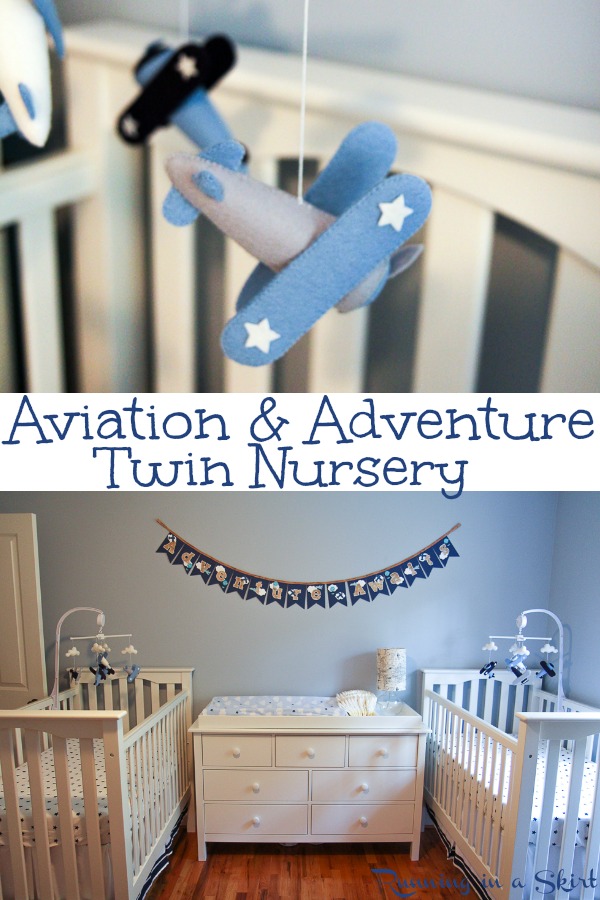 Want more baby news? Catch Up Here!