I have a great and EASY dinner idea today that is a big hit in my house. Homemade Stromboli with a SHORTCUT!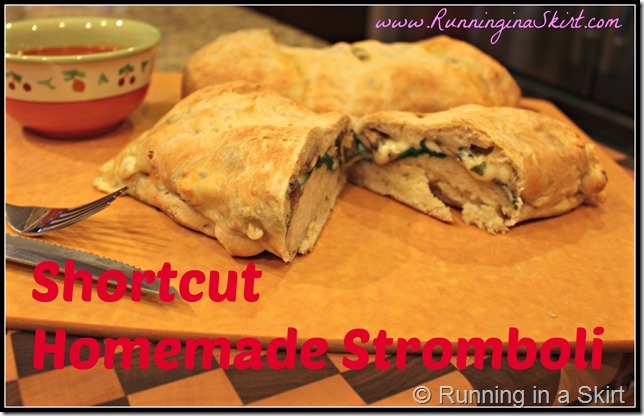 The key to the shortcut is bread in a can! My friend Holly gave me this idea a few months ago and it has quickly turned into a family favorite.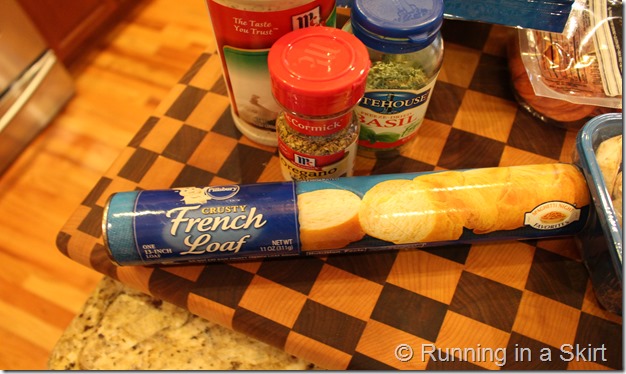 A can of refrigerated bread dough makes the perfect base for a delicious meal that can easily be thrown together on an busy day. Look for the Crusty French Loaf Bread. It works so well for our family because you can make this with different toppings to suit everyone in your family.
It's not the healthiest thing I make, but on the same note it is not as unhealthy as ordering food out and can be adjusted to cut some calories and add nutrients with fresh veggies.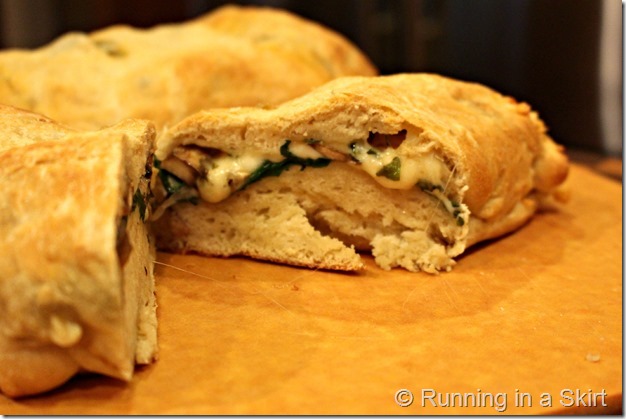 That is skim milk cheese and spinach, my friends. And it's divine.
I'll post the full recipe at the bottom without the pictures, but first I'll go through the steps for you.
First you gather two cans of dough, cheese (I use about one and a half bags for two stromboli's.) You will also need Italian spices like basil, oregano and red pepper flakes if you want heat. Garlic powder or garlic salt kicks the bread up a notch. And your favorite pizza toppings like spinach, mushrooms, peppers, onions (sausage or pepperoni for the hubs.)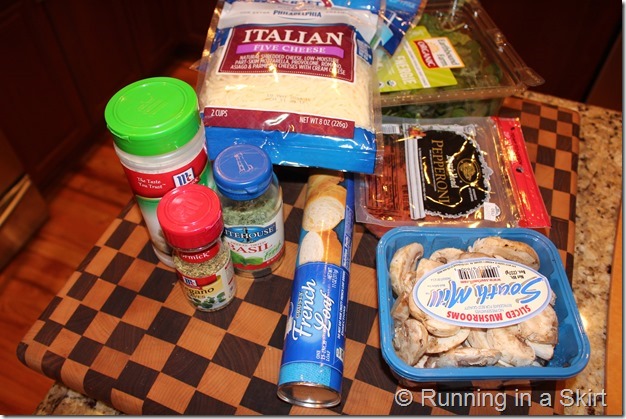 Start by finding the seam in the bread. It runs along the roll and will usually allow you to roll out the loaf into a sheet.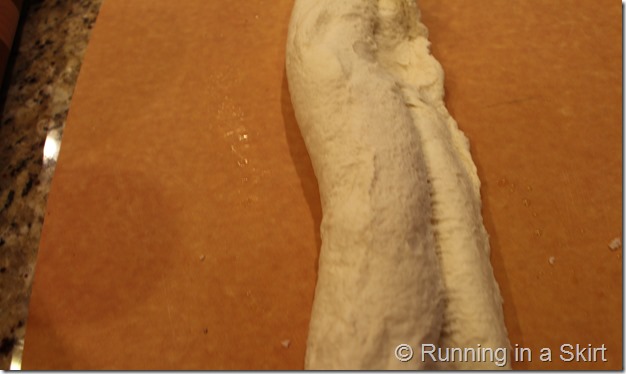 Sometimes it doesn't roll out this easily. If it's being difficult just push out the sides until you get something that looks like a sheet. If you get a hole just fill it in with dough along the sides. It's very forgiving. You can see a couple pictures down, one of my rolls did not work at well, but it tasted fine!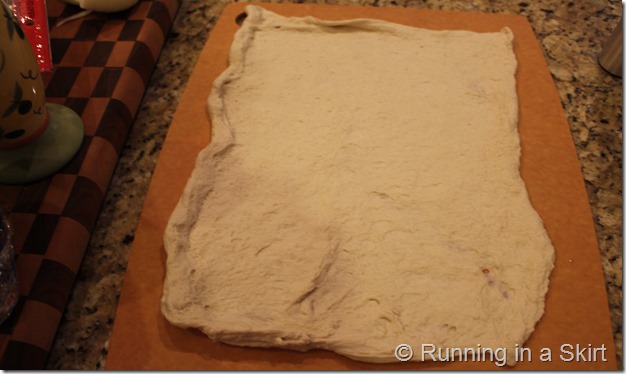 Sprinkle garlic salt or garlic powder on the bread. Then start piling on the toppings.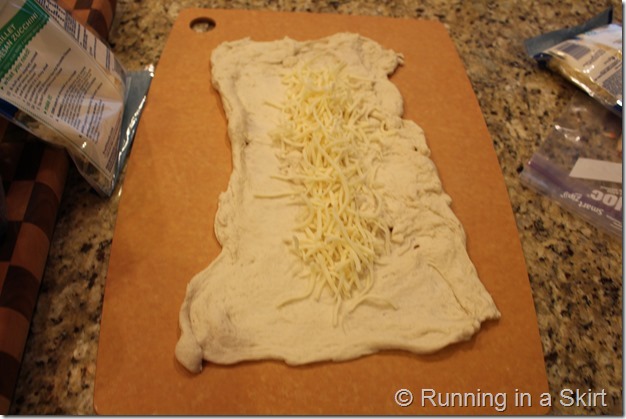 I used mushrooms for both of us. Then season each layer with a sprinkle of Italian herbs.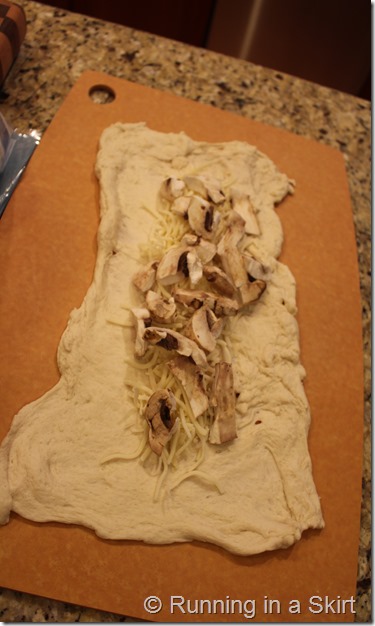 Spinach (I had a kale-spinach mix handy) for me!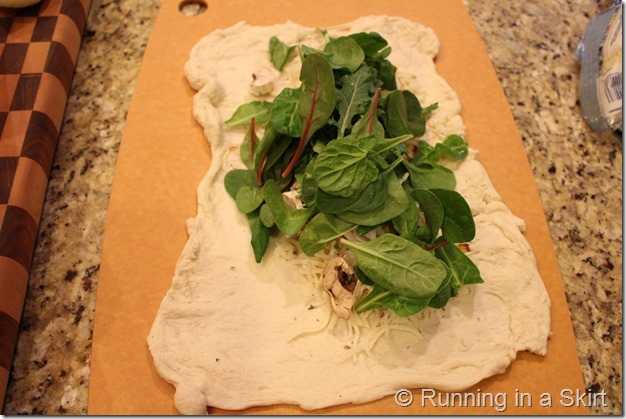 And pepperoni for the hubs.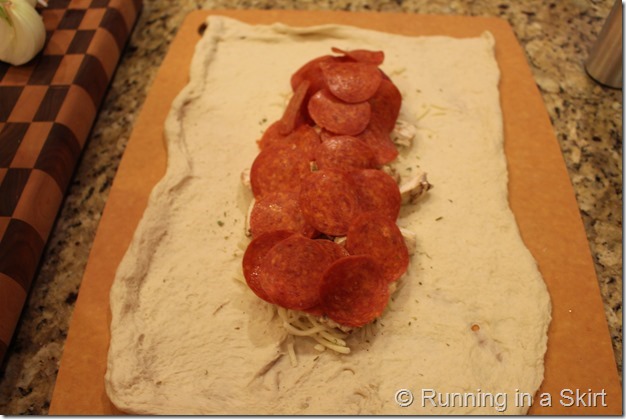 I then add a layer of cheese on top. You want to STUFF it. The fuller you can get the Stromboli the better it will be!
To close it, pull the sides of the dough out and wrap it around the toppings. You might have to work with it for a few minutes, but the dough really can stretch out. You also take both ends and fold it up and over the seam.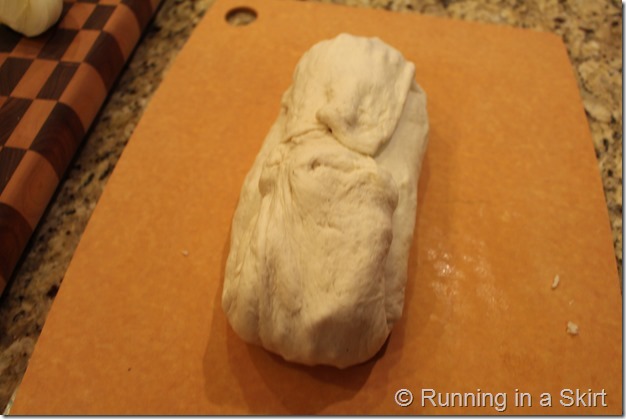 Then flip the Stromboli seam side down and put it on a cookie sheet. Slice several slits along the top and then spray some olive oil (or butter if you are so inclined) on the top. Sprinkle with another round of garlic salt or garlic powder.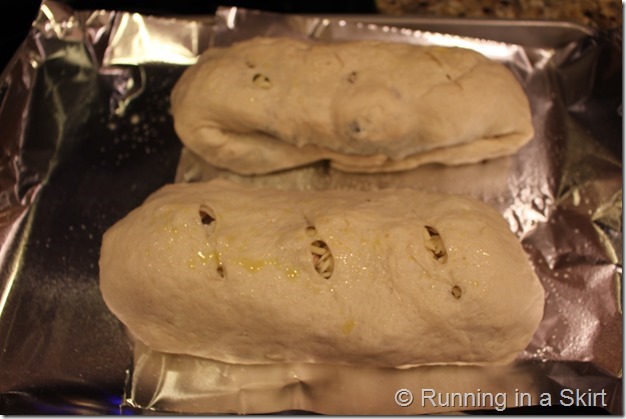 Bake in a 400 degree oven for 25-30 minutes or until golden brown. The toppings will cook inside.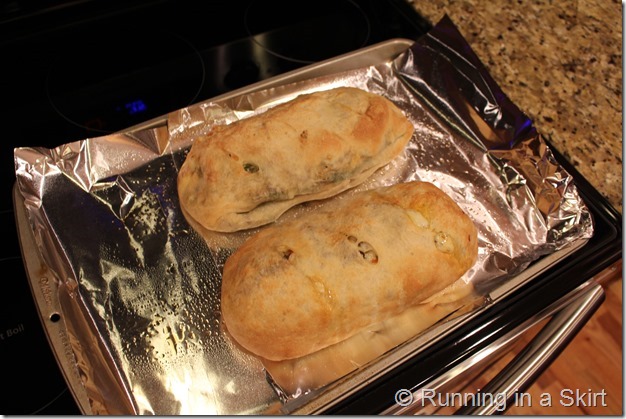 Serve with a side of marinara sauce and enjoy!
This makes two separate meals for my hubby and I.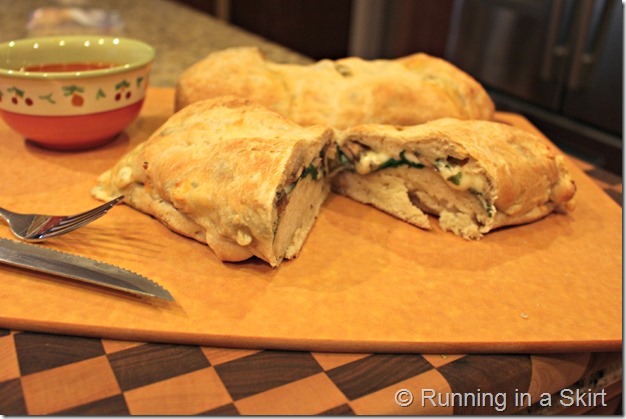 I really think your family with LOVE this. Mine does!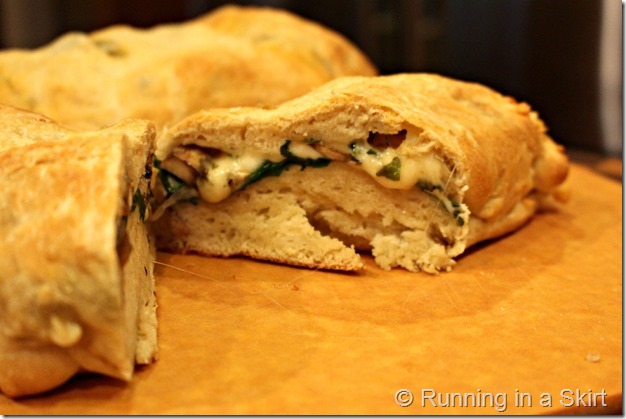 Shortcut Homemade Stromboli
Serves 4 or 2 with leftovers
Ingredients
2 cans refrigerated crusty French bread loaf
3-4 cups mozzarella cheese, part skim OR Italian 5 cheese blend (2 bags)
Garlic Salt or Garlic Powder (Garlic Powder if you are sensitive to salt)
Italian herbs (Basil, Oregano, Red Pepper or a blend)
Your favorite pizza toppings – Spinach, mushrooms, pepperoni, sausage, onions, green peppers, ect.
Olive Oil Spray or Melted Butter
Jarred Pasta Sauce
Directions:
1. Preheat oven to 400 degrees.
2. Unroll the loaf of bread.
3. Sprinkle loaf with garlic salt
4. Add layers of cheese, toppings and herbs in a long pile in the middle of the flat bread
5. Roll bread around the toppings and flip seam side down on a greased or non stick cookie sheet.
6. Cut 3-4 slits in the top of the Stromboli, coat the top with olive oil or melted butter and sprinkle with garlic salt or powder.
7. Bake a 400 degree oven for 25-30 minutes or until golden brown.
8. Serve with heated marinara sauce on side!