Owen's Baptism
This little guy got baptized this past weekend!
Everybody now…. AWWWWWWWwwwww! That face!
I sort of feel like baby Owen should get his own page on Running in a Skirt.
If you've been reading for awhile you may remember when I first showed you Megan and Justin's baby announcement about this time last year, the baby gender reveal party, Megan's shower for Owen, the first time I met Owen very shortly after we was born, his trip to Lake Murray for 4th of July and his first Asheville hike in August.
I just can't get enough of him. I was looking through the old posts and I can't believe how much he has grown. My sweet nephew keeps getting cuter and cuter and I was so lucky that I got to spend the weekend with him the the hubby's family in Columbia.
The crew looks pretty good all dressed up!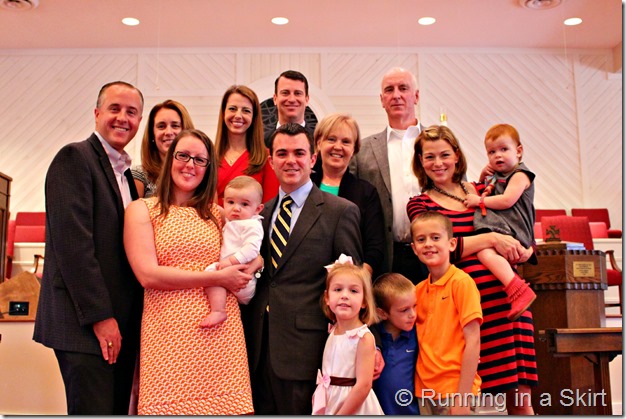 Megan and Justin belong to a beautiful church in Columbia. The baptism was held near the start of the service. Megan chose my hubby (her brother) and her sister Danielle to stand with them as godparents. It was a beautiful moment.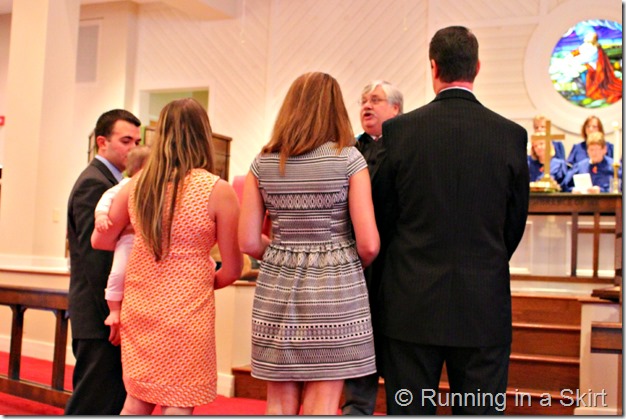 Owen was a trooper with the water on his head.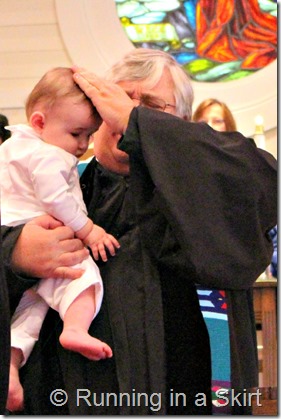 Then it was time for the "baby parade" which has always been one of my favorite parts of church.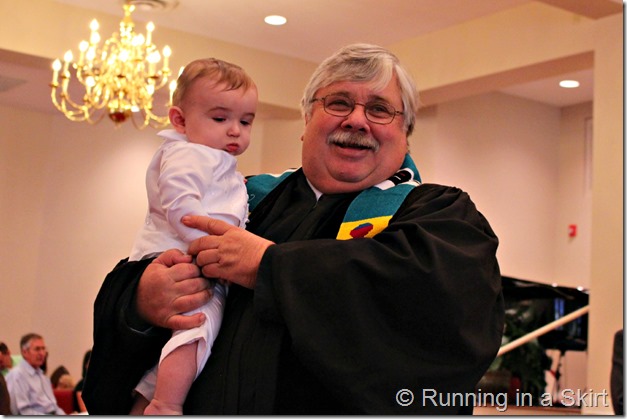 Owen did great during the service and even though he was very tired by the time we all took pictures he didn't melt down.
Proud parents Megan and Justin looked spectacular!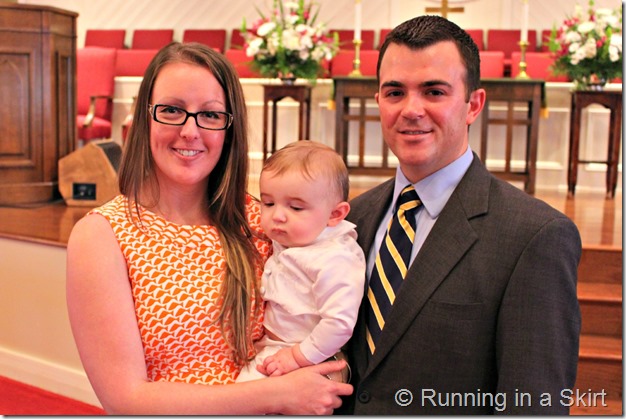 The godparents…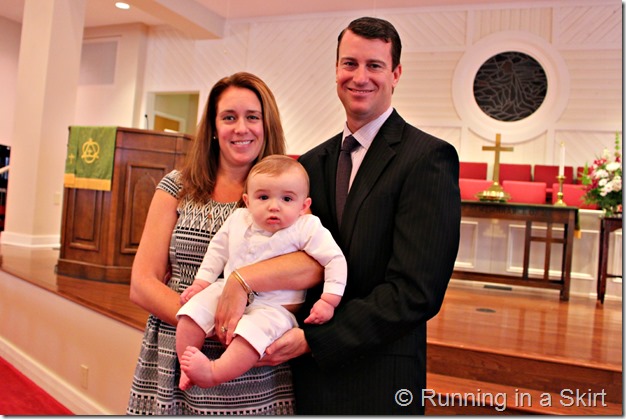 The hubs and I with our favorite baby…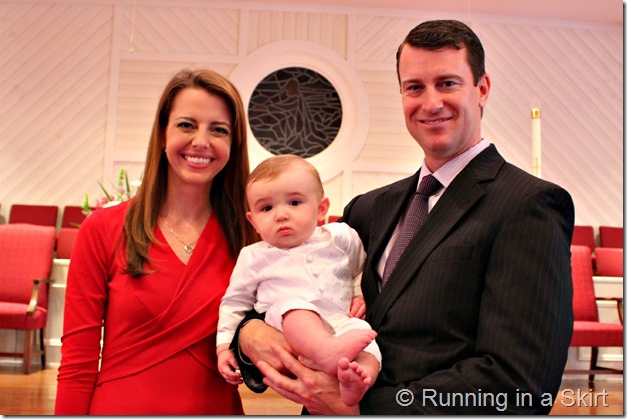 And the rest of the cousins…
I took ten pictures and there was not a single one with every kid looking at the camera and smiling. This is a moment to remember!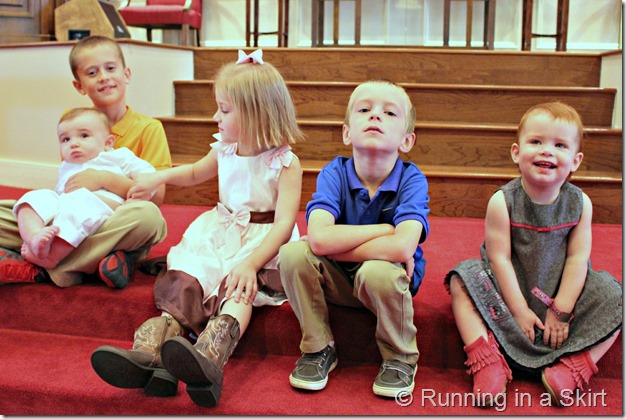 And just as everyone was getting a little restless in the church clothes…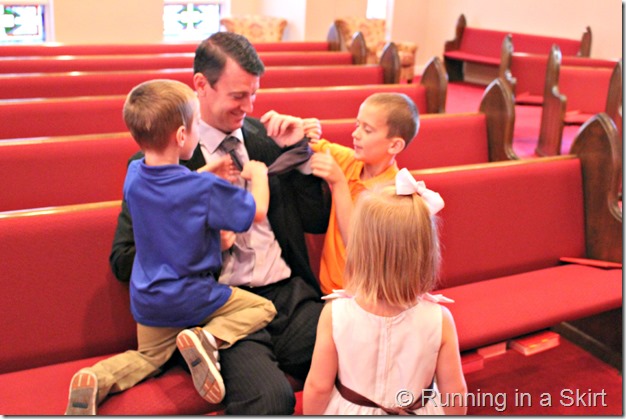 …. we went home for lunch and cake.
God Bless Owen!
I feel so blessed to be a small part of such big events in Owen's life. This is what life is all about, ya know?
The Dress
Since it is #FashionFriday I snapped a picture of my dress for the baptism. This one is one of the dresses I used to wear on WLOS, but I thought it was perfect for a big family church event. The fabric is also a nice crepe so it travels well and does not wrinkle.
I wore it because it had sleeves (I get cold indoors easily) and is a solid color, which generally photographs better.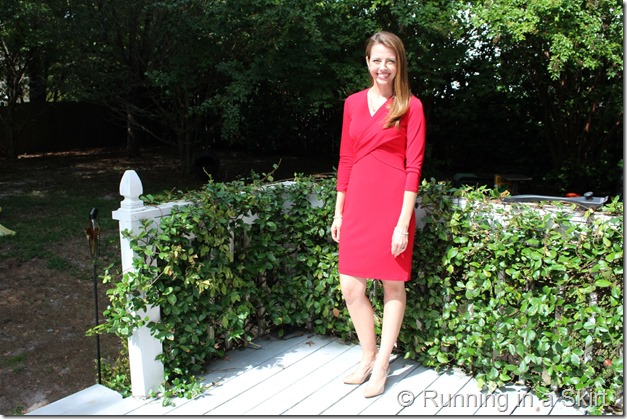 Dress: Ann Taylor
Shoes: INC
Jewelry: Mom's rubies (I thought it would be nice to bring a memory of my mom to the event)
Your turn?
Any tips for getting all the cousins to look at the camera next time? haha!
What is your favorite color to wear?