Switzerland's capital city is charming, urban and efficient! One Day in Bern, Switzerland is the perfect amount of time to check out the preserved medieval vibe, history and views.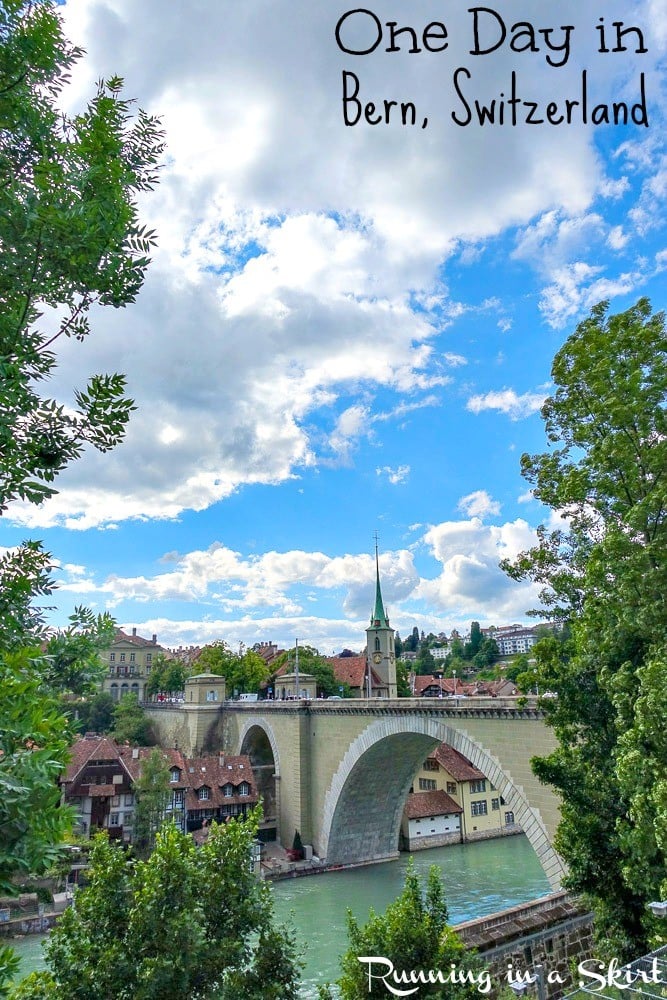 Hello!
I'm continuing my series on my recent Switzerland trip today. If you are just joining me, check out the rest of my trip including my Switzerland Travel Guide! --->
When I was planning my trip to Switzerland, I decided to stay in Lucerne one extra night to give the Hubs and I time to do one day in Bern, Switzerland. Bern is the charming and medieval capital city of Switzerland. It's not as flashy or show stopping as some of the mountain towns we visited, but it was still really special in it's own ways. Plus it's only an hour away from Lucerne via Switzerland's amazingly clean and efficient train system. If you are traveling in the area I recommend you take a day trip from another nearby city so you don't have to move hotels as much.
My favorite parts included the beautiful preserved cobblestone streets, street arcades and clock towers that have been around since the 1400s. I also enjoyed soaking in the pretty urban views and seeing how this busy capital city ran without hardly any traffic!
[fusion_builder_container hundred_percent="yes" overflow="visible"][fusion_builder_row][fusion_builder_column type="1_1" background_position="left top" background_color="" border_size="" border_color="" border_style="solid" spacing="yes" background_image="" background_repeat="no-repeat" padding="" margin_top="0px" margin_bottom="0px" class="" id="" animation_type="" animation_speed="0.3" animation_direction="left" hide_on_mobile="no" center_content="no" min_height="none"]One Day in Bern, Switzerland from Running in a Skirt. #switzerland #bern Click To Tweet
One Day in Bern, Switzerland
With only one day in Bern, Switzerland I knew I had to plan our time well. To guide our adventures I decided to follow the walking tour in Rick Steves Switzerland book. If you aren't familiar with his books, he has walking tours in them that can guide you around a city and make the most out of your time. If you are doing any travel in Europe I also highly recommend buying his travel guide. I used them in both Switzerland and Italy.
We arrived to Bern by mid-morning it was raining buckets. We started our walking tour but it honestly proved kind of miserable in the cold rain.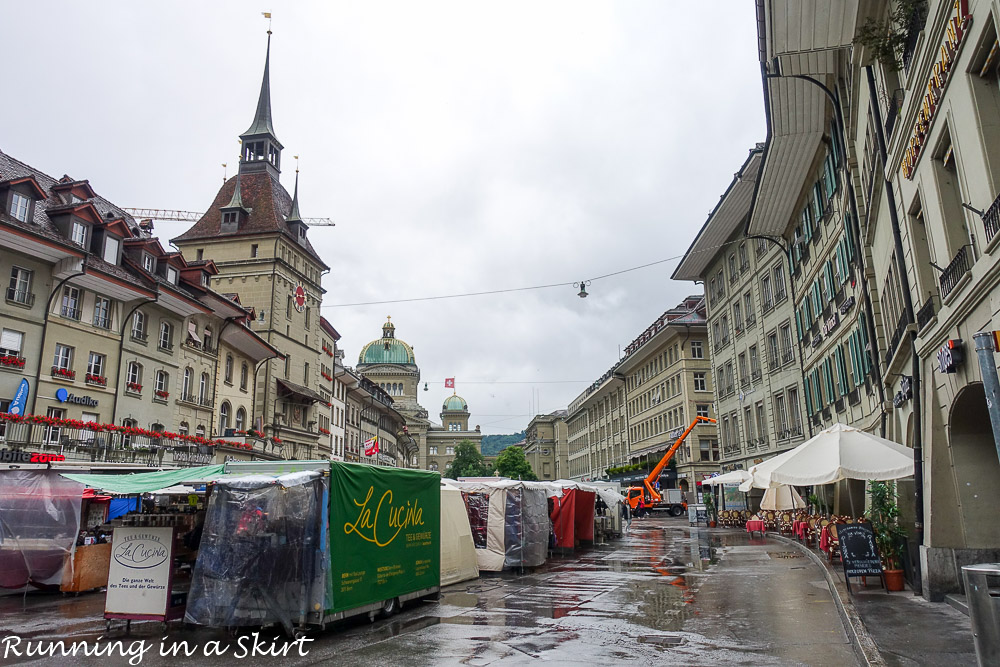 Because of the rain we decided to start with an early lunch at Pizzeria Da Bucolo and hope a break gave the skies enough time to clear. After several days of swiss food, the pizza hit the spot!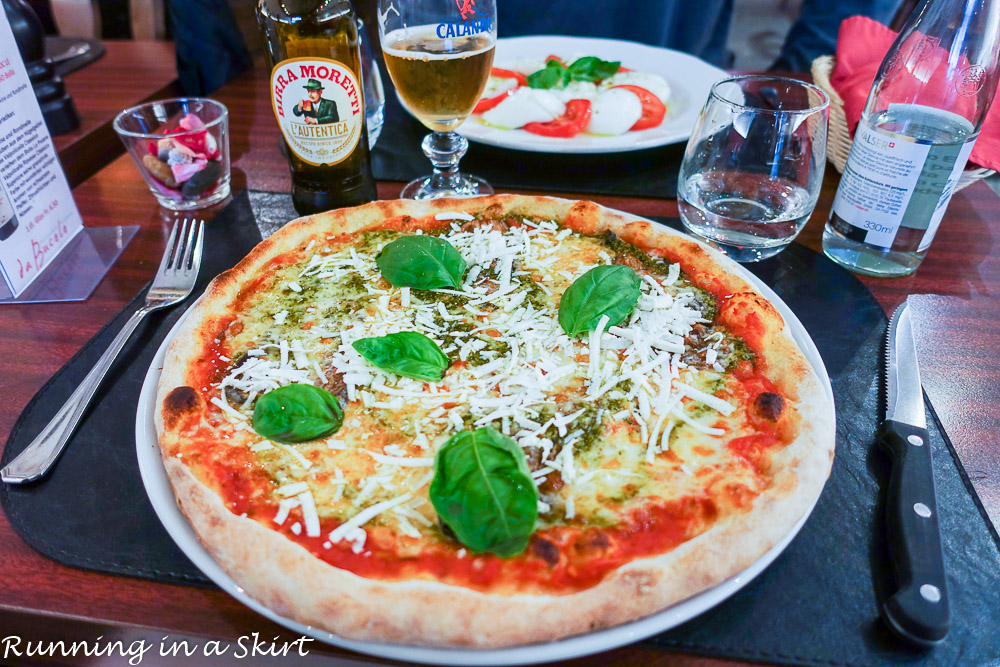 I figured we were close enough to Italy to get some really good Italian food and I was right.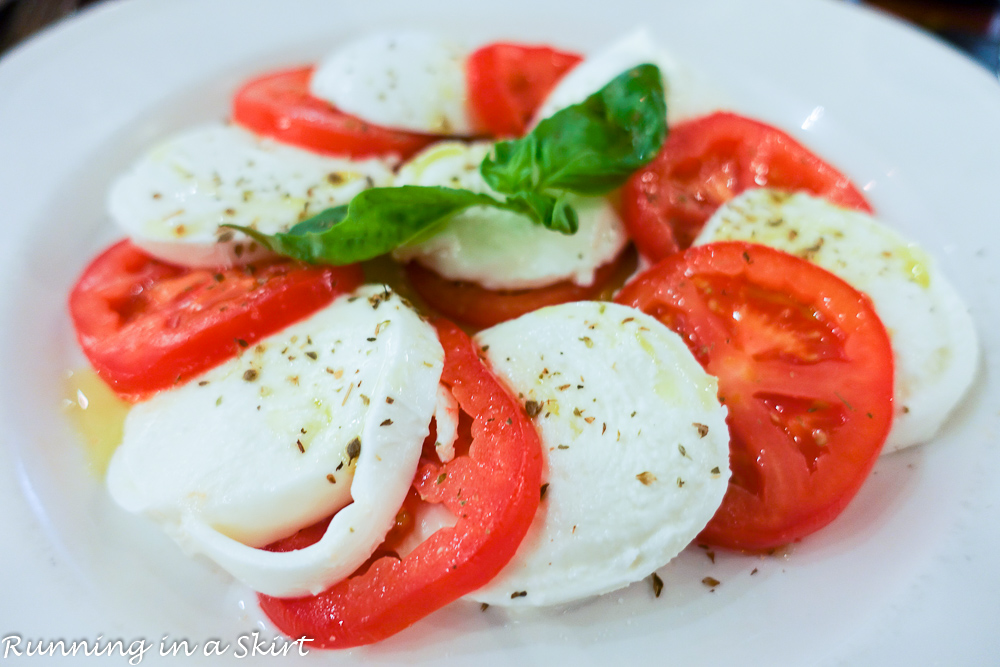 After lunch it was still raining so we made another detour to a swiss chocolate shop, which also did not disappoint. Swiss chocolate is as amazing as the hype.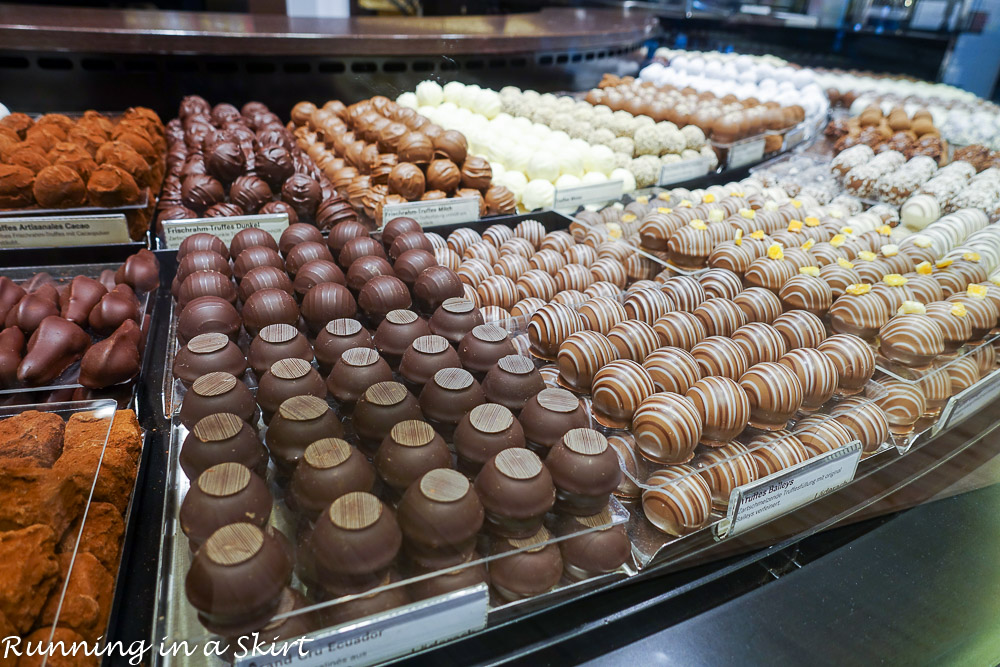 Finally after our sweet spot, the skies started to clear enough to start the walking tour again. This time it was a lot more enjoyable.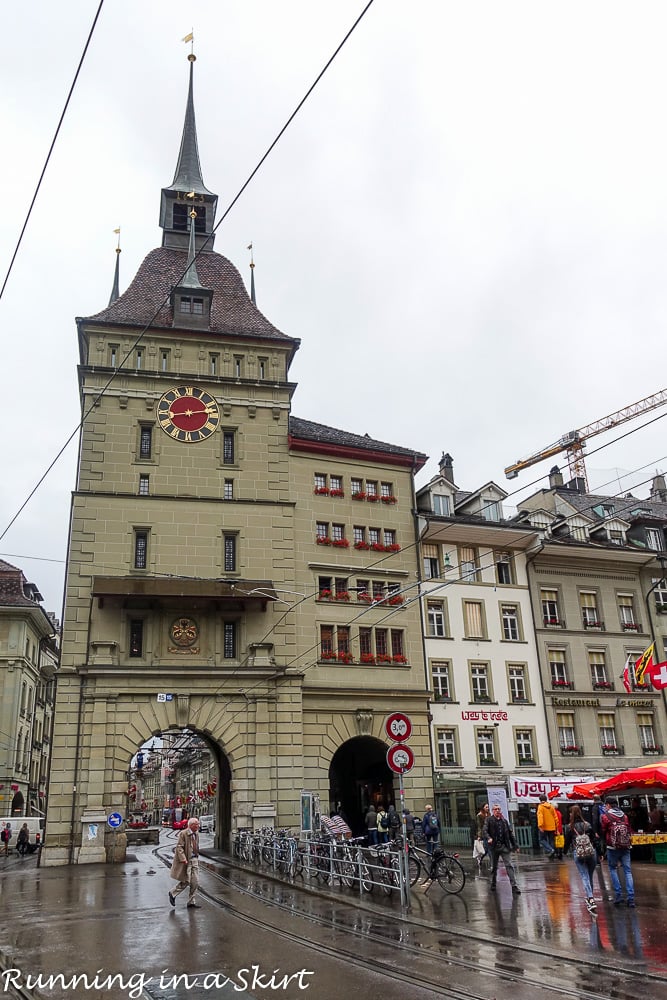 Highlights included this fascinating overgrown and controversial fountain... Apparently the locals hate it and I can see why.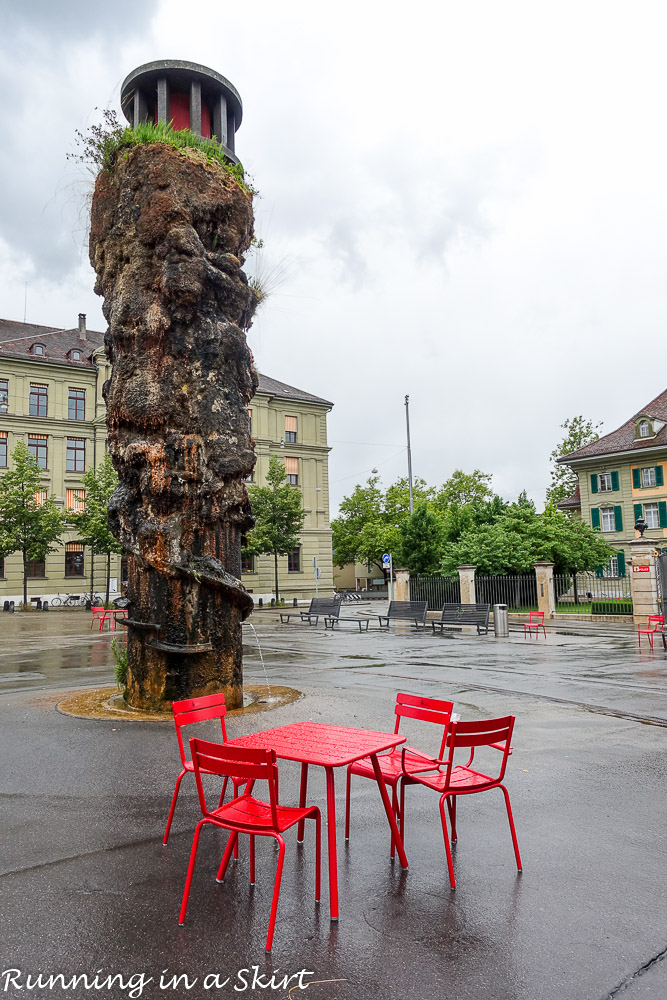 ... the beautiful Swiss Parliament building...
... and more charming...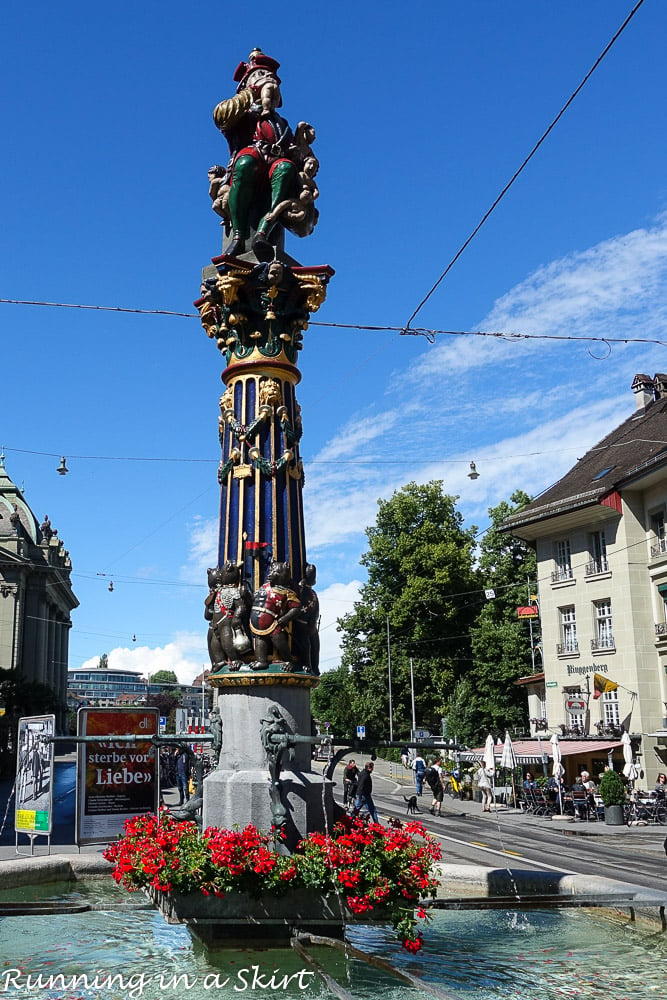 ... traditional fountains.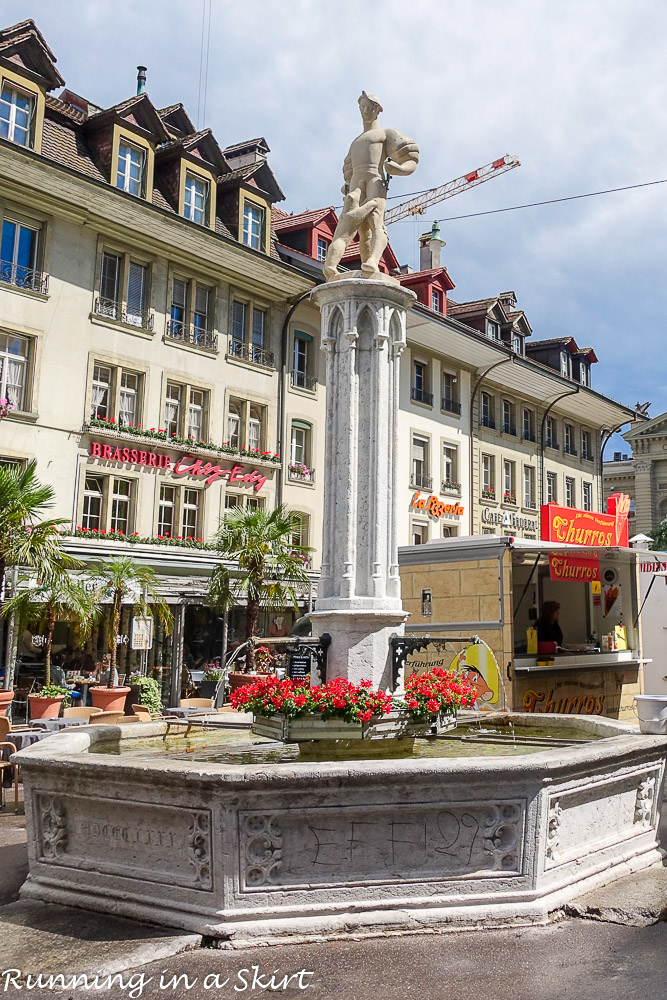 We also stopped at several terraces to see the pretty views of the rolling hills.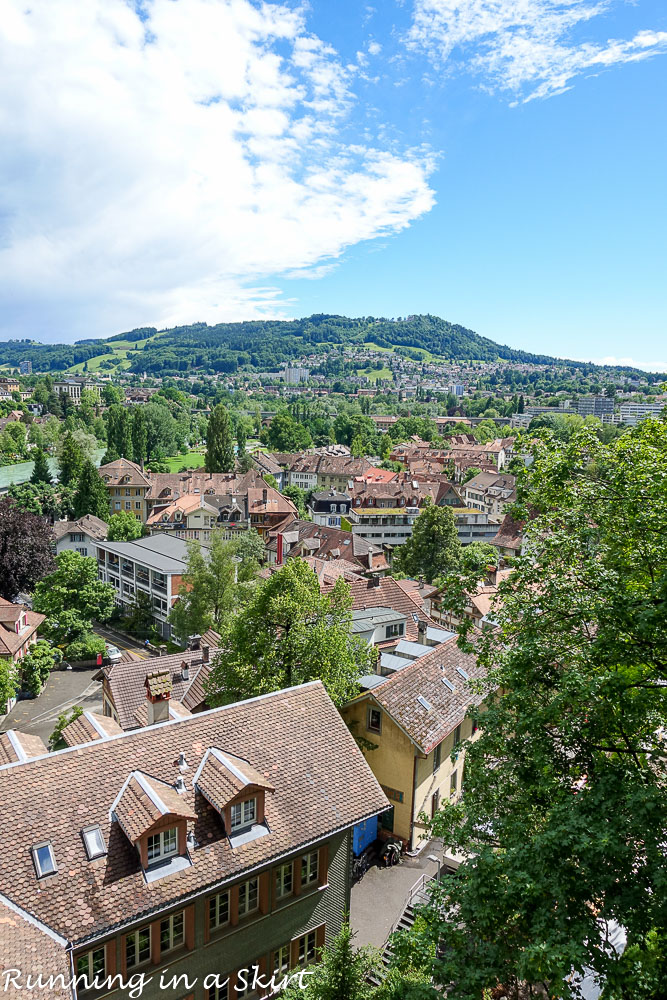 And also spotted the spectacularly blue-green Aare River.
One of Bern's most famous monuments is the circa 1200's clock tower that was a part of the original wall marking the first gate to the city. The clock puts on a little show four minutes before the hour where the jester turns, Father Time turns his hourglass and the rooster crows. It's honestly not the most exciting thing in the world, but it's pretty famous so it's worth standing in the sea of tourists if you are in the area.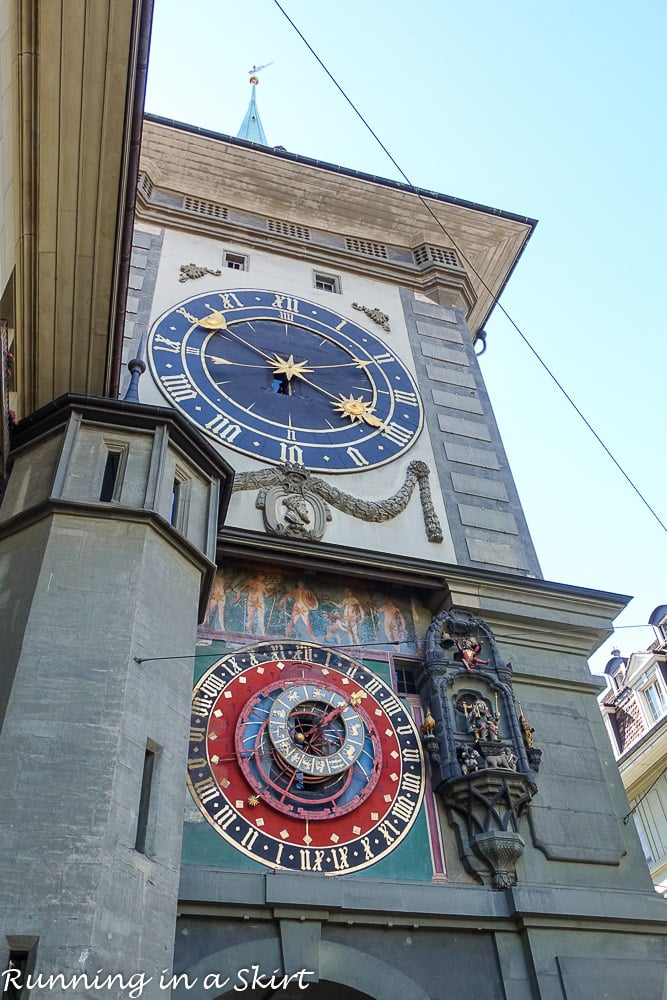 Albert Einstein spent eight years in Bern and made many important discoveries while he was there. We didn't take the time to explore the museum, but this is where his apartment was.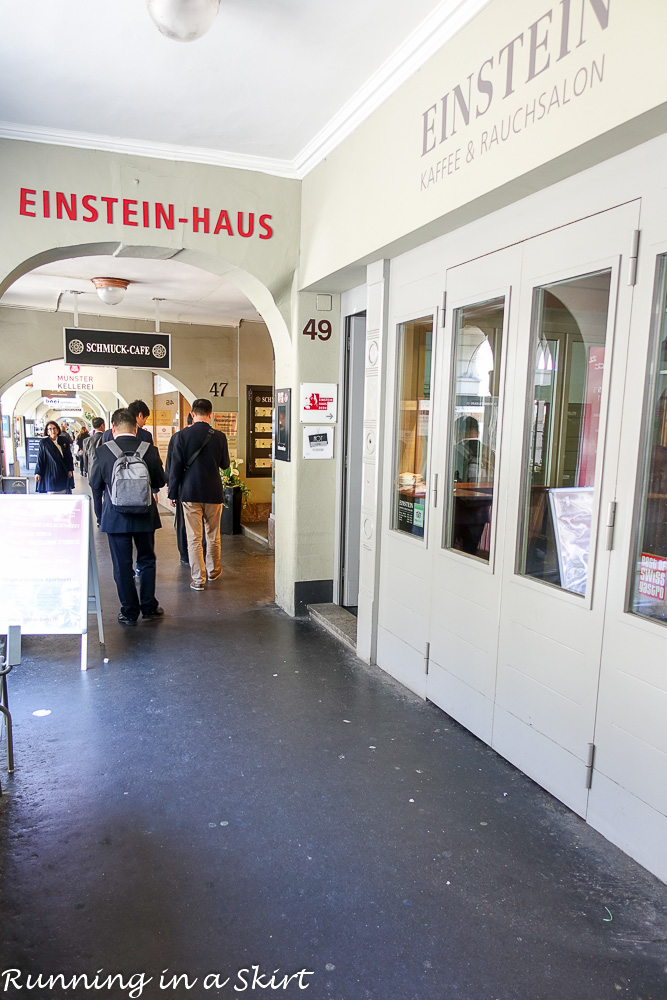 The Bern Cathedral was one of the prettiest sights we saw on our one day in Bern, Switzerland. It's a 15th century Catholic turned Protestant Cathedral. Because of that the outside is ornate but the inside is oddly plain. It was stripped of all of it's glory when the Reformation arrived in 1528.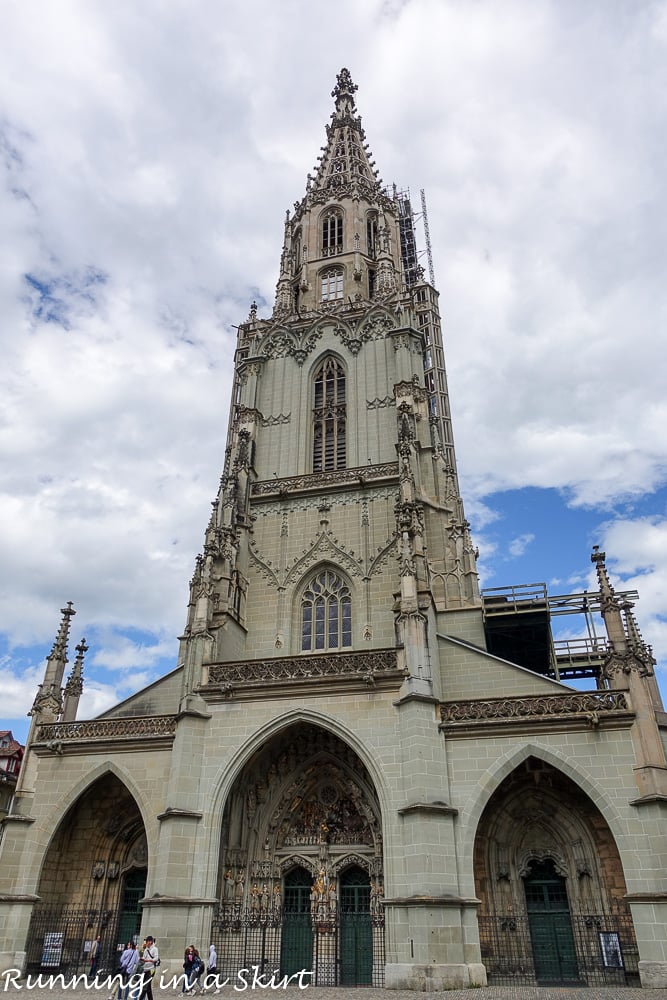 For some reason they left this stunning arch above the door. The detail is remarkable.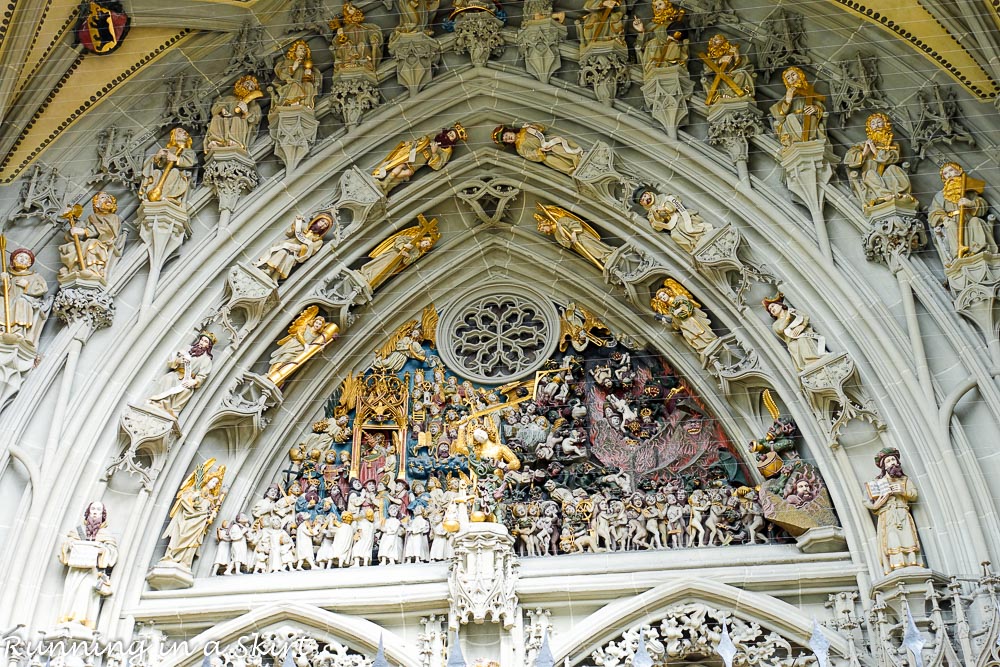 Another highlight of our walking tour was running into my own bar- lol!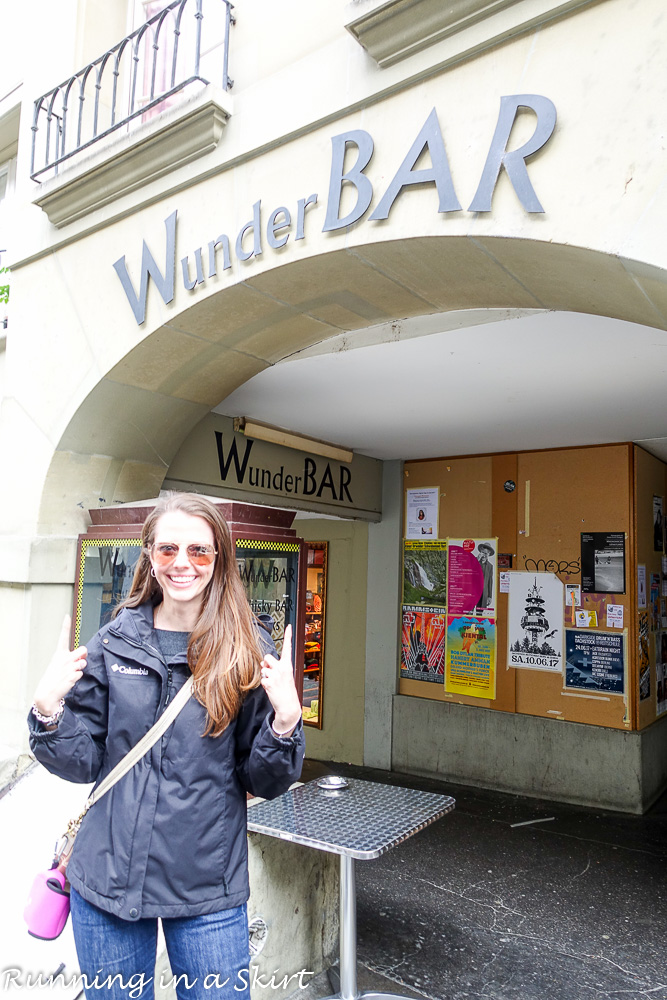 Look at the cool arches and covered walkway beyond the bar sign. The entire city has these arcades that allow you to enjoy the city out of the elements. They are lined with all kinds of interesting shops, restaurants and bars like this one.
After wandering the streets our tour took us to the Munsterplattform.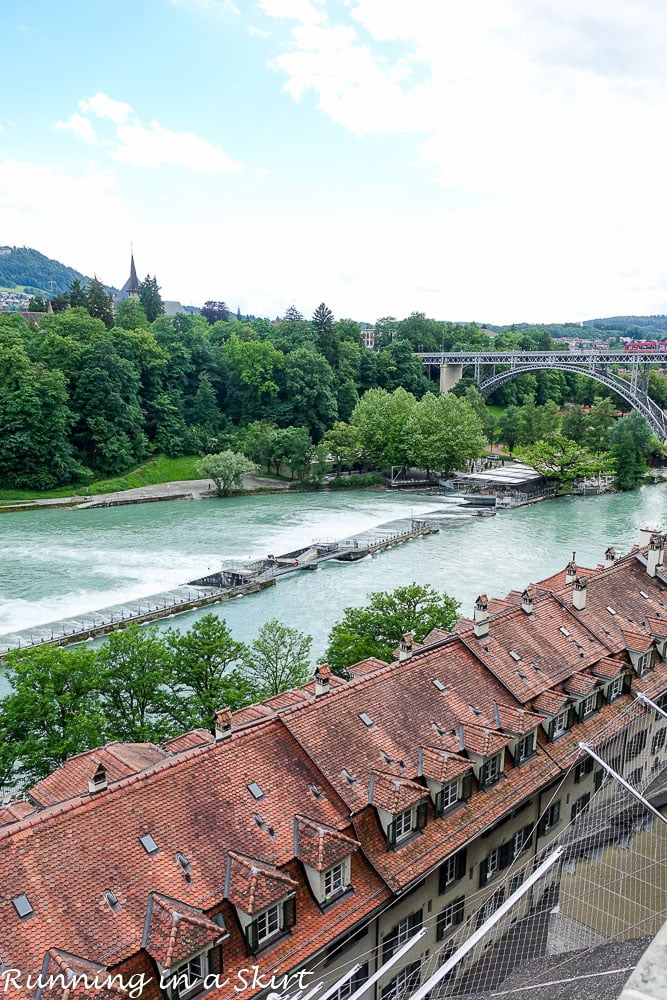 The pretty views gave us a small sense of how the lucky few live in Bern.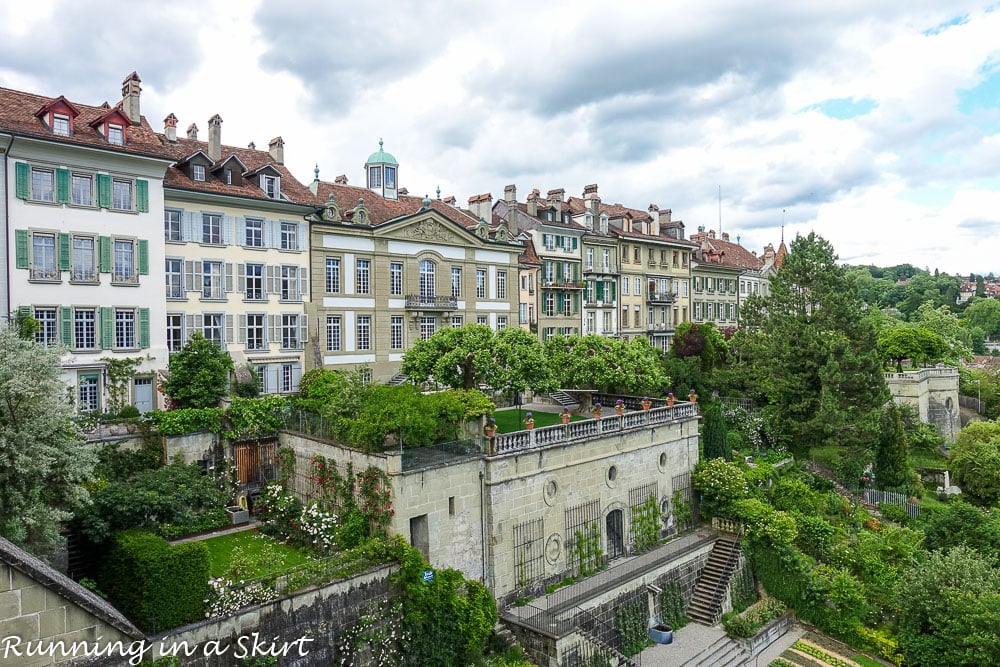 This urban garden was so lovely.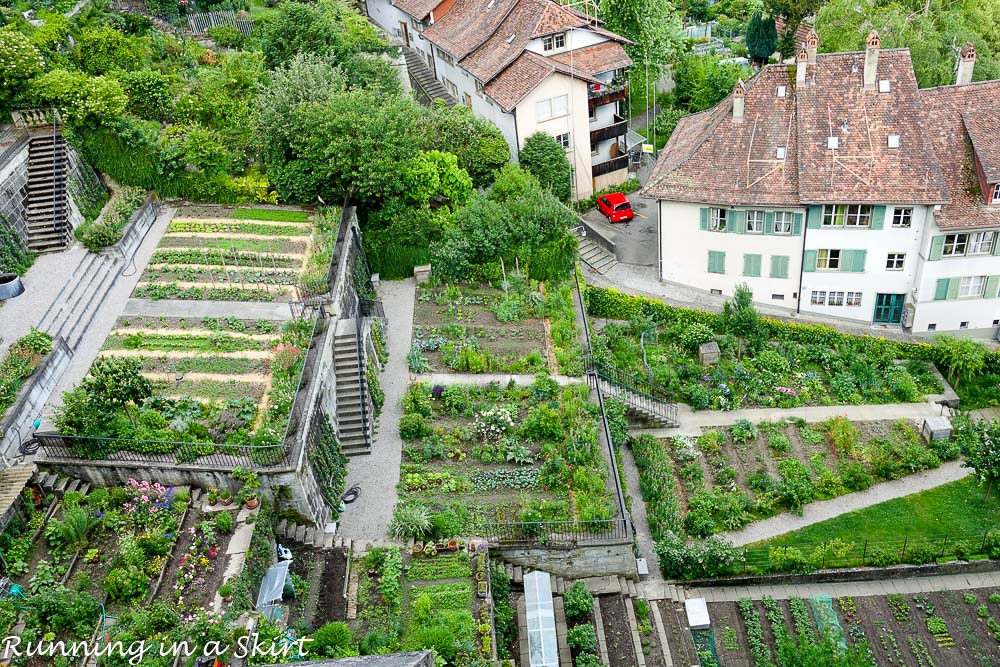 Our final stop on our walking tour of our one day in Bern, Switzerland was the Bear Park. The bear has long been a symbol of the city and they have a free park with bears. I found it a little sad because the bears used to be in these awful concrete pits. Luckily their new habitat is much more spacious and green but I had a hard time moving past seeing the pits.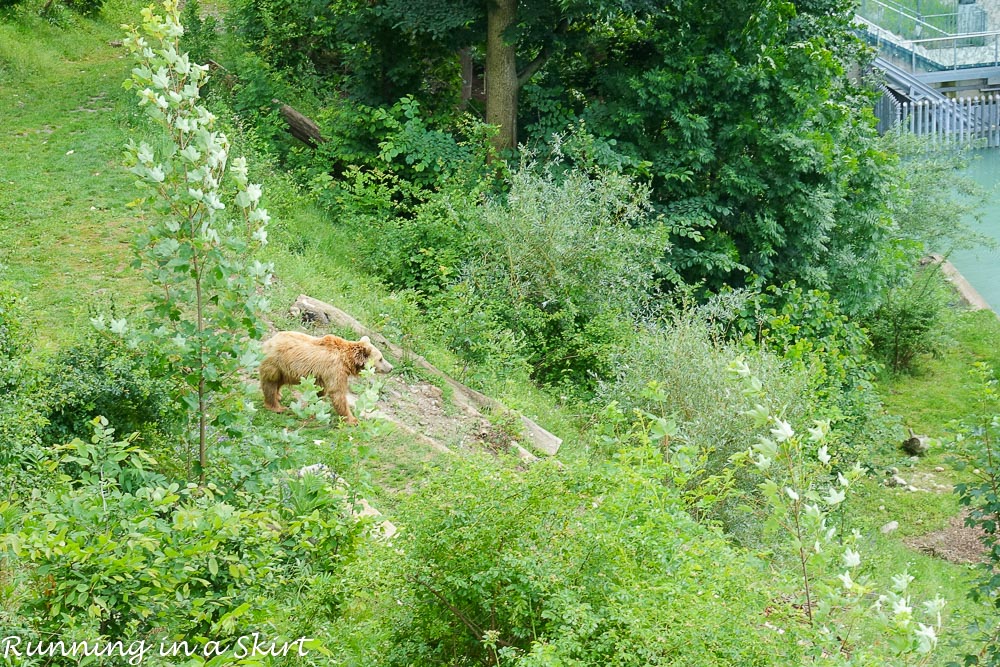 Before we left we took in a few more of the pretty views.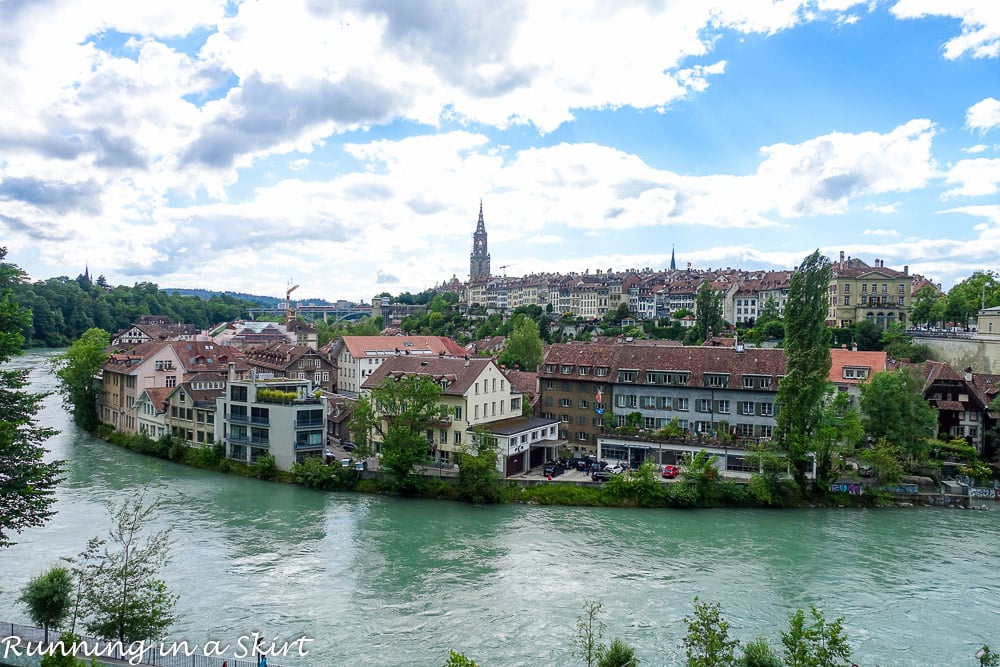 After seeing the Bear Park we caught the bus back to the train station and took the train back to Bern. We were back at our hotel for a late dinner!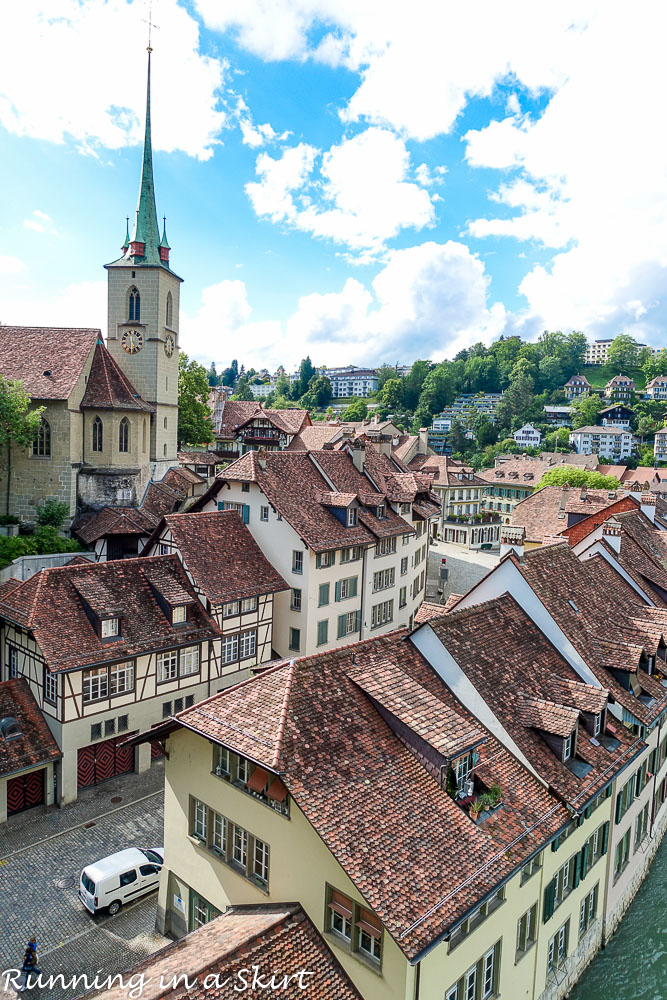 One thing that really blew my mind about Bern is how much the city depended on the trains, buses and bikes. Even though this was a busy capital city I didn't see any traffic jams or troubles that lots of cars can bring. It was such a peaceful efficient little city. The lack of traffic really added to the charming, easy going nature of Bern.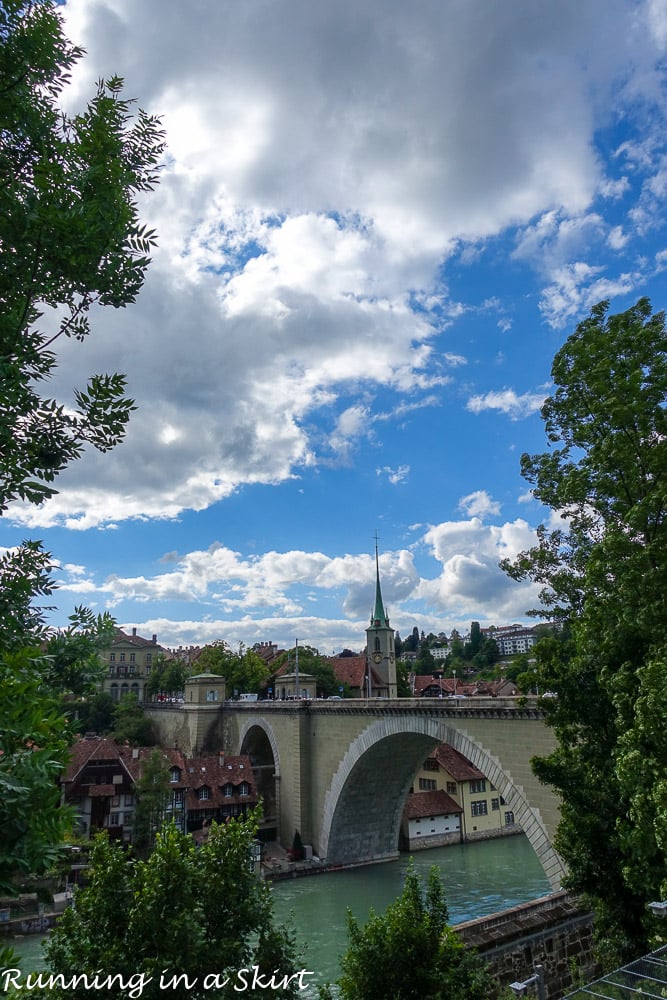 Thoughts on One Day in Bern, Switzerland
While Bern doesn't have super flashy landscapes, it's interesting architecture and medieval history make it worth a visit! It's a great urban city to see while traveling Switzerland and makes a great day trip from nearby touristy areas.
Also check out the rest of my trip including my Switzerland Travel Guide! --->
Like this post on One Day in Bern, Switzerland? Pin this to your favorite travel board.


One Day in Bern, Switzerland from Running in a Skirt. #switzerland #bern
Click To Tweet
Your turn!
What would be your favorite part of the day?[/fusion_builder_column][/fusion_builder_row][/fusion_builder_container]