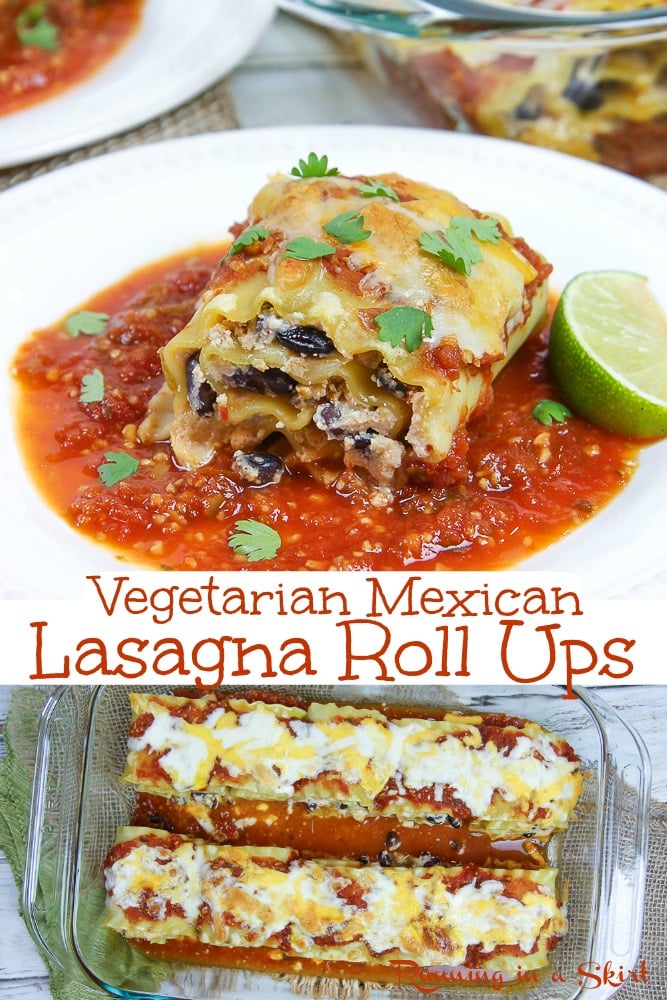 Vegetarian Mexican Lasagna Roll Ups are a fun twist on classic Italian lasagna and Mexican lasagna. These Vegetarian Lasagna Roll Ups start with lasagna noodles and are filled with ricotta AND Mexican flavors like black beans, taco seasoning, and salsa. They are rolled up for an individually portioned dinner that is the perfect healthy meatless weekday meal.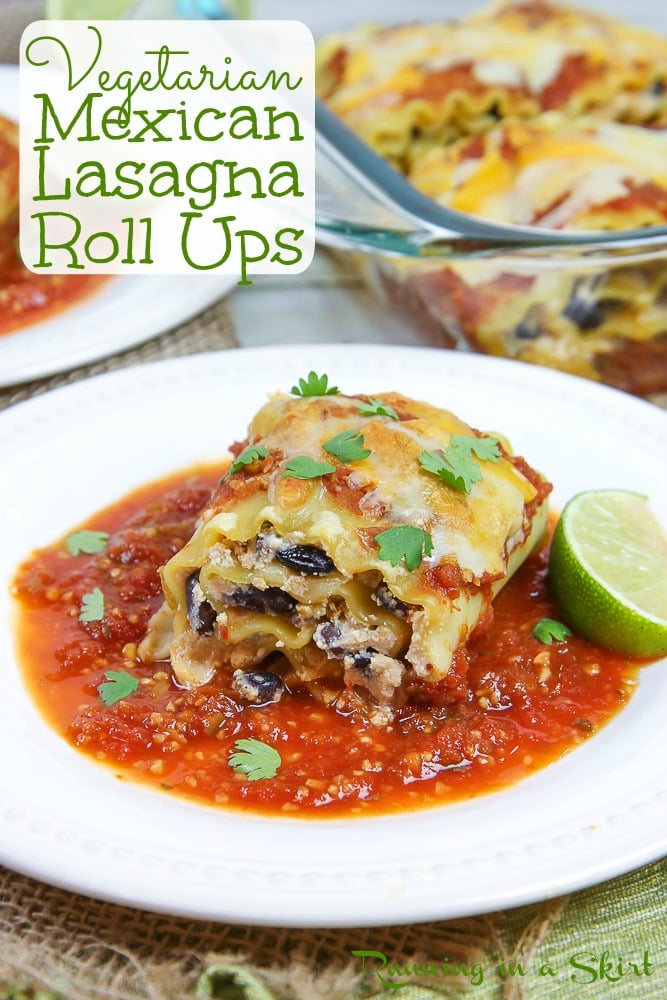 I adore this little recipe for Vegetarian Mexican Lasagna Roll Ups. Now I hear you chiming in... "Hey Julie! Is it lasagna?? Is this Mexican food???"
My friends, it is both. And it is gooooood.
Vegetarian Mexican Lasagna Roll Ups
Vegetarian Mexican Lasagna Roll Ups are actually one of the first recipes I figured out when I started cooking on my own. I was just out of college, working in small market tv news and living in a small apartment by myself. I'd spend part of my weekend baking these lasagna roll ups and be SO proud. I'd eat them for most of the week and feel pretty darn good about myself. I loved that the recipe was filled with simple, easy, and economical flavors like ricotta cheese, black beans, and salsa.
The recipe has come a long way over the years and I dare say it's now downright perfect. These fun and tasty roll ups take a BIT of work to put together but I promise it's worth it.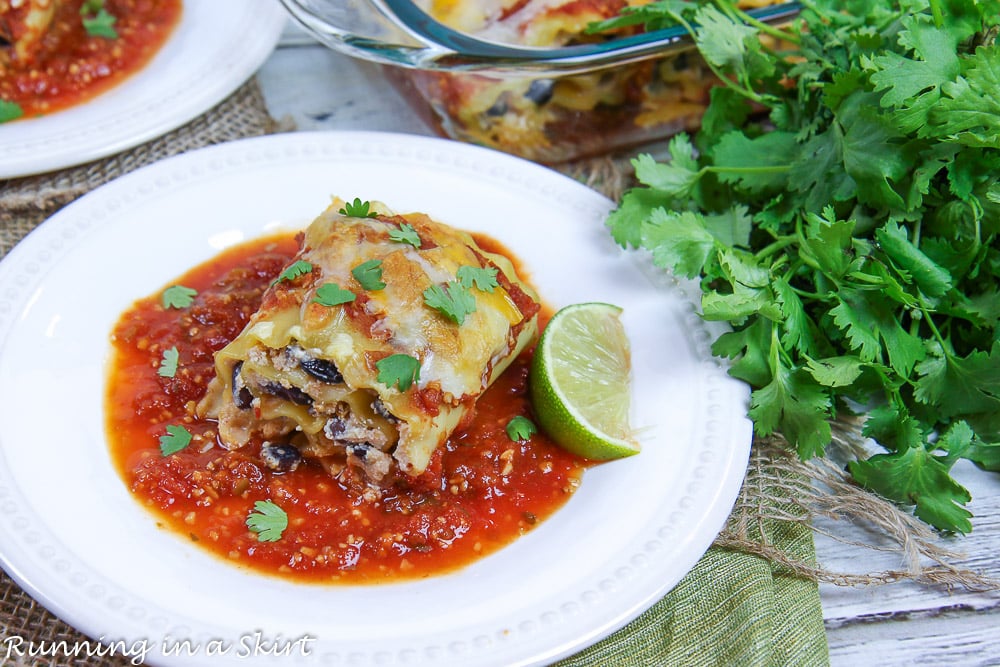 Why You'll Love my Mexican Vegetarian Lasagna Roll Ups...
Italian and Mexican food have always been my two favorites so I loved this idea of melting the best of both cuisines into one tasty dish is PERFECT in my mind. If you aren't sold yet... just TRY IT and I promise you'll be on my Mexican Vegetarian Lasagna Roll Ups train too.
The best part about this recipe is the flavors are so simple and delicious. I add taco seasoning and canned green chilies to the ricotta cheese. Black beans add more substance and then the entire dish is topped with SALSA and CHEESE. Which is basically the answer to ANY problem.
Sure, you could stack all of these flavors up like a classic lasagna BUT rolling the noodle up makes for such a pretty presentation AND such conveniently portioned meals. The roll ups make this dish is great for meal prep and making ahead. Like a classic lasagna, the flavors continue to get better with time.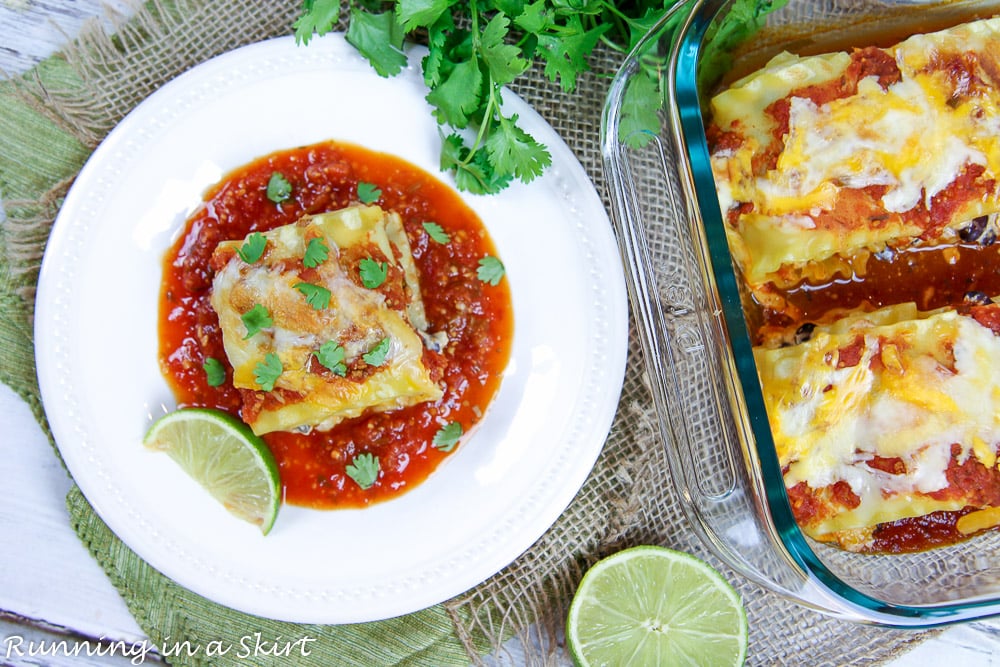 Ingredients In the Lasagna Roll Ups:
Lasagna Noodles: Use your favorite brand of lasagna noodles and use my tip for cooking the noodles without them sticking below.
Ricotta: Depending on your dietary preferences low fat or full fat ricotta can be used for this recipe! I use low fat.
Black Beans: Canned black beans work great for these lasagna roll ups. Use the low sodium kind and rinse and drain them well.
Taco Seasoning: Use your favorite store-bought taco seasoning blend or make your own with my very simple recipe.
Green Chilies: The small cans of diced green chilis all a lot of flavors to the ricotta mixture!
Salsa: Use your favorite salsa for this! I think a less chunky version works better but anything will work.
Mexican Cheese Blend: A blend of Mexican Cheese works great for this dish. Sharp cheddar is also delicious. Once again you can pick full fat or reduced fat. Whichever fits your dietary goals.
A few fun additions to garnish the Mexican Lasagna Roll Ups plate are cilantro and lime!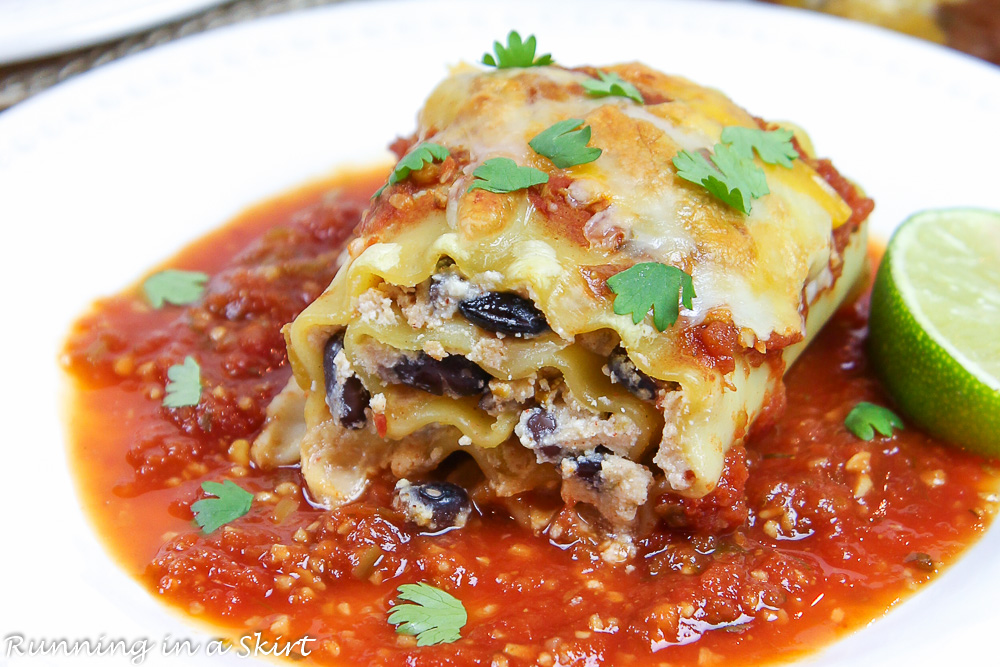 How to Make Easy Lasagna Roll ups:
Cook ten lasagna noodles until al dente tender. They can be just slightly undercooked as they will finish cooking in the oven.
Make the ricotta mixture by adding the taco seasoning, black beans, half of the Mexican cheese and green chilies to the cheese. Mix until well combined.
To make the Mexican Vegetarian Lasagna Roll Ups you lay each noodle out flat put a scant ⅓ a cup of the cheese mixture on top of each noodle. Smooth is out and leave the end of the noodle free so there is room to start and end the rolling. (See photo below for step by step photos.)
You then gently roll up the Mexican lasagna, making sure to not roll it so tight that the cheese oozes out the side. Repeat until all the noodles are rolled.
In a baking dish add a ½ cup of your salsa in the bottom of the pan. Place your ten lasagna roll ups in the pan.
Top with more salsa and cheese.
Cover the dish with foil and bake the Mexican lasagna rollups. Remove the foil in the last 10 minutes of cooking.
Serve with cilantro and lime.
The end result is perfectly proportioned vegetarian Mexican lasagna goodness! Here's a step by step photo to follow: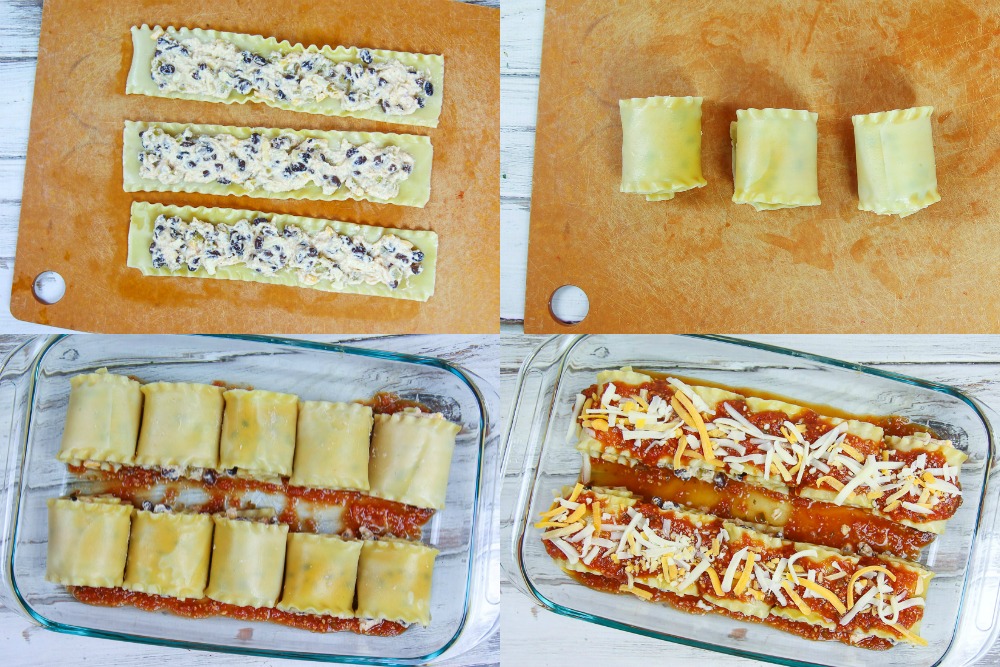 Easy Lasagna Roll Ups
These easy Lasagna Roll Ups are such a fun combination of Mexican and Italian food inspiration.
The end result is a gorgeous tray of goodness! You can eat one or two depending on how hungry you are and if you are serving it with another side dish. See my suggestions for that below. 🙂
Can you make this ahead? What about reheating?
YES! This dish can be baked off and easily reheated in the oven. You can also reheat individual portions in the microwave for a simple dinner on the go or even meal prep.
Store any leftovers in an airtight container in the fridge for 3-5 days.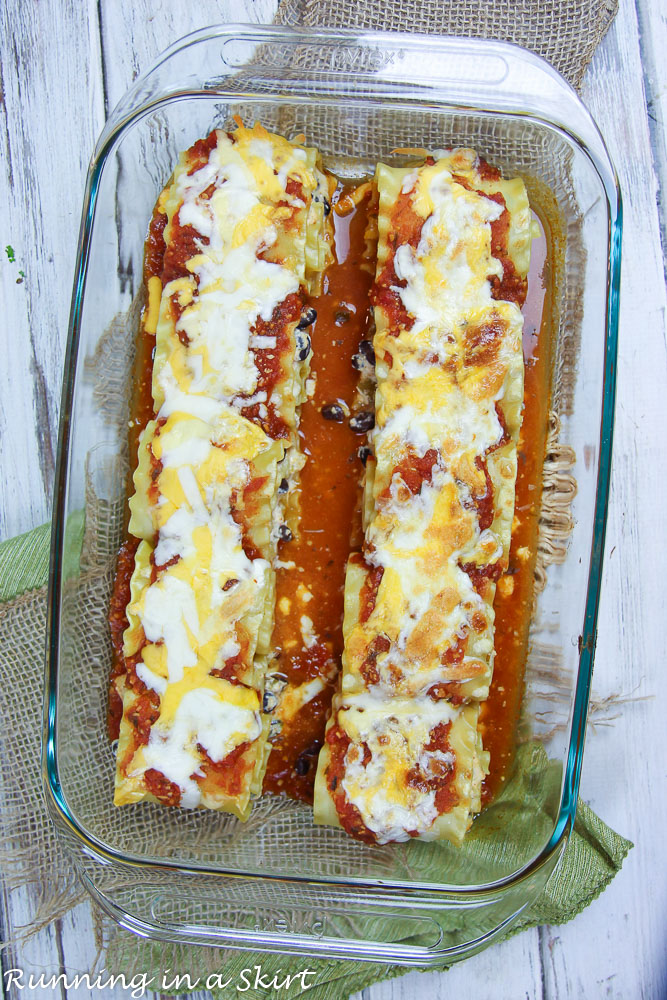 Variations & Pro Tips
What to serve with Lasagna Roll Ups?
This is a great stand alone meal OR add some extra veggies by also making one of these:
How do I keep lasagna noodles from sticking together?
The hardest part of the recipe is boiling the lasagna noodles without them sticking. The trick to keep them from sticking to each other is using a shallow pan, fan out the noodles and add a little oil to the water.
Can I use oven ready lasagna noodles for roll ups?
You can! Just boil the No-boil noodles ahead of time for 5-7 minutes. It will work but I think the texture of classic lasagna noodles is better for roll ups.
I hope you will give my Vegetarian Mexican Lasanga Roll Ups a try! This is one healthy meatless dinner that hearty enough for everyone to love.
More Vegetarian Lasanga Recipes to Try:
If you make this recipe, I'd love to hear what you think! Leave a comment and a star rating ★ below. Make sure to follow me on Instagram, Pinterest, and Facebook too!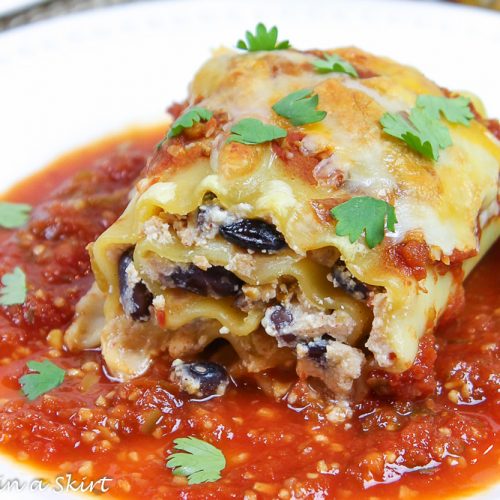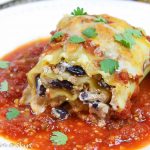 Vegetarian Mexican Lasagna Rollups
Vegetarian Mexican Lasagna Roll Ups are filled with ricotta, taco seaoning, black beans and green chilies. A perfect healthy & meatless weekday dinner.
Ingredients
1 ½

cups

salsa

,

divided

10

lasagna noodles

,

cooked to al dente

15

oz

low fat ricotta cheese

1

can black beans

,

rinsed and drained

1 4

4 oz

can green chiles

1

cup

reduced fat shredded Mexican cheese blend

,

divided

1

tablespoon

Mexican or taco seasoning

salt & pepper

,

to taste

extras: lime & cilantro

cooking spray
Instructions
Preheat the oven to 350 degrees and spray a 9x13 pan with cooking spray. Put ½ cup of salsa in the bottom of the pan.

Mix the ricotta, black beans, half of the Mexican cheese, green chilies, Mexican seasoning in a bowl. Generously salt and pepper to taste.

Lay out the noodles flat and spread a little less than ⅓ cup of the cheese mixture in the center of each noodle, leaving room on the ends for the roll to seal.

Carefully roll up each lasagna noodle.

Put the vegetarian lasagna roll ups in the pan over the salsa. Top with the remaining salsa and the cheese. Cover with foil.

Bake for 35 minutes total. Remove the foil in the last 10 minutes of baking to brown the cheese.

Serve with cilantro and a lime wedge.
Notes
Store the Mexican Lasagna Roll Ups in an airtight container for 3-5 days. They reheat well in the microwave or oven.
Nutrition
Calories:
245
kcal
Carbohydrates:
33
g
Protein:
14
g
Fat:
6
g
Saturated Fat:
4
g
Cholesterol:
20
mg
Sodium:
231
mg
Potassium:
368
mg
Fiber:
5
g
Sugar:
3
g
Vitamin A:
440
IU
Vitamin C:
2
mg
Calcium:
276
mg
Iron:
2
mg
Pin for later!