Hi and Happy Fashion Friday!
First up, congrats to Heather from Lunging Through Life who won the big yoga giveaway! There is still time to enter the Dognition Dog Assessment giveaway.
Guess what? It's my birthday weekend- woooopppp! My actual birthday is tomorrow, but I fully plan to extend the fun for at least the weekend. I mean really who am I kidding... I've been known to call it birthday MONTH before. I don't really need an excuse to have some fun.
I really wanted to get in one last beach adventure this summer, so for my birthday the Hubs and I are heading to Hilton Head Island, which just happens to be one of my favorite destinations. Check out some previous trips HERE, HERE and HERE. I'll be posting about the trip as it happens on Instagram and Instagram Stories.
I thought this romper was perfect for a casual summer special day, like my birthday perhaps! I ordered it and instantly fell in love.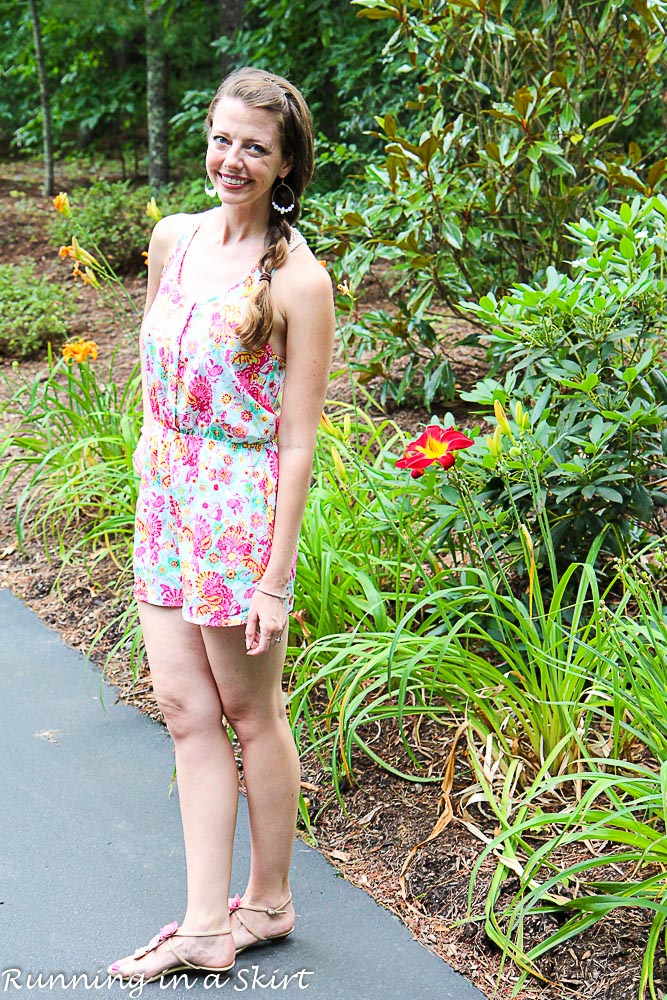 I love the bright floral pattern and check out the crochet detailing on the back! So sweet.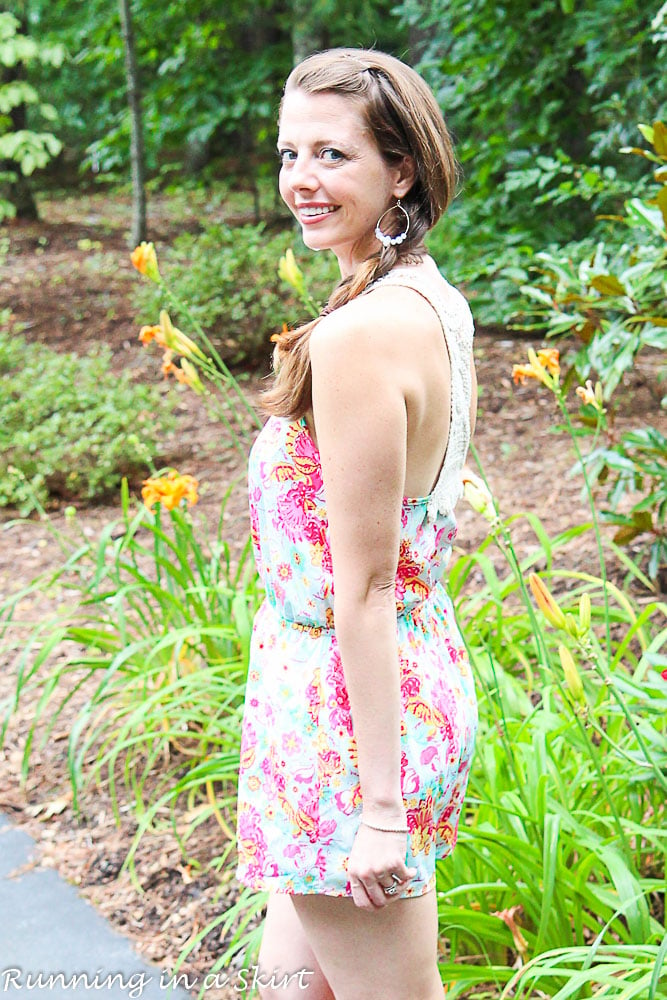 The shorts were also a little longer than some of the other ones I'd tried on so far this season. I'm just a little (or a lot who are we kidding?) too old for some of the rompers crazy short shorts on sale this year- haha!
Maybe one day I'll come to terms with that. 🙂
Maybe.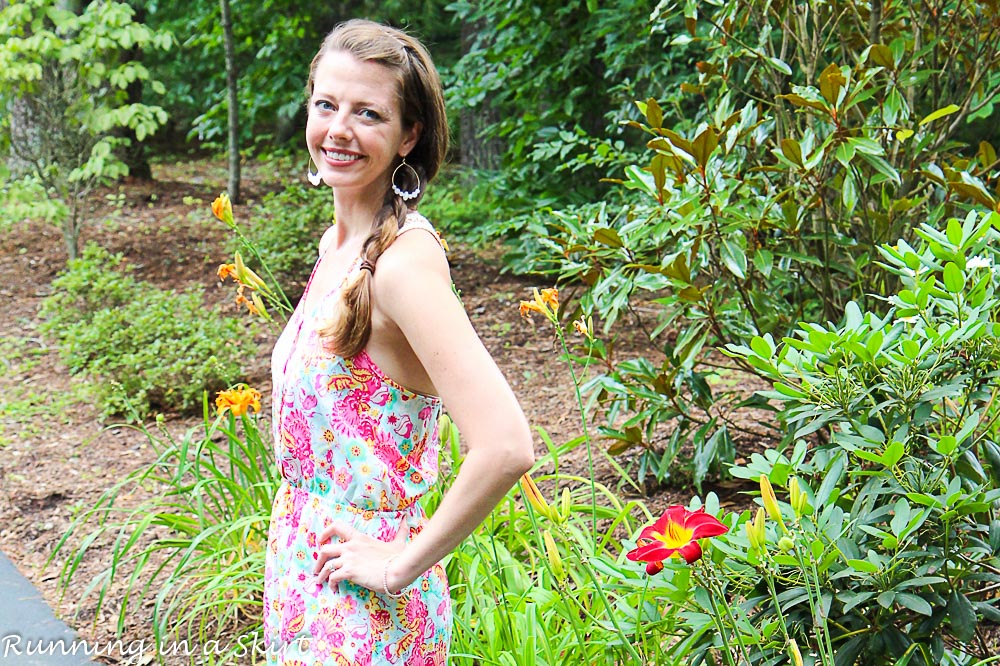 I'm the first to admit that I struggle with aging and growing older. Most days I still feel like a twenty-something, with years of youth ahead of me and am baffled at the quick passing of time. But then I realize I wouldn't change my life and experiences for anything. If only I could go back in time and tell that version of me what I know now! I am so much stronger than that fresh out of college girl in so many ways.
I'm proud of who I am and all of the years.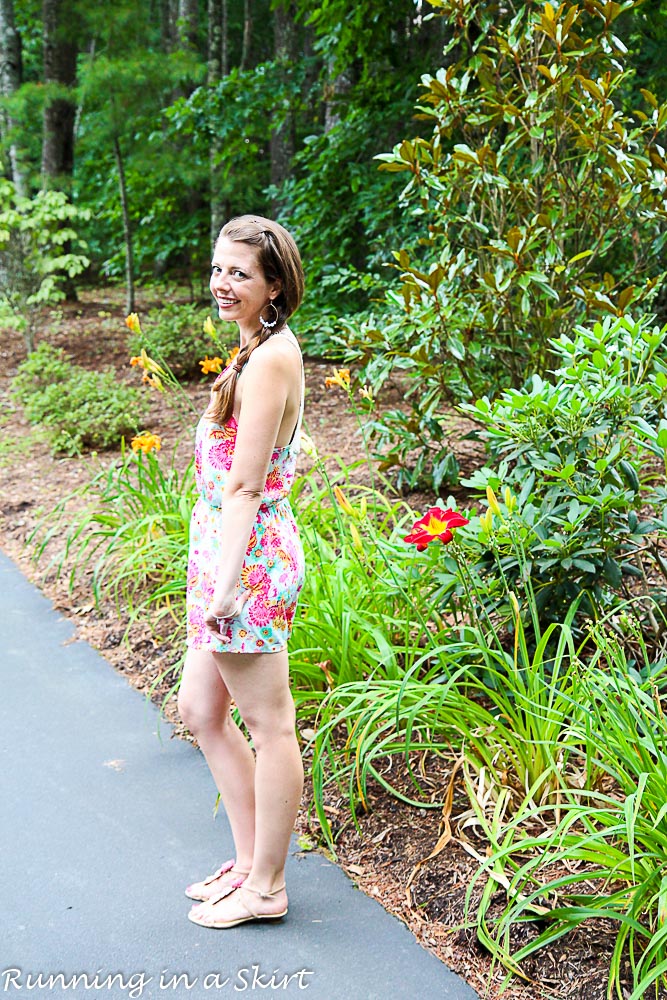 So once again, I'm choosing to celebrate and embrace my birthday (new romper and ALL) with joy and hoping for great things in the year to come. I'm going to continue to work on no longer wishing away those age lines and recognizing all the wisdom and adventures that have come along with them.
I hope y'all have an amazing weekend.
Shop the Look
Romper: Altar'd State, similar HERE <--- bra friendly from Gap, HERE <--- adore this off the shoulder ruffle and HERE. Love THIS one <--- under $50 from Nordstrom.
Sandals: LOFT, similar HERE <--- under $20, HERE <--- all white on sale and HERE <--- embellish gold would be cute too!
Headband: Altar'd State, HERE.
So nice to see you today. Have a great weekend and come back Monday for a weekend recap!
This post is not sponsored, but contains affiliate links. I do make a small commission for clicks and purchases. It cost you nothing. Thank you for supporting Running in a Skirt.
I'm linking up with: Nicole for the Fit and Fashionable, Jolynne Shane for Fashion Friday, Turning Heads Tuesday. Thank you so much for the lovely linkup ladies
Your turn!
How do you feel about getting older?