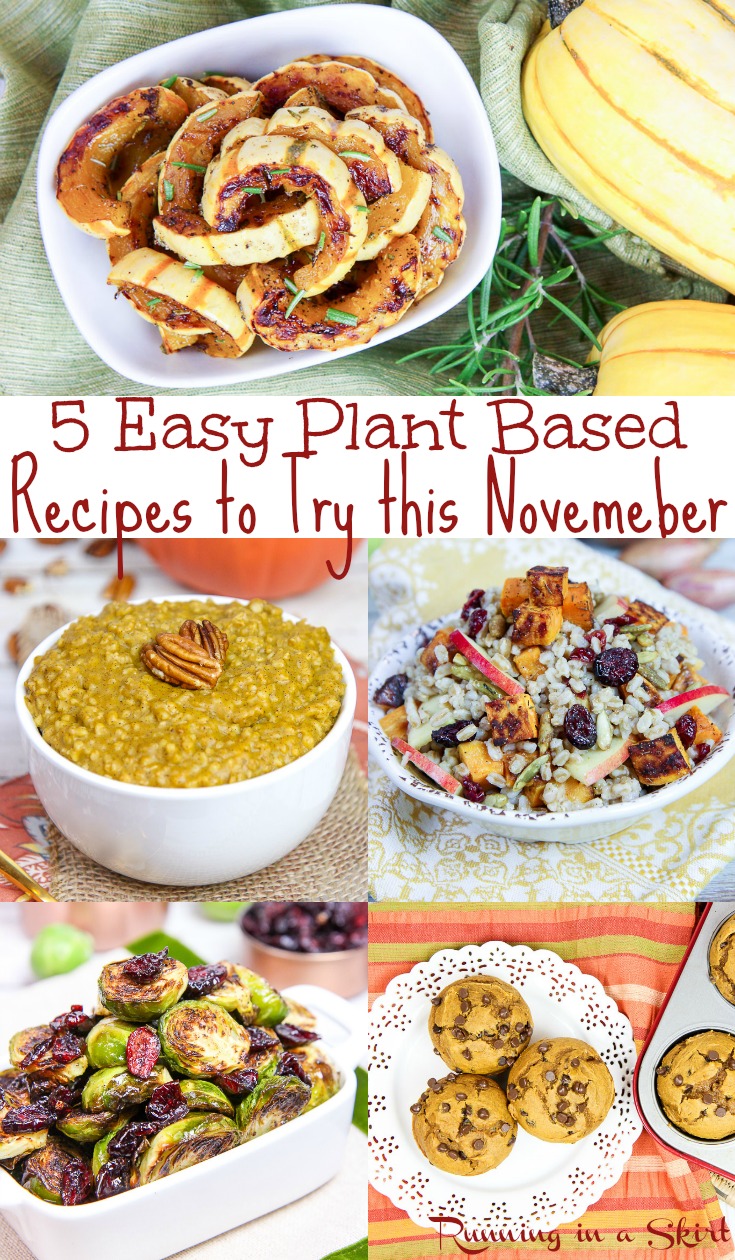 Want to eat more plant-based meals? Mix up your meal planning with these 5 Recipes to Try This November!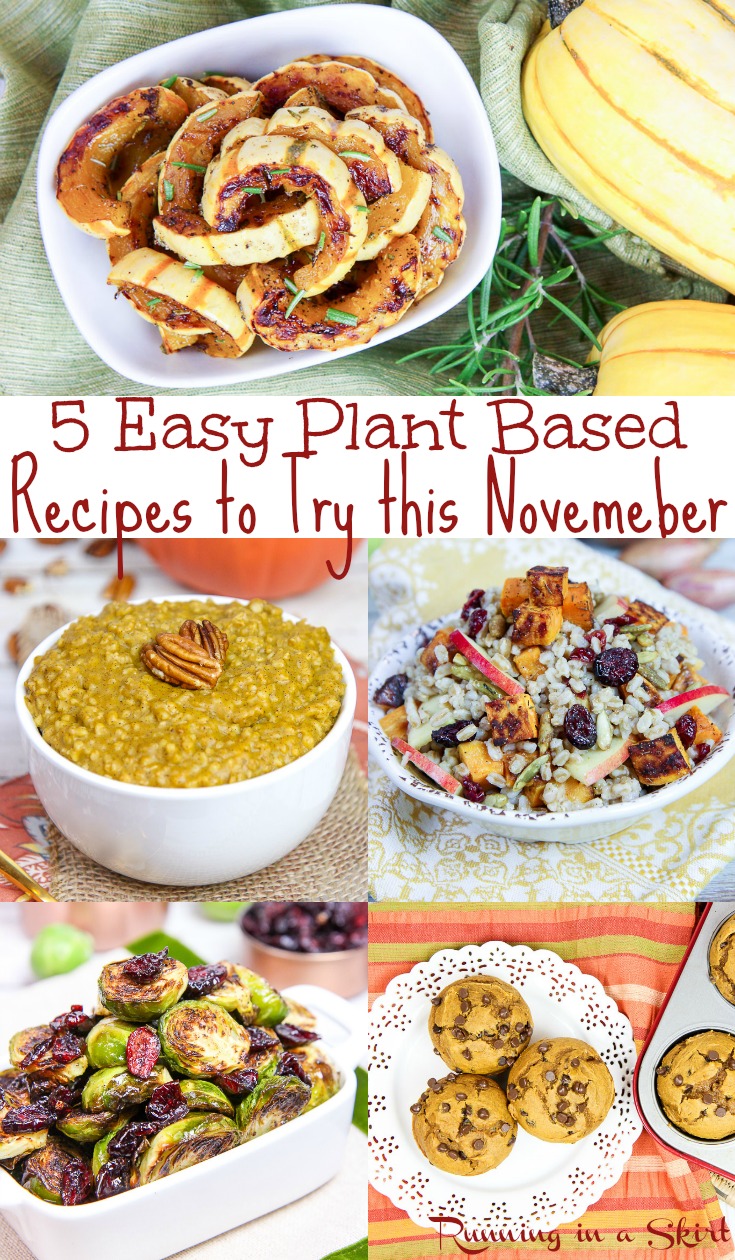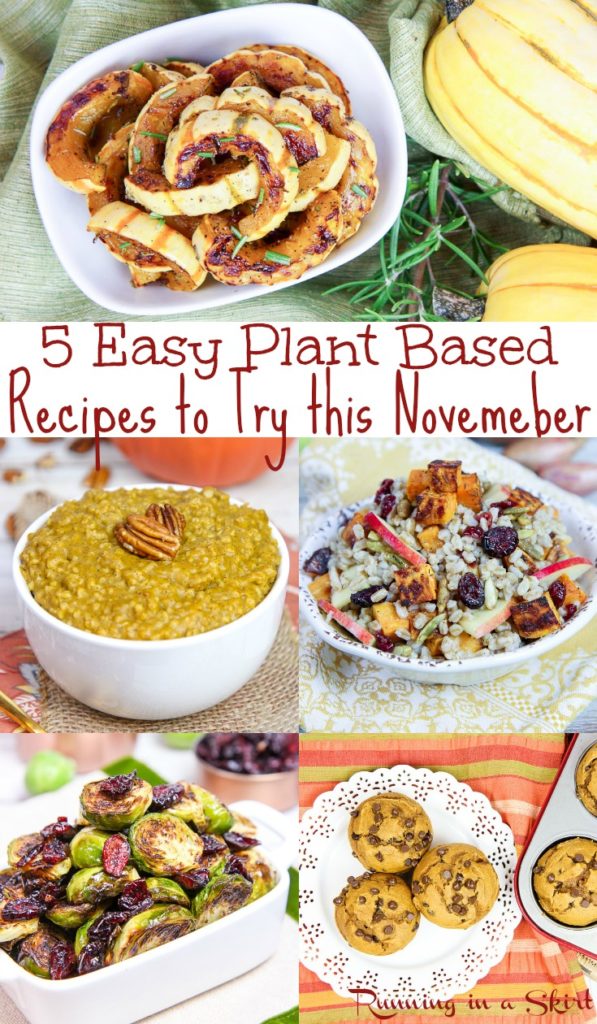 Hi guys!
This year is flying by! I feel like I was just celebrating Thanksgiving last year in Hilton Head and now we're back into one of my favorite months again. This year November is BABY month for me, but this month often means for me getting ready for cooking a big Thanksgiving meal. I feel kind of sad to be taking another year break from cooking the big meal, but that's just the way life happened.
Other than Thanksgiving, November recipes mean comfort food for the cooler weather, rich flavors like maple, cinnamon, and cranberry. Veggie wise I'm loving pumpkin, sweet potatoes and squash. I looked through the Running in Skirt archives and found some of my favorite recipes that fill all those requirements. These recipes are simple, delicious and all plant-based. They are the perfect addition to your meal planning and include everything from breakfast, sides, main course, and dessert! I hope you will give them a try.
5 Recipes to Try This November
Looking for an EASY breakfast? My Pumpkin Pie Steel Cut Oats are made in a crock pot and taste like a dream. They are perfect for a weekend breakfast, Thanksgiving morning or to make a big batch and enjoy all week. Breakfast problems solved!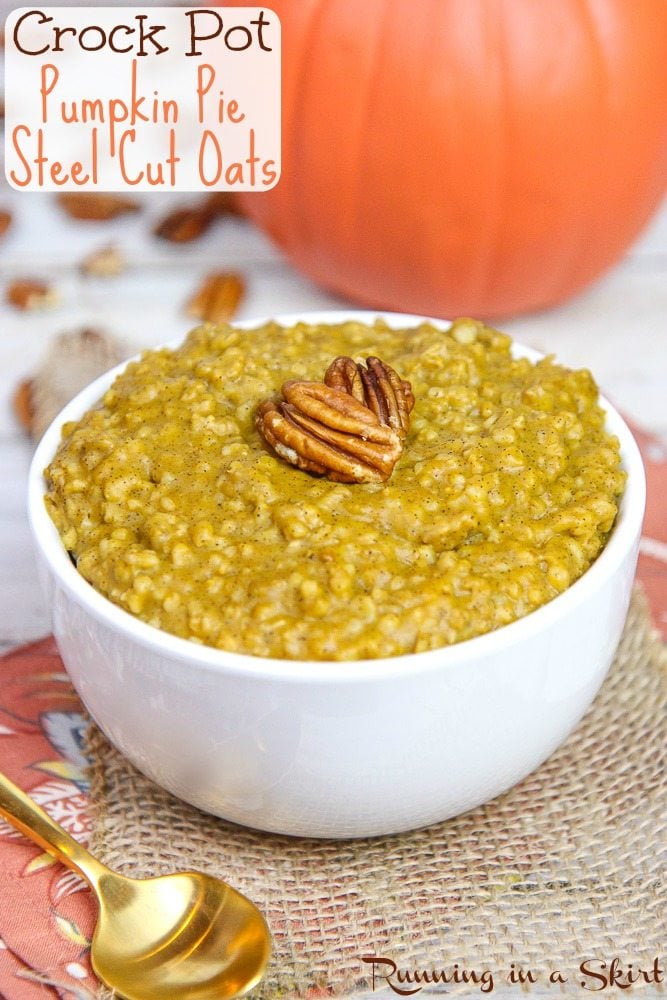 Have your tired delicata squash yet? If not, you MUST! It is so sweet, tender and delicious. My version lets the squash shine with just a touch of maple and rosemary flavoring. This addictive dish will make you fan. Use it as a side dish or turn into a main dish by topping a quinoa bowl with it and also making the brussels sprouts recipe below!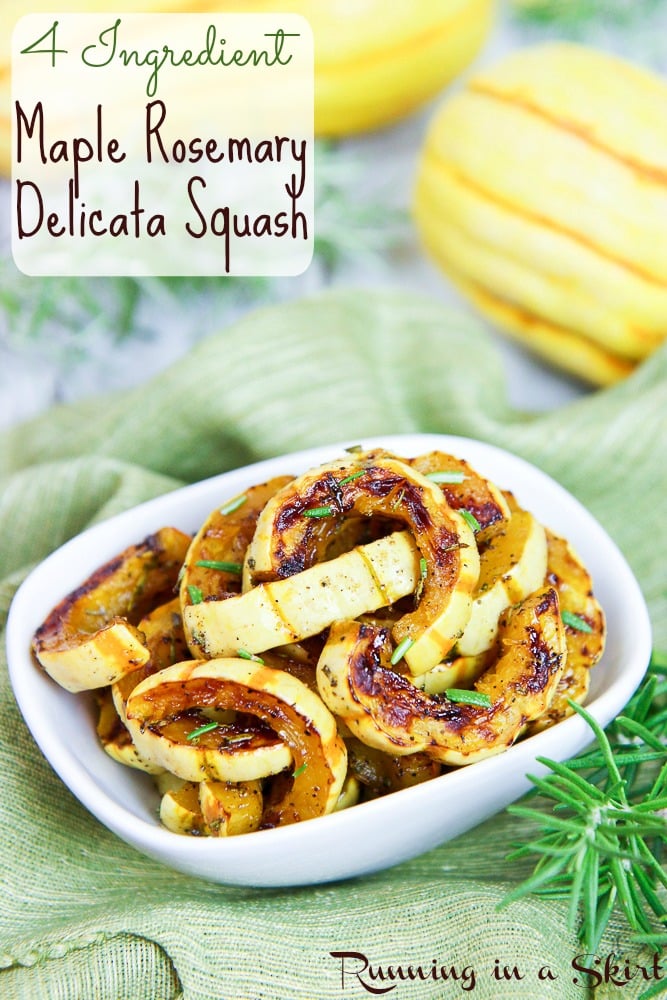 In November this recipe is one of the most popular on my site. The combination of Maple, Balsamic and Cranberry pair perfectly with the sprouts. I created this side dish with Thanksgiving in mind BUT it's honestly easy enough to make on a weeknight. Enjoy it as a side or make a quinoa bowl using the delicata squash above too!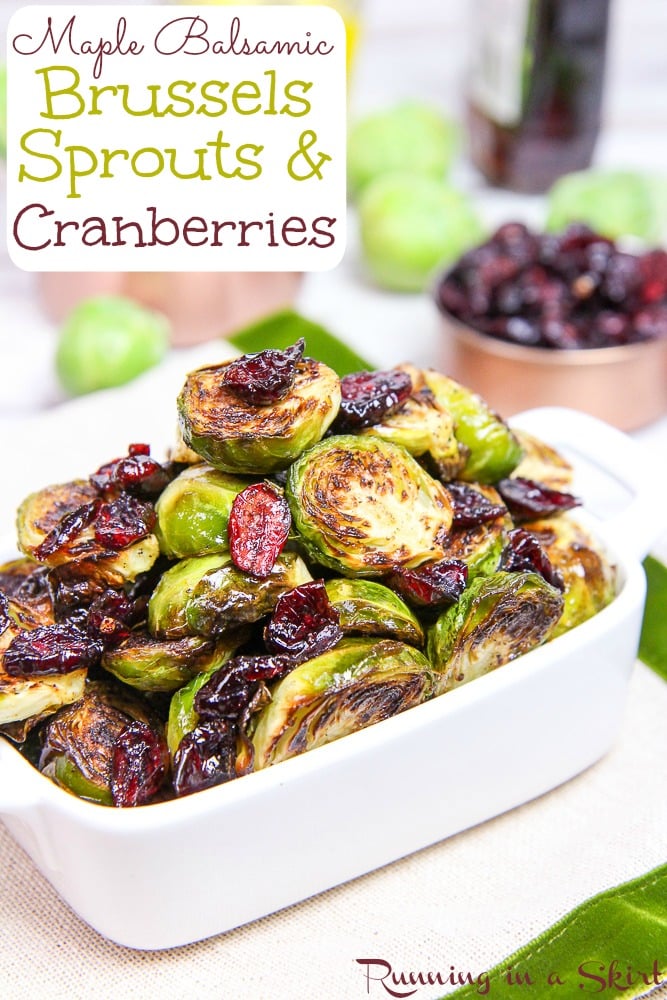 Harvest Farro Salad with Apple Cider Vinaigrette
This is SUCH a delicious vegetarian fall meal. It features sweet potatoes, apple, cranberries, AND pumpkin seeds. It also uses my homemade Apple Cider Vinaigrette which is totally addictive. I love hearty farro in this bowl but you can also sub quinoa, wheat berries or even rice!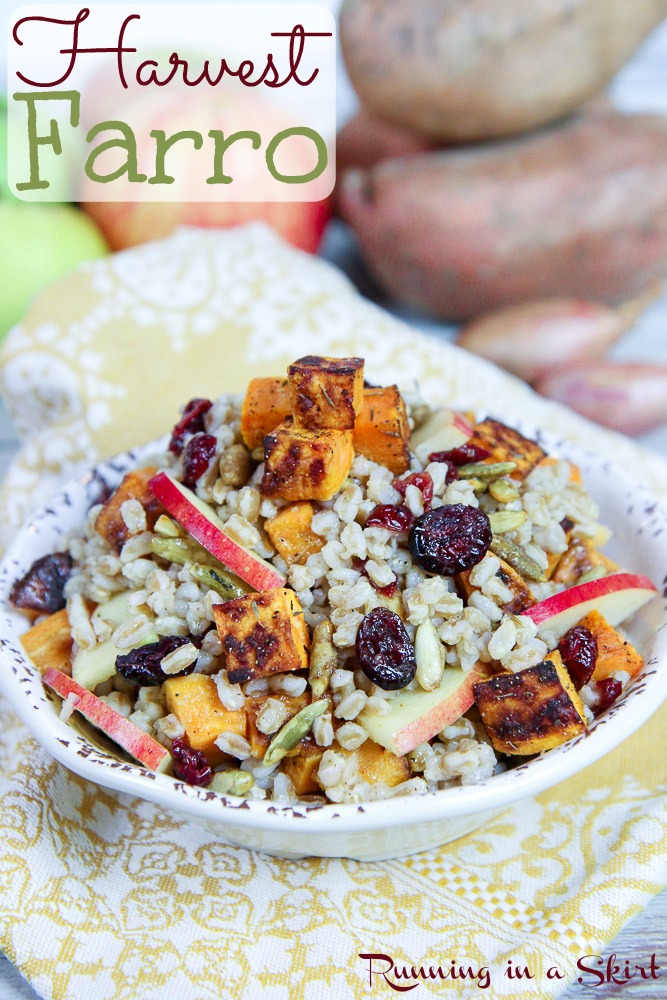 This recipe is more of a life hack than a complicated recipe but you will never believe how easy it is to throw these together. They are sweet... more like a dessert than breakfast but so good. I promise you will LOVE them!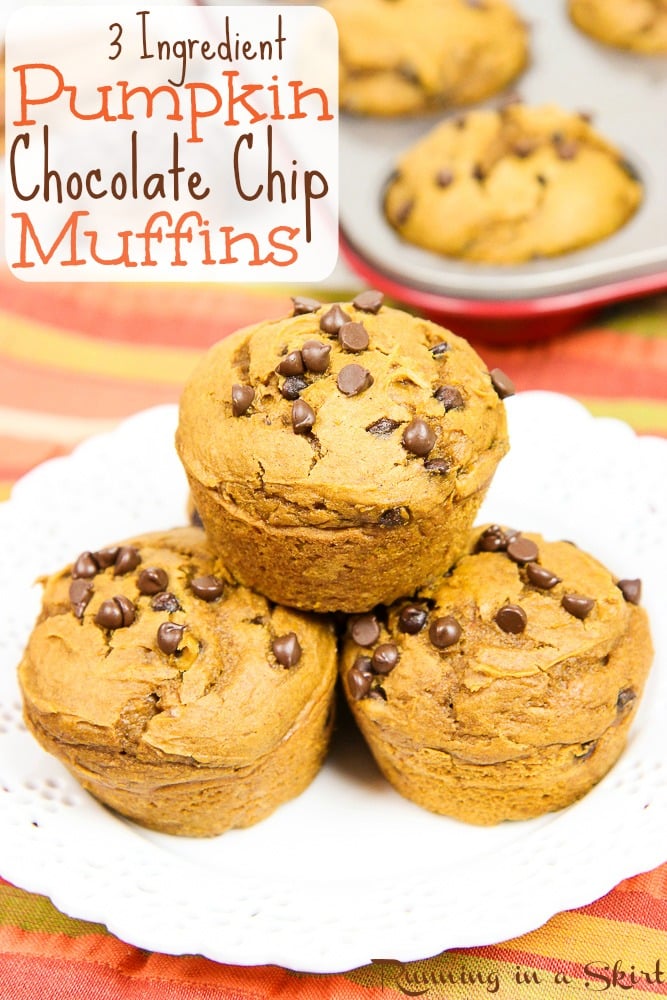 I hope you will give at least one of these a try! This is an ongoing challenge for you to make something NEW this month. Happy cooking!
Also try...
Catch up here...
[click_to_tweet tweet="Try something NEW this month - 5 Delicious Plant-Based Recipes to Make this November from Running in a Skirt" quote="Try something NEW this month - 5 Delicious Plant-Based Recipes to Make this November from Running in a Skirt"
Pin for later!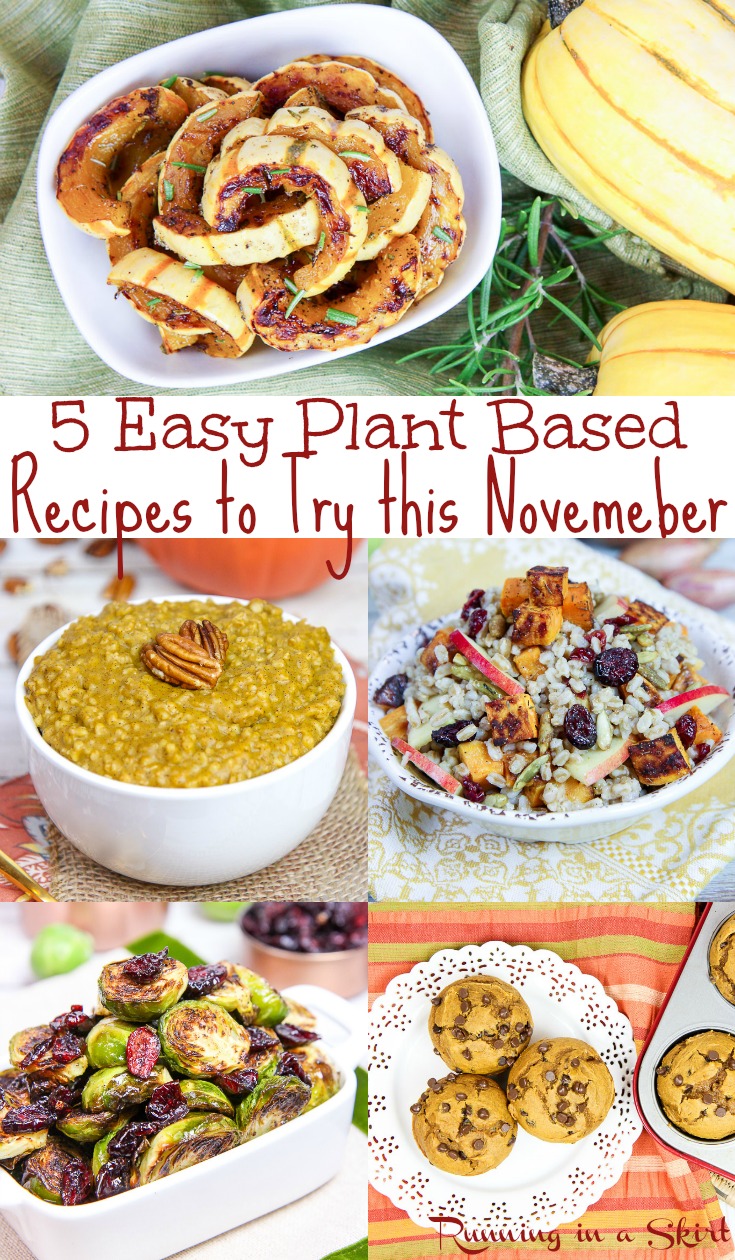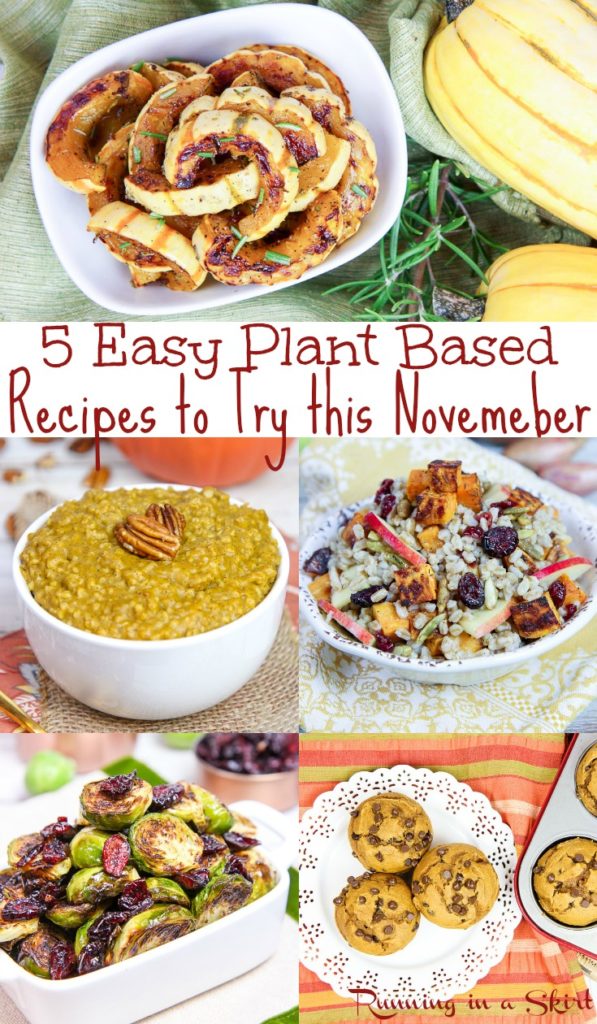 Your turn!
Do you have any exciting plans for November?
Which recipe would you like to try?