Thank you to my friends at Shipt.com for kindly sponsoring this post. All opinions are 100% honest & completely my own.
Simple online grocery delivery is now available in Asheville and beyond! Check out my haul and my best go-to vegetarian clean eating grocery list.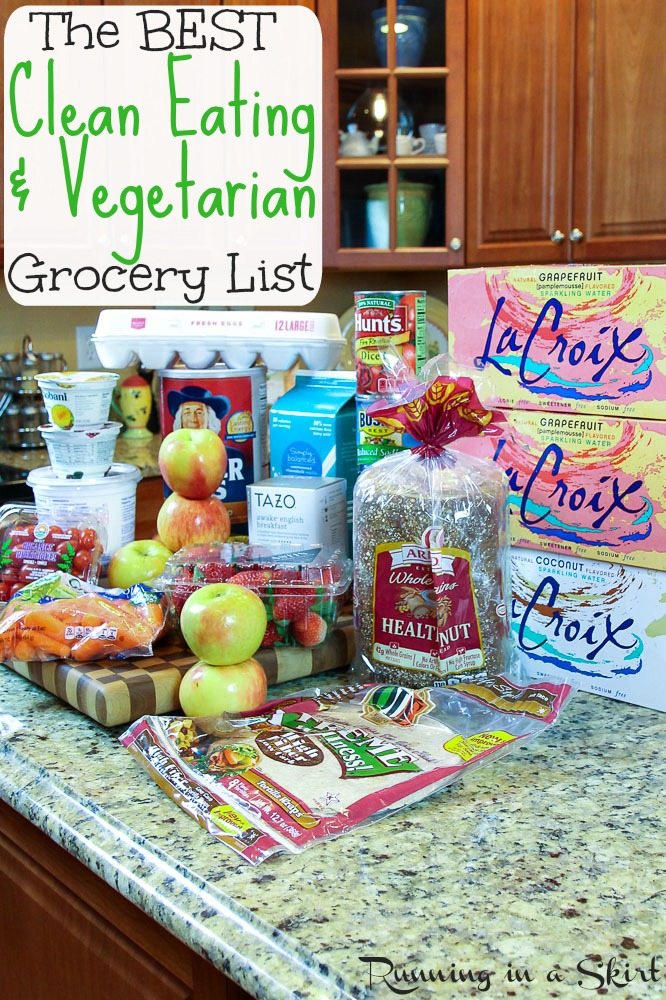 Hi guys!
Asheville is a lovely place. We have amazing restaurants, gorgeous mountains and community that I love. In many ways it's a little mountain utopia.... I do joke that it takes awhile for trends to trickle up the mountain though. We sometimes seem to be a few steps behind bigger cities in some ways. WELL... Asheville is finally catching up and grocery delivery is now a SPECTACULAR thing in this little corner of the world. For those of you who are local, take notes because I'm going to tell you exactly what to do to get fresh groceries from a local retailer delivered right to your door. For those of you who aren't local, there is a very good chance this service is already available where you live so make sure to check. What I'm about to tell you about gives you the gift of time, which is hard to come by these days!
The company making it all happen is called Shipt. They are a membership-based online grocery marketplace delivering fresh foods and household essentials through their website or convenient app. It's a premium, personalized service that is only $99 dollars a year. That means for just $99 you can have groceries delivered to your house ALL YEAR LONG! In South Asheville right now the groceries are coming from Target, but other areas of town have other choices too! Shipt works with whatever stores are in each individual community. The service is same day or next day... your choice! You can shop from their handy app or your computer at their webiste.
Makena is begging me to put some puppy treats in the cart!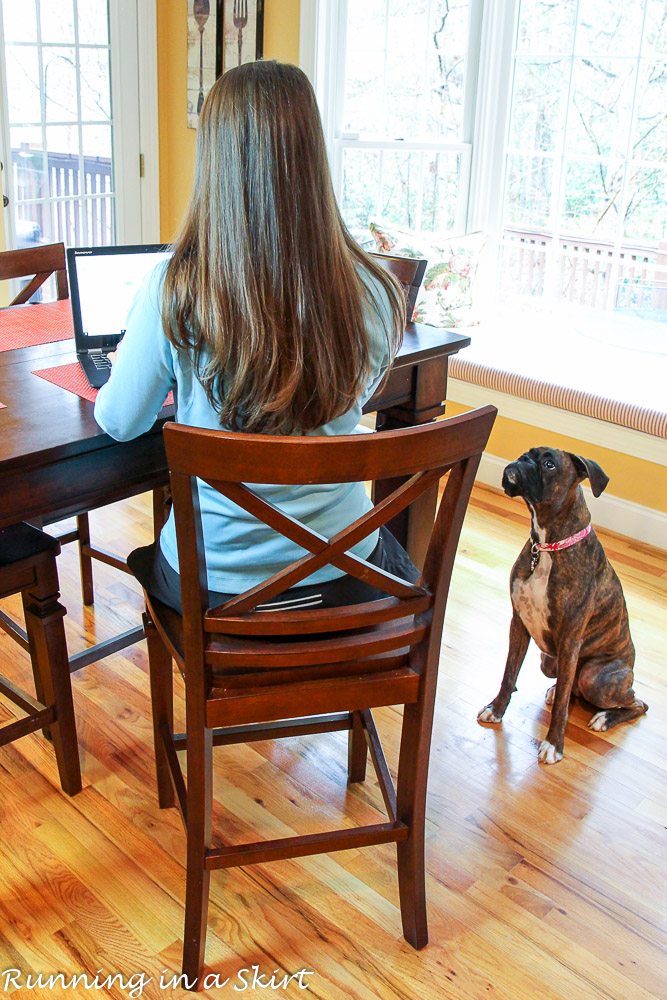 Once you are a member, all you need to do is pick your store.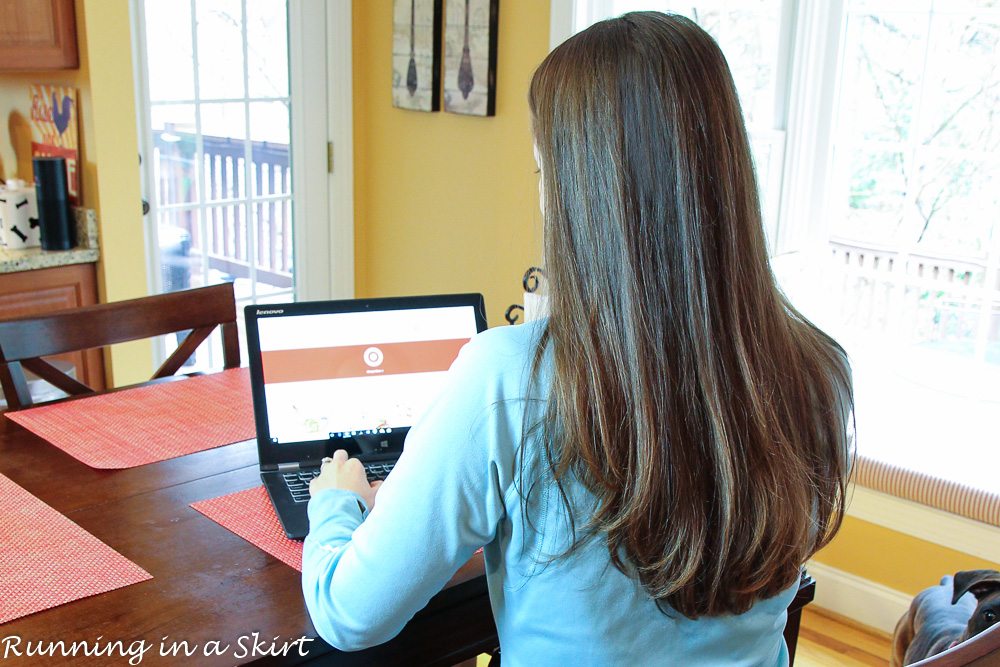 Next you can see easily what's on sale this week! I love having the option to see if there is anything on sale that I need to stock up on in my pantry. It's so much easier than walking up and down all the isles... plus I'm less tempted to buy a bunch of impulse purchases this way.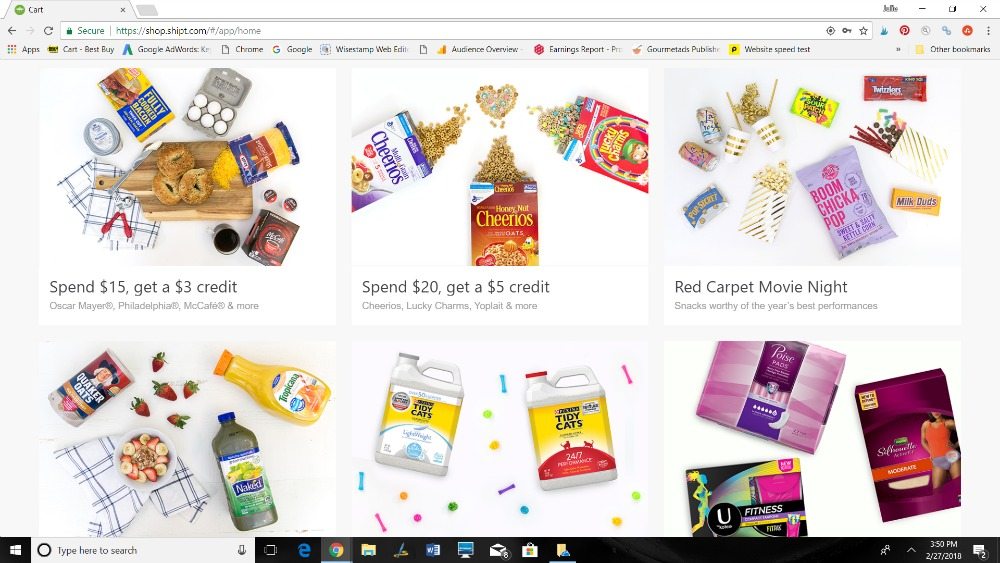 To shop you can search by what you are looking for or scan categories like aisles at the store. You can get everything from produce, to everyday essentials and even pet food. You can also save your favorites to find them easier when you shop again.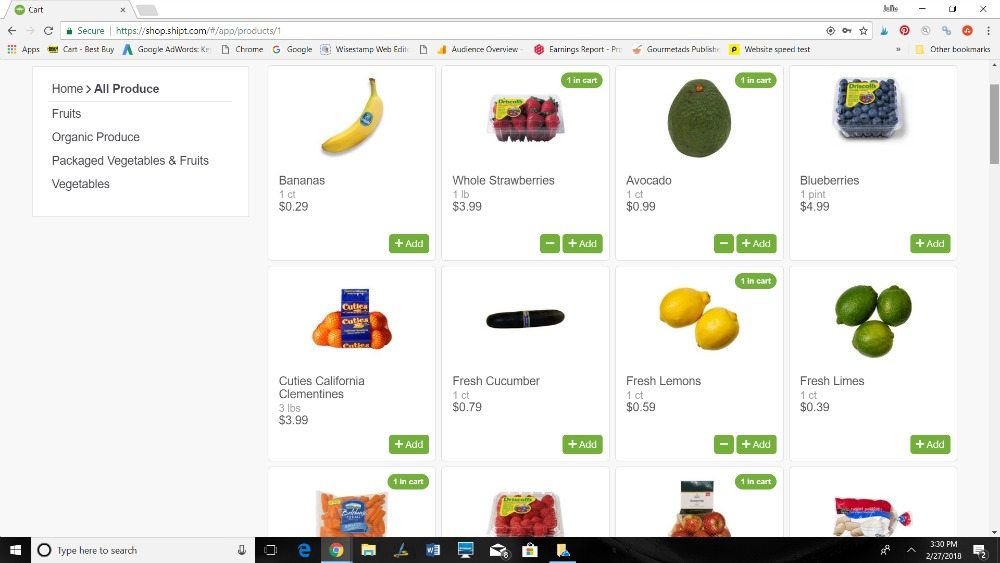 After you shop, you pick a delivery time. The earliest delivery time is an hour away and you can schedule it farther out into the next day as well. I take pride in being a pretty good grocery shopper, but I've got to tell you Shipt did a fabulous job. About an hour before my delivery I got a text from my shopper, Adrianna, who let me know that the store was out of lime La Croix and asked me what I'd like to substitute. She arrived promptly on time and was super pleasant... even bringing the groceries right into my house.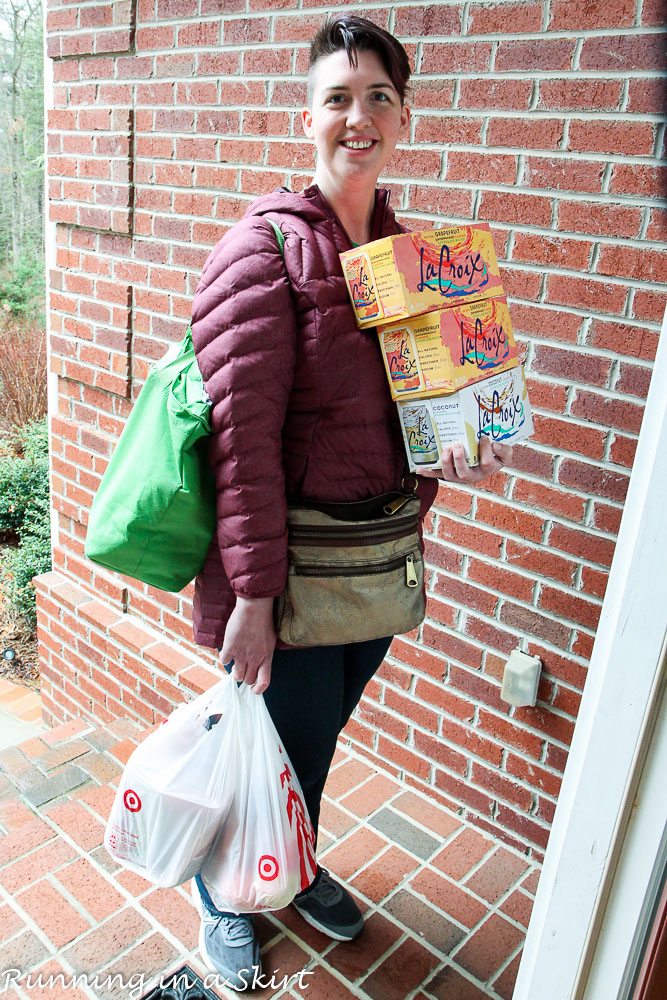 My food was hand selected, just like I would and delivered to my door. She even kept my cold stuff in a cooler and my eggs were perfectly taken care of.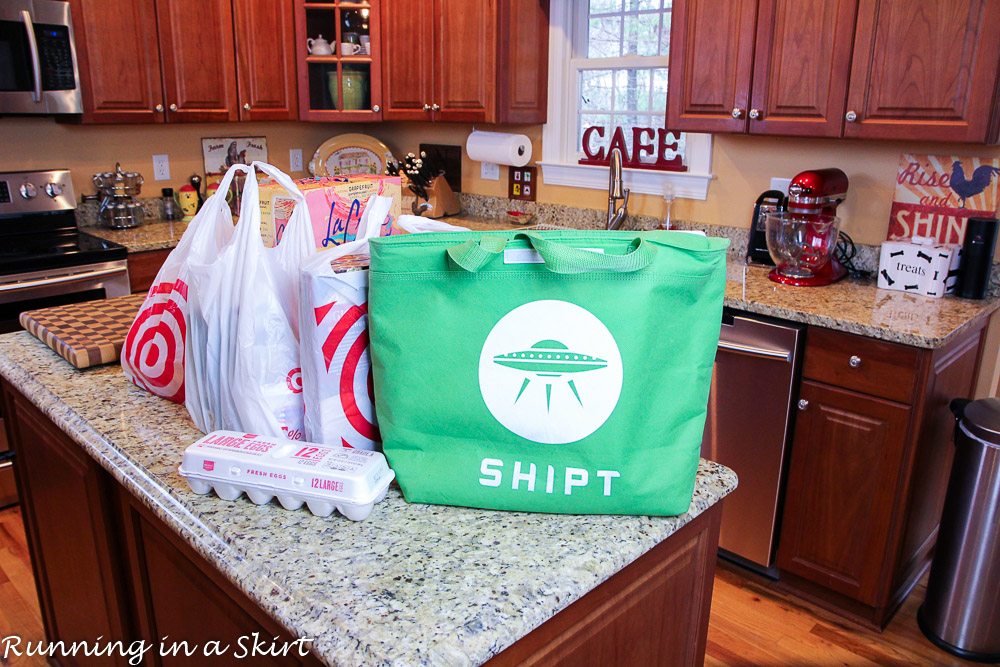 It was pretty amazing to not have to spend my time leaving the house, parking, pushing the cart around, checking out, loading my car AND unloading my car into the house. The day I picked just happened to be pouring down rain too... so I was SO glad not to be out in it.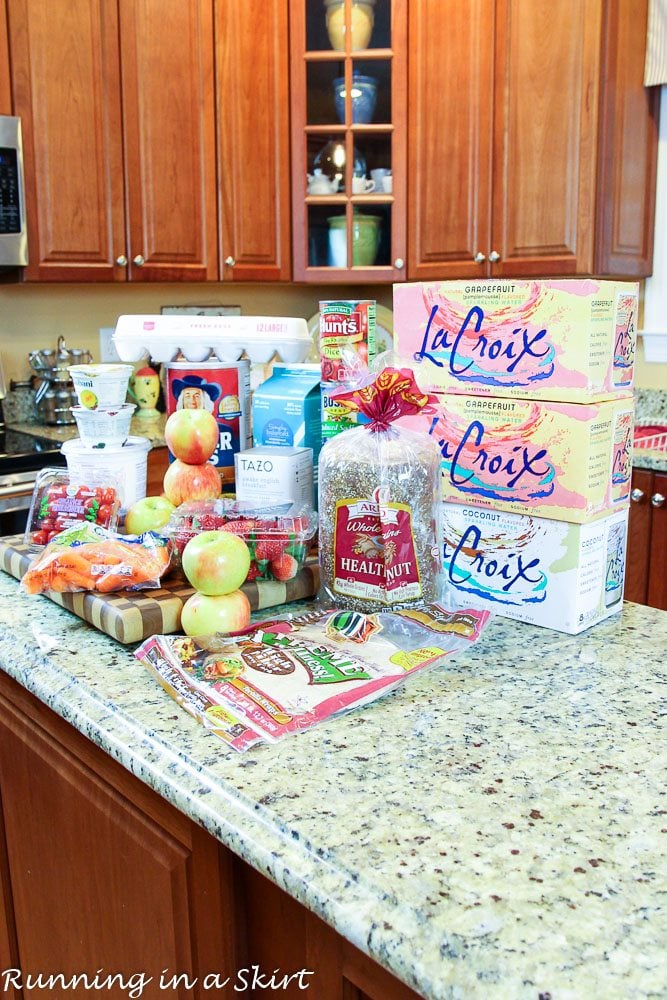 If you are like me and feel like you never have enough time... Shipt basically gave me back so much time! In this fast paced day and age time is one of the most valuable commodities.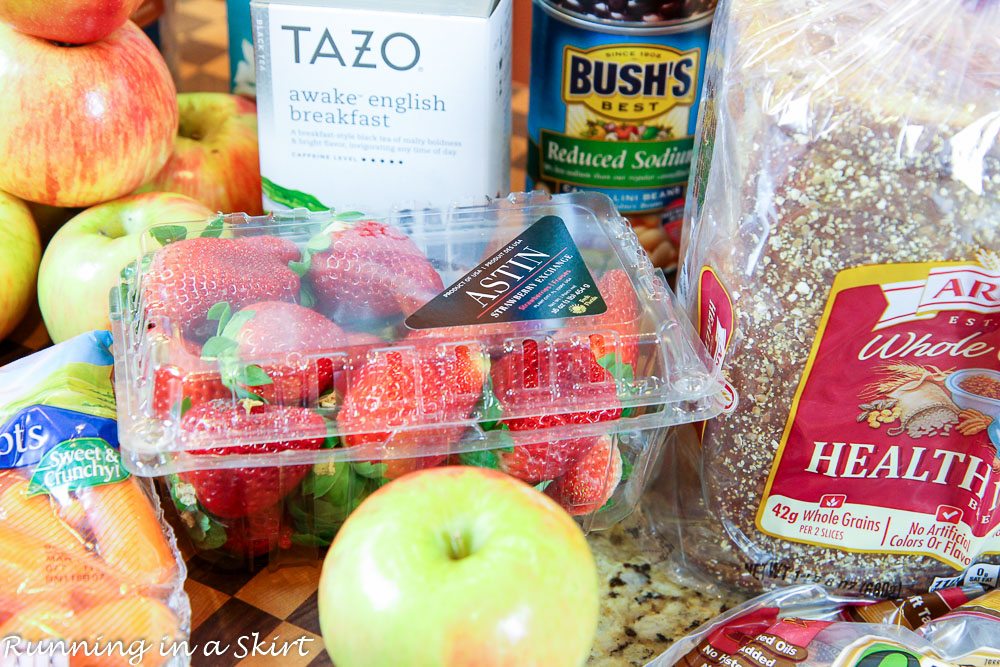 Plus... I'm thinking back to the times I've been sick, broke my elbow or after surgery and haven't been able to shop. Shipt is worth every penny if you are in that situation. But even if you can shop, Shipt gives you the option to make life so much easier. And sometimes that's all the incentive you need!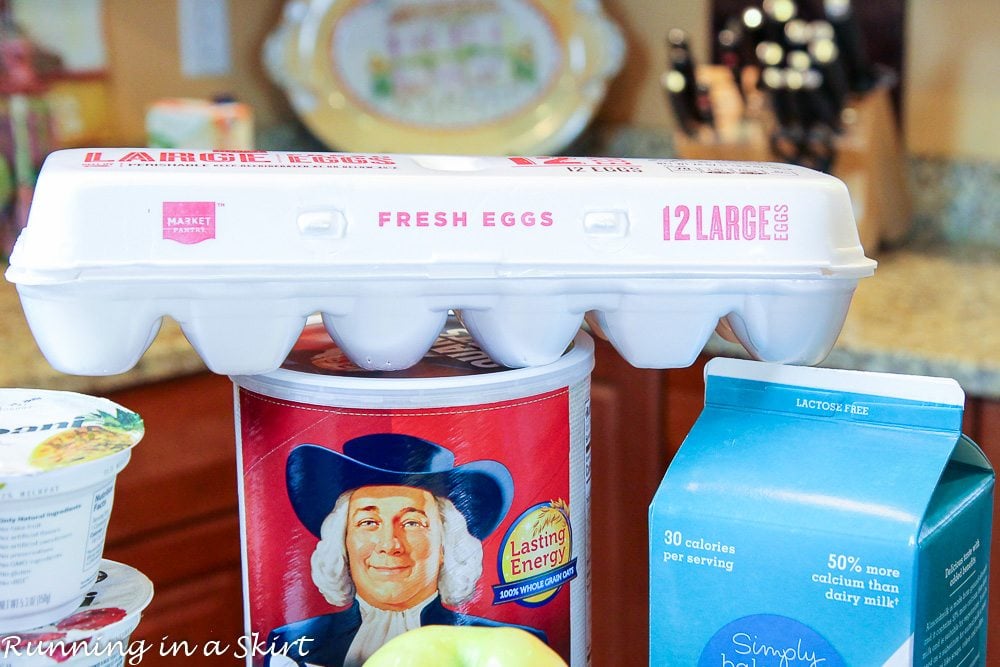 Let's Get Shopping!
In honor of grocery shopping just getting a whole lot easier (yaaassss!!!,) I thought I'd put together my go-to shopping list for you guys. This is my vegetarian, clean eating grocery list that I basically start most grocery trips with. It assumes you have some pantry staples (oils, spices, etc.,) but gets lot of fresh options in your fridge and pantry. For the greens, veggies and canned beans I gave you some options of my favorite types but what you pick there can determine the kind of meals you will make for the week. After the list, I linked to some meal and snack ideas that I often make using this list.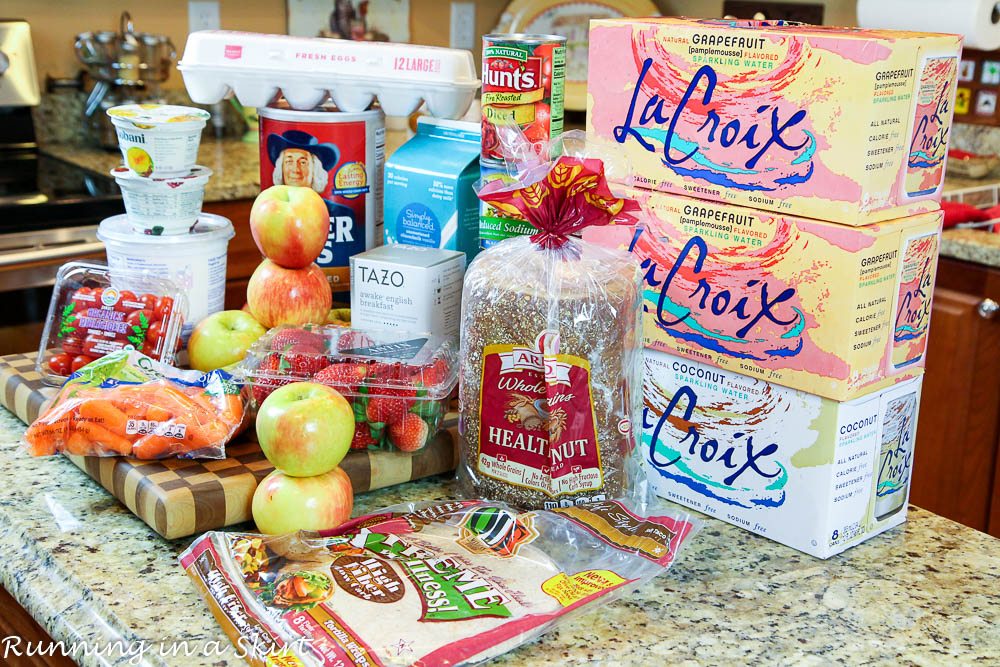 Vegetarian Clean Eating Grocery List
Apples or Bannanas
Berries
Sweet Potatoes
Greens- kale, spinach or spring mix
Cherry Tomatoes
Avocado
Lemons
Cauliflower
Bell Peppers
Onions
Other veggies - baby carrots, mushrooms or broccoli
Nut Butter
Whole Grain Tortillas
Whole Grain Bread
Whole Grain Pasta
Jarred Pasta Sauce - look for one with low sugar
Canned Beans - black beans, white beans or garbanzo beans
Frozen Veggie Burgers
Vegetable Broth
Quinoa
Hummus
Almonds
Eggs
Cheese - cheddar, mozzarella and/or feta
Greek Yogurt
Oatmeal
Cottage Cheese
Milk - almond, cashew or regular
Tea
Flavored Sparkling Water
Meal Ideas from my Vegetarian Clean Eating Grocery List
Breakfast
Oatmeal with Berries
Avocado Toast and Eggs
Lunch
Salad with Lemon and Almonds
Hummus and Veggie Wraps
Nut Butter Sandwich with Apple
Snack
Almonds and Fruit
Hummus and Berries
Greek Yogurt
Apples and Nut Butter
Dinner
I know that sometimes grocery shopping, meal planning and deciding which healthy meals to eat can be a chore. Hopefully this list will make your next shopping trip easier. Better yet, log onto Shipt.com right now and sign up. You can use this list and have a stocked pantry and fridge and beautiful healthy food without any of the fuss!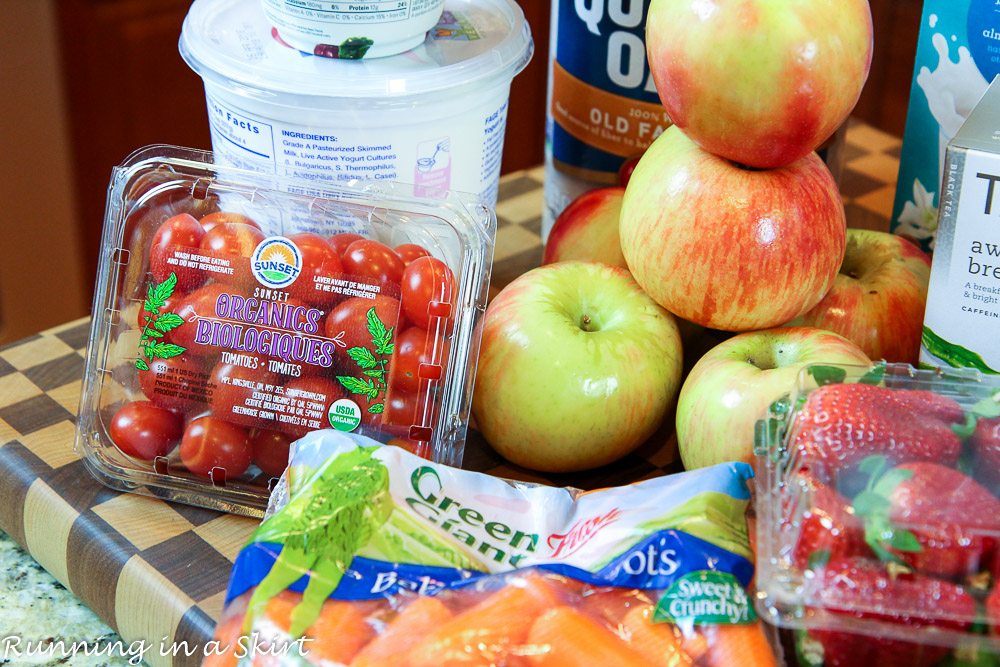 Shipt.com is available to over 30 million households and in more than 70 markets around the country including Asheville! Click HERE to check it out online or go to the app store and download their app for buying on the go!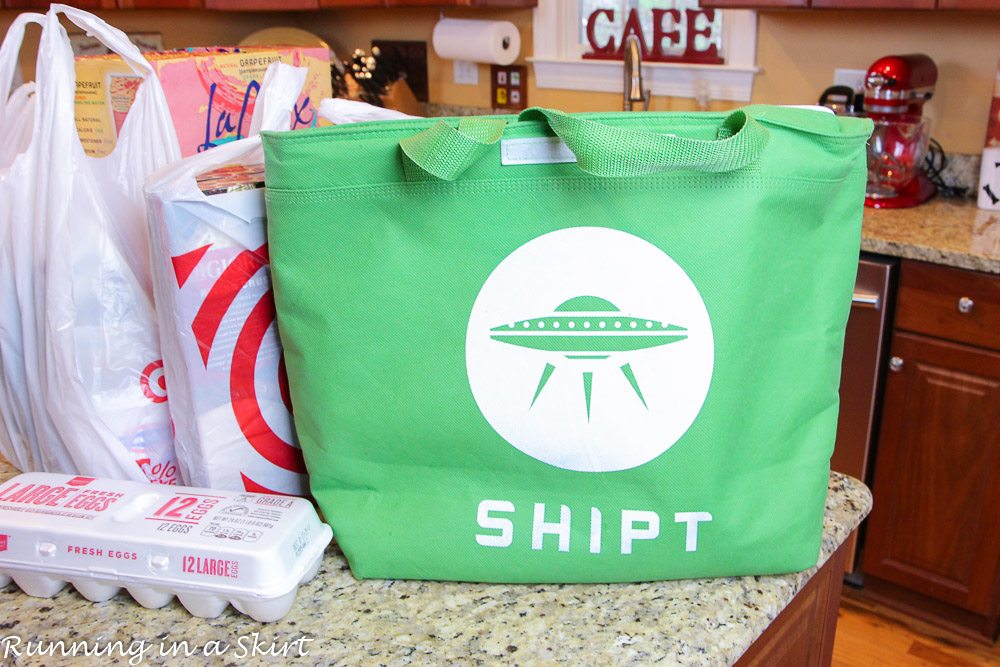 Thanks for stopping by today! Come back tomorrow for some of my Asheville favorites.
Your turn!
Head over to Shipt.com and let me know what groceries you'd like delivered!