This salad is inspired by our trip to Tuscany.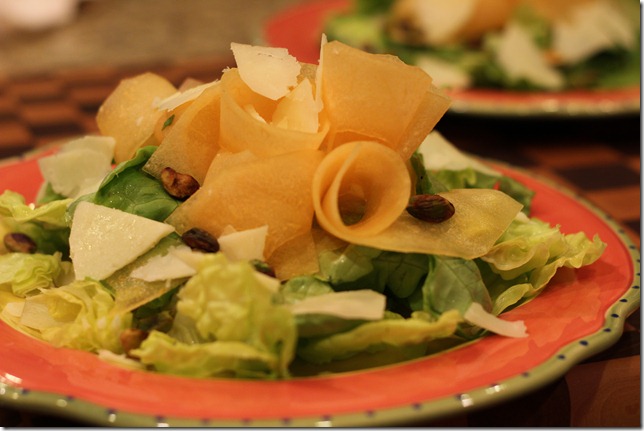 In case you missed it I wrote several posts on our big late Spring vacation this year... it was epic.
Now I know a fresh, light salad might not be the first thing you think of when you think Italian food, but bear with me for a second. Italian food is about so much more than pasta.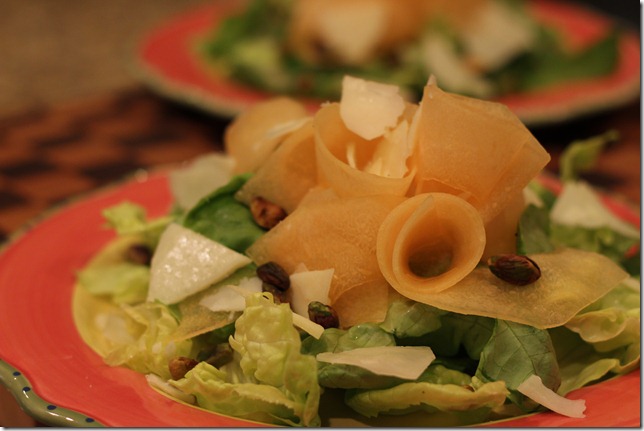 (How do you like my first blurry background picture??!!!)
Italians, especially in Tuscany, eat fresh seasonal ingredients. They often get their food from specialized markets and shops and eat it the same day they buy it. Many Italians even grow their own food. It's a lot like the mountains of WNC that way.
When we were in Tuscany we stayed in an ancient farmhouse called the Villa di Piazzano. The farmhouse had been renovated into a charming boutique hotel.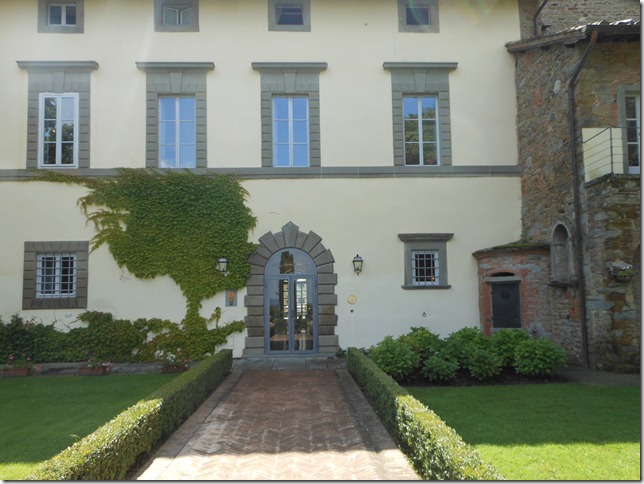 The grounds had picture perfect Tuscan gardens and views.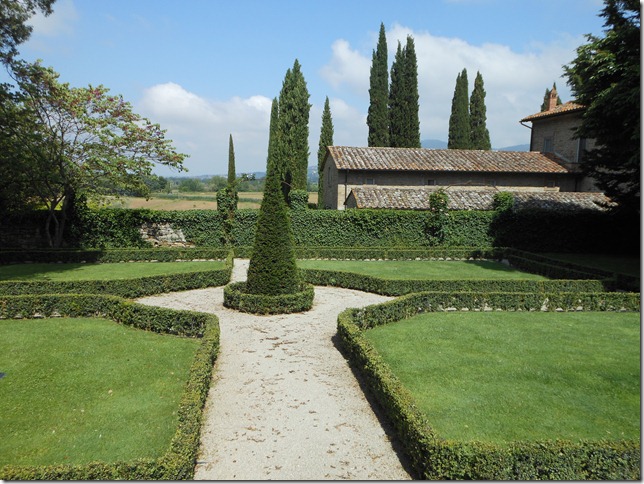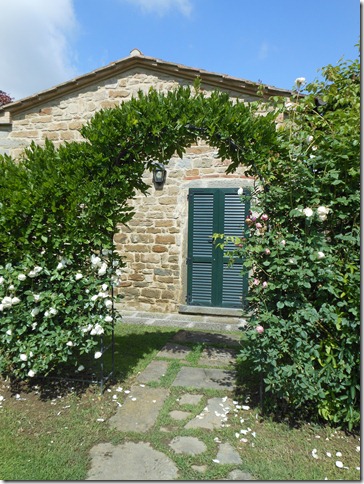 The on-site restaurant took pride in serving fresh food, some of which they grew in their own garden.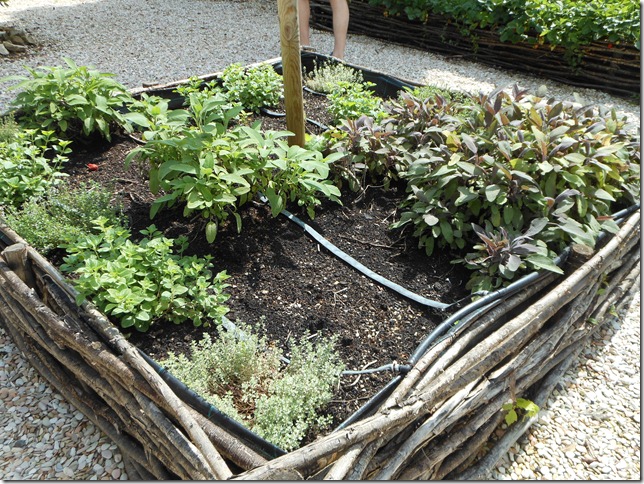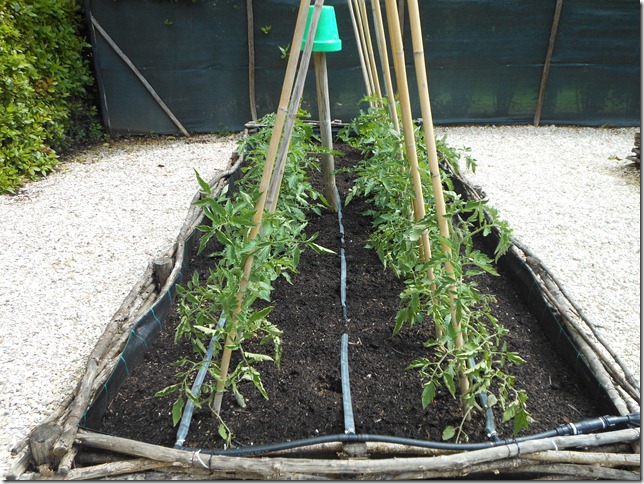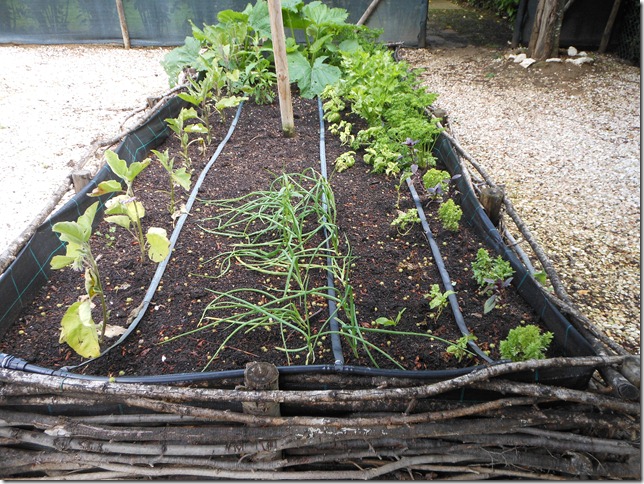 This is my rendition of a salad they served us our first night there. The plate was a special dish for the evening. The waiter brought the dish to us and we gasped at the beautiful salad. The pillowing mound of melon on top made me instantly fall in love with the salad and with Tuscany. Sometimes when you have really amazing ingredients, it's best to just let them shine.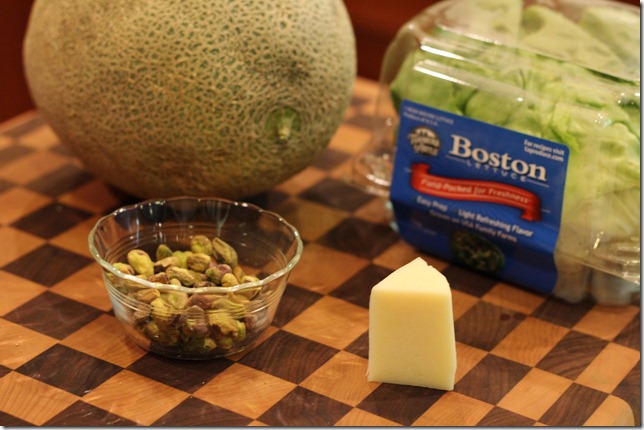 It's a unique blend of crisp and fresh salad greens, thinly sliced sweet melon, pungent pecorino cheese and nutty pistachios. The dressing is very light and made with a high quality olive oil and fresh red wine vinegar. We were lucky enough to use some of the olive oil we brought back from visiting an olive farm on our trip.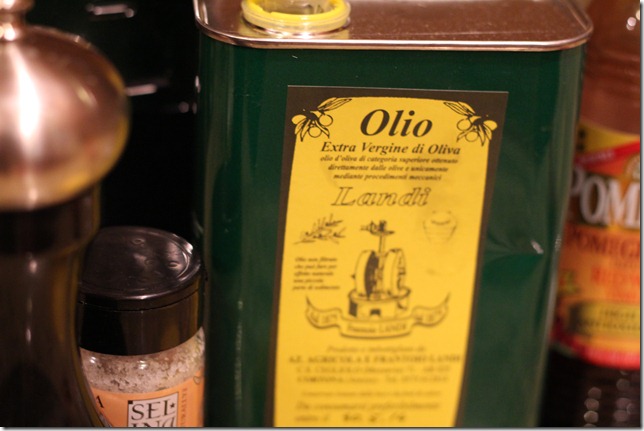 This may not obviously be Italian, but the fresh ingredients, put together with love, really speak about the Italian culture to eat well and linger over your meal.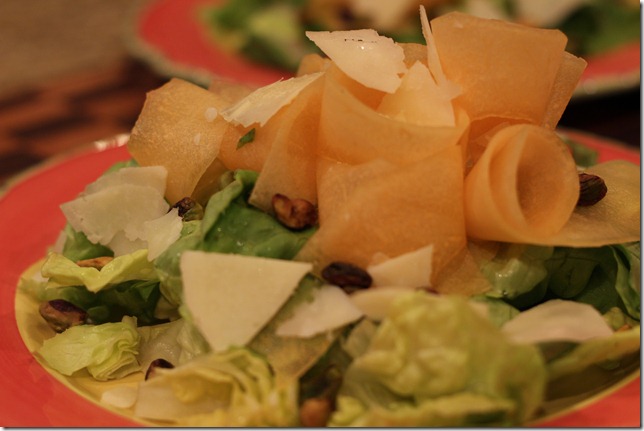 You have to have a little patience with the assembly process here, but talk about a wow factor when you serve this!
Tuscan Melon Salad
Serves 4
Ingredients:
Salad-
4 cups crisp salad greens – butter or leaf lettuce
¼ cantaloupe
½ cup roasted shelled pistachios
4 ounces pecorino cheese – aged if you can find it
Dressing-
½ cup olive oil
¼ cup red wine vinegar
2 teaspoons lemon juice or approx. juice from ½ small lemon
½ teaspoon salt & pepper (adjust to taste)
Directions:
1. Prep the lettuce by chopping it into bite sized pieces.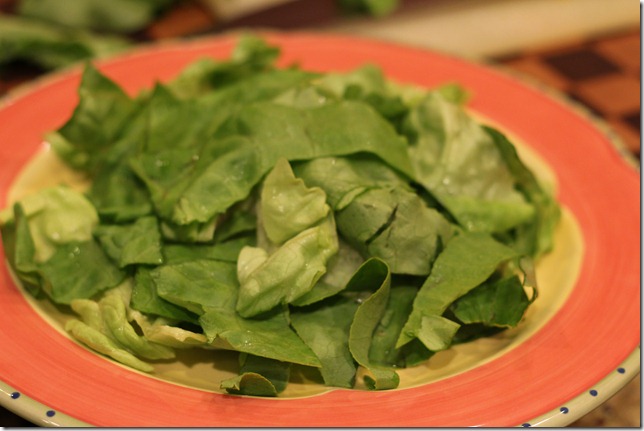 2. Grate the pecorino cheese into thin slices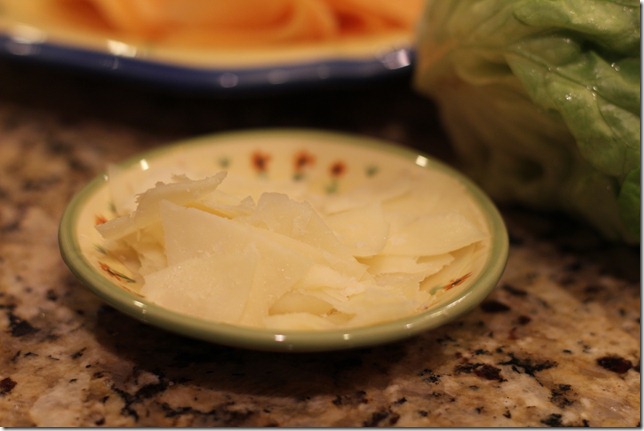 3. Prep the cantaloupe. Remove the seeds and cut the peel off. Use a mandolin or a knife to cut melon into paper thin slices. You should get arched pieces.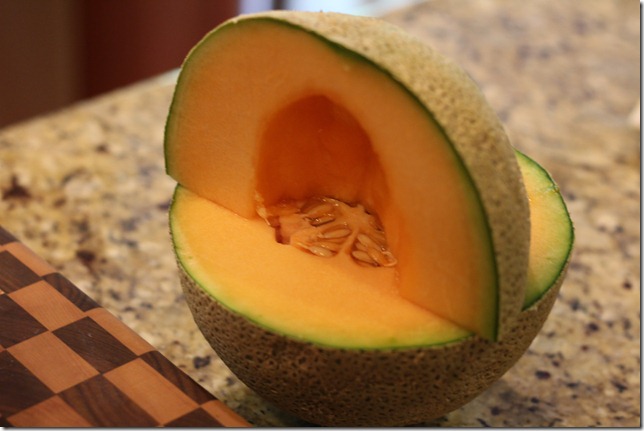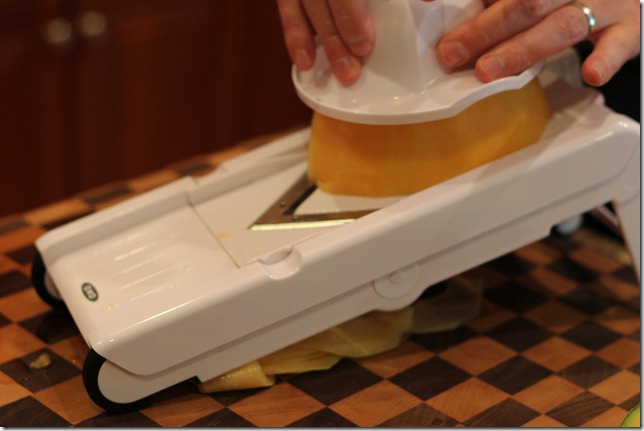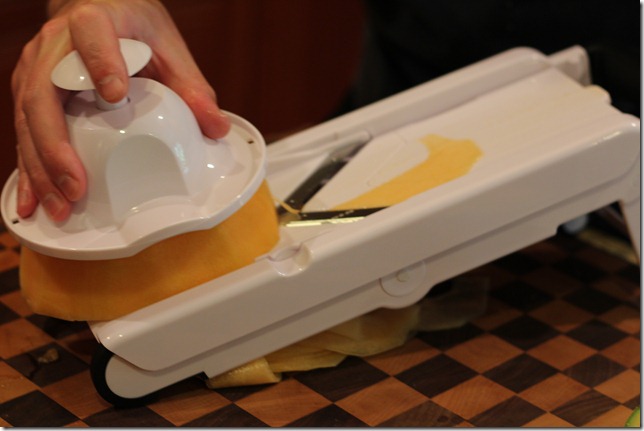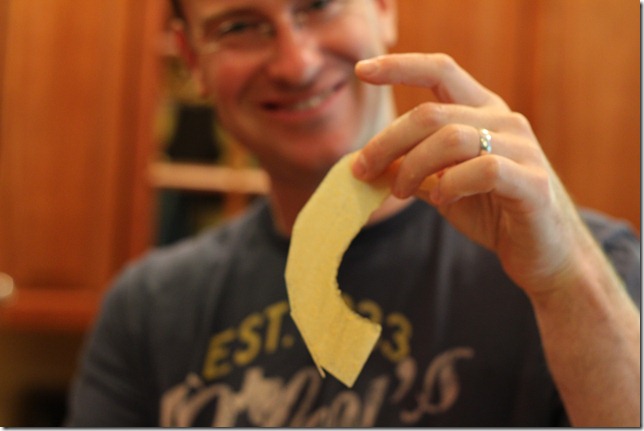 Thanks hubs!
4. Whisk all ingredients for the dressing in a bowl OR put the ingredients in a Tupperware container. Put the lid on and shake.
5. Coat just the lettuce in a light layer of the dressing.
6. Assemble the salad. Pile the lettuce on the plate. Top the salad with curled pieces of the melon- Don't be afraid to get fancy! This is all about the presentation of these fine ingredients. Sprinkle the salad with the cheese and pistachio.
7. Eat while pretending to be sitting in an Italian Garden!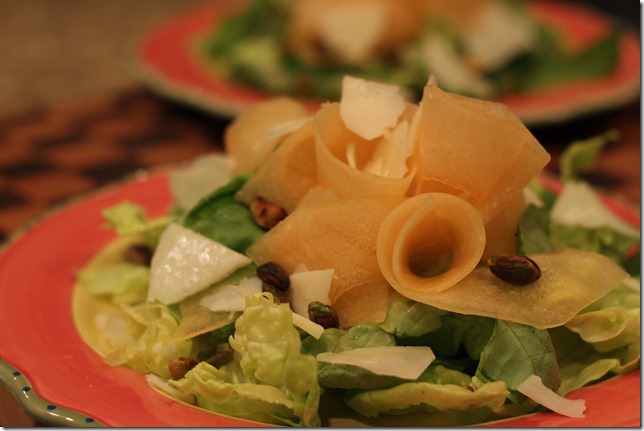 Buon appetito!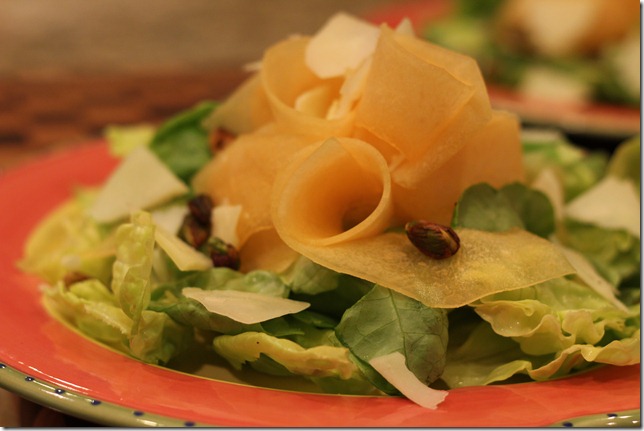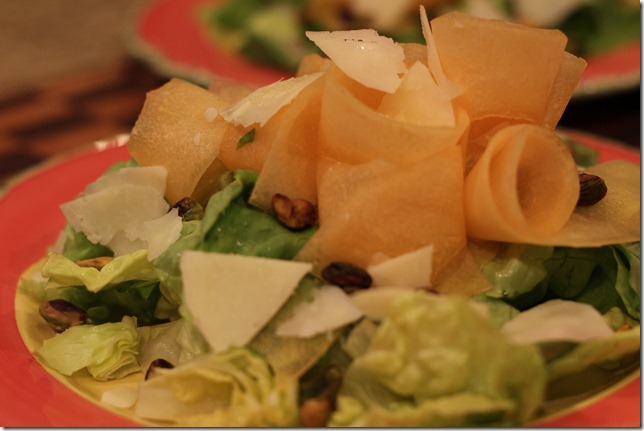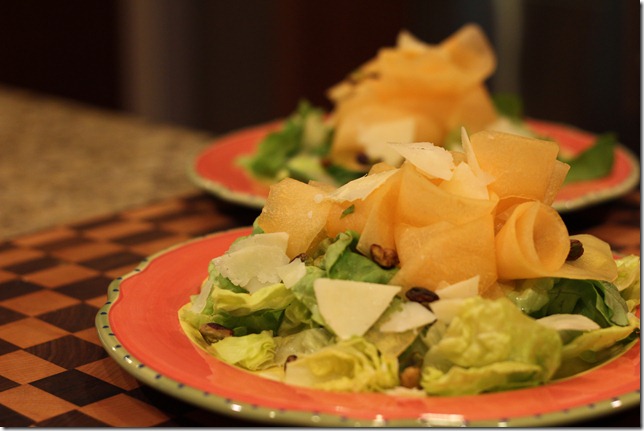 I might have taken 100 pictures of the salad… Thank goodness for digital images!
---------------------------------------------------------------------------
Your turn!
Do you ever try to recreate vacation food at home?
What's your favorite salad?