Touring the Tuscan Hill Towns by car is an adventure I'll never forget!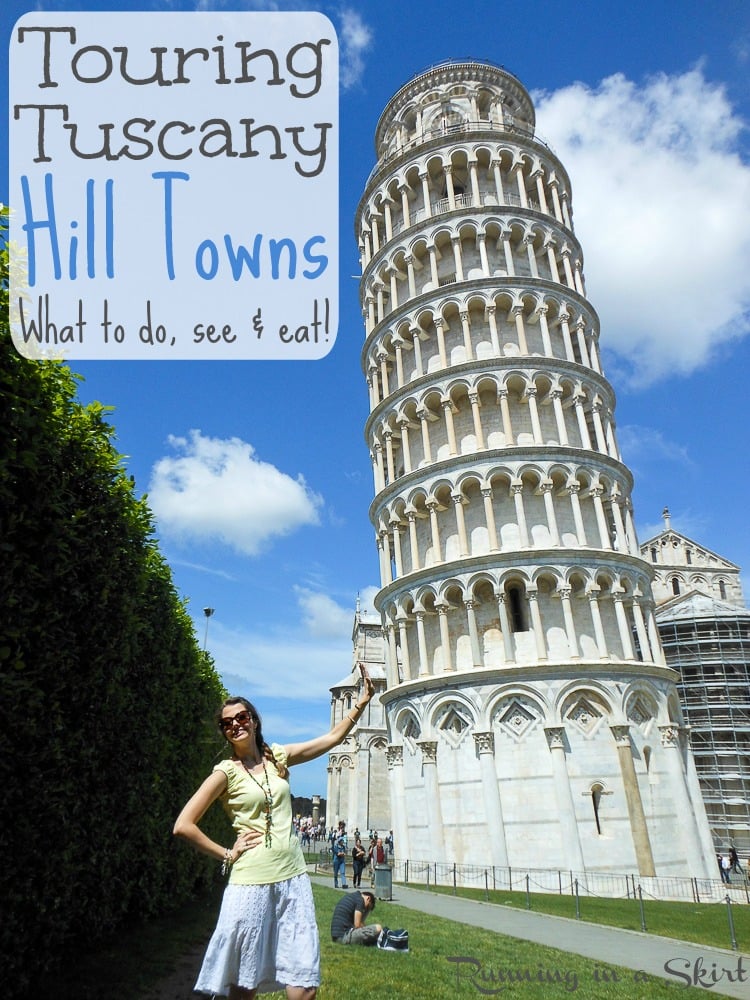 Hi everyone!
Touring the Tuscan Hill Towns by car was my favorite part of my two weeks in Italy! I am picking up the story from the morning we leave the Cinque Terre by car and start driving through Tuscany.
Tuscan Hill Towns by Car
Pisa
After three relaxing but rainy nights in the Cinque Terre, we are ready see another part Italy. The plan for the day is to stop at several small hill towns in Tuscany on the way to our next place to stay, a villa/hotel in Cortona.
The excitement builds as we climb out of the steep mountain cliffs of the Riviera and start seeing the gentle, green and lush rolling hills of Tuscany.
And then this happens. Sunshine. Finally.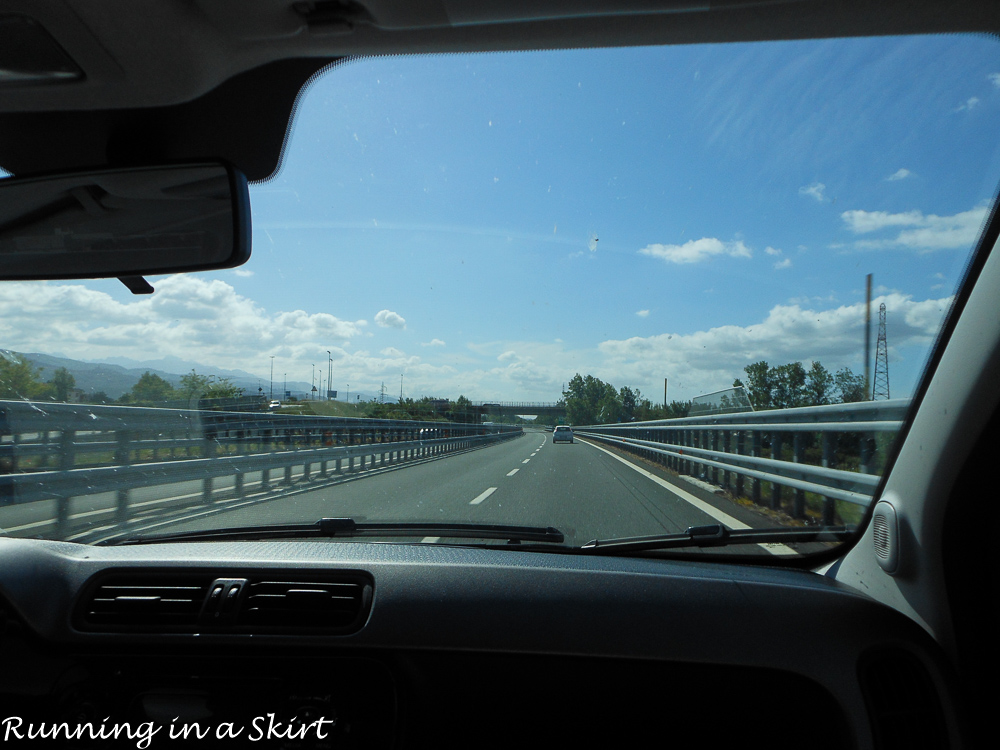 After almost a week of rain on our vacation these beautiful blue skies are a sight for sore and soggy eyes.
The timing of the shift in the weather is impeccable. Just as we reach the outer walls to the hill town of Pisa, we finally feel relaxed and ready to take in the huge Tuscan region.
Pisa is on our "must see" list for Italy. We both grew up hearing about the famed Leaning Tower of Pisa and wanted to see what it really looks like in person.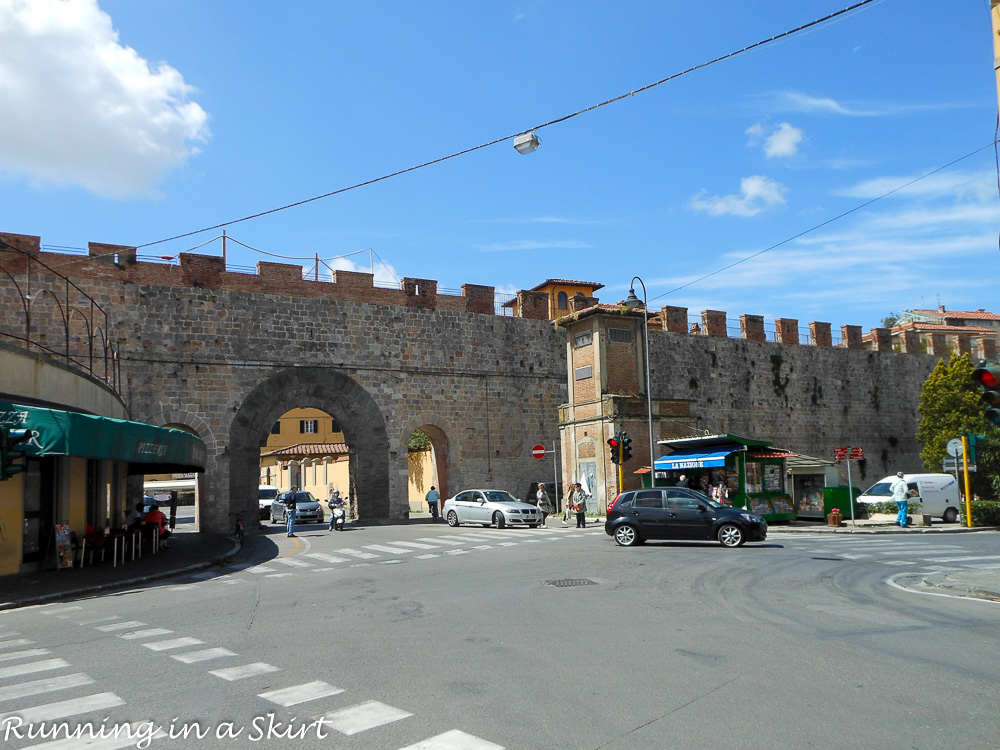 We easily park just outside of town, and ask a local where to go. We walk for just a few minutes before we see it.
The amazing Leaning Tower of Pisa delivers the shock and awe value we are looking for.
It literally looks like one of those "believe it or not" tourist buildings and is drastically slanted. It is so impressive. It's crazy that it doesn't fall over.
Being the cheesy tourists that we are… we pose for a few classic outtakes.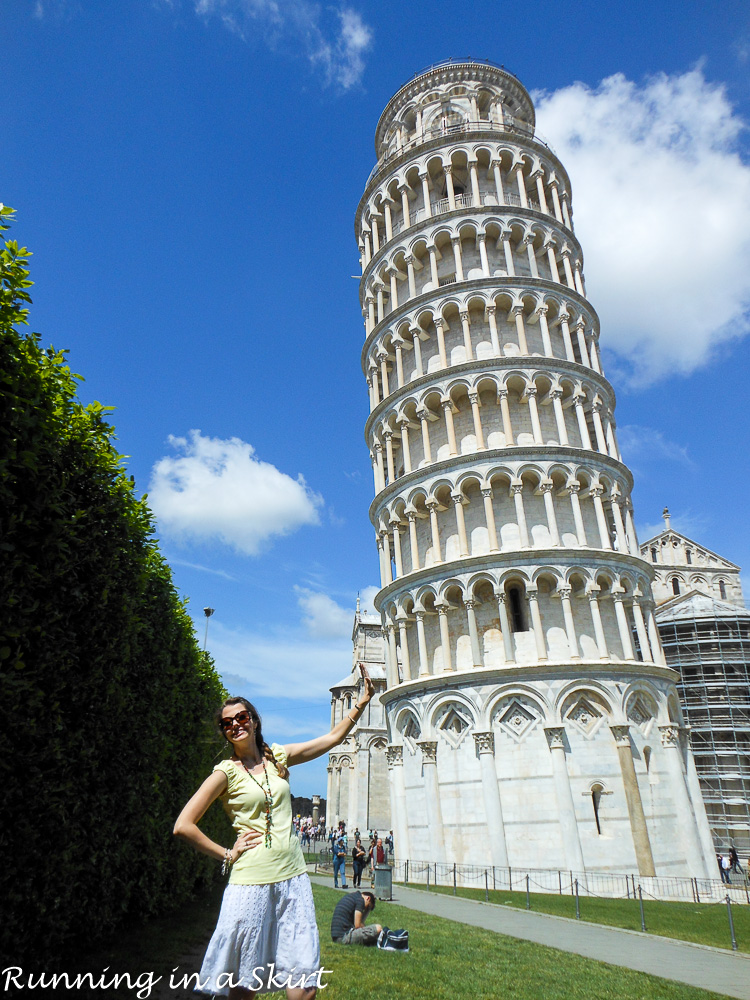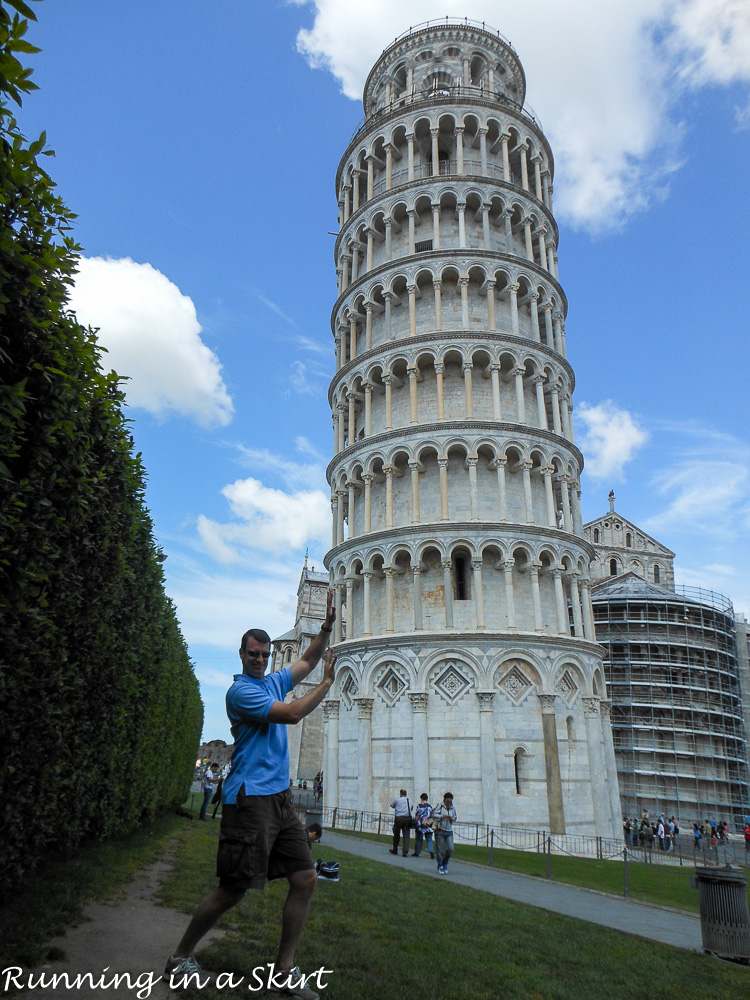 We are surprised that the tower is surrounded by several other beautiful cathedrals and monuments.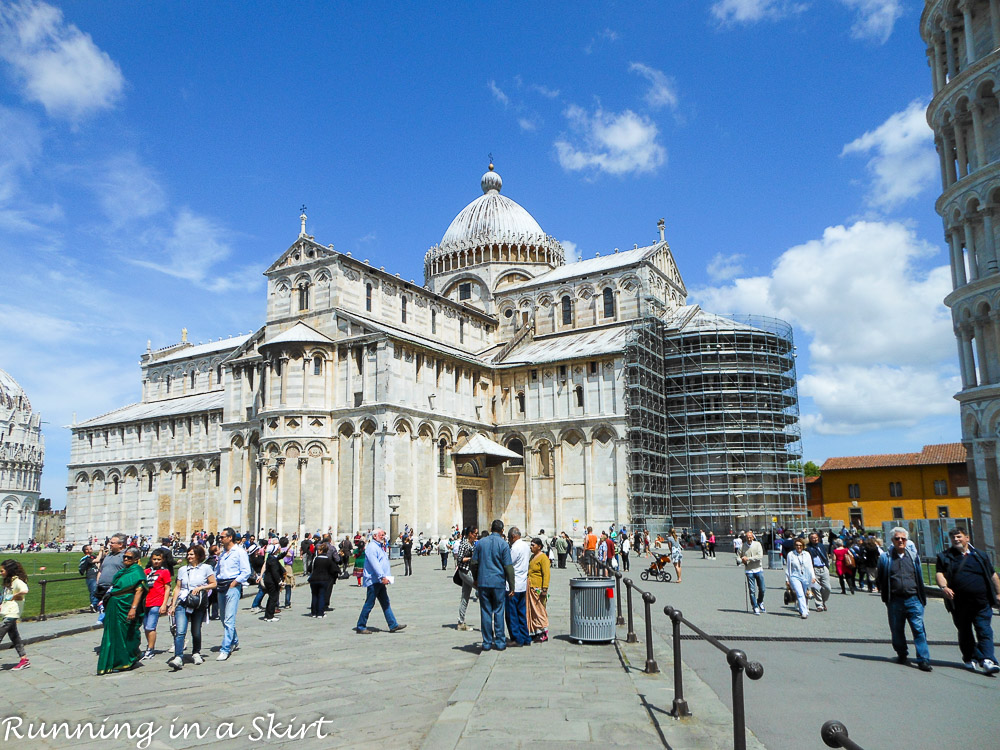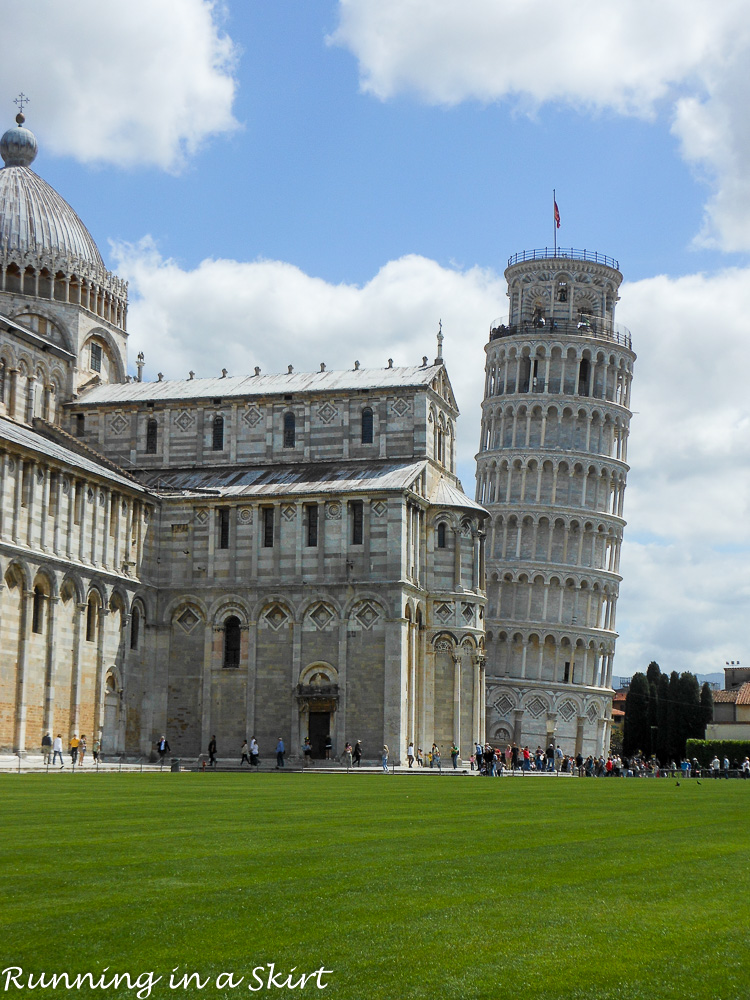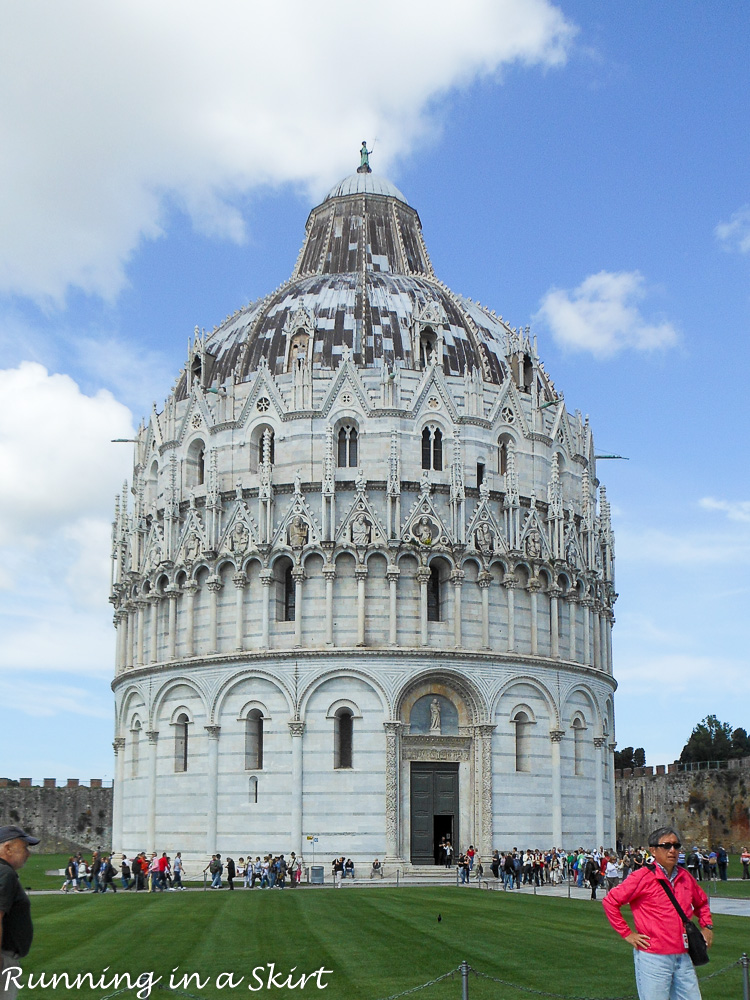 We can't stay long because this is just the first stop in our day.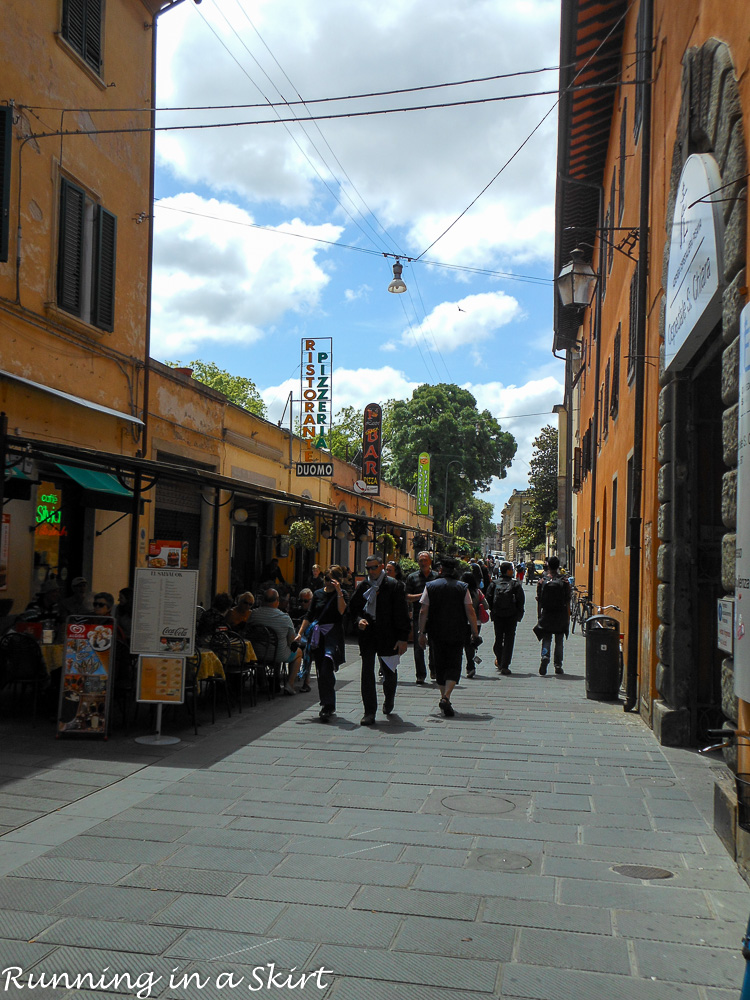 But before we leave Pisa we order and inhale the most delicious calzone and caprese salad.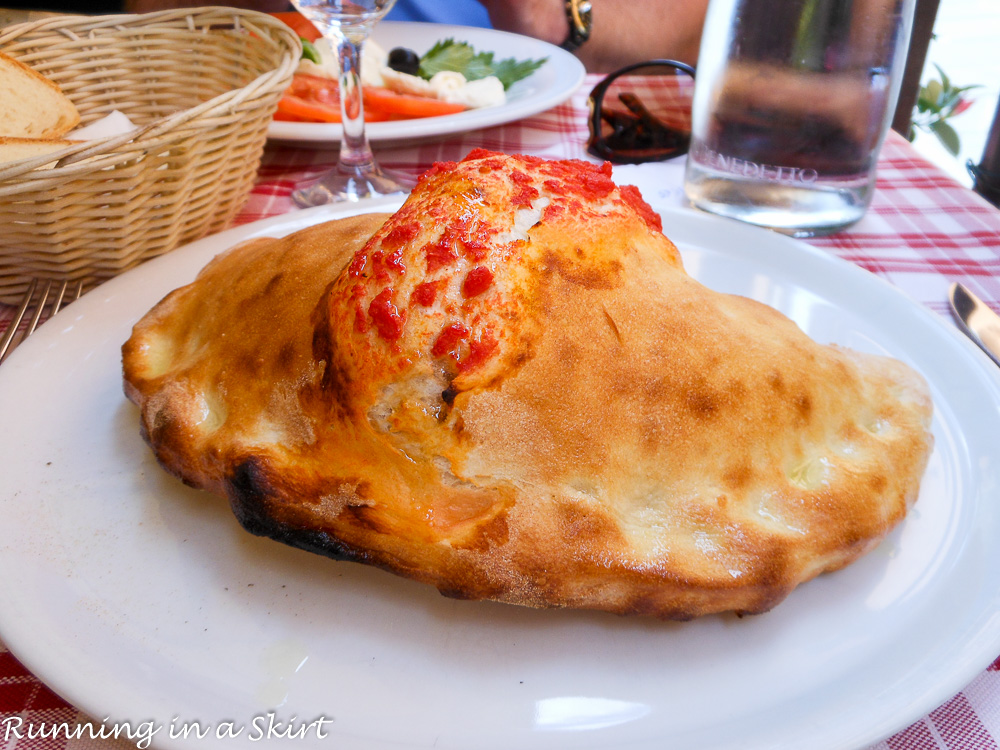 We immediately notice how much fresher and yummier the food is in Tuscany.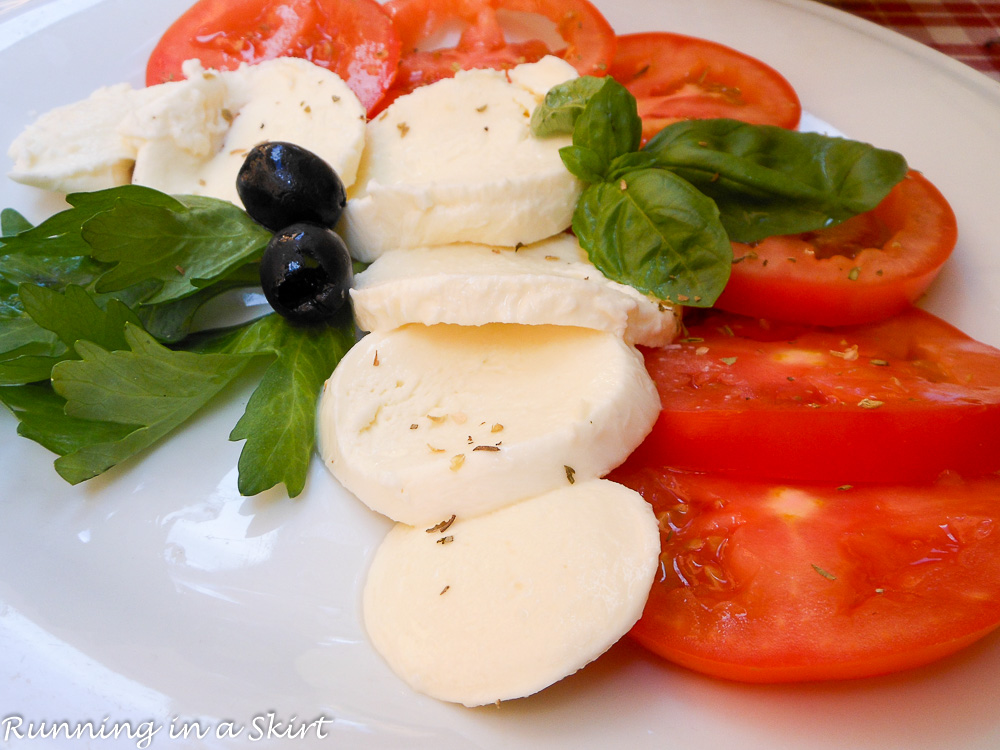 Lucca
After a short a beautiful drive through the Tuscan Hill Towns countryside we arrive at our next stop, Lucca.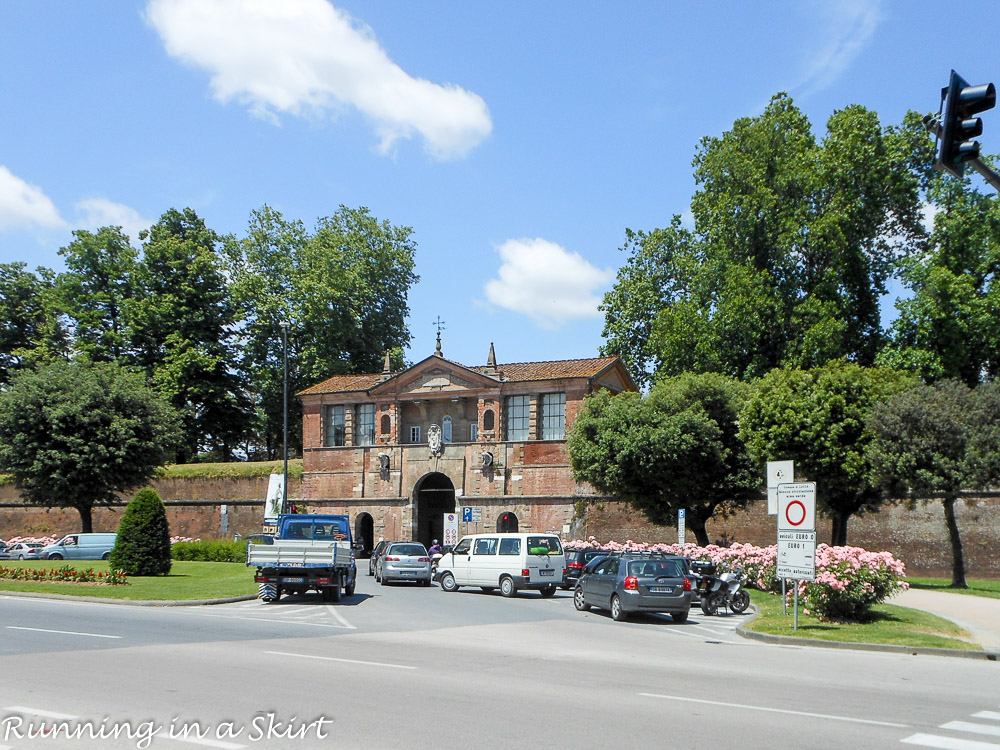 Lucca is the only Tuscan hill town with it's medieval wall completely preserved. It STILL surrounds the entire city. Most hill towns lost their historical walls at some point in history to development or "progress," allowing for modern conveniences and larger roads. Seeing the preserved wall is worth the drive.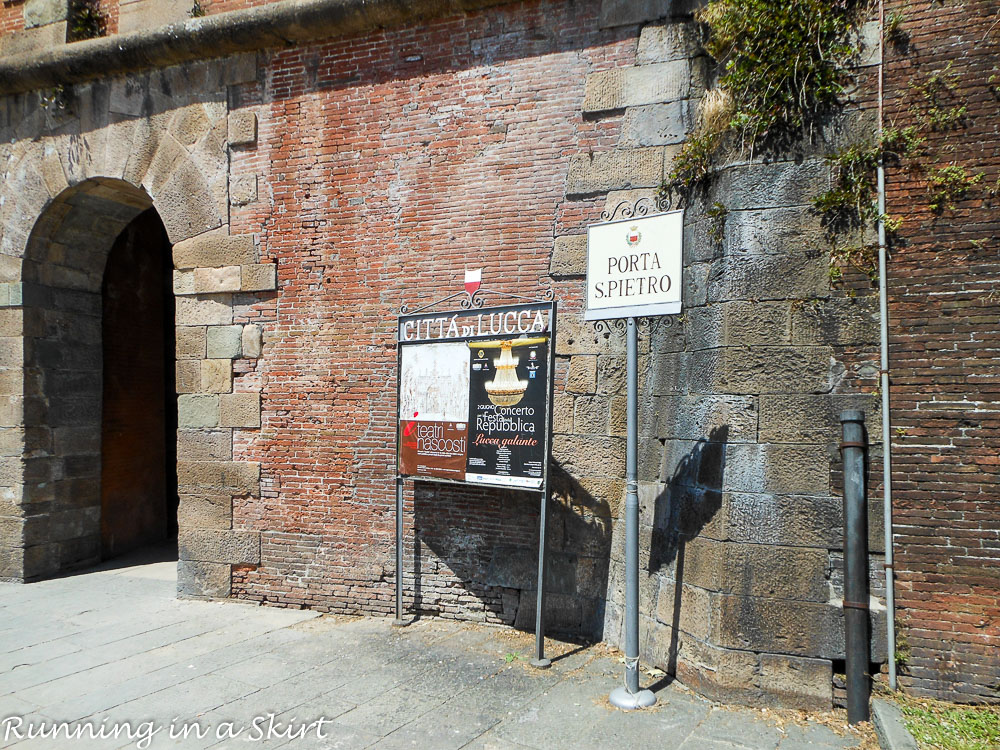 Lucca is lush and green. There is even a beautiful public trail on top of the wall where many people run and bike.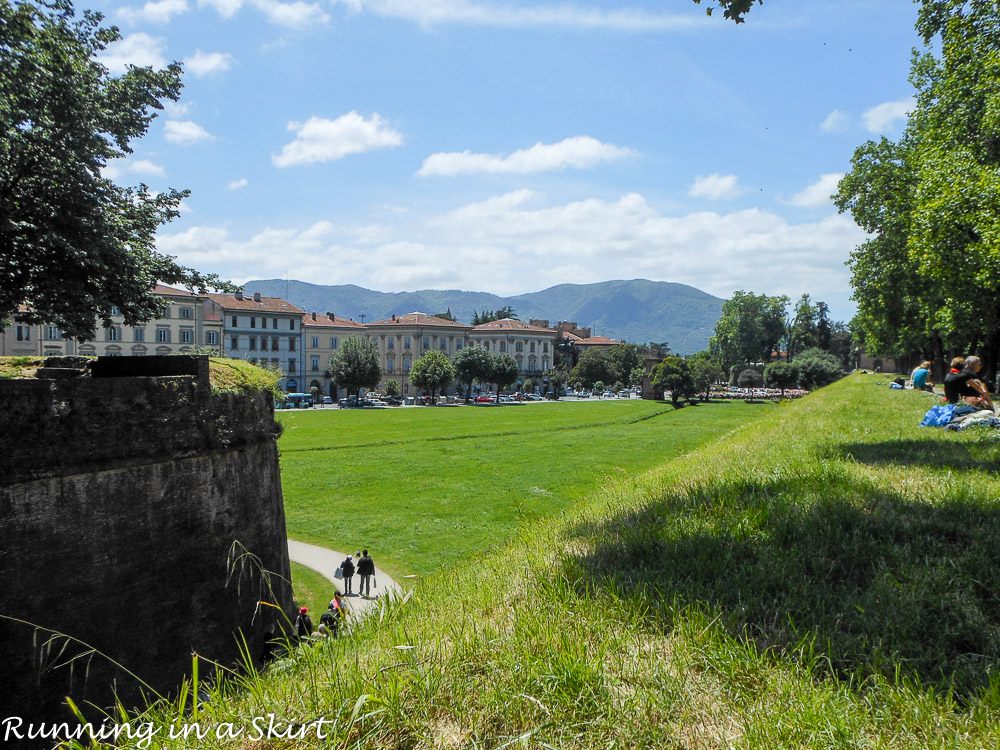 We take a nice stroll to stretch our legs and enjoy a Gelato in the sun. La dolce Vita…. (The sweet life…)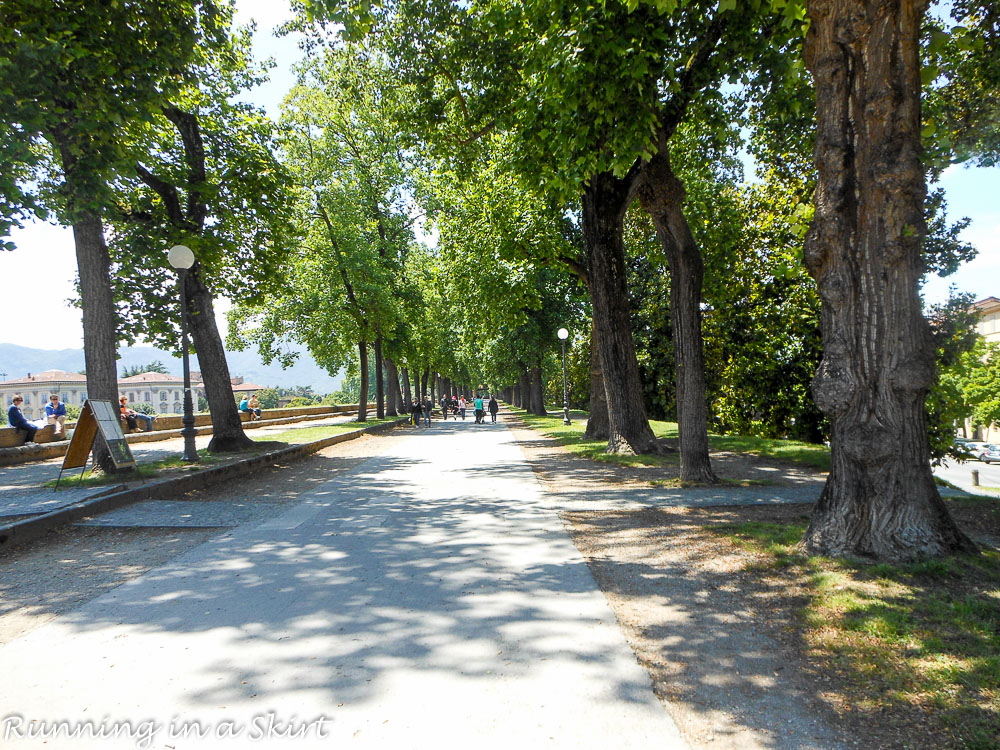 Volterra
After a relaxing early afternoon in Lucca we drive to Volterra. We don't know much about the hill town before we arrive, but it quickly gains a place in our hearts as a special place.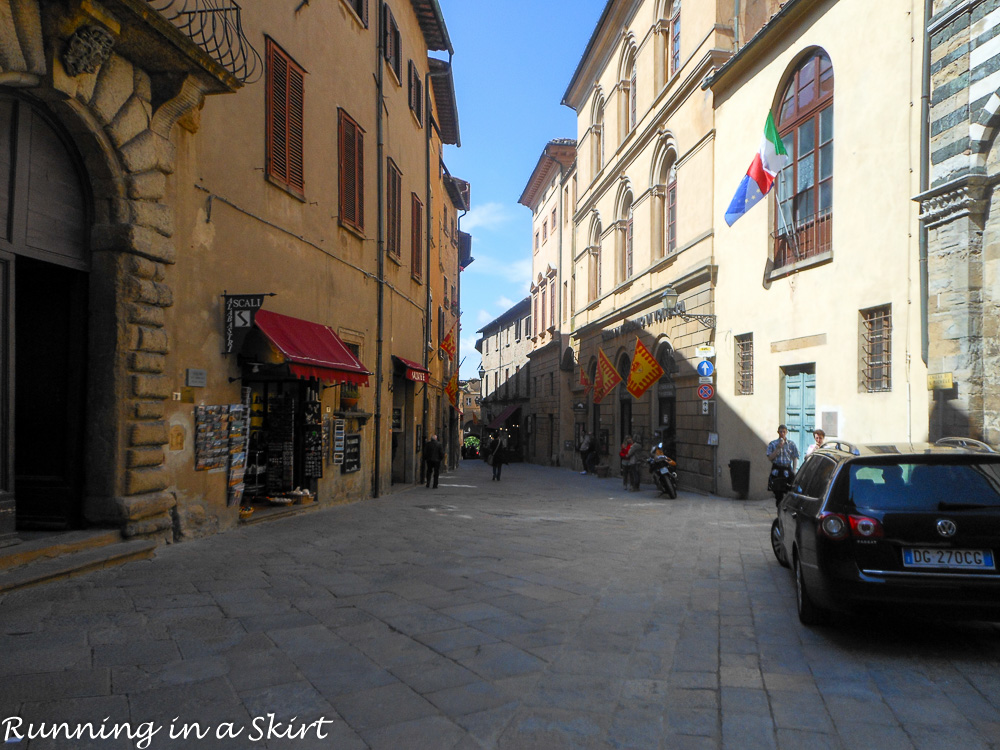 The town has cobblestone narrow streets, ancient buildings and an authentic medieval feel. It borders on being cheesy, but it stays just on the right side of believable. I keep thinking this is a totally legit "Medieval Times!"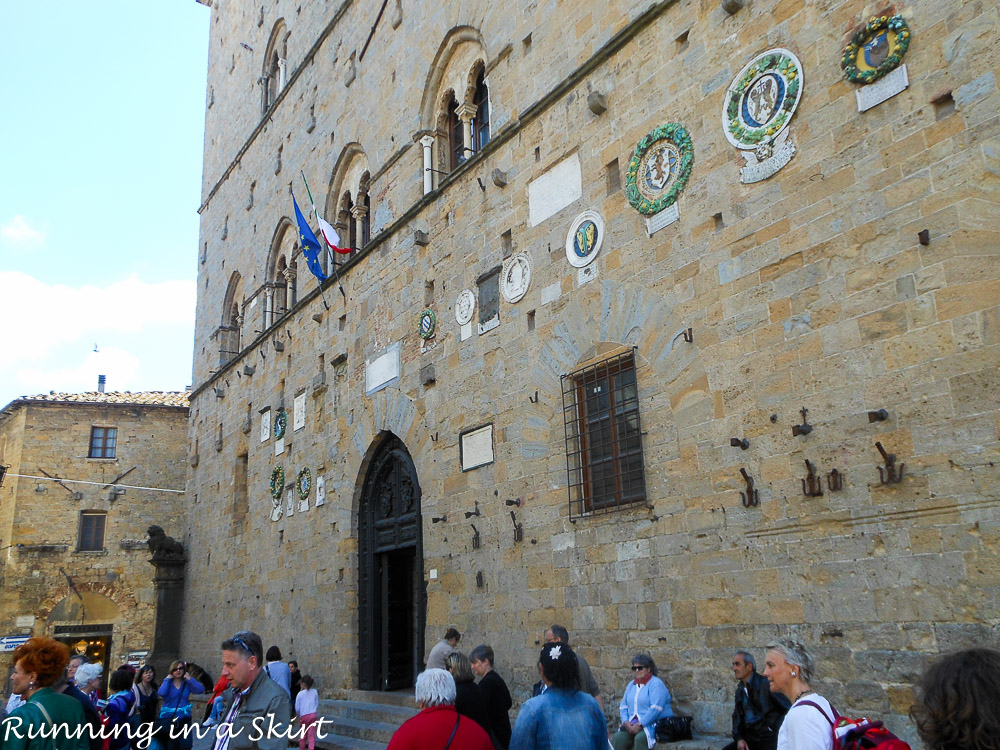 We meander into the city center and find ourselves in the city hall. A local invites us to climb a winding and twisting staircase to see the bell tower. Our host is anxious to share this remarkable view of the Tuscan hillsides surrounding Volterra.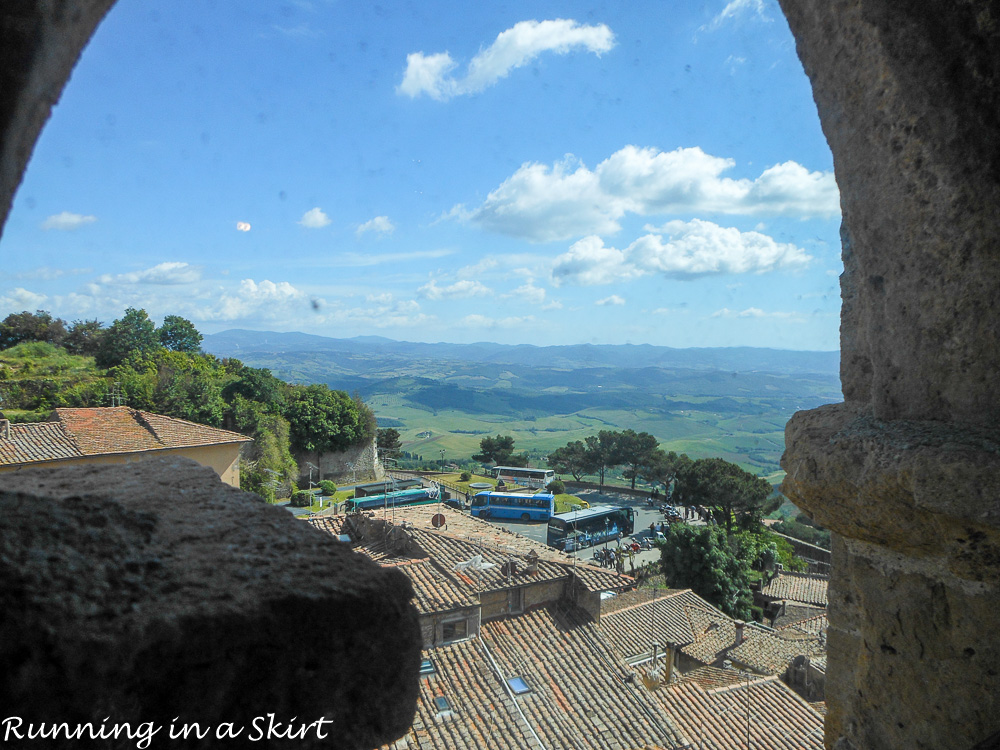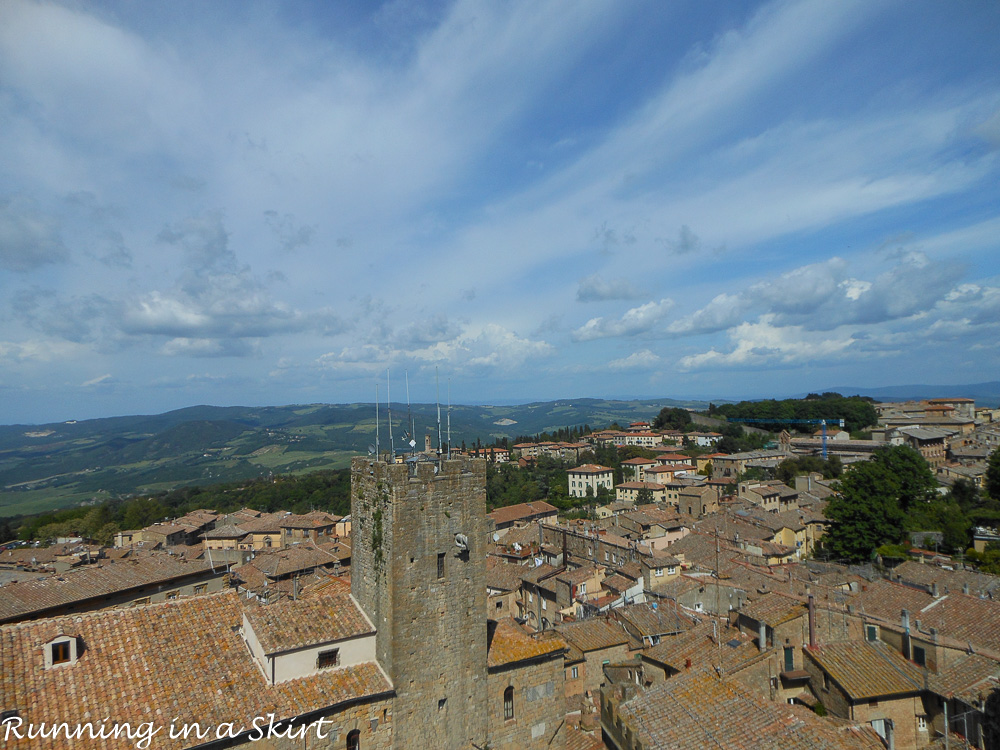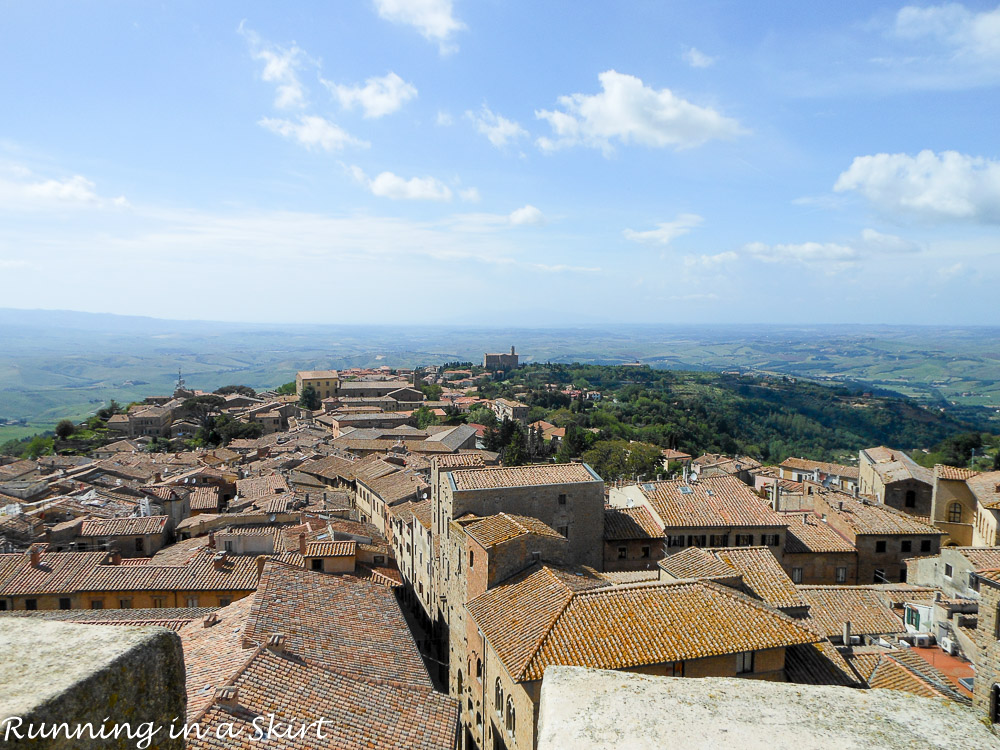 We take in the sights and quickly and carefully climb back down before the top of the hour bell chime. It's worth every awkward, cobbled step.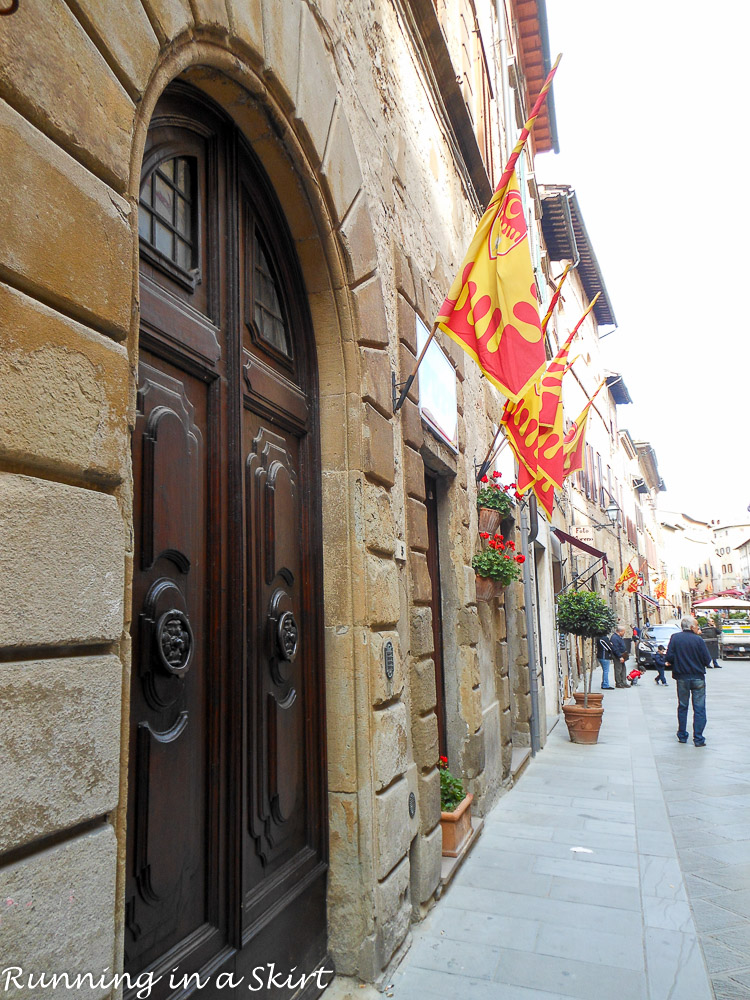 We discover the tiny streets and back corners of the town.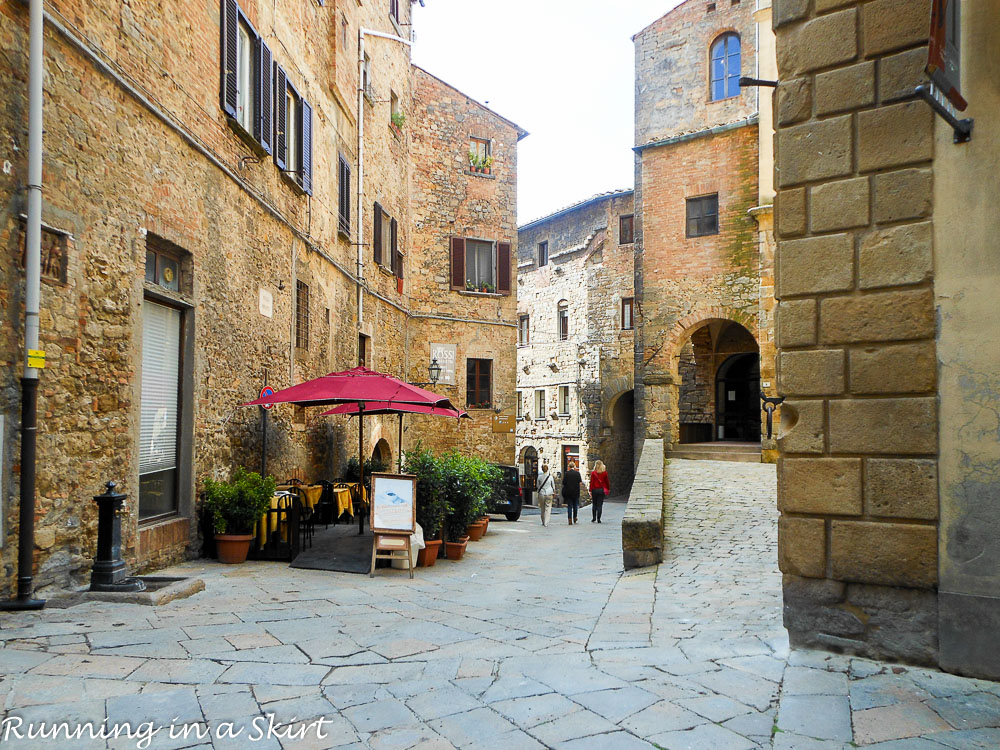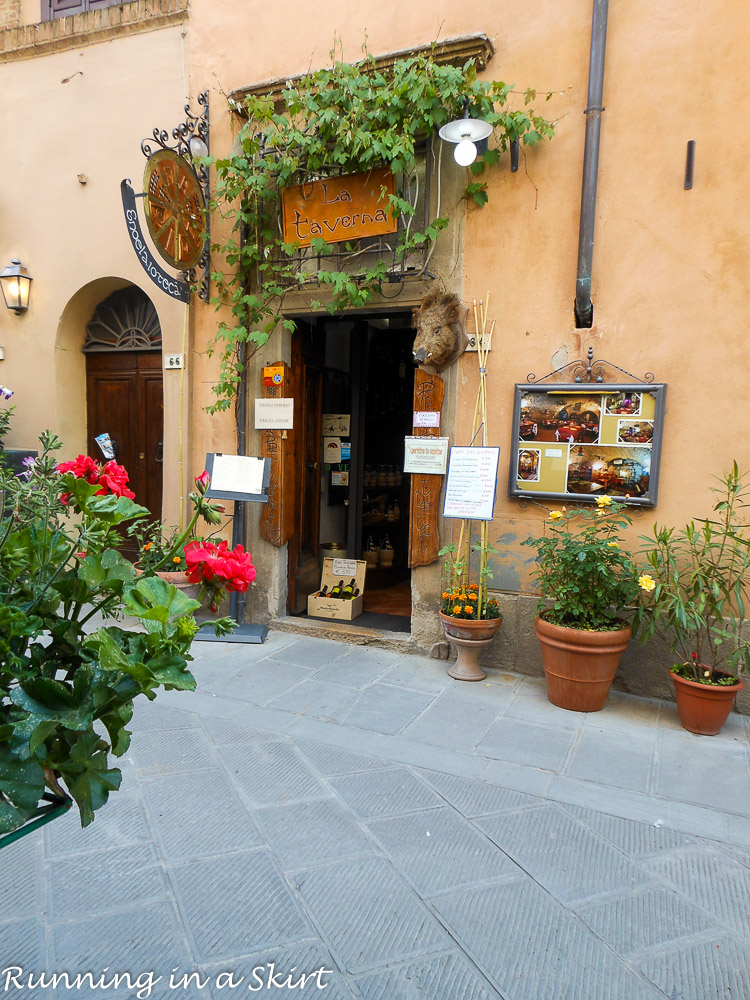 After a good amount of walking we decide it's time for a wine and snack break! When in Tuscany?! Right!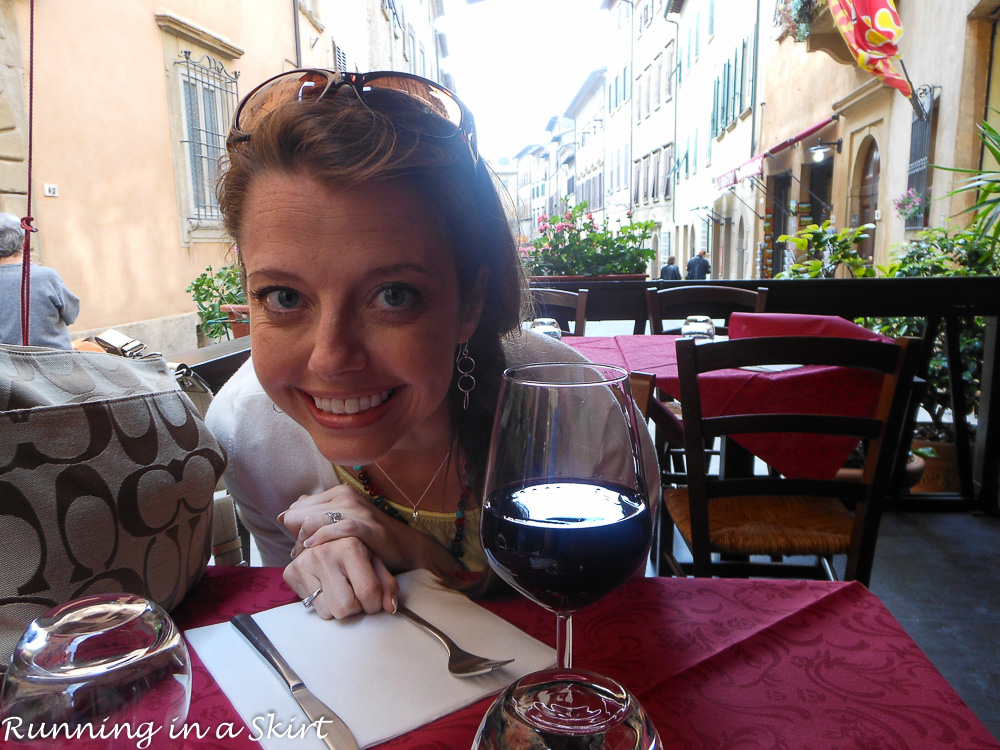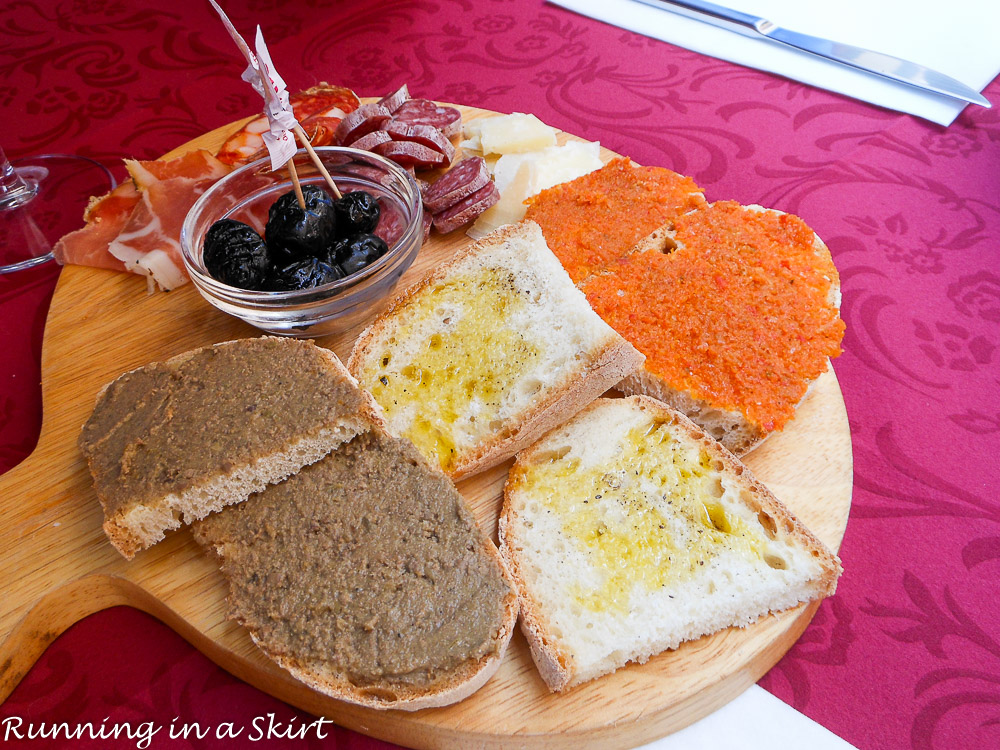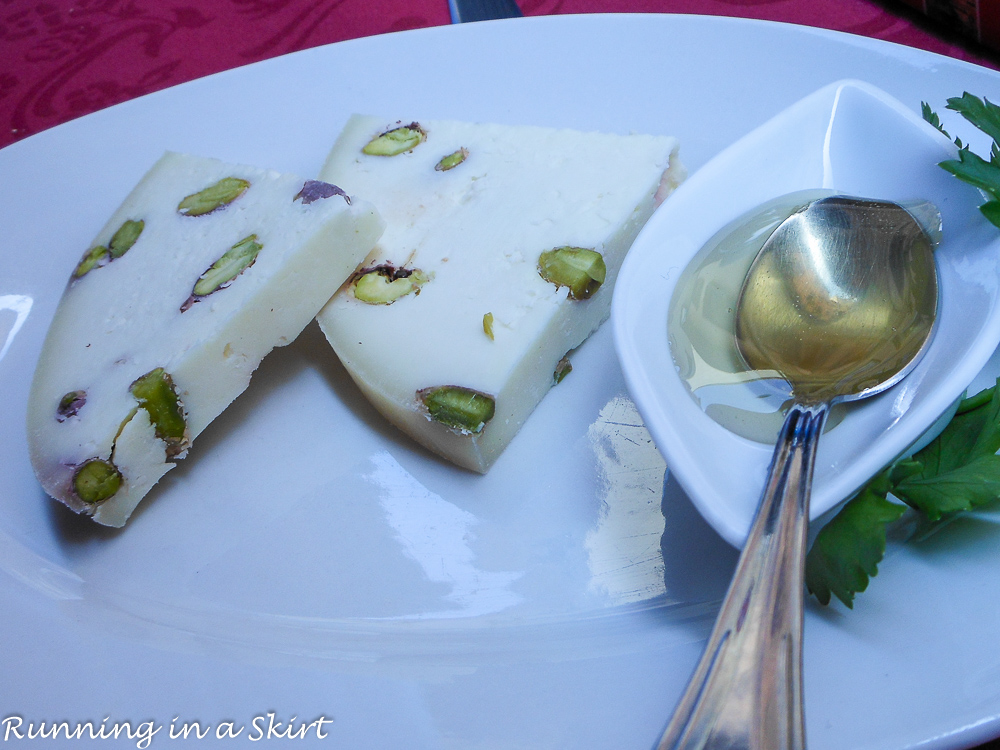 While we enjoy our pecorino cheese with honey and bruschetta plate, THIS happens.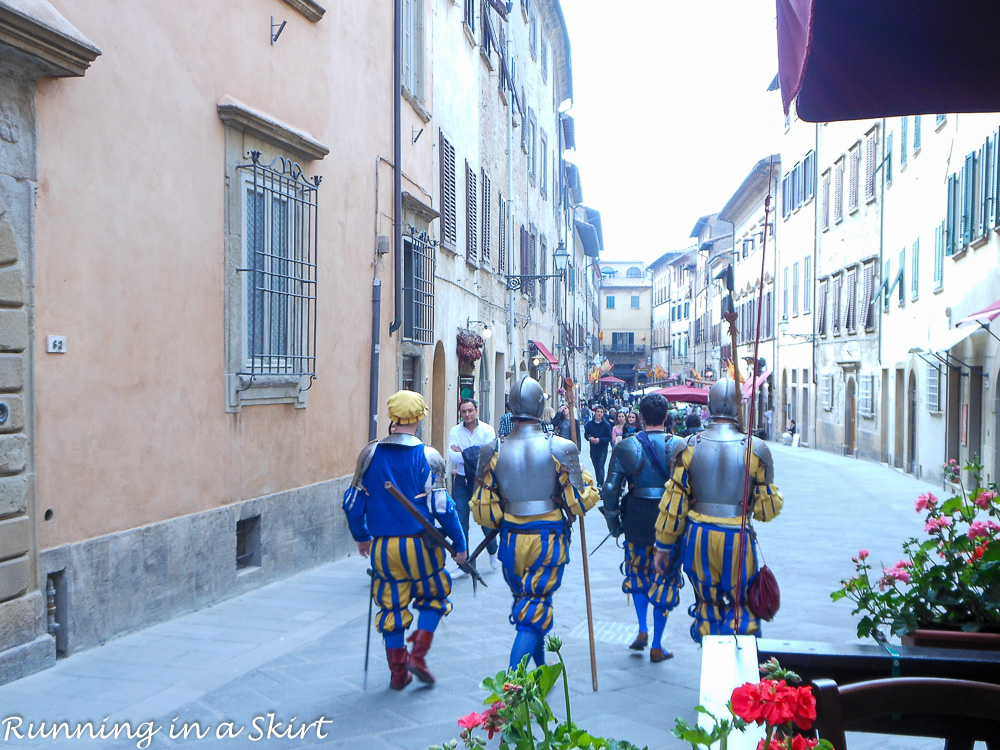 ….Locals walk by dressed in medieval knight suits. Talk about setting the mood. What century are we in?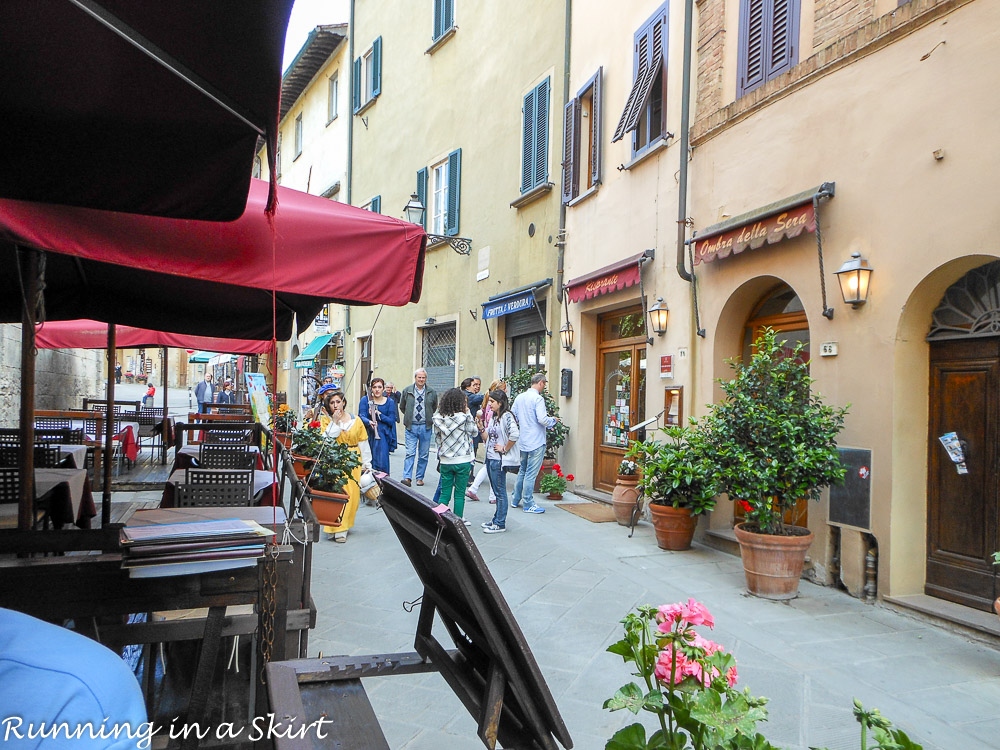 We linger over our snacks and drinks savoring every morsel. Tuscan food is all it's cracked up to be. After not too long, it is time to start driving to Cortona, where our villa is. We want to make sure we arrive before dark. Driving in Tuscany is tricky enough in the daylight.
After several more hours of winding roads, we arrive at our villa just outside of Cortona.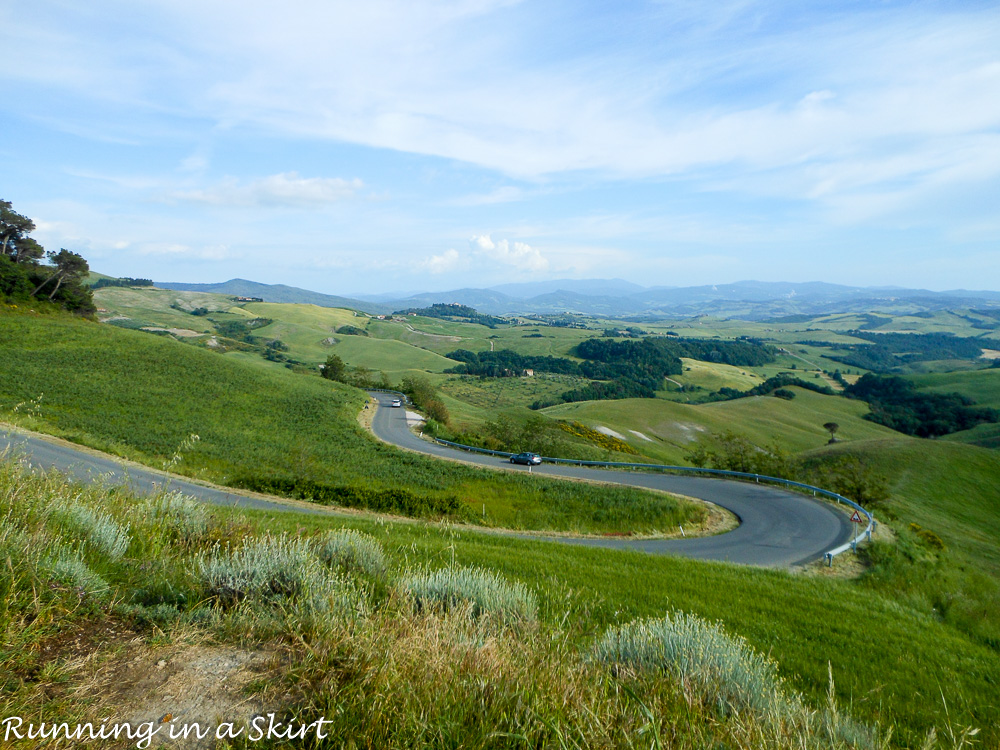 We are too exhausted to go out to a full meal, so we order a salad and a pasta dish to share from the kitchen. The chef is amazing and we adore both dishes.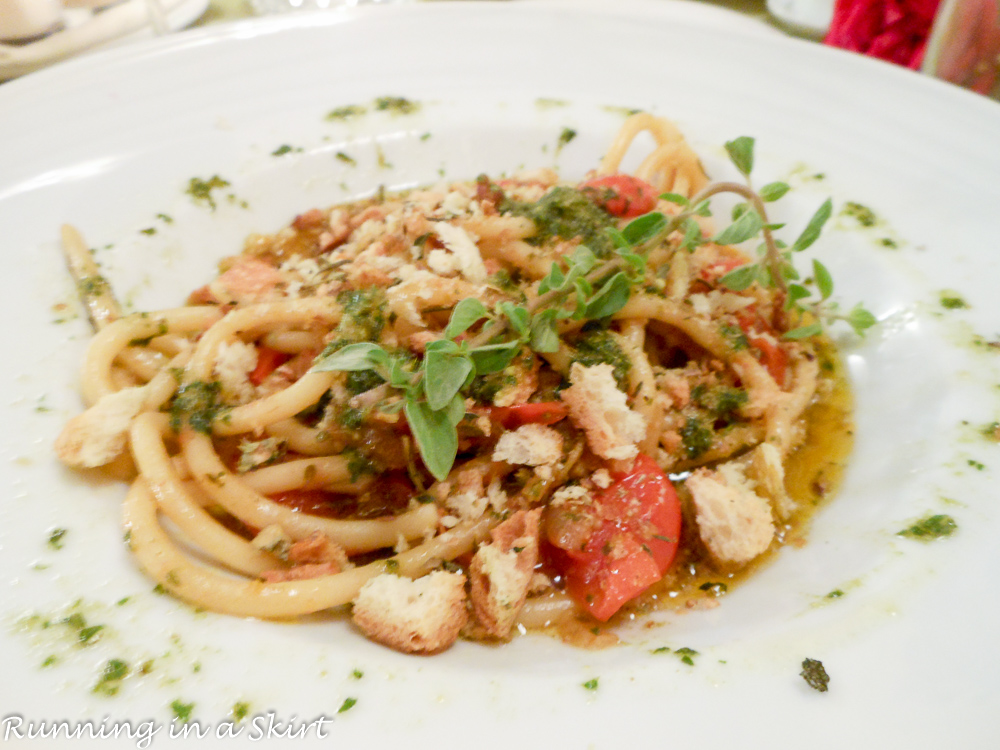 The Homemade "Pici" Pasta is the best.
Cortona
So far driving the Tuscan Hill Towns has been incredible and we can't wait to see more. The next morning we drive into Cortona. I recently read "Under The Tuscan Sun" and am so excited to see the place that inspired such an enchanting story.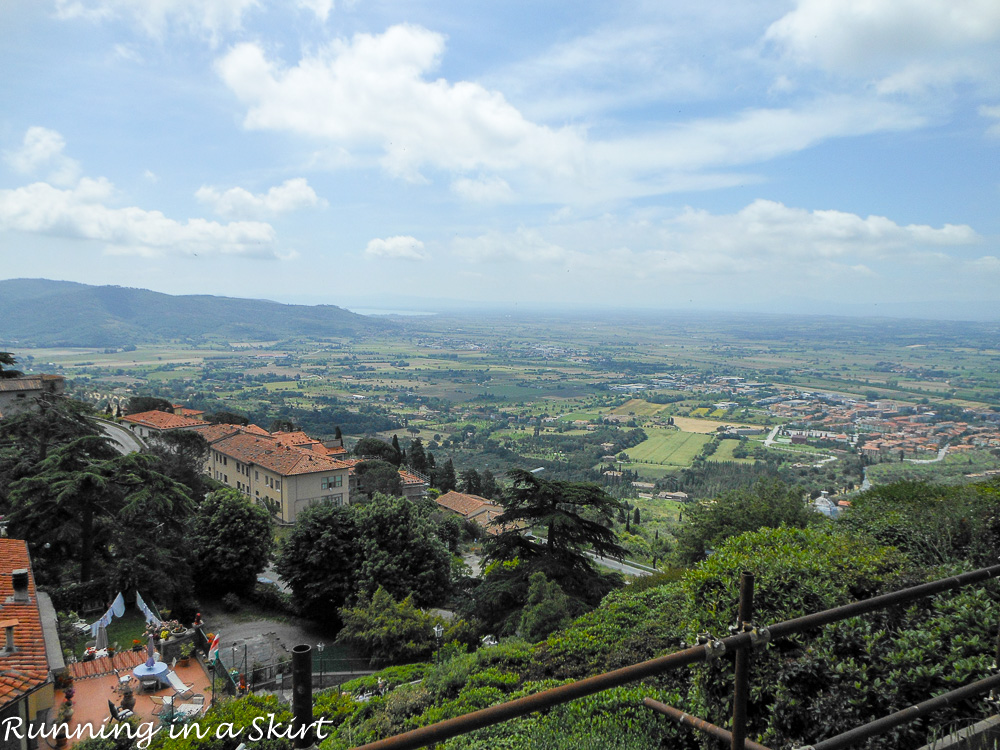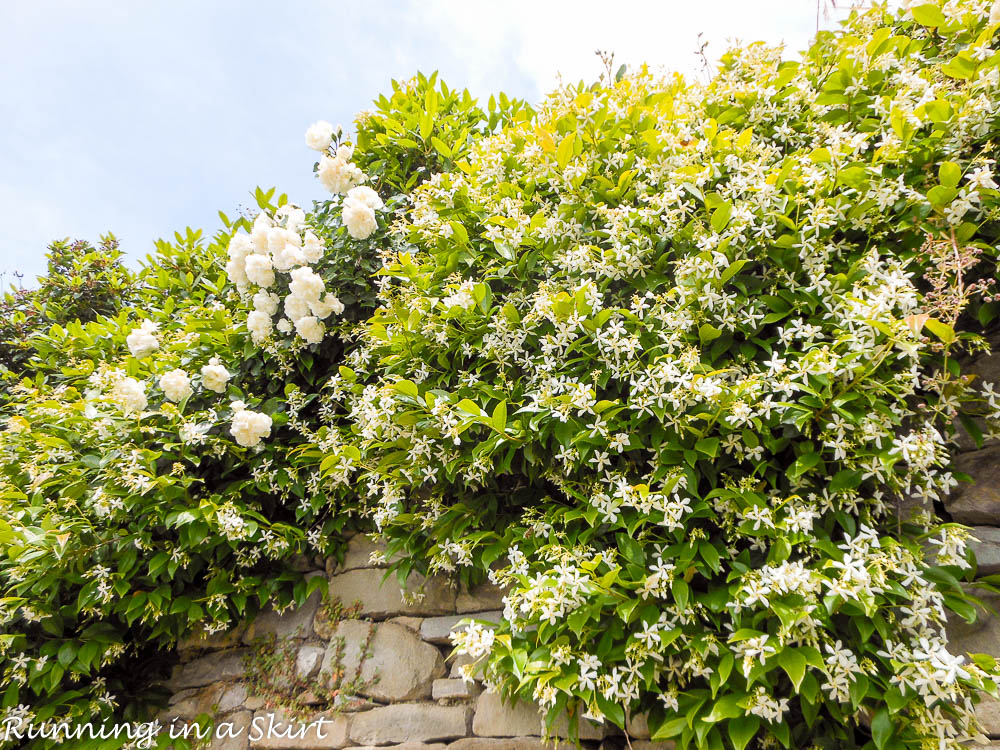 It doesn't take long for me to decide that this place is a little slice of heaven on earth.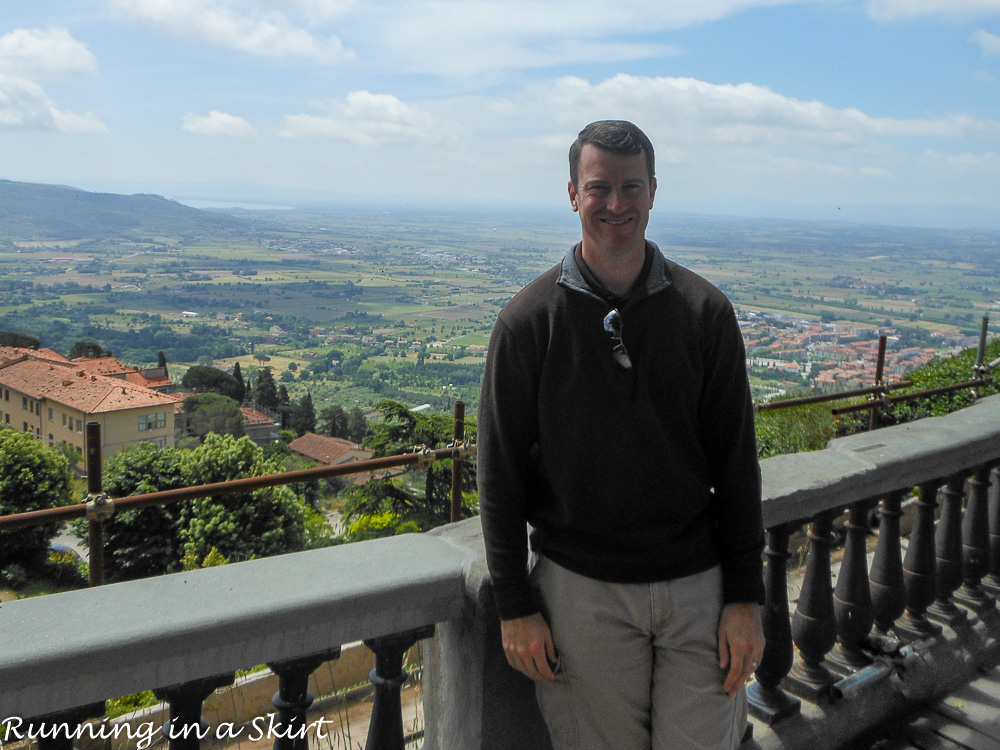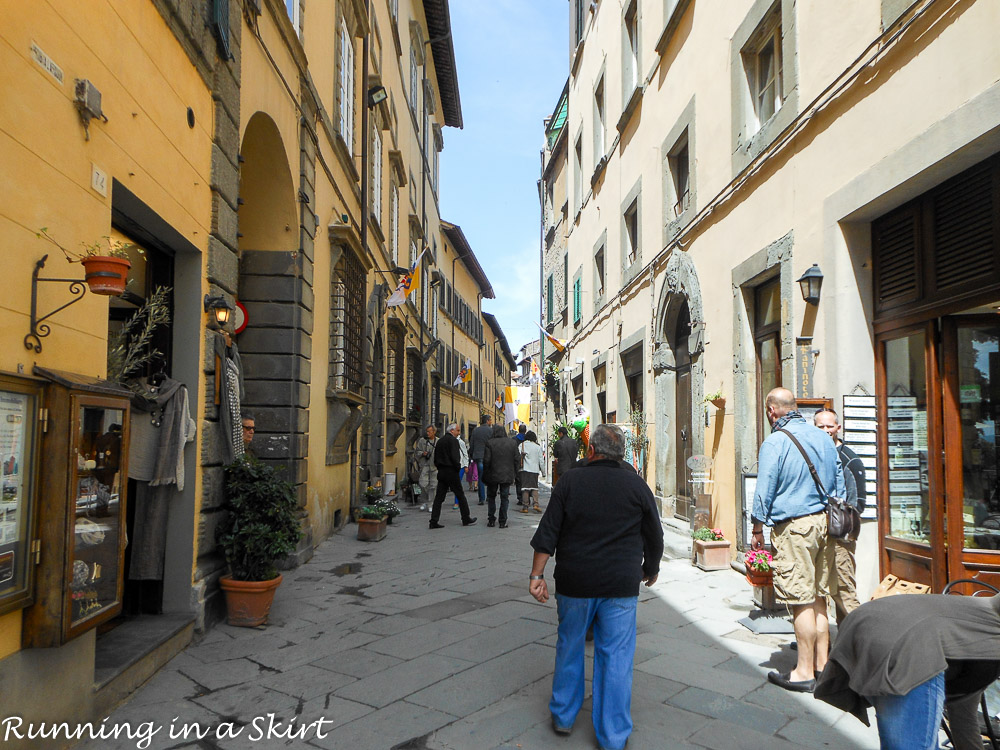 Cortona has a similar feel to Volterra, very medieval. It is filled with cobblestone streets, ancient buildings, charming shops and restaurants.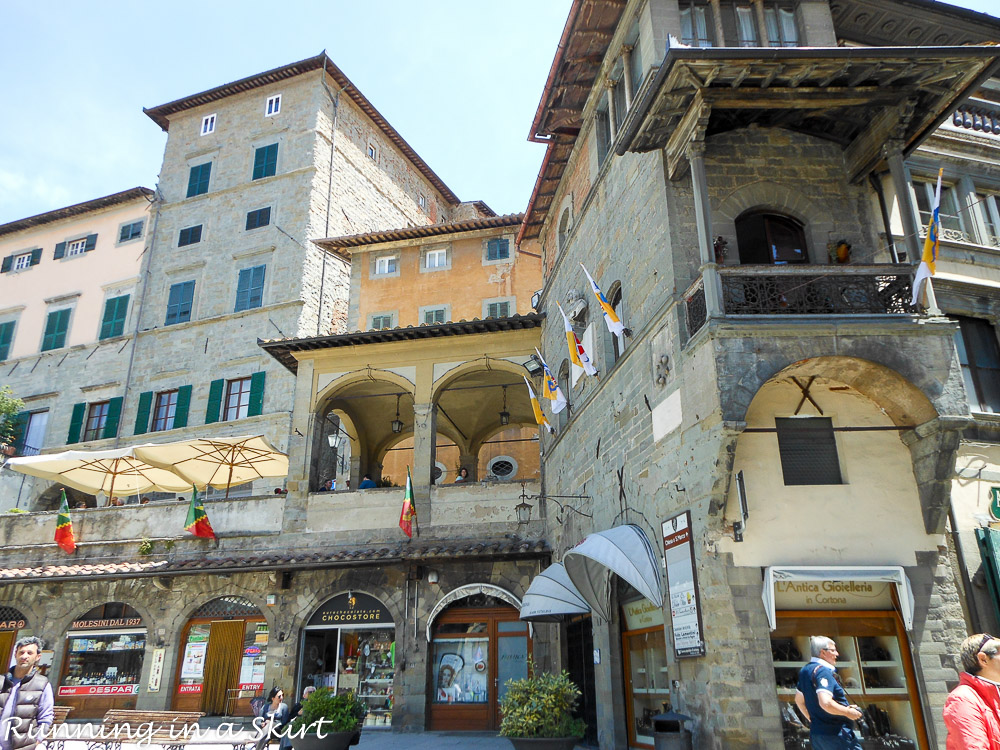 There is even a medieval style market in the center of town.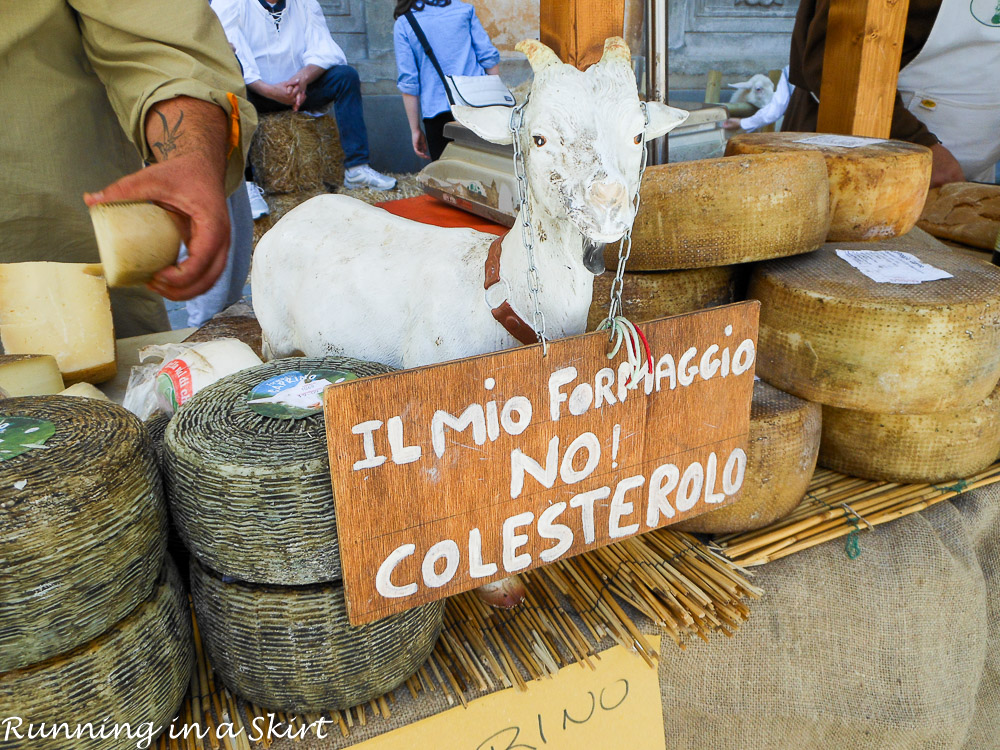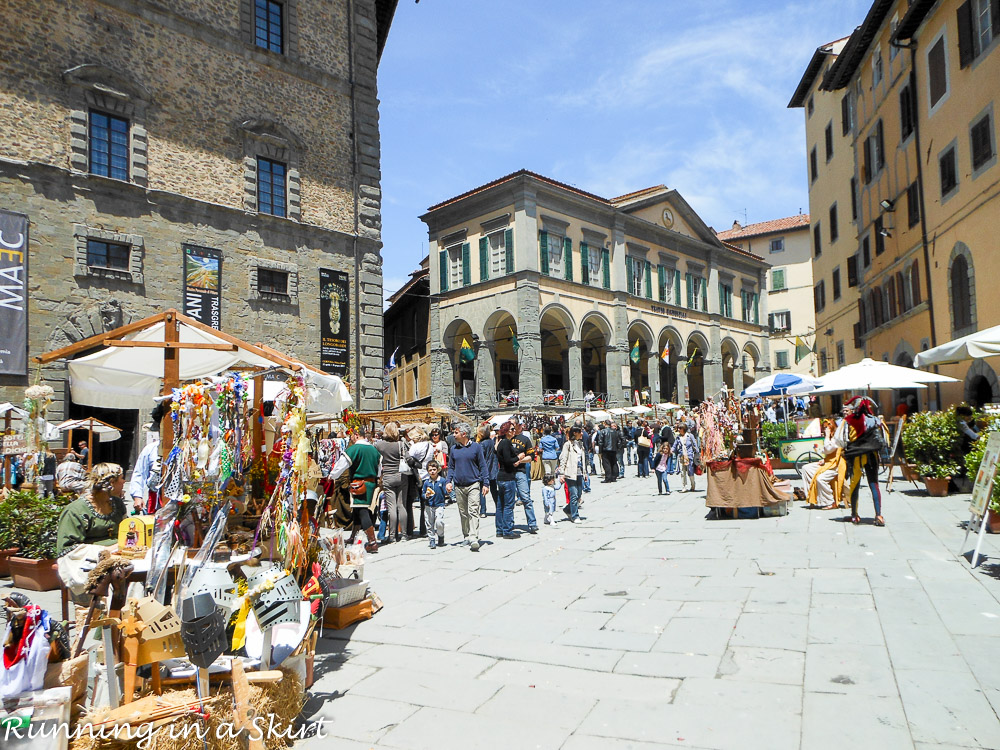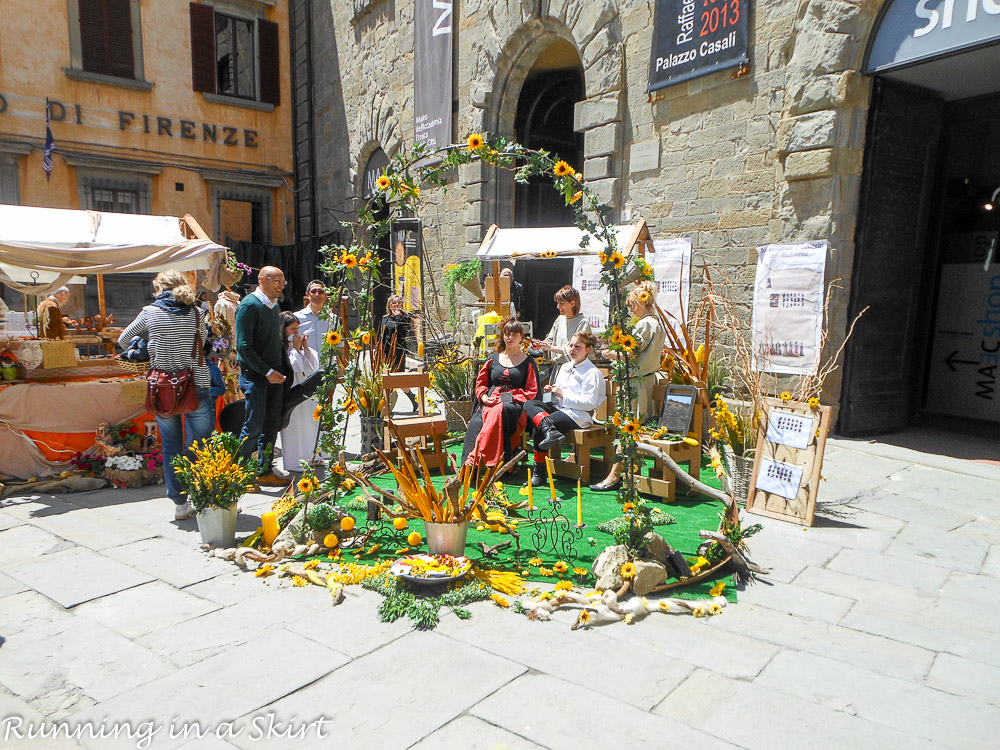 We snack along the way… which means more cheese for me… and a HUGE plate of cured meat for the hubs. I think he is secretly grateful he is with a vegetarian and doesn't have to share this!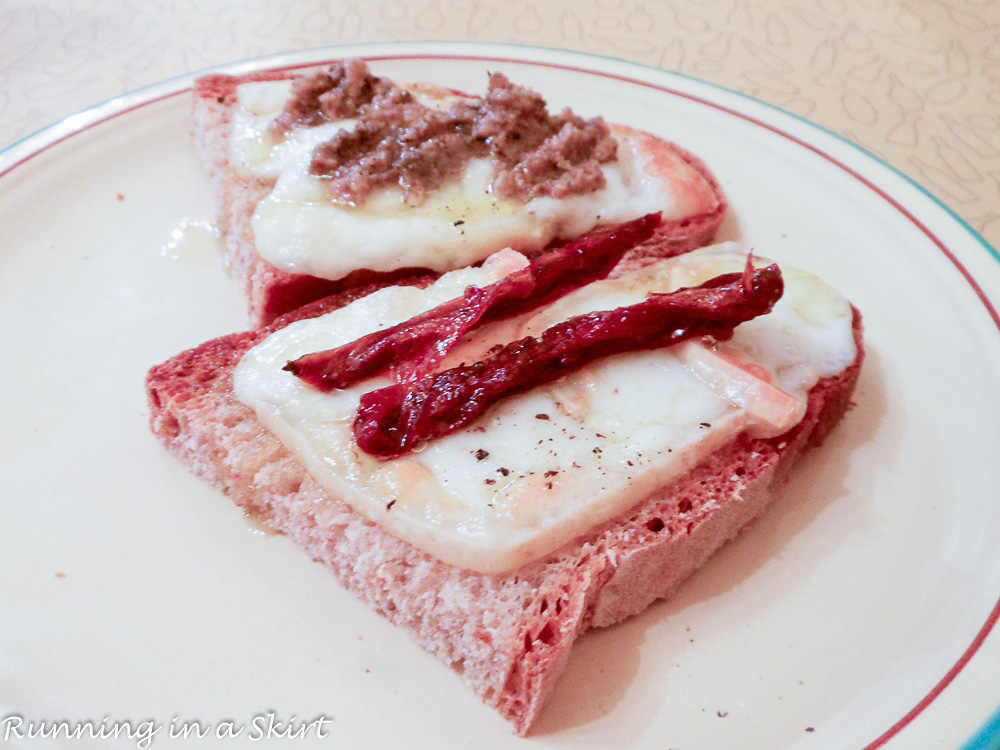 And of course we have more gelato. By this point in the trip we have a full fledged "gusti" addiction. (Gusti is a scoop of gelato)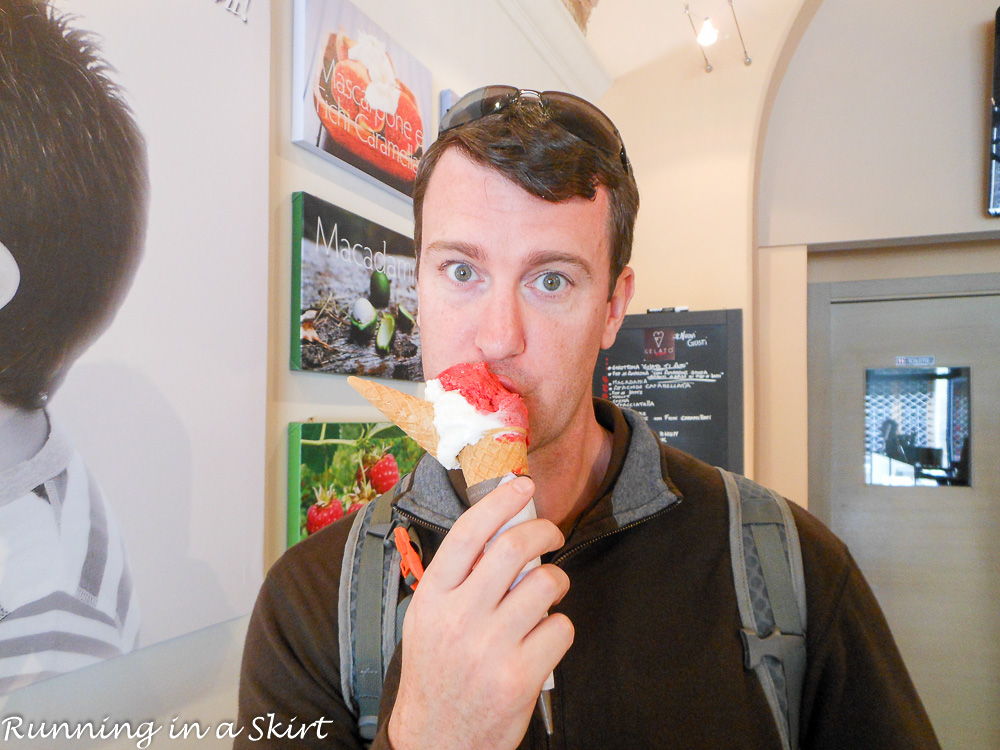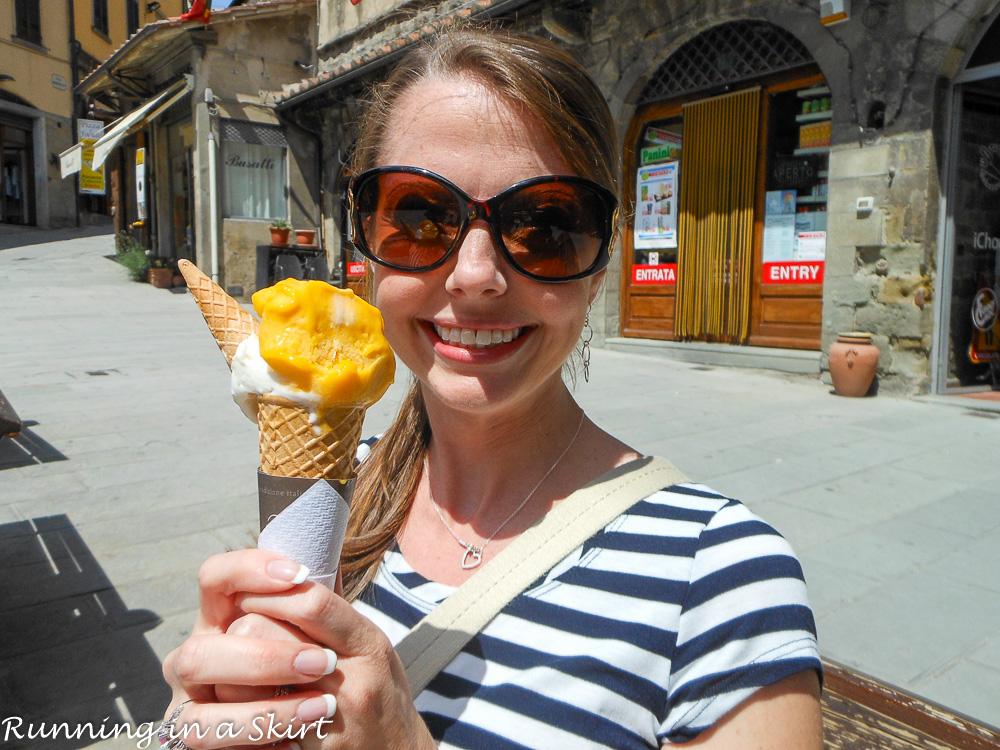 We even try fresh Italian cannoli. Neither of us have ever really liked them before, but after these, we are convinced they are dessert heaven. Shear sweet ricotta bliss in a crusty shell.
Does anyone know where I can get one of these in Asheville?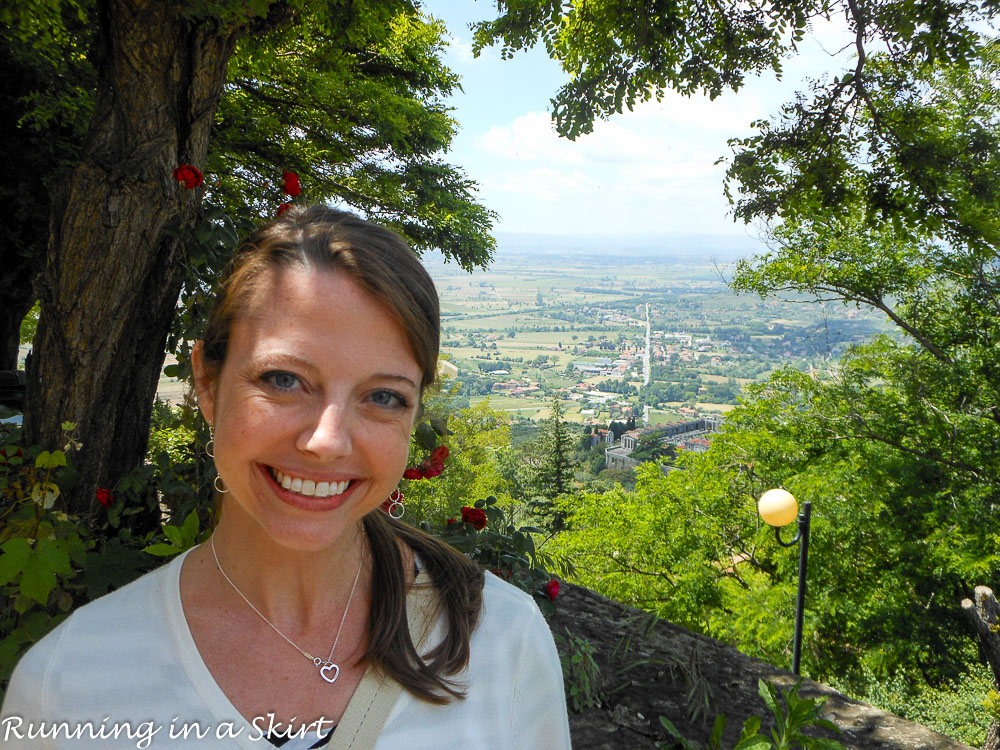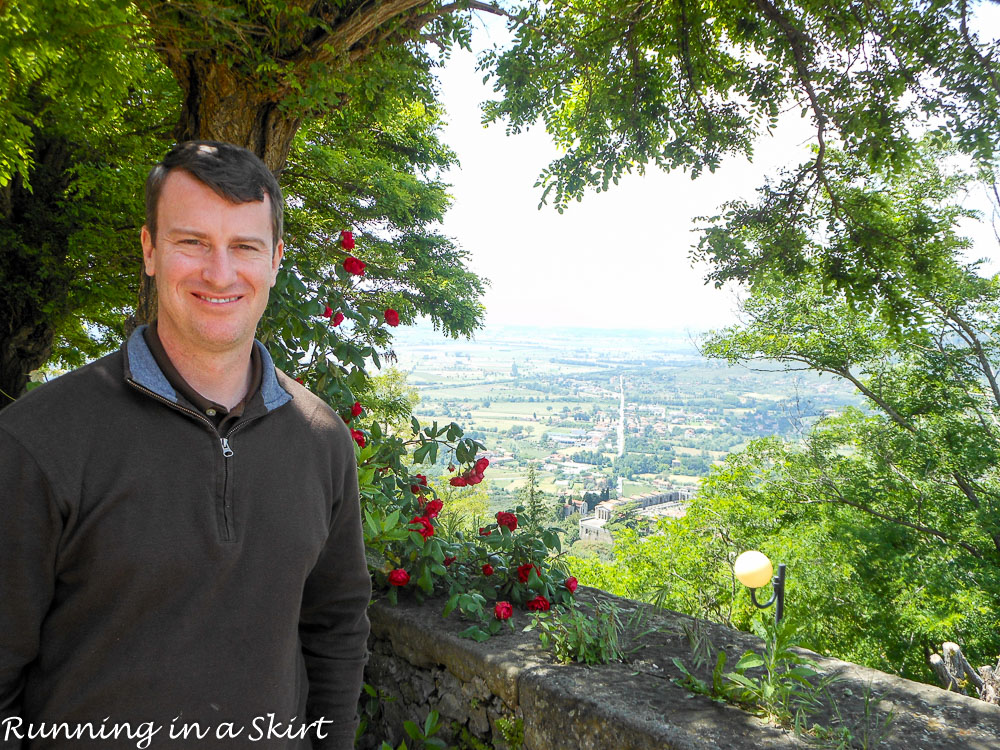 Do Tuscan Hill Towns get any better than this? I don't think so!
Pienza
After a long day of exploring Cortona we go back to the villa for a few hours to rest and regroup. We can't stay still for too long because I have one thing on the mind… CHEESE!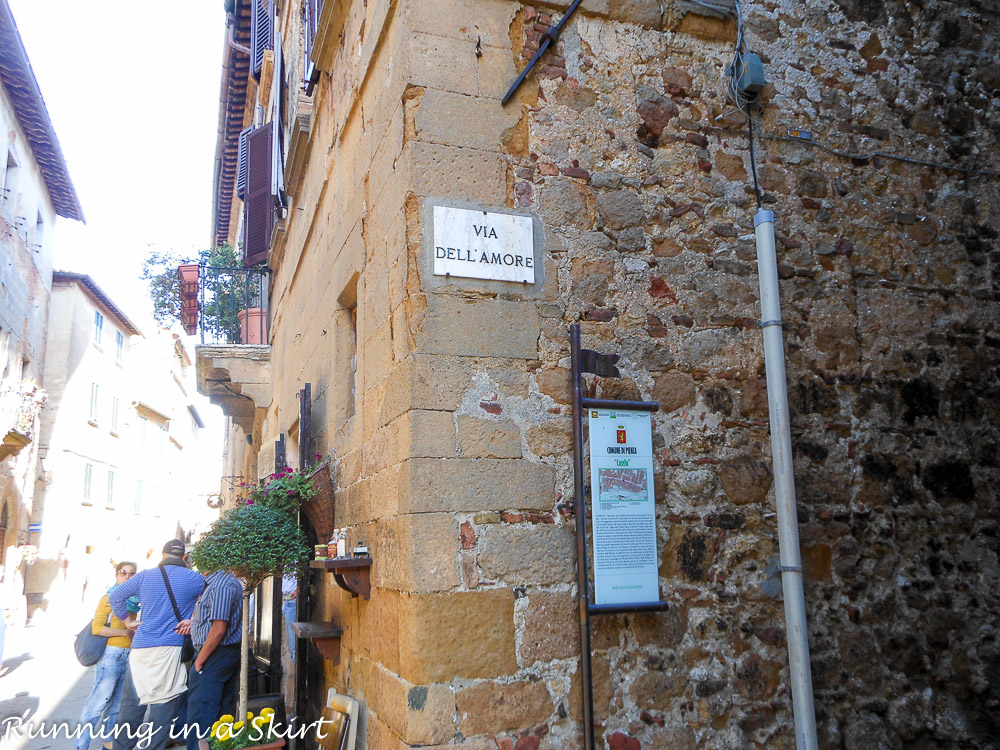 Pienza caught my eye in tour book for it's famous Pecorino cheese. The villa staff tells us it is a thirty minute drive from where we are staying, so we go back out for an early evening on the town.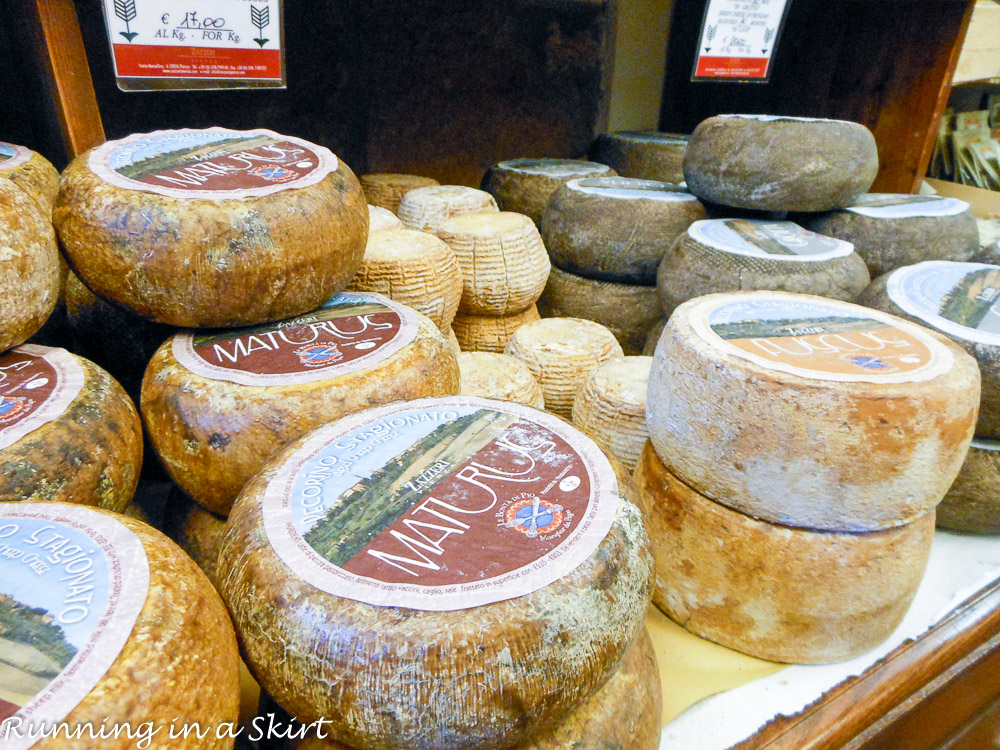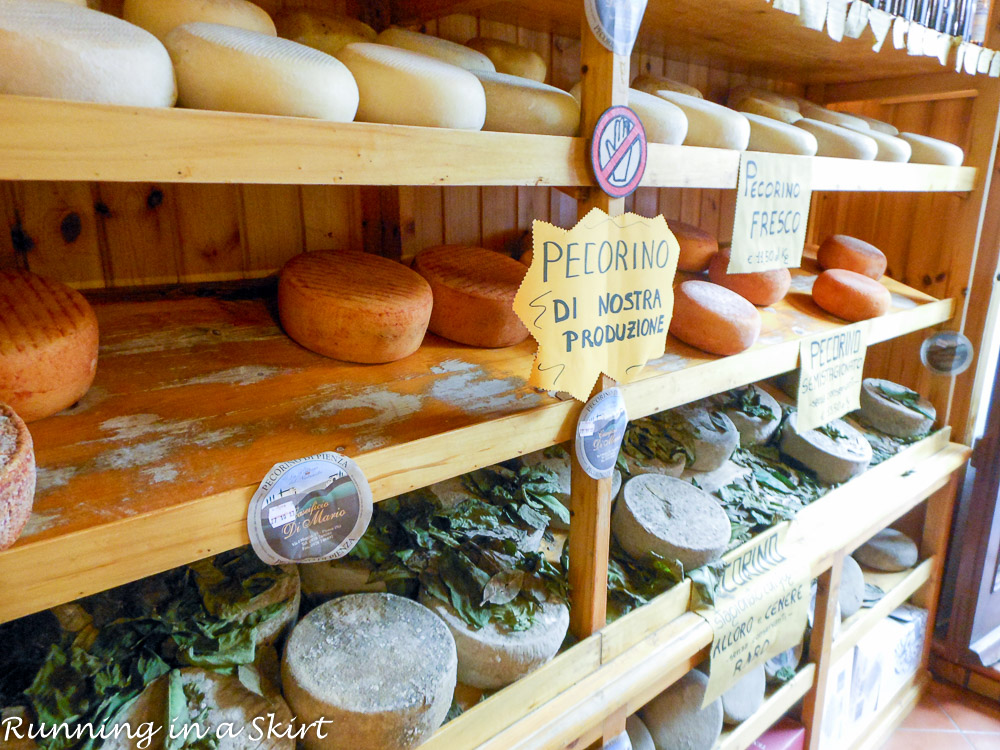 Cheese, Cheese and MORE CHEESE. Pienza is very small with a similar medieval hill town vibe as Cortona and Voterra but all the shops just have cheese. It is awesome.
We sit down at a small shop to order a sampler of Pecorino cheese… with Pecorino fondue.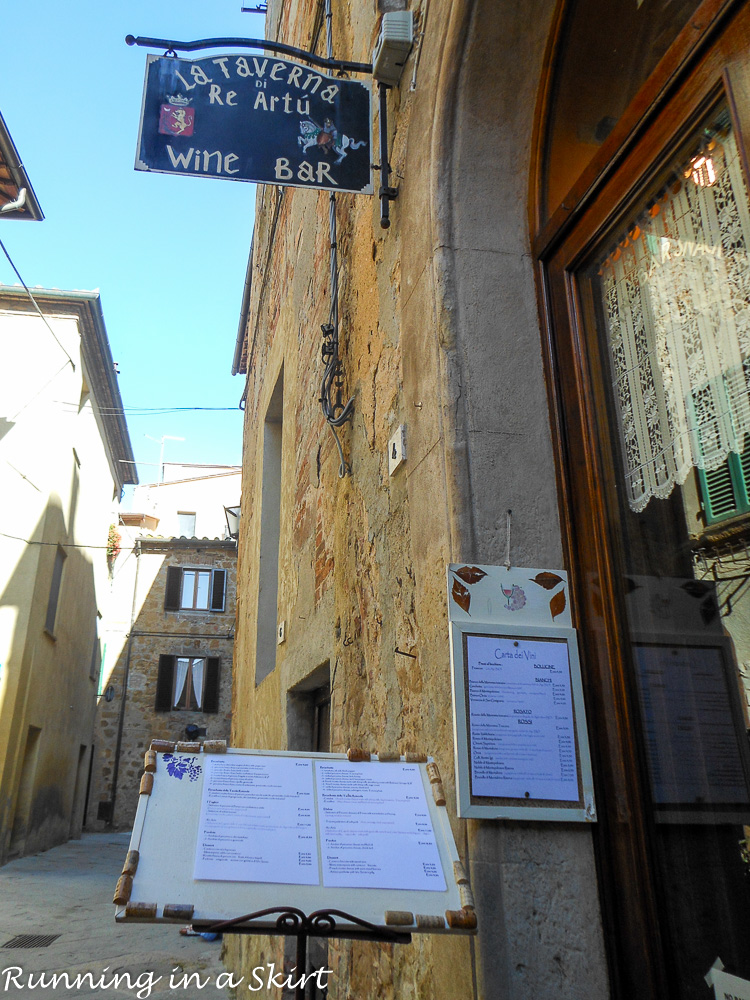 It is so good, I forget to take a before picture. I literally dip my cheese in cheese. Fresh Italian cheese is ridiculous and makes me very happy.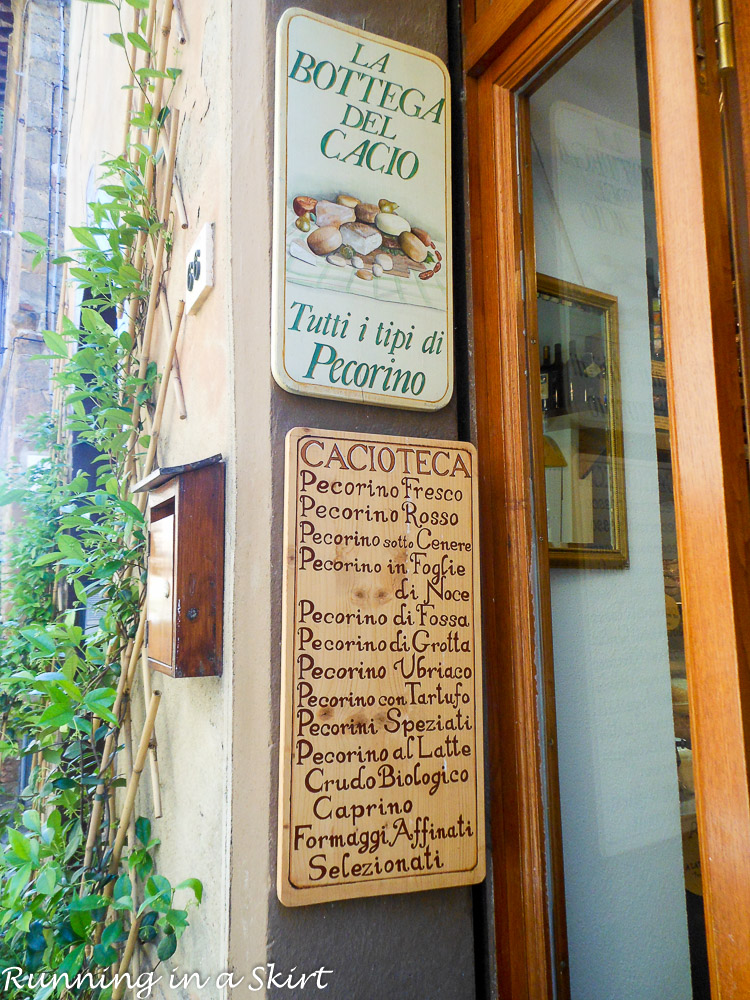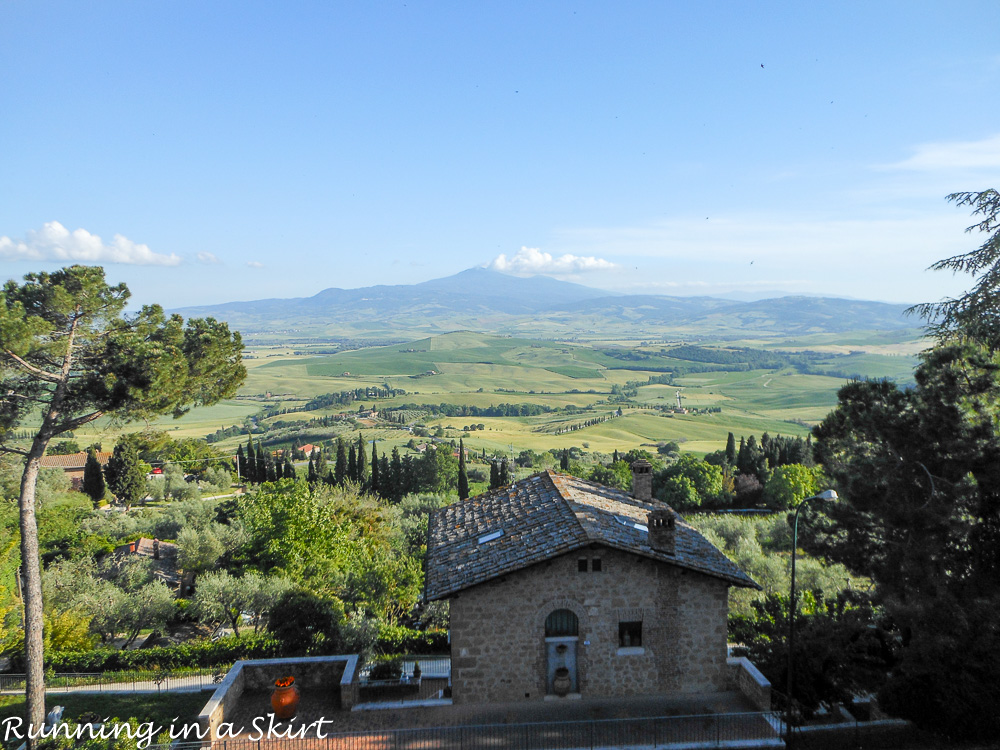 Back to the hotel in the Fiat… that's a wrap for the day!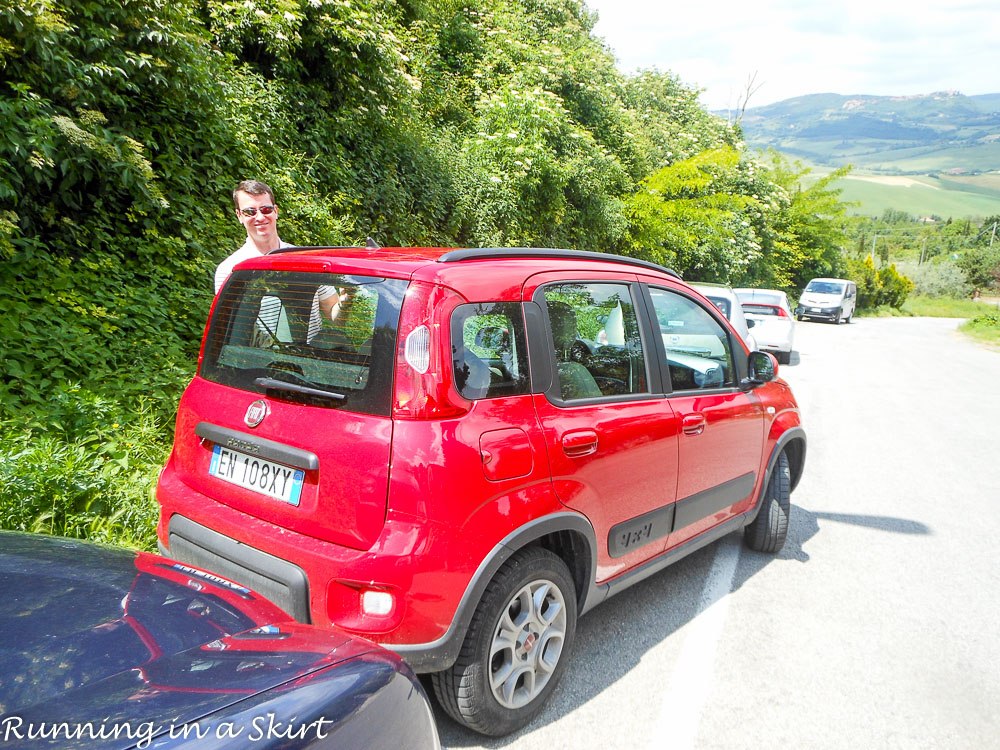 Can we take the Fiat home in our carry on?
Montepulciano
After a relaxing evening and morning we hit the road to do more exploring! We have a busy day planned with a stop in another hill town, Montepulciano, a vineyard tour and an olive oil factory tour… Whoa. We just don't want to miss a thing.
We arrive at Montepulciano and see more beautiful vistas, cobblestone streets and winding alleys. These towns all look like something out of the movies. They each have small things that make them memorable and standout.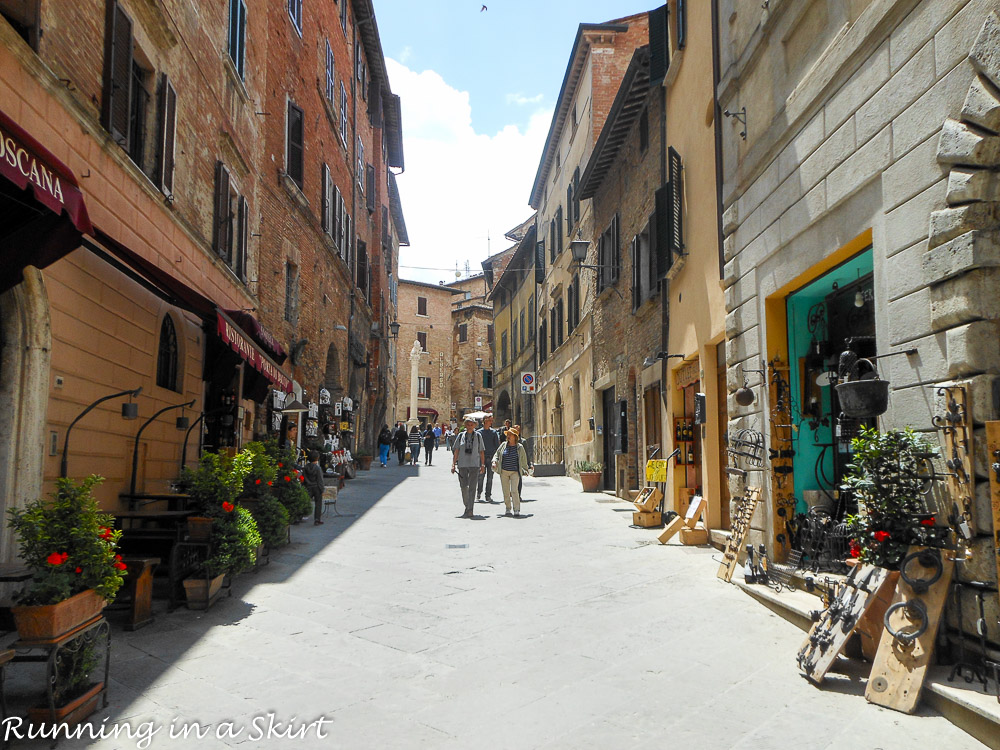 Montepulciano is known for it's wine production. The surrounding hillsides are covered with vineyards. Many of the stores in town have tastings and sell wine from the surrounding region.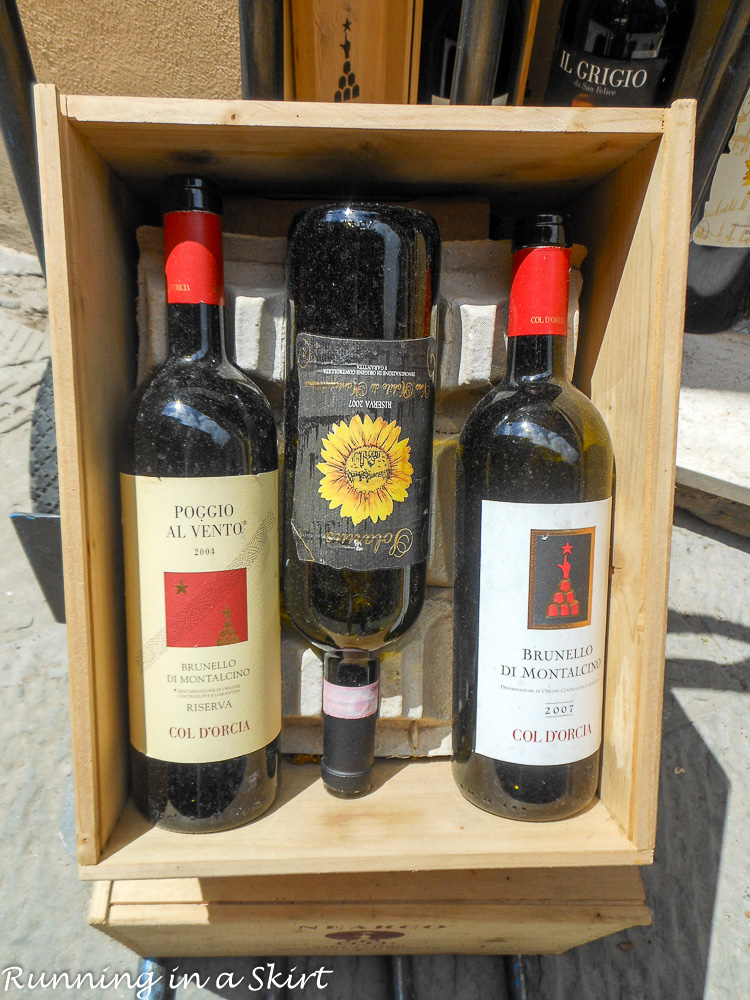 Some of the stores have wine barrels, olive presses and aged pecorino cheese in their basements that we tour.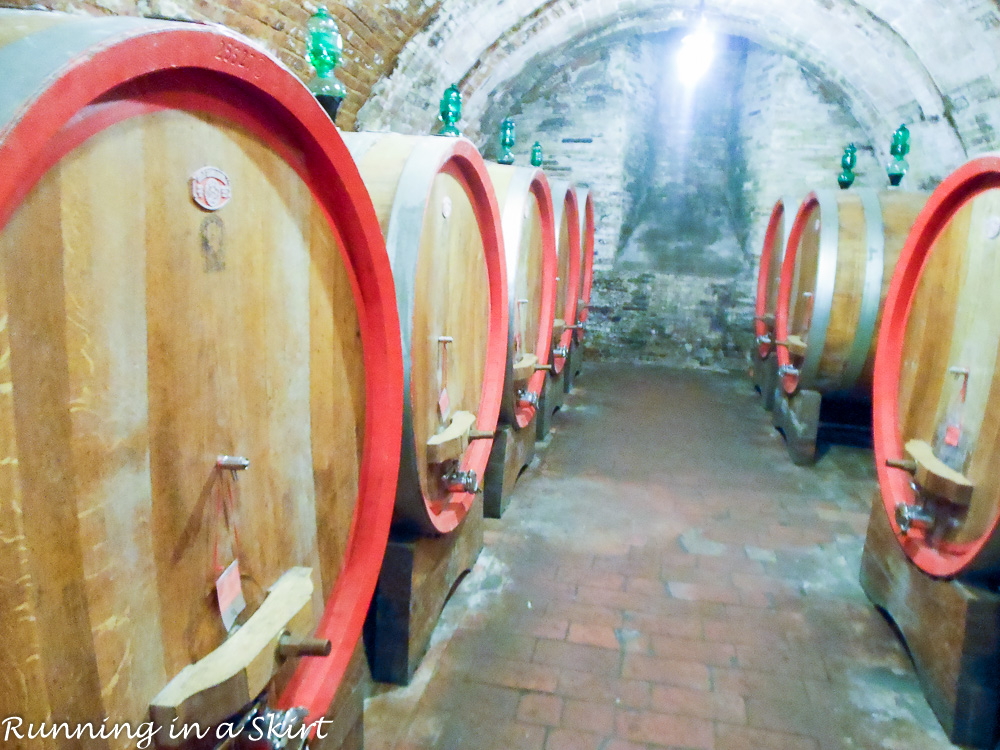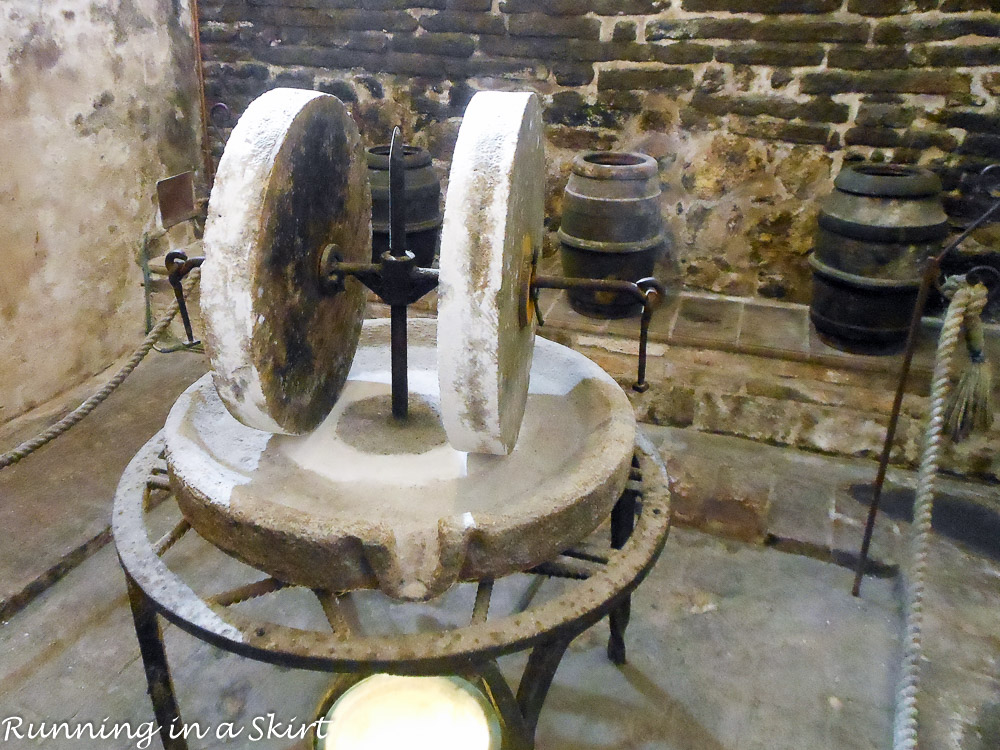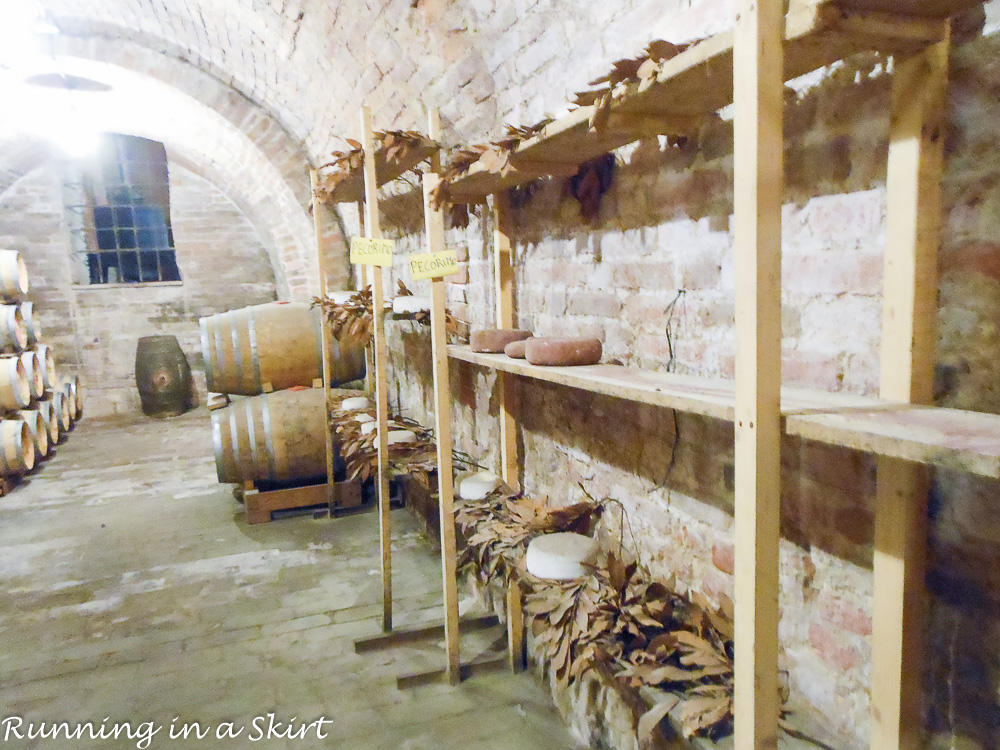 The vistas and views are so astonishing that we grab a basic sandwich to enjoy lunch with million dollar views.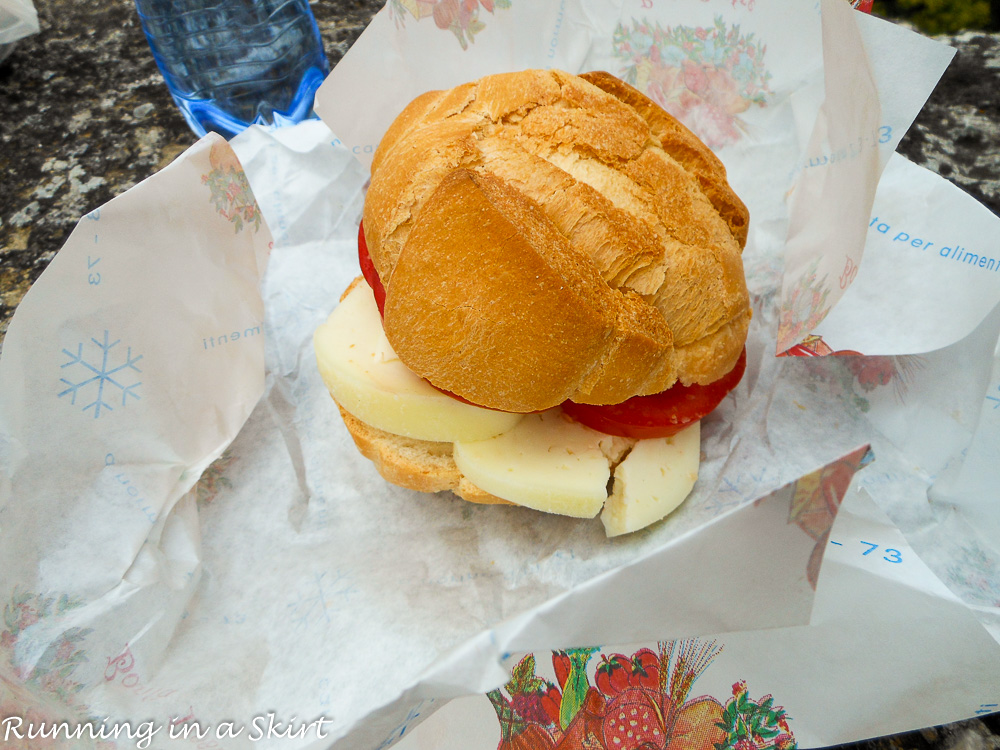 After lunch are ready for the wine tour at nearby Avignonesi.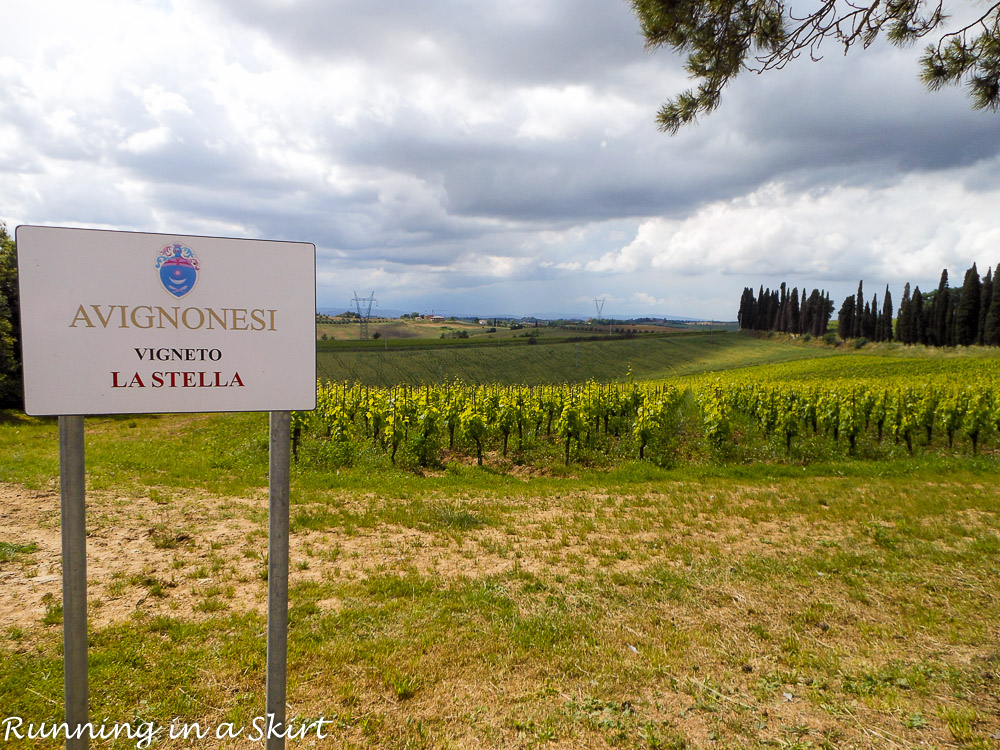 We learn how the vineyard is converting to organic farming practices and see how they age different types of wine.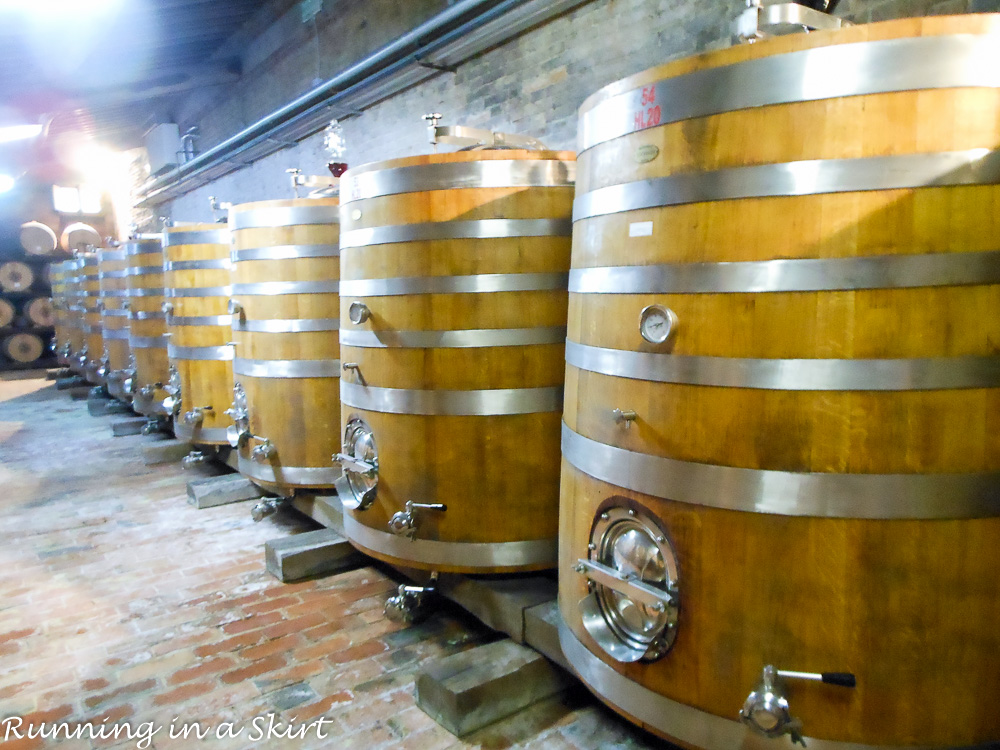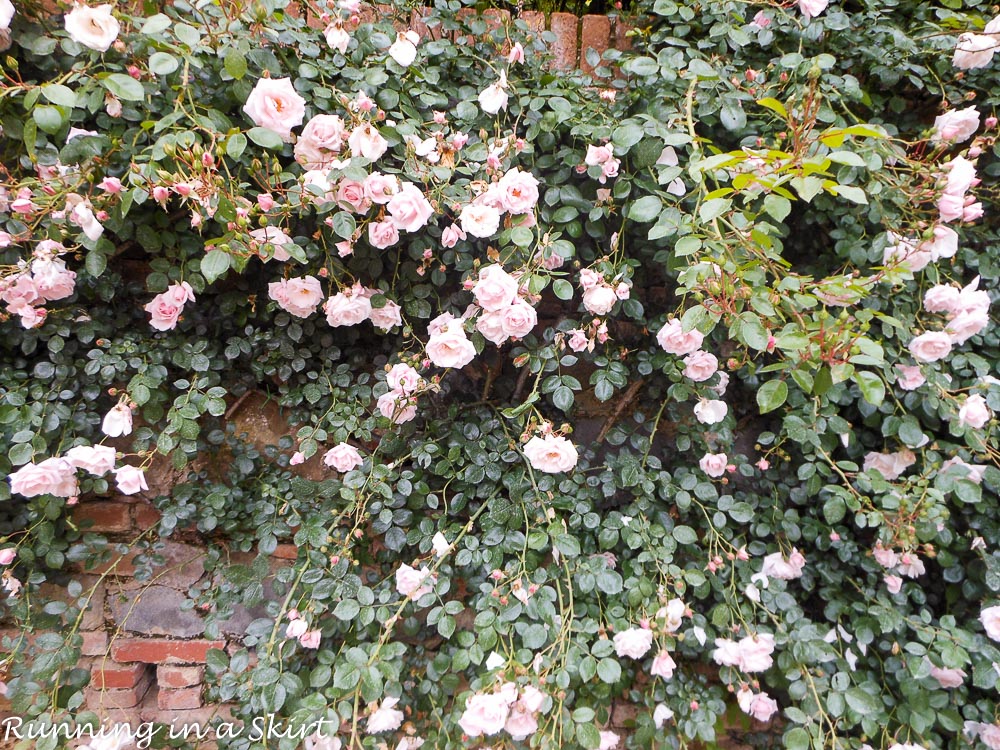 (beautiful roses picture thrown in for good measure… They are EVERYWHERE in Tuscany)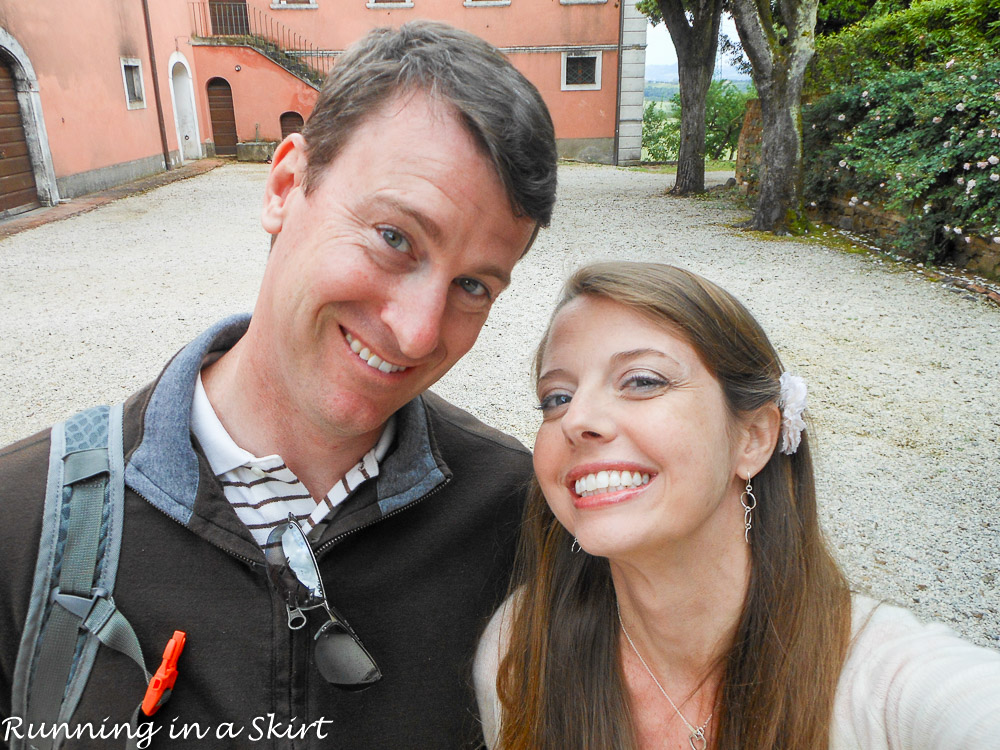 We sit and enjoy a delicious tasting.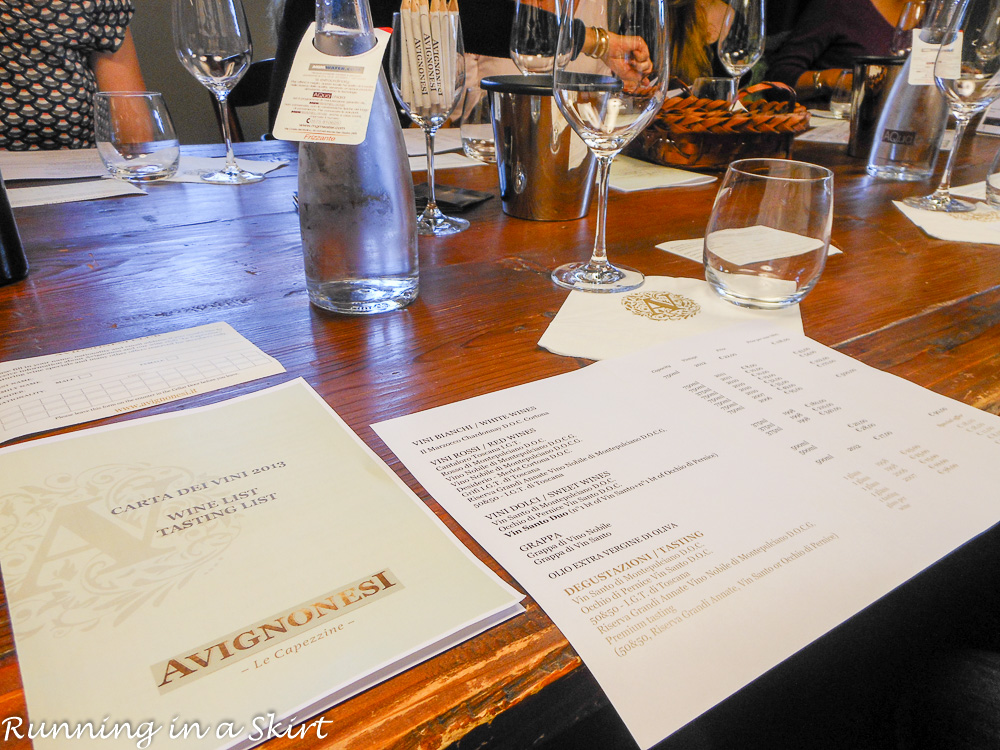 After lingering in the vineyard we drive to our next tour, the olive oil factory, which actually turns out to be one of the highlights of our whole trip. The Frantoio Olive Farm doesn't normally give tours in early summer, because olive harvest is in the fall. However, we are very interested to learn and see how olive oil is made, even if they aren't actually producing it right now. So we request an off season tour.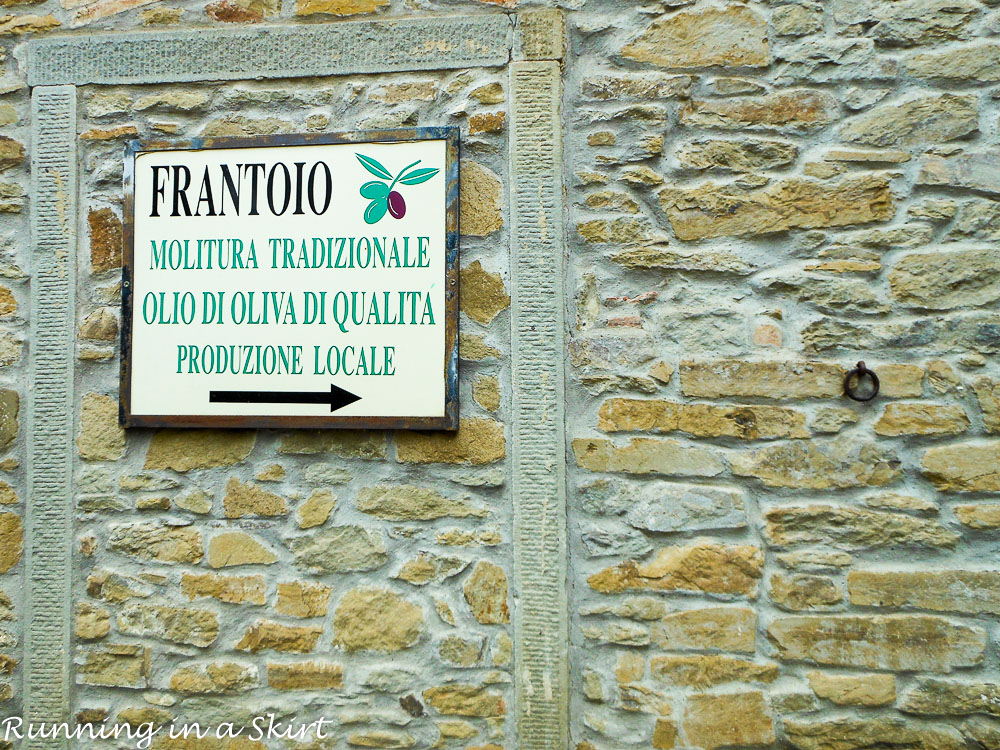 The owner and his son delightfully accommodate us by showing us the modern and ancient equipment to process the olives.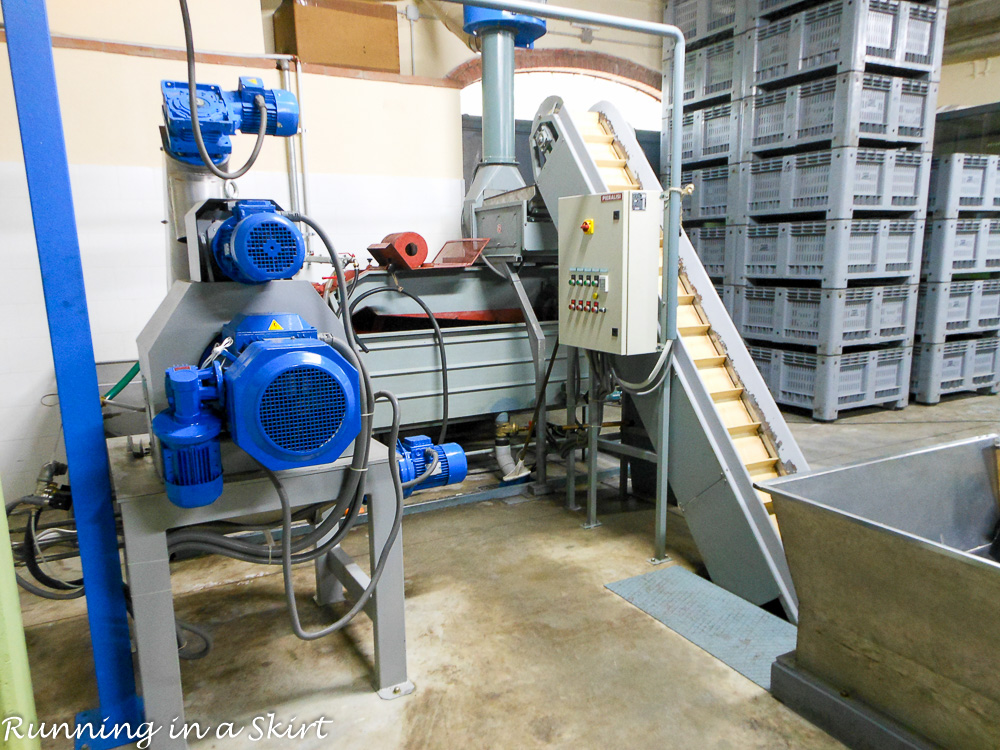 The new efficient way to make olive oil—big machine!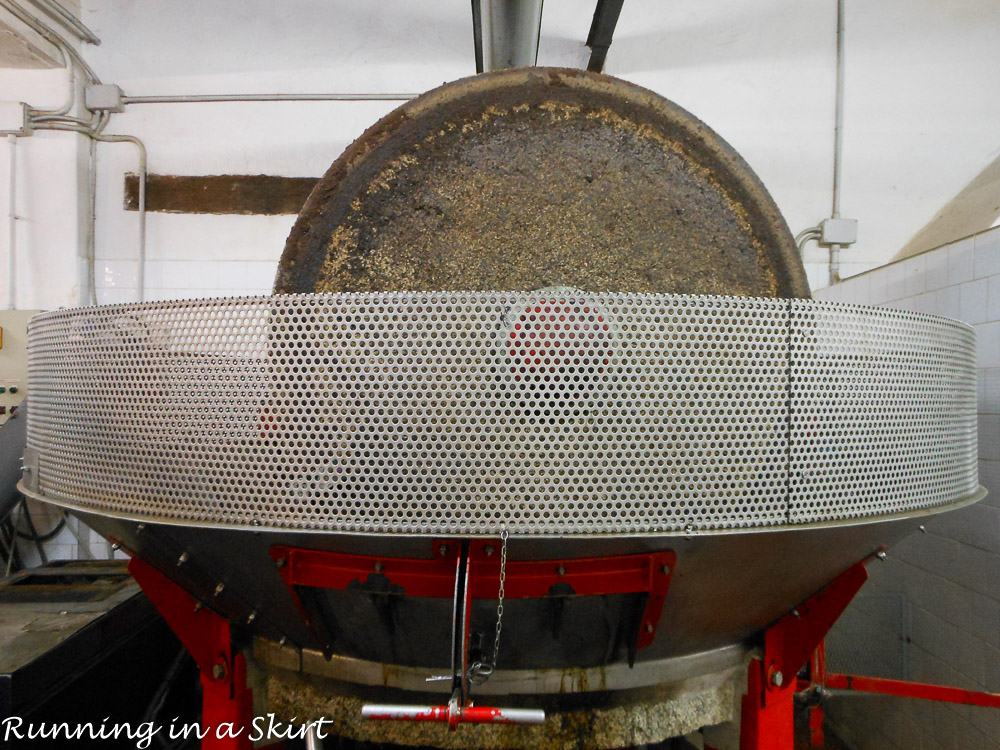 The ancient and inefficient huge stone that rolls to press the olives.
They even grill us some fresh bruschetta with their homegrown garlic and olive oil.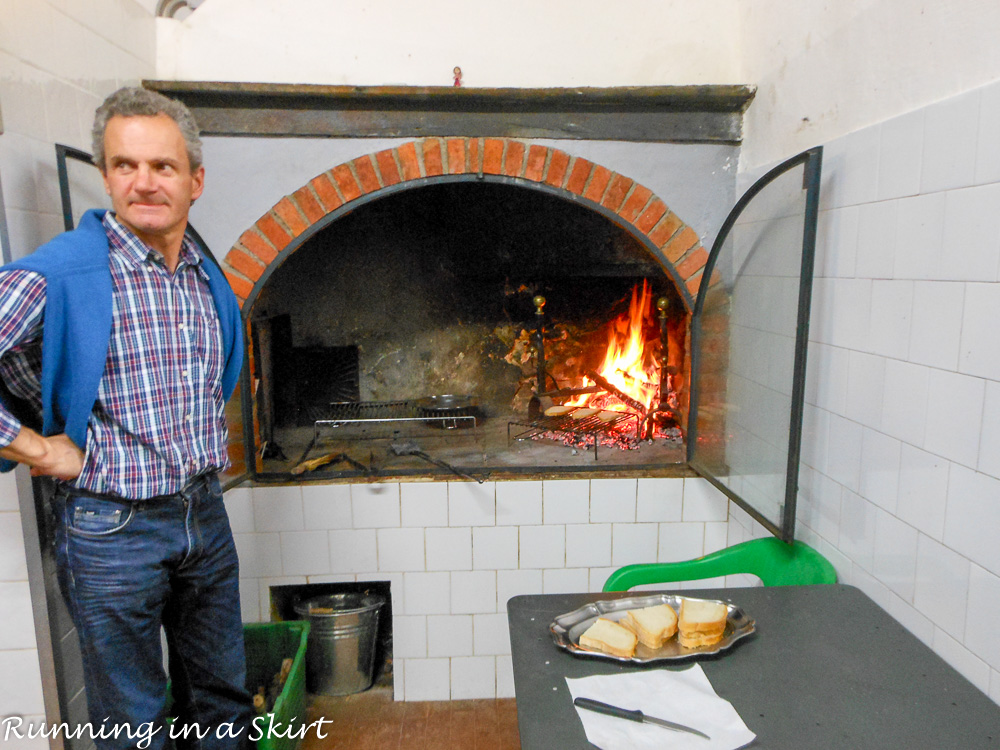 They share their own family vineyard's table wine and we really get a glimpse into what life in Italy is really like.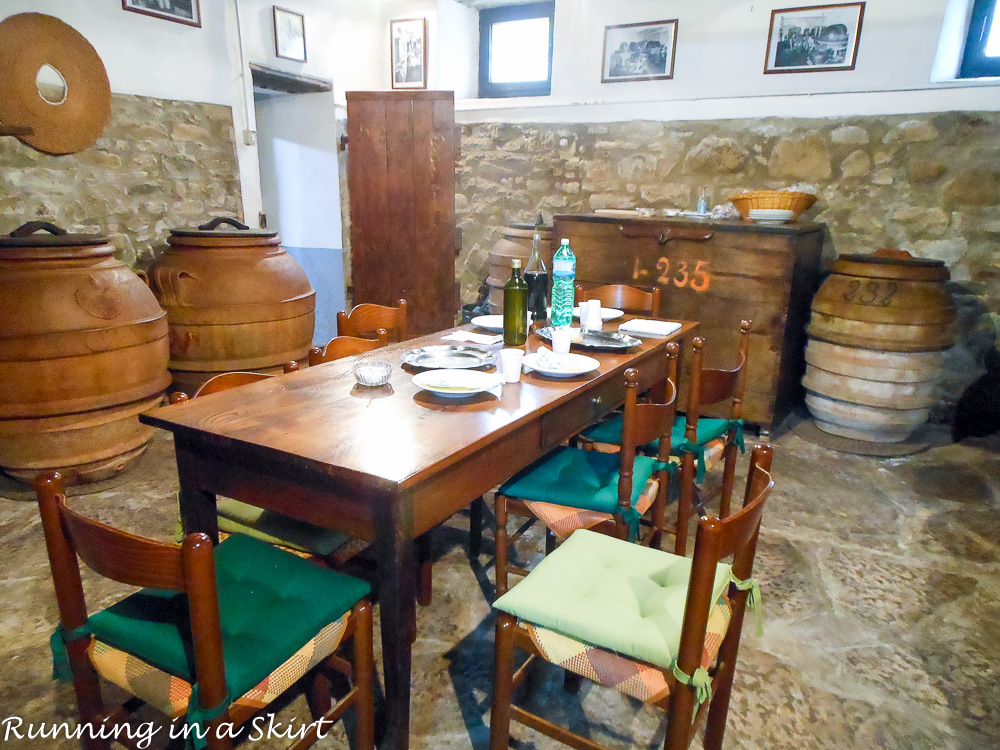 Now what makes this such an amazing and memorable experience is the language barrier we overcome. They speak just enough English and we speak just enough Italian to really share each other's culture.
We talk about daily life in America versus Italy. There are lots of hand gestures and i-phone picture sharing to get our points across. We feel so welcome and truly enjoy meeting this father and son duo.
They send us home with some amazing olive oil that is like nothing we have ever had before.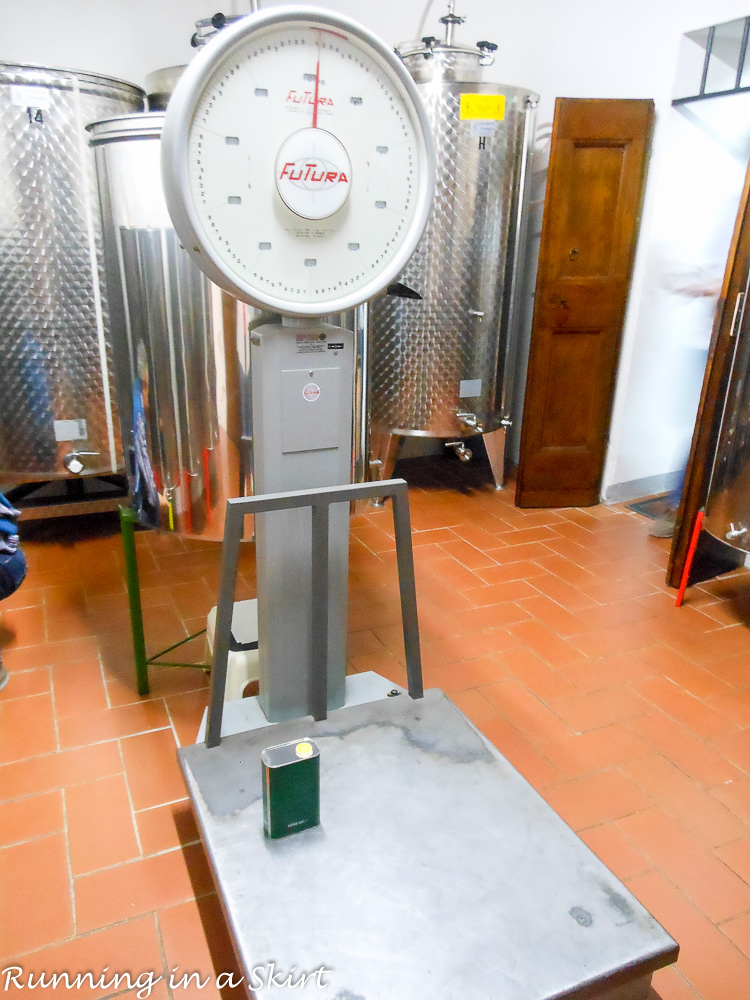 After another whirlwind day we unwind for a classy dinner at our villa.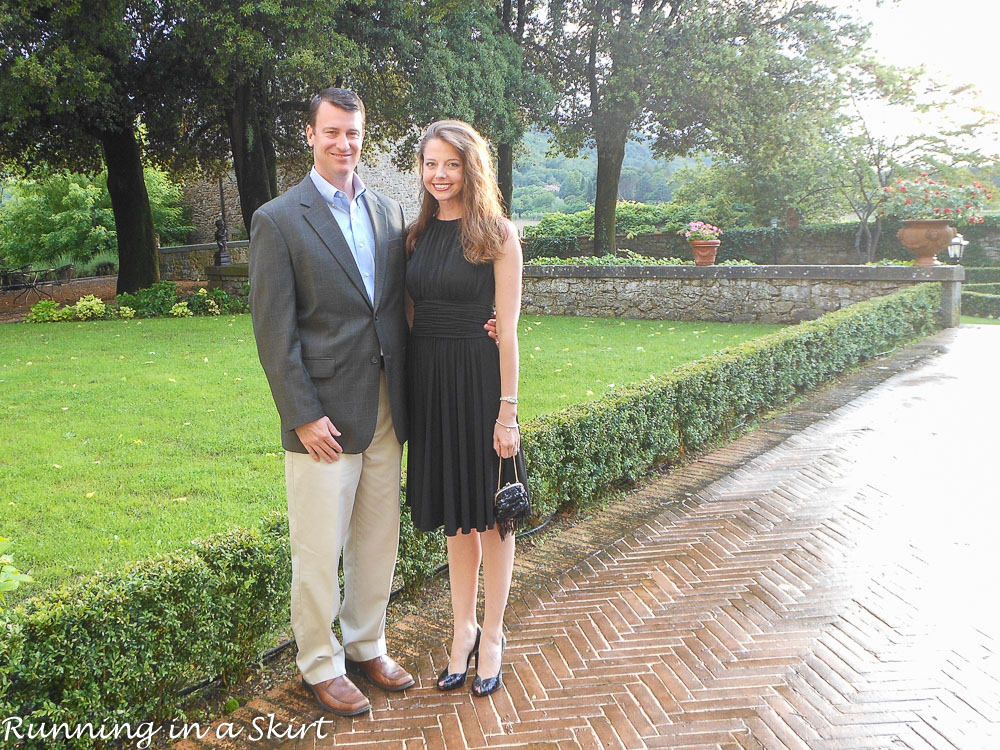 Perfecto!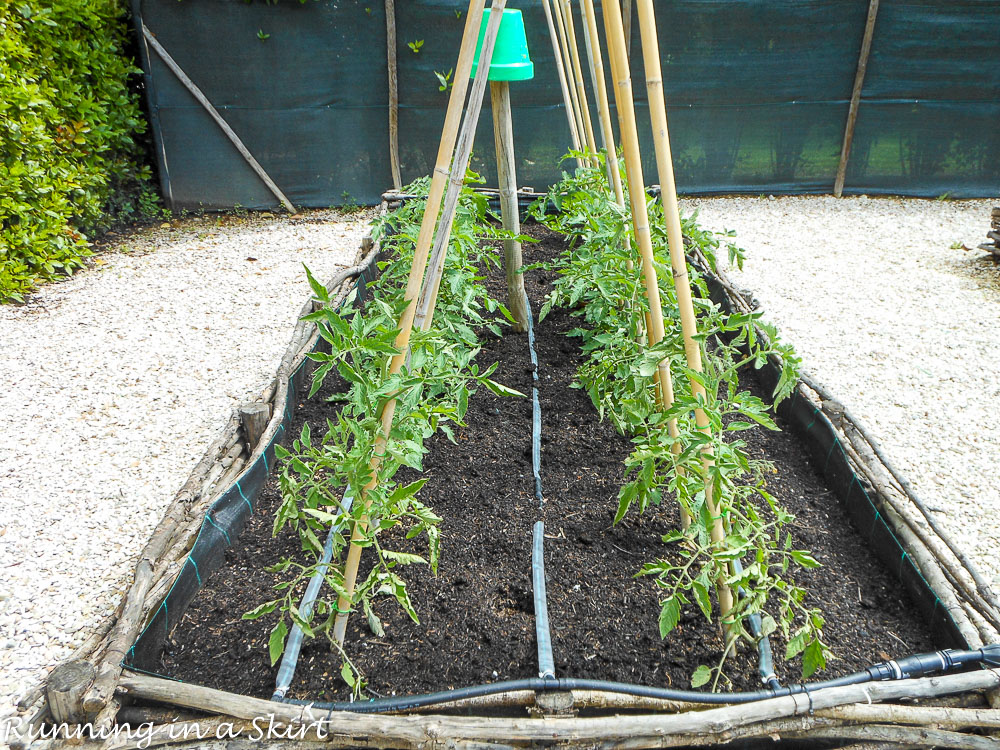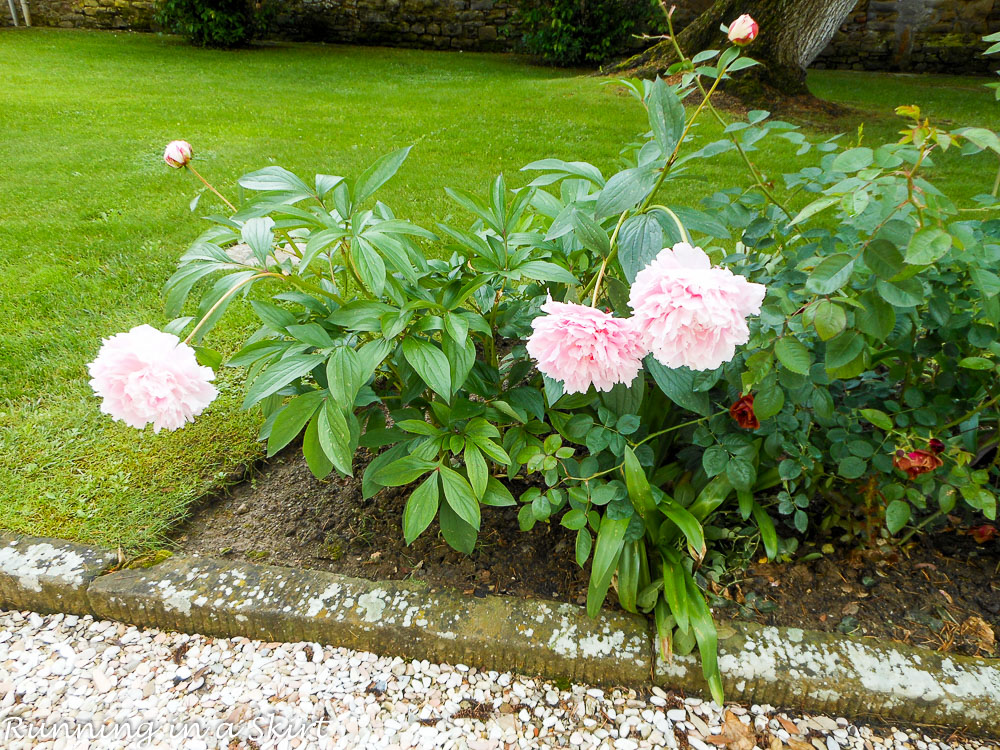 In the morning we take the train to Florence for the day. This is where history really comes alive! I will pick up the story from there…
Reflections on the Tuscan Hill Towns
Tuscany is the kind of place you dream about going to and once you've been, you dream about how you will go back. The culture of homegrown food, living off the land and pride in your community really resonated with us. Touring the Tuscan Hill Towns by car was the way to go.
We adored the food and had our best meals in Italy in the Tuscan region. I truly understand how Frances Mayes got swept off her feet in "Under the Tuscan Sun" and decided to invest and renovate an old home.
Tuscany is ten times more beautiful than a picture even captures. While our schedule may have seemed hectic we took many moments to just look at our surroundings and take the beauty in.
The region was by far our favorite spot in Italy. It is pure magic.
Catch my Entire 2 Week Italy Trip
Like this post on Touring the Tuscan Hill Towns by Car? Pin this to your favorite travel board!