Cinque Terre in May is gorgeous! Come along for the highlights from my trip.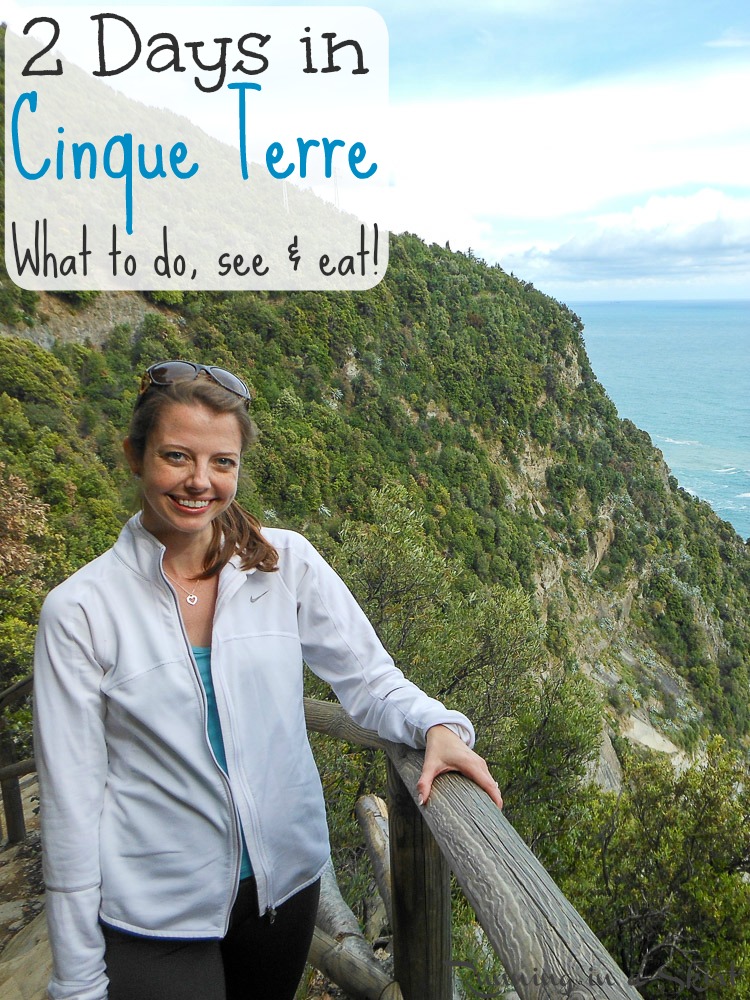 Hi everyone!
I'm sharing more from my trip to Italy... Cinque Terre in May! Cinque Terre is a small area of Italy with five towns carved into the sides of cliffs that crash into the ocean. It's a hiking and nature lovers dream.
If you're just joining me, don't miss part one one of my post on Venice.
Cinque Terre in May
Day 1
We pick up our car in Venice and drive for a half day on crazy Italian interstates. Navigating and driving in Italy is a little stressful, but luckily my husband is doing an amazing job. I'm glad I'm not in charge because I'm pretty sure we never would have made it out of the Venice train station parking lot.
Just as we wonder how much farther, we start to see stunning mountains and scenery that actually reminds us a bit of the far western counties in Western North Carolina. We start winding up and down little mountains roads and just as it seems like the scenery is nothing but familiar, we see this…
Cinque Terre is May is stunning.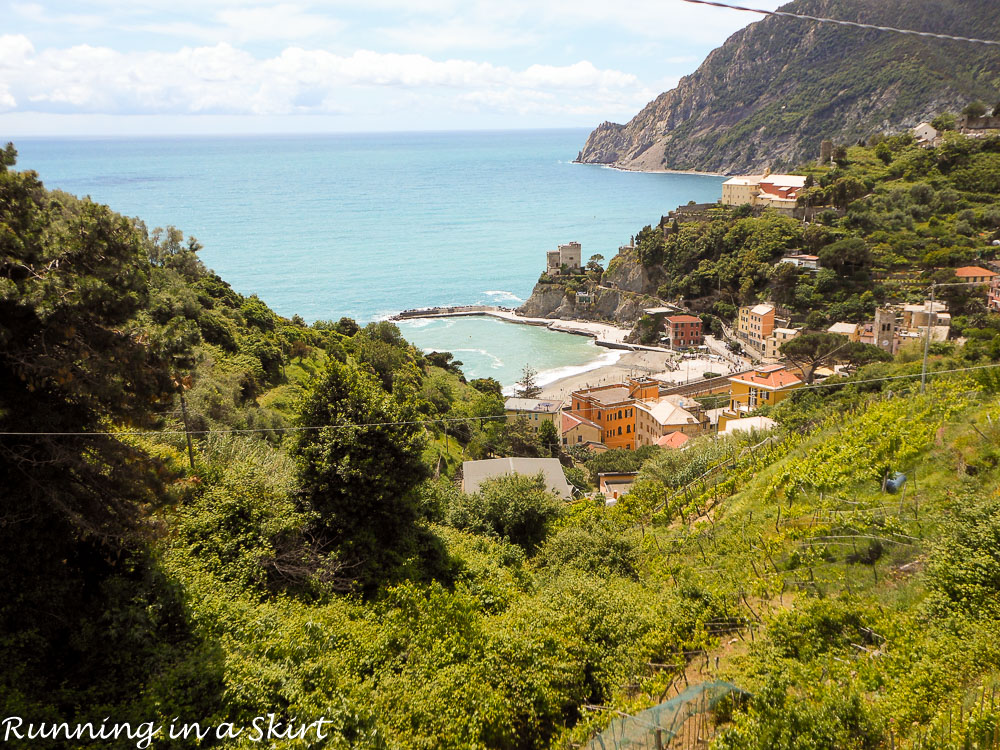 ….ahhh….. cliffs crashing into the ocean.
Cinque Terre is a remote area of the Italian Riviera that used to be relatively undiscovered and tourist free. Cinque Terre actually means "five lands" and the area consists of five villages; Monterosso al Mare, Vernazza, Corniglia, Manaroloa, and Riomaggiore.
It is now well developed as a tourist destination, but still has an "off the beaten path" feel.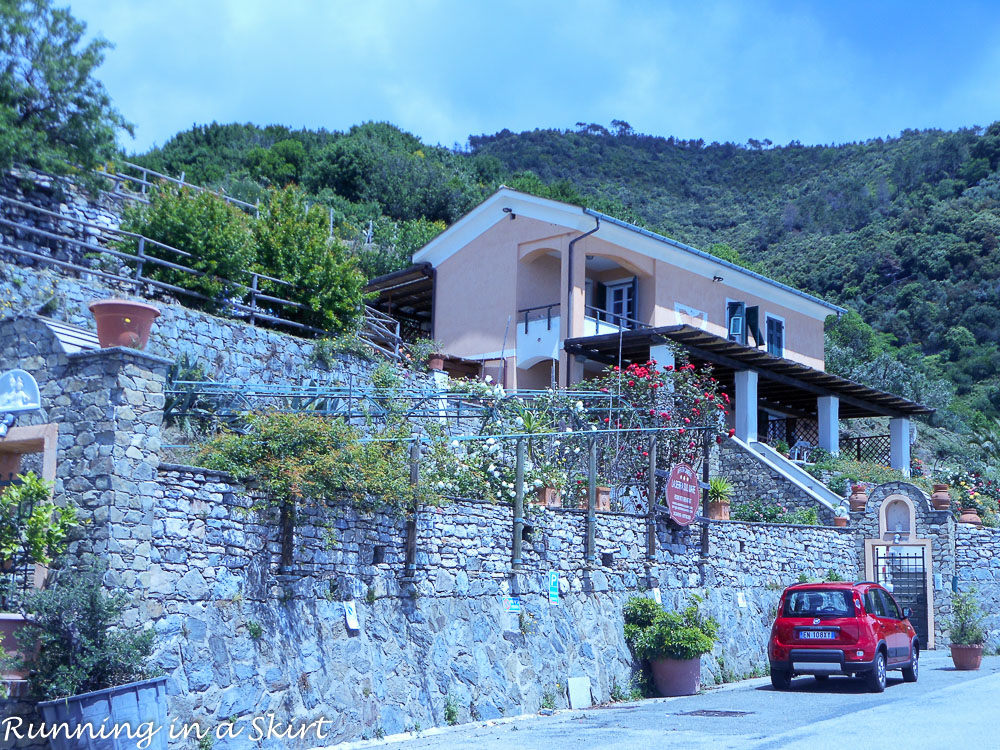 We arrive at a beautiful bed and breakfast up the hill from one of the villages, Monterosso al Mare. After the long drive and exhausting first few days of vacation, we grab a quick dinner and decide to do our exploring the next day.
The next morning we wake up to a stunning display of freshly cut roses over on ocean view breakfast.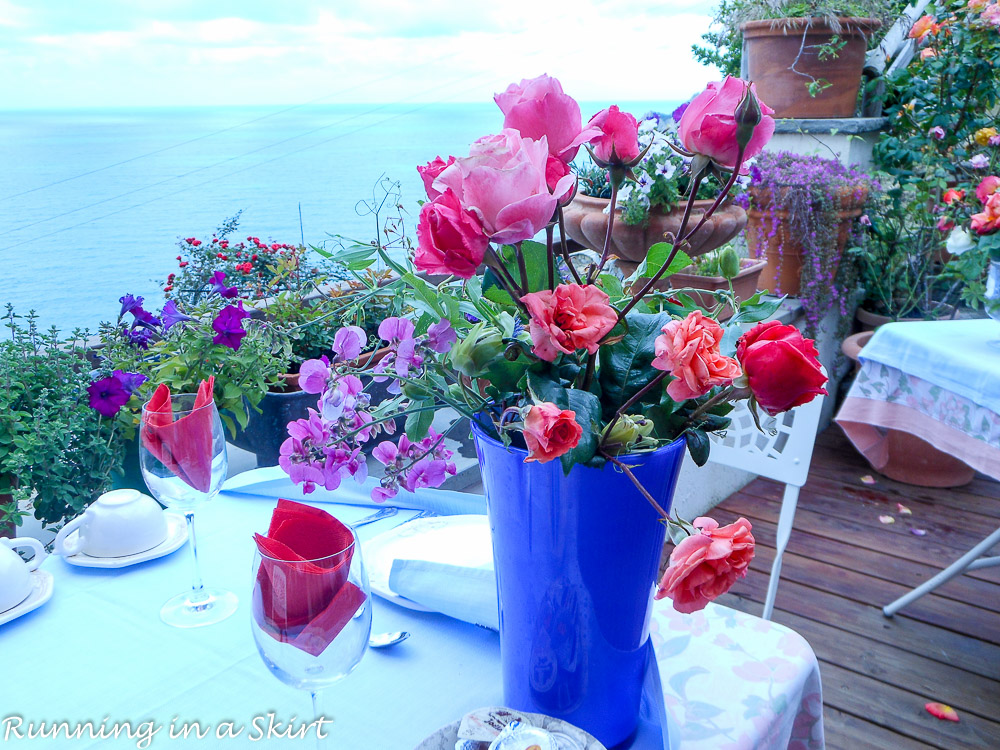 Unfortunately the weather is STILL unseasonably cold, rainy and windy. It's just not possible to eat outside, so our hosts set up our meal inside.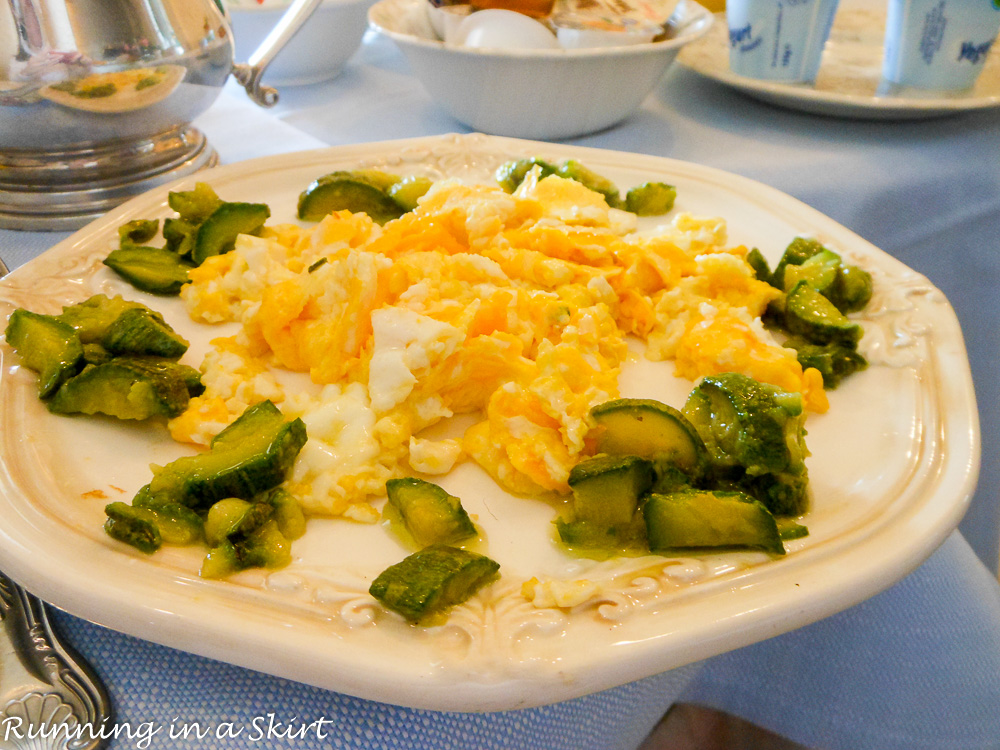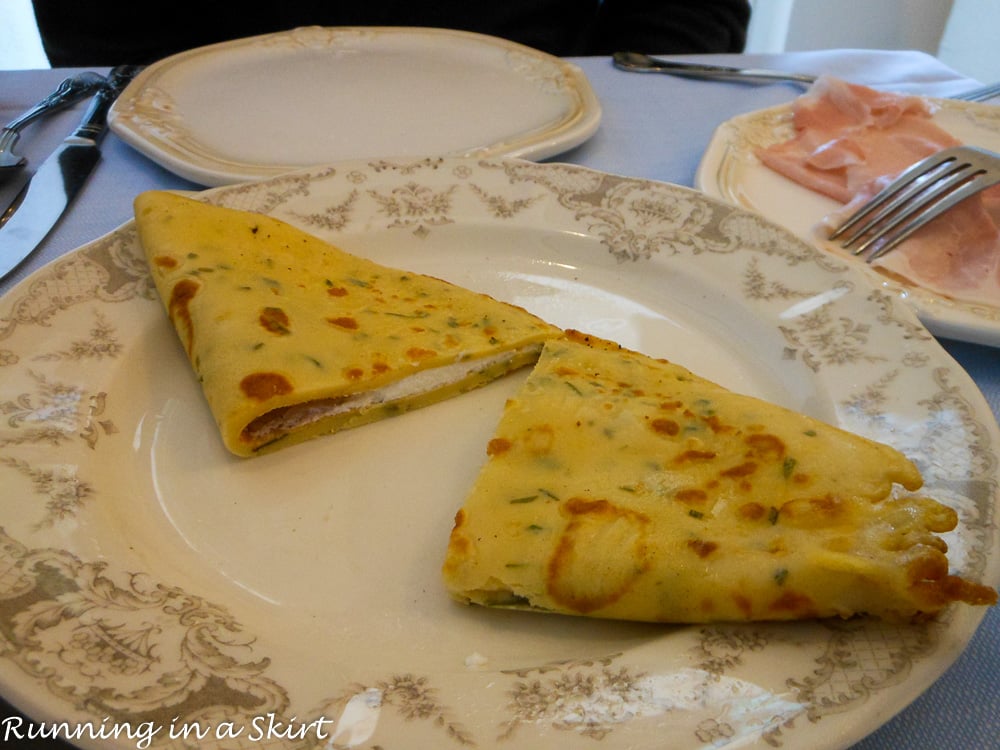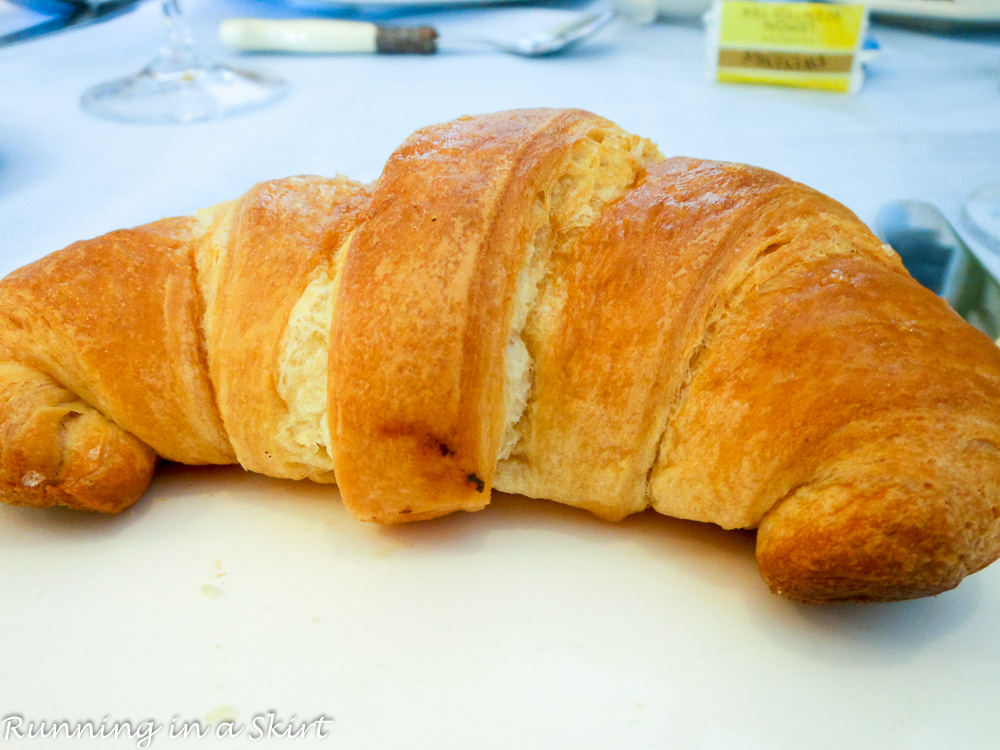 Those are just a few courses of our five course breakfast! We eat it all and love every bite.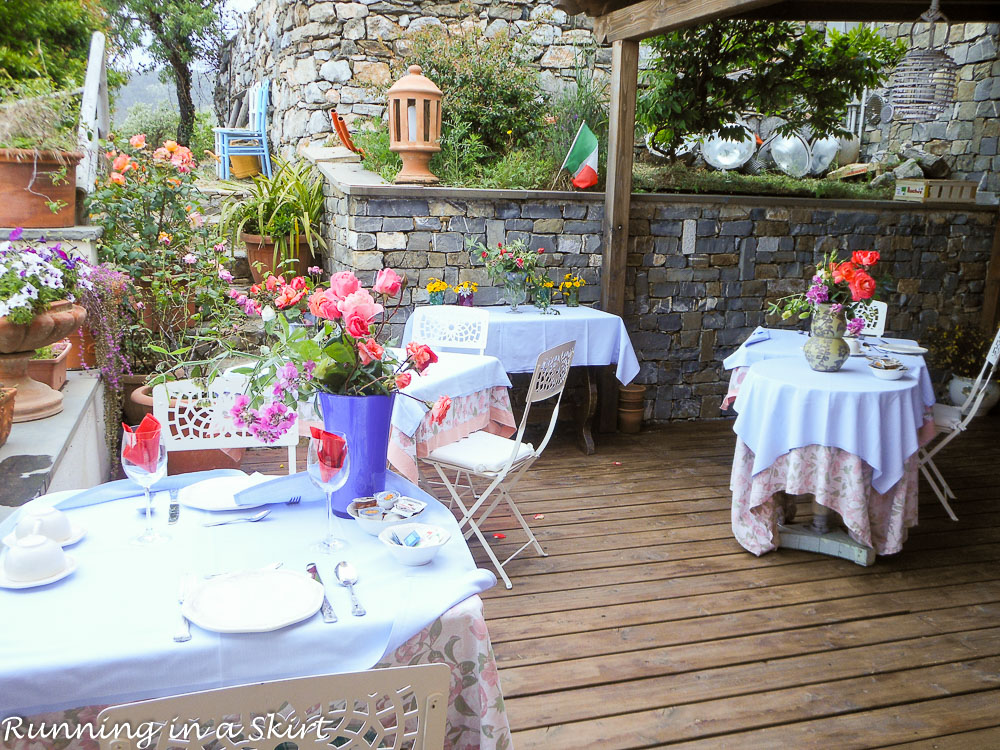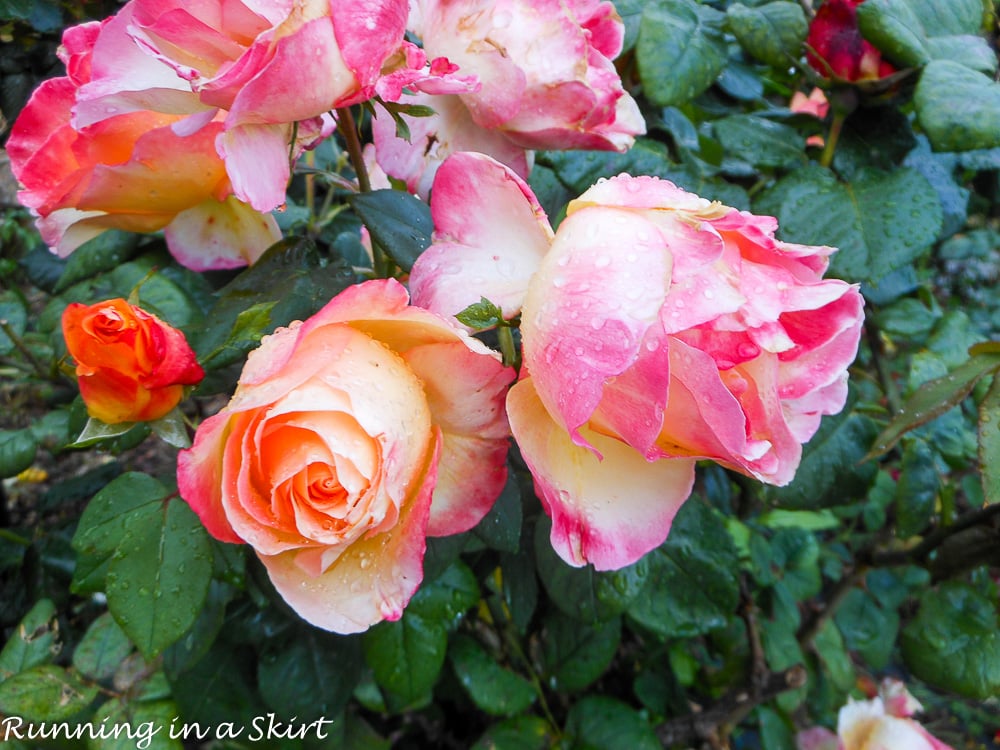 After breakfast we hike down the hill to see Monterosso al Mare.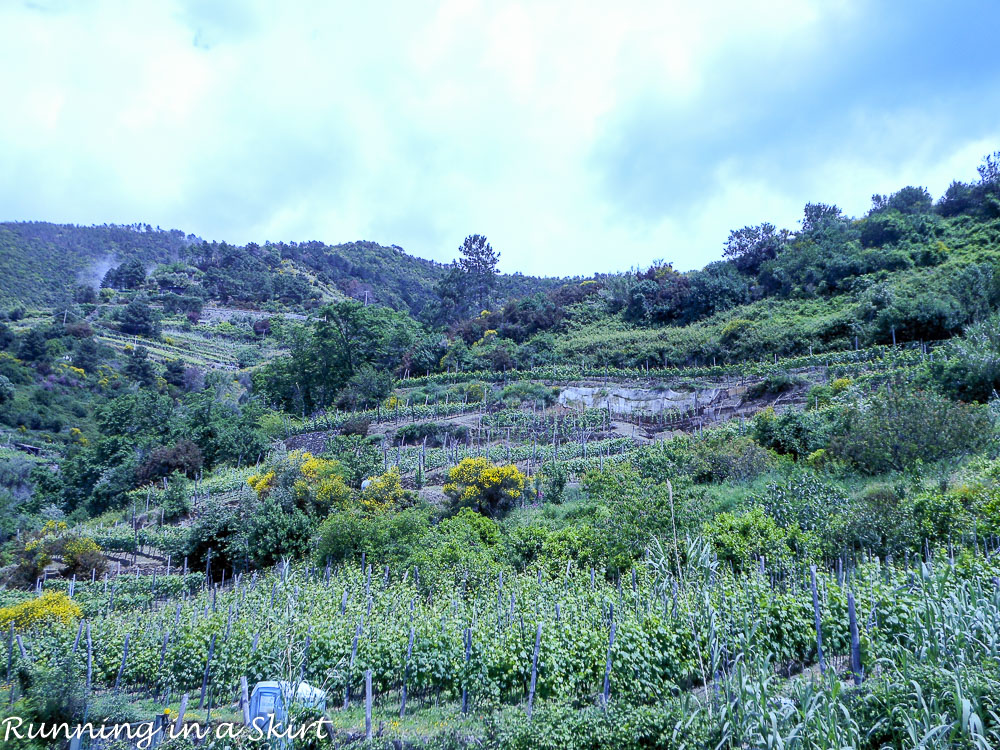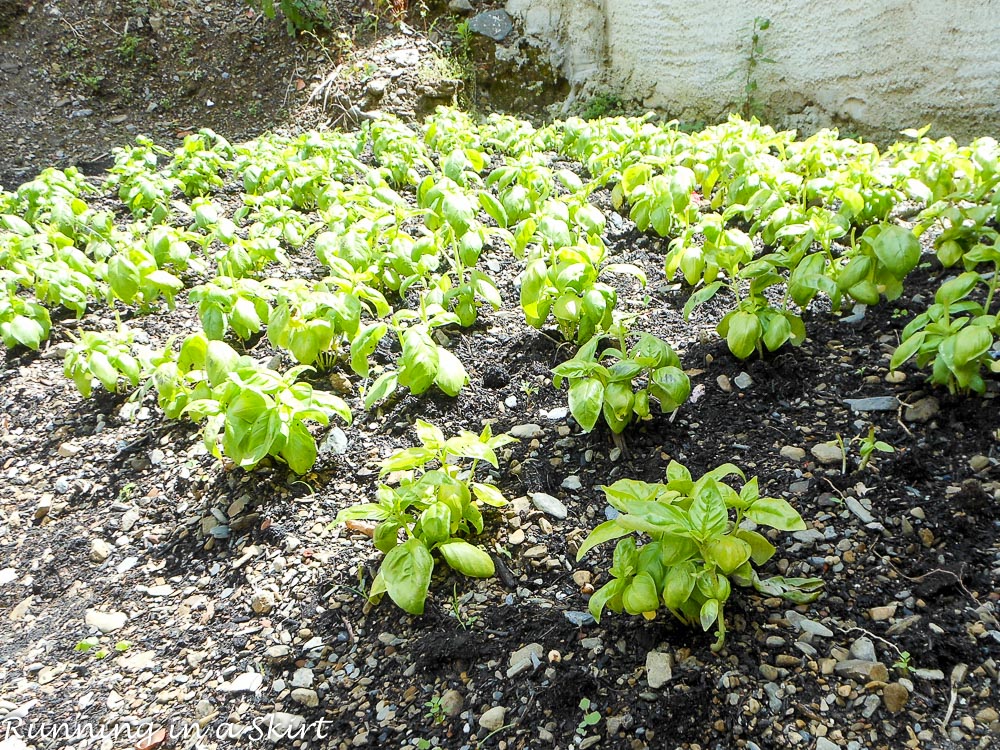 The area is known for fresh basil and amazing pesto. I love all the plants growing in Cinque Terre in May.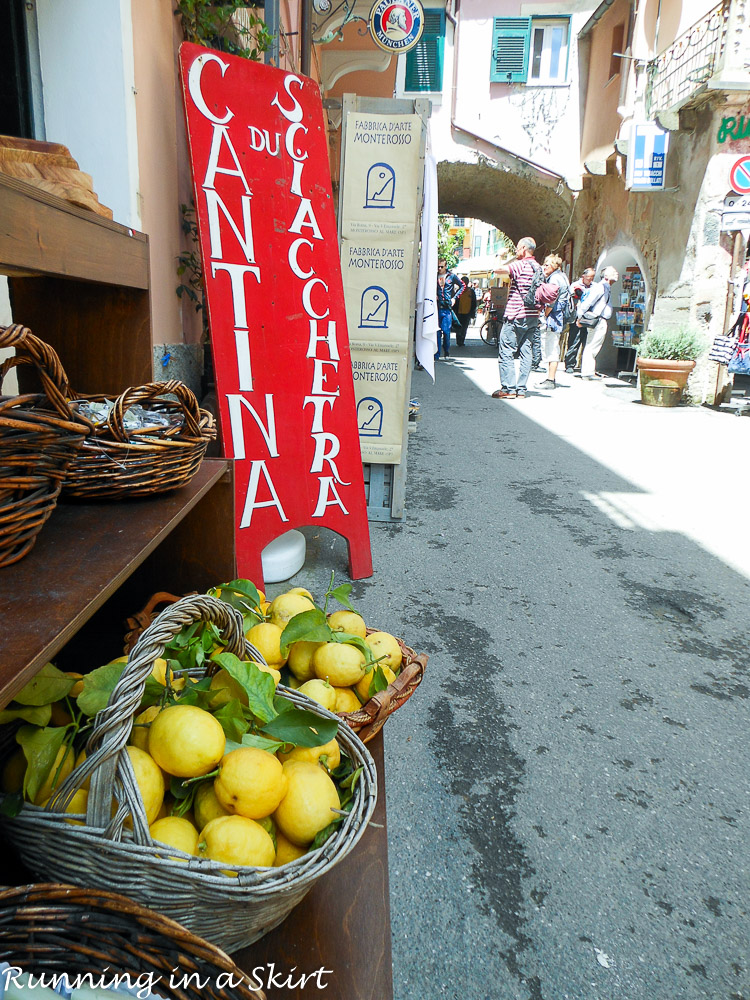 They also grow lemons, grapes (for wine) and olives on the hillsides.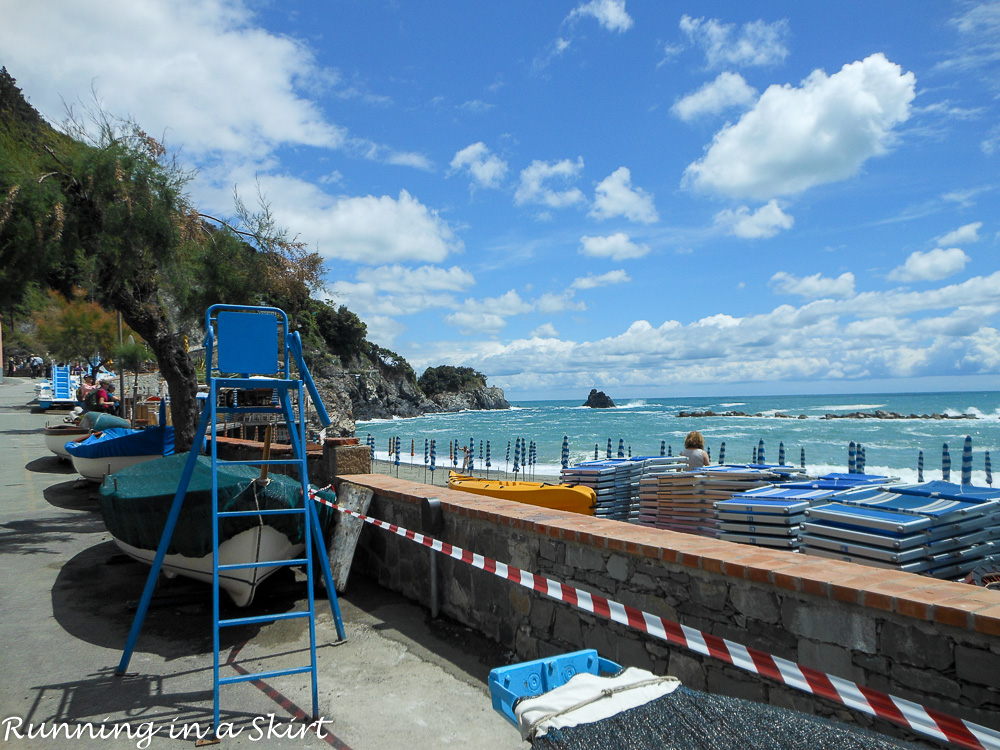 Now, we are actually a little disappointed because we are really looking forward to spending some time on the beach during this part of our trip. But it is only in the 50's and on and off raining.
The beach is closed.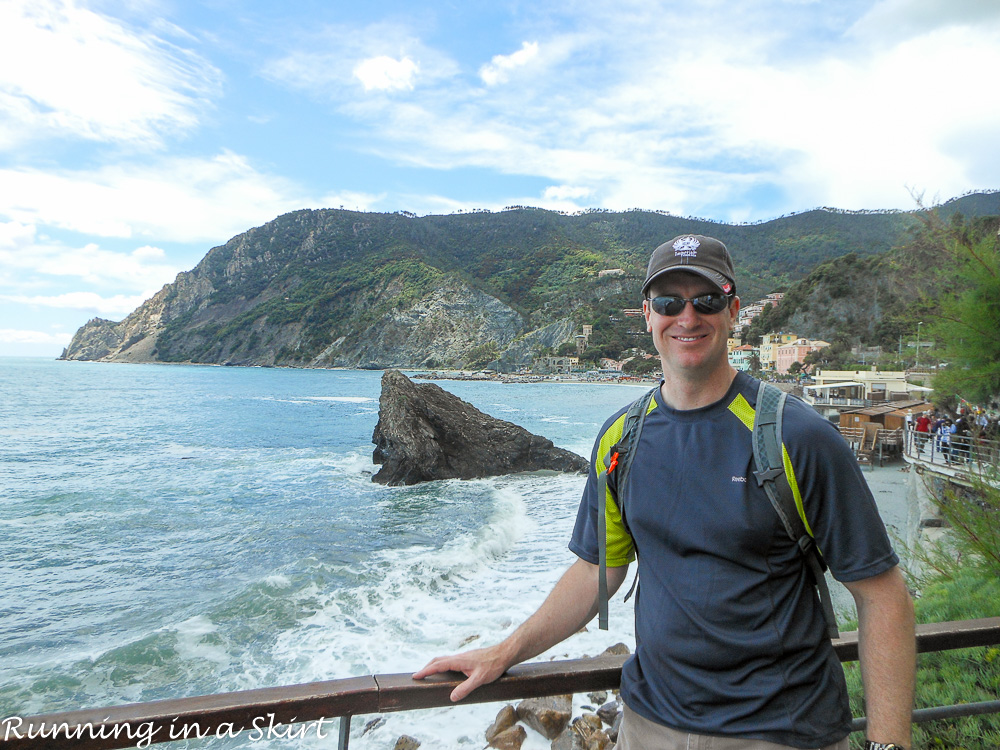 This Florida girl is bummed.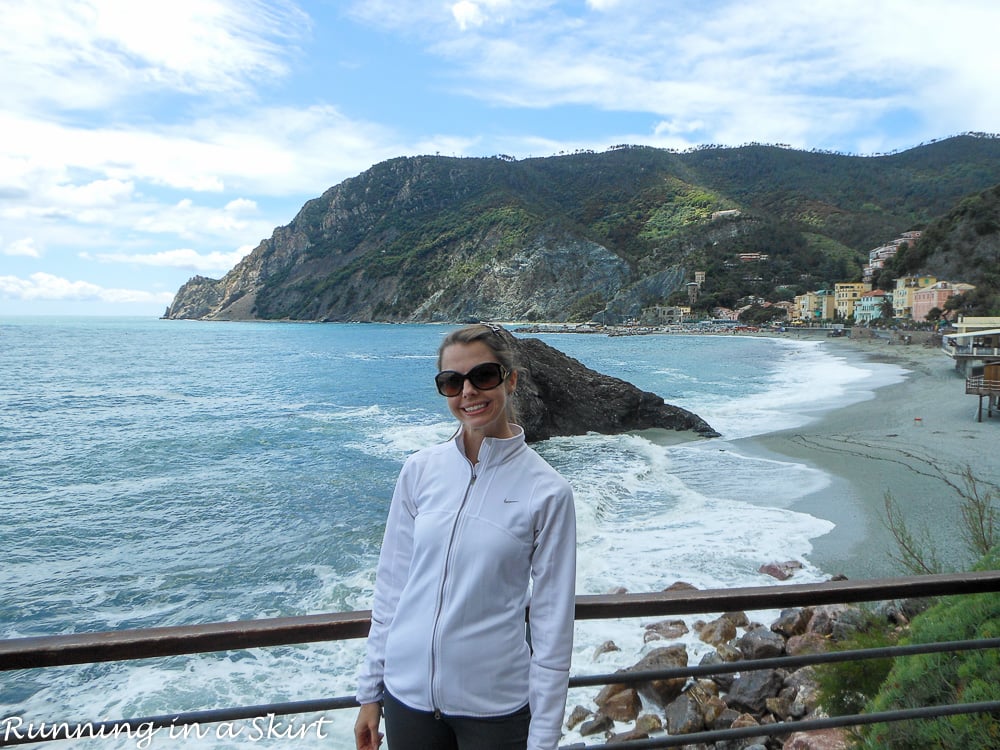 It's still absolutely stunning though. Can you imagine sitting on the sand here and watching the waves?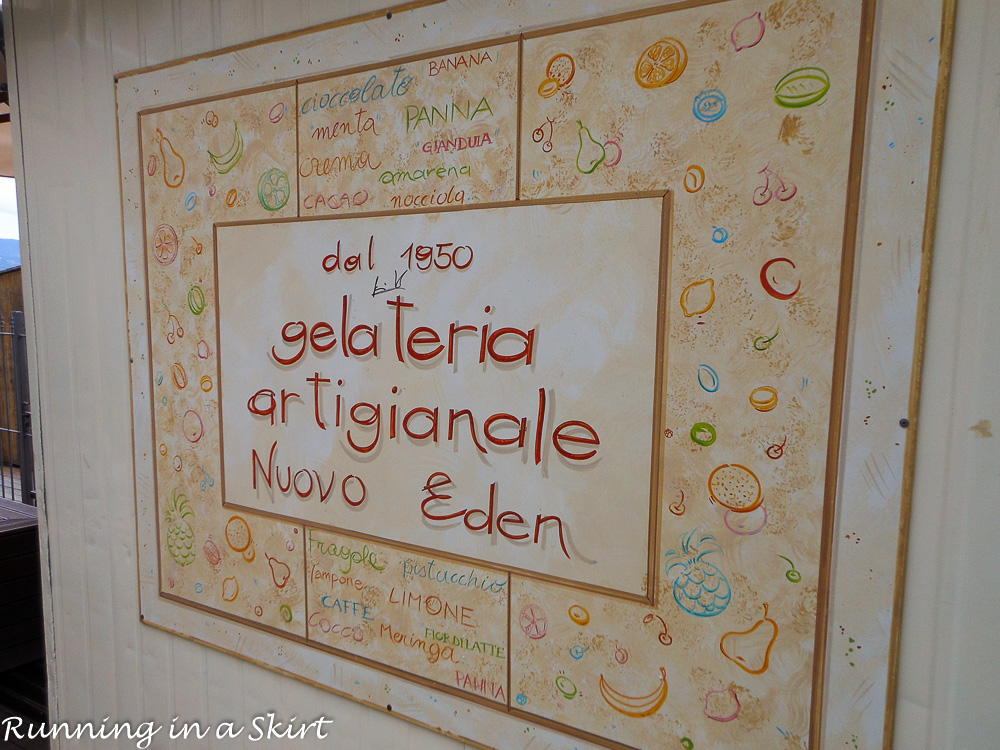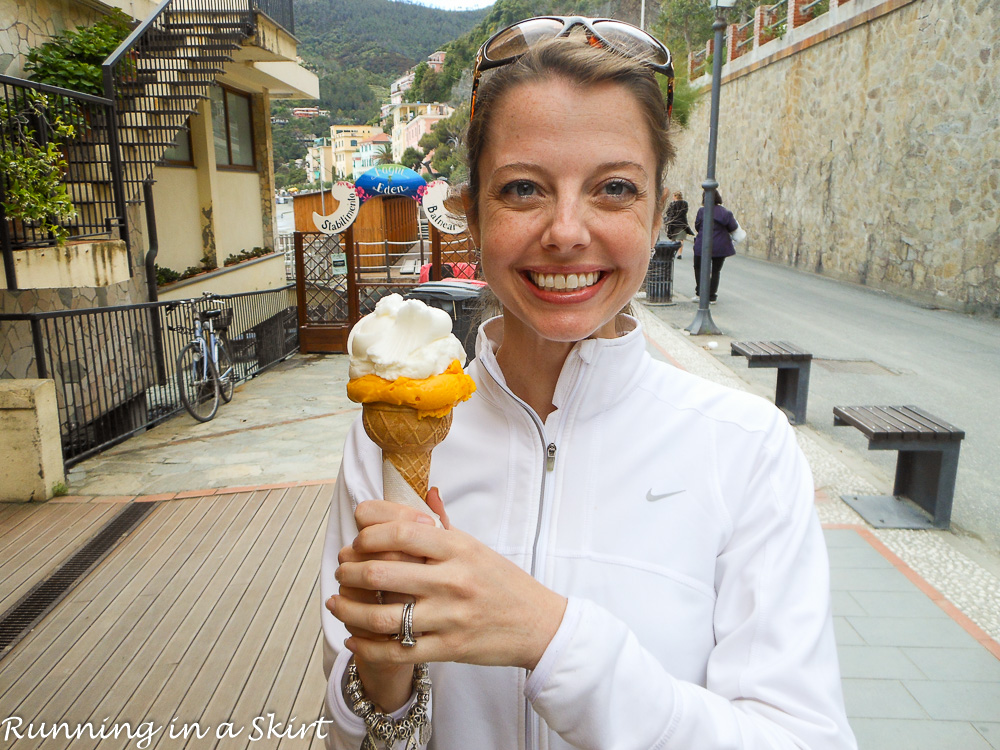 To ease my disappointment that I wasn't going to have a beach day, the hubs buys me a Gelato. Yum.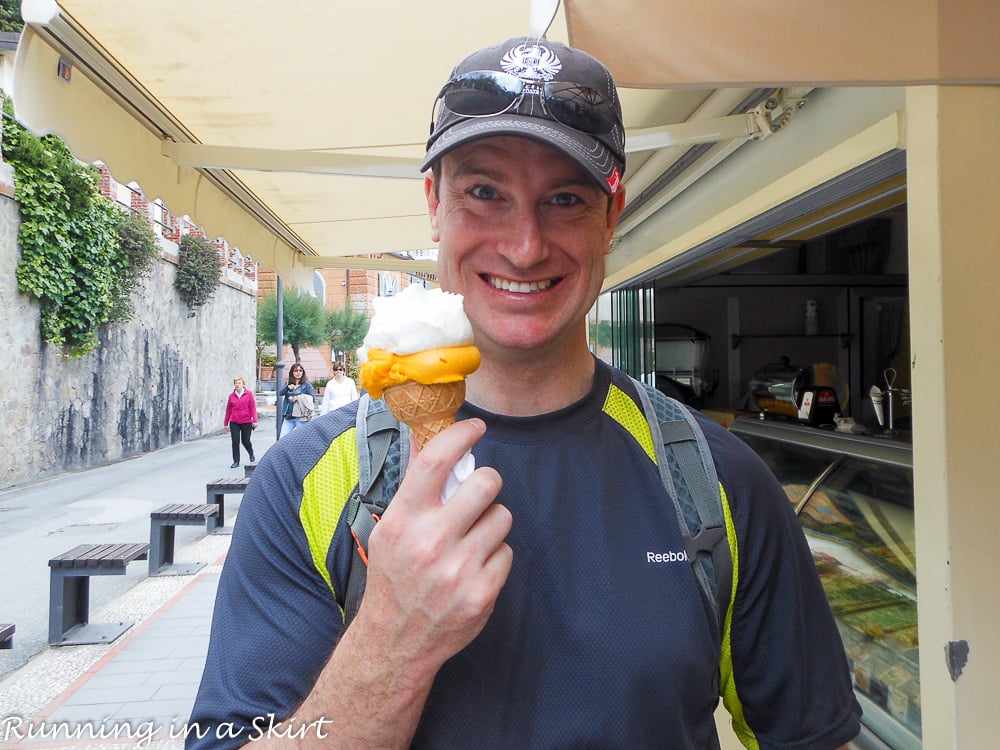 Gelato makes everything better.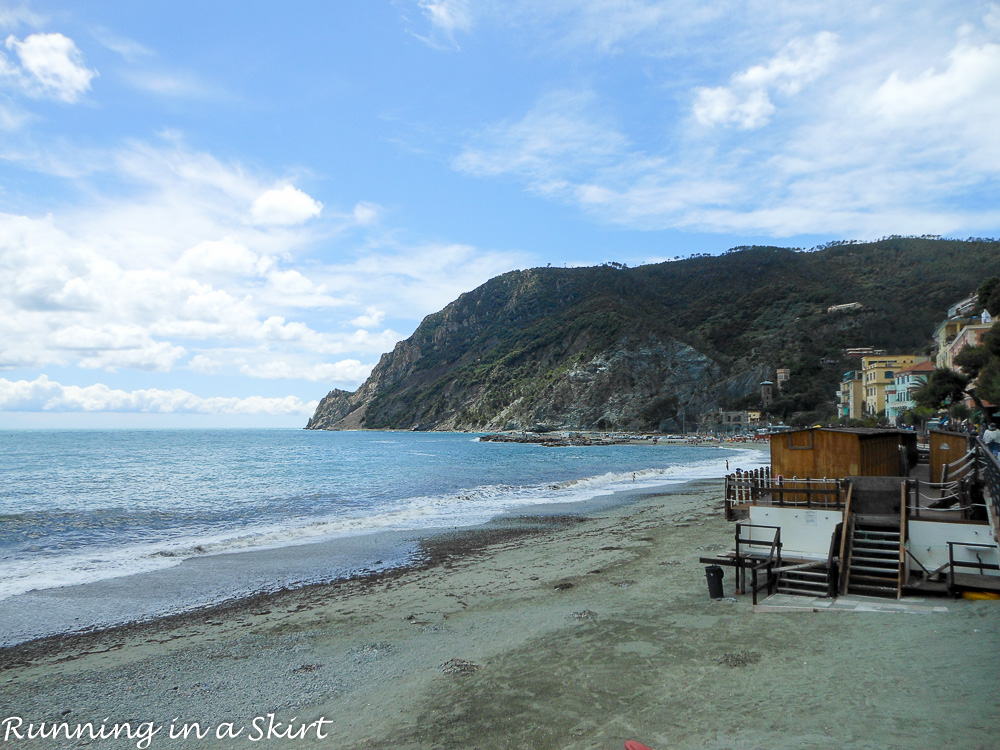 The village is made up of an old and new town. The new town has a beach strip with plenty of outdoor restaurants.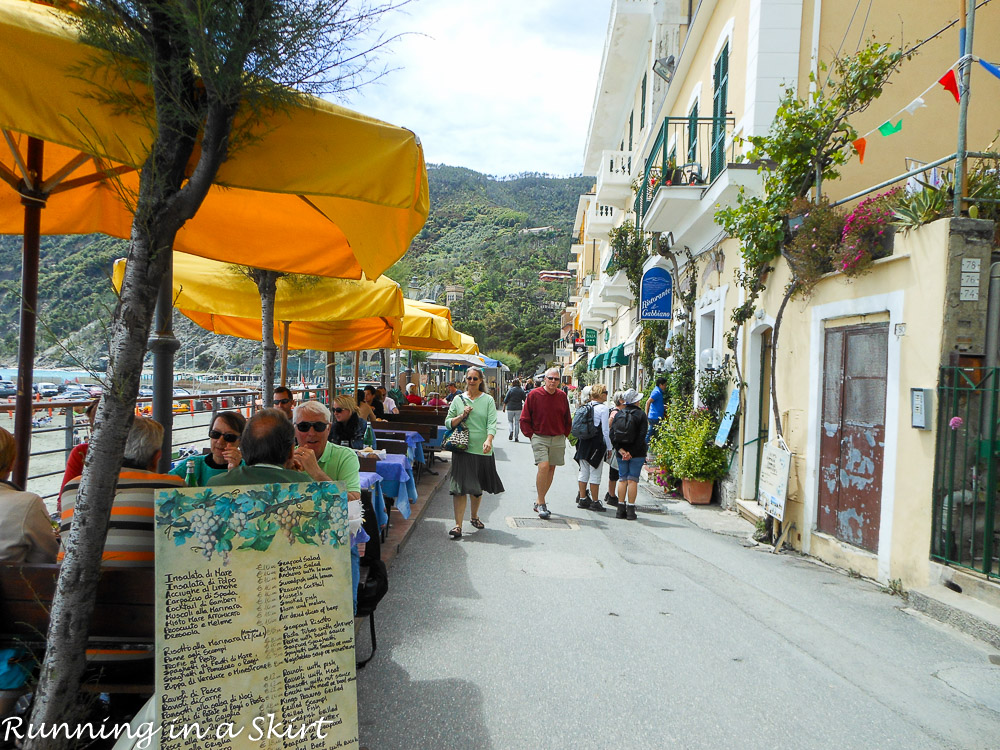 So believe it or not… we eat. Again.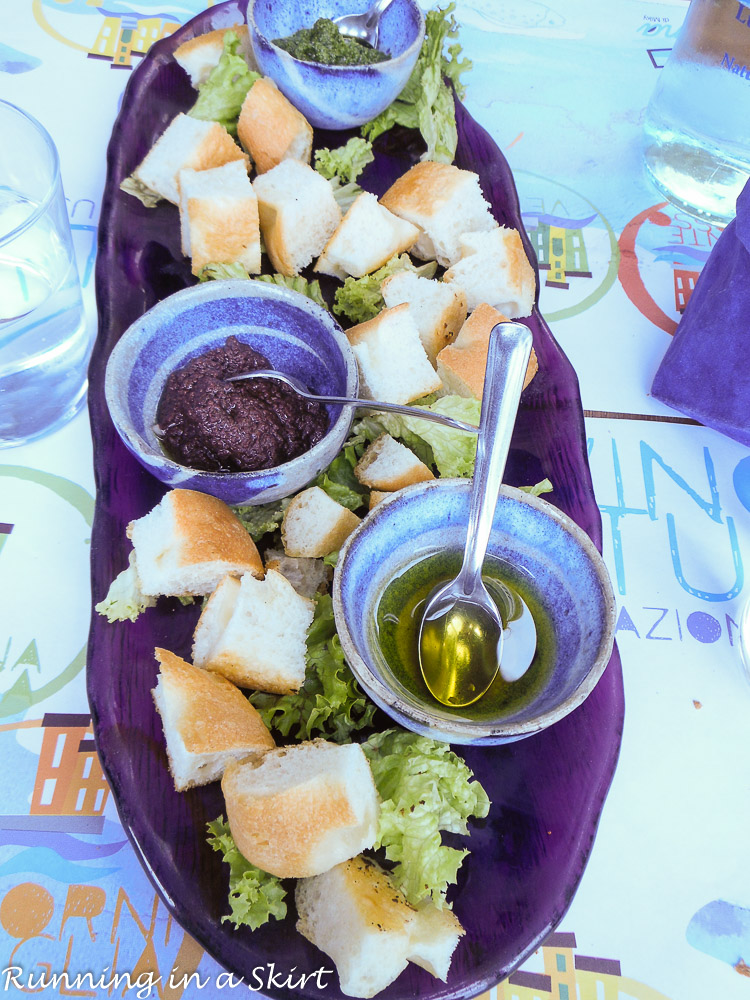 The fresh pesto and olive oil is like nothing we have ever tried before. Wow.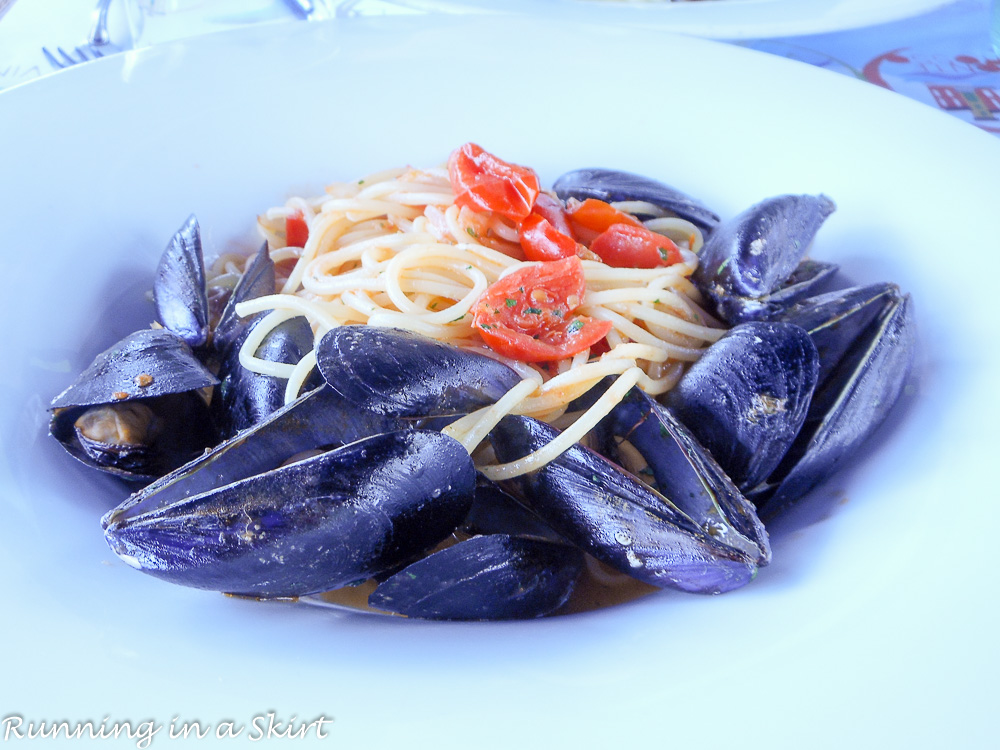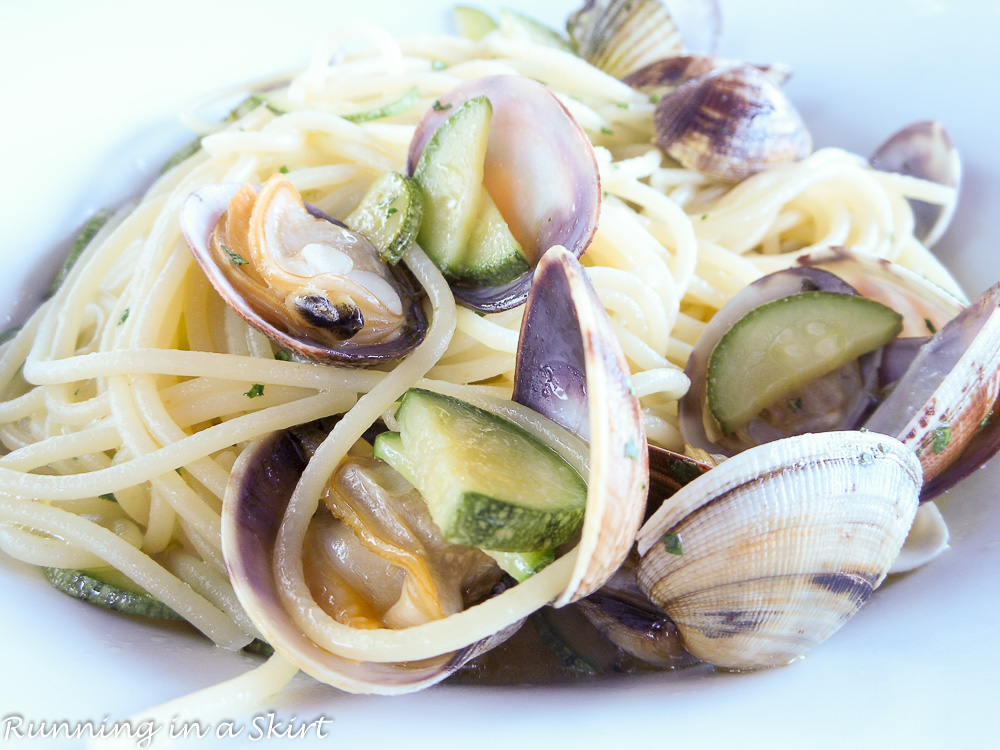 Since we are near the ocean we order fresh mussels and clams. The restaurant serves them with delish al dente pasta.
After lunch we take the train to the next village, Vernazza.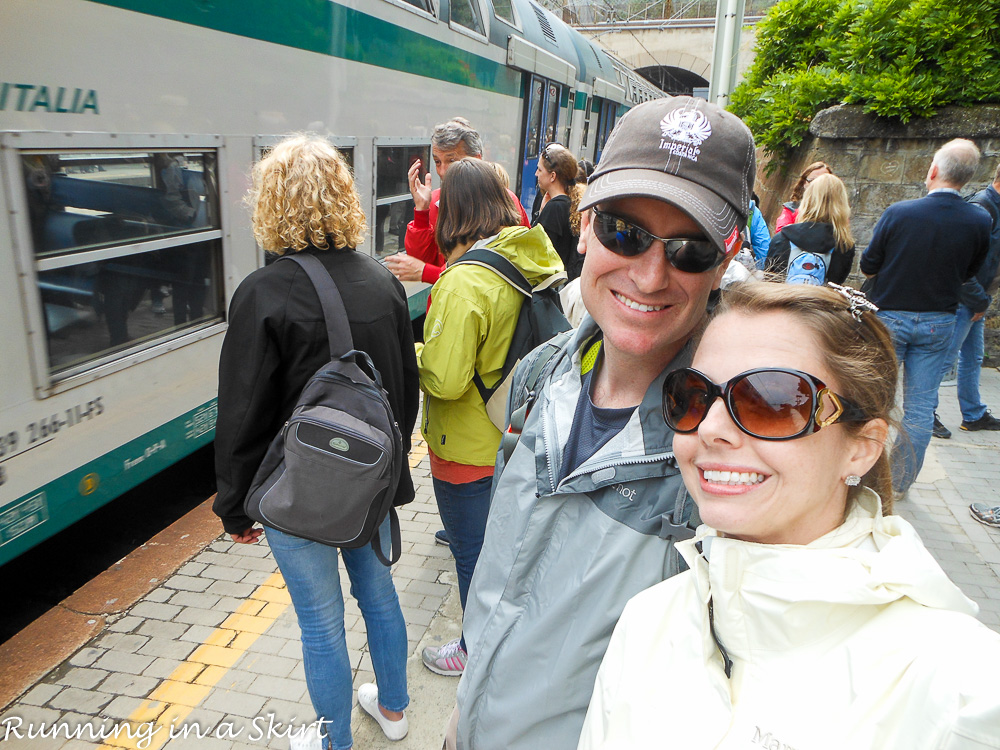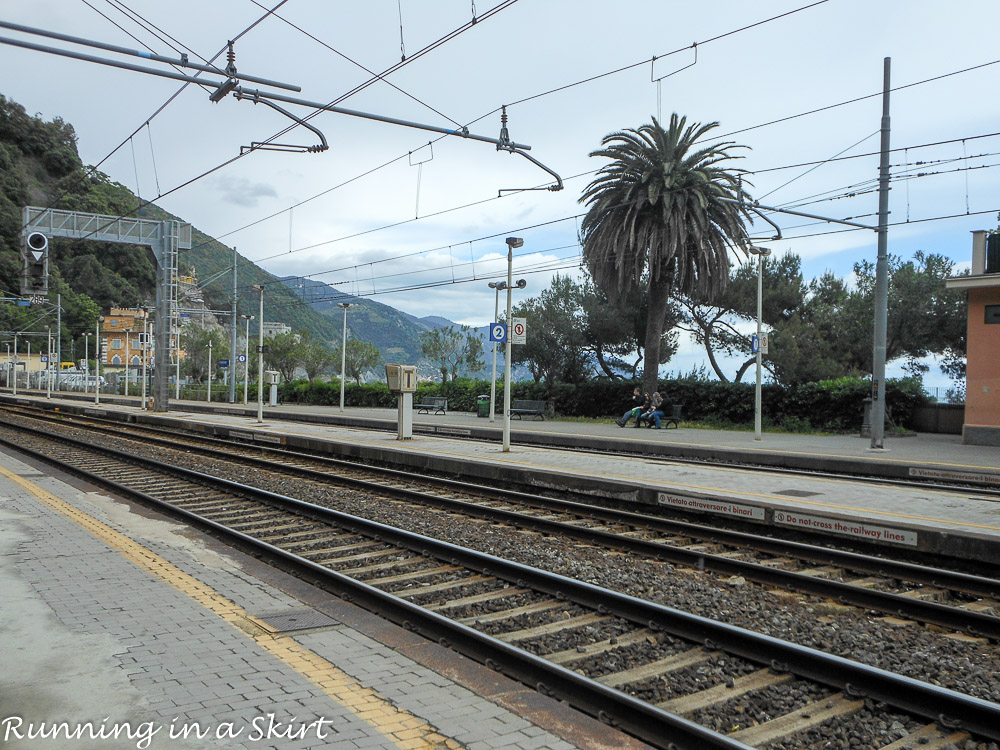 The villages are basically carved into the sides of cliffs and have rustic hiking trails between them. The most efficient way to get between them is to take the train. But, the main "attraction" in Cinque Terre is the scenery and hiking from village to village.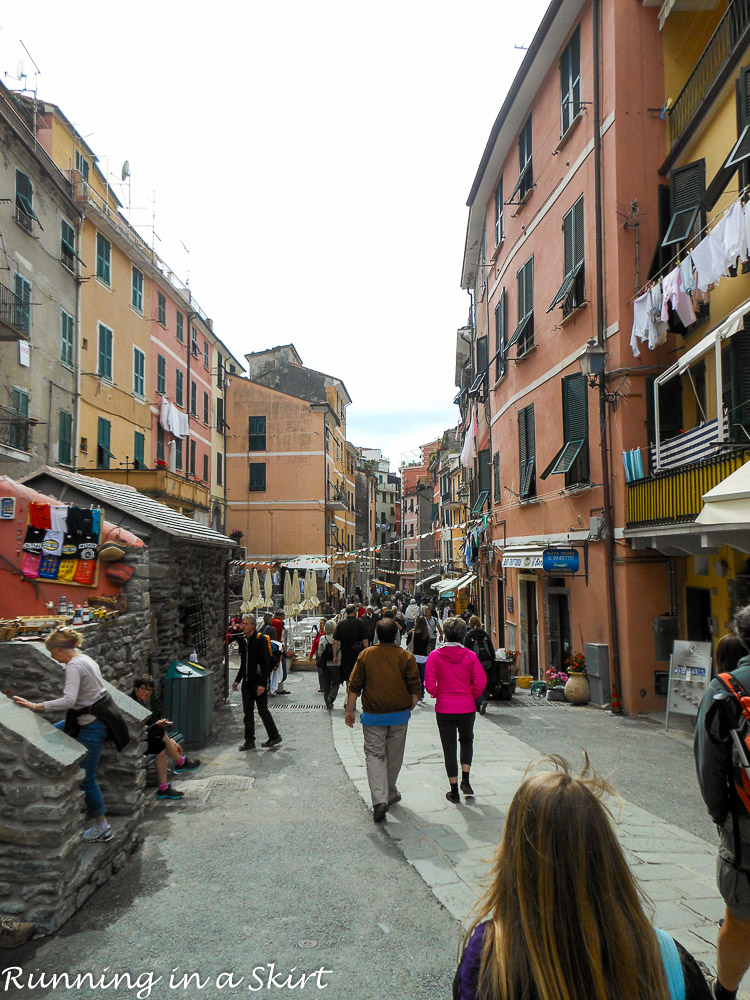 Vernazza is completely different from Monterosso al Mare, but equally as interesting and beautiful.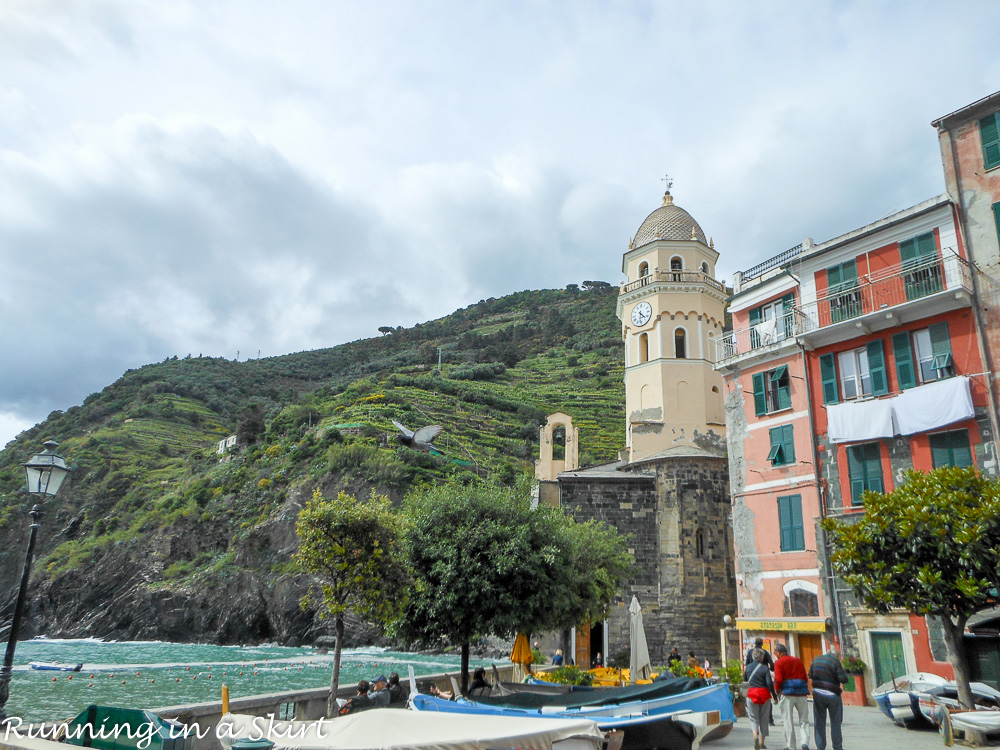 Everything is extremely weather worn from being so close to the sea.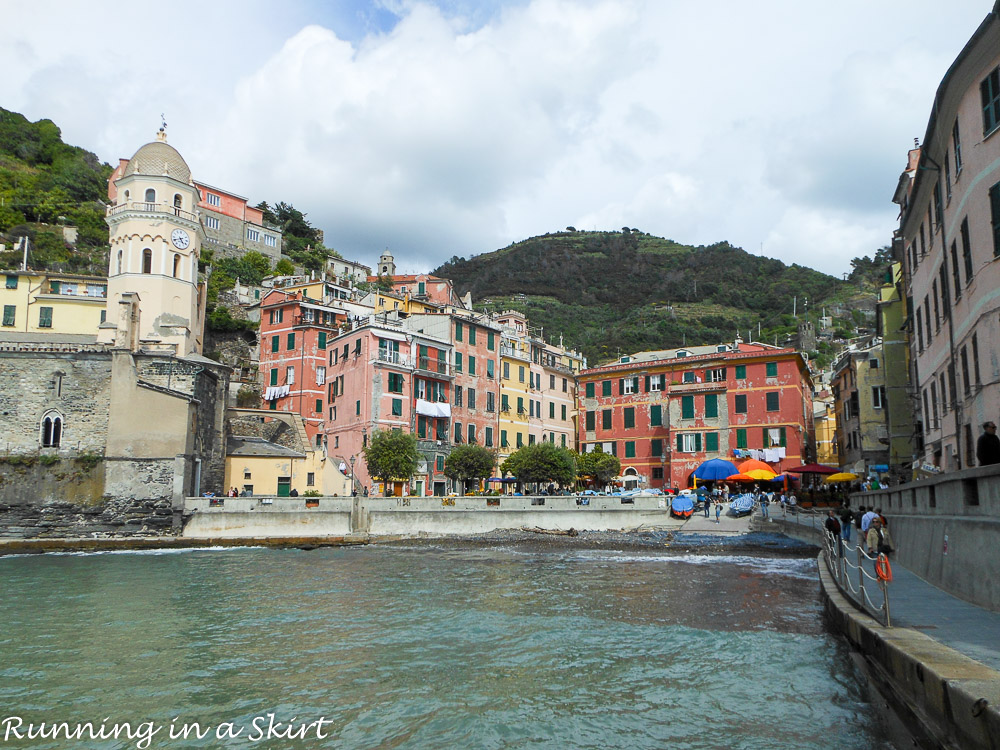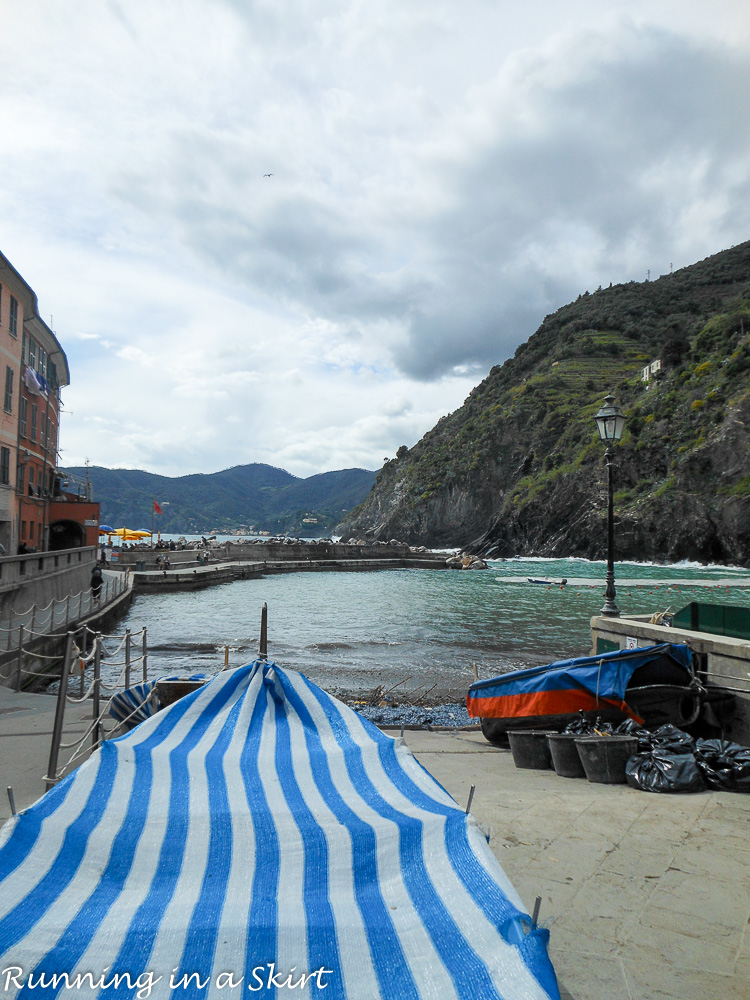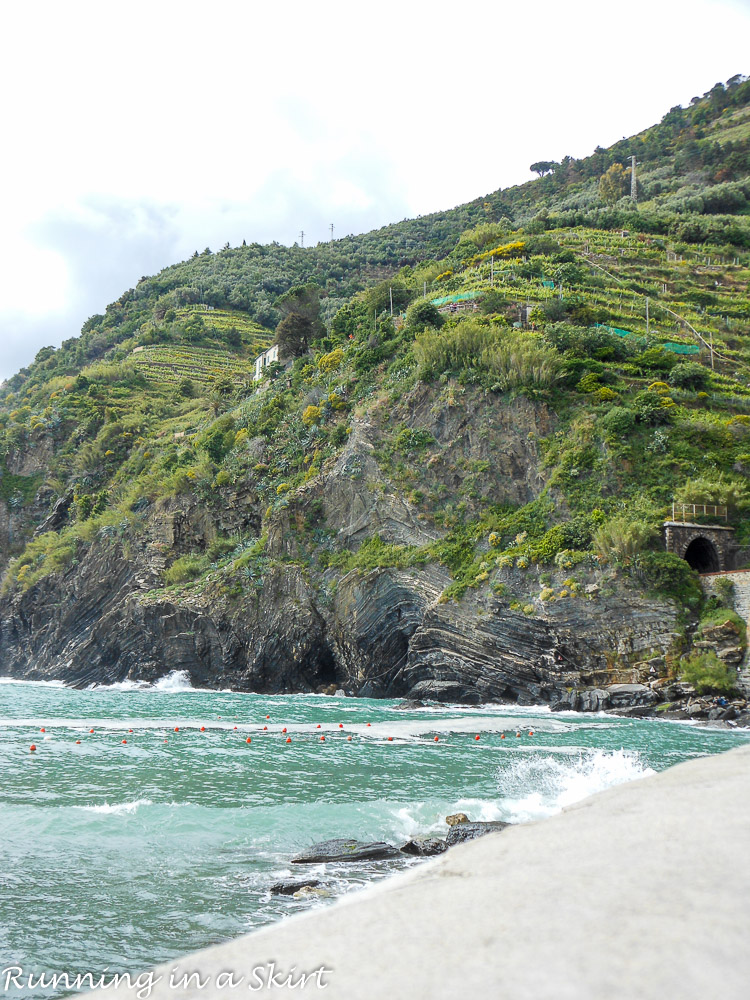 After we enjoy the sites of Vernazza, we take the two hour hike back to Monterosso instead of taking the train.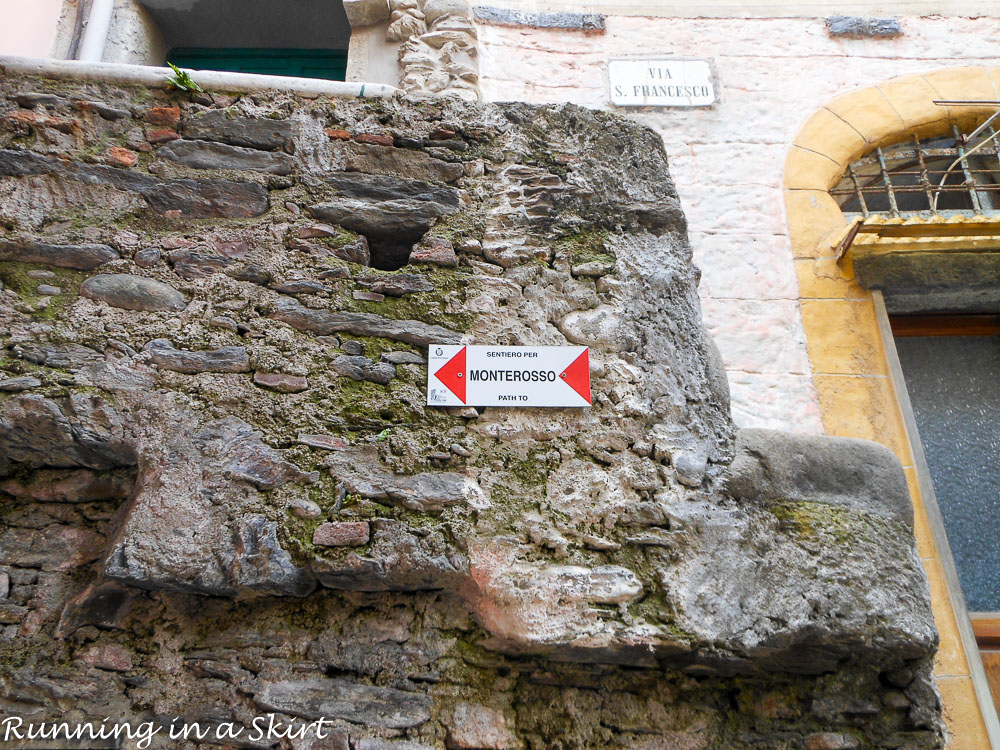 Since the weather is so bad and rainy this is actually the only trail that is officially open during our stay- another bummer!! There are regularly five main trails between the villages and we were hoping to do most of them.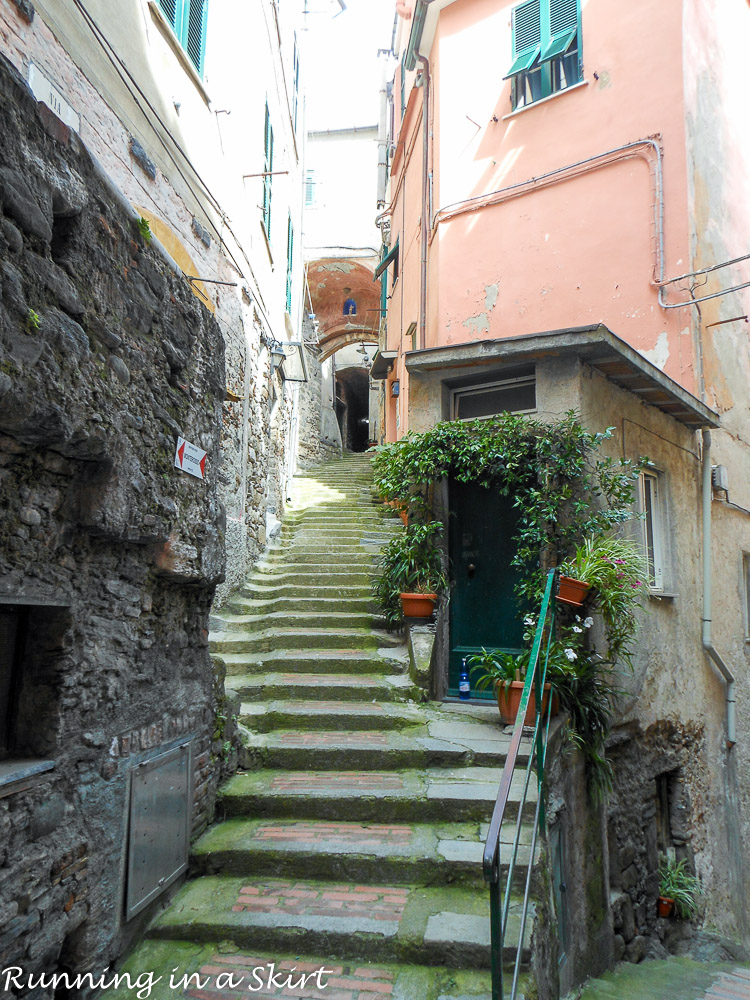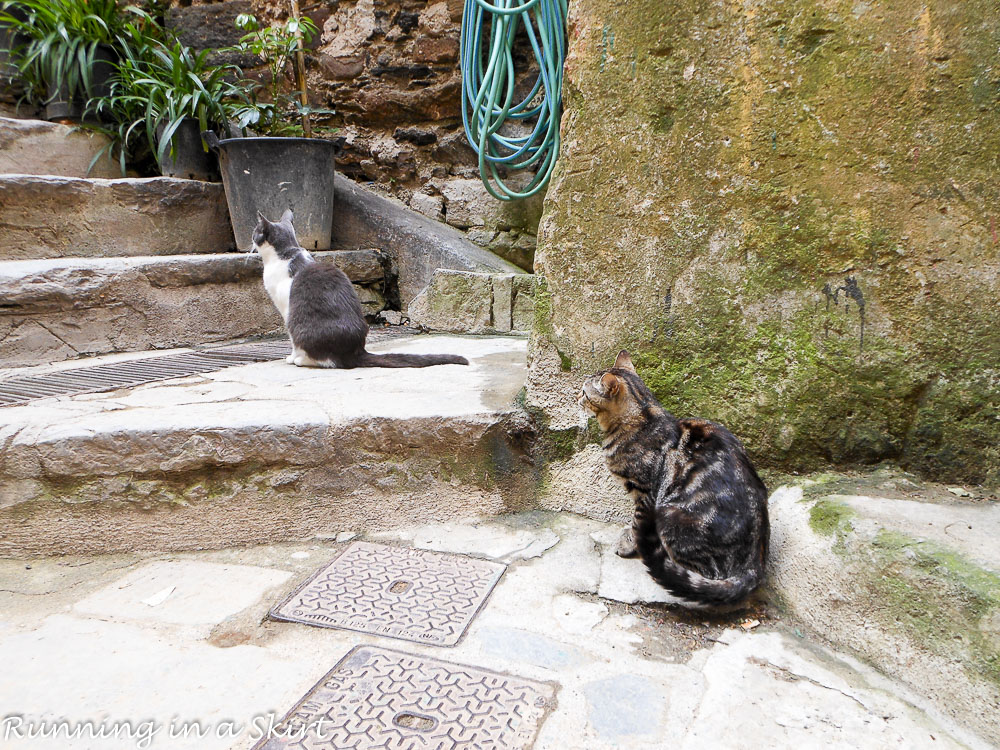 Now, I'm still not feeling 100% recovered from my surgery and the long flight took a lot out of me so I struggle on this hike.
But it is worth every step.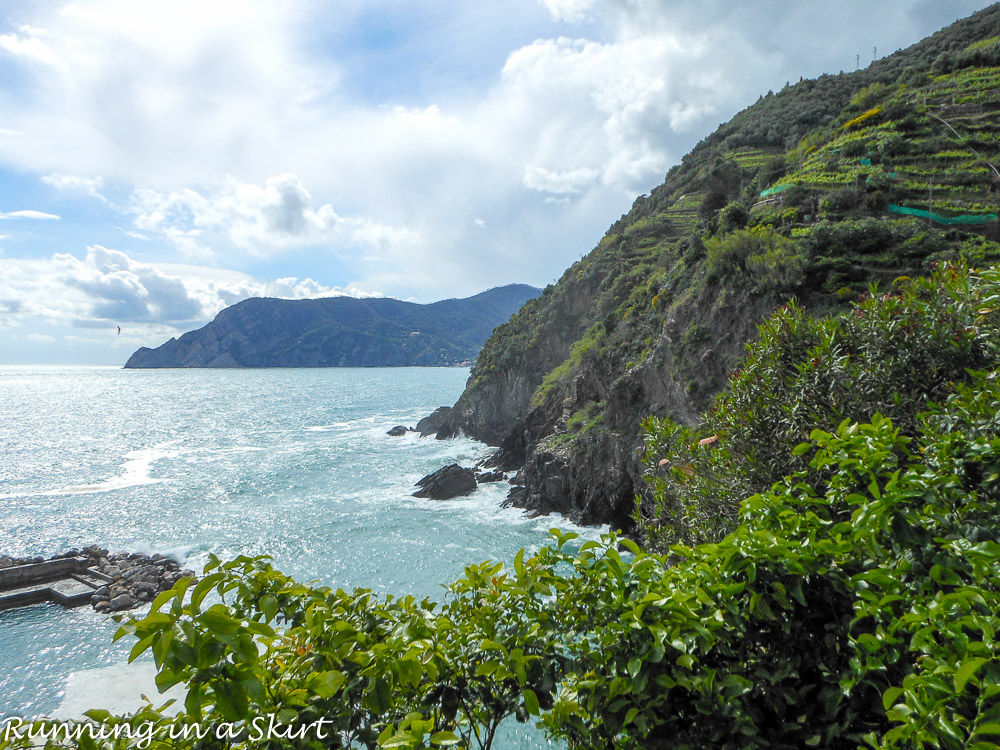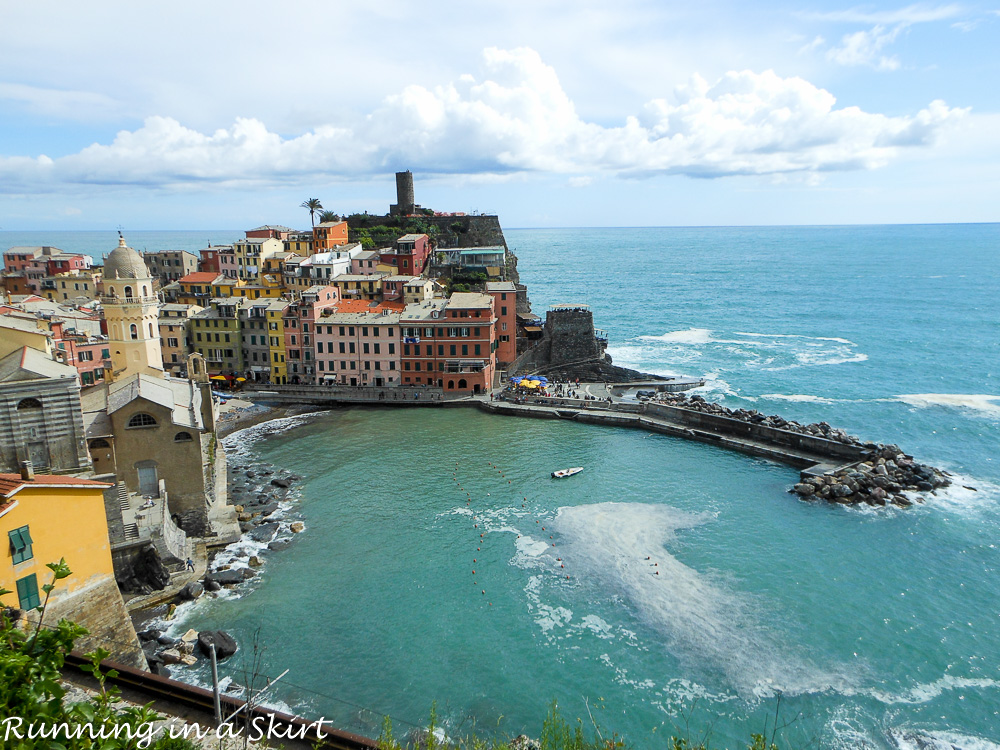 That's the view of Vernazza from the cliff!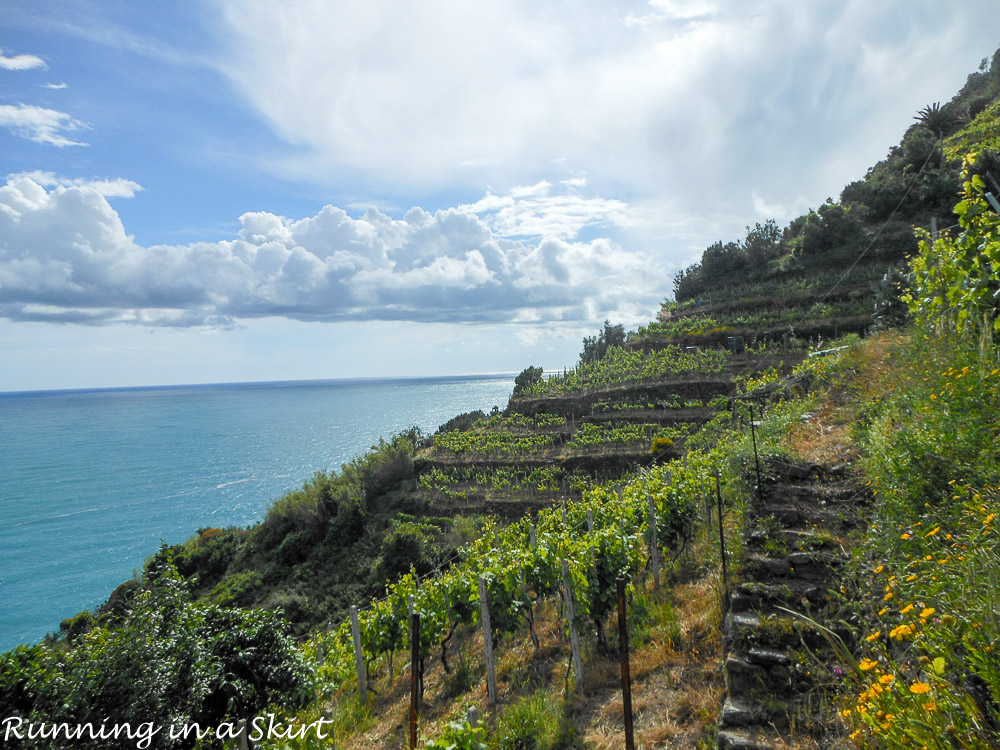 There are also grapes grown on cliffs.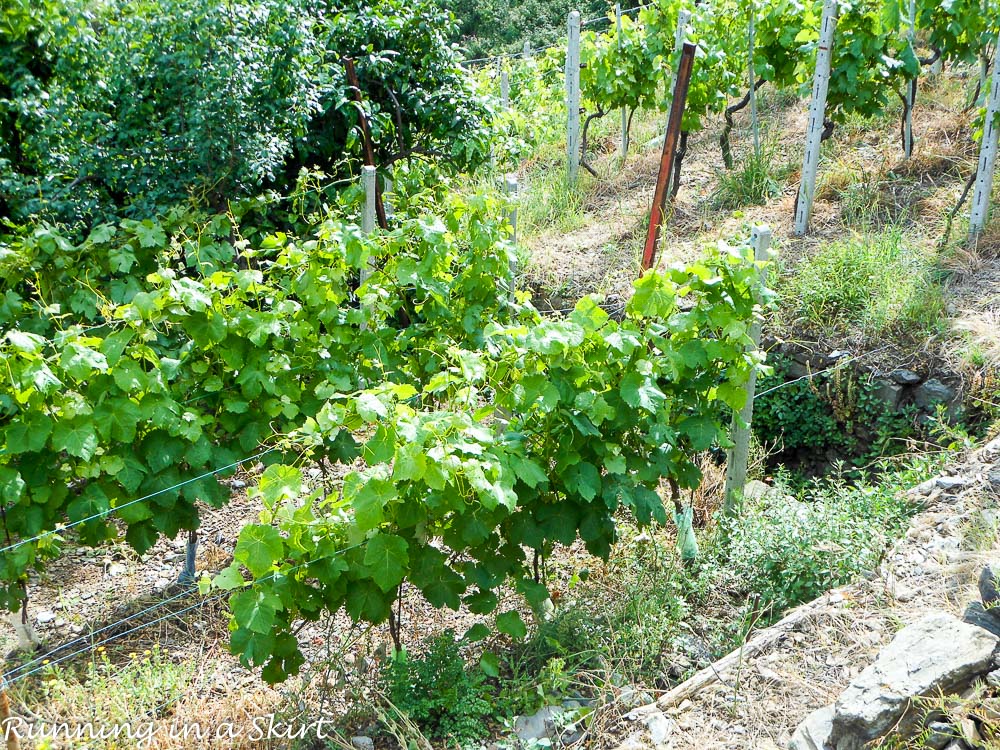 Looking back gives us that iconic view.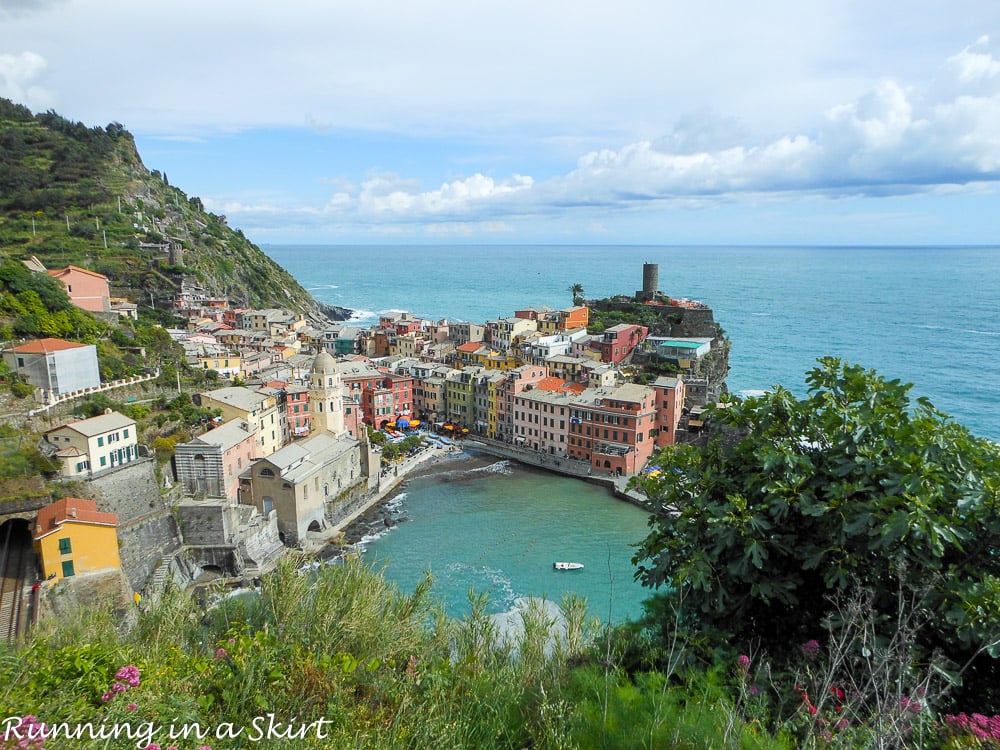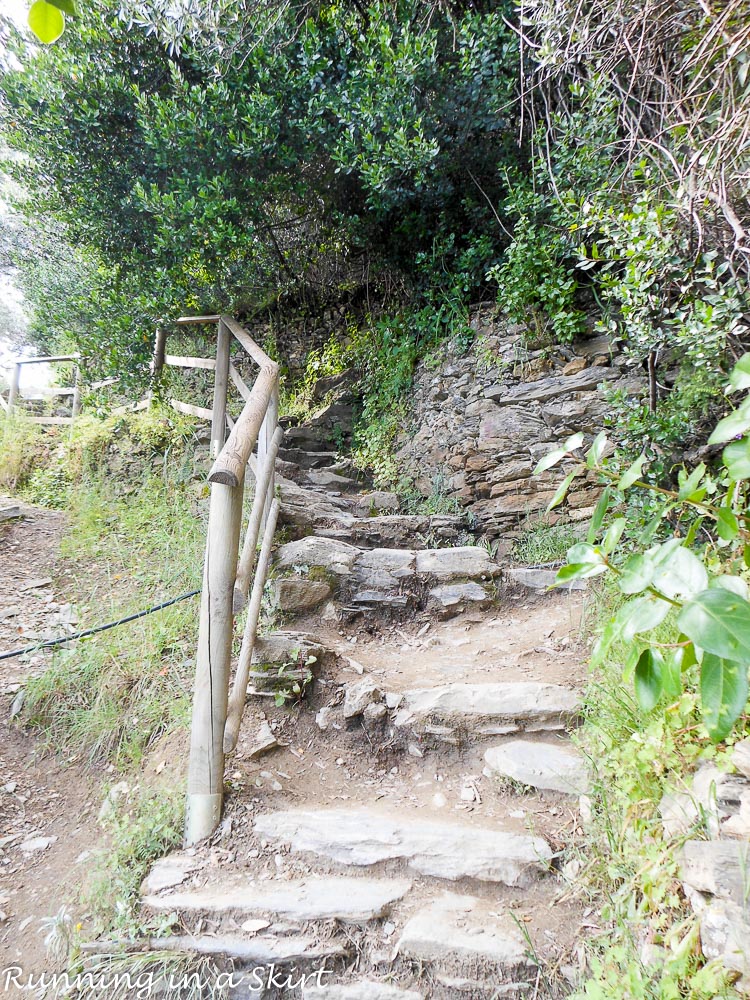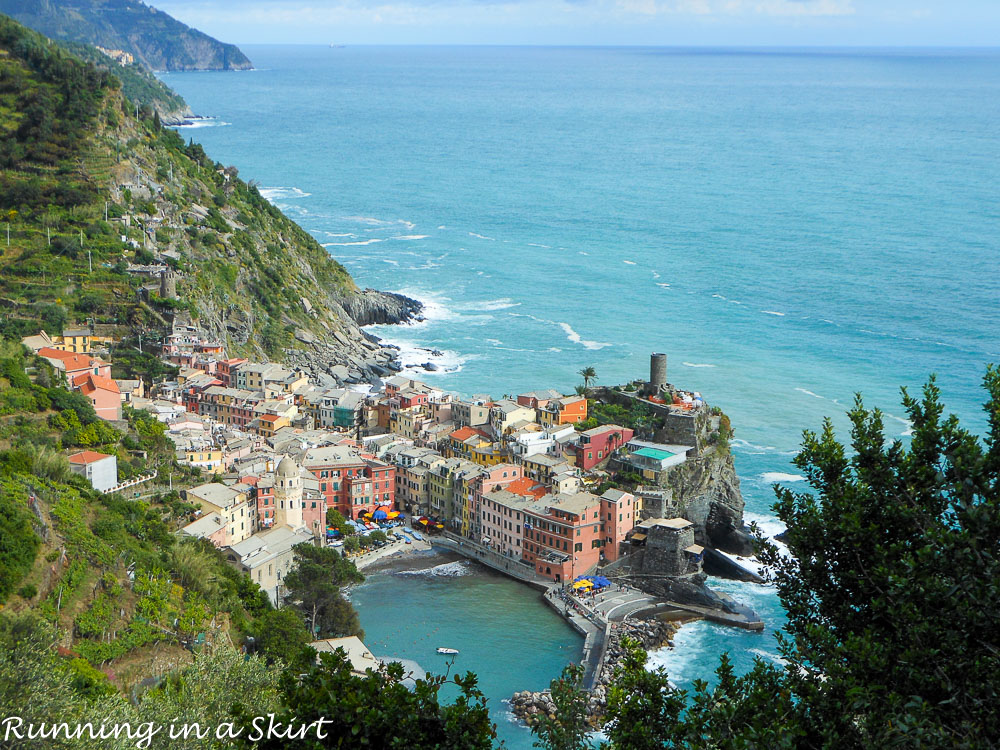 Almost there! Monterosso al Mare in the distance.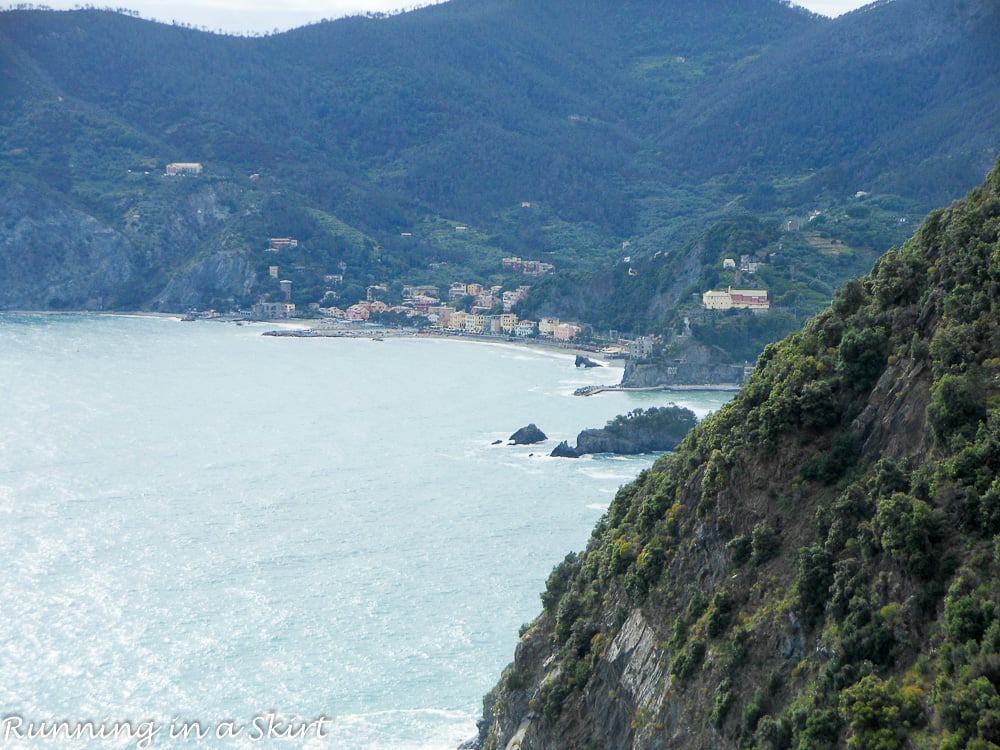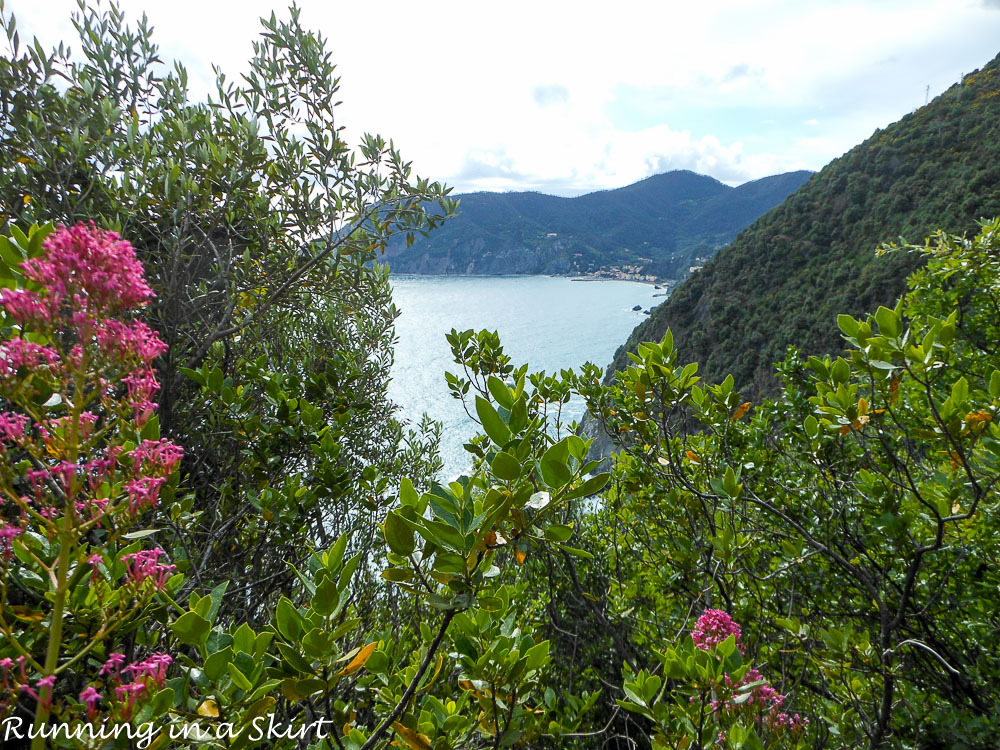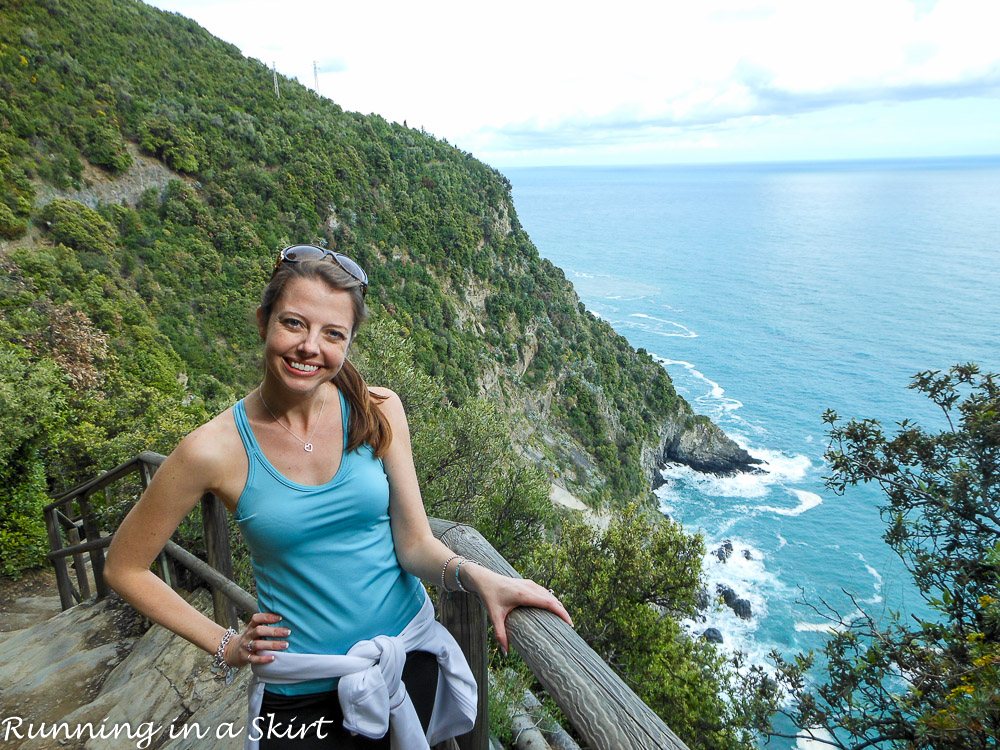 My first SOLID workout post surgery! Not too shabby!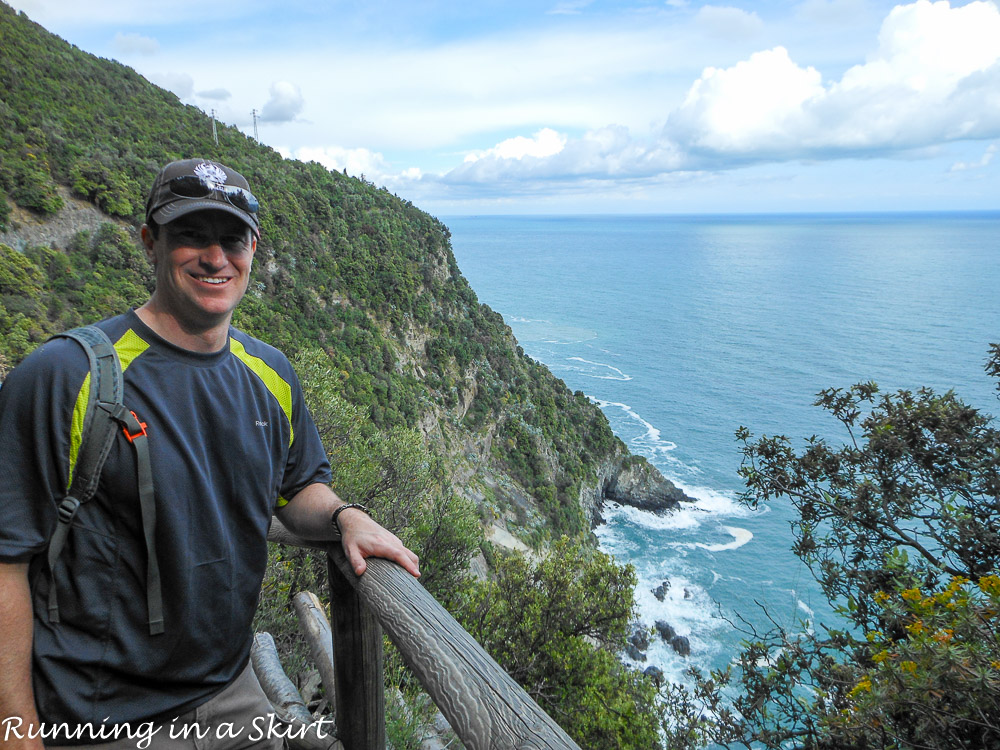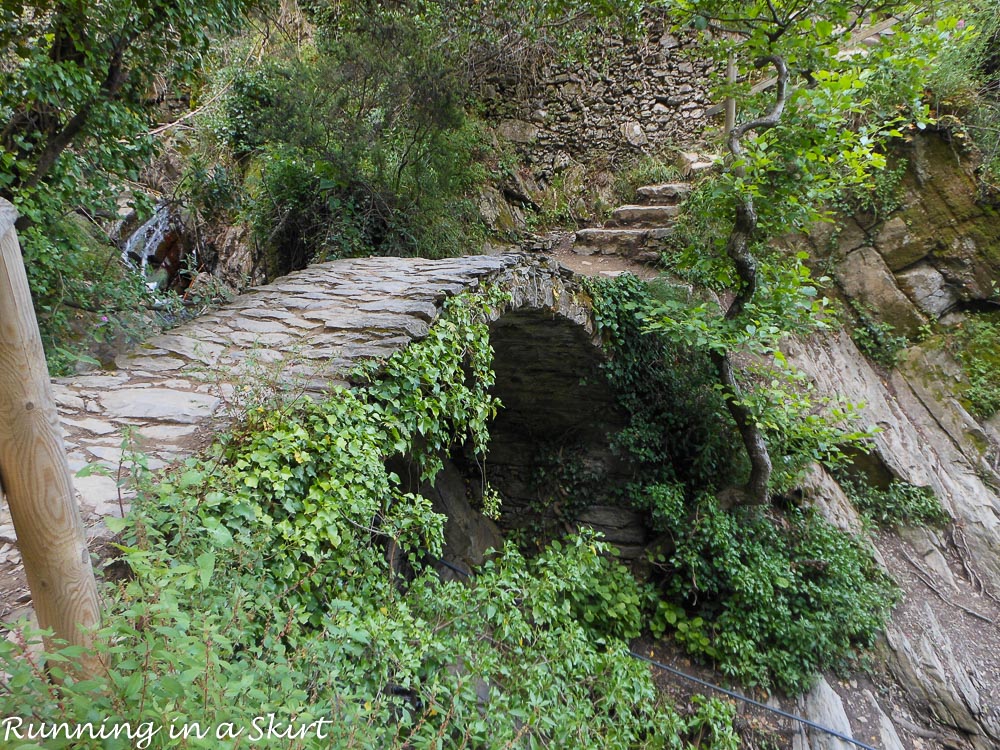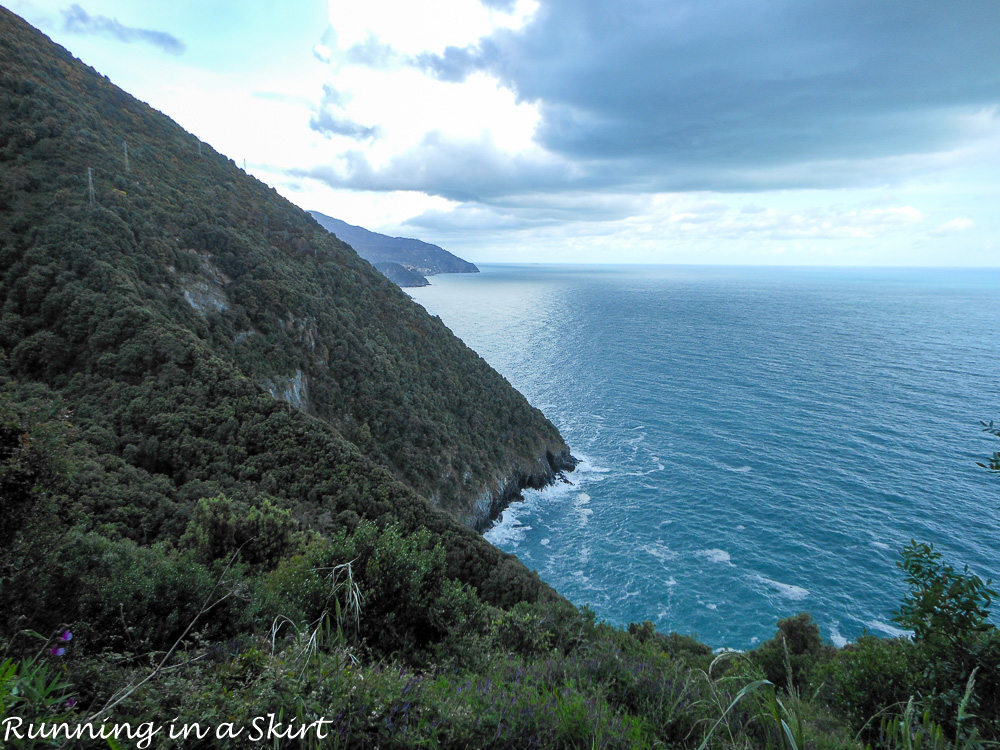 The rain even stops and the clouds clear for most of our hike. It is a tough trail but we have a great time.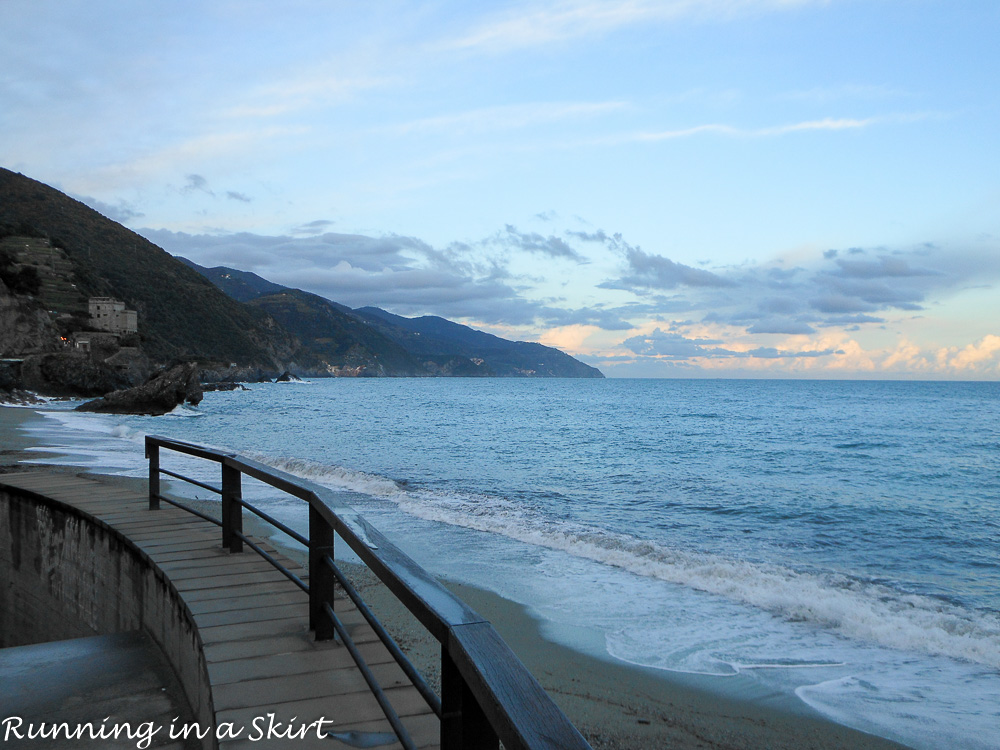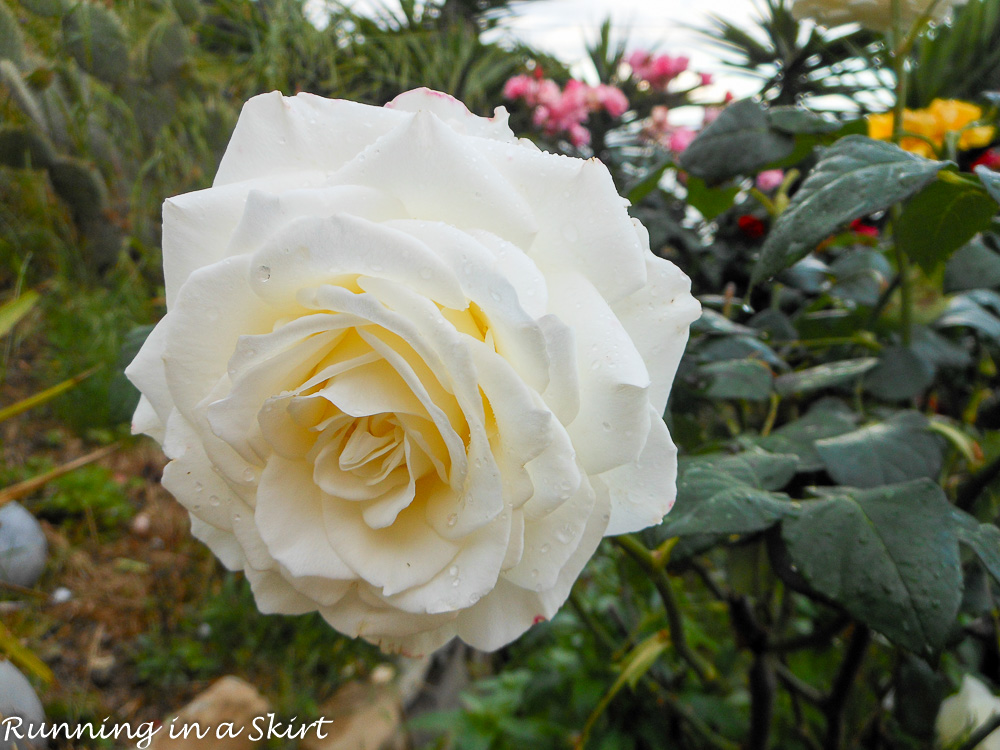 Once again we are hungry… I KNOW!
Did I mention how much we walked?
So we clean up and eat at Miky.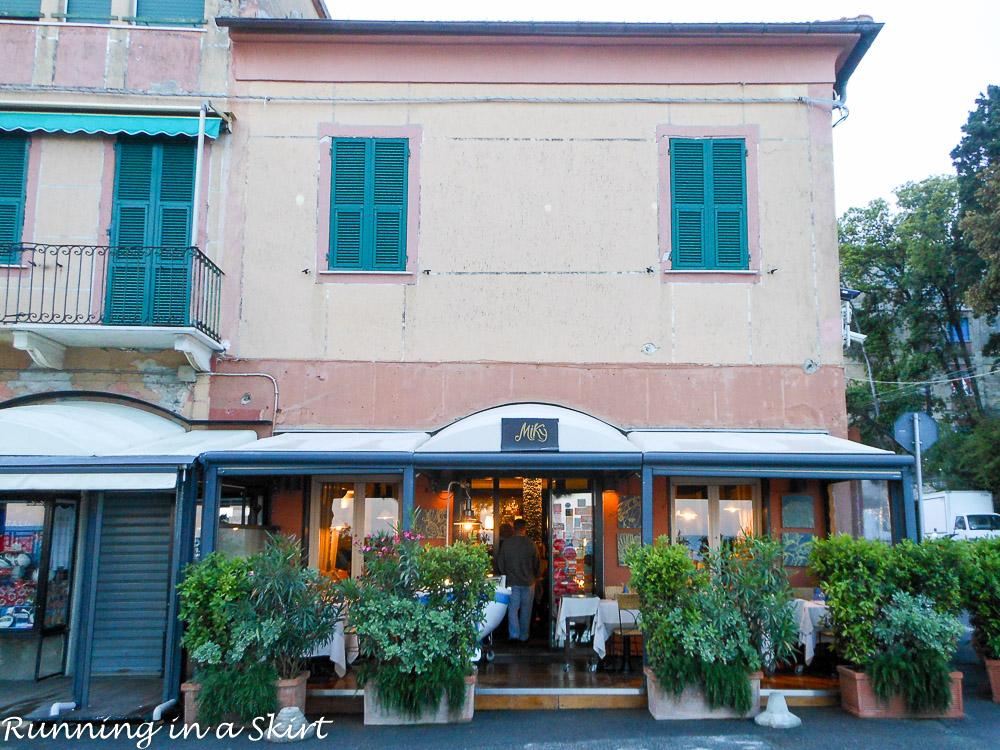 We get the Octopus Salad...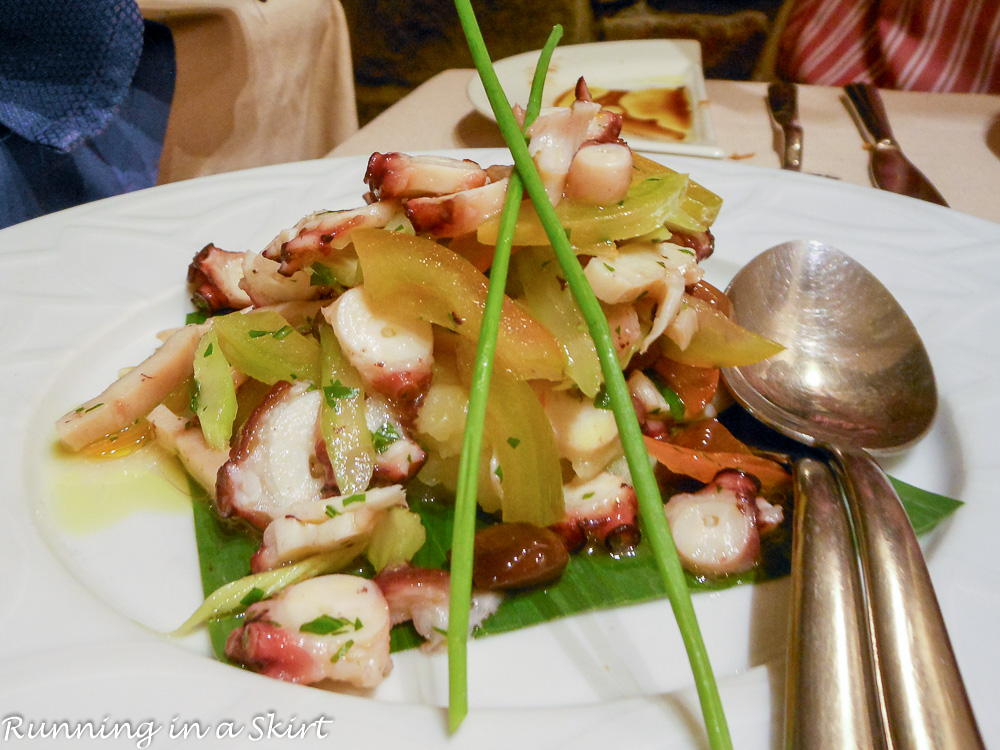 Fresh tuna...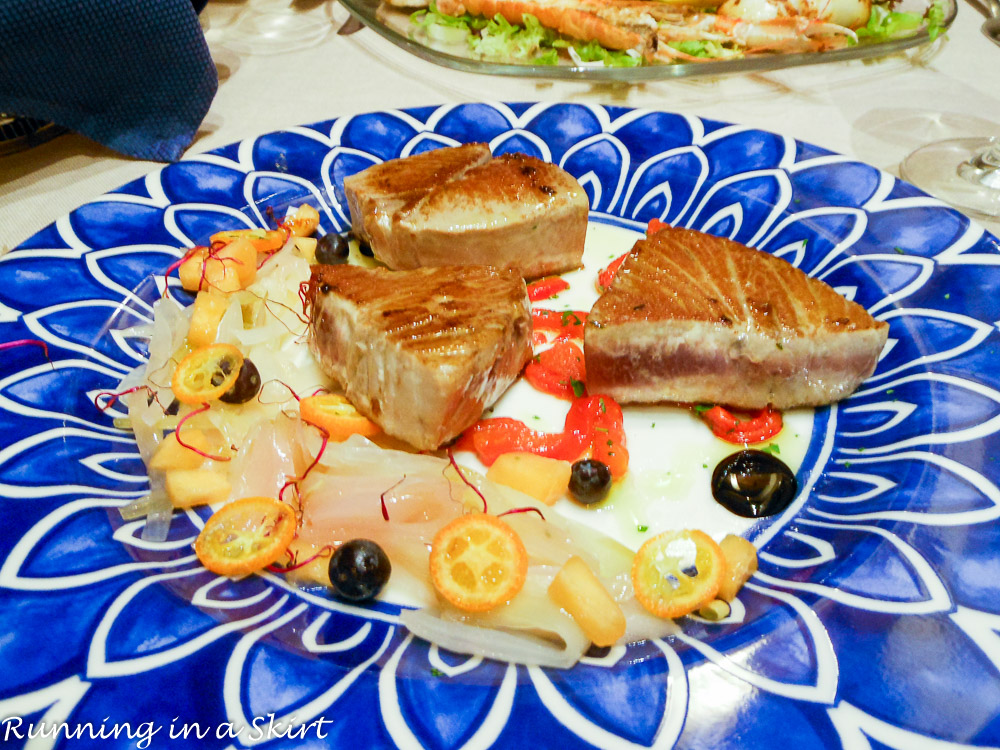 And seafood platter...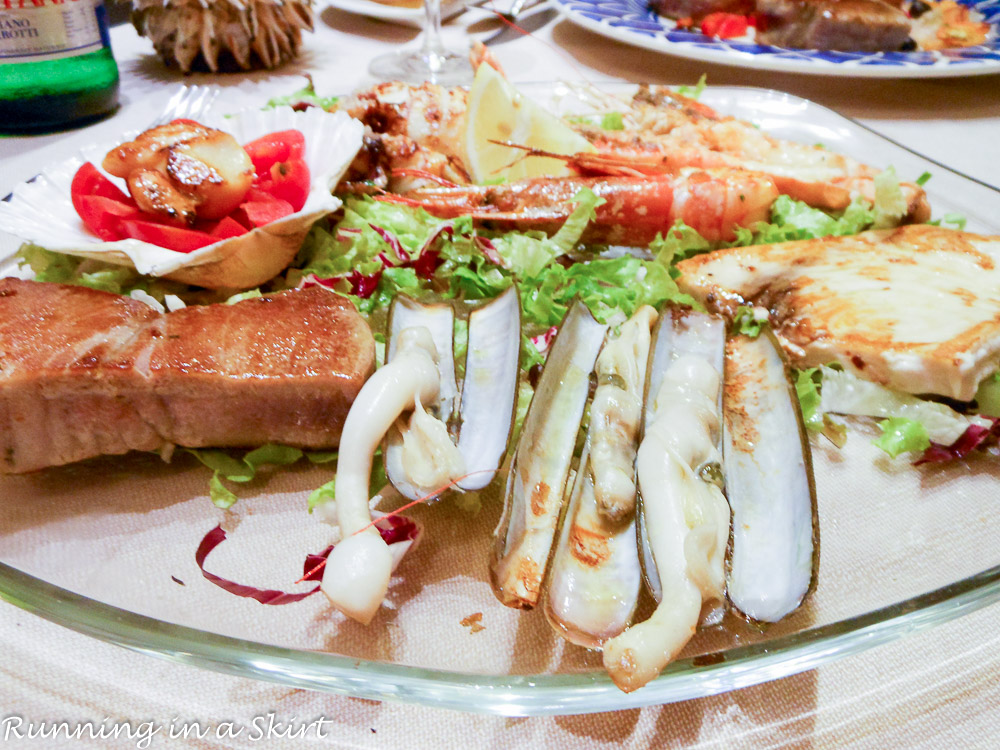 Plus dessert!
Wow! What a day and what a meal.
The next day we are pretty exhausted so we decide to rest more (WHAT! rest on vacation? Crazy idea.) In the late morning we take the train to Riomaggiore, another one of the five villages.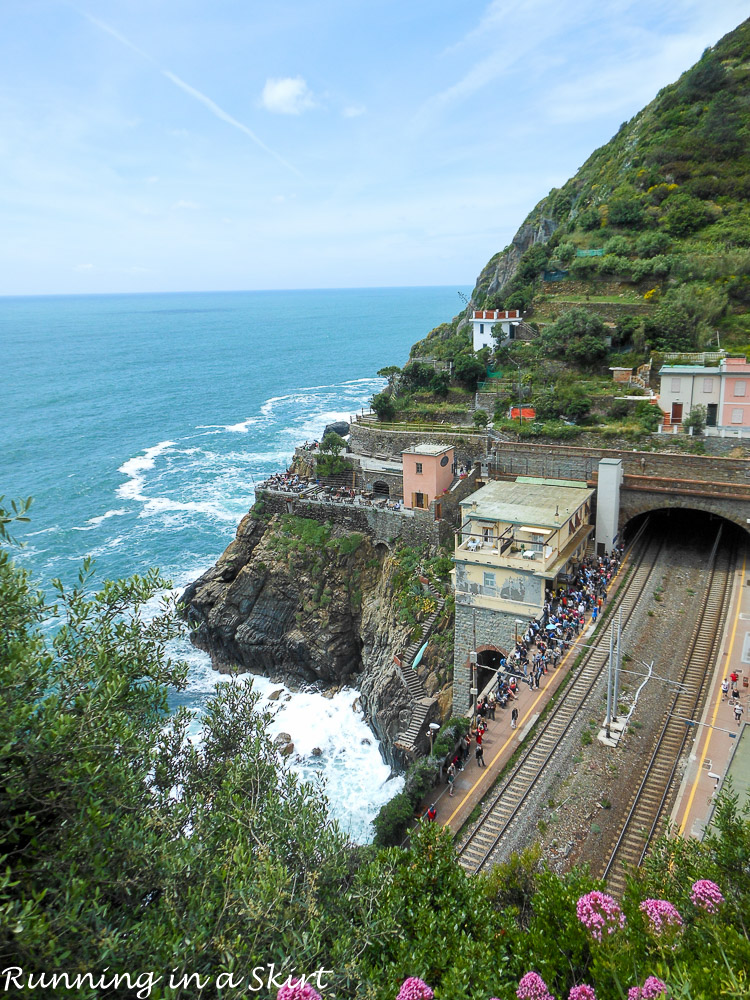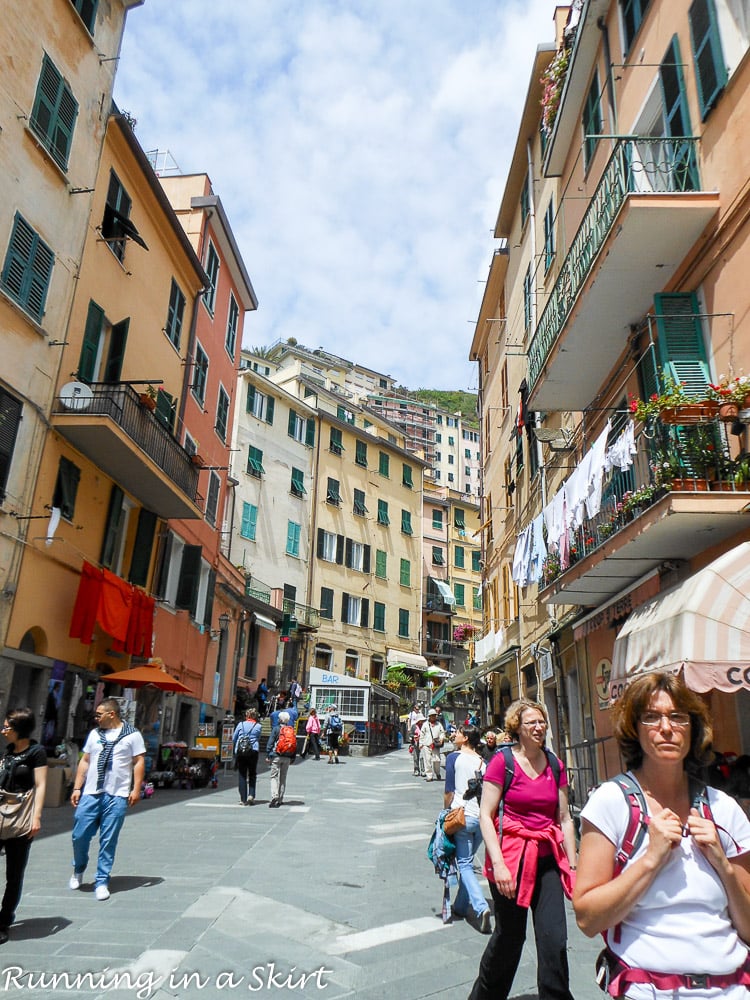 BTW- Italians have amazing food… but not amazing iced tea.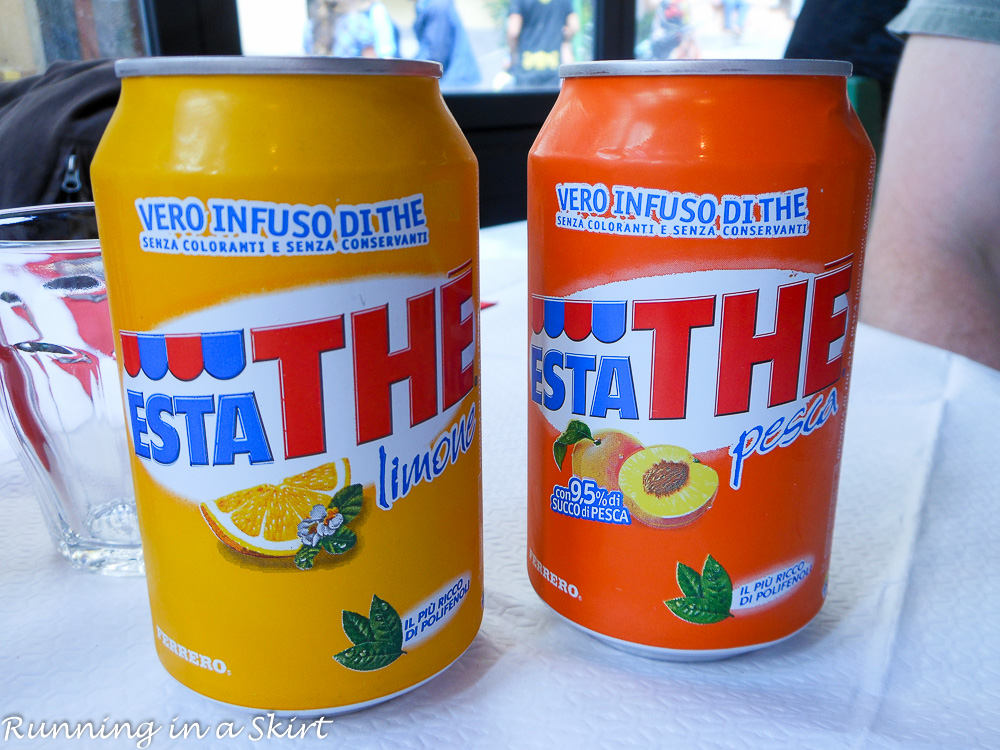 I should have known to stick to the wine :-0
Our goal for the day is to walk along the Via Dell Amore or "Love Walk." This is the small trail from Riomaggiore to Manarola.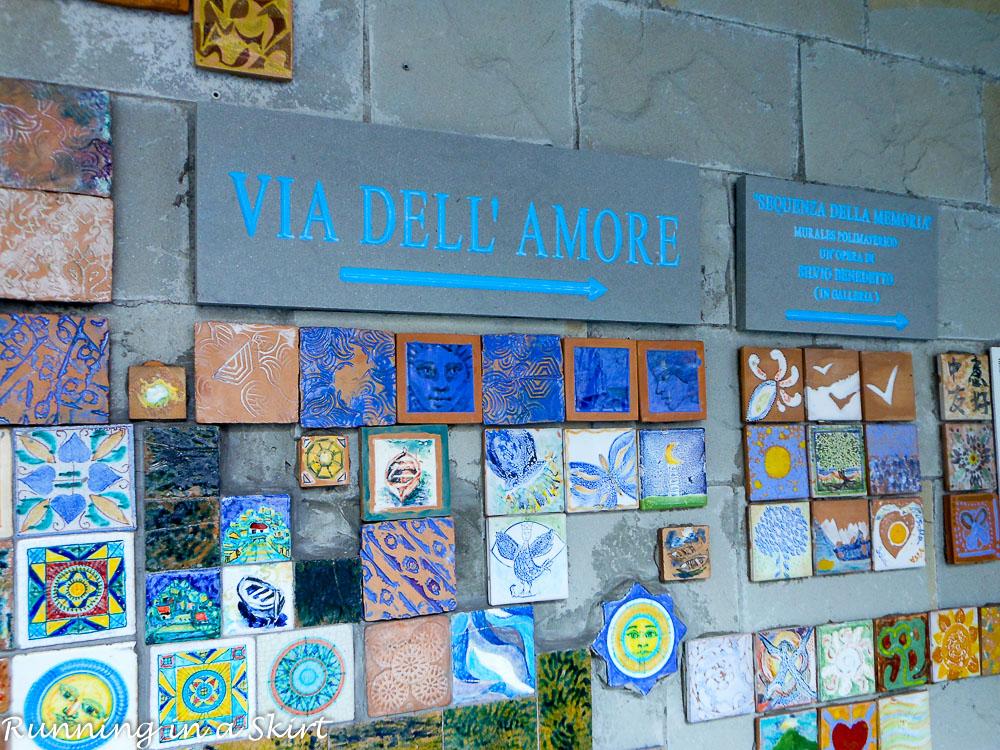 Legend has it that these villages were so remote that no one married anyone outside of their village until this path was built. Once this path was built, young lovers from both towns would meet and fall in love. There have even been weddings on the path.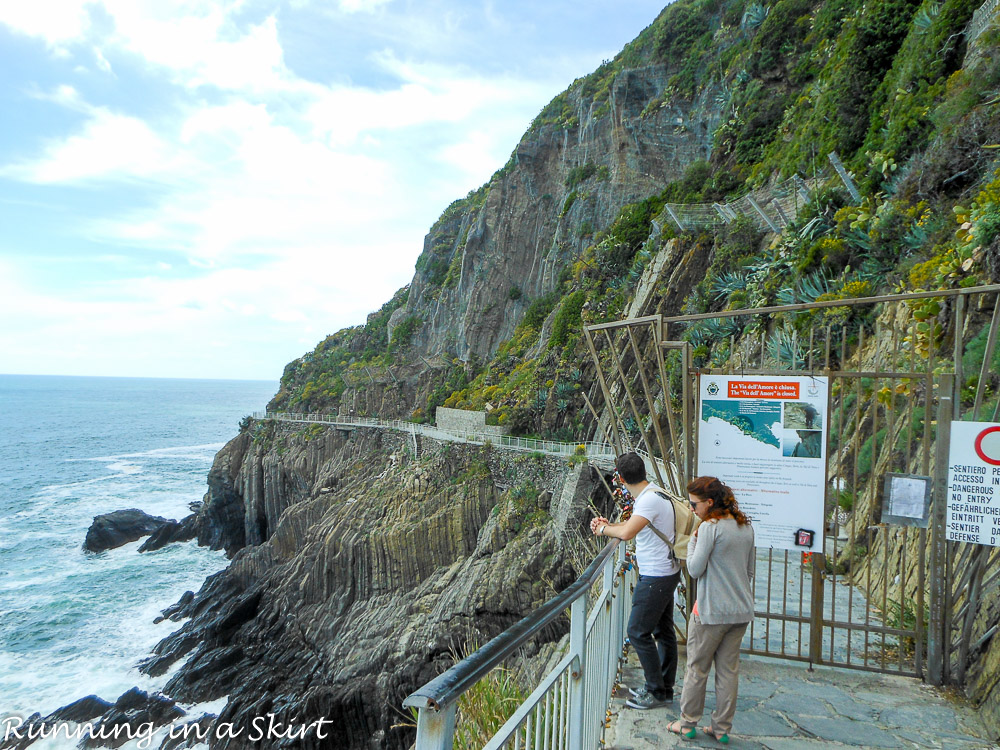 But alas, once again the rainy and cold weather gets in the way. The path is closed. Locals tell us that no one can recall a rainier or colder late May in history.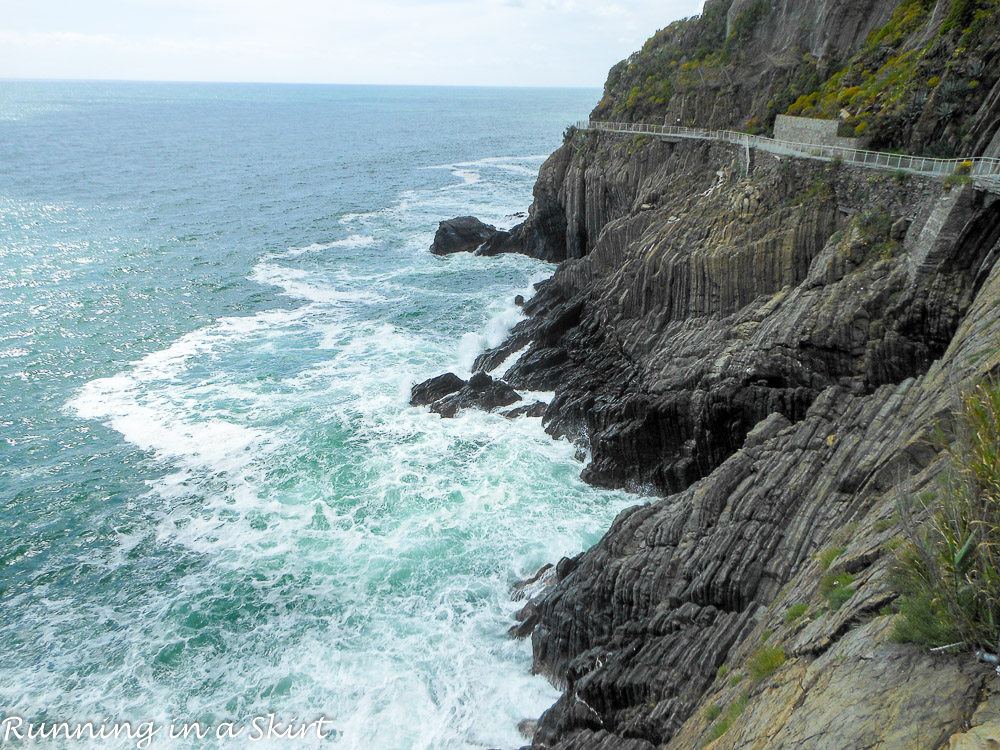 So we give up on hiking and enjoy the views for the day. We get some much needed rest to take on the remainder of our adventure in Italy.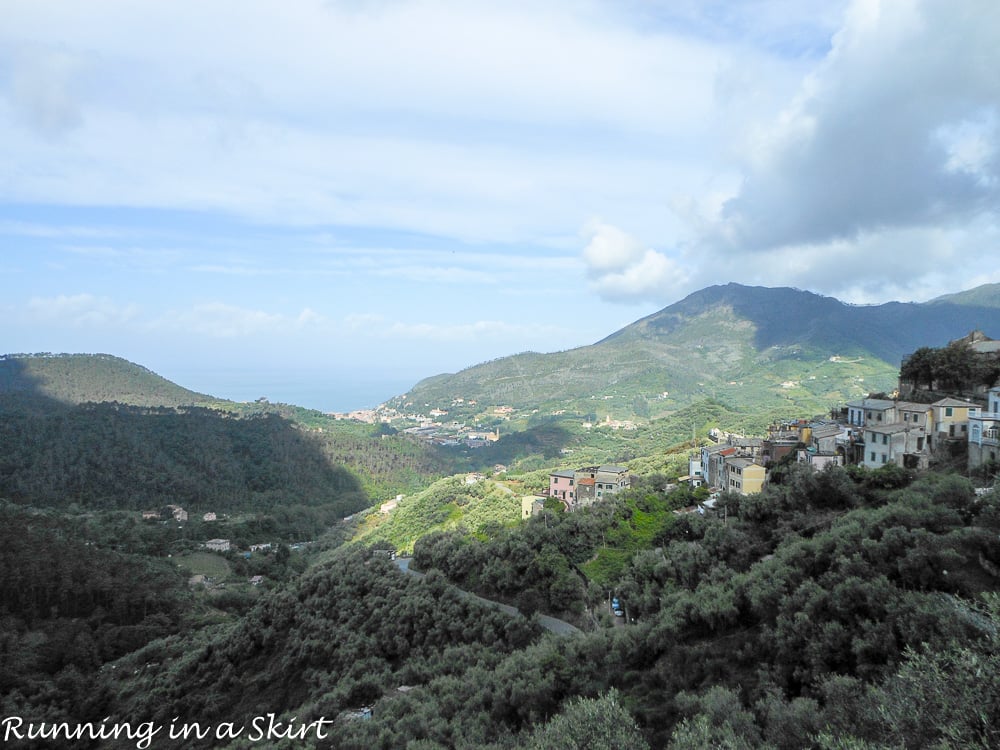 Reflections on Cinque Terre in May
Cinque Terre in May was one of the places I was looking forward to the most on our trip. However, since the weather closed a lot of what we wanted to do, it was actually my least favorite place we visited. There are even normally boats that run between villages, but the sea was too rough for them.
Despite that, I would absolutely include it on an Italian trip, but I would only stay one day.
I'm actually glad we got some rest because the next morning we wake up and start our whirlwind trip of Tuscany.
And let me give you a hint…. it is MY FAVORITE part of the trip.
Yes, believe it or not... prettier and more charming than Cinque Terre.
Stay tuned....
Catch my Entire 2 Week Italy Trip
Like this post about Cinque Terre in May? Pin this to your favorite travel board to find it later!