Running sometimes makes me feel like Rocky. I get in my head that if I can finish, I can do anything.
Come on? Have you ever felt like this running?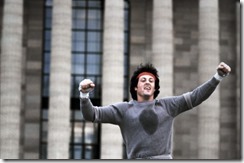 Oh, I know. I've been told I have a flare for the dramatic

The big running comeback after surgery has been hard. It's amazing how quickly and dramatically I lost my running endurance. The thought that I was running 13+ mile training runs nearly every weekend last summer is unbelievable to me.
Lately, I've been thrilled with a 3 mile run.
Since my first run back, I've been consistently running 2-3 miles, 3 times a week. I've had some really good runs and some really awful runs.
My weekend runs have been outdoors but I've been running on the treadmill in the afternoons during the week quite a bit. Between the heat, the rain, and my schedule… it's the best I can do.
Some of the runs have been solid and I've felt pretty good afterwards.
Othe runs my lungs literally felt like they were going to explode.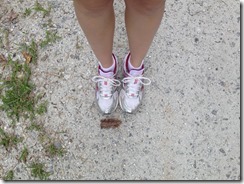 A run around a lake in Columbia in the middle of summer heat really has no chance of being "good."
My times are no where near where they were before surgery. I've been forcing myself to not worry about it too much. I really just want to feel the joy of running.
My low point in the comeback was a treadmill run last week where I just quit half way through. I just could not keep going. I HATE quiting. For some reason, it bothered me for days. I felt weak and defeated.
The ups and downs of trying to get back to where I was have been humbling and inspiring. Despite the struggle, I am slowly seeing glimmers of hope.
Sunday, I wanted to feel that Rocky spirit.
My running adventure started off slow. I couldn't run the path I planned because of the flooding rain. The rain had temporary stopped, but the river was still rising.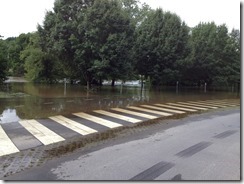 DARN it! Stupid rain. If only a Meteorology degree meant I could make the rain STOP!
The change in plans normally would have thrown off my groove, but I quickly regrouped and I found another great path. It was hillier than I like (yes- I know I live in the mountains), but I didn't care. It felt so good to be outside, feeling strong and doing what I love. I progressively got faster during the run.
Mile 1: 10:35
Mile 2: 10:15
Mile 3: 10:05
BOO-ya! A negative split with respectable times for me!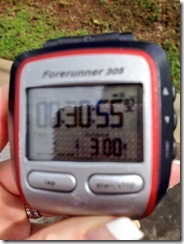 Strong finish. Now this is progress.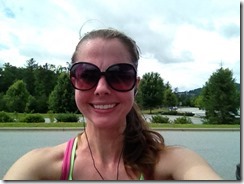 Don't try to tell me I don't look like Rocky in this picture… because in my heart.. I do. Look at that sweat!!!!
No one ever said running was easy.
No one ever said a comeback was going to be easy.
But when I have a major breakthrough and feel the strength building back in my legs and the joy coming back to my heart, I know it's all worth the effort.
Just call me Rocky Wunder.
--------------------------------------------------------
QUESTIONS:
HAVE YOU EVER HAD "ROCKY" RUN WHERE YOU FEEL LIKE A CHAMPION? (No matter what your pace was?)
DO YOU EVER FEEL BAD AFTER QUITTING IN THE MIDDLE OF A RUN?
DO YOU HAVE ANY WORDS OF WISDOM FOR MY COMEBACK?