Happy 4th of July everyone. How was your holiday? What did you do?
"I'm blaming the rain on YOU, Mom"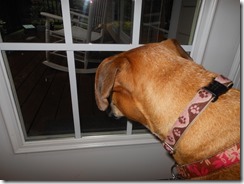 "Please let me out to play! I promise not to come back muddy!"
If you live anywhere in the South or the East you probably, like us, have seen more than your fair share of rain this week. I wish I could just turn it OFF.
What a mess for the 4th of July holiday. We basically cancelled all of our original plans and decided to hunker down for the weekend.
Movie anyone?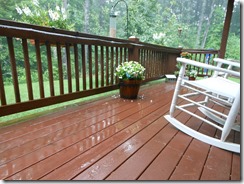 Rhett and Reina are all dressed up with no where to go.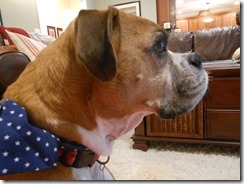 "I refuse to look at you because you will not let me outside and you put this stupid, festive bandanna on me."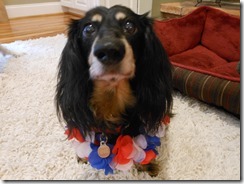 "I'll wear anything you want as long as you give me a fresh grilled hamburger for the 4th of July"
So Rhett was out of luck, we decided to not even try to grill and instead made homemade Caprese salad.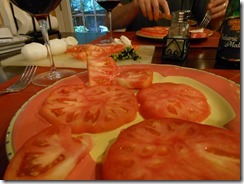 Fresh mozzarella, heirloom tomato, olive oil we brought home from Italy, and basil from our herb garden! Because nothing says "big American holiday," like a traditional Italian salad??? I know—not an obvious choice. It was SO good though.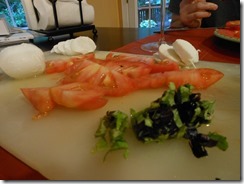 Don't worry we went out to 12 Bones for lunch earlier in the day, so we had a giant American-like BBQ lunch.
And we had giant blueberry pancakes for breakfast… because pancakes are festive anytime.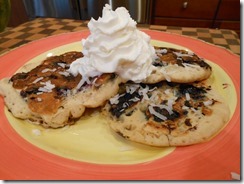 I guess we will save the cookout and fireworks for another weekend.
Stay dry everyone. I hope you get some time in between torrential rains to enjoy some time outdoors. If not, hunker down and just enjoy the time with your family… even if it means some nontraditional choices.
------------------------------------------------
QUESTIONS:
DID YOU HAVE TO MAKE ALTERNATE 4TH OF JULY PLANS BECAUSE OF THE RAIN?
WHAT'S YOUR FAVORITE 4TH OF JULY MEAL?
ARE YOUR DOGS/ PETS CRAWLING THE WALLS WITH ALL OF THIS RAIN?[/fusion_builder_column][/fusion_builder_row][/fusion_builder_container]