Guess what came in the mail the other day?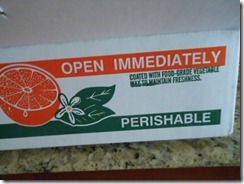 Greetings from Florida?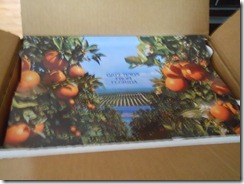 I love Florida!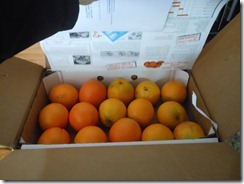 And I love Florida Citrus!
Straight from the grove to our mountain home! My best friend's Mom sent them to us to try to keep us healthy during the holidays. I'm obsessed with fruit, so I am happy a camper. Yum. Something about this box from Florida is making me think of sunshine, warm weather & beaches.
So I can't exactly go to the beach right now, but I've still been doing some serious sweating. I'm finally running better! I've been running solid 5K's (3.1 miles) twice during the week and last weekend I did this!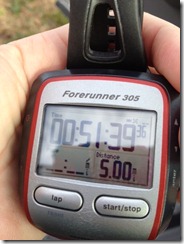 Well, Julie, That's not too shabby!
Take that pavement!
This is not my best 5 mile time ever, but considering how badly I've been running lately, this is a big deal for me. It's also the first time I pushed back up above 3.1 miles since the marathon. It's just what I needed to get my confidence back. I now feel like I have a decent starting place to reach my new running goals (READ ABOUT THOSE HERE.) There is nothing like a good run to make you feel awesome. Woop! Woop!
I've also been trying to get some decent food on the table. I always feel better when I eat well. This week I made a variation of a minestrone soup with mushrooms, white beans & feta cheese. Delish!
I also tried out this new recipe!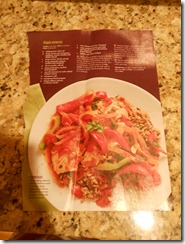 My own version of Pinterest is to rip recipes
out of magazines and stick them in a folder.
This is definitely not as efficient, but it's how I roll.
I found this recipe in Family Circle last January, but never made it. This week I was trying to figure out what to make for dinner and I stumbled across it again. I decided to make it because it reminded me of food we ate when we took a trip to Costa Rica last April. I know it's Christmas, but apparently between the oranges and this recipe. I have the beach on my mind.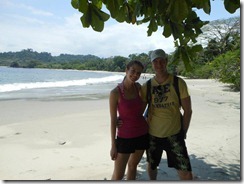 I'm dreaming of a beach-y Christmas!
Must be the former Floridian in me… Where are those Oranges….?
(BTW, This pic is Manuel Antonio Beach in Costa Rica)
So, without further ado, a recipe that has nothing to do with holidays or Christmas. But it does make me think of the beach. Sorry! I hope you enjoy regardless!
TILIPIA VERACRUZ
(Adapted from Family Circle Jan 2012 Recipe)
Serves 4
2 tablespoons olive oil
3 large bell peppers, thinly sliced
1 large onion, thinly sliced
1 large jalapeno pepper, seeded and chopped
2 teaspoons minced garlic
1 tablespoon Caribbean seasoning
1 teaspoon cracked red pepper
1 16 oz can diced tomatoes (I like fire roasted garlic)
1 8 oz can no salt added tomato sauce
salt/ pepper
4 Tilapia fillets
1 lemon
1 package yellow saffron rice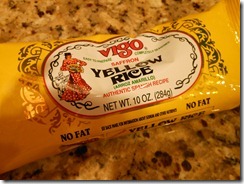 I LOVE this stuff!
1) Boil the water for the yellow rice and start cooking it according to the package directions.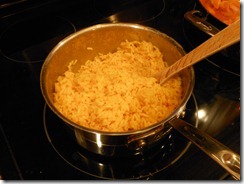 2) Season the fish with salt. pepper, squeezed lemon & Caribbean seasoning. Let it sit while you are preparing the veggies.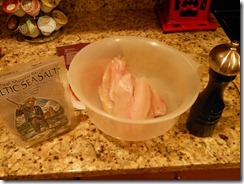 3) Heat the oil in large skillet with medium- high heat. Put the pepper, onion, jalapeno and garlic in the skilled and cook until they start to get tender (about 10 min.) Stir in the canned tomatoes and the tomato sauce. Season to taste with salt, pepper, Caribbean seasoning and cracked red pepper. Simmer the sauce until it looks nice and tasty.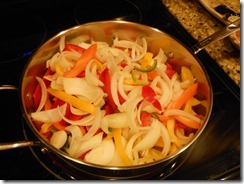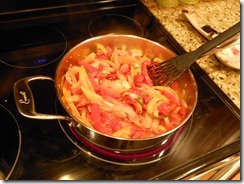 Yum, Tasty!
4) Add the tilapia to the veggie dish and cover with the sauce. Close the lid on the pan and let simmer for about 6 minutes or until fish is just starting to flake. Watch the dish closely because the fish will cook fast and you don't want to overcook it.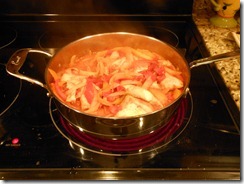 5) Serve the rice on the bottom and veggie & fish mixture on the top. Place a pretty lemon wedge on the side.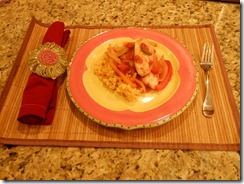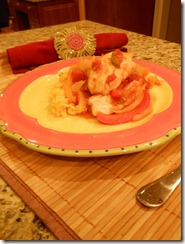 Mental Note: Work on food photography skills….
These pics are not so great.
The whole recipe takes less than 30 minutes and is easy, tasty and healthy. I even got lucky this week and some beautiful colored bell peppers were on sale! SCORE! That is hard to come by in December. Tilapia is a very light and flaky white fish that is relatively inexpensive.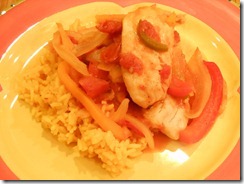 If you don't like Carribean seasoning you can replace it with your favorite all purpose herb seasoning. If you don't like hot food, just take out the red pepper and/or jalapeño. This dish as made is not that spicy though!
Happy cooking!
What are you guys dreaming about this Christmas?[/fusion_builder_column][/fusion_builder_row][/fusion_builder_container]