An irresistible and creamy Healthy Pumpkin Cheesecake Dip with cream cheese, greek yogurt, and real pumpkin. This easy no-bake dessert dip is made with only 6 ingredients and NO cool whip!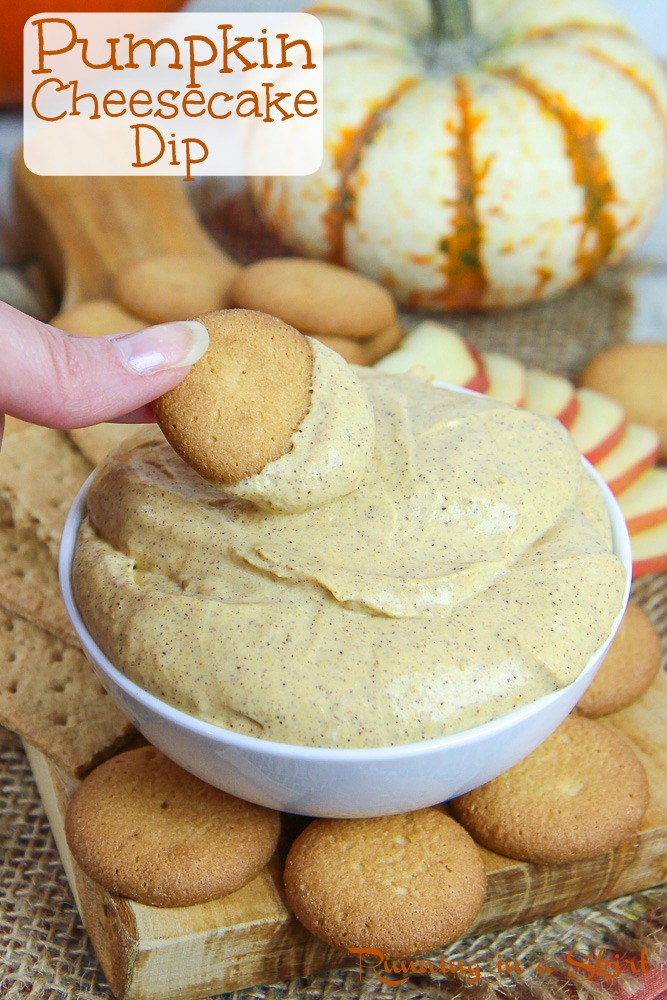 I just love a good dip, especially during the holiday season. Bonus points if the dip comes together with just a few ingredients AND is no-bake. There is something special about having a spread of festive dips with fun dippers at a party or family gathering. It just brings people together. This delightful pumpkin dip will do just that at any Halloween, Thanksgiving, or Fall gathering.
Healthy Pumpkin Cheesecake Dip
If you are a pumpkin fan, you are going to LOVE this irresistible and perfectly snackable Healthy Pumpkin Cheesecake dip. It literally tastes like scoops of delightful pumpkin pie flavored cheesecake in a dippable form. And of course, my version comes with some healthy swaps making this a slightly healthier recipe to pick from.
It's SMOOTH, CREAMY, and did I mention PUMPKIN-y?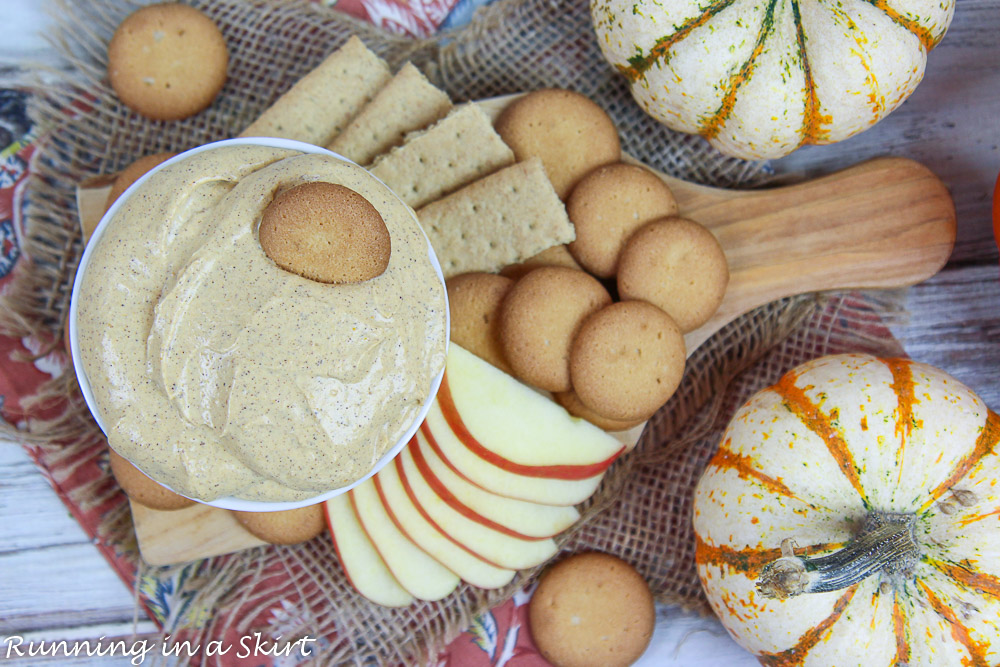 Why You'll Love this Healthy Pumpkin Cheesecake Dip recipe...
This Healthy Pumpkin Dip is just what pumpkin lovers have been waiting for. It's a fluffy and creamy dip flavored with lots of pumpkin pie spice, canned pumpkin, and sweetened with either honey or maple syrup (your choice!) This simple combination tastes like pure PUMPKIN SPICE SEASON.
The base is a combination of whipped cream cheese (which I find lighter and healthier) AND greek yogurt. Sure you could go for straight cream cheese with this dip BUT the greek yogurt balances it out and adds some extra nutrients like probiotics and protein.
You will seriously LOVE this dip because it's no-bake AND only 6 ingredients meaning it all comes together in less than 10 minutes.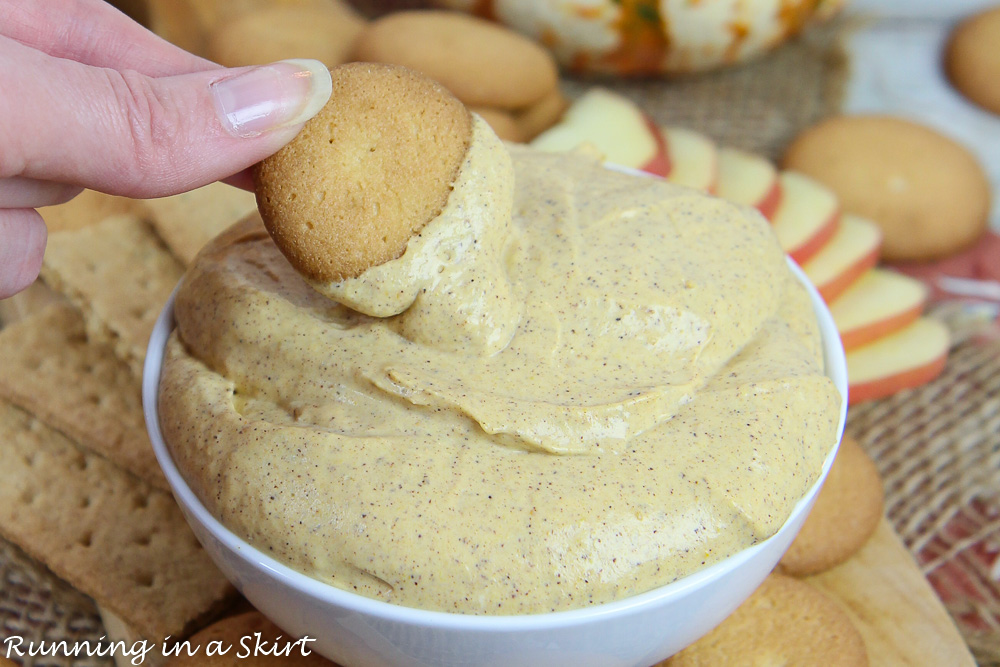 No-Bake Pumpkin Cheesecake Dip Ingredients:
Pumpkin Puree: Make sure to buy regular pumpkin puree and not pumpkin pie mix for my Pumpkin Cheesecake Dip.
Whipped Cream Cheese: I think whipped cream cheese makes this recipe lighter and fluffier.
Plain Greek Yogurt: Plain greek yogurt bulks out this dip with fewer calories and more health benefits than straight cream cheese. Low fat or full fat will work depending o your dietary preferences.
Pumpkin Pie Spice: This simple spice blend featuring cinnamon, nutmeg, and cloves gives you that classic pumpkin pie flavor you crave.
Vanilla: A touch of vanilla brings out the flavors.
Honey or Maple Syrup: You'll want a touch of a sweetener to get the dessert flavor you want. I picked honey for my testing but maple syrup will also work. You could also make this recipe lighter by sweetening it with stevia or your favorite keto sweetener. Just sweeten to taste.
What about the cool whip?
Many Pumpkin Cheesecake Dip recipes include cool whip but mine doesn't which is why this is a Healthy Pumpkin Cheesecake Dip. I feel like this blend of ingredients (including the greek yogurt swap!) is just as tasty and without the processed cool whip. I also don't use regular sugar in my dip and sweeten it with honey or maple syrup.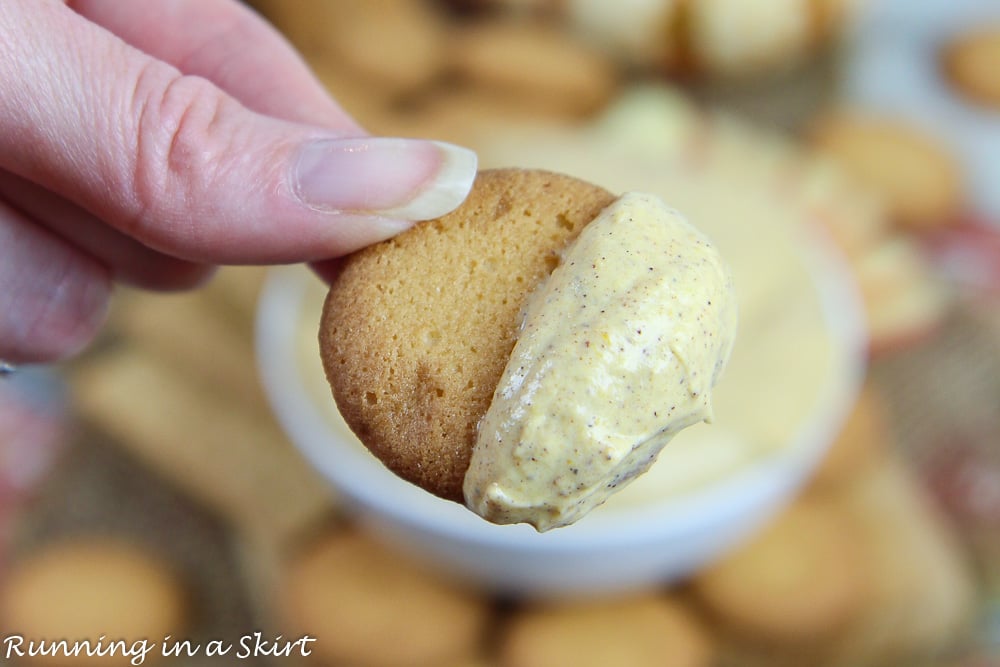 How to Make The Dip:
In a large bowl mix together all of the ingredients including the pumpkin puree, whipped cream cheese, greek yogurt, and pumpkin spice.
Add a small amount of sweetener and then adjust to taste. Add up to 3 tablespoons of the honey.
Serve with your favorite fall dippers.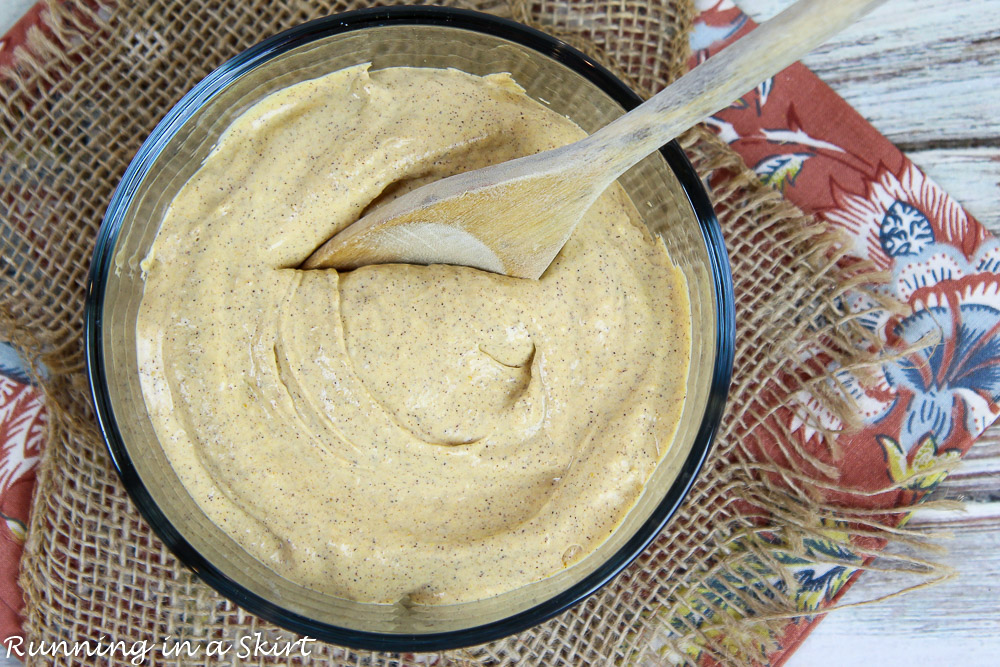 What to Serve with the Pumpkin Dip - Dippers!
There are so many fun options to serve with the Pumpkin Cheesecake Dip! Here are a few of my favorite dippers.
Graham Crackers
Sliced Apples
Vanilla Wafers
Pretzels - The salty and sweet combo is delish!
Ginger Snaps
Biscoff Cookies
Pear Slices
Banana Slices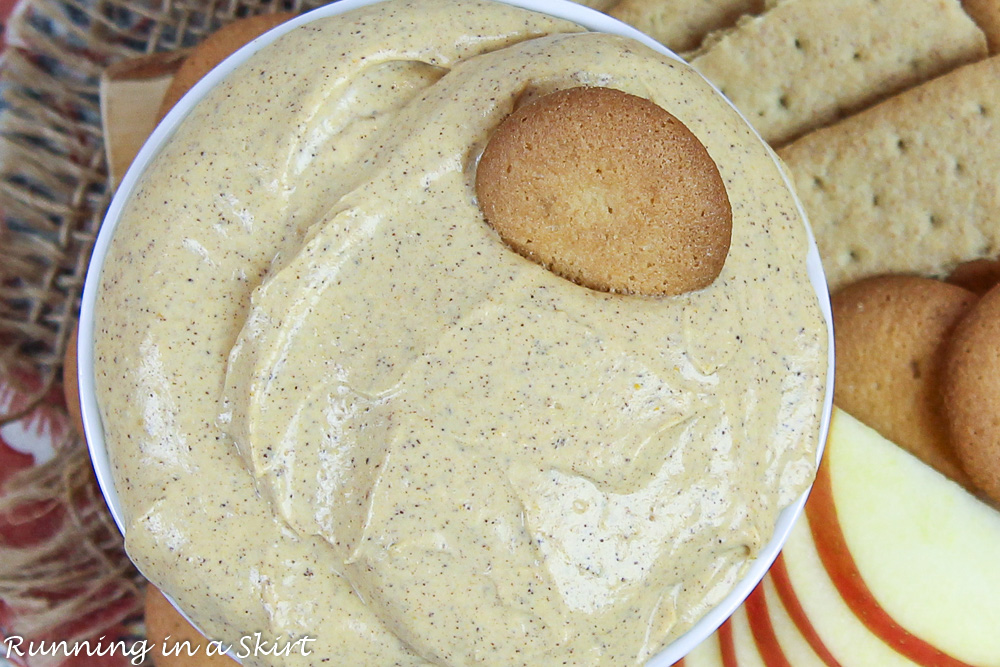 Tips for Making The Dip
Make sure you get canned pumpkin and NOT pumpkin pie filling which is already sweetened and spiced. Pumpkin Pie filling will make this recipe way too strong and sweet.
You can substitute mascarpone cheese for the cream cheese. You can also use plain cream cheese if you can't find whipped but it will not be as fluffy.
If you love cinnamon feel free to add some extra!
If you make this dip ahead of time and store it in the fridge the cream cheese will firm up some so it will not be quite as fluffy. Make sure to give it an extra stir before serving.
How should leftovers be stored?
Store the Healthy Pumpkin Cheesecake Dip leftovers in the fridge in an airtight container for up to 5 days.
Can you freeze pumpkin dip?
I would not subject freezing this pumpkin dip because the whipped cream cheese will come out with a strange texture. This dip is best enjoyed when made!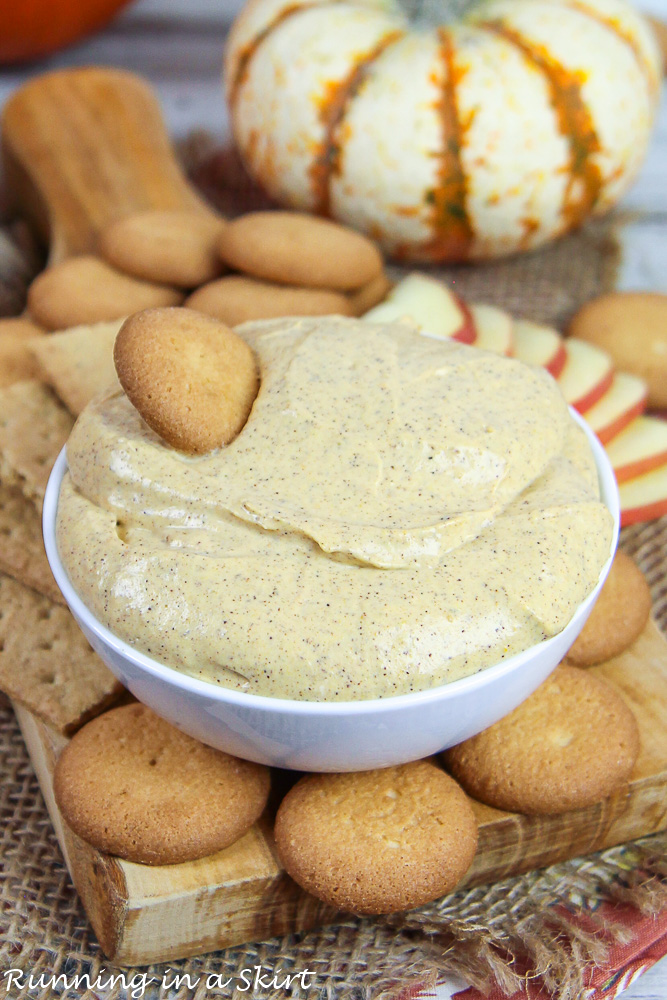 I hope you love this Healthy Pumpkin Cheesecake Dip as much as I do. I would be great for any fall themed party, Halloween or even Thanksgiving. It can either be served as a dessert dip or something sweet along with the appetizers. Either way, it's sure to disappear any time you make it.
More Healthy Pumpkin Recipes:
18 Healthy & Unique Pumpkin Recipes to Make this Fall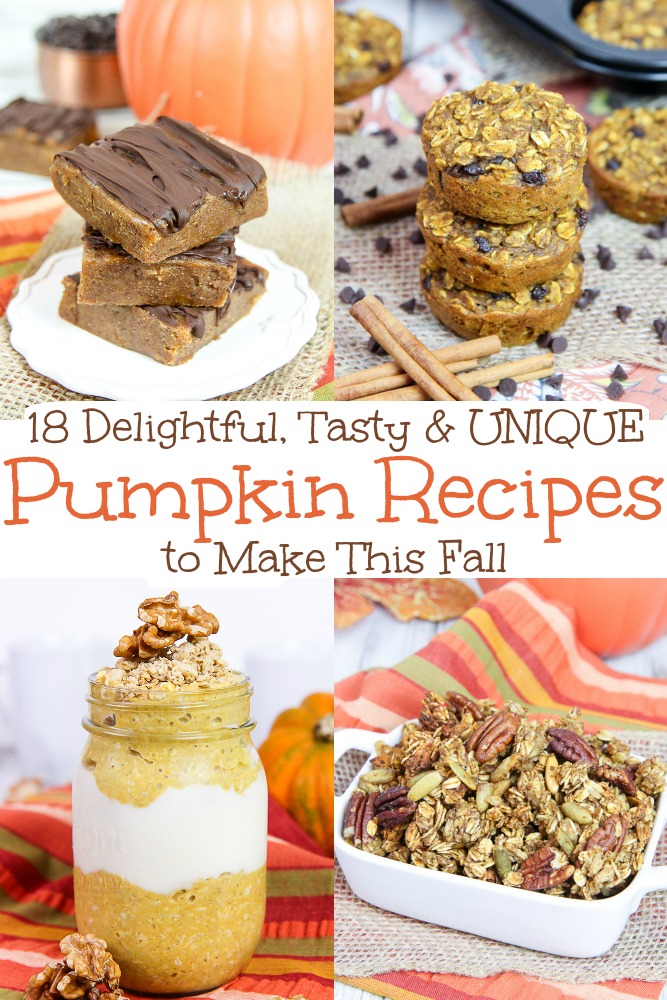 If you make this recipe, I'd love to hear what you think! Leave a comment and a star rating ★ below. Make sure to follow me on Instagram, Pinterest, and Facebook too!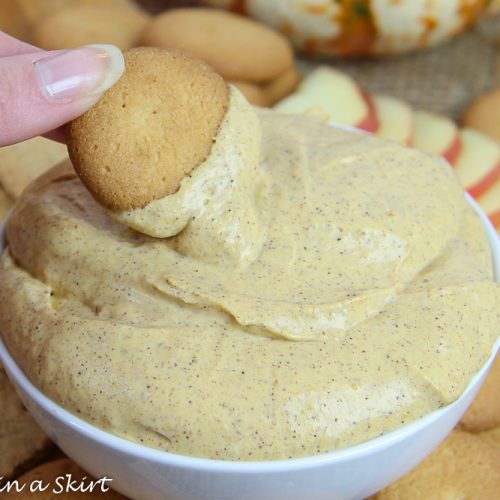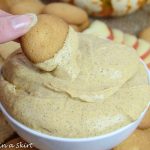 Healthy Pumpkin Cheesecake Dip
This Healthy Pumpkin Cheesecake Dip is an irresistable fall snack that tastes like pumpkin pie!
Ingredients
8

ounces

whipped cream cheese

¾

cup

pumpkin puree

½

cup

plain greek yogurt

1

tablespoon

pumpkin pie spice

1

teaspoon

vanilla

3

tablespoons

honey or maple syrup

Dippers: Graham Crackers, Sliced Apple, Vanillia Wafers
Instructions
In a large bowl mix all the ingredients together until smooth.

Put in a serving bowl and arrange the dippers around the Pumpkin Cheesecake Dip.
Notes
If you are worried about sugar intake you can reduce the amount of honey in this recipe to 2 tablespoons.  You can also substitute any sweetener or your choice like stevia to reduce or adjust the calories.
Nutrition
Calories:
133
kcal
Carbohydrates:
16
g
Protein:
5
g
Fat:
6
g
Saturated Fat:
4
g
Cholesterol:
21
mg
Sodium:
186
mg
Potassium:
187
mg
Fiber:
1
g
Sugar:
13
g
Vitamin A:
4975
IU
Vitamin C:
2
mg
Calcium:
89
mg
Iron:
1
mg
Pin for later!