Re-think the spud! You'll love my Healthy Twice Baked Potatoes!
This post is sponsored by
PotatoesUSA. Thank you for supporting posts like this that allow me to keep running this site. As always, all opinions are my own and I only write about products I believe in.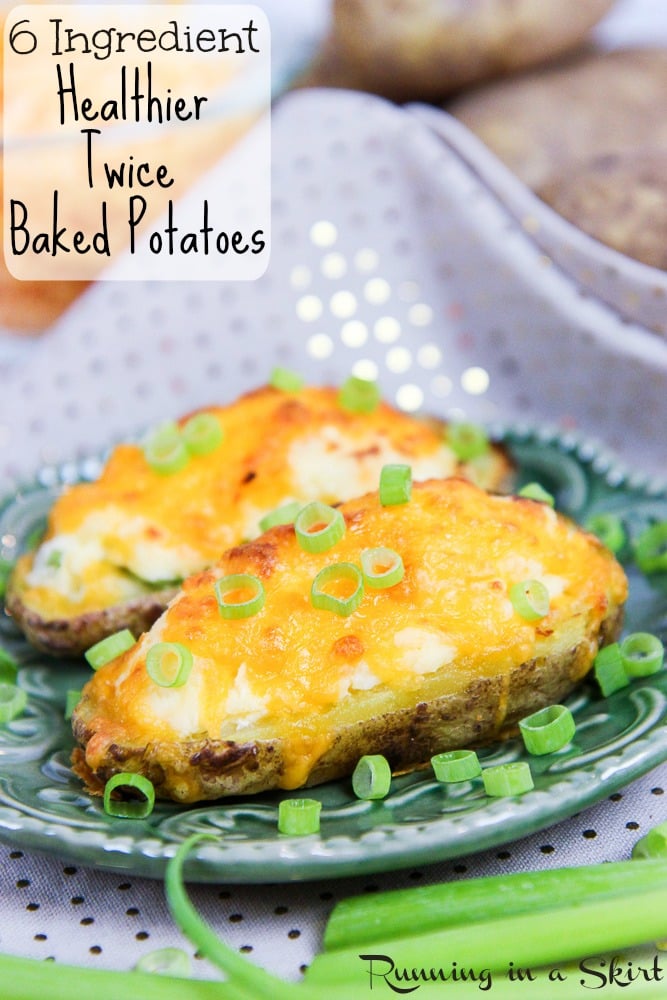 Hi guys!
No doubt about it, I'm a potato fan. The Hubs and I eat a regular ole' baked potato (6-8 minutes in the microwave) for dinner pretty often and I'm always roasting (20 minutes at 400 degrees) them for an easy, tasty and healthy side dish. They are simple to make, filling and oh so tasty!
We even enjoy these Healthy Twice Baked Potatoes on occasion.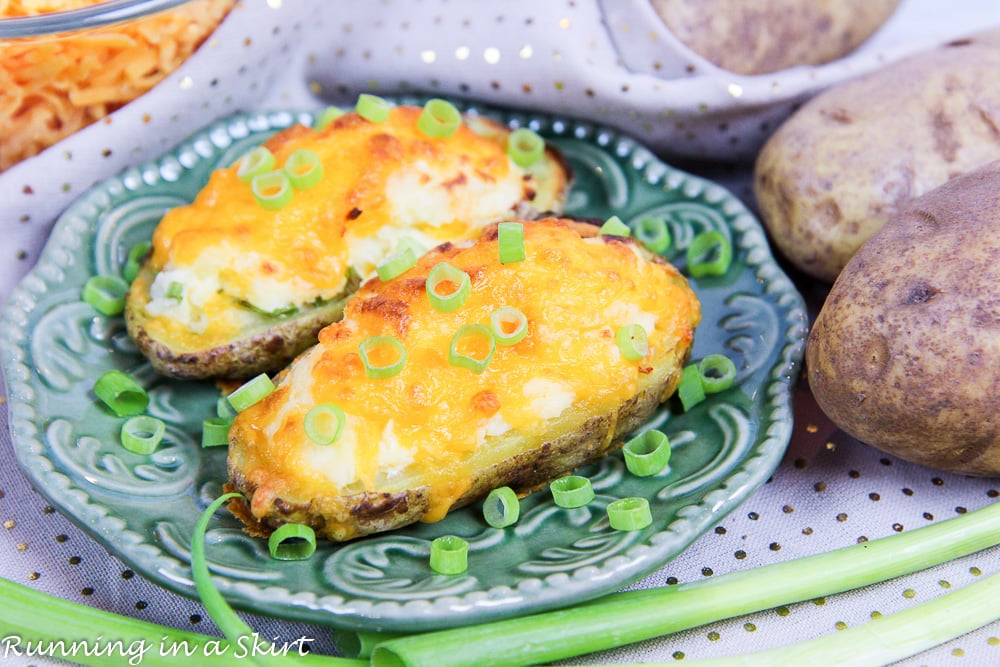 Now I know potatoes often get a bad rap in the fitness/health world, but I still don't shy away from them. As a runner and mainly plant based eater I need good, nutrient-dense complex carbs and potatoes are one place I get that from. Carbohydrates are the primary fuel for your brain and a key source of energy for muscles.
I know I basically have no energy and can't run when I cut back on carbs, so I enthusiastically enjoy healthy choices like potatoes.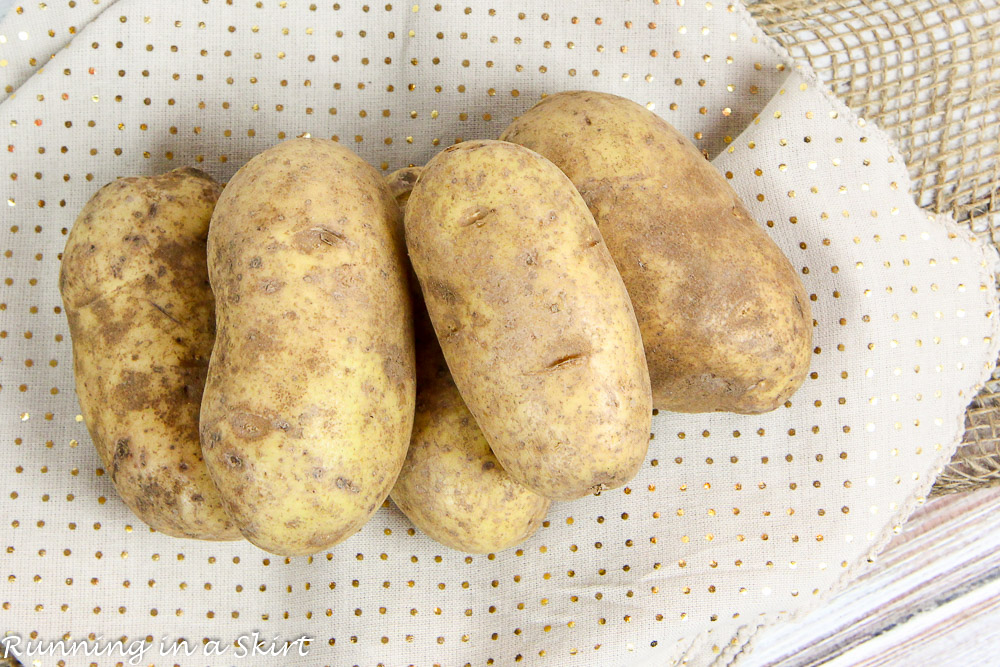 And when you can eat something like these Healthy Twice Baked Potatoes..... you too will come back to the potato world!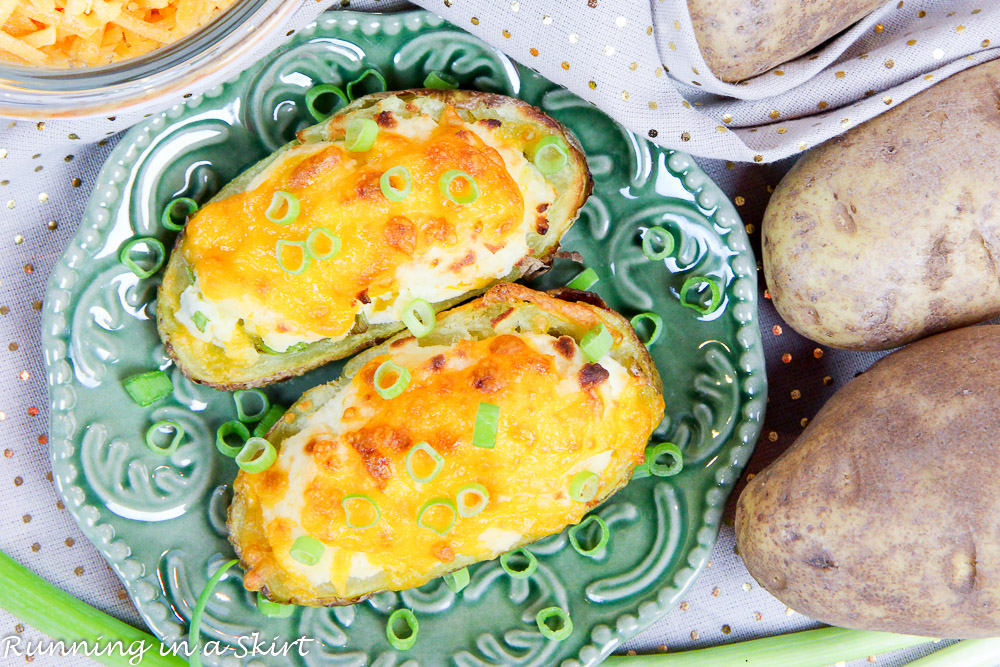 My Healthy Twice Baked Potatoes are only 6 ingredients and even get a protein boost from greek yogurt. I use a small amount of whipped, light cream cheese to get that cheesy flavor without overdoing it.
A regular baked potato might be good enough for your weekday meals, but can you imagine serving this on Saturday night? It looks and tastes like cheesy, potato-y, pillow-y goodness.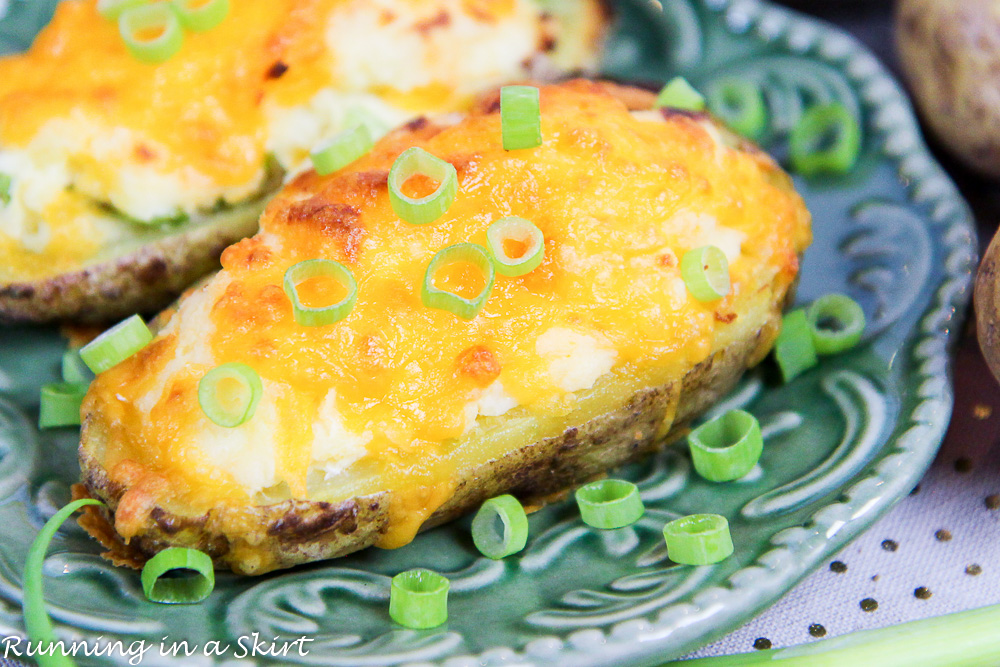 So let's talk a little more about the spud!
Did you know this innocent looking potato actually has more potassium than a banana? As a runner, I know how critical potassium is to my recovery so it's something I try to eat often. Potassium is often an under-consumed nutrient and potatoes are a great way to replenish your supply. Potassium is often an under-consumed nutrient and potatoes are a great way to replenish your supply.
A medium (5.3 ounce) skin-on potato contains only 110 calories, which really isn't as bad as a lot of people think! Potatoes aren't actually high calorie at all, just high nutrient! I just think about those calories as healthy bursts of energy. 🙂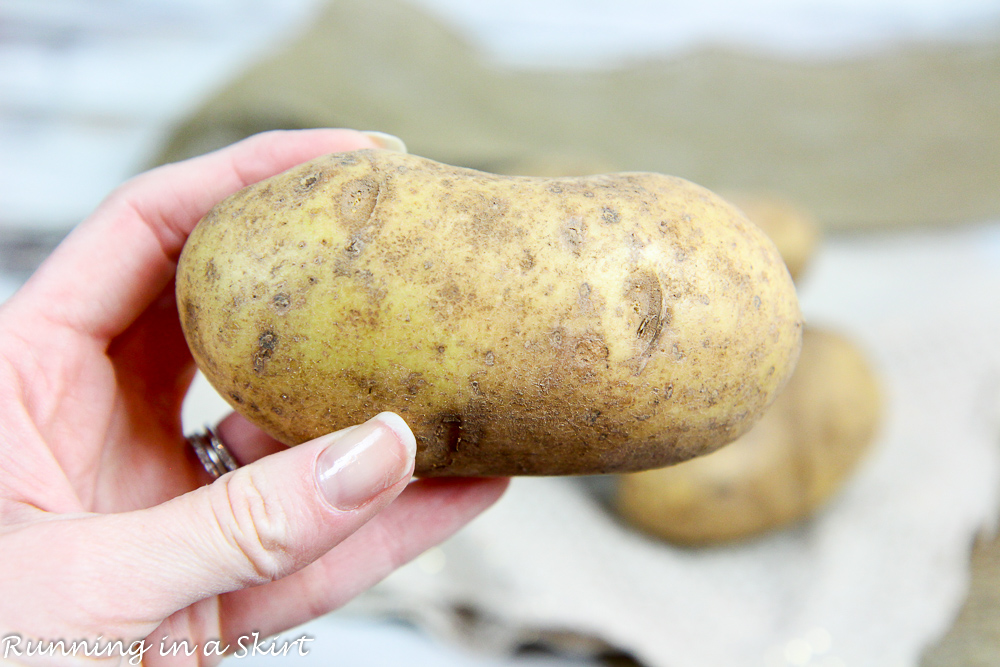 Potatoes also contain as much or more of several essential vitamins and minerals than other popular carb options like spaghetti, brown rice or wheat bread.
Plus they taste amazing, come in many forms like russets, reds, yellows, whites, purples, petites and fingerlings. You can always have them on the table in 30 minutes or less and my favorite two ways (listed at the top of the post) take 20 minutes or less.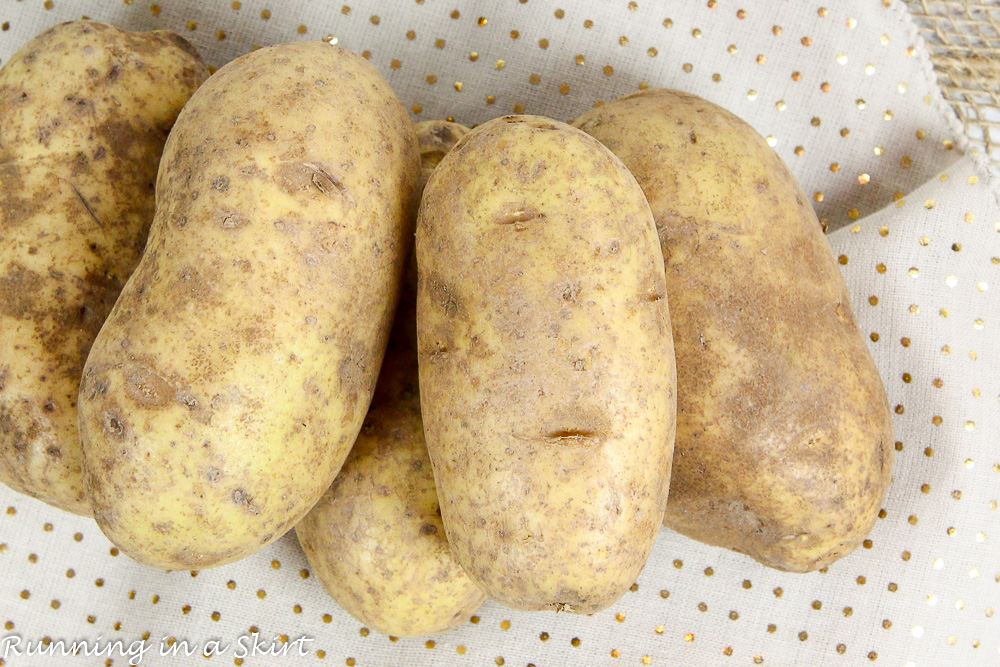 Even these super fancy looking Healthy Twice Baked Potatoes can be on your table in less than 30 minutes.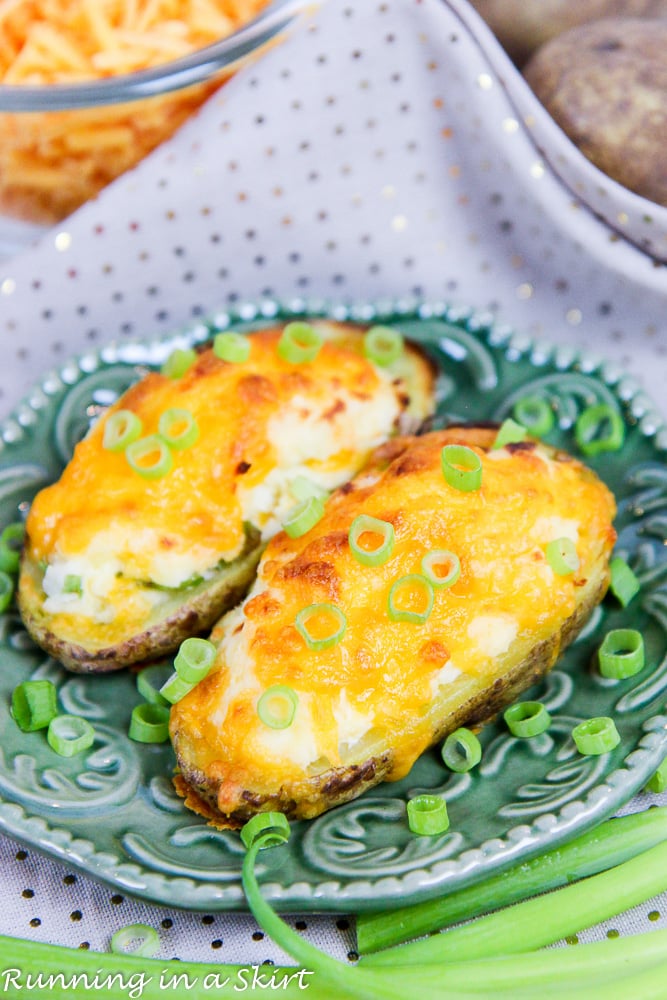 Any way your serve them, these are a spud to enjoy!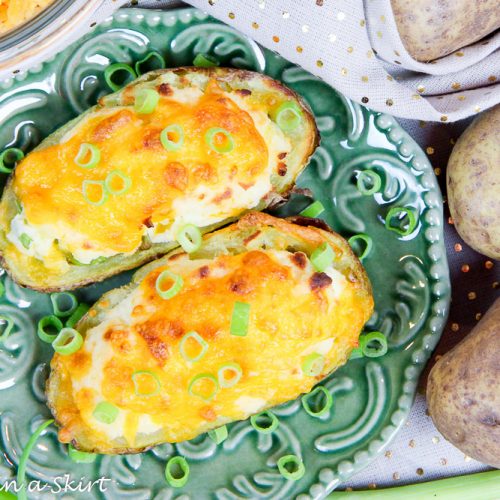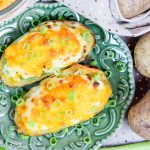 6 Ingredient Healthy Twice Baked Potato
6 Ingredient Healthy Twice Baked Potatoes are a great way to enjoy a spud!
Instructions
Scrub the potatoes and pierce with a fork.

Preheat the oven to 350 degrees

Microwave for 7-8 minutes, flipping once. You want them to be fully cooked and tender. Exact cooking time will depend on the size of your spud.

Allow the potatoes to cool for a moment. Slice in half and scoop out the center of the potato and put it in a small bowl. Set the "shells" aside.

Mix half the cheddar cheese, Greek yogurt, cream cheese and half of the onions together. Add a splash or two of milk to get a smooth consistency. Add salt and pepper to taste.

Pile the potato mixture back into the shells. Place on a baking sheet and top with the rest of the cheddar cheese.

Bake for 10 minutes or until the cheese is bubbly.

Before serving sprinkle with the rest of the green onions
Nutrition
Calories:
104
kcal
Carbohydrates:
20
g
Protein:
5
g
Fat:
1
g
Saturated Fat:
1
g
Cholesterol:
3
mg
Sodium:
50
mg
Potassium:
486
mg
Fiber:
2
g
Sugar:
2
g
Vitamin A:
60
IU
Vitamin C:
22
mg
Calcium:
49
mg
Iron:
1
mg
Like it? I'd love it if you could pin this to your favorite Pinterest board! Thank you so much for the support.


Inspired to try more potato recipes? Here are 10 more from Running in a Skirt!
5 Ingredient Crock Pot Rosemary Lemon Red Potatoes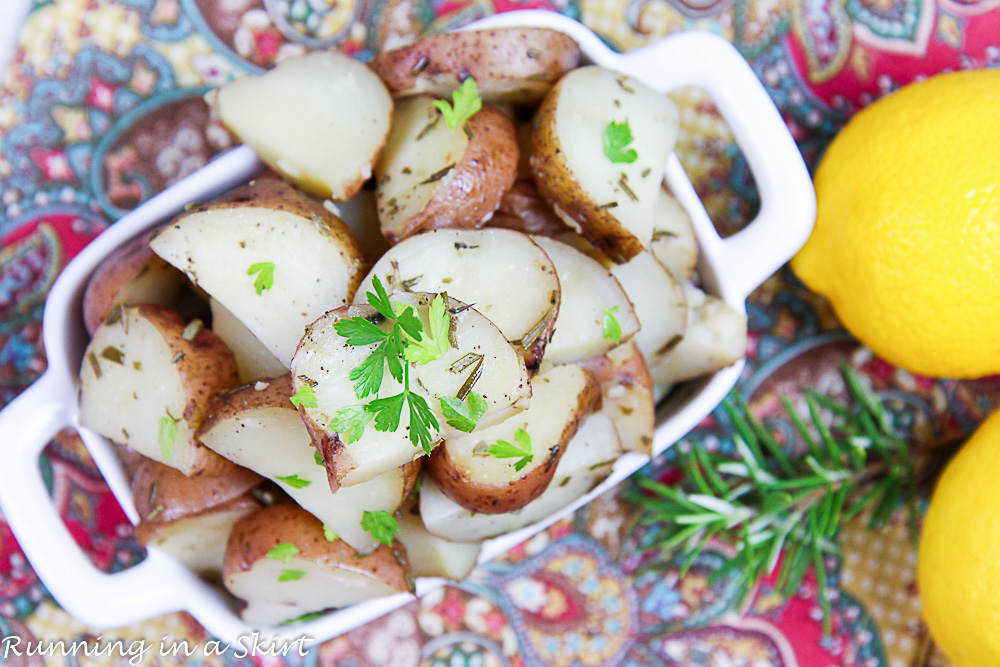 Oven Baked Parmesan Garlic Potato Wedges
Herb & Garlic Roasted Baby Red Potatoes
Greek Yogurt & Dill Potato Salad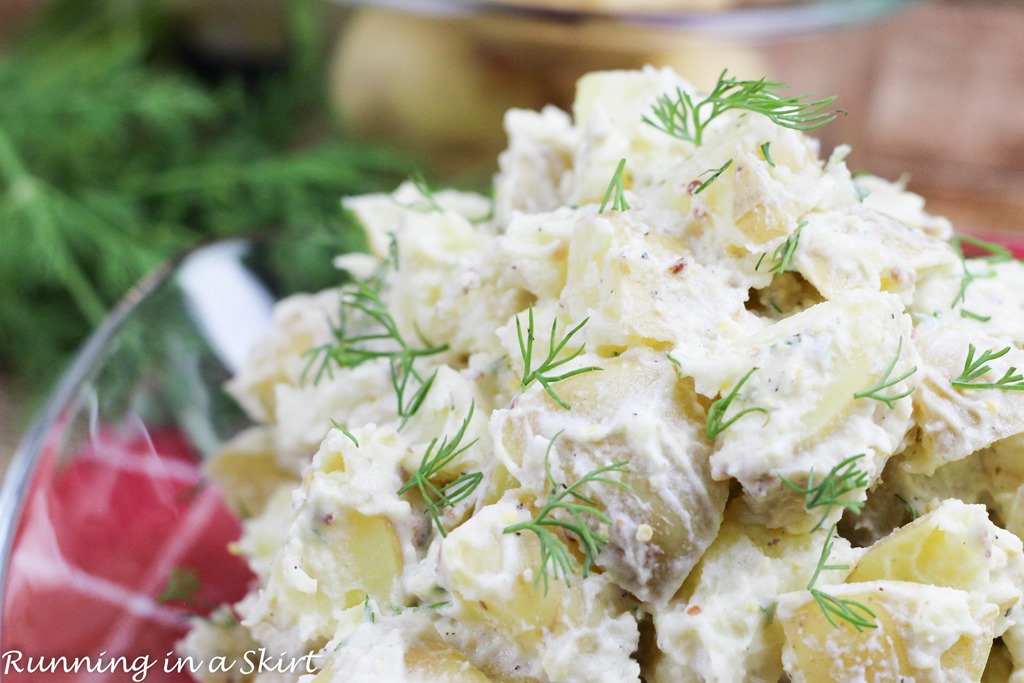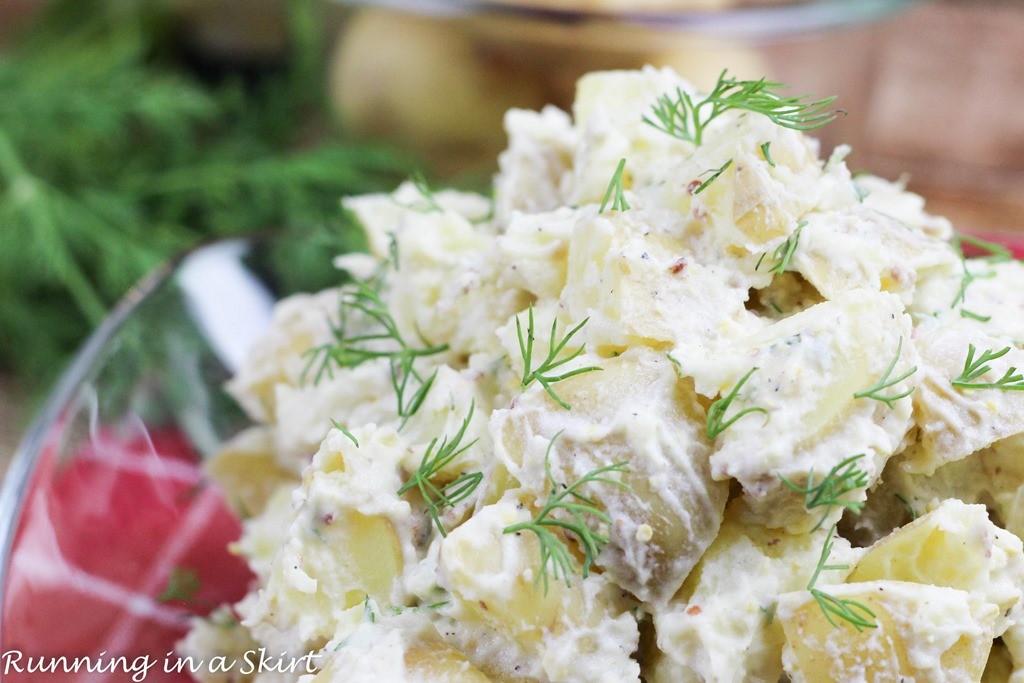 Crock Pot Loaded Mashed Potatoes
Vegetarian Crock Pot Breakfast Casserole (uses frozen hashbrown potatoes!)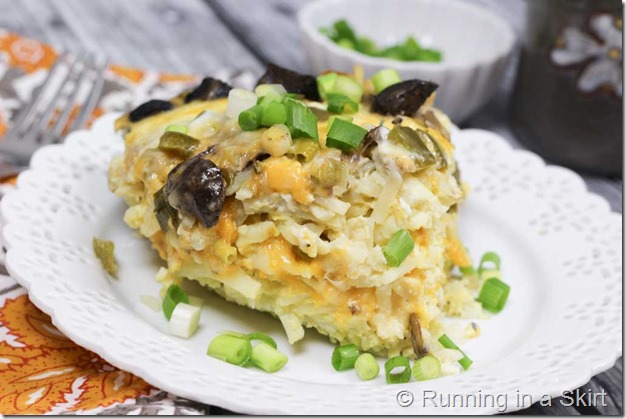 Crock Pot Vegetarian Baked Potato Soup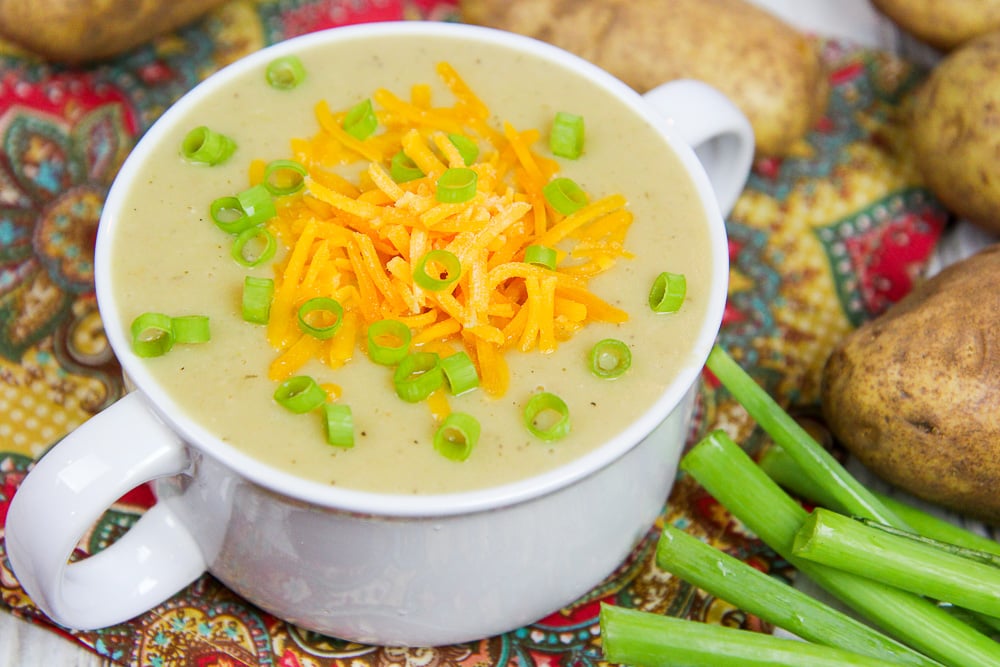 Skinny Crock Pot Potato Cheddar Soup
Cheesy & Easy Foil Packet Grilled Potatoes
Enjoy the Spud!
And remember to perform at your best, put potatoes on your plate!
Search "potatogoodness" on the web for everything you can do with potatoes and all the ways they can power your performance.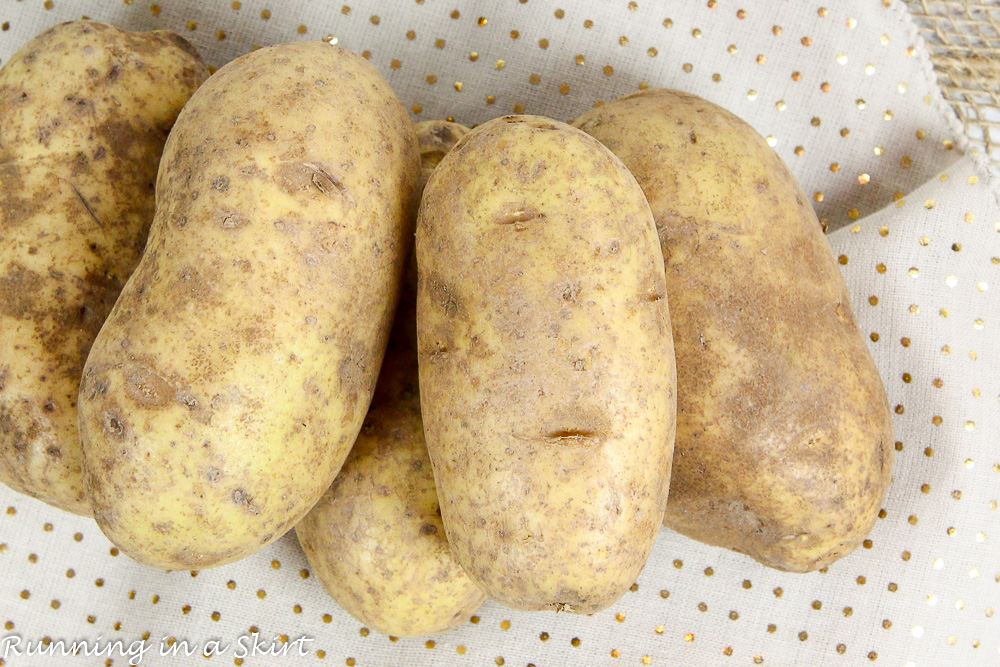 Make sure to stop by PotatoesGoodness.com/performance to learn more about the potato and get inspired to serve it at your table more often!
Thanks for stopping by today! Tomorrow I'm sharing a fitness fashion friday with some new kicks that work great from the gym to the store!
Your turn!
What's your favorite way to eat a potato?