Look no further for the perfect shoes to transition from gym to the street!
This post is sponsored by Saucony's new Marl Pack shoes. Thank you for allowing me to share posts like this that support Running in a Skirt. As always, I only write about things I feel you would be interested in and that I trust!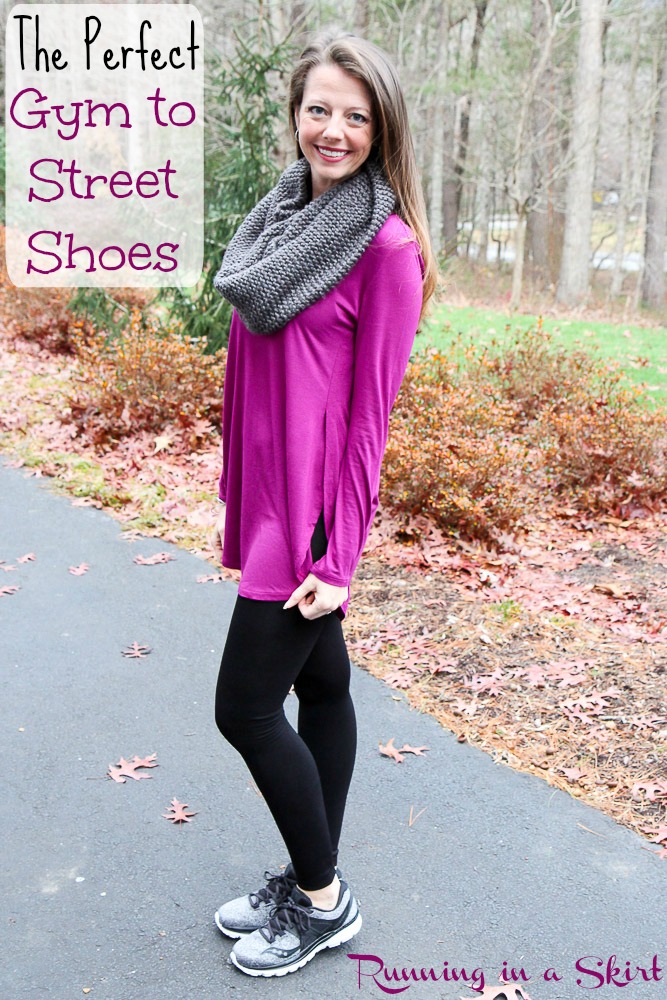 Happy Fashion Friday!
How has your week been? Mine has been good, although a little hectic with being out of town for a few days. I have two holiday parties to go to this weekend, but not much else... so hopefully I can catch up and take some of my own advice from Mondays post on having a stress free holiday. Making Healthier Twice Baked Potatoes and Dark Chocolate Peppermint Popcorn is also on the agenda... just sayin'!
I've got a fun fitness/running twist for Fashion Friday today. I found some really amazing shoes you'll want to try, especially if you want to wear your cushy running/gym shoes more often but don't feel like they always match your outfit. <--- Story of my LIFE!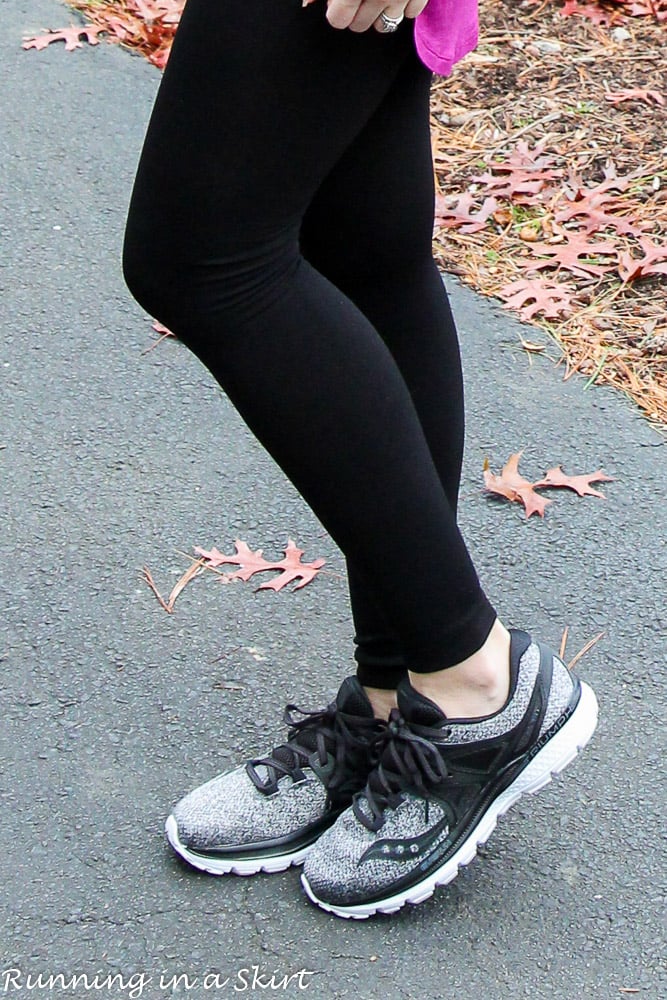 Now don't get me wrong, I love my colorful (who are we kidding... pink... always pink) running shoes. But the problem with the bright shoes is they can look a little nutty with street clothes. My need to put together a nice polished look usually wins over my need to be comfortable and wear shoes that are good for my feet when I'm not running. My feet suffer as a result.
For weeks I have been telling the Hubs that I want to buy a pair of running shoes that are black or grey so I can wear them with some of my non-running outfits. This would be especially handy when I travel and know I'm going to be walking miles and miles, but still want to wear an outfit that looks put together. My planters fasciitis always flares up when I wear bad shoes on trips!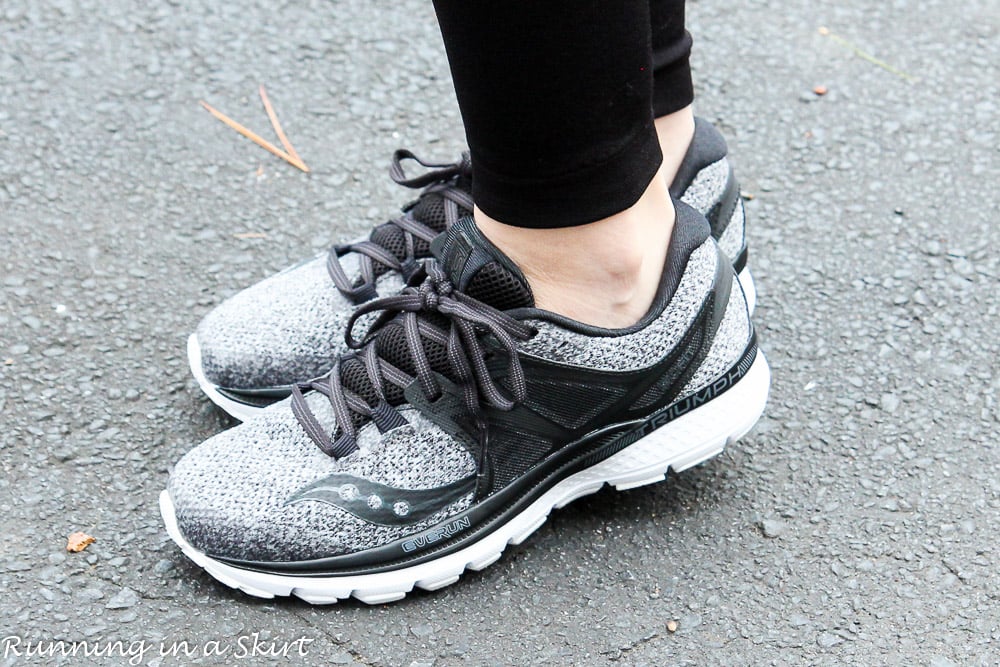 It was almost like Saucony was reading my mind because they contacted me about their new Saucony Marl Pack shoes.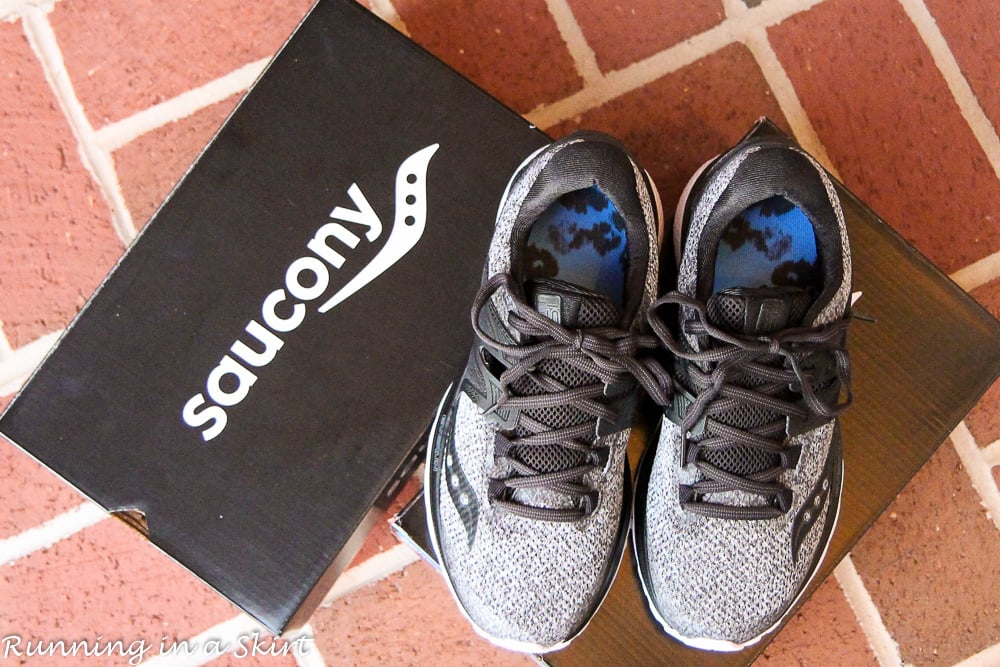 The concept is simple... they take your favorite running shoes and remix them in a sleek black and grey palette. Marl is the fabric they are made of... it's a knit cotton fabric that makes the grey color and cool texture. The colors are so cute and blend a little better with real life. 🙂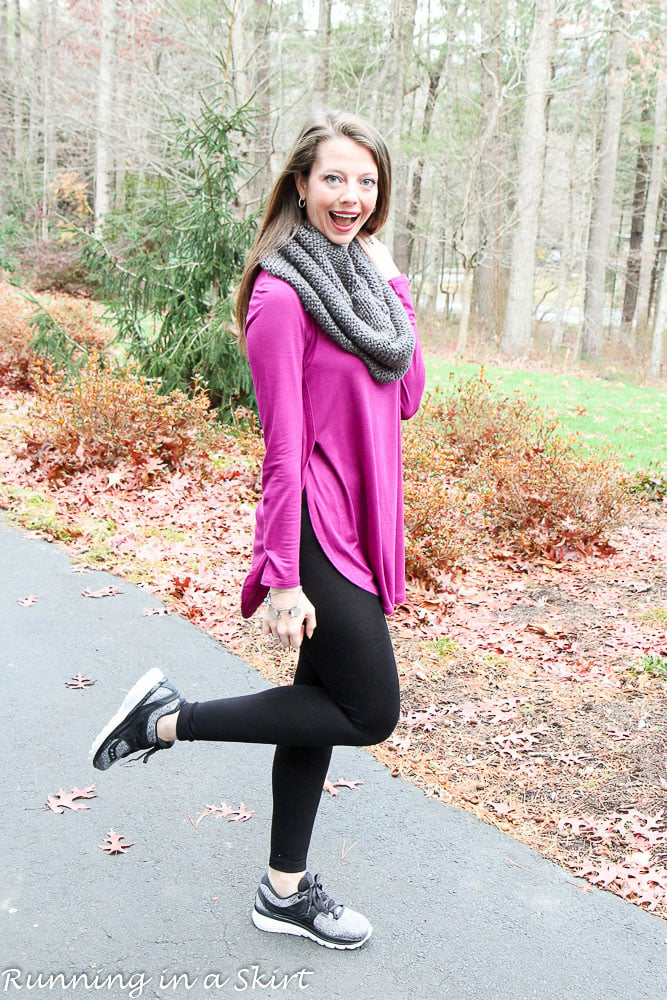 I'm trying out the Triumph ISO 3. It's a neutral shoe with extra cushioning. Ever since I've had some flares with planters fasciitis, I've been enjoying shoes with that little extra cushion. The Triumph ISO 3 feels cushiony but responsive on my feet. The marl fabric is so light and comfortable! It really makes for a lovely shoe.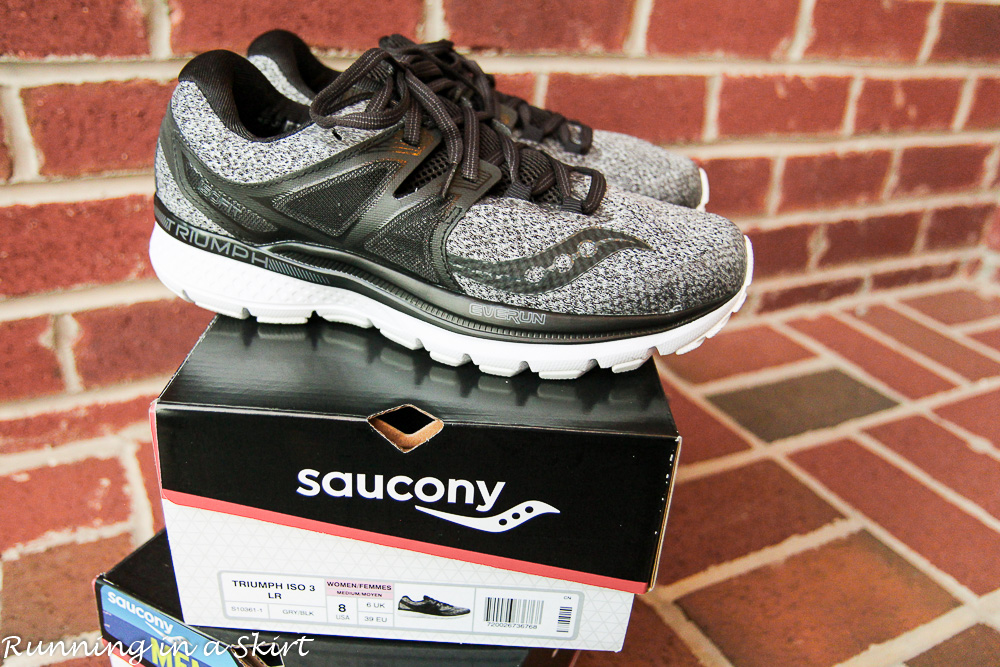 I also got to try the Kineta Relays. (These shoes looks similar but are different!)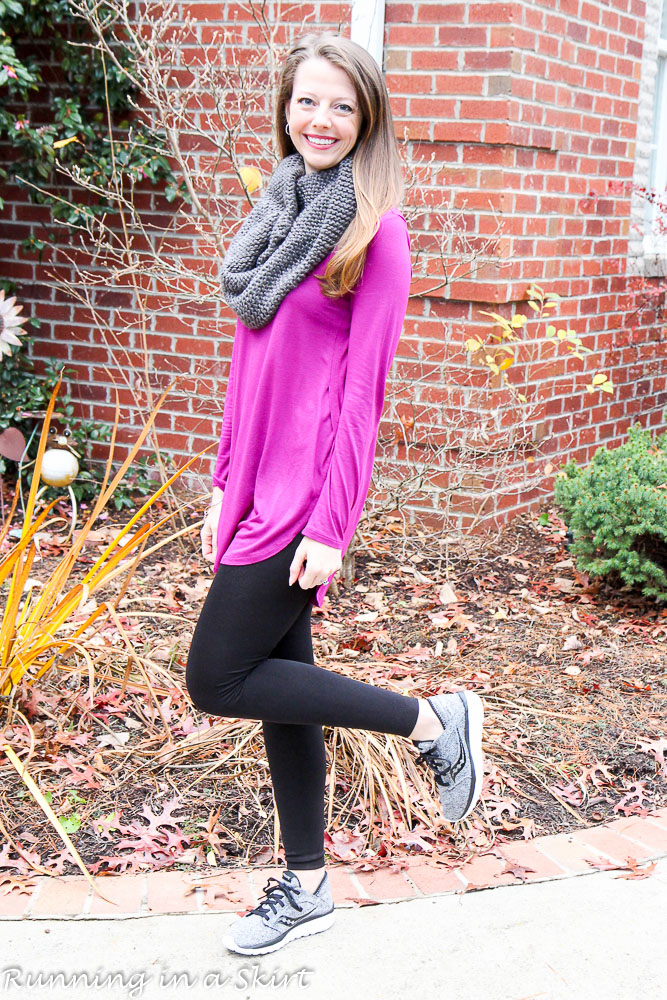 They are a super light everyday shoe with a memory foam liner. They aren't meant for running, but are great for light workouts or just doing errands around town.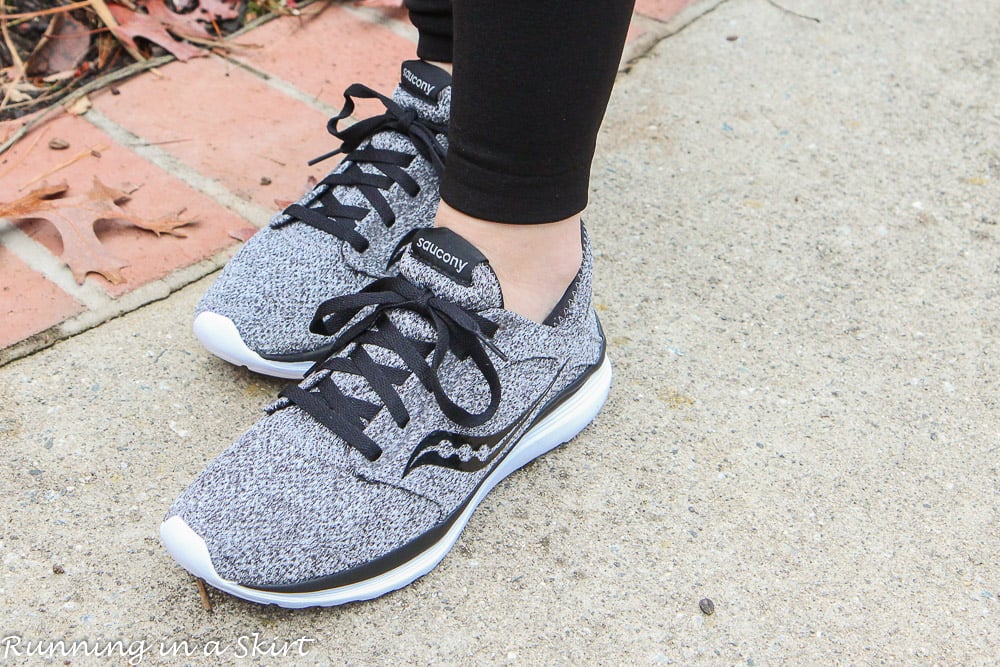 I might live in these babies. They feel like fancy slippers that are totally acceptable to wear out of the house-- no joke! I dare say I'm winning at life with these! They are also at a great price point-- only $70!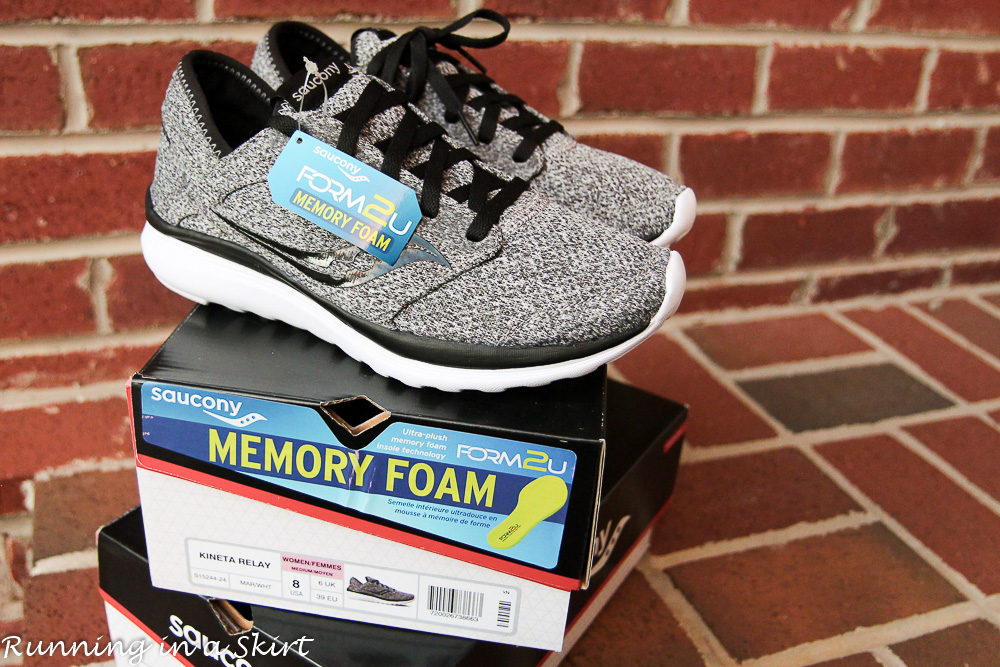 Saucony also makes the Marl Pack shoes in the Ride 9 and Guide 10, if those are your shoes!
I am so impressed with Saucony's new Marl Pack shoes. They are truly the perfect combination of fashion and function together! It's about time 🙂
[fusion_builder_container hundred_percent="yes" overflow="visible"][fusion_builder_row][fusion_builder_column type="1_1" background_position="left top" background_color="" border_size="" border_color="" border_style="solid" spacing="yes" background_image="" background_repeat="no-repeat" padding="" margin_top="0px" margin_bottom="0px" class="" id="" animation_type="" animation_speed="0.3" animation_direction="left" hide_on_mobile="no" center_content="no" min_height="none"]Cute shoes can be functional! Love this gym to street look! #running #saucony Click To Tweet
Shop the post
Shoes: Saucony Marl Pack Kineta Relays or Triumph ISO 3
Shirt: Old Navy
Leggings: Hue
So nice to see you today. Have a great weekend and come back Monday for a weekend recap!
I'm linking up with: Nicole for the Fit and Fashionable, Jolynne Shane for Fashion Friday, Turning Heads Tuesday, Coaches Corner, and Annmarie for Wild Workout Wednesday.. Thank you so much for the lovely linkup ladies
Your turn!
Which shoe would you like to try?[/fusion_builder_column][/fusion_builder_row][/fusion_builder_container]