*This is the second in a series of ten Crock Pot Recipes I am trying between now and the end of February as part of the Peanut Butter Fingers Blog "Crock Pot Challenge"*
Rhett is loving all the cooking I've been doing. Lucky for him, I'm a clumsy cook and drop all sorts of goodies. Lucky for me, he's an equal opportunity eater and has cleaned up a fallen carrot, mushroom and onion piece. What kind of dog eats mushrooms? No need for a broom here!
Please, May I have Some More
(And yes, he is sitting on a Christmas rug that I forgot
to put away with the tree…)
Reina has been very busy tearing apart another tennis ball. No close-ups for her today.
Anyways, have you jumped on the Quinoa (pronounced Keen-wah) bandwagon? It's an awesome super food that has a solid combination of taste and nutrition. It looks sort of like Couscous but instead of being just pasta, it's actually a grain with a high protein count. It has a slight nutty flavor and can be seasoned to go in all sorts of recipes from Mediterranean to Mexican. It's considered a "complete protein," is high in calcium, fiber and is gluten free. So it's great for people with all sorts of dietary restrictions. Plus it's just yummy and very versatile.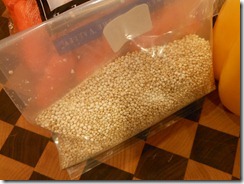 This is from the bulk bins at Earthfare, but they
have it an Ingles and most grocery stores now.
This recipe combines quinoa with Italian flavors and puts it in a fun package of a stuffed pepper. It's a vegetarian play on the traditional beef and rice stuffed pepper.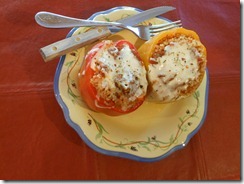 I found the inspiration for this recipe on Pinterest from a blog called Shrinking Inkdgirl. Here is a link to the original recipe.
While this is a Crock Pot recipe, it does involve a little prep work on the stove. So make sure you leave yourself a little extra time to put these babies together. Once you get them in the slow cooker, they will steam to perfection and you just have to pull dinner out and serve it. Make plenty because you will want leftovers!
VEGETARIAN QUINOA ITALIAN PEPPERS
(Slightly Modified from Shrinking Inkdgirl Blog)
Ingredients: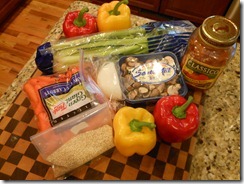 4 large bell peppers (look for big ones with flat bottoms that will stand up on their own)
8 baby carrots – sliced
2 stalks celery – sliced
1 cup mushrooms – sliced (I love the baby "bella"(portabella) ones)
½ sweet onion – chopped
½ teaspoon chopped fresh garlic
1 cup dry Quinoa (Find it in the bulk food section, rice section or pasta section of grocery store)
1 ½ cups of Pasta Sauce (use your favorite tomato based sauce- this is great use the the bottom of the jar that is already open but not enough for a full pasta dish!)
1 teaspoon olive oil
Olive Oil Pam
1-2 cups water (enough to put about ½ inch at the bottom of your Crock Pot)
Salt
Pepper
Italian Seasoning Blend
¼ cup shredded mozzarella (optional)
Directions:
1. Put 2 cups of lightly salted water and the 1 cup of Quinoa in a sauce pan. You want twice as much water as grain. Bring to a boil and stir. Cover the dish and let simmer on low until it absorbs the moisture or 15 minutes. Stir occasionally to make sure it's not sticking to the bottom of the pan. It should be fluffy and soft when it is done cooking. If it still tastes tough like uncooked pasta, add a little more water.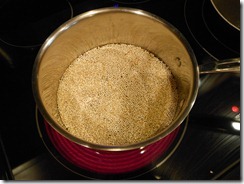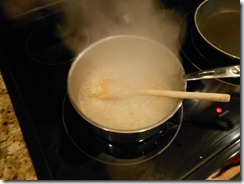 2. Meanwhile, chop all your veggies and heat up the olive oil in a nonstick sauté skillet. Add the onions, carrots and celery first. Season with salt, pepper and Italian Seasoning. After a minute add the mushrooms to the pan and season again. Sauté the veggies until they get a little color. Add the garlic and stir. It's ok if they are still a little tough, they will continue to cook in the crockpot.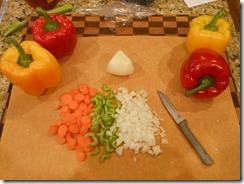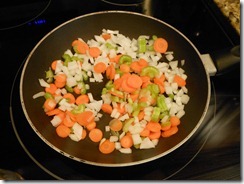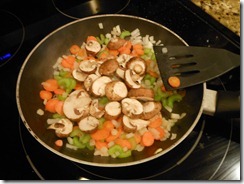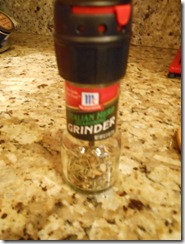 This is they type of Italian Seasoning I happened to have,
but use whatever you have on hand.
If you don't have Italian Seasoning use a combination of
Basil, Oregano, Rosemary, Garlic and perhaps Red pepper.
3. Add the veggie mix and 1 cup of pasta sauce to the cooked Quinoa. Depending on how flavorful your pasta sauce is you may want to add extra salt, pepper and Italian Seasoning.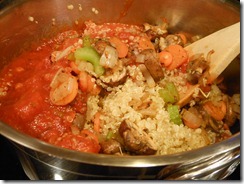 4. Carefully cut the tops of the pepper and hollow out the inside. You just want to cut off the very top of them. You'll want plenty of room to stuff!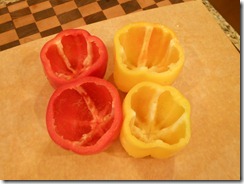 5. Spray the Crock Pot with Pam and then put 2 cups of water in the bottom of your Crock Pot. (My Crock Pot is very wide- If you have a small cooker you will want to add less water. Put about ½" at bottom)
6. Carefully stuff the peppers with your veggie quinoa mixture and place each pepper in crockpot. Use the remaining ½ cup of pasta sauce to put a spoonful on top of each pepper. I added a little more seasoning to the top to make them pretty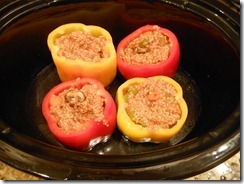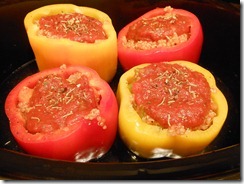 7. Cook on LOW for 4 hours. ** A full day 8 hour cook will make this too mushy**
8. If you like cheese, add shredded mozzarella to the top of the peppers 3 ½ hours into the cooking.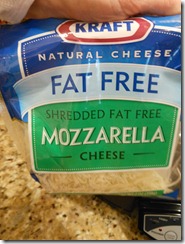 3 cheers for cheese!!!
Unless your Vegan—than boo cheese… Just leave it off….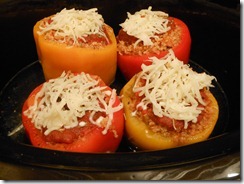 9. Carefully use tongs to pull out the pepper and enjoy! They are great served with a salad.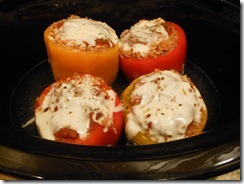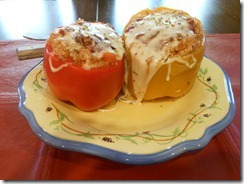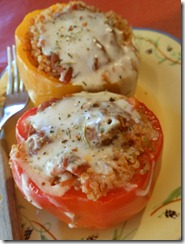 I prepared some steamed kale to go with ours and it basically makes this a super food dinner. Watch out—If I keep eating so well I might get superpowers from my "super foods"!" Maybe I'll run faster – forget the speed work! Just kidding.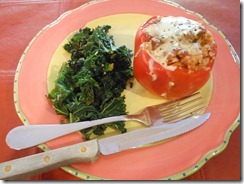 Next week I'm making Crock Pot Mac and Cheese (DID SOMEONE SAY CHEESE????- it's my serious food weakness) and Crock Pot Hot and Sour Soup (Why I bought the tofu.) Hopefully next week's recipes will turn out as good as these!
[/fusion_builder_column][/fusion_builder_row][/fusion_builder_container]