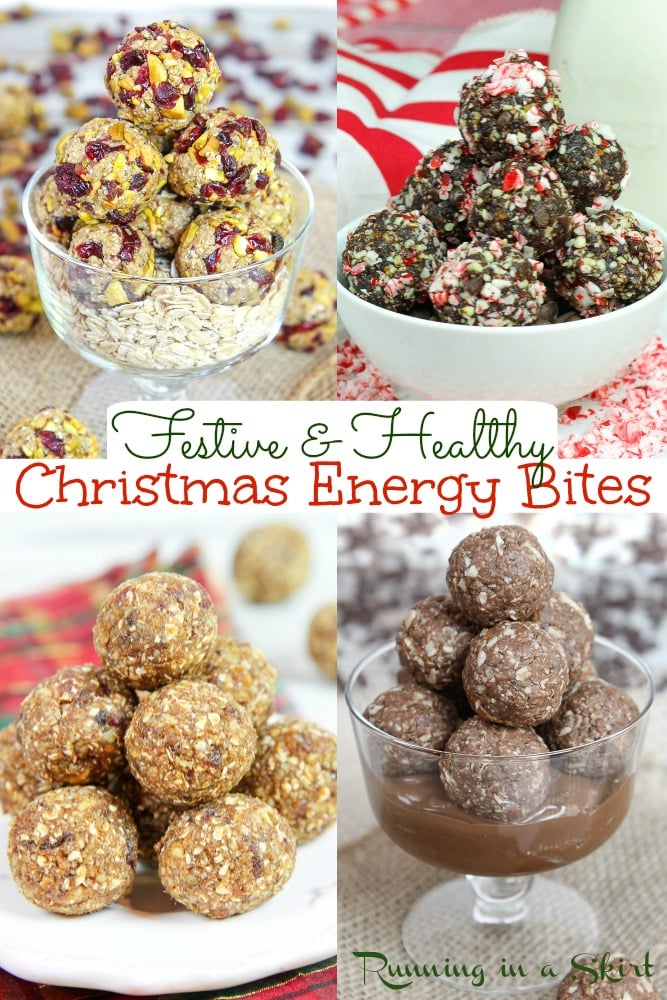 Looking for a holiday treat that is actually good for you? Try my 8 sensational Christmas Energy Bites that filled with healthy swaps. These Festive Energy Balls will keep you moving all season long.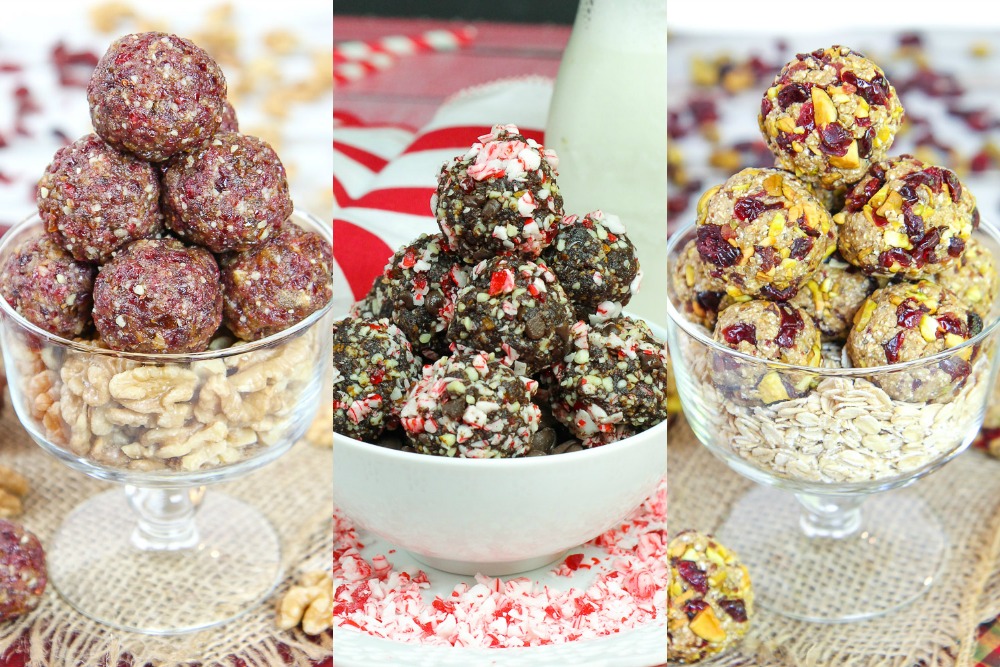 Whether you are out and about this holiday season or staying in, we all need a little extra energy boost to get us through the season. Energy Bites are the perfect snack to keep you moving!
If you are just jumping on the energy bite train these perfect little sweet bites are rolled to perfection and often include ingredients like dates, oats, nuts, and even dried fruits. They are portable and have a satisfying combination of protein, good carbs, healthy fats, and are often high in fiber. The bites usually taste sweet enough to make you feel like you are eating more of a dessert! They are also called energy balls.
Turns out I've really loved the idea of holiday energy bites because there are EIGHT different Christmas Energy Bites on Running in a Skirt... perfect for keeping you moving any day of the week. These Festive Energy Balls will have you decking the halls all season long.
All of my Christmas Energy Bites are no bake wonders that really taste like a sweet dessert in a healthy package. Many of them are five ingredients OR LESS. In today's crazy world, this is just the kind of treat you can actually make and feel good eating!
Bonus points because they are all kid and toddler approved.
8 Christmas Energy Bites
These Holiday Superfood Energy Bites feature red cranberries and green pistachios for a holiday treat filled with goodness. These Festive Energy Balls are ones you can feel good eating.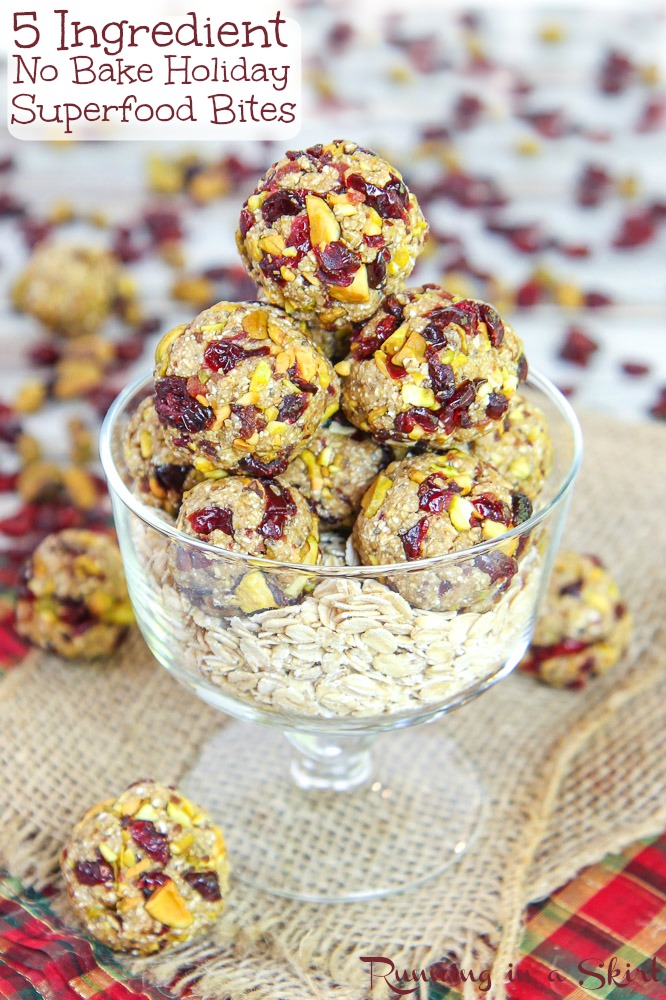 What's a holiday season without a Nutella treat? These Nutella Energy Bites feature Nutella and oats making them a bit healthier than a traditional cookie.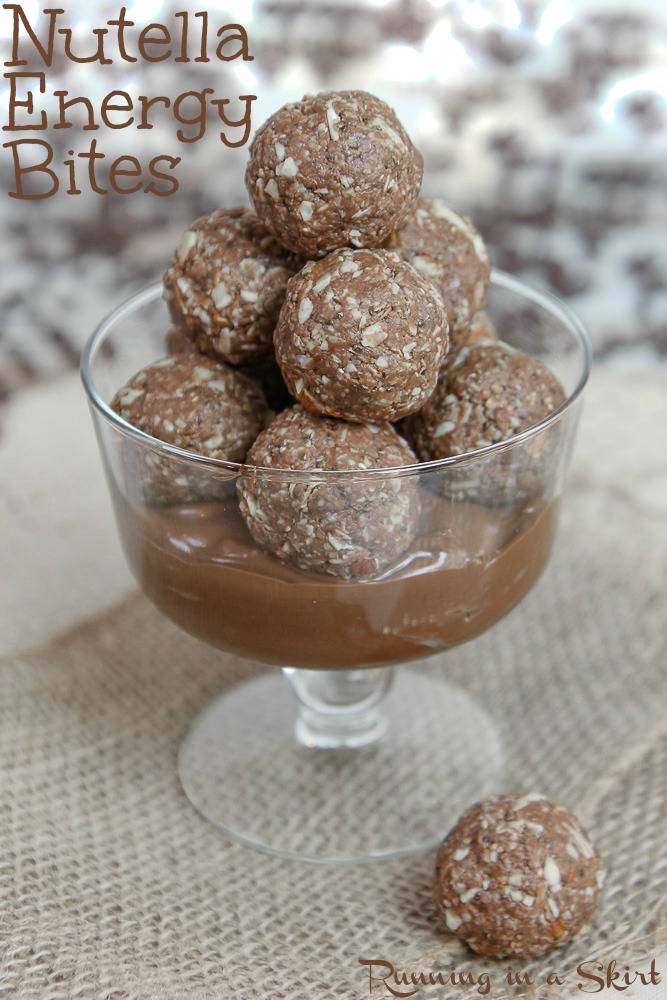 Made with dates and cocoa powder these Peppermint Fudge No Bake Energy Bites magically come together and taste like peppermint fudge without touching an oven. If you like Peppermint Mocha, you are going to love this healthy treat. This is one of my favorite classic Christmas Energy Bites. Wrapped in optional peppermint pieces these could even be pretty enough for an edible holiday gift.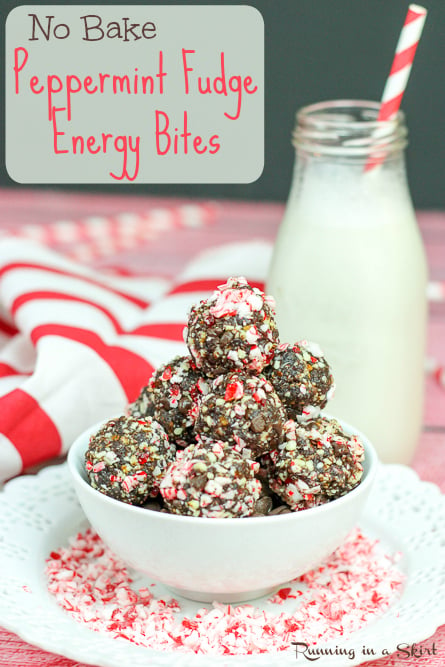 If you are craving brownies but don't want to make and eat the more indulgent kind, these brownie bites are perfection! My 4 Ingredient No Bake Brownie Bites use a similar base as my Peppermint Bites with dates and cocoa but have a much simpler package. You are going to LOVE these.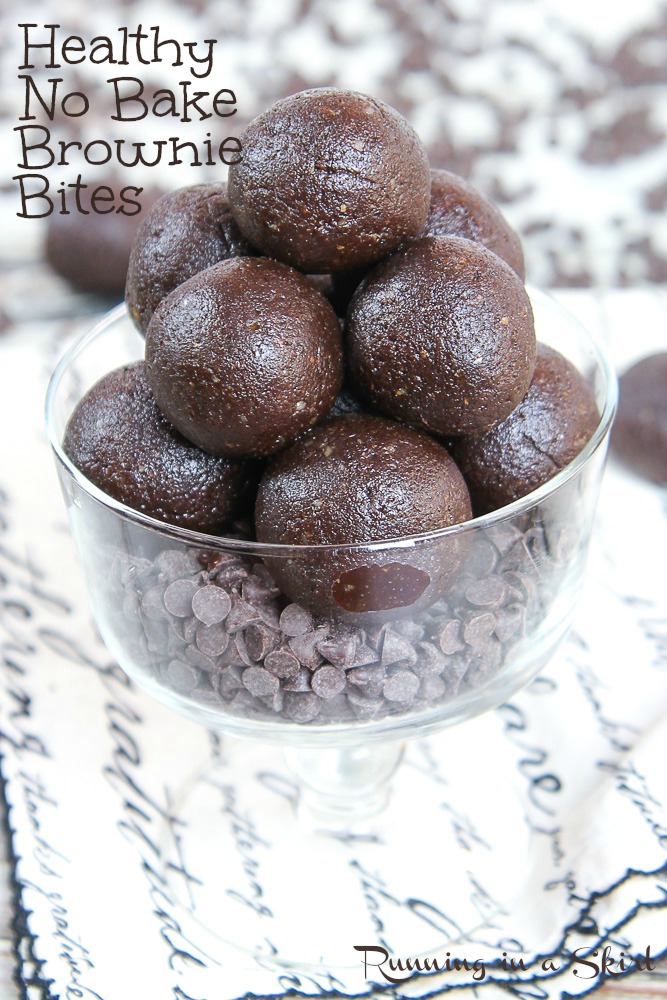 These Gingerbread Energy Bites are a bit unexpected and perfectly spiced with cinnamon and nutmeg. They taste like your favorite gingerbread cookies but without all the fuss. Here's another one of my favorite Christmas Energy Bites.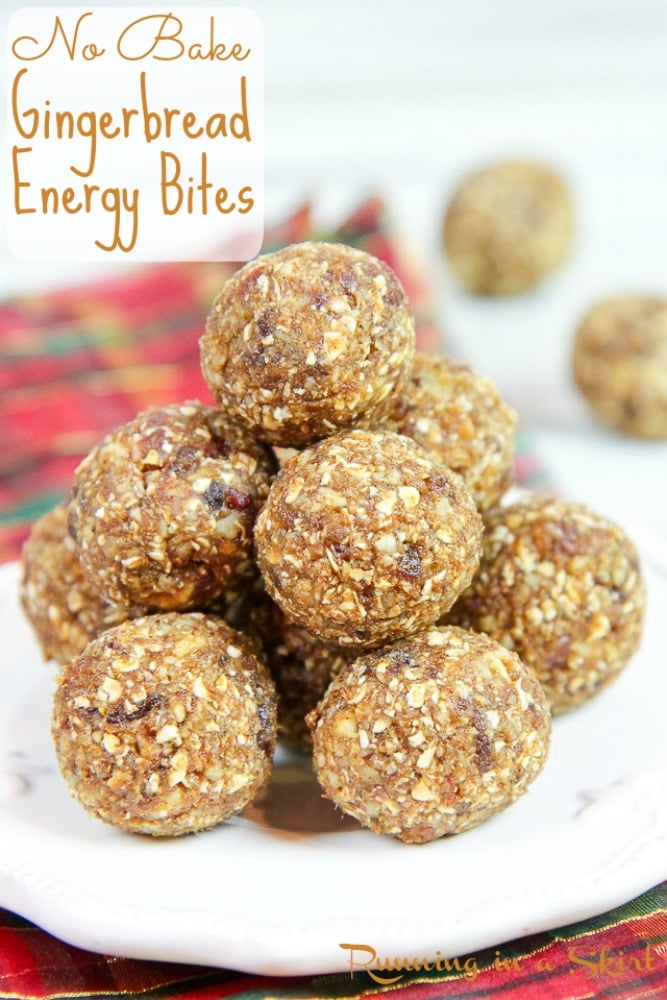 This one is for all my holiday cranberry lovers! My Cranberry Walnut Energy Bites feature only four ingredients and bring to life those lovely tart berries, which just so happen to be superfoods.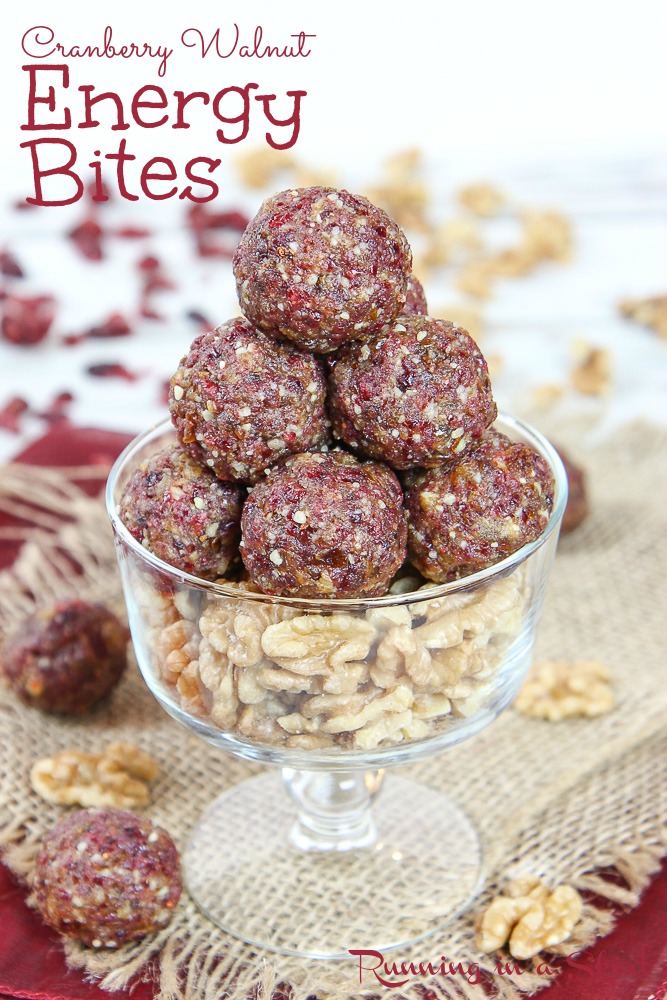 What a yummy treat! These Clean Eating No Bake Banana Bread Bites are so tasty and use those extra bananas on your counter.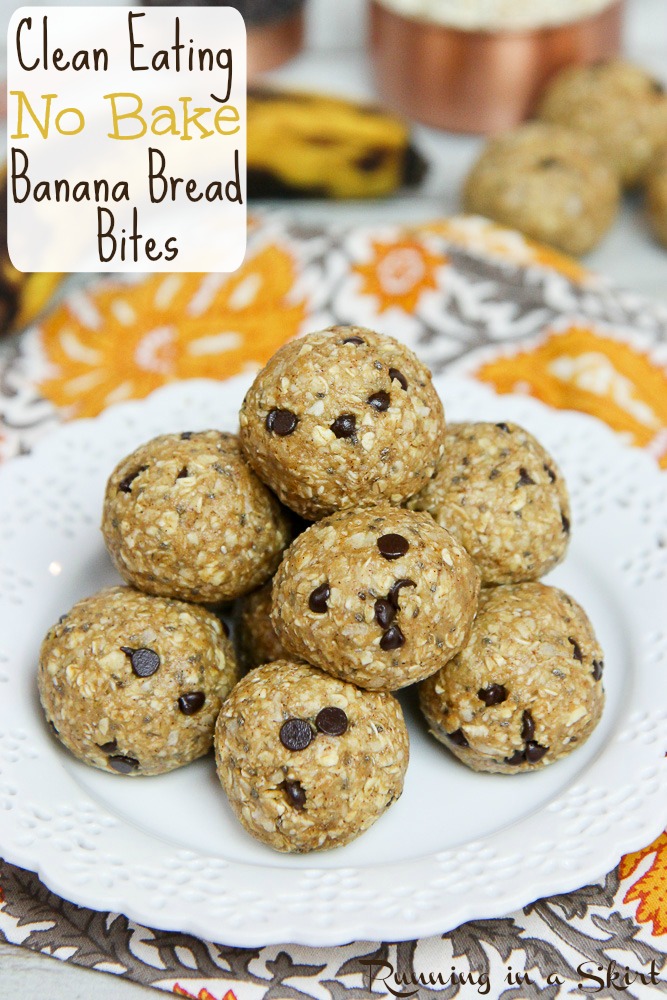 Apple Pie is a perfect flavor for the holiday season and these festive energy balls channel the taste of your favorite pie in a healthy package. These use tasty dried apples and spices!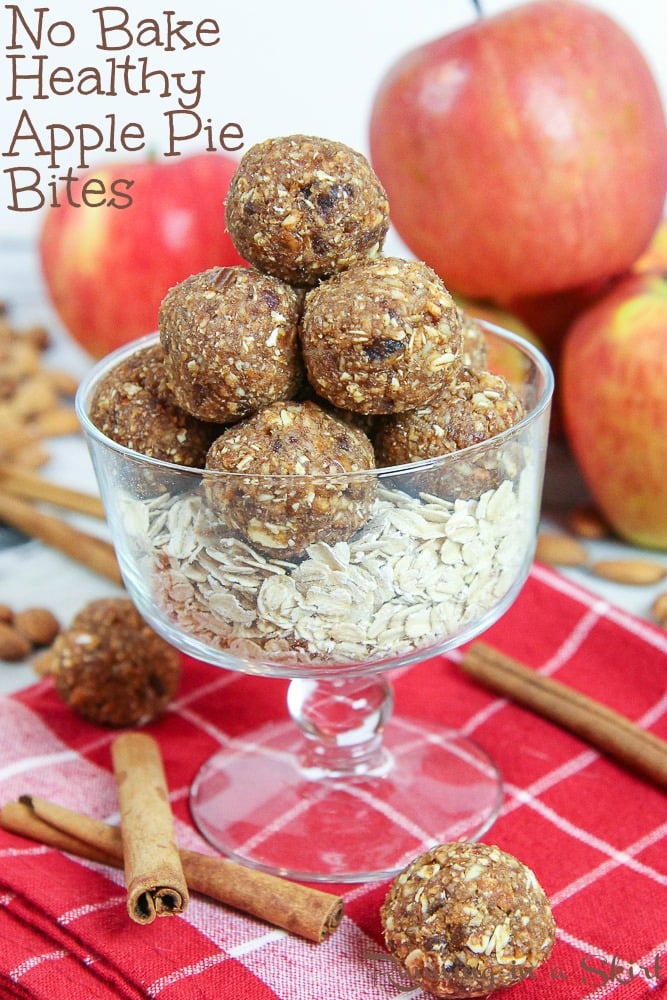 FAQ About my Festive Energy Balls
Are energy bites good for you?
YES! Energy Bites or balls are good for you because they are made with whole food and often superfoods. They are high in protein, healthy carbs, fats, and fiber which can be the perfect guilt-free snack.
Do energy bites have to be refrigerated?
YES! All of my energy bites are best stored in an airtight container in the fridge for 5-7 days. You can also freeze energy bites. Put them on a single layer on a cookie sheet in the freezer. Once frozen you can transfer them to an airtight freezer container or even ziplock freezer bags to store. <---Amazon Affiliate Link
Why are my protein balls not sticking together?
If you are having trouble with your energy bites or protein balls not sticking together you can add a couple of drops of water to your mixture. That will often help. Sometimes it helps to use your hands to warm up the mixture a bit too. The bites will often firm up in the fridge.
Pin for later!