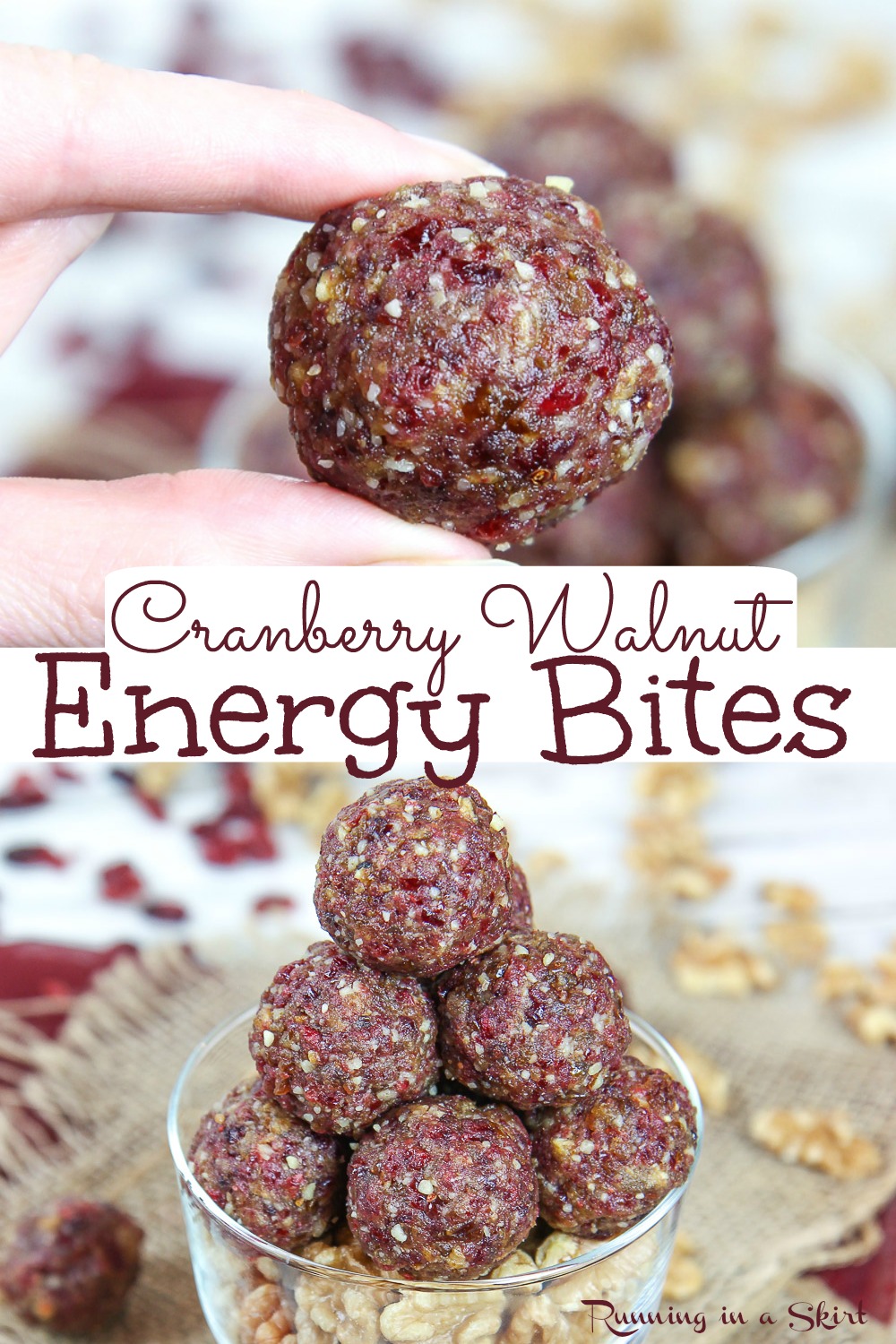 No Bake Cranberry Energy Bites with walnuts! This 4 Ingredient recipe makes an easy energy ball that's perfect for the holidays and just happen to be gluten-free, dairy-free, vegan, and vegetarian.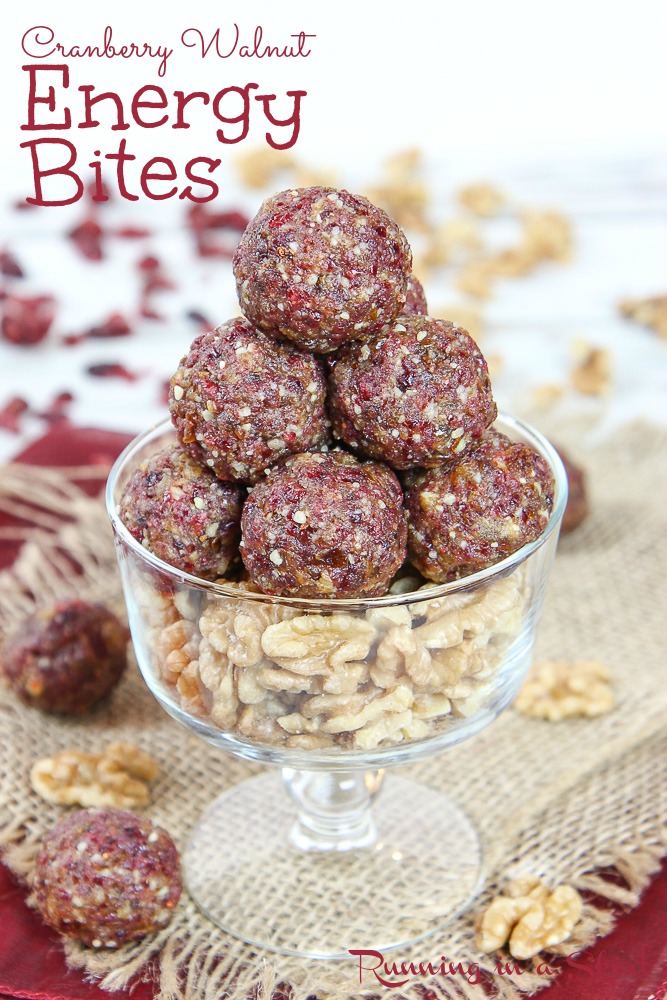 Looking for a healthy snack to keep you feeling festive AND energized this holiday season?
Cranberry Energy Bites
Look no further than my 4 Ingredient Cranberry Energy Bites. These perfectly tart energy balls are packed with all sorts of delicious flavor in a tiny package. Whether you are busy running errands or chasing the family around at home, you are going to love these!
These versatile bites are perfect for a quick breakfast or snack. Plus they are both adult and toddler approved.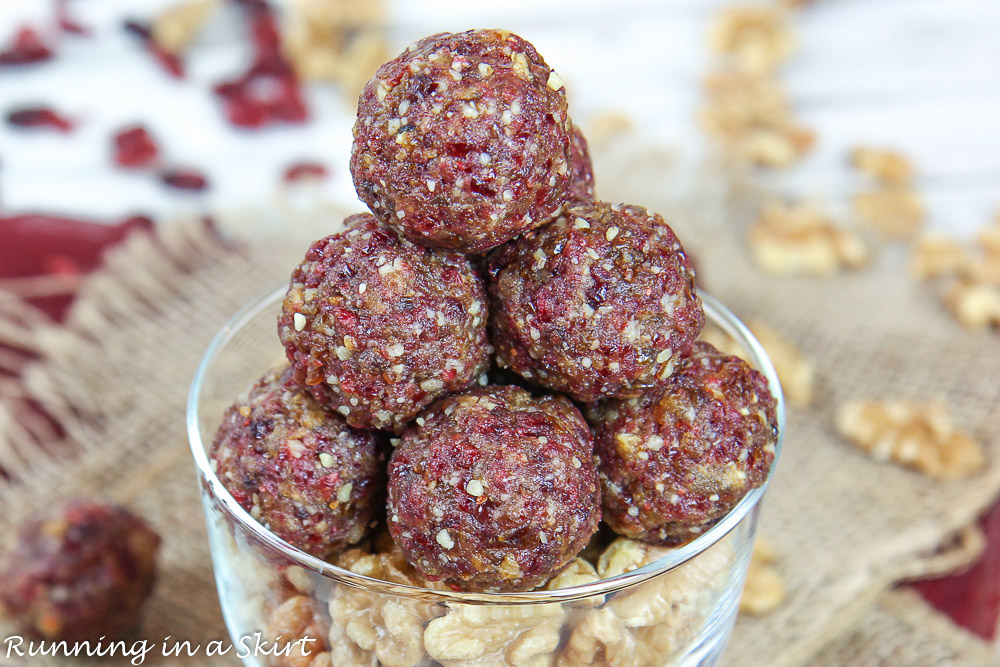 Why You'll Love these Cranberry Energy Bites...
You are going to love these Cranberry Energy Bites because they taste like the holidays with a combination of tart cranberry and nutty walnut. They taste indulgent without actually being so.
They come together in less than 10 minutes and are super portable AND freeze well.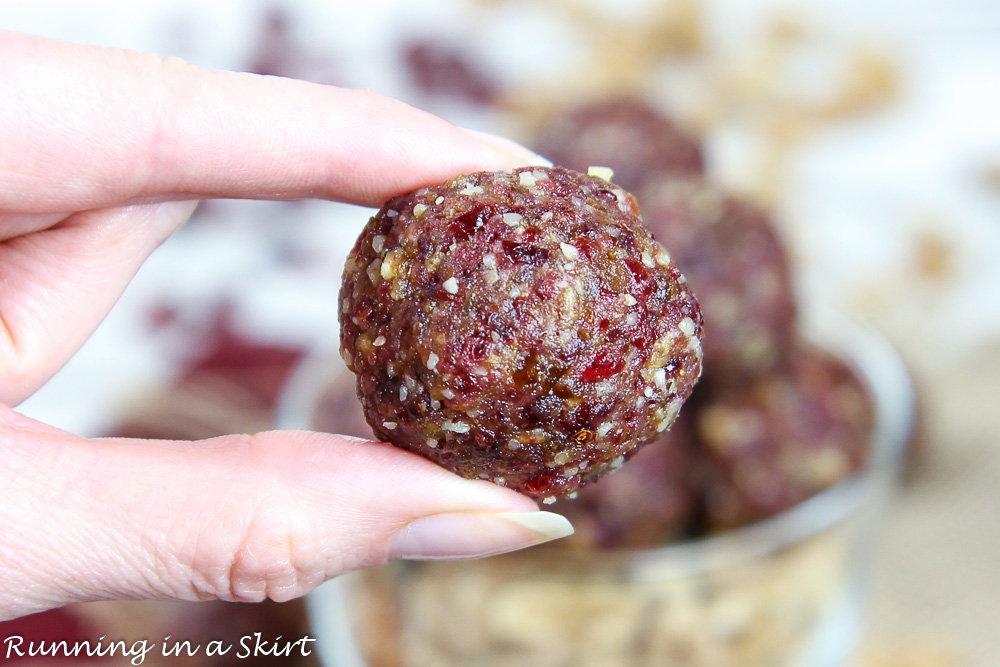 Ingredients in the Energy Bites:
You can add many things to these energy bites but sometimes SIMPLE is best. This 4 ingredient recipe is just what we need in this unprecedented time of crazy.
Dried Cranberries: Any type will work! They give these Cranberry Energy Bites a tart and festive flavor.
Walnuts: I liked the nuttiness of walnuts for this recipe but almonds or pecans would work too.
Chopped Medjool Dates: Medjool dates are the secret ingredient for a good energy bite. They are softer than a typical date and provide a natural sweet paste that allows the energy bite to combine without baking. They make it taste like a cookie without baking. Roughly chop the dates before blending them.
Vanilla Extract: The vanilla brings out the flavor and makes the bite taste more like a traditional baked good.
Other Fun Variations:
I love that this recipe is super simple and only 4 ingredients but if you want to mix it up, try some of these variations.
Add Coconut
Sub a Differnt Nut
Add Old Fashioned Oatmeal
Add Chia Seeds or Flax Seeds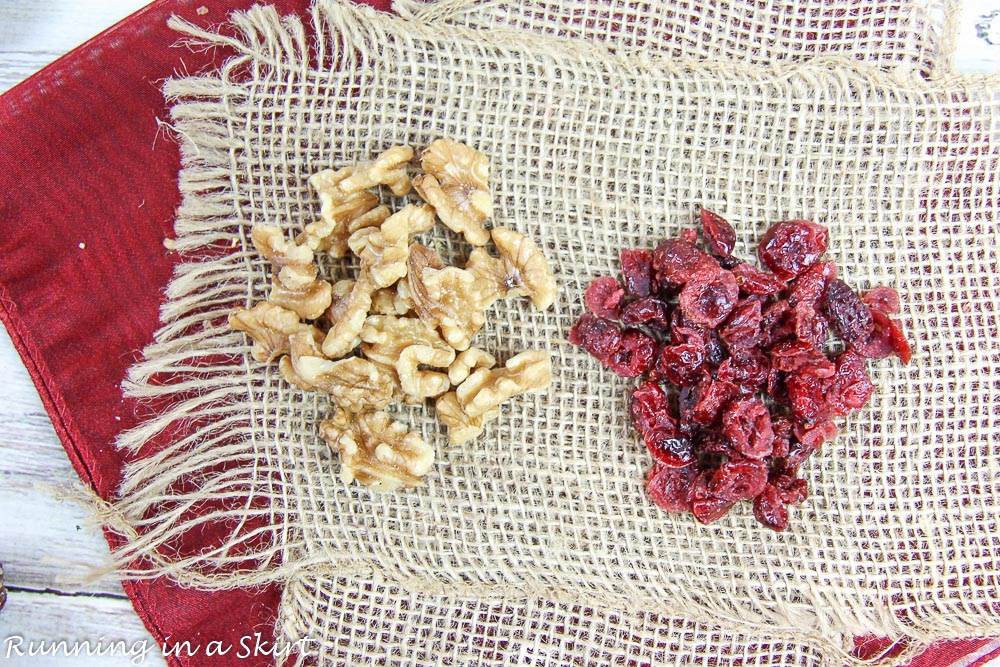 How to Make Cranberry Energy Bites:
You can make the my Cranberry Energy Bites in a high speed blender or food processor. This one is my favorite. <---Amazon Affiliate link
Put all the dried cranberry, chopped medjool dates, walnuts and vanillia extrat in a food processor.
Blend until everything is chopped into fine peices and stop before it all turns into a paste.
Divide the dough into 12 bites.
Roll the bites into balls.
Place them on a baking sheet and put the in the fridge to firm up.
To store you can transfer them to an airtight container and keep in the fridge.
What to Do if You Date Enery Bites Arent Holding Together?
It's normal for this dough to feel crumbly when you first pull it out of the food processor. Try to sqeeze it all together to form the ball. These require a little more finese to hold together than some of my other energy bites.
If it's still to crumby you might need a touch more moisture. Depending on the age and amount of moisture in your medjool dates, you might need to add any extra couple of drops of water to your dough mixture. That should take care of the problem.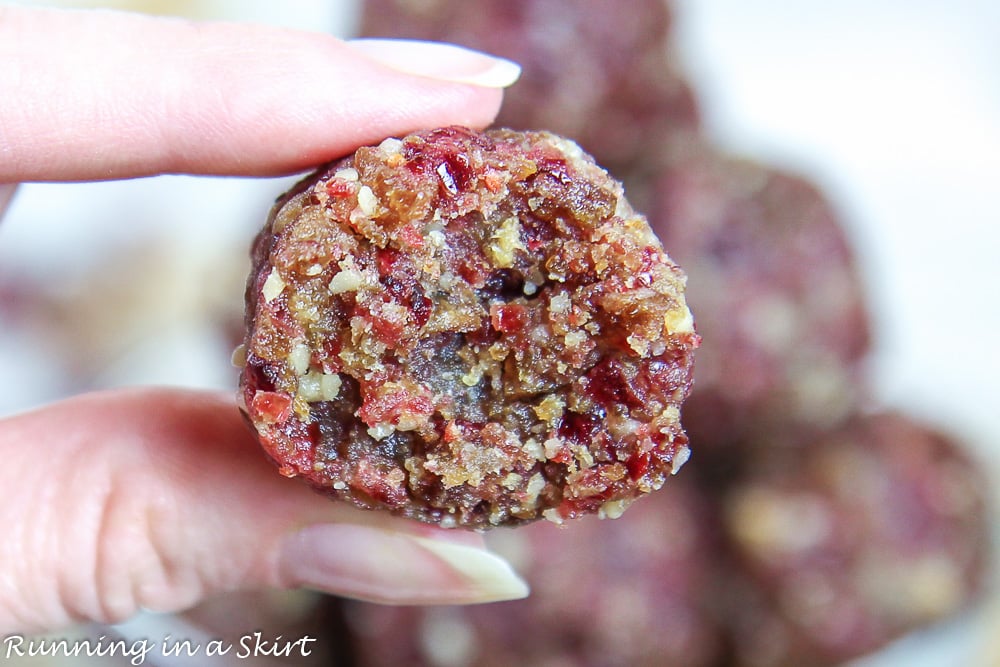 Energy Bite FAQ
Are Energy Bites good for you?
They can be! These energy bites are full of real food that have lots of nutritients making them a better choice than a packaged snack. Even though they don't have tradional sugar, the dates are very sweet so they are best enjoyed (like all things) in moderation. They do give you a natural energy boost because of the dates.
How do I store my energy balls?
Store your energy balls in an airtight contineer in the fridge.
How long can you keep energy balls?
Energy balls can be kept in the fridge for up to a week. If you want to keep them longer you can freeze them.
Are Cranberry Energy Bites freezer friendly?
YASSS! These Cranberry Energy Bites freeeze well! Just freeze them individually on a baking sheet before transfering them to the airtight continer or freezer ziplock bag. You can then grab them individually to enjoy. They freeze so well you can easily make a double batch.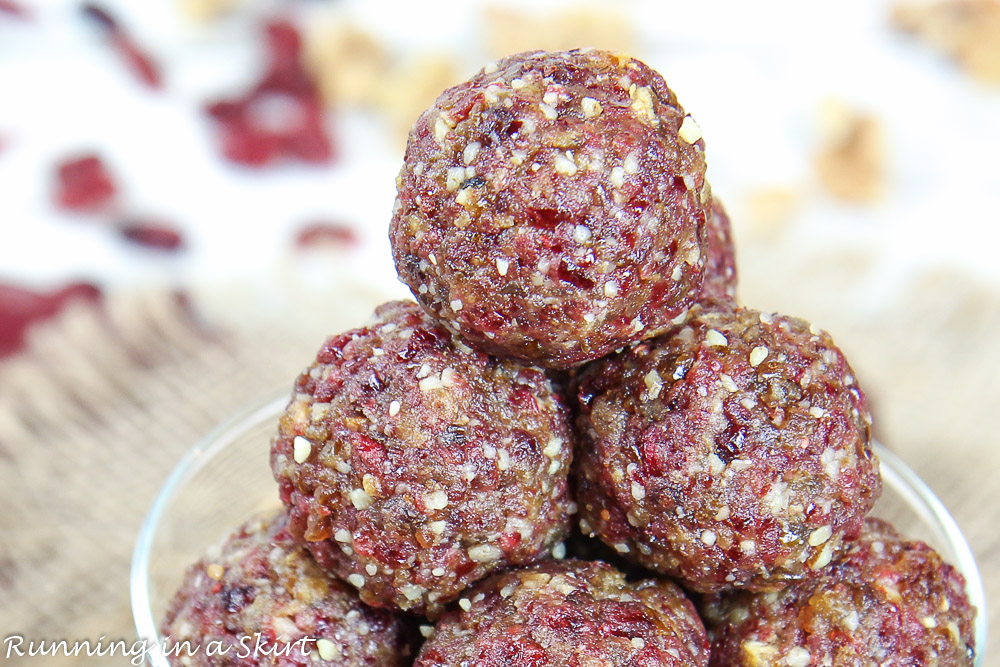 I hope you enjoy this delicous twist on energy bites! My Cranberry Energy Bites are another recipe I love and hope you do too.
More Healthy Energy Bites to Love:
If you make this recipe, I'd love to hear what you think! Leave a comment and a star rating ★ below. Make sure to follow me on Instagram, Pinterest, and Facebook too!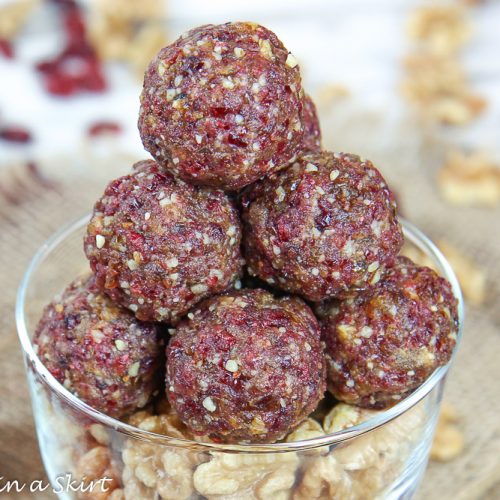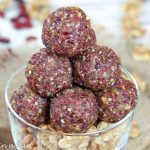 Cranberry Energy Bites
These super simple 4 Ingredient Cranberry Energy Bites are tart and delicious.
Instructions
Put all the ingredients in a food processer and mix until everything is in tiny peices but not a complete paste.

Divide the dough into 12 peices and roll into balls. Place on a baking sheet.

Put the baking sheet in the fridge for 15-30 minutes and allow
Notes
Store these Cranberry Energy Bites in the fridge in an airtight container.
Nutrition
Calories:
131
kcal
Carbohydrates:
19
g
Protein:
2
g
Fat:
7
g
Saturated Fat:
1
g
Sodium:
1
mg
Potassium:
132
mg
Fiber:
2
g
Sugar:
15
g
Vitamin A:
18
IU
Vitamin C:
1
mg
Calcium:
18
mg
Iron:
1
mg
Pin for later!