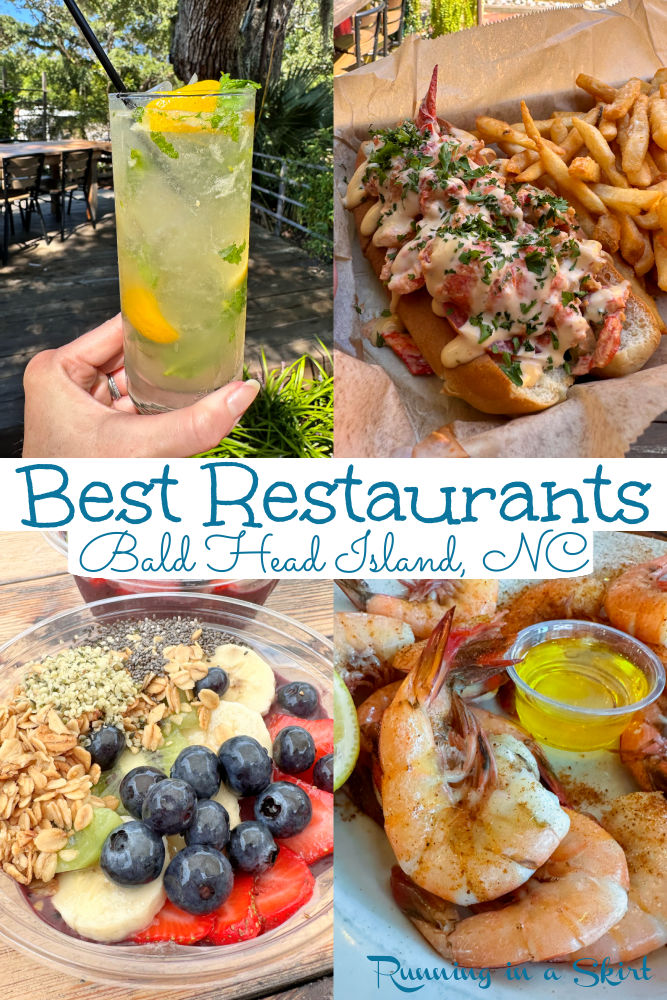 Curious about Bald Head Island Restaurants? This tiny island has a surprising number of tasty places to eat including seafood restaurants, fine dining, pizza, specialty cocktails, grab-and-go sandwiches, Mexican Asian food, and even local coffee shops. This guide covers all the best options for dining on Bald Head Island including those at the two clubs, Bald Head Island Club and Shoals Club.
Planning a trip? Also, read my Bald Head Island Travel Guide & Top 15 Favorite Moments from Bald Head Island for photos and ideas to plan your vacation. My travel guide includes all of the logistics you need to know to visit.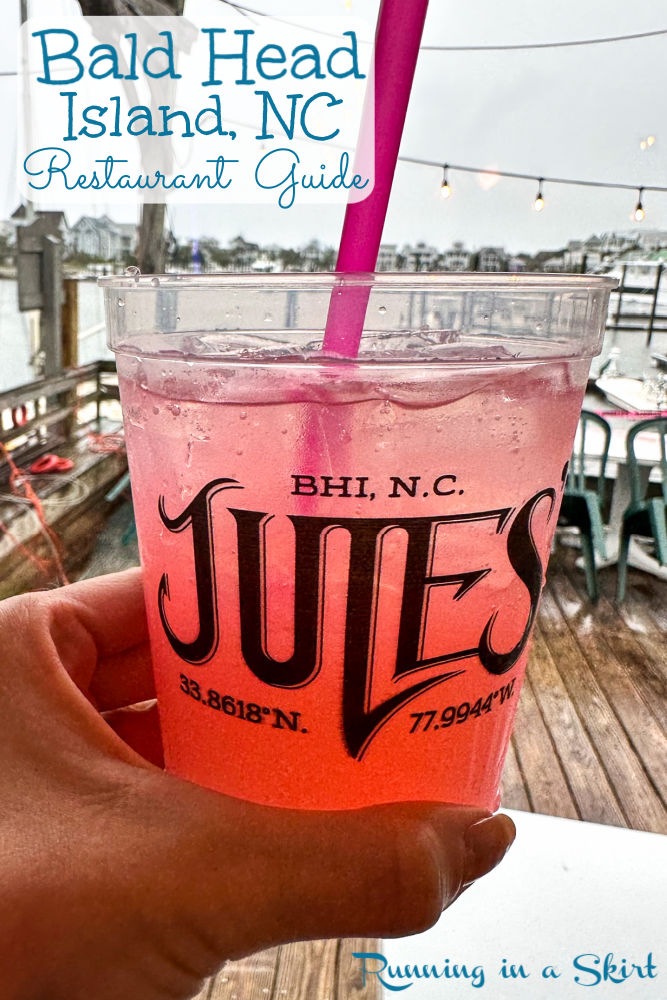 Bald Head Island Restaurants
Bald Head Island restaurants are surprisingly interesting considering the tiny size of the island and the fact that it's not reachable by car, only by ferry. BHI as local's call it, is not known as a foodie destination, but we found a nice number of places to eat that we enjoyed on our recent trip. There are several local restaurants plus even more associated with the two popular country clubs on the island, Bald Head Island Club and Shoals Club, both of which visitors can purchase guest passes to visit with many rentals.
In recent years local dining on the island has grown as now it includes fresh seafood and some unexpected options like a local coffee shop and even Asian food. You can of course find classic island restaurants like seafood joints, fine dining, and pizza too.
In many of my restaurant guides, I list the best or my favorite restaurants on the island, but since there are just a few choices in Bald Head Island, this guide covers all of the Bald Head Island Restaurants so you can see all your options in one easy place.
If you aren't familiar with Bald Head Island, it's a small island, just 12,000 acres, off the east coast of North Carolina near Southport, which is south of Wilmington. It's a special place because it's only accessible by ferry and once you get there, you'll find no cars, only golf carts, and bikes. Development on the island has been limited and much of the island is a natural beach or nature preserve. It's a gorgeous place that's worth a visit! If you are planning a trip to the island, check out my Bald Head Island Travel Guide, which has everything you need to know to plan your trip.
But for now, let's dive into the best Bald Head Island Restaurants.
Bald Head Island Restaurant Guide
Click To Tweet
Bald Head Island Restaurants Guide
Jules' Salty Grub & Island Pub
Jules' Salty Grub & Island Pub is one of the most iconic restaurants on the island making it one of the best Bald Head Island restaurants. It's located in Harborside with a casual, beach bar vibe. They also offer after-hours dining and festivities.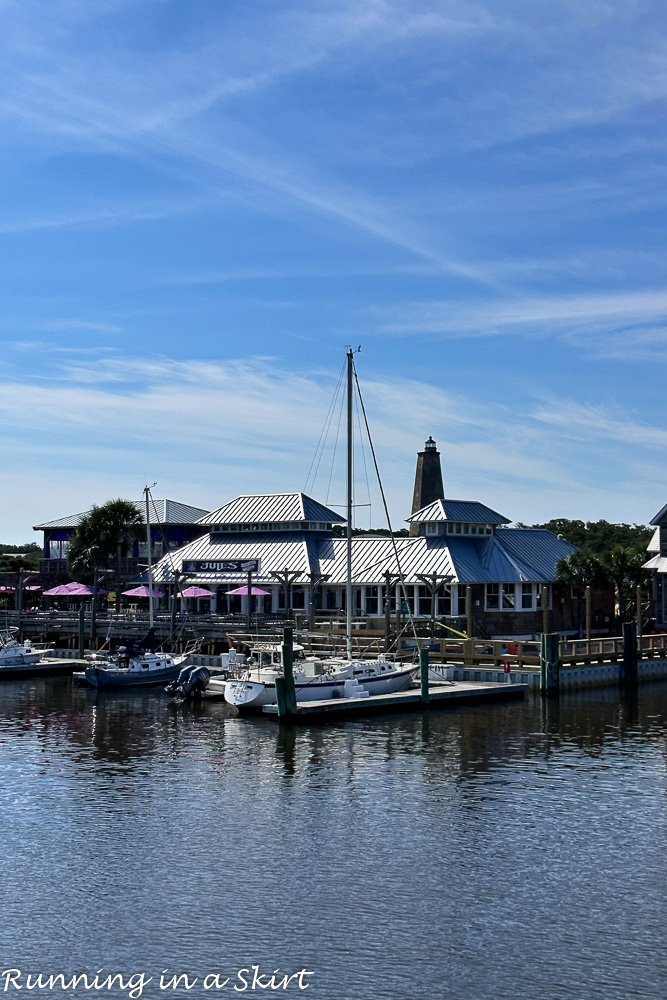 Here are the views from the tables. You can watch the ferry come and go and watch the boats as well. It's one of the best dining experiences on Bald Head Island and one of the few waterfront dining experiences.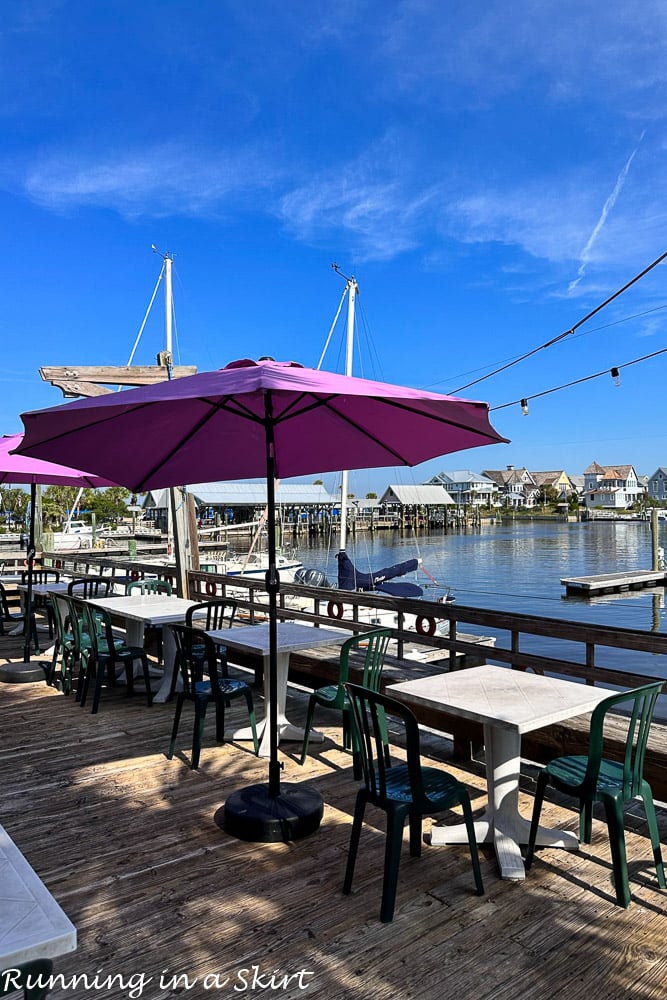 They even have this fun collection of signs, giving it a dive bar feel. Due to its popularity, there is often a wait to get in high season.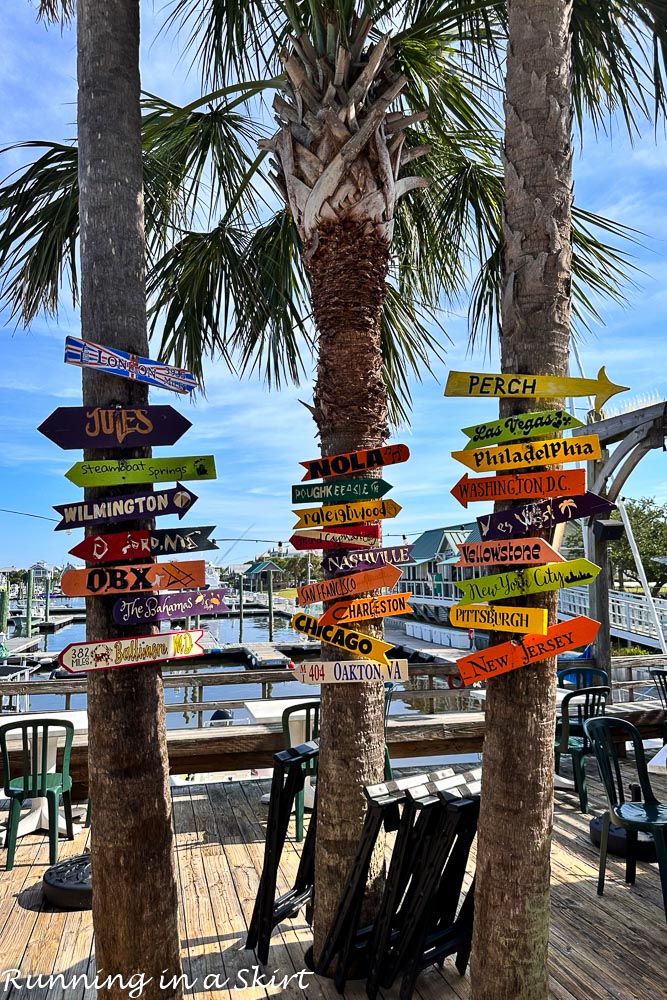 We've tried a bunch of dishes, but our favorites were peel-and-eat shrimp. This menu option is a nod to Ebb & Flo's which was the original seafood restaurant in this location. They offered popular seafood steam pots.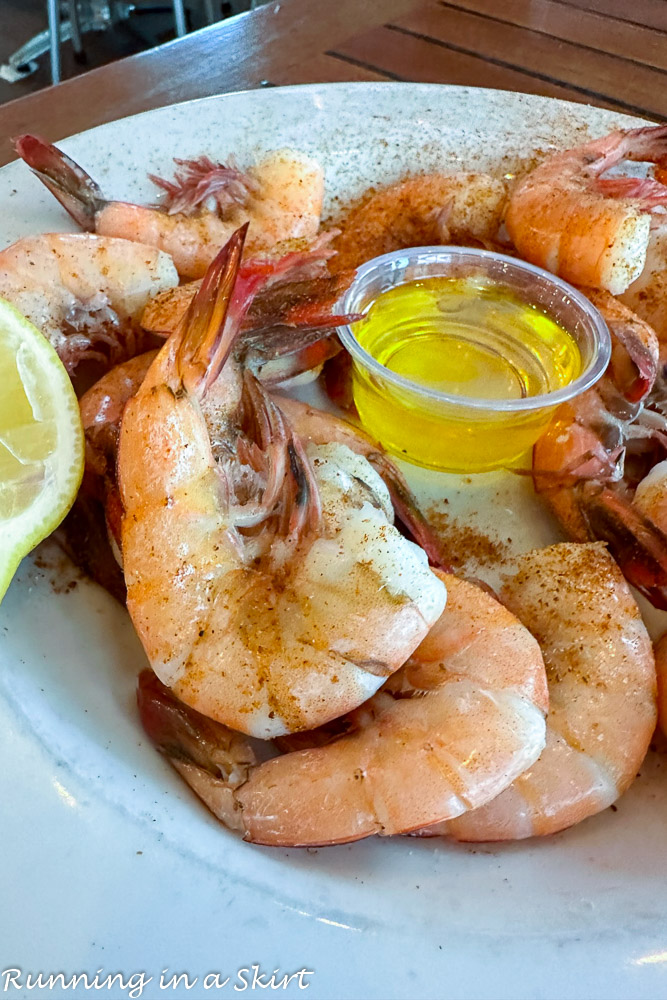 We also loved their calamari.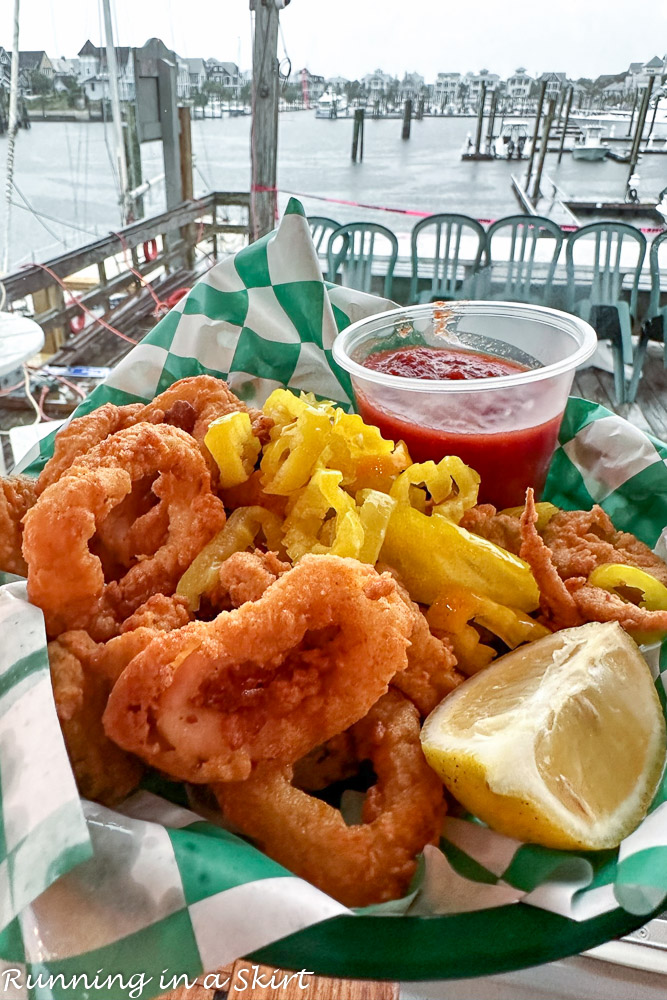 And the swordfish dinner was also tasty.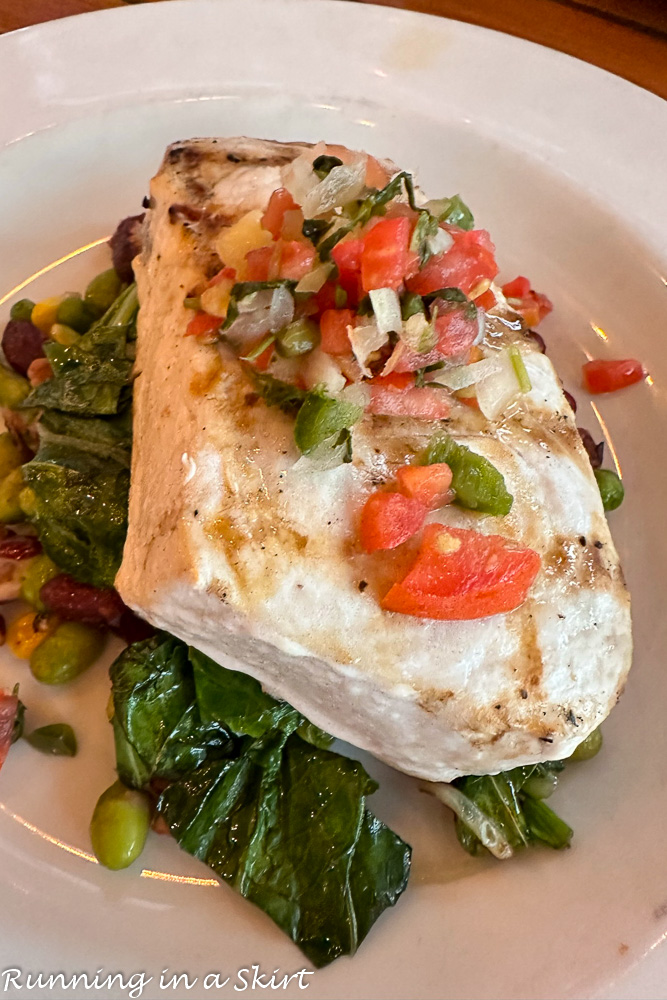 Jules' is also home to LuLu's BBQ kitchen which offers takeout in high season, which is summer from Memorial Day to Labor Day.
Jailhouse Provisions
Located in the former jailhouse, Jailhouse Provisions, was actually our favorite meal on our trip and my personal favorite on this list of best Bald Head Island restaurants.
This unique spot is popular because the food is really good! It's in the middle of the island and not on the water, but the great food makes up for the lack of a view.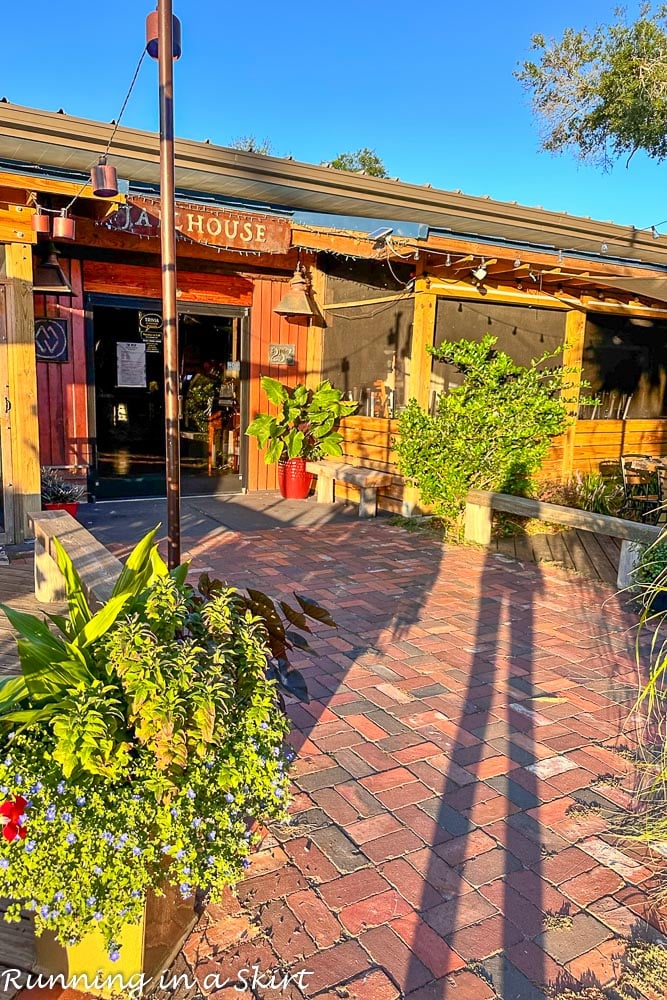 They had a beautifully landscaped patio and a nice indoor area for bad weather.
They have a unique specialized menu with lots of great elevated sandwich options, seafood baskets, and salads. Our favorite were the Lobster Roll.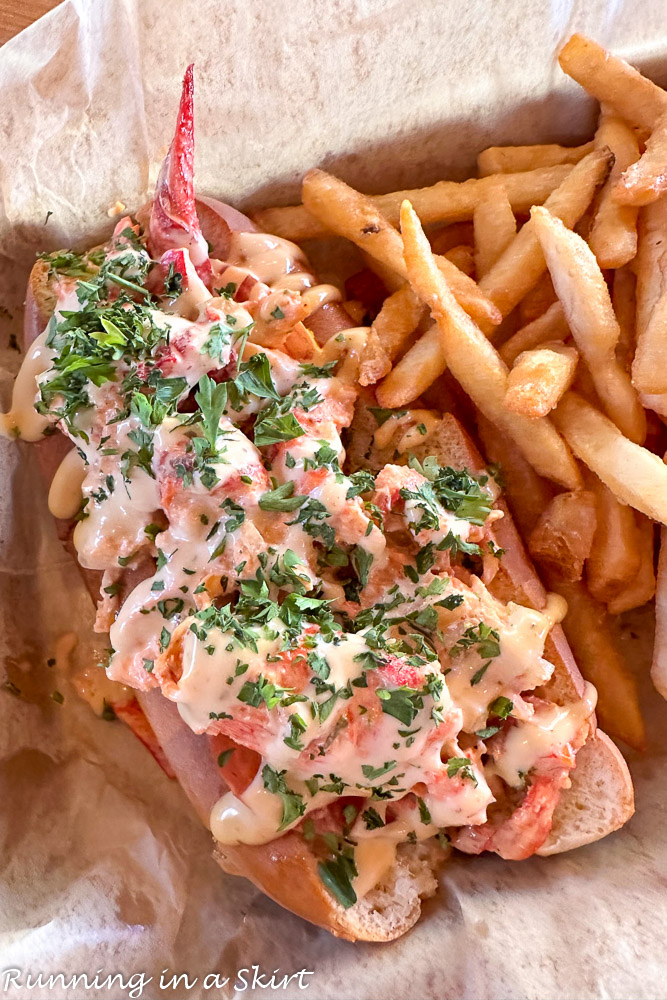 The Crab Cake Sandwich was also amazing.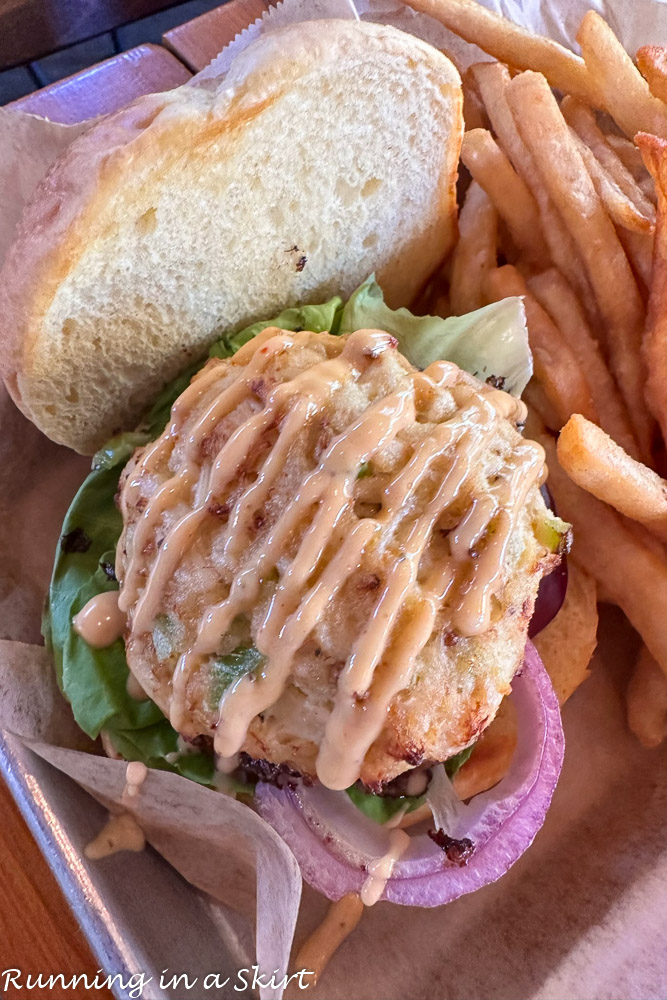 We also love the Fresh Catch Sandwich. Don't miss the homemade JH Potato Chips.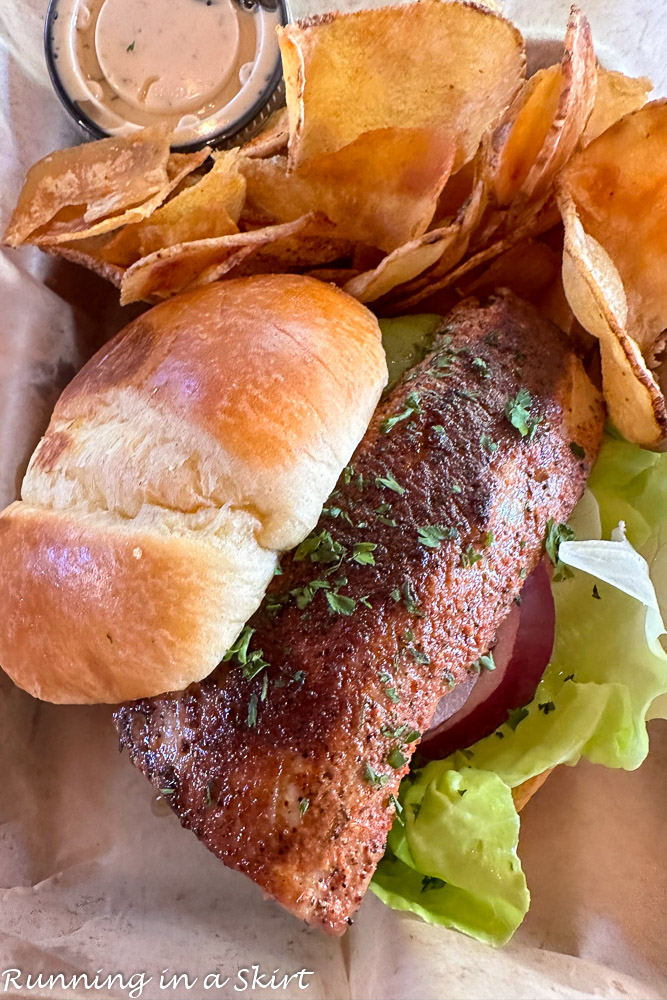 They also have a full bar with a lovely full cocktail menu.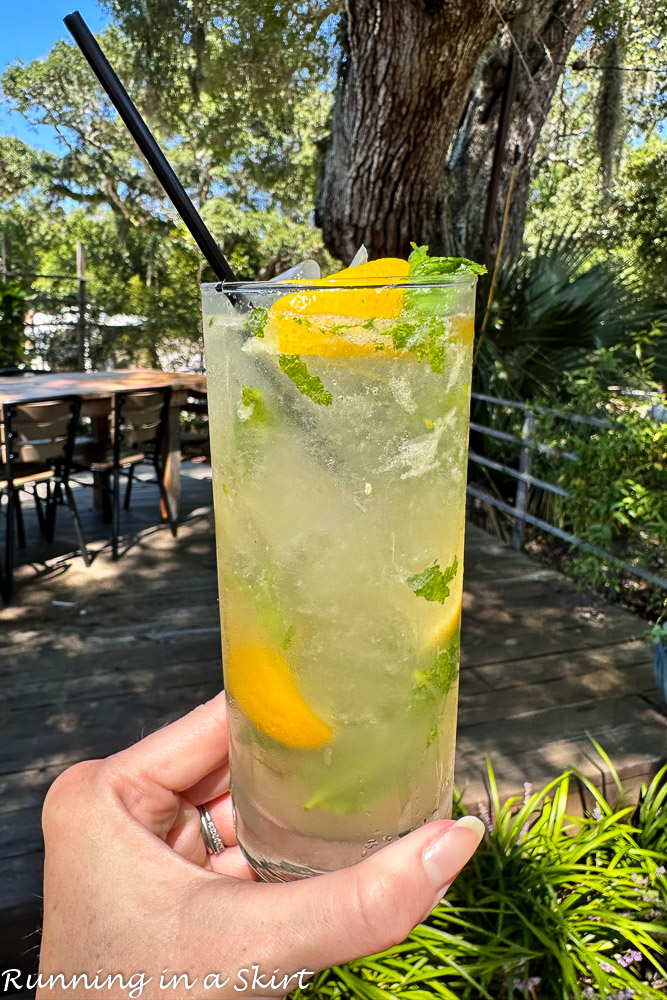 Midway Coffee
Midway Coffee is a separate restaurant that's also in the Jailhouse Provisions building. They offer a full-service coffee bar including cappuccino, espressos, and lattes in addition to unexpected breakfasts and even ice cream.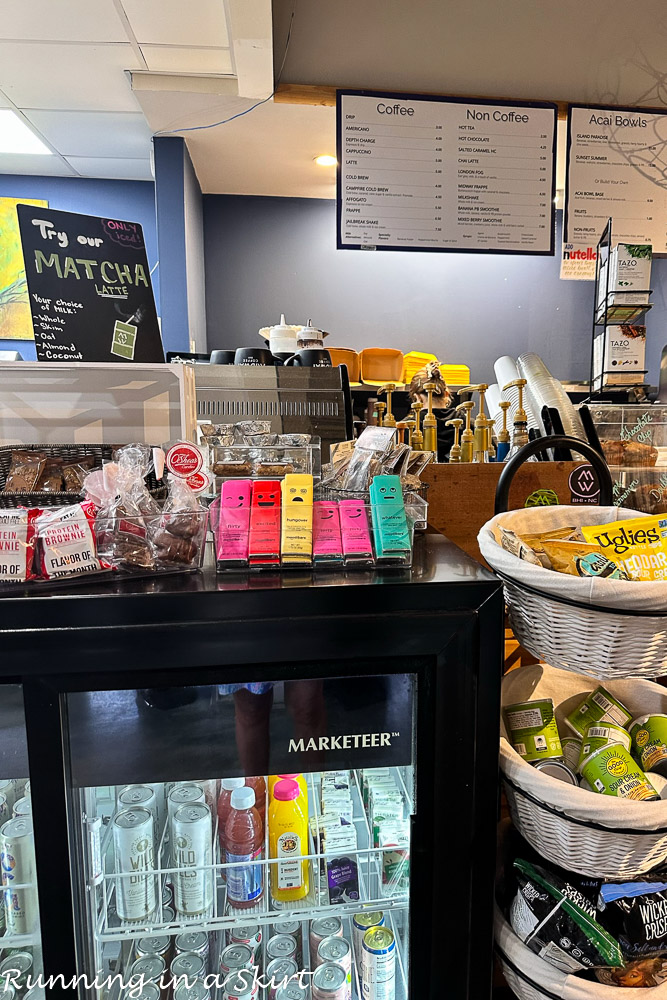 We loved their avocado toast with a sliced hard-boiled egg on top. It's served on a particularly delicious sourdough bread.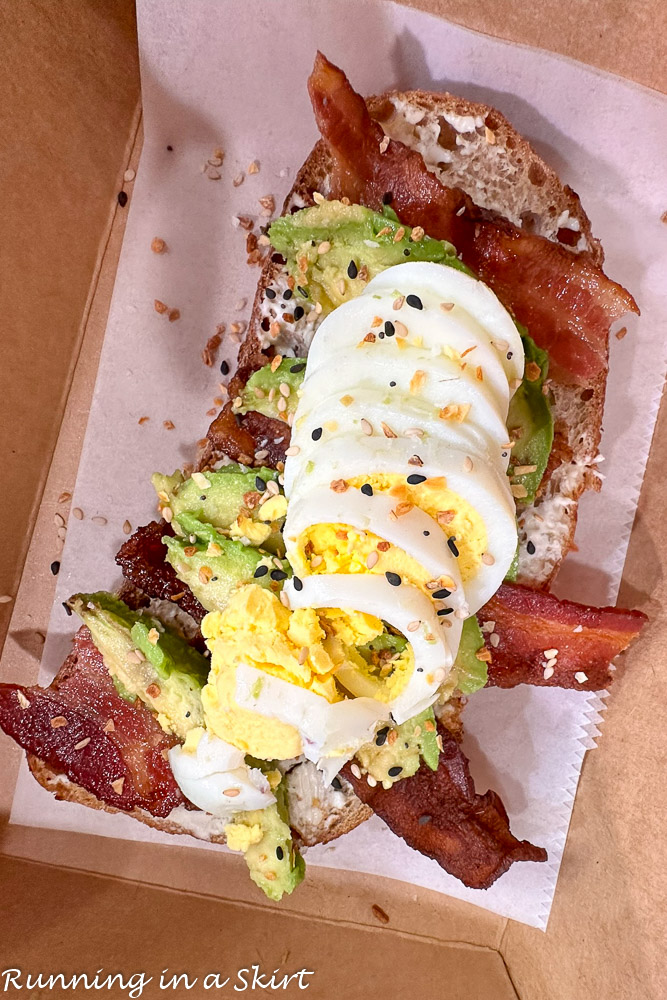 We also tried and loved the acai bowls, which was unexpected on such a small island.
Delphina Coastal Cuisine
Delphina Coastal Cuisine is home to Delphina Cantina and Delphina Pizza. Located on the harbor, they offer delicious Mexican food and fun pizza options. Try the burritos, Carnitas Tacos, or the BHI Favorite, which is a great twist on shrimp tacos. For pizza, the Mediterranean is great with feta, tomato, roasted red peppers, spinach, and onions. It's a great spot to add diversity to the Bald Head Island restaurants list.
They are open seasonally and in the off-season often offer just take-out.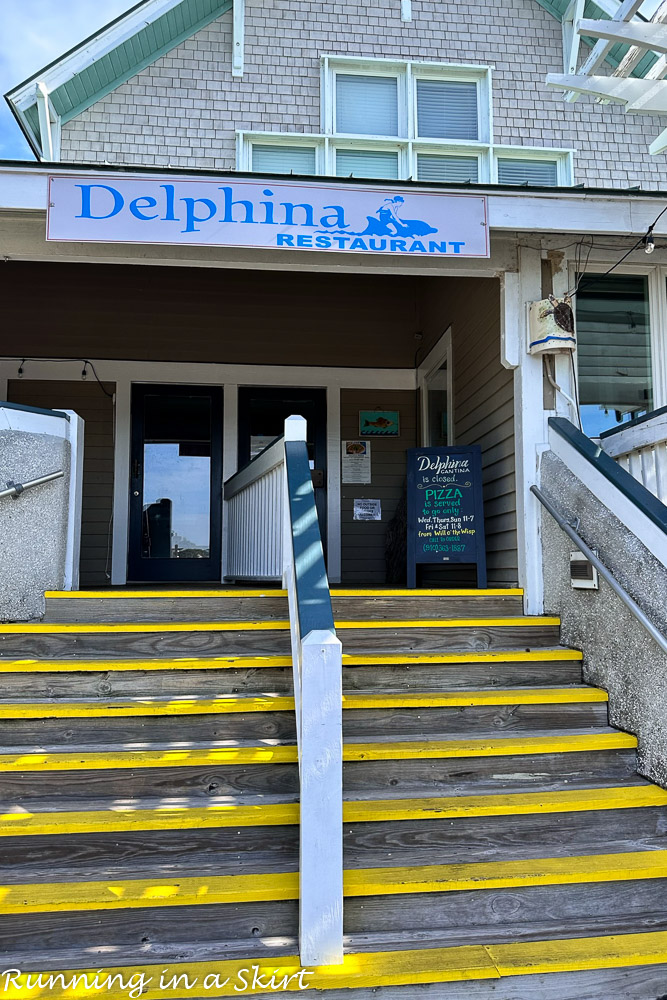 Will O' The Wisp
Will O' The Wisp is a fun bar with snacks, cocktails, beer, and wine right on the harbor with a view. They also offer pizza delivery from nearby Delphina Pizza.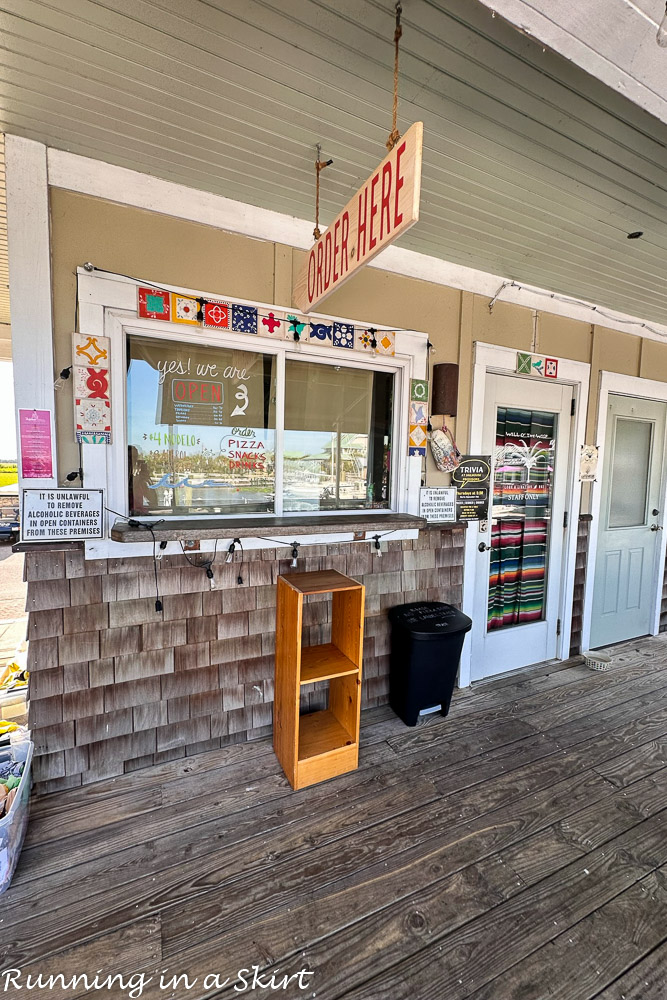 They offer fun charcuterie plates and have a great sunset view.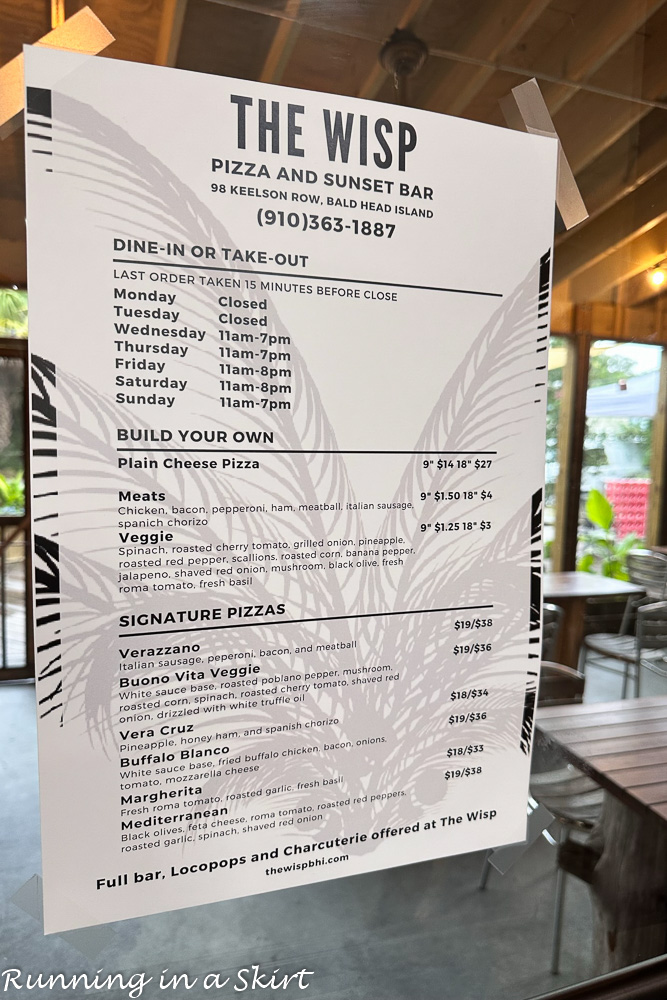 Sandpiper Ice Cream & Coffee
Sandpiper Ice Cream & Coffee is the best local coffee option near the Bald Head Island harbor with tasty premium coffee drinks. They are also known for their pastries like scones, muffins, cinnamon rolls, bagels, and cookies, which are baked fresh daily. Try their Almond Joy coffee for a real treat.
They also have ice cream for later in the day.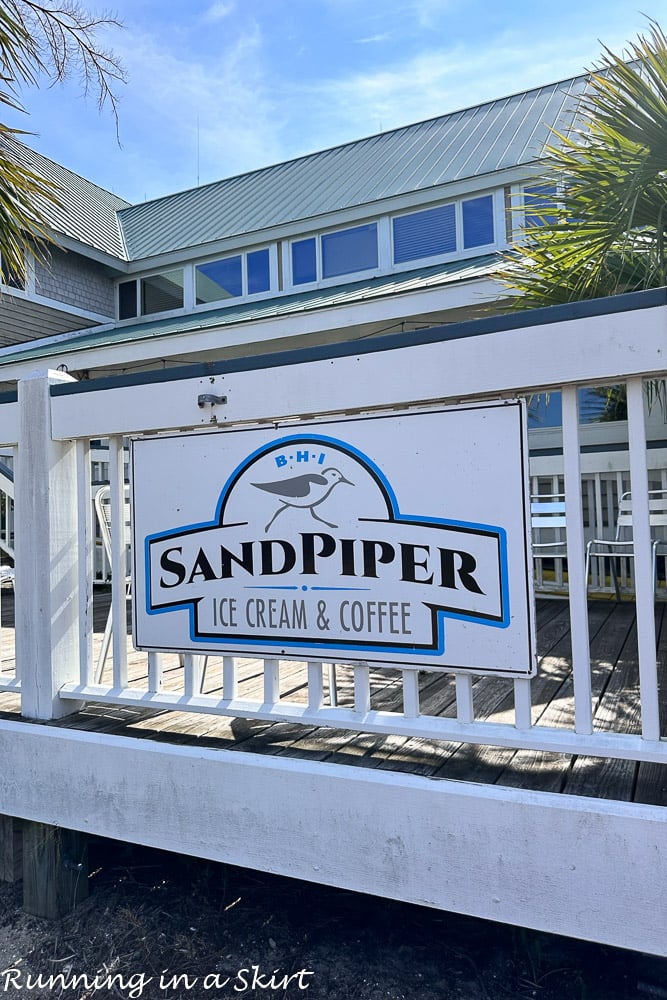 Maritime Market
Maritime Market is THE grocery option on the island and has to be included in any list of Bald Head Island restaurants because it's also home to several small restaurants.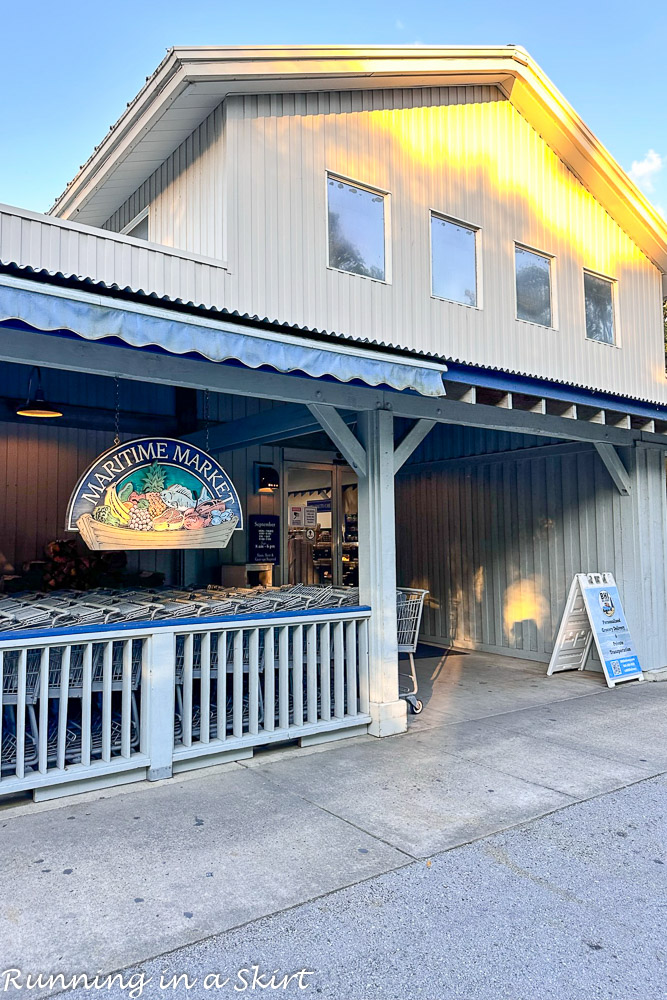 They offer a small amount of just about everything you'd need during your trip to the island, meaning you don't HAVE to bring in groceries like you used to. They even offer grocery delivery. They also have a nice collection of pre-made ready-to-heat family-sized dinners you can order when you don't want to cook but don't want to actually visit a Bald Head Island restaurant. You can enjoy them in your vacation rental.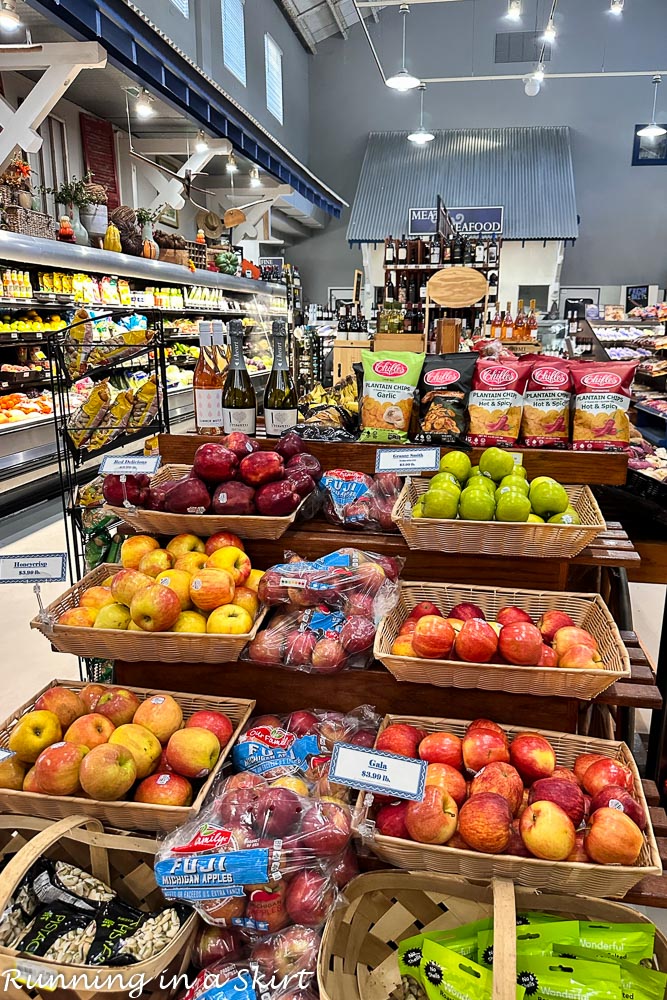 Inside or nearby you'll find several small restaurants, which really expands the list of dining options in Bald Head Island. You'll find Copper's Wood-Fired Kitchen with pizzas, Sweet Bay Cafe and Catering, Side Wok with Asian food, and the Market Cafe and Catering with breakfast, lunch, and dinner options that are easy to grab and go. There is also a spot selling Nye's Cream Sandwiches and Scoops.
Try the Tempura Green Beans, Chili Garlic Shrimp, or Dumplings at Side Wok. Any of the pizzas at Copper's are good! You can enjoy your food in the nearby Forest Pavilion.
Market Cafe & Catering
The Market Cafe is part of Maritime Market but is a great option for quick, counter-service breakfast, lunch, and dinner.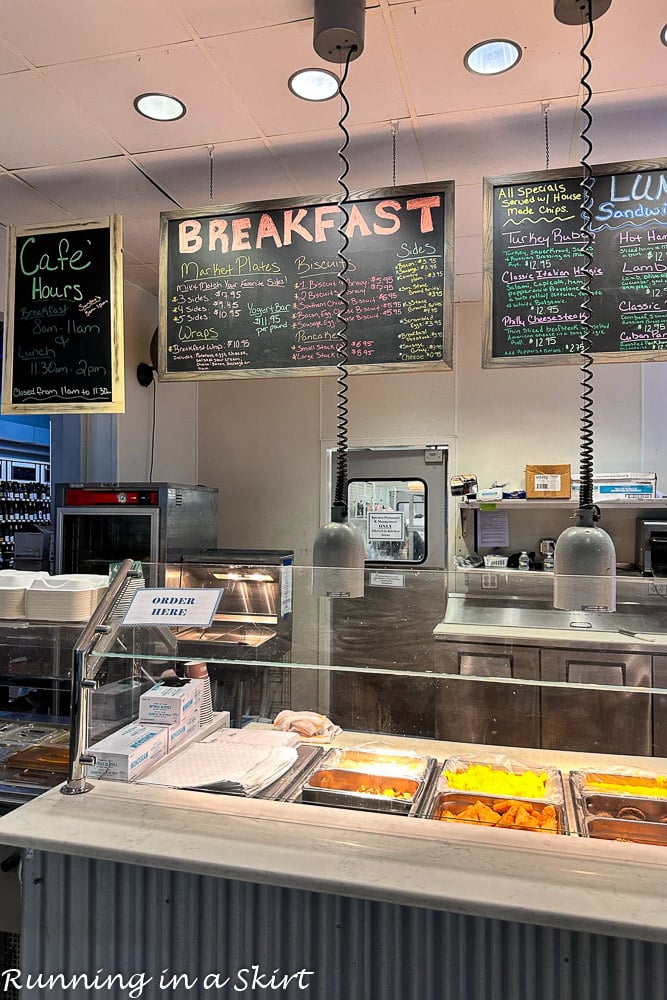 They have great breakfast sandwiches and also many lunch options including sandwiches and burgers.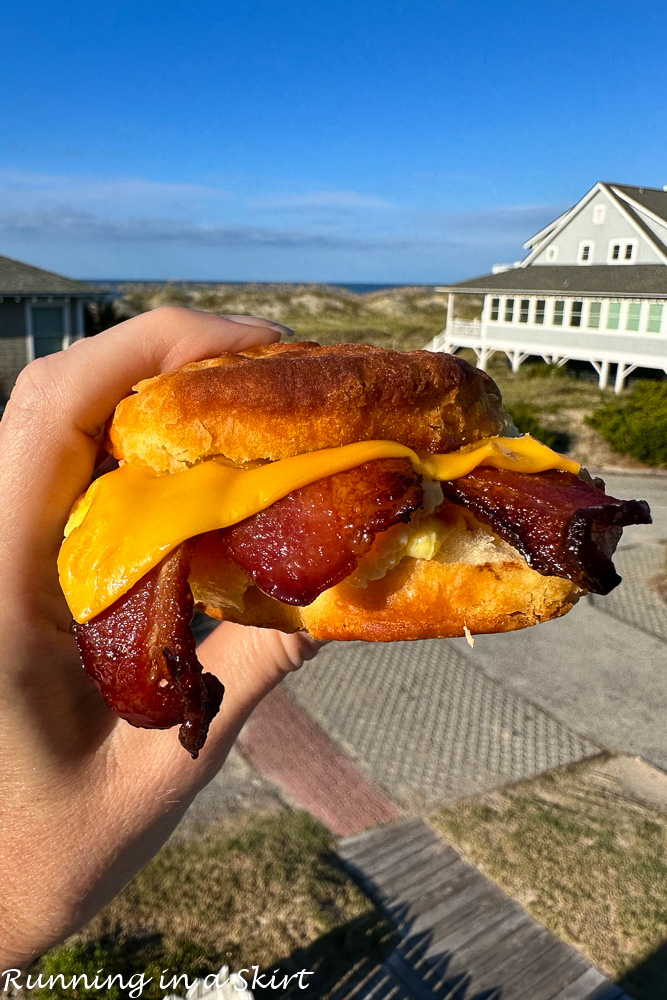 Bald Head Bottle
Bald Head Bottle is the wine shop and wine bar on the island, with small collections of wine and beer. They sell bottles and wine by the glass to enjoy in the shop. They also have a small food menu with snacks like chips, nuts, pretzels, and cheese plates.
Bald Head Island Restaurants at Bald Head Island Club
Bald Head Island is home to two big private clubs that house many of the island's better restaurant options. If you are visiting, you can often get a membership to one of the clubs through your rental house. It's a great option for expanding your dining options on the island. Some of our favorite Bald Head Island restaurants were at the Bald Head Island Club, which we had access to for the weekend.
Horizons
Horizons is the newest dining offering at the Bald Head Island Club and is another one to add to the top of the list of best Bald Head Island restaurants. It's upstairs overlooking the new and spectacular aquatic club. They have indoor and outdoor seating and a wonderful sunset view.
Everything we ate was great but a few standouts were the Crab Dip.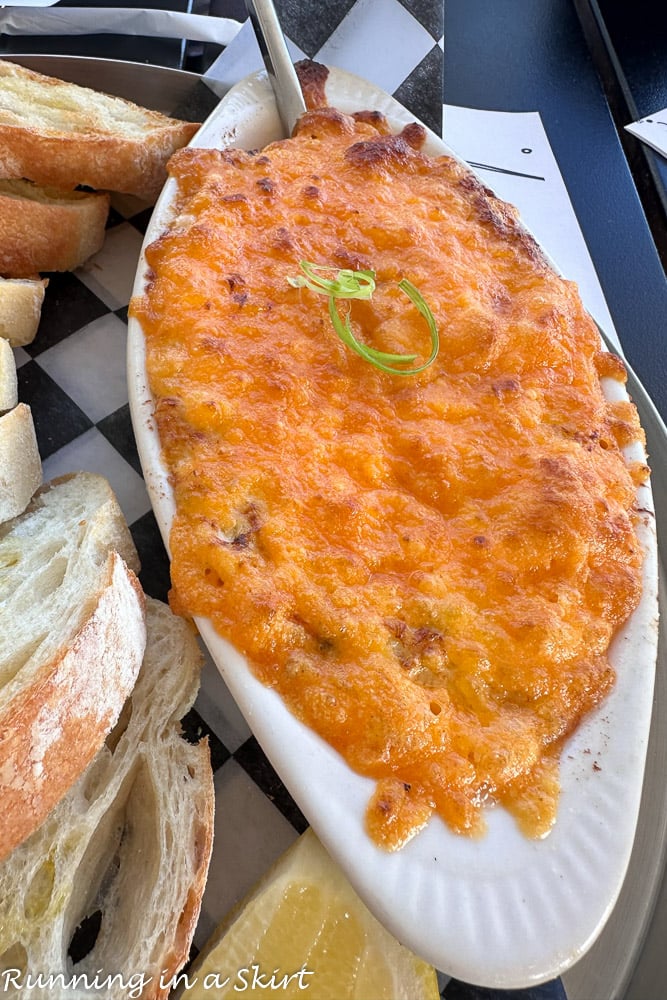 We also love the catch of the day.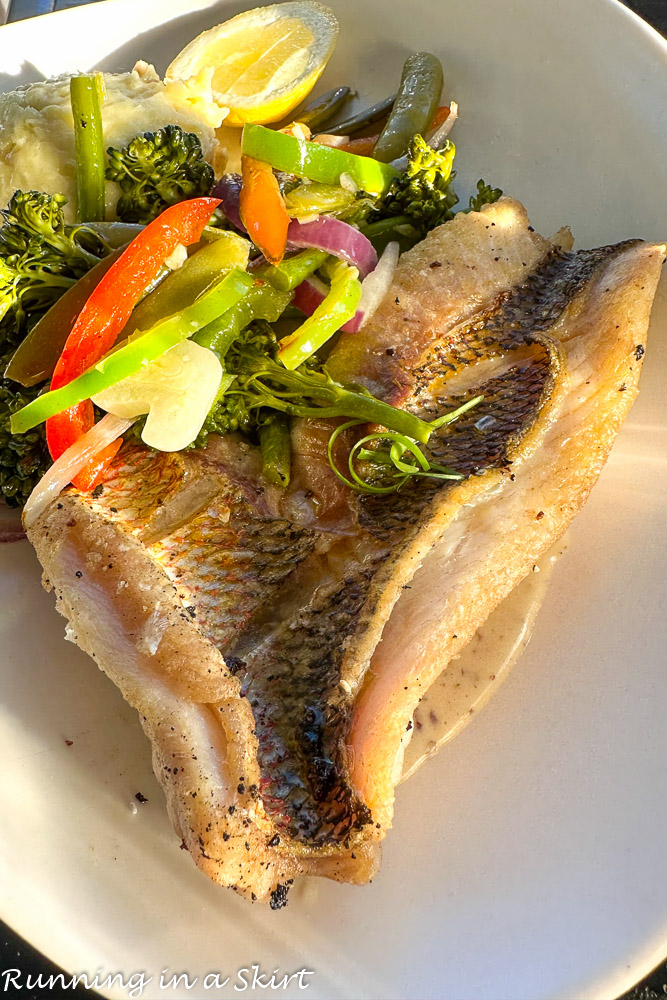 And the tuna nachos were still so good. They have lunch and dinner plus a kid's menu.

The Palms
The Palms is the club's gastro pup with pasta, burgers, sandwiches, sharable small plates, and more. It's a great place to watch a game and have a drink. A few highlights of the menu are Jealpeno Bacon Wrapped Scaootes, Grilled Mahi, and Cuban Sandwich. They do have a kid's menu too.
The Terrace
The Terrance is a beautiful golf course-view restaurant with only outside dining. It has a lovely menu with Grilled Tuna, Hot and fire Shrimp, and a Lobster Salad Roll.
The Grill
The Grill is the Bald Head Island club's fine dining establishment and is for members only. They are known for having grilled steaks, and fresh fish like tuna, grouper, and crab cake. This is one of the best Bald Head Island restaurants, but you have to be a real member, not a guest member to enjoy it.
The Bean Bar
The Bean Bar is another local coffee shop option on Bald Head Island. They have all sorts of great drinks and easy breakfast options.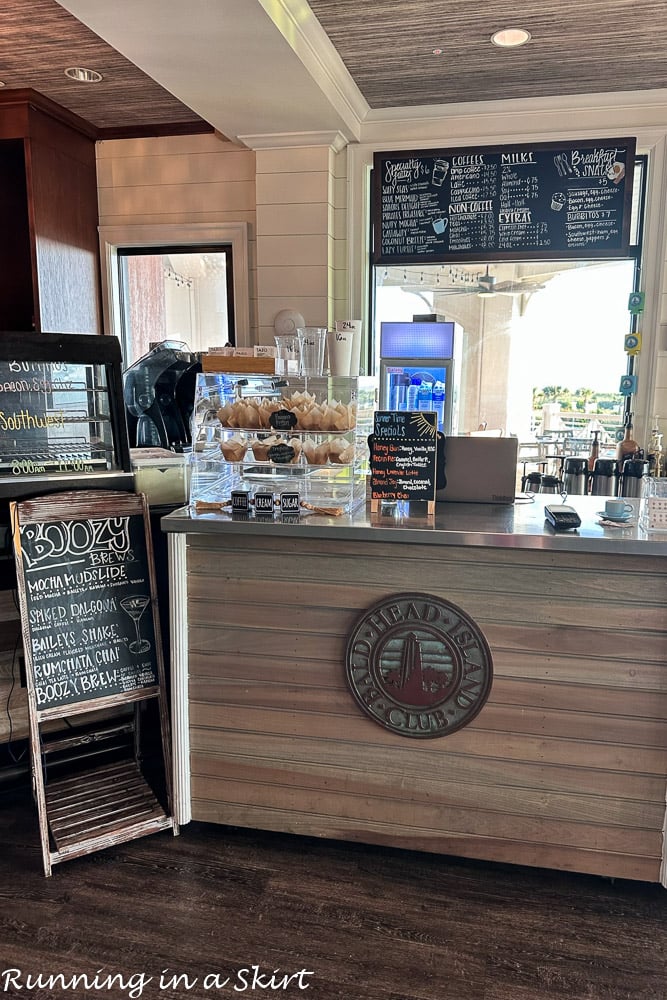 Pool Bar
The pool area also as a Cabana Bar and snack bar that is great for ordering while at the pool. Our favorite was the Lime & Coconut.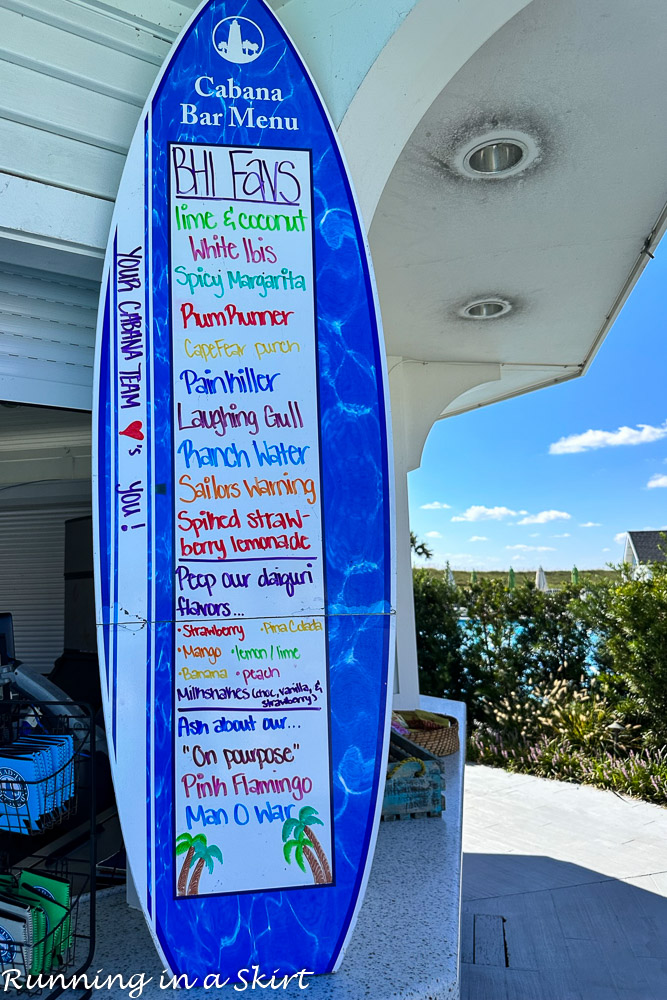 You can't go wrong with a Pina Colada like this though!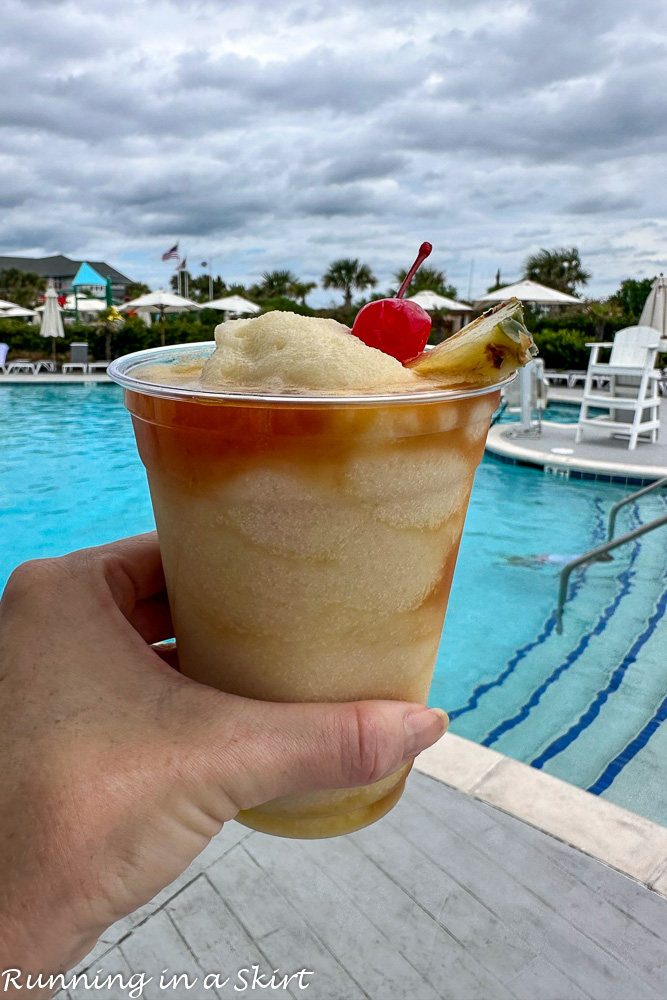 We also tried their grab-and-go lunch options which include Lunchables for the kids and wraps like this for adults. It's a good option when you have wet kids at the pool and don't want to put them in a collared shirt for a fancy lunch.

Bald Head Island Restaurants at Shoals Club
The other club on Bald Head Island is Shoals Club and they offer more of the best Bald Head Island Restaurants including one more fine dining option. You have to have a guest membership to dine at any of these options.
Aqua
Aqua is the Shoals Club's fine dining venue with gorgeous ocean views and a delightful menu with salmon, veal tenderloin, and oysters. Try the Pie Flight for a real treat. Aqua is a must to add to your list of best Bald Head Island restaurants.
Latitudes
Latitudes offer casual club dining with seafood, burgers, and tacos. It's still a club dining experience, but not as fancy as Aqua.
Sandbar Grille
The Sandbar Grille is the pool-side dining venue at the Shoals Club. They offer sandwiches, salads, and easy food to enjoy poolside. They are also known for their frozen cocktails and ice cream.
Best Bald Head Island Restaurants
There are so many fabulous Bald Head Island Restaurants. My favorites were Jailhouse Provisions, Horizons, and Jules' Salty Grub and Pub. The dining here is truly unique and more diverse than you'd like given the very small size of the island. You can definitely dine well on your trip!
If you are curious about Bald Head Island and planning a trip, also make sure to read my travel guides below.
Bald Head Island Travel Information:
Bald Head Island Restaurant Guide
Click To Tweet
More Nearby Beach Restaurant Guides
Pin for Later: