Curious about Bald Head Island NC? This completely unique nature-filled island off the coast of North Carolina is only accessible by private boat or ferry, giving it a truly unique remote feel. Since there are no roads to get there, you'll need to carefully plan your trip to the island. This guide includes everything you need to know to get to the island, where to stay, plus the best things to do when you arrive.
Planning a trip? Also, read my Bald Head Island Restaurant Guide and my Top 15 Favorite Moments from Bald Head Island.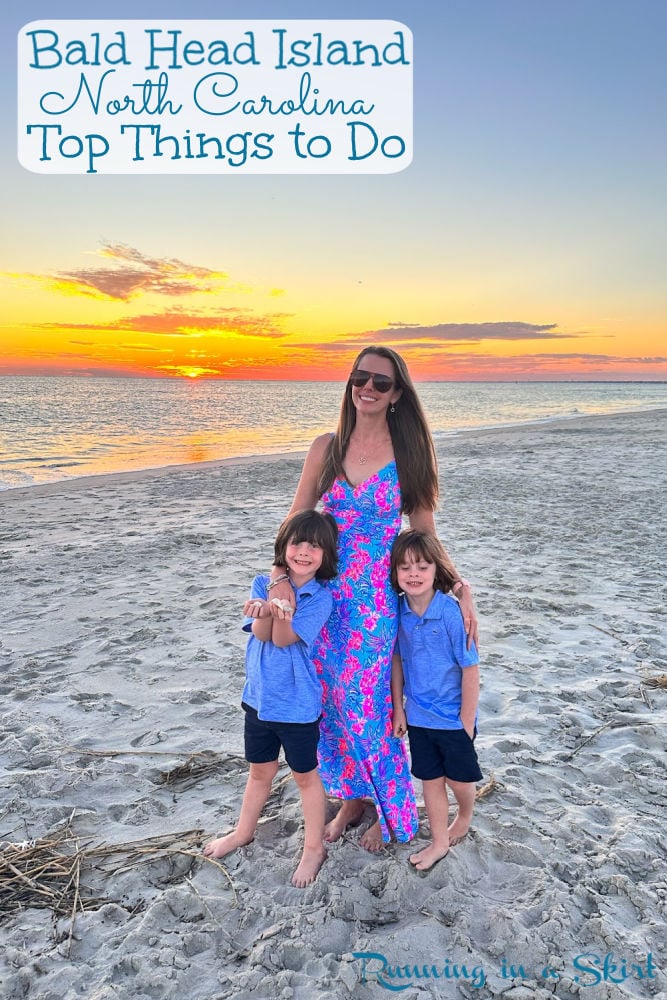 Bald Head Island NC
Bald Head Island NC is one of the most unique places I've ever visited. It's located off the coast of North Carolina near Southport, which is just south of the Wilmington area. BHI is only accessible by a passenger ferry or private boat, meaning no roads to it. And once you get there, there are no cars, only electric golf carts and bikes. These two facts make it feel a bit more special to visit the island and give it a remote feel that you find much in the US. It has a unique and gorgeous landscape.
Bald Head Island NC has also been fiercely protected by overdevelopment over the years, many much of the island is natural and all the houses and buildings that are there somewhat blend into nature. In fact, 10,000 of its 12,000 acres are protected as a nature preserve with a maritime forest and salt marsh. There are 14 miles of wide soft sand, pristine beaches, with gorgeous sand dunes. There is even some history with the oldest standing lighthouse in North Carolina, Old Baldy, still standing.
Bald Head Island Travel Guide
Click To Tweet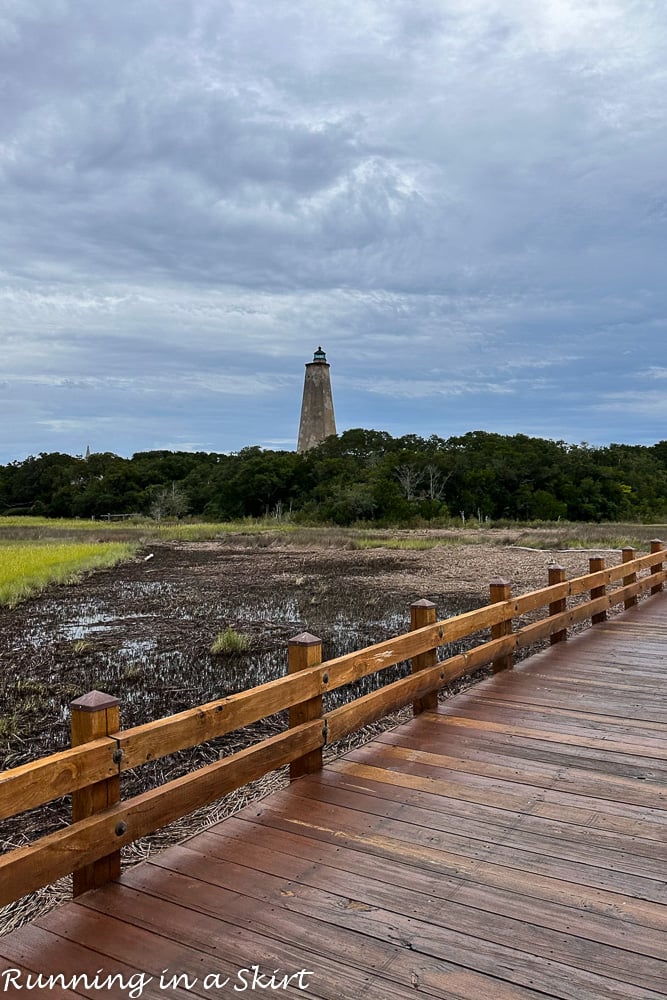 Despite its remoteness, it still has an upscale feel and is home to two private clubs that you can enjoy on a trip with a guest membership.
Have I sparked your interest in visiting? I know once I heard about this place, I had to go! Here's everything you need to know to plan your trip. And it does require a bit more planning than your average beach trip.
Bald Head Island Ferry
The Bald Head Island Ferry plays a critical role in almost any trip to Bald Head Island NC. You will need to take it or a private boat to get to the island. Most people take the ferry.
The ferry leaves every half hour from the Deep Point Marina at 1301 Ferry Road, Southport, NC. Round-trip ferry tickets are 24 dollars for adults and $12 for kids. The ferry schedule is posted here and does change seasonally. It costs $12 a day to park your car.
In high season, summer, you'll need to make a ferry reservation in advance because it does get busy. If you are staying on Bald Head Island you will also need to book a tram reservation which is how you'll get from the ferry terminal to your rental with your luggage.
If you are visiting Bald Head Island just for the day, you do not need to get a tram reservation.
Anything you are bringing on the trip needs to be packed well, in a closed bag or container, like you are traveling on a plane because they do take the bags from you and check them.
The ferry terminal has an indoor and outdoor waiting area with food including snacks and sandwiches.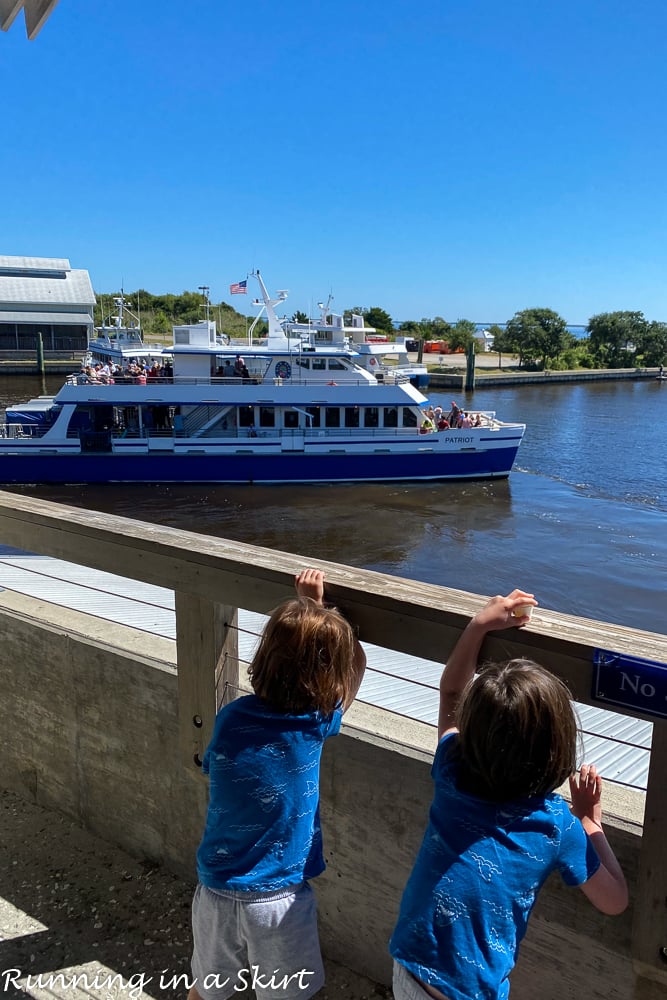 Getting Around Bald Head Island
Once you get to Bald Head Island you will need a golf cart or bike to get around. Many vacation rentals come with a golf cart and bike, but if yours doesn't or you are just visiting for the day, here are your options.
Golf Cart Rental:
Bike Rental:
Coastal Urge
Riverside Adventure Company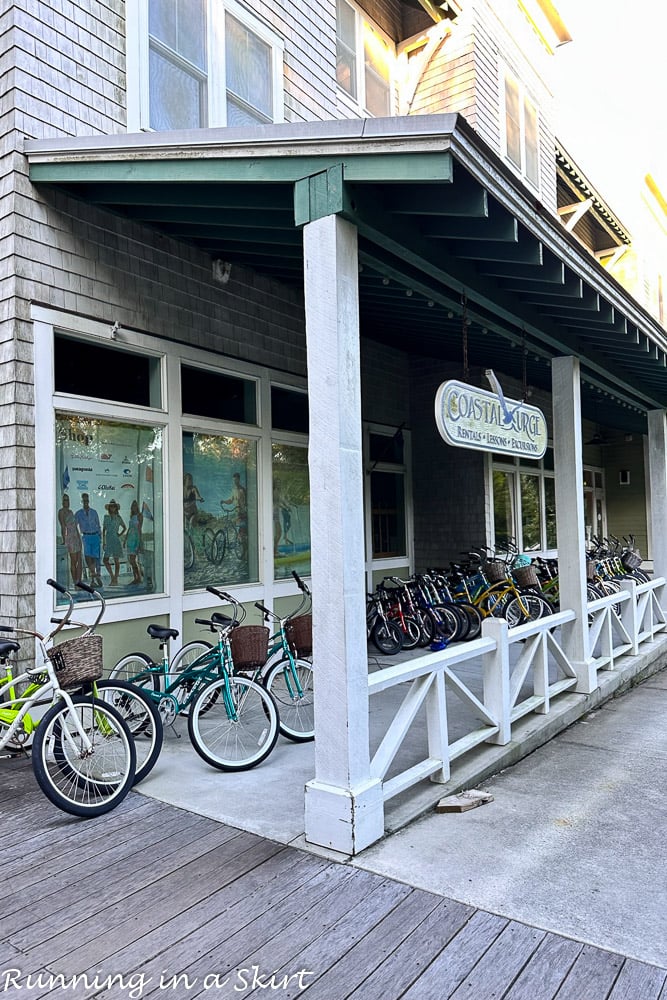 Where to Stay on Bald Head Island NC
Most places to stay on Bald Head Island NC are private vacation rentals or rental homes ranging from small cottages to large houses. Almost everything available is individual homes, not condo buildings. You can search for availability through VRBO or wherever you normally search for vacation rentals.
Two things to look out for when booking your rental is to confirm whether your rental comes with a golf cart or not. Otherwise, you will need to rent one separately during your trip since you will not have your car. There are also two private clubs on the island - Bald Head Island Club and Shoals Club- and many rentals come with the option to book a guest membership. Having a guest membership at one of the clubs opens up many more dining options while you are on the island and gives you access to nice pools. If those things interest you, I would book a rental that includes that. I included more information on the clubs below in the section on things to do on Bald Head Island.
There are two inns on the island as well. There aren't any large Bald Head Island hotels or resorts, just these inns.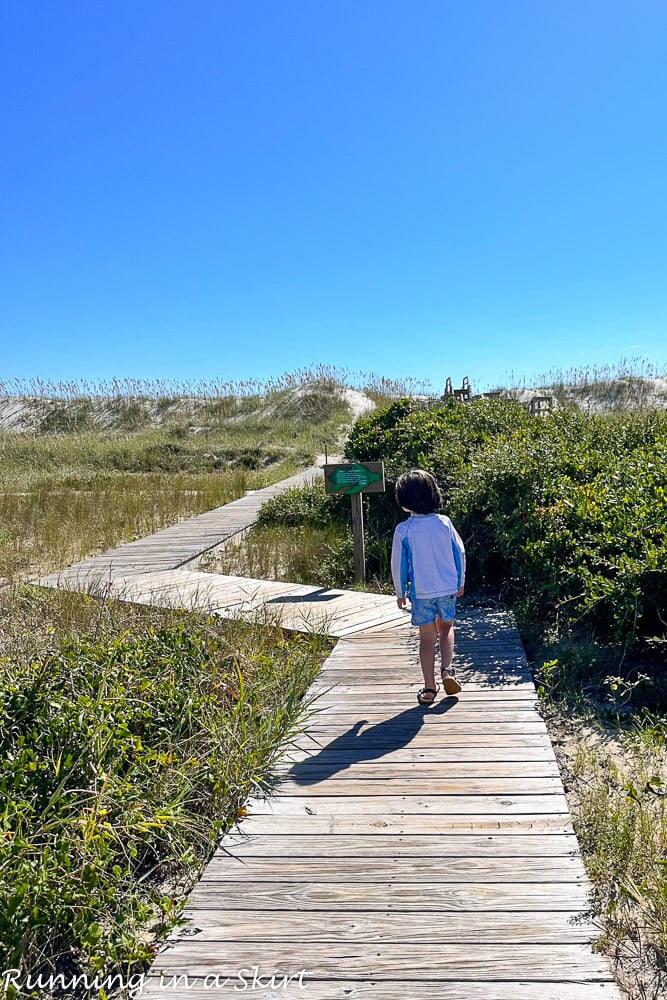 Bald Head Island Weather & When to Visit
Bald Head Island Weather is in a subtropical climate with no dry season. The high season is in the summer, but the weather can be very hot and humid averaging in the mid-80s with overnight lows in the mid to upper 70's. You can also see afternoon storms and the occasional tropical system later in the summer. Summer the island can be crowded, but it's also the time when most things on the island are open and the best time to visit the beach if you like hot beach days.
Spring and Fall in Bald Head Island range from average highs in the 60's to near 80 closer to summer. You'll still see occasional showers. This shoulder season is a great time to visit Bald Head Island if you don't like as many crowds, but still want some warmer weather. Some of the businesses will not be open though. We visited in mid-September and some businesses had already closed or reduced their hours for the season.
Winter is quiet on Bald Head Island with temperatures in the mid-50s with lows in the 40's. Snow is not something to island gets. It's quiet and even more remote this time of year.
Other Logistics
There is a grocery store, Maritime Market, on Bald Head Island, but prices are a bit higher than on the mainland. They do offer grocery delivery if you plan. It's a decent-sized small grocery store and would have most of what you would need. There is a wine store on the island, but not a liquor store.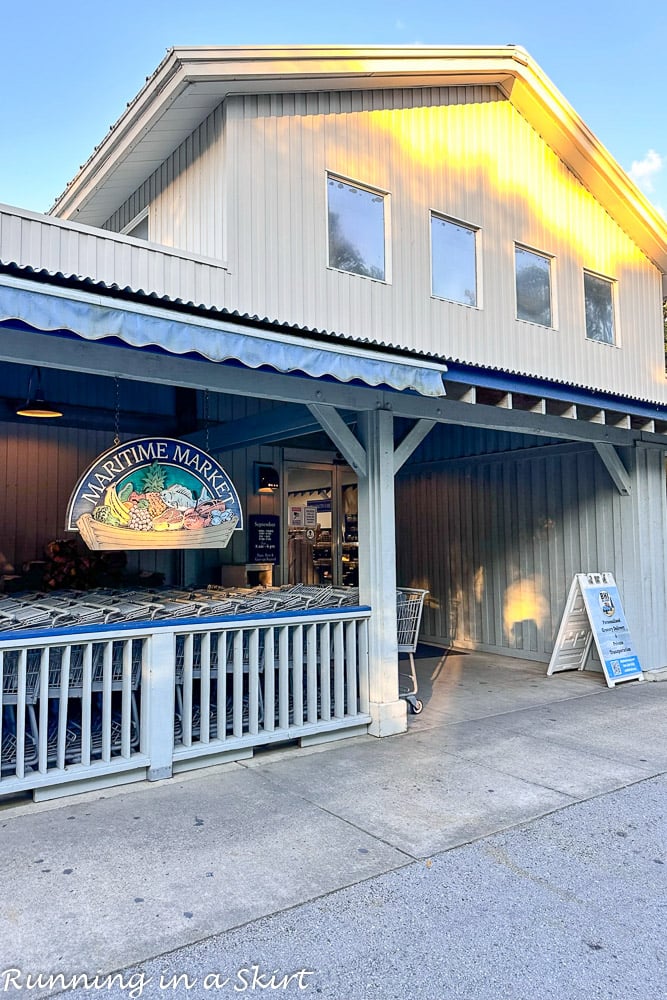 If you do want to bring your food for your trip from the mainland, you'll need to pack it in closed containers to go on the ferry and tram. You can't just bring it over in shopping bags.
There are about a dozen restaurants on the island. To learn more about your dining options on Bald Head Island NC, read my post: Best Bald Head Island Restaurants.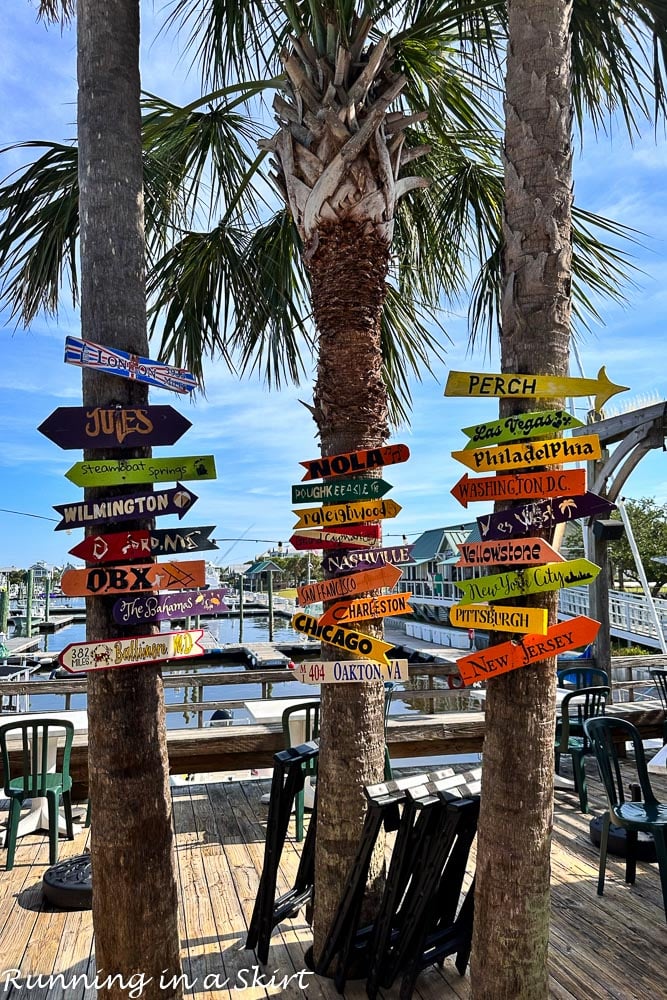 Top Things to Do in Bald Head Island NC
Now that you are on Bald Head Island NC, here are the fun things you can do on your trip!
Beaches
Bald Head Island NC is home to 14 miles of gorgeous beaches. lly had them to ourselves during our trip. They are wide, with plenty of soft sand for playing and nice waves for kids to play in, depending on the weather. They have gorgeous dunes and without all the high-rises and condos on the beach, it's truly a peaceful experience.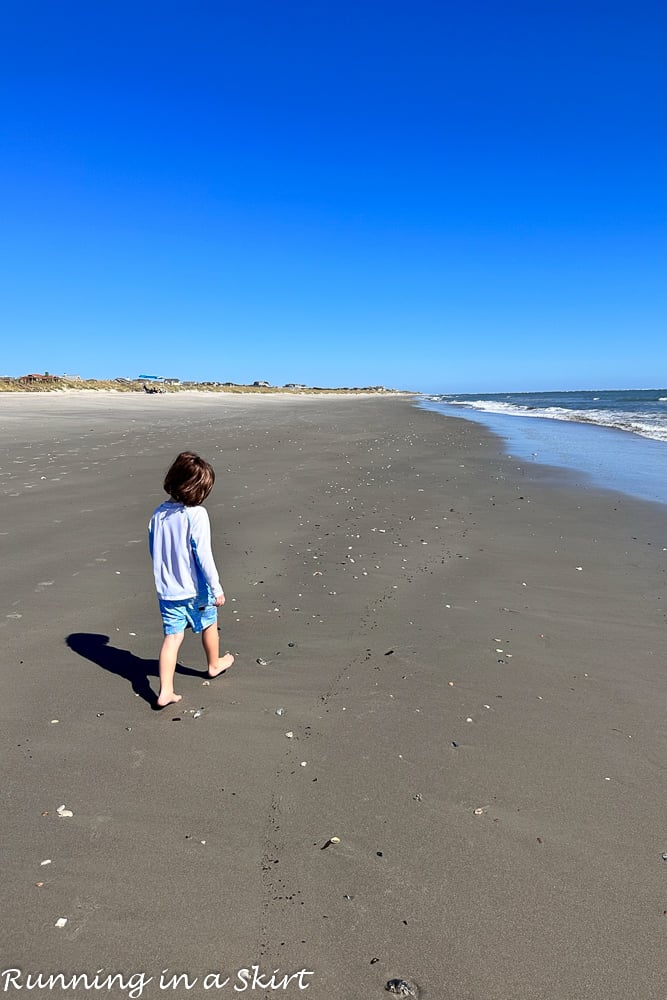 Depending on the weather, there are even shells on the beach. We found this lovely sand dollar and lots of other fun finds for the kids. The beaches are truly magical and definitely one of the highlights of any trip to Bald Head Island NC.
The beaches don't have amenities like bathrooms or showers.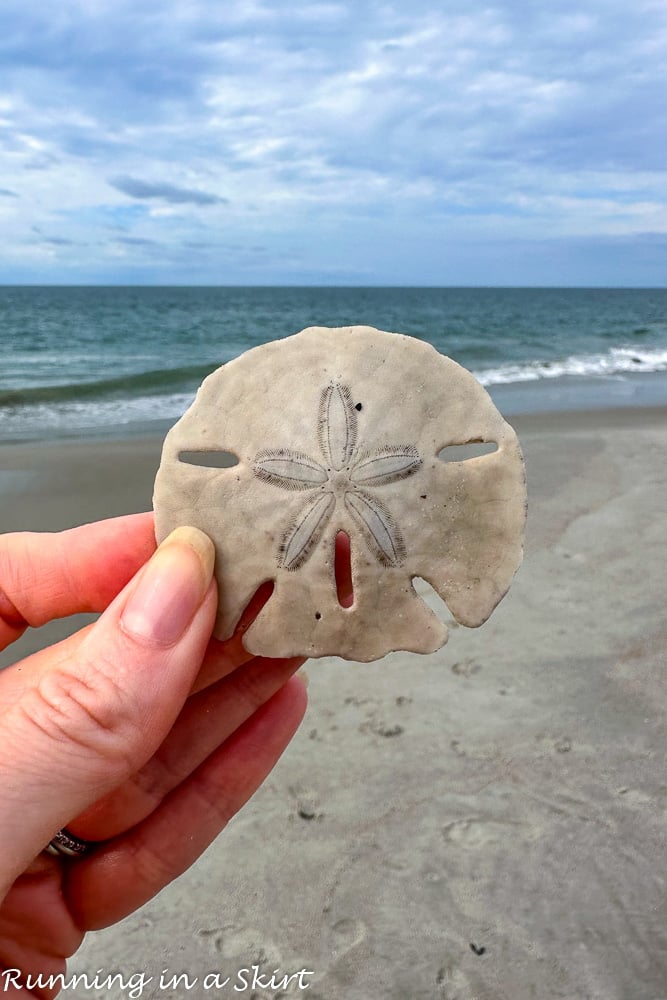 Sunsets
Because of the island's unique orientation with the ocean, the beach runs facing south and you get an ocean sunset from the beaches, which is rare on the east coast. The best views are from the western side of the island.
The views are stunning and are worth making time for on your trip.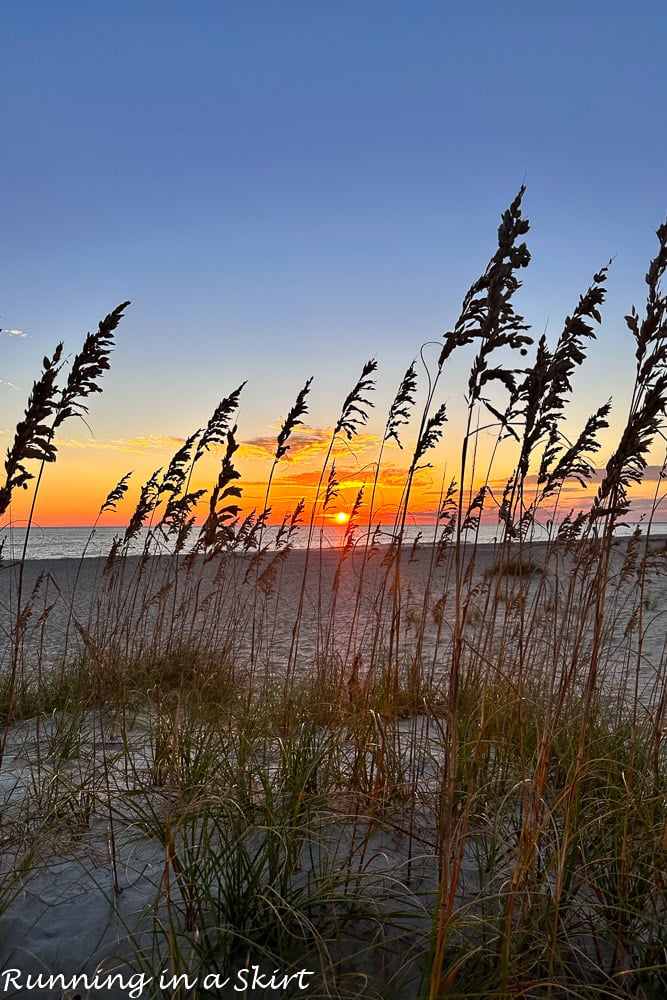 We took time to take a sunset beach walk after dinner each night on our trip. These views were another highlight of our Bald Head Island NC trip.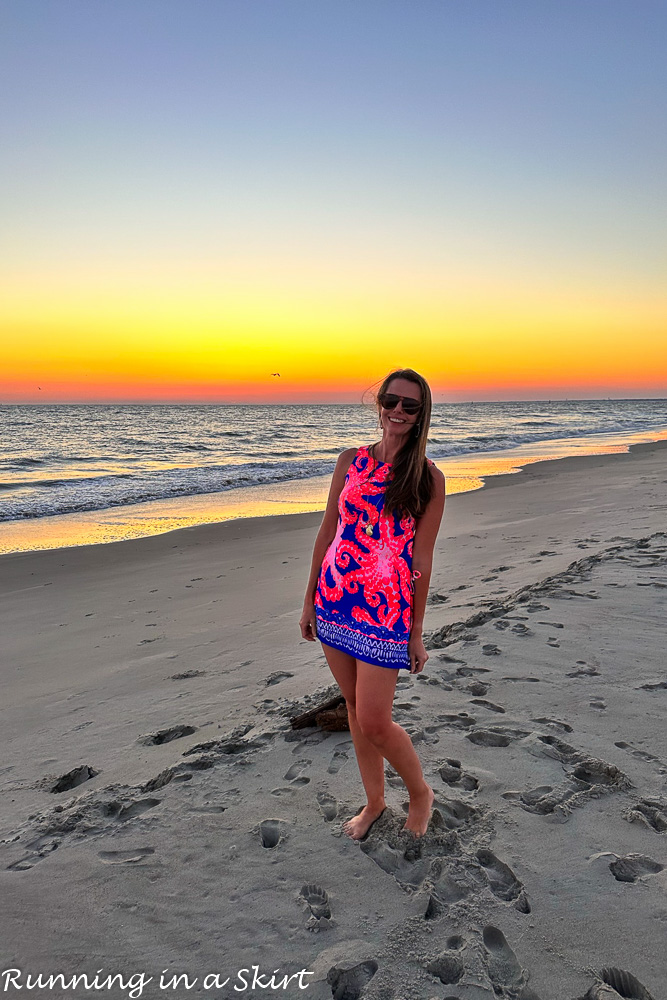 Bald Head Island Club
The Bald Head Island Club is one of the two private clubs on the island. If the owners of the house you are renting are a member of either club, you will have the ability to purchase a guest membership during your trip. Do plan and check your rentals to see if that option is available to you.
Also, it is a bit of a tedious process to get the memberships, so make sure to apply and follow the rules carefully because having a membership does enhance your trip so much. The clubs have country club-like amenities like pools, golf, and many restaurant options.
We had a membership to the Bald Head Island Club. They recently updated their aquatic center and pool area, and it is a dream for little kids. They have a regular pool and an amazing toddler pool area.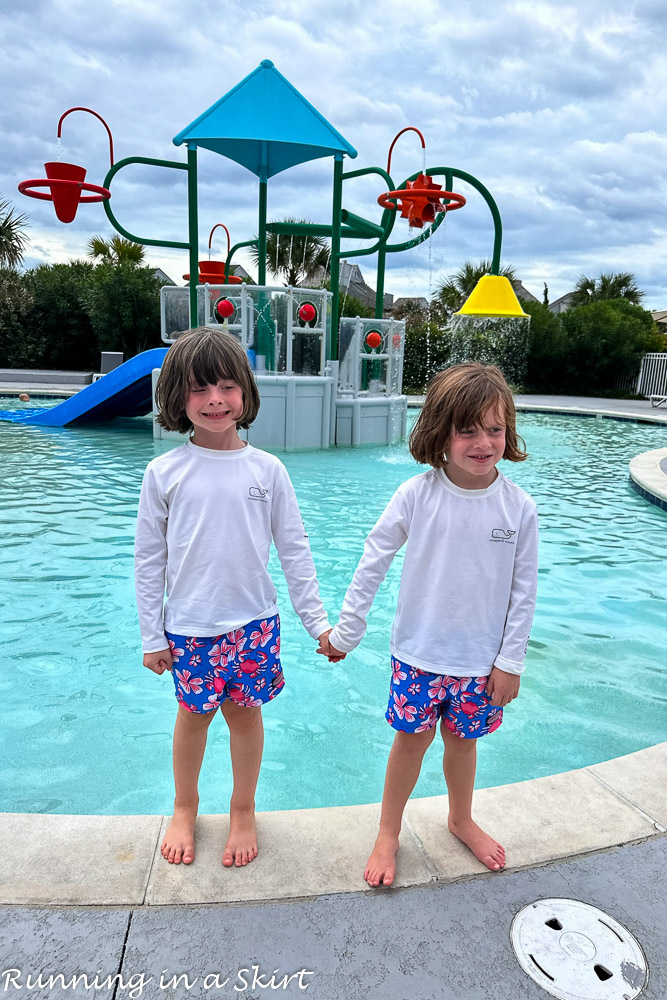 There are also two waterslides. You do need to be able to swim to use them. They will not let kids with swimmers on them.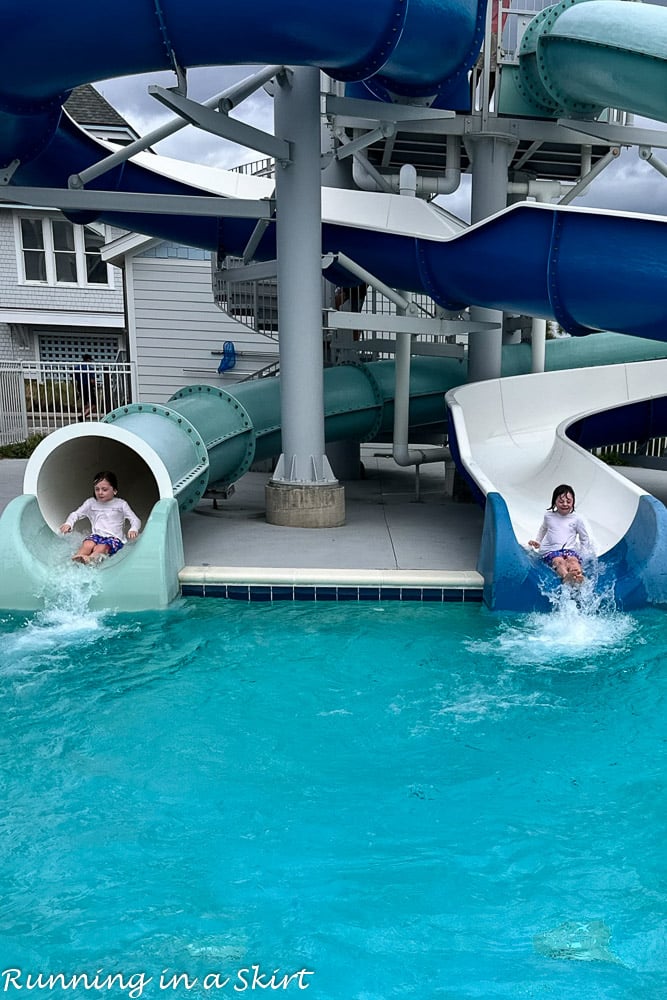 There is also a very nice playground near the pool area.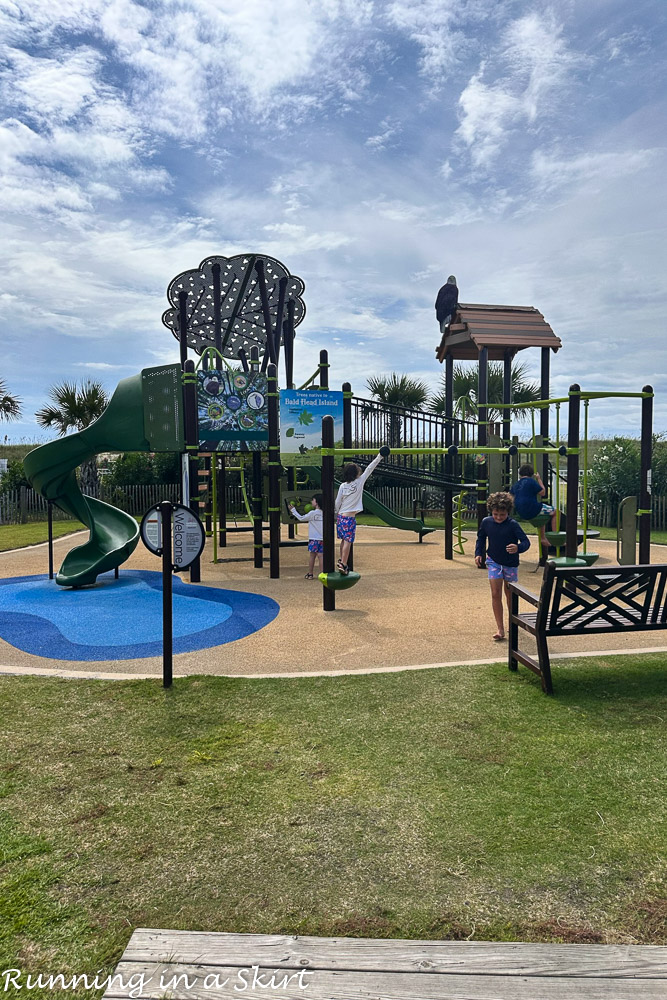 There is a pool bar and a small place to get lunch too. It's a really nice venue and such a fun addition to your Bald Head Island NC trip.
There are also many restaurants as part of the club, read my review of them in my Bald Head Island Restaurants Guide.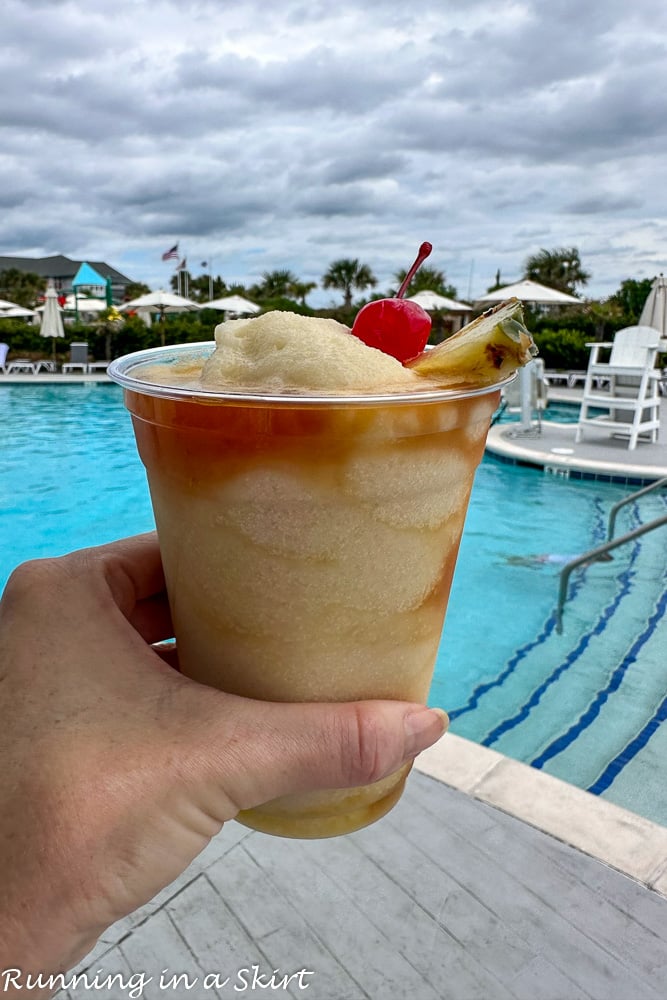 Shoals Club
Shoals Club is the other club you can get a temporary membership to during your stay on Bald Head Island NC. They also have pools and dining. The pools are very nice, but they don't have the slides and kiddie play area that's available at Bald Head Island Club. They are right on the beach though, and do offer chairs and beach service, that's not available at the Bald Head Island Club.
If your rental comes with the option to join either of the clubs for your trip, I'd book it as soon as you book your house. They can sell out guest memberships during high season.
Bald Head Island Conservancy
The Bald Head Island Conservancy is a group whose mission is to protect nature on the island including a large focus on sea turtle protection. They have weekly educational programs including nature tours, turtle education, beach patorls, family fishing, kayak tours, crabbing, birding more. They even have a Turtle Trot 5K.
They also offer a Conservancy Camp for kids 5-10.
They have a lot of fun active options for families to see, do, and learn, so check their schedule when planning your trip.
Explore in a Golf Cart or Bike
Exploring Bald Head Island NC by golf cart or bike is one of the highlights of visiting the island. It's a fun way to get around all adds to the adventure, especially for kids.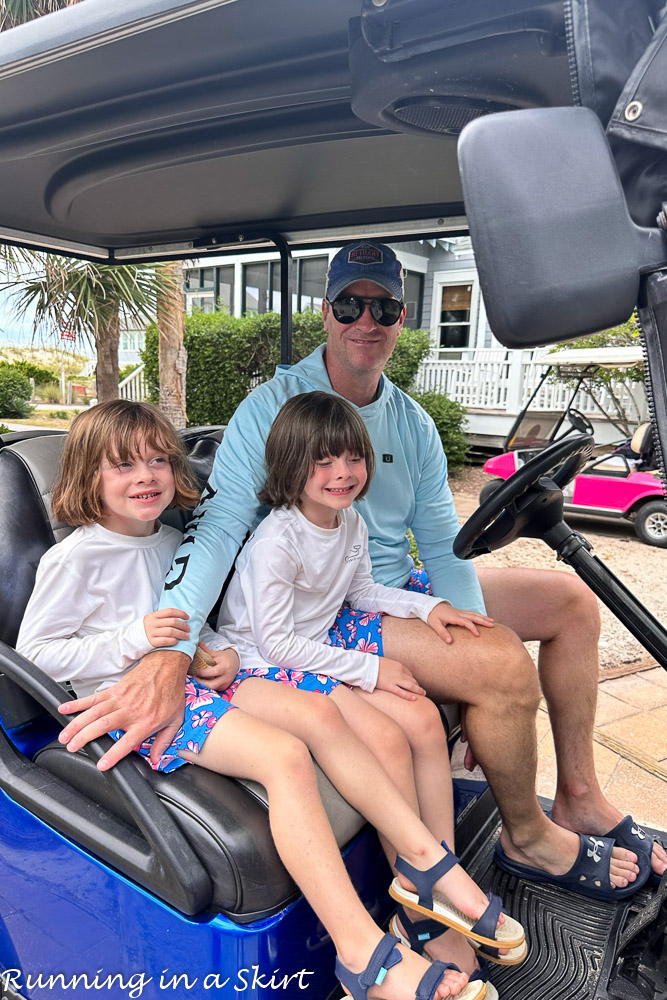 Bald Head Island Lighthouse
No trip to Bald Head Island NC is complete without a visit to Old Baldy Lighthouse, the Bald Head Island Lighthouse, which just happens to be the oldest lighthouse in North Carolina. It was built in 1817. You can just enjoy the view or climb the 108 steps to the top for a spectacular 360-degree view of the island. Admission to climb it is $8 per adult and $5 for kids. Check the hours online before you go because they do vary seasonally and in the off-season, it is closed some days.
The Smith Island Museum of History is also part of the lighthouse where you can learn more about the island's rich history. You can also take a historic guided tour of the island with transportation and a tour guide on Tuesdays, Fridays, and Saturdays. This tour includes admission to climb the lighthouse.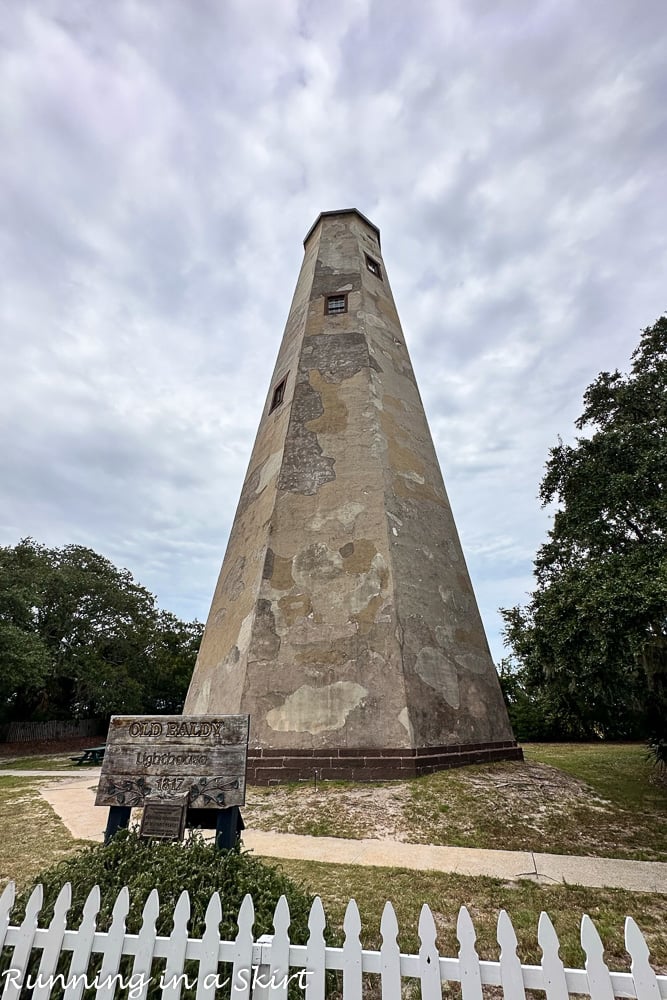 Golf
Bald Head Island NC is home to one golf course, but it's a good one! The Bald Head Island Club golf course has been around since 1974 and is known for its gorgeous natural views with abundant wildlife spotings.
You do need a guest membership to the Bald Head Island Club to do this activity though.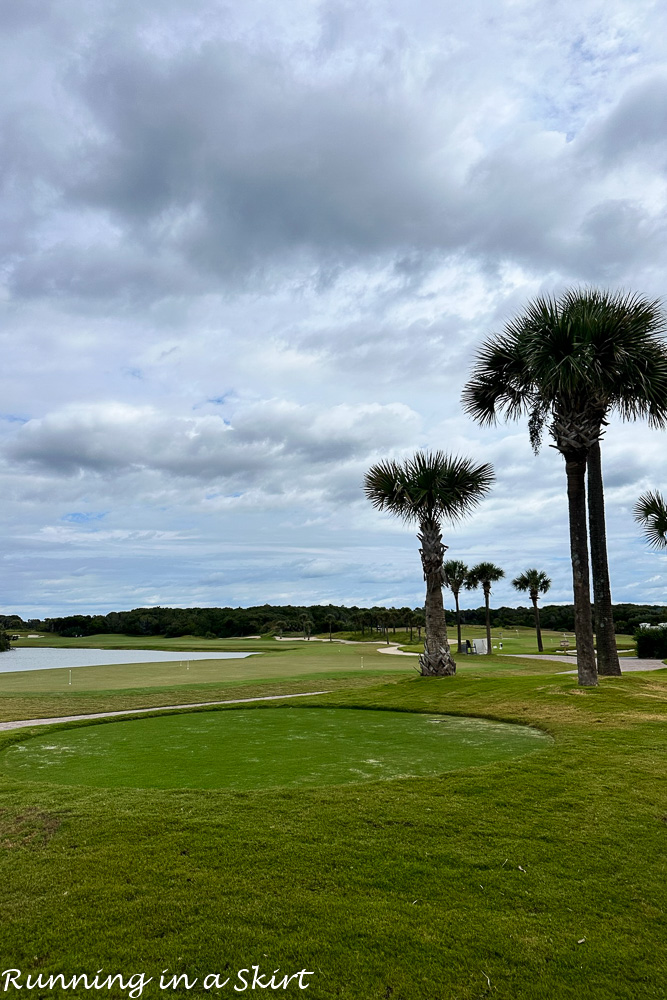 Paddle Boarding & Kayack
Since Bald Head Island NC is an island, there are so many fun watersports to try during your trip. You can go boating or even try paddle boarding or kayaking in the marshes. You can also fish in nearby waters and surf fish along the beach for parts of the year.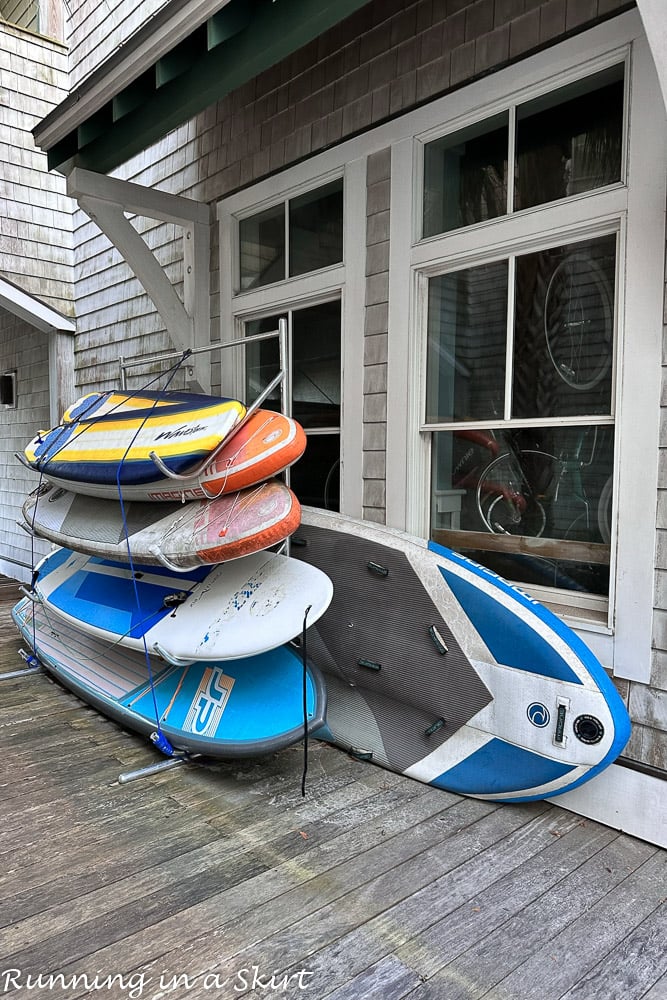 Bald Head Woods Maritime Forest Preserve
Looking for a great way to explore Bald Head Island NC's natural beauty? Try visiting the Bald Head Woods which is a 191-acre reserve just East of the Cape Fear River. I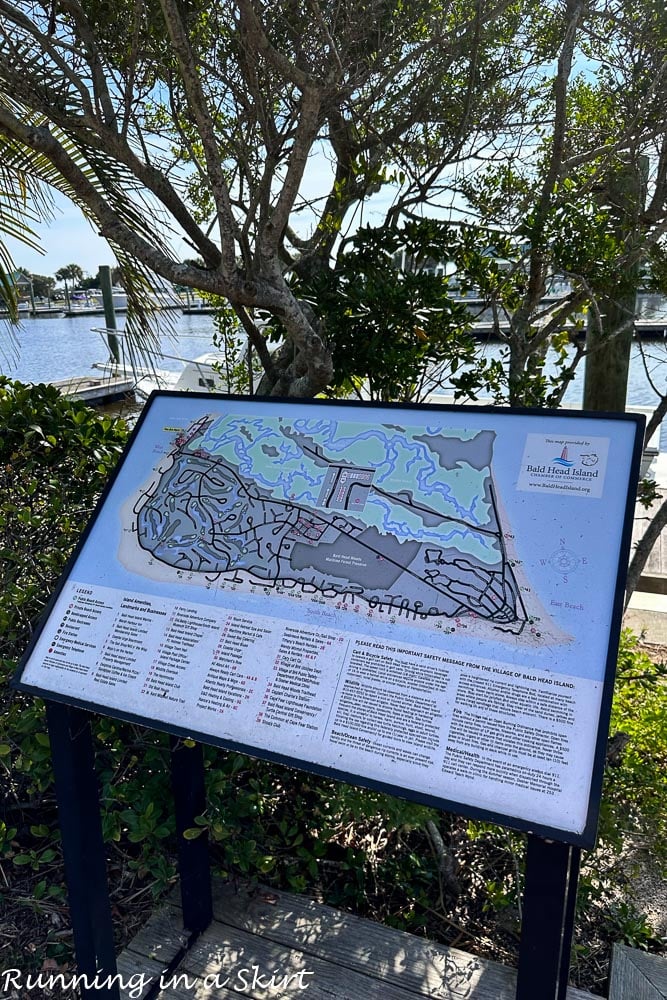 There are walking paths and tours of the area with lots of interesting plants and wildlife to see and explore.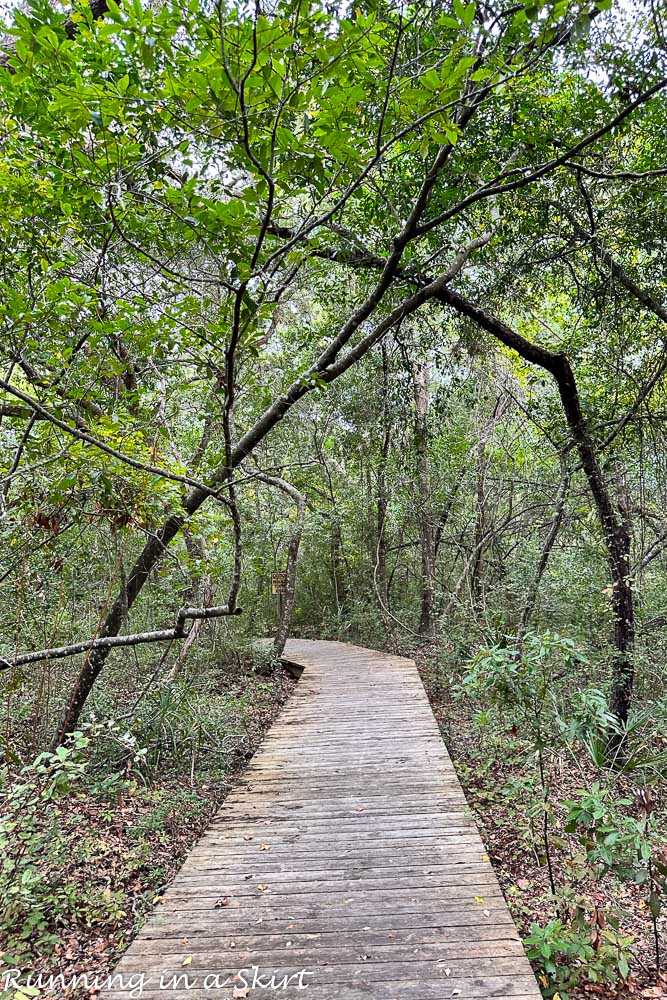 Bald Head Association Wildlife Overlook
Another fun and unique spot to explore on Bald Head Island NC is the Bald Head Association Wildlife Overlook. It's a cute spot with two observation decks to allow visitors to see wildlife in a lagoon.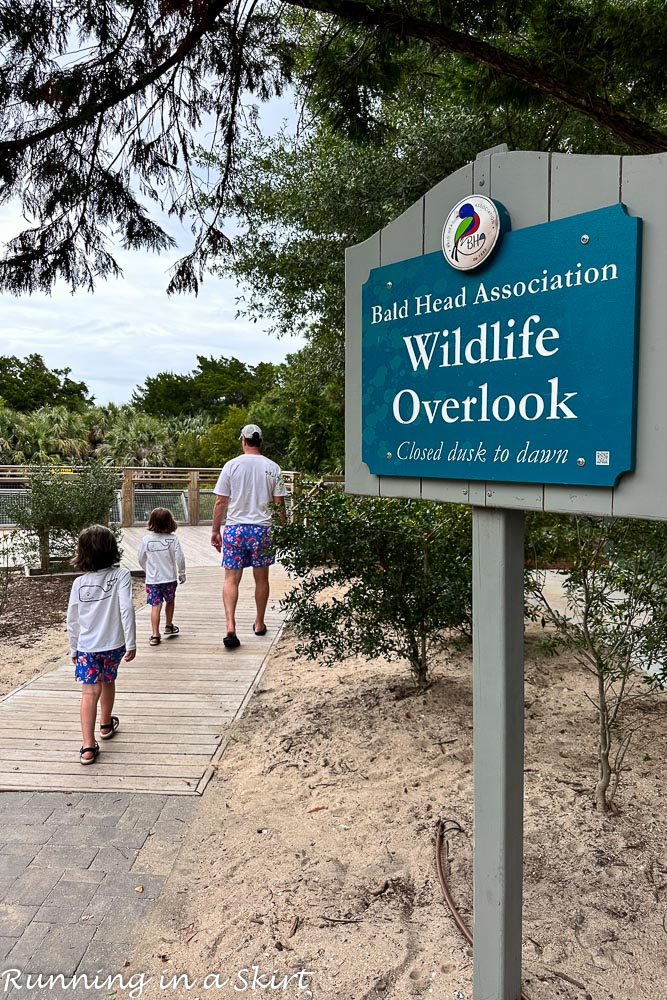 Although we didn't see any, visitors can often see alligators. We did see turtles and lots of birds.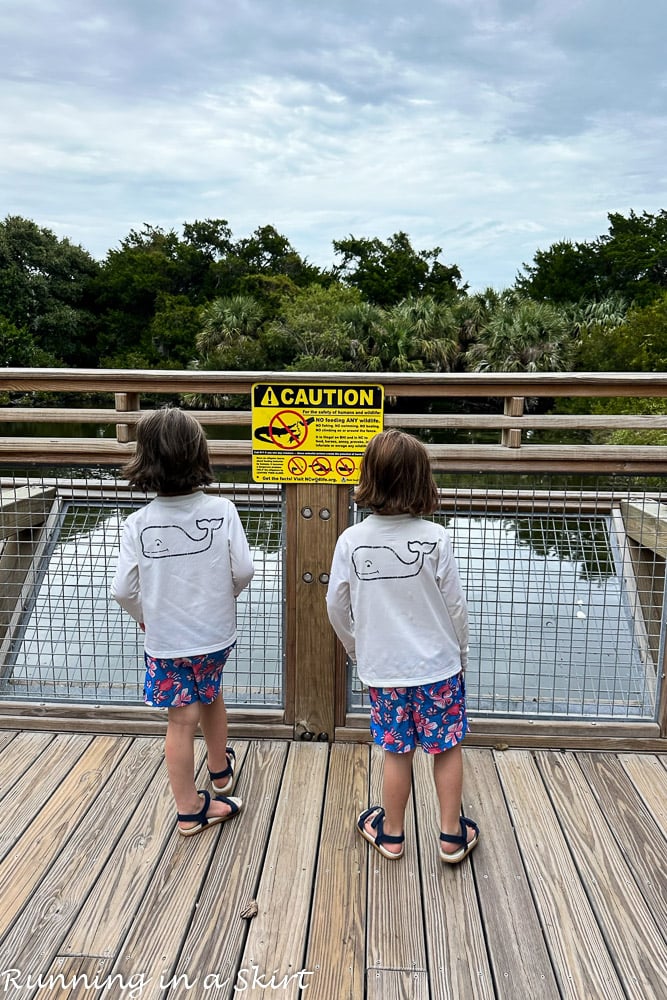 Shopping
Bald Head Island NC isn't known for shopping BUT there is s surprising number of cute local boutiques on the island with everything from souveniers to local arts, surf shops, and more. Here are a few of the best shopping spots on the island
All About Art
Bald Head Blues
Bald Head Island Club Tennis Shop
BHI Hardware & General
Coastal Urge
East Beach Surf Shop
Island Passage
Merchants Row Shops
Monkee's
Silver Peddler
Turtle Central
Riverside Adventure Company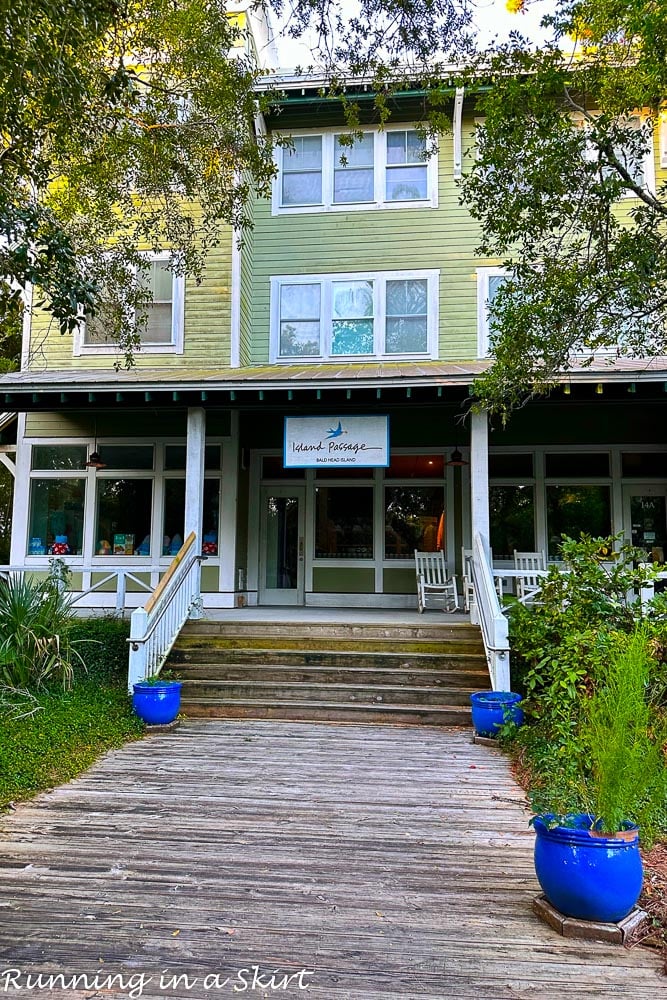 Eat at a Local Restaurant
Another top thing to do in Bald Head Island NC is dine at a local restaurant. There are no chains on the island, so any place you eat out at is local and super charming. Find your favorite spot in my Bald Head Island Restaurant Guide.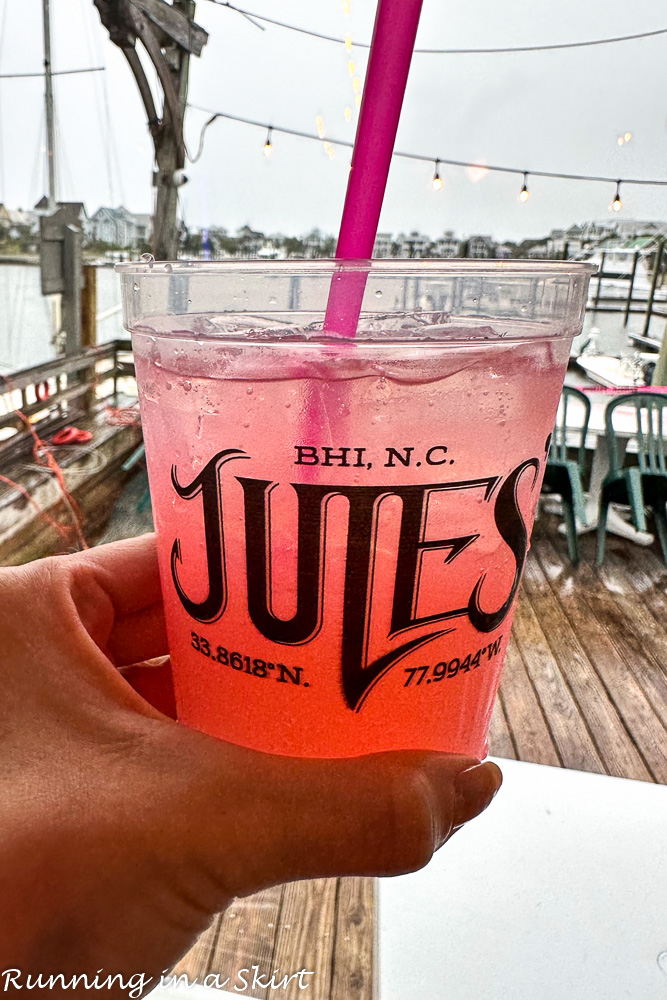 Bald Head Island NC is a Magical Place
Bald Head Island NC is a magical island that's so unique! It's an adventure just to get there and when you are there you have the feeling you are in a special place. If you love a beach town but want to try something totally different, this is a great spot to vacation.
It does take some planning and logistics to do a trip here though, but this Bald Head Island Travel Guide has everything you need to know to plan your trip! I hope you enjoyed this spot as much as we did.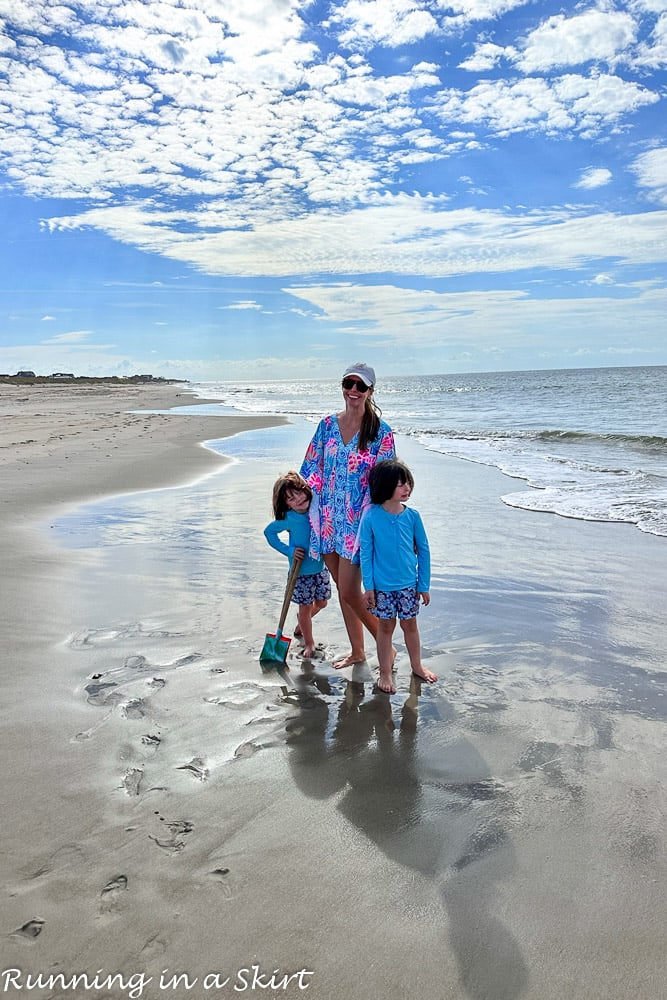 More Bald Head Island Travel Resouces:
Bald Head Island Travel Guide
Click To Tweet
Travel Guides for Other East Coast Islands:
Pin for later: