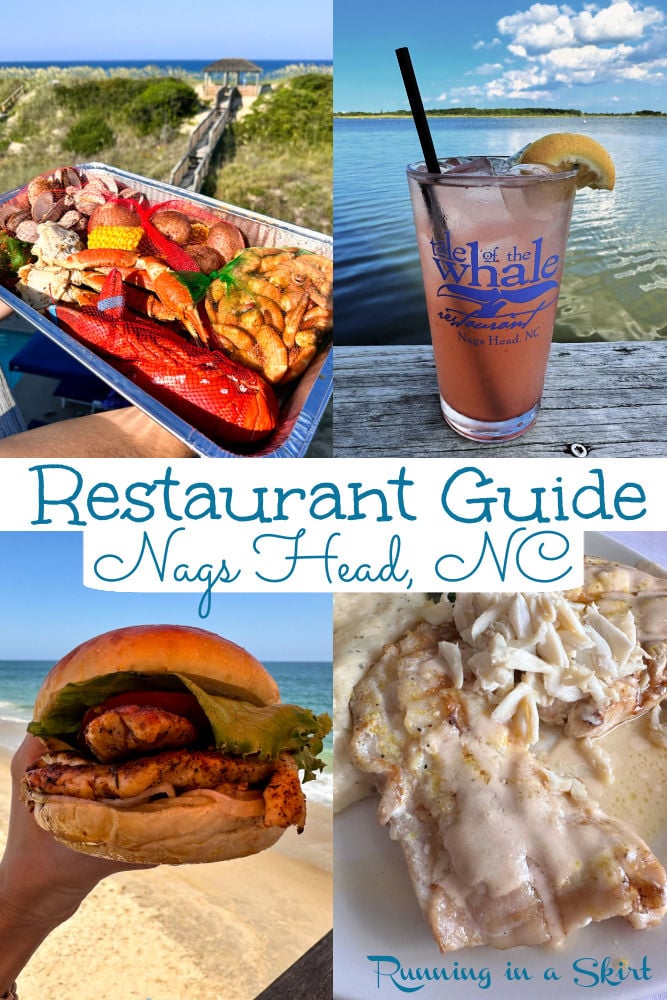 Curious about the best Nags Head restaurants? This charming small North Carolina barrier island town along the Outer Banks is filled with delicious places to eat including fine dining, beach dives, waterfront dining, pizza restaurants, take-out seafood steam pots, breakfast spots, and lots of family-friendly dining. Here you'll find a guide to the best Nags Head restaurants plus a few other Outer Banks Restaurants worth the drive.
Planning a trip? Also, read my 30+ Best Things to Do in Nags Head & The Outer Banks, Top 20 Moments from our Nags Head and Outer Banks Vacation Highlights.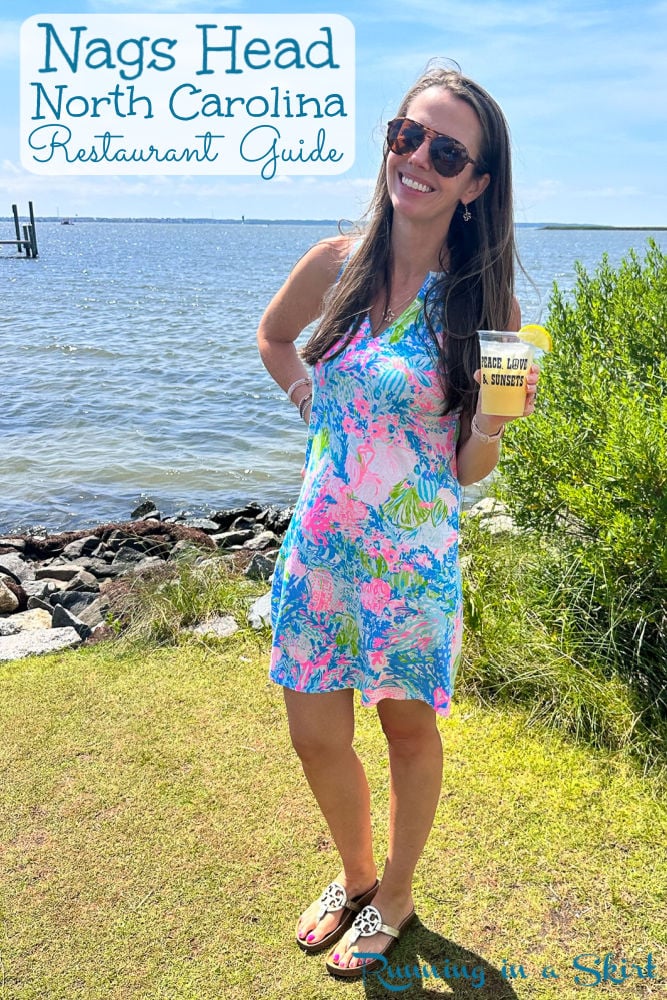 Best Nags Head Restaurants & Outer Banks Restaurants
Nags Head Restaurants are delicious! You may be visiting Nags Head or the Outer Banks (OBX) for the beaches, but don't forget to plan some time to visit the delightful collection of places to eat in Nags Head. Whether you are looking for a seafood restaurant, fine dining, beach bars, fresh seafood markets with steam pots, waterfront dining, or even family dining Nags Head has something for everyone. I love that there are so many fabulous family and kid-friendly dining options too, especially since Nags Head is a perfect spot for a family vacation. These restaurants are loved by locals and visitors. I'm even sharing some local favorite options.
What food is the Outer Banks known for?
Like many beach towns, Nags Head and the Outer Banks are known for having lots of fresh seafood available including fresh fish like Mahi Mahi, oysters, clams, and more. You'll also find beloved seafood steam pots here with everything from shrimp to crab legs. They are served Low Country Boil style and often in big pans to go for the family. You'll also find beloved Duck Donuts here and even Hatteras Clam Chowder.
Whether you are looking for fine dining or beach bars like this one, this restaurant guide has everything you need to know to plan your meals at Nags Head restaurants or Outer Banks restaurants on your next trip.
More Reading: Top 30+ Things to Do in Nags Head

Nags Head Restaurants Guide
Tale of the Whale
Tale of the Whale is one of the best Nags Head restaurants. With its gorgeous waterfront location overlooking the Roanoke Sound, complete with a pier with live music to wait for your table, this iconic Nags Head and Outer Banks restaurant is a can't-miss on your trip.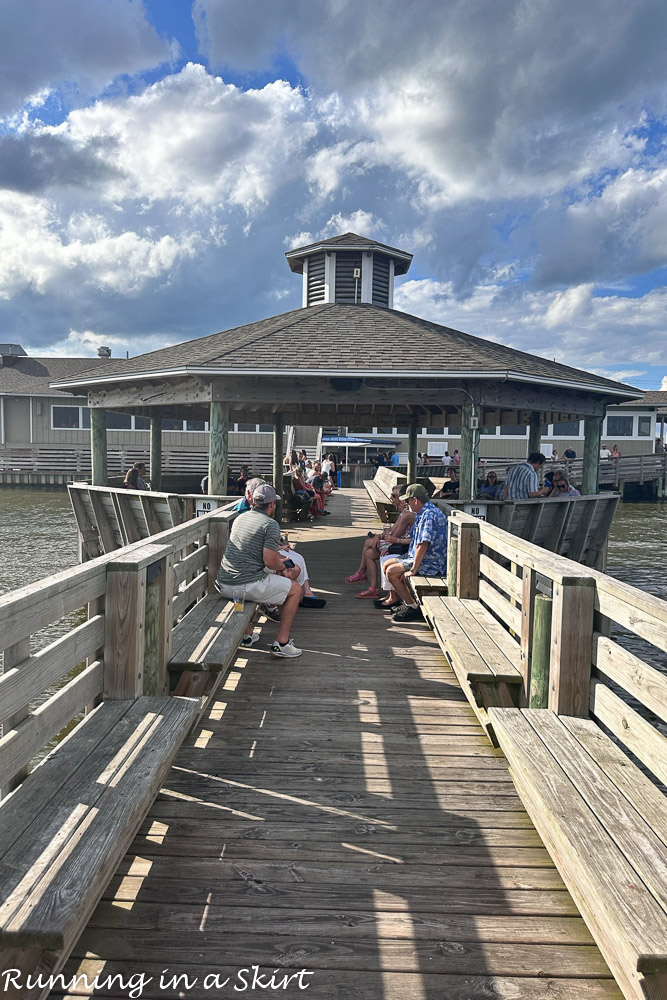 The menu is large and old-school (In a charming way) but the food is so delicious! It's been locally owned and operated for 44 years. It's one of the nicer restaurants in Nags Head, but it is still very family-friendly and has a casual undertone.
This is one of my favorite meals in Nags Head. Don't miss the ceviche special.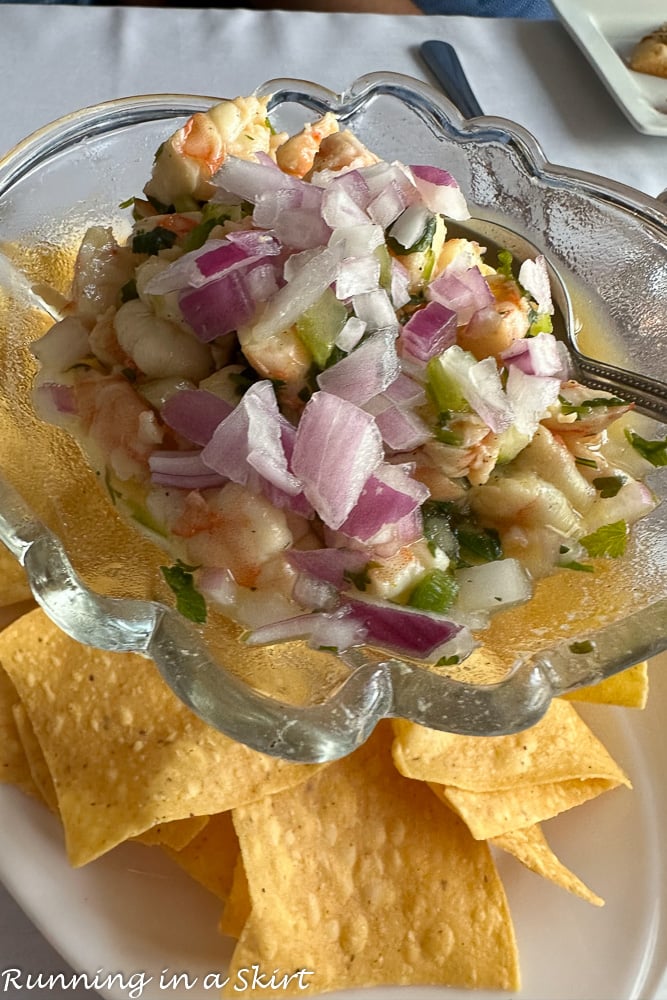 We also loved the Fish Duo complete with a delightful crabmeat topping and Lobster Sherry Cream sauce.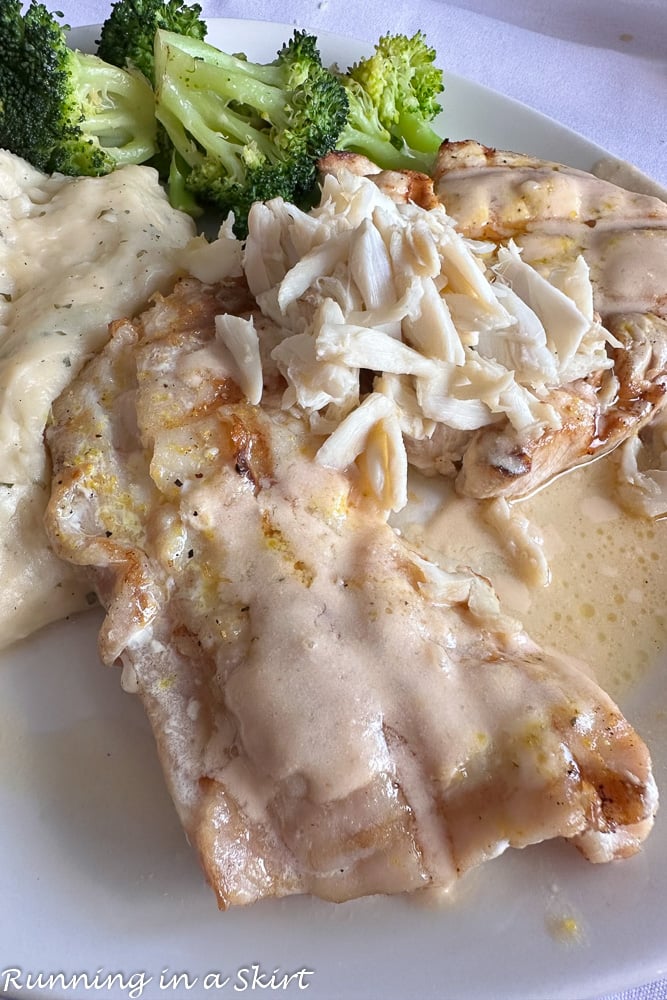 The Crab Cakes are also filled with rich crab meat. Other favorites on the menu are coconut shrimp, stuffed flounder, and she crab soup.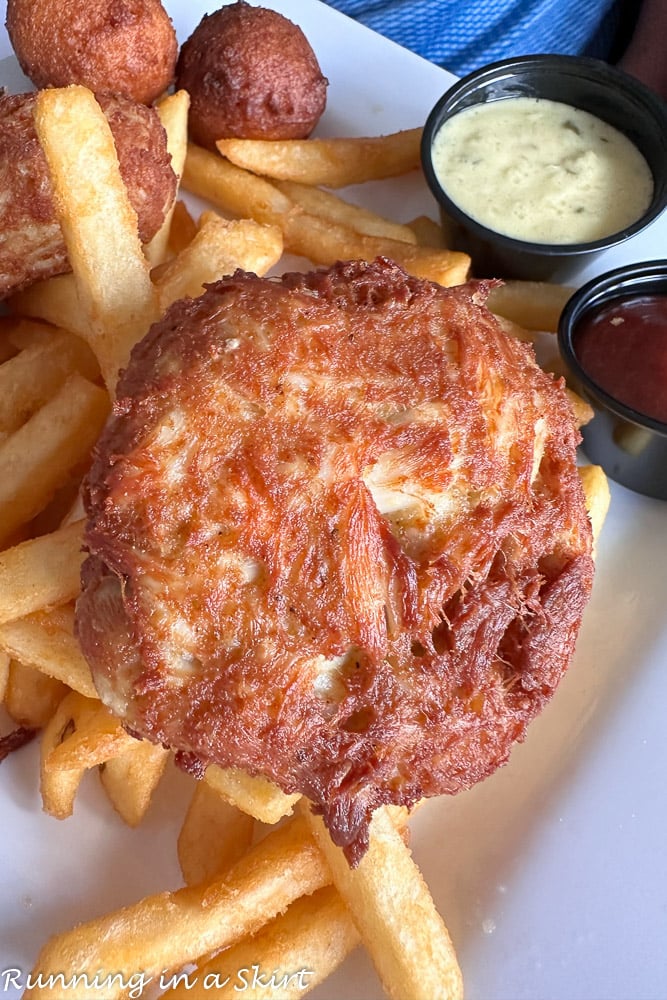 This is a very popular Nags Head restaurant and often does run a wait (even if you go early) but you can grab a cocktail from their outdoor bar with a full bar and enjoy live music while you wait. People are even known to line up to eat when it opens at 4 p.m. It's a fabulous experience all around. It's worth the wait!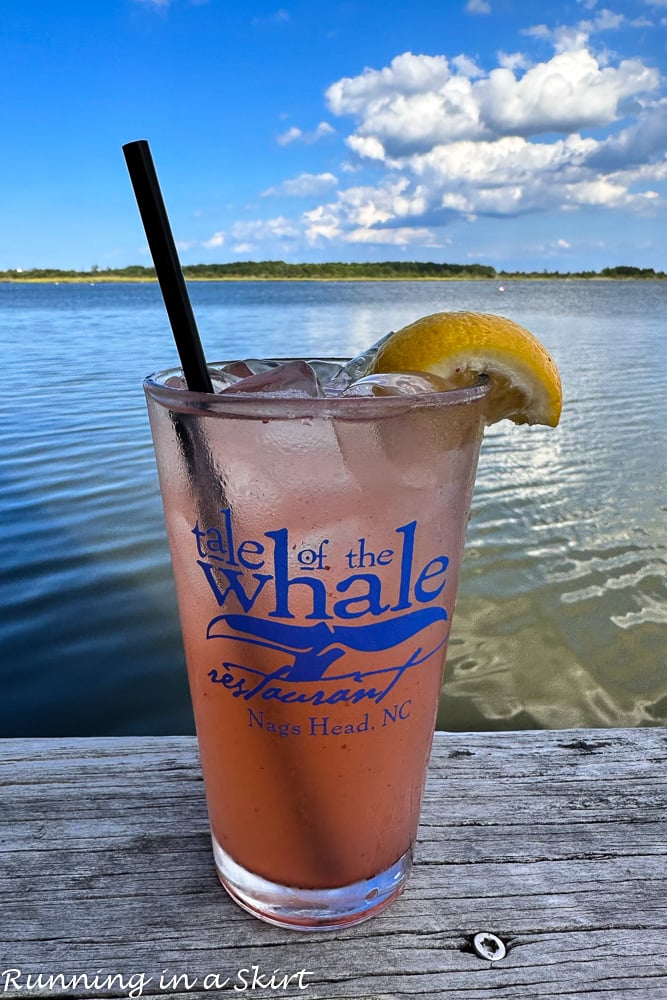 Tortuga's Lie
Another can't-miss on the list of Nags Head restaurants is Tortugas' Lie. This quaint spot was featured on the TV show, Diners Drive-Ins & Dives. They are known for having Caribbean-style seafood dishes and great beach food. Their daily specials are known for being fabulous! It has a great small-town, super casual, beach-dive vibe that's wonderful.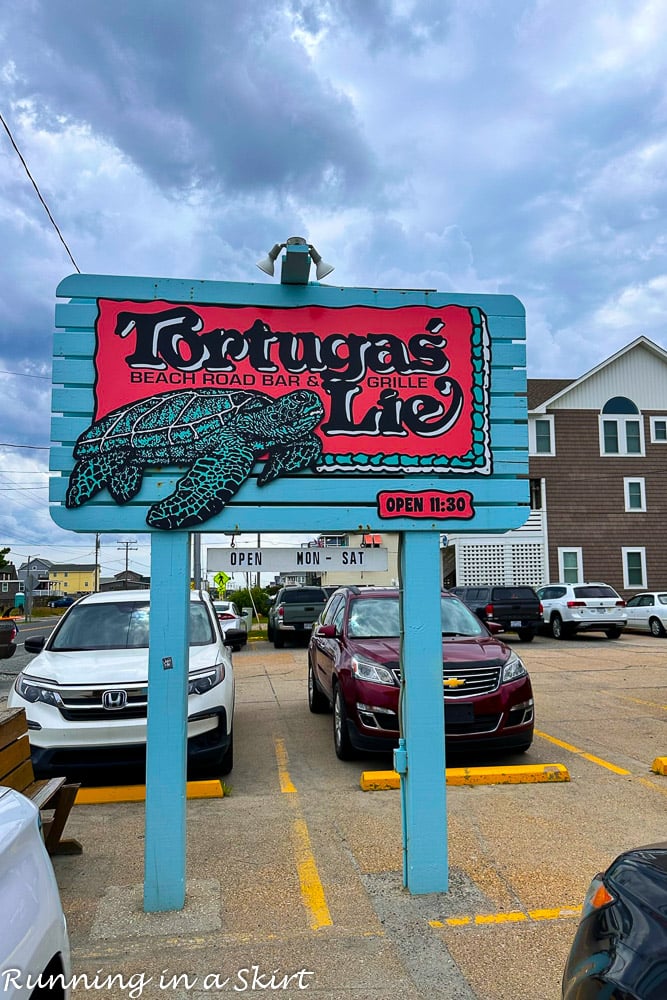 Try their Hatteras-style chowder, steamers, Cayman Conch Fritters, or even the Creole Crawdads.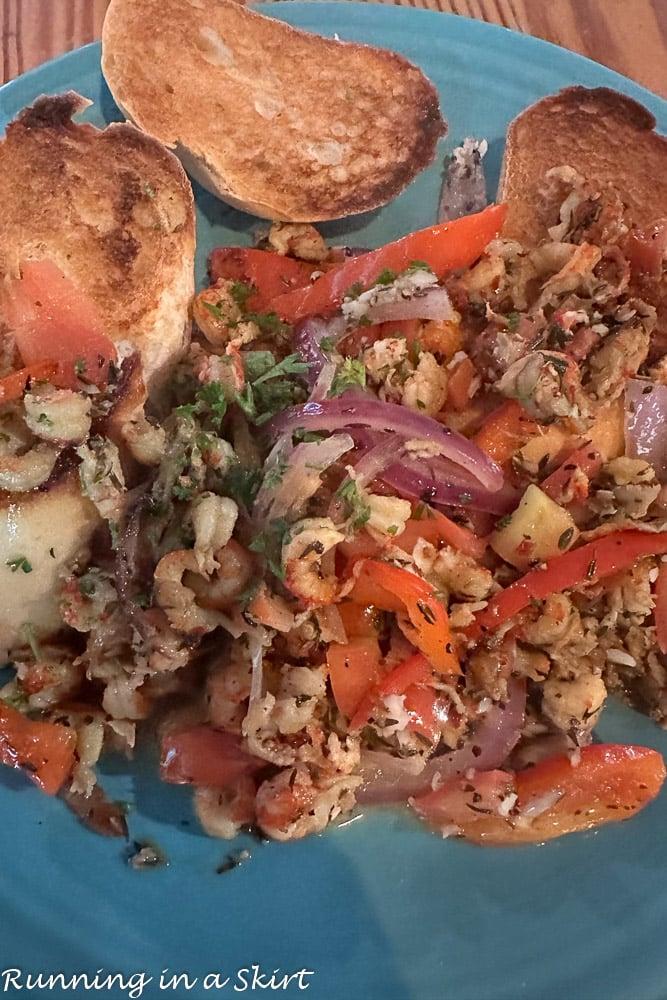 We also love the fish tacos served with amazing rice and beans.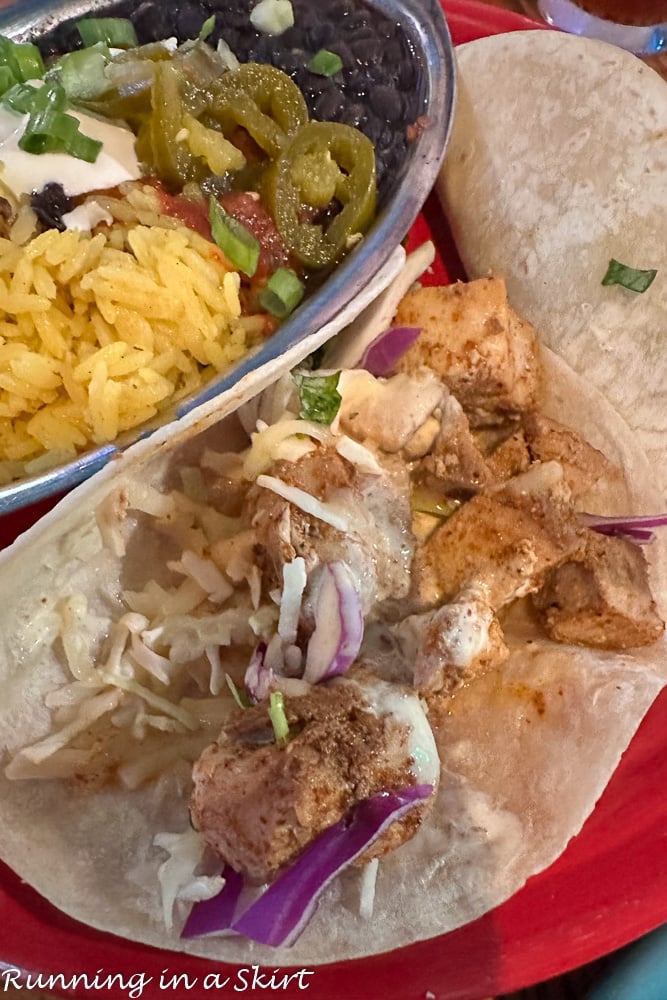 This is another popular Nags Head restaurant and can run a wait, but they also have a charming outdoor bar to grab a drink, a corn hole, and volleyball courts to enjoy while you wait. Just off S Virginia Dare Trail, this is a fun spot to enjoy lunch or dinner.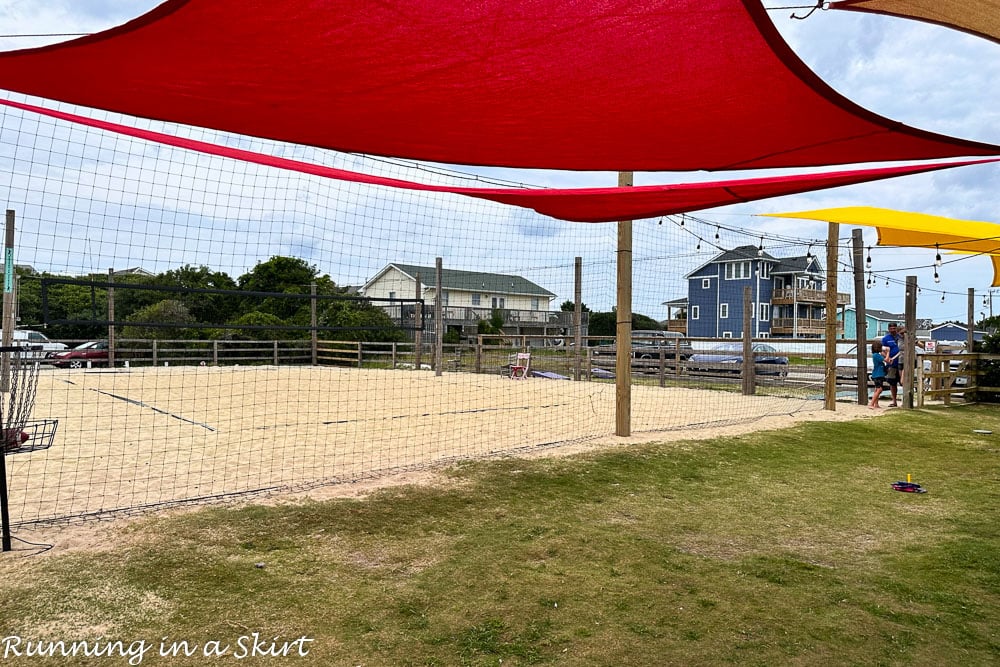 Austin Fish Company
Austin Fish Company is more of a takeout spot, than an actual addition to my list of Nags Head restaurants, but it's one of the most memorable dining experiences in Nags Head and the Outer Banks.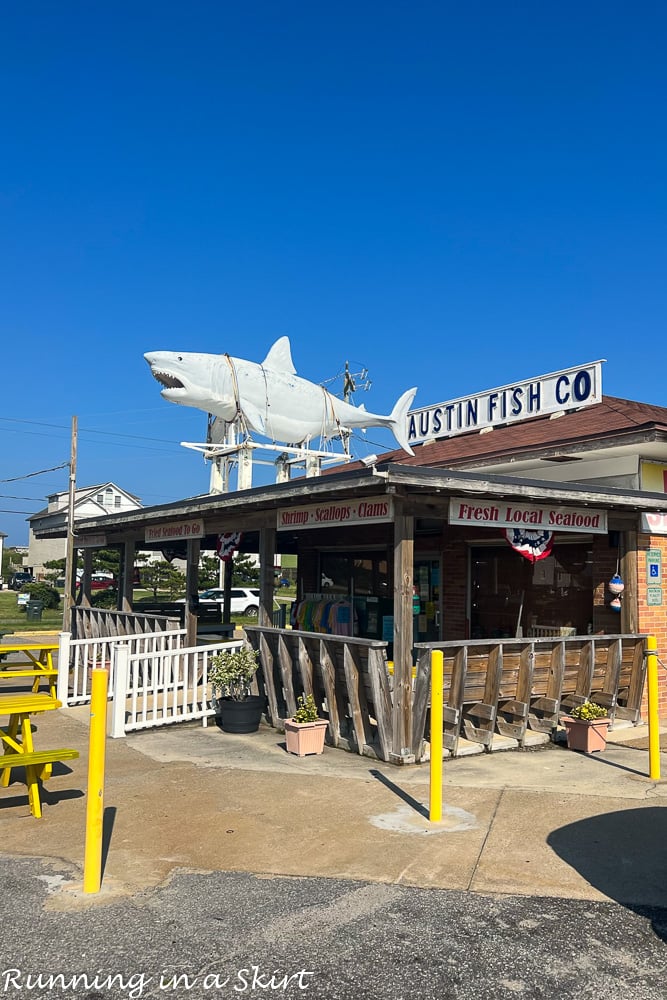 They offer a wonderful selection of fish in their fish market but don't miss the giant takeout Steamers to Go featuring everything from crab legs, clams, lobster, crawfish, mussels, and more. They are served spiced low country style with corn and potatoes. This dinner was incredible and one of my favorite meals from my trips to Nags Head.
They also offer takeout fried seafood baskets for lunch. Don't miss this iconic Nags Head experience!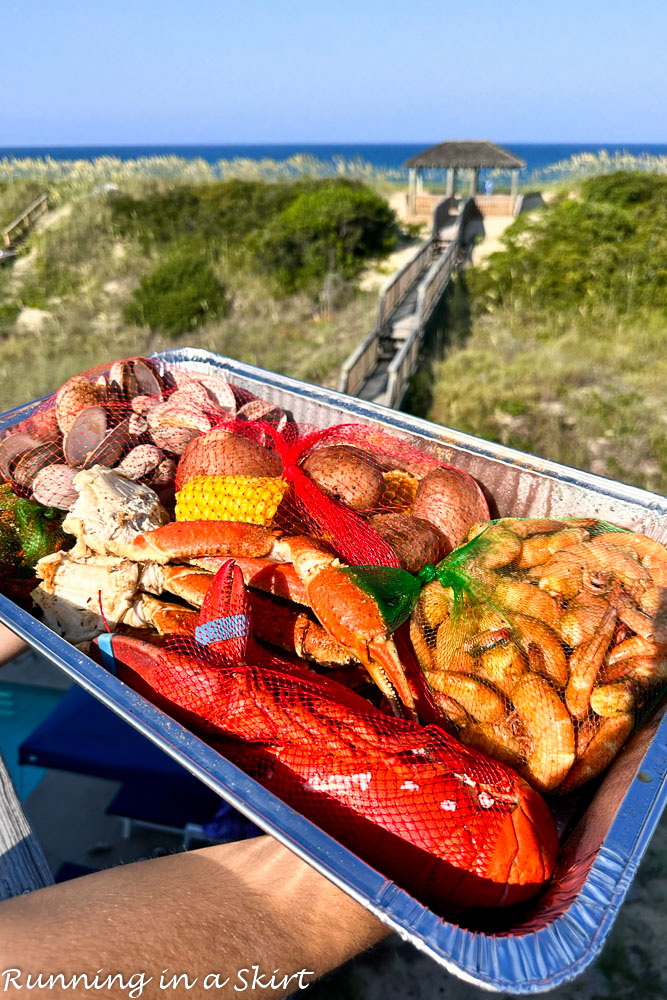 Miller's Waterfront Restaurant
Miller's Waterfront Restaurant is another great addition to the list of best Nags Head restaurants. They are also located right on the water with a gorgeous view of the Roanoke Sound and stunning sunset views.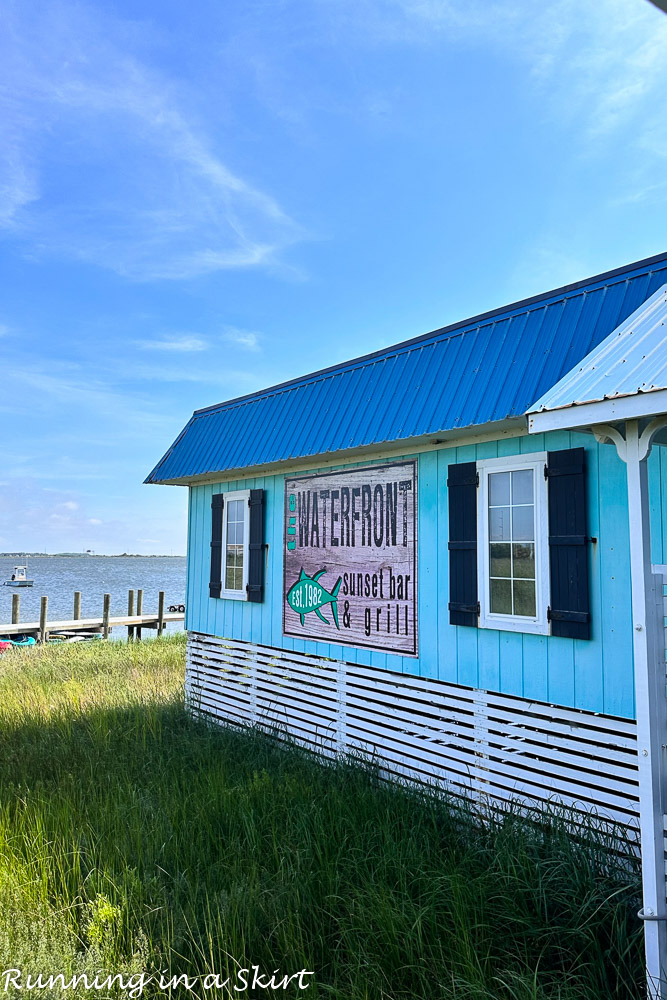 Open since 1982 Miller's Waterfront has fabulous casual dining options, with plenty of seafood on the menu. They have everything from seafood platters to fish, oysters, and even unique fish sandwiches.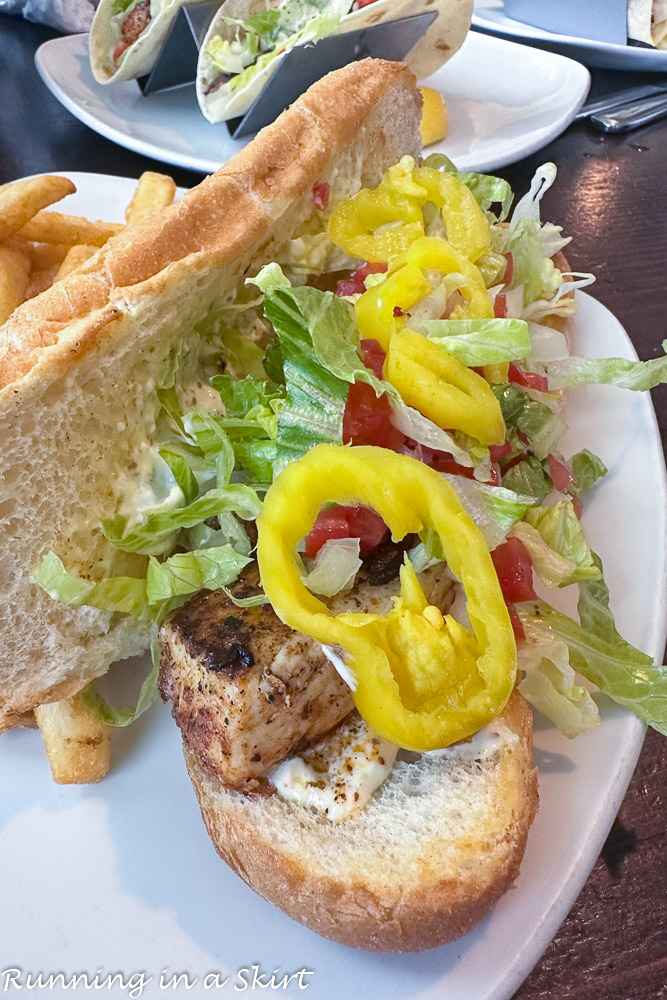 Also, try their steamed seafood like shrimp or snow crab legs.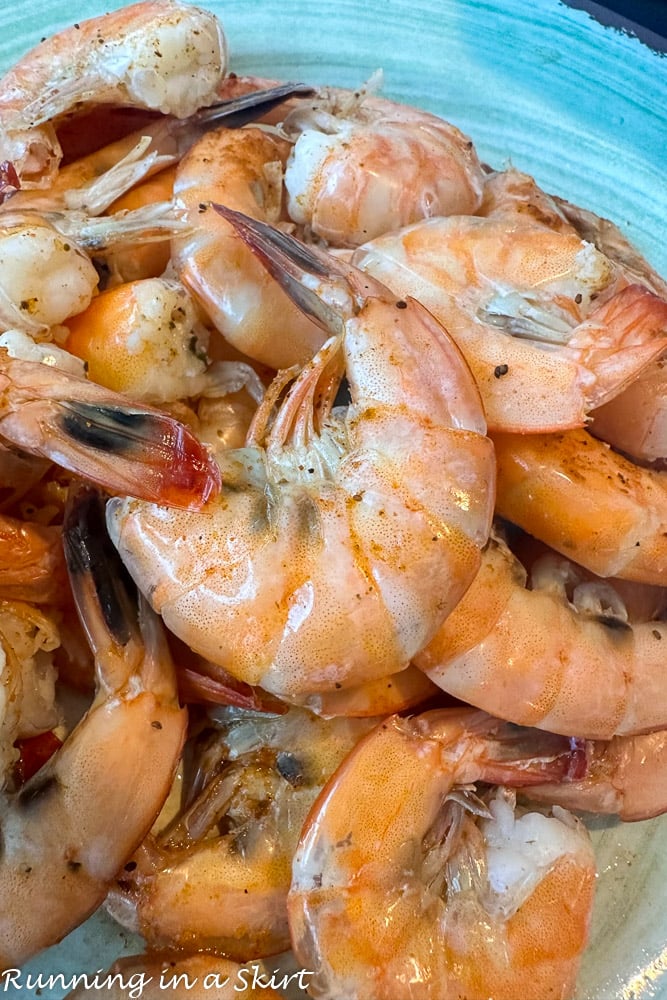 Like many Nags Head restaurants, this popular spot can run a wait but they do have a gorgeous outdoor waiting area with a pier and a bar.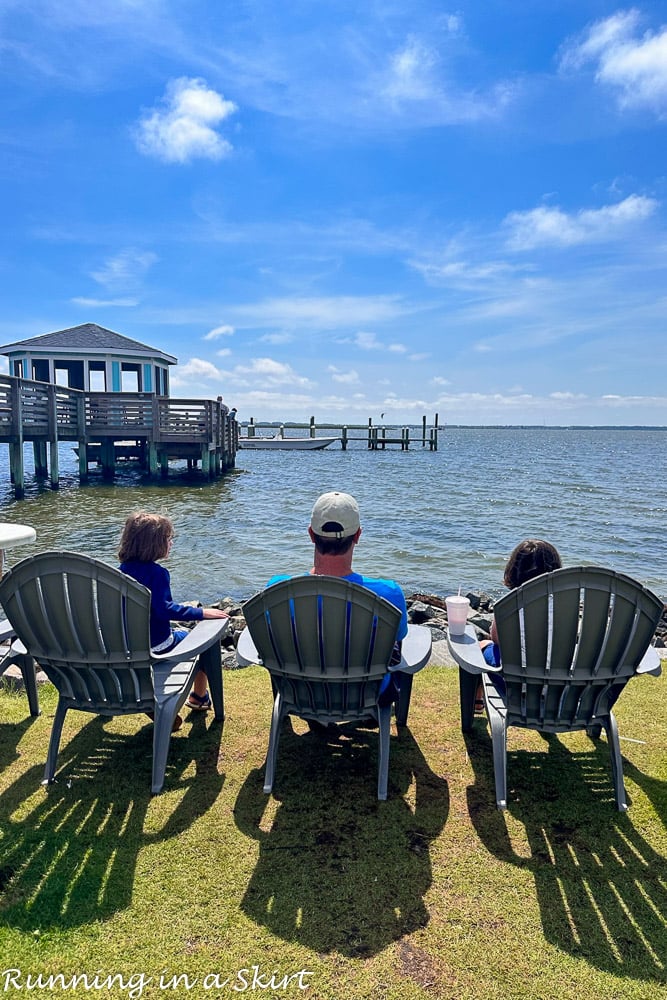 Enjoy a cocktail while you wait and make the most of the experience. Don't forget to go at sunset for the views!
Add this to my list of best Nags Head restaurants.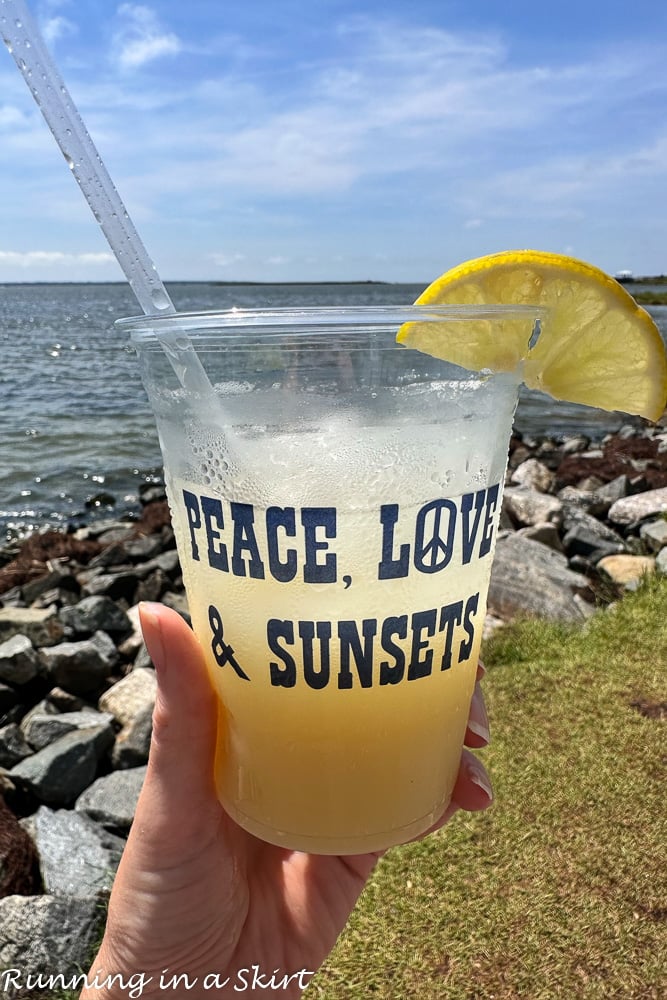 Fish Heads
Fish Heads has to be on this list of best Nags Head restaurants because of its incredible location right on the Outer Banks Fishing Pier over the beach and Atlantic Ocean. It's a complete fish heads bar and dive bar experience with gorgeous views.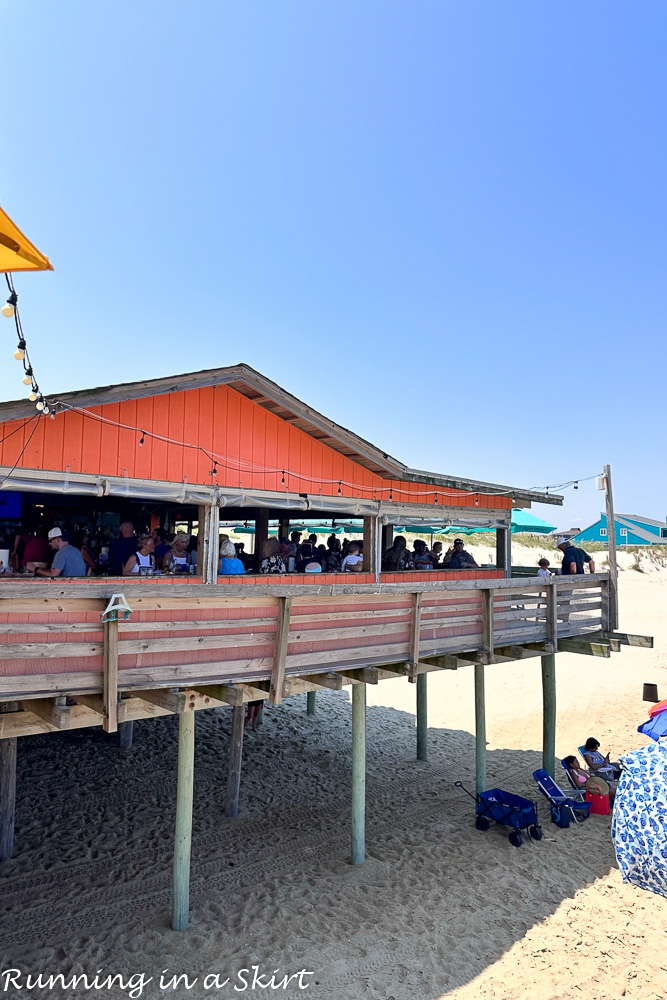 They have a fabulous beer menu but no cocktails. You can't beat the ocean view! There are many restaurants on the Sound in the Outer Banks, but not many actually on the beach like Fish Heads.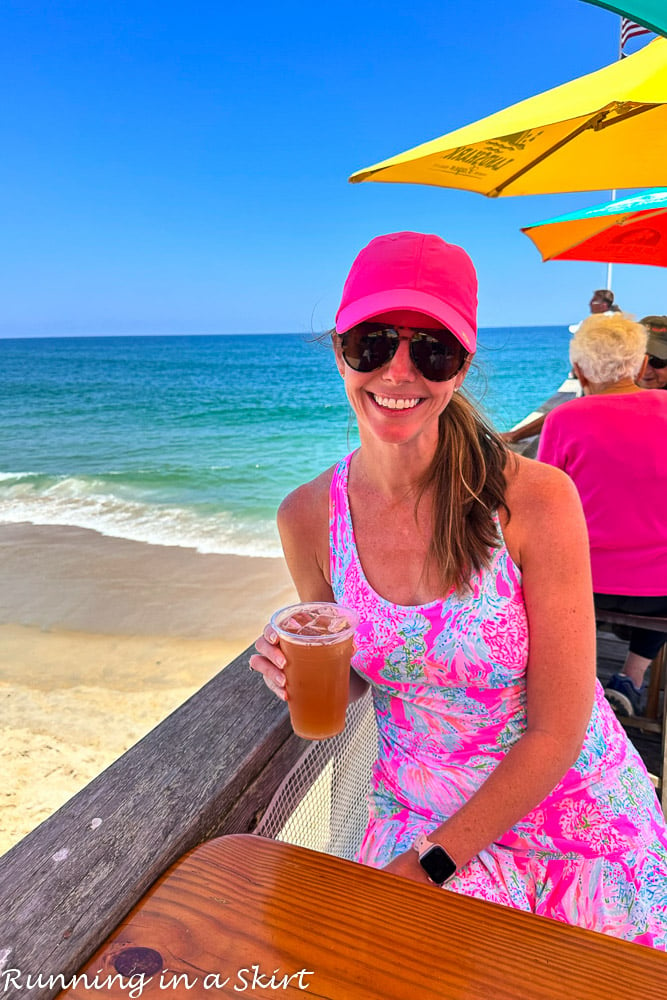 The menu is super simple featuring tacos, burgers, and salads. The Grilled Fish Sandwich is really good! They are also known for their happy hour shrimp specials with 20-cent shrimp. The real charm of the place isn't the food though, it's this view and the people watching eating right over the beach.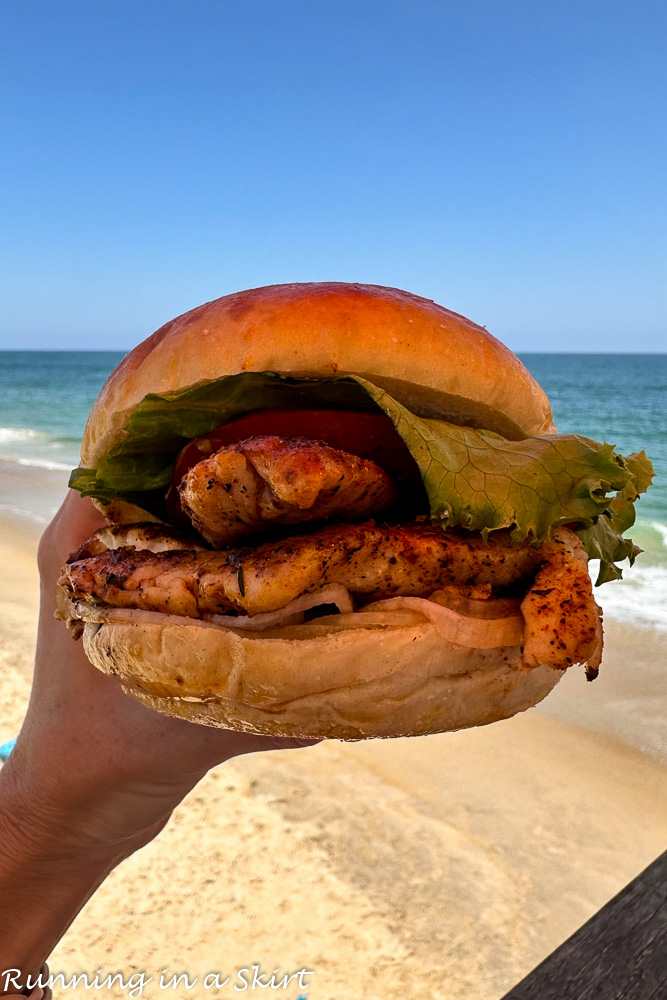 Sugar Creek Seafood Restaurant
Sugar Creek Seafood Restaurant is another fabulous addition to the best Nags Head restaurants. They have a gorgeous soundfront location but also have a takeout restaurant with all sorts of seafood to-go.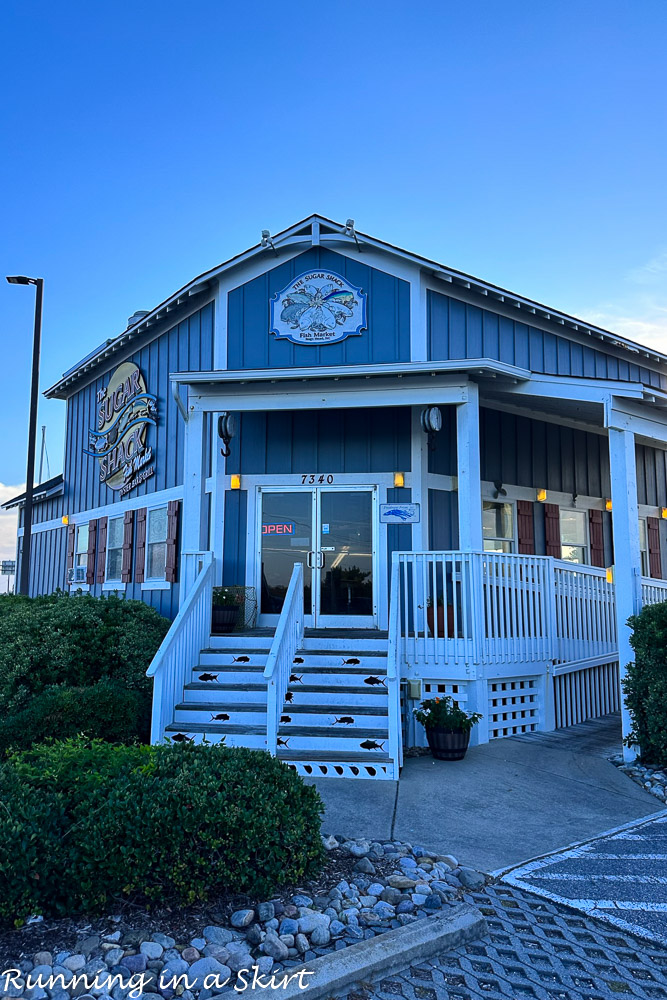 Like many Nags Head Restaurants and Outer Banks restaurants, they have steamers including shrimp, clams, crab legs, and sausage.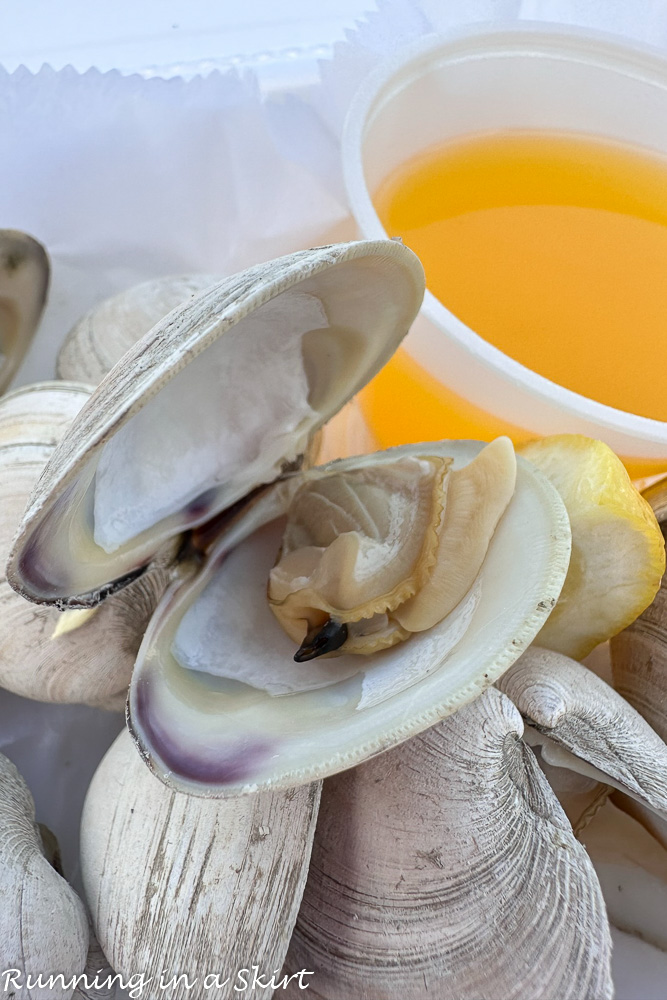 They also have great fresh local fish and homemade chips.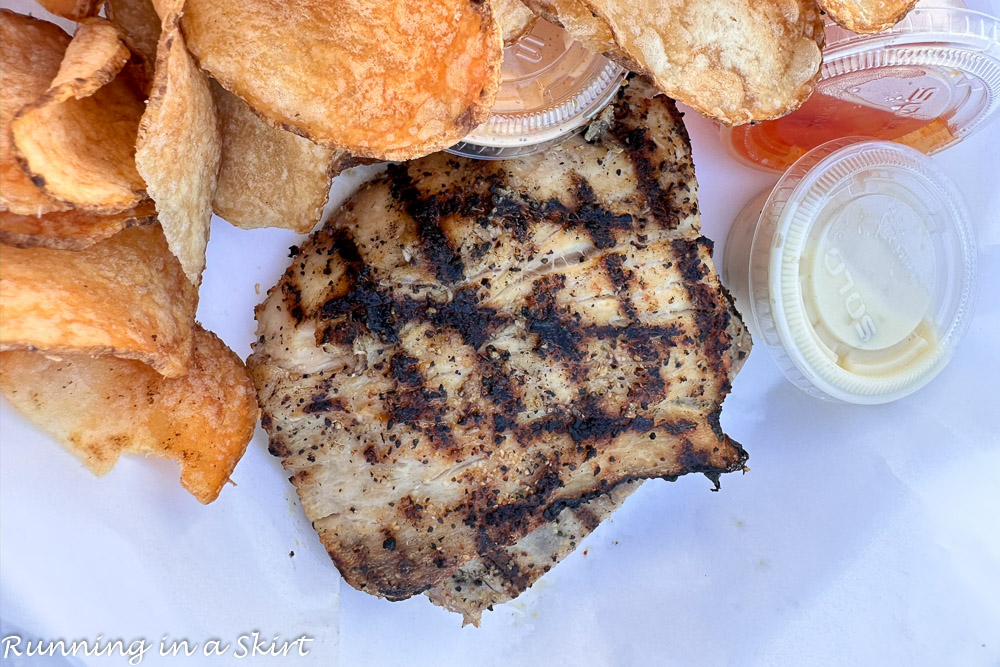 Sam & Omie's Restaurant
Sam & Omie'sis another iconic addition to the list of best Nags Head restaurants. This fun spot has been around since 1937, making it the oldest restaurant in the Outer Banks. They are open for breakfast, lunch, and dinner but are best known for their breakfast, which often has a line to get in. They serve fresh eggs.
For dinner, they have seafood but are also famous for their steaks, prime rib, and burgers. This is a fun, super casual, laid-back, family-friendly spot.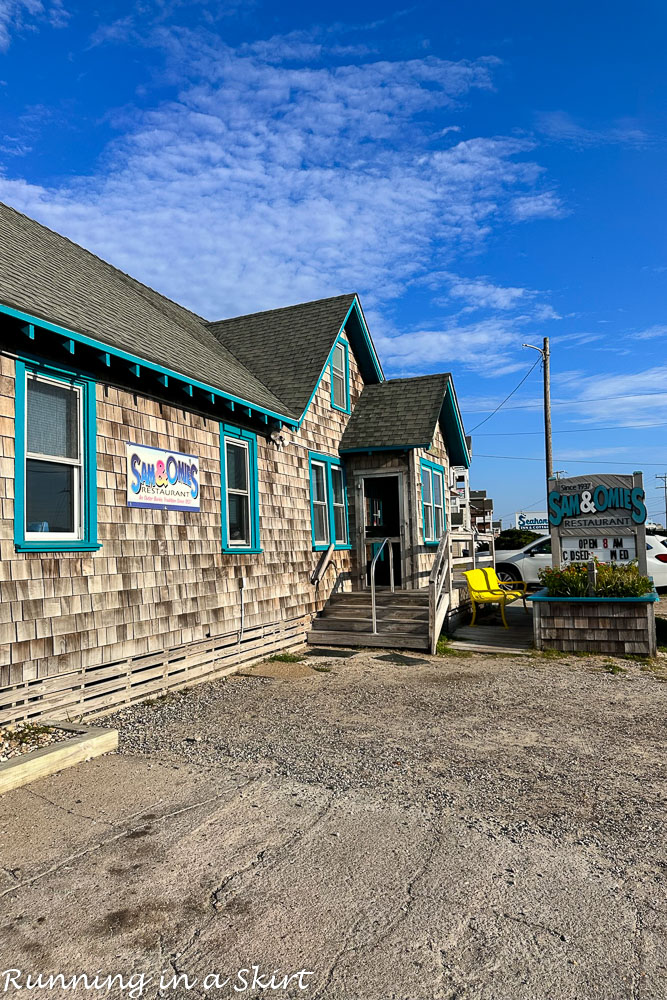 It's All Gravy Trattoria
With all the seafood restaurants in the Outer Banks, it's nice to come across a wonderful Italian restaurant to add to the list of Best Nags Head restaurants. It's all Gravy Trattoria offers traditional Italian food with fresh ingredients and even local seafood.
They have dine-in and carry-out options. They are one of the few restaurants that take reservations.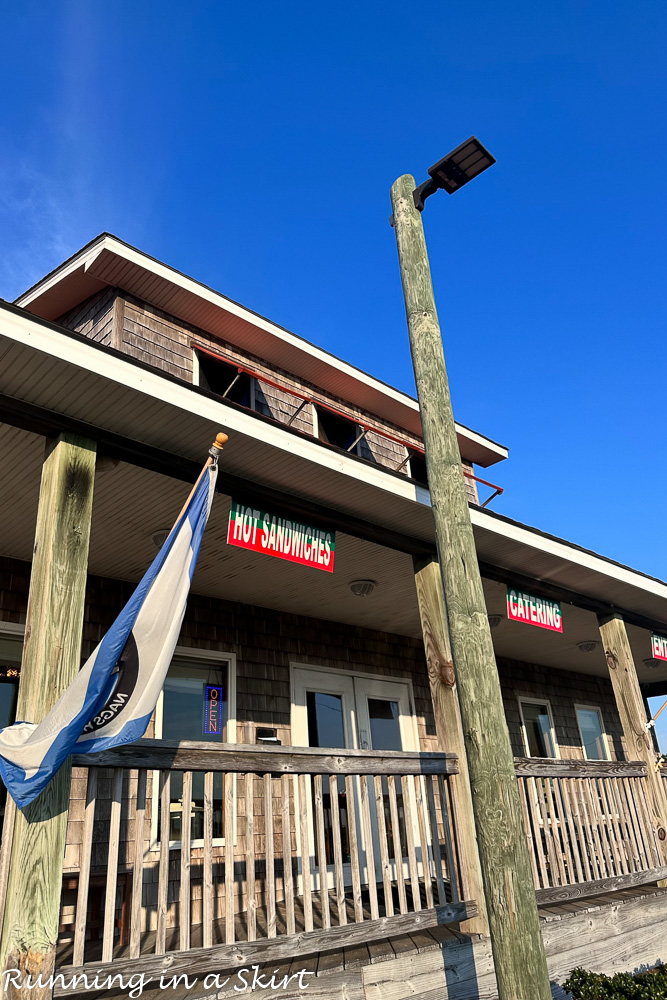 The Shrimp Fra Diavolo was super tasty.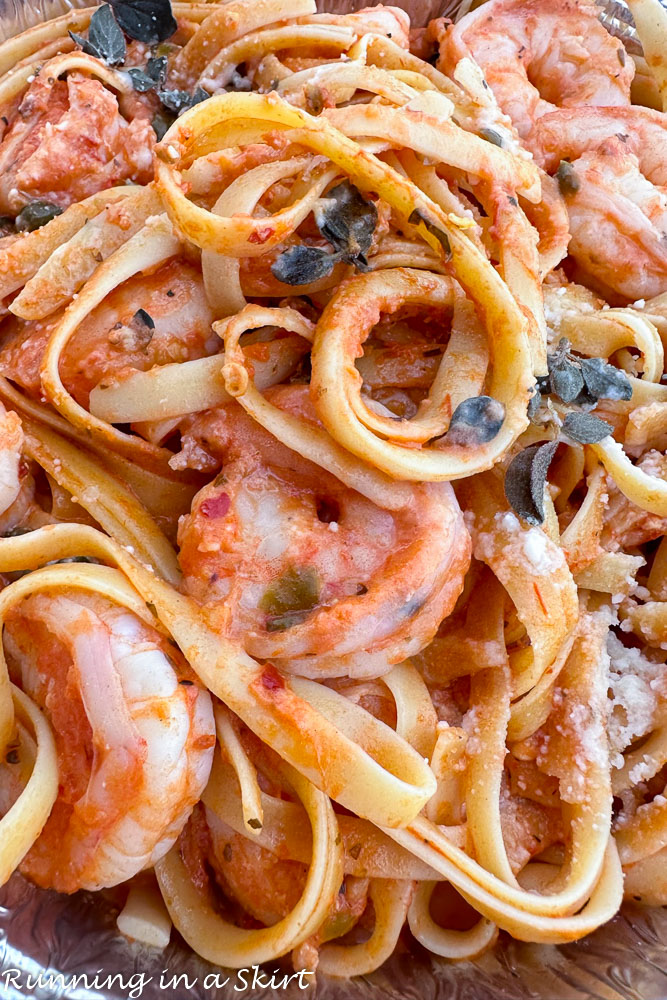 And you can't beat the homemade Lobster and Shrimp Ravioli with a parmesan cream sauce. This is a great way to break up all the traditional beach dishes.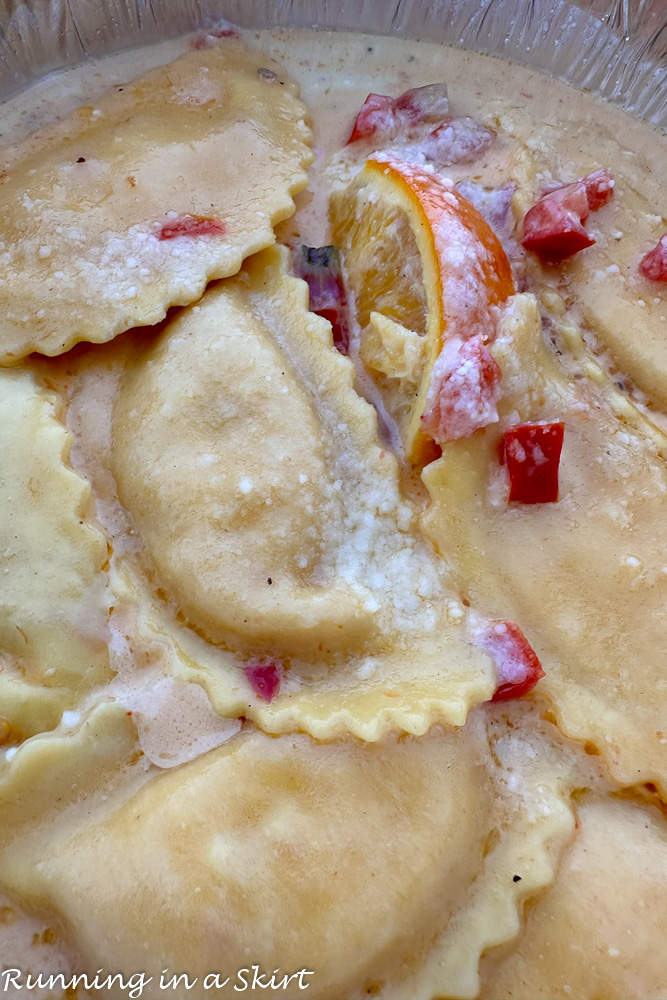 Nags Head Pizza Company
I have to include a pizza restaurant on the list of best Nags Headrestaurantst. Nags Head Pizza Company was so good and they had such great pizza. They also deliver, which is hard to come by in the Outer Banks.
They have fabulous salad and a wonderful fresh cheese pizza.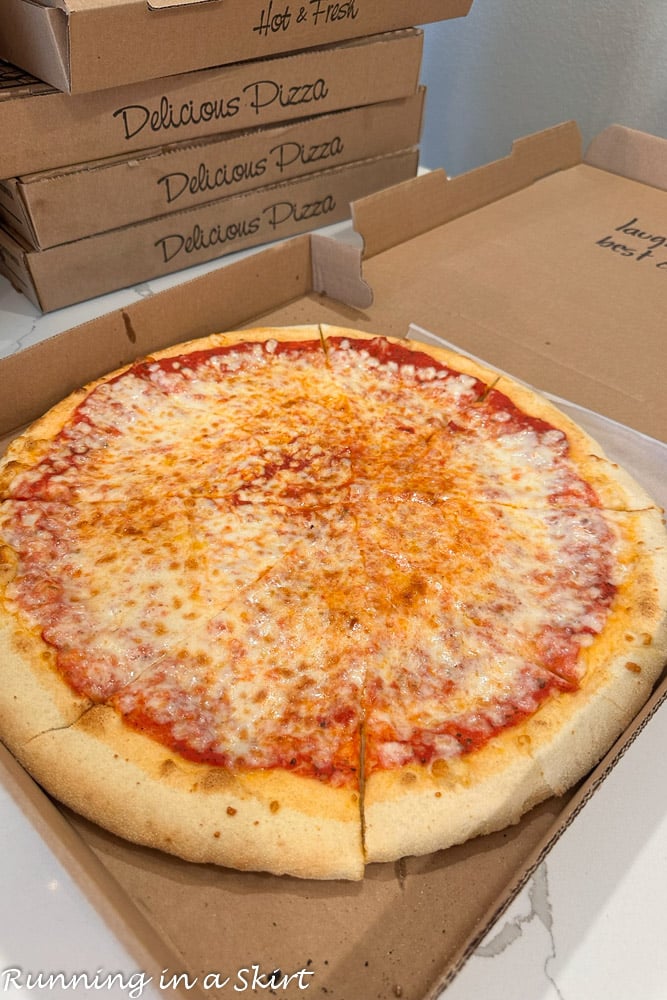 Also, try the BBQ Chicken pizza for something different. They even write fun messages on the inside of the boxes, which is so fun and inspirational.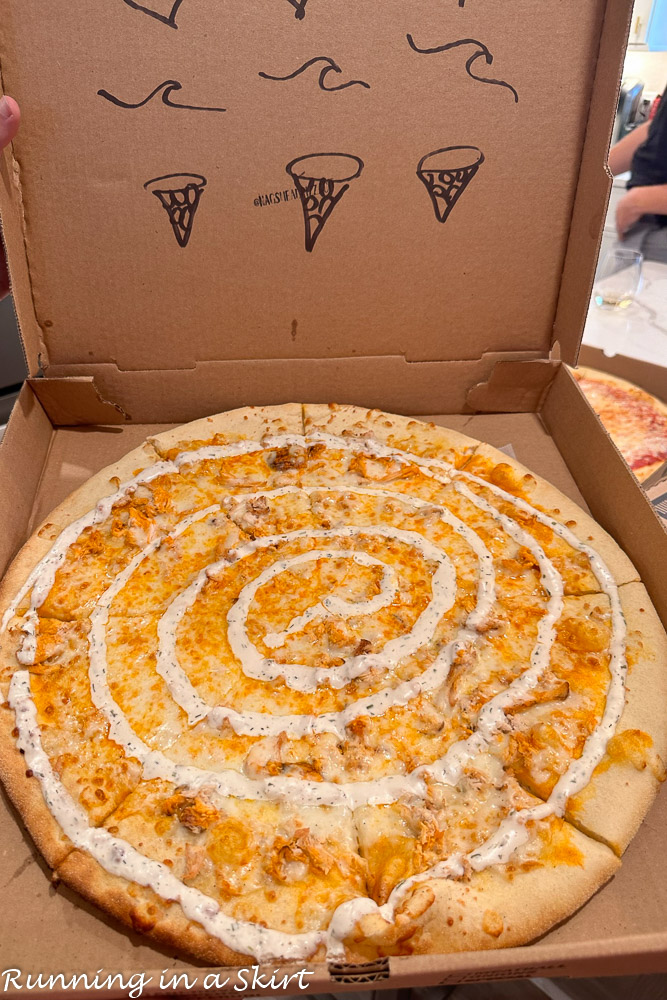 Another great local pizza option i Village Pizza Nags Head.
Dune Burger
For casual, beach-friendly dining, Dune Burger has to be added to this list of best Nags Head restaurants. This dive spot with no frills just serves burgers, hot dogs, french fries, NC BBQ, and chicken sandwiches, but is a great spot for casual, non-chain fast food in the area. It's a walk-up place that's great to take out to the nearby beach.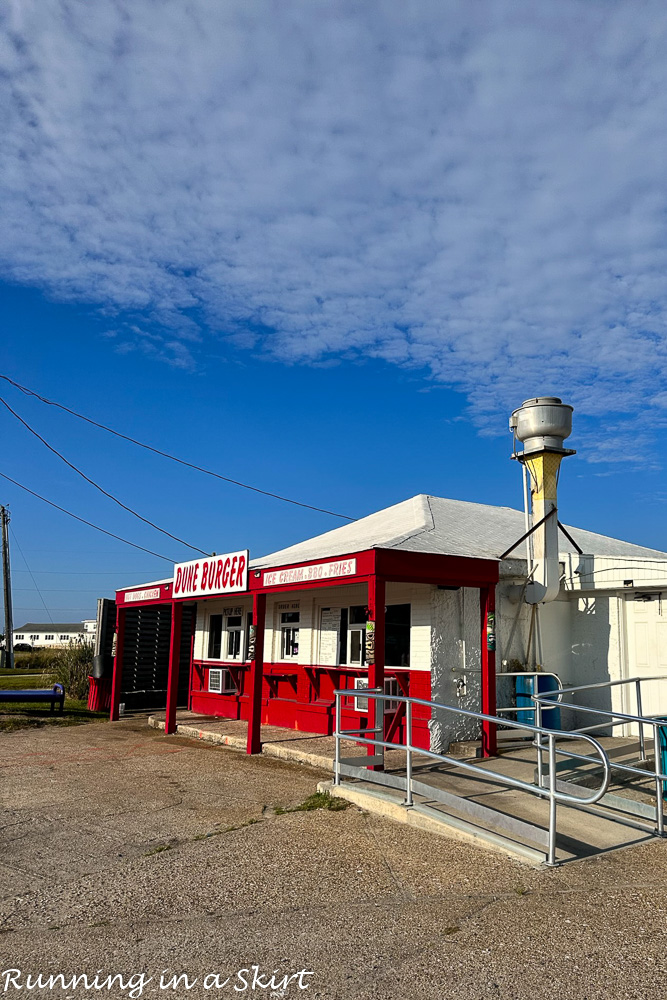 Coastal Creamery
No trip to Nags Head or the Outer Banks is complete without a trip to an ice cream shop! One of the more memorable ones in Nags Head is Coastal Creamery with a great collection of ice cream. It's fun, family-friendly,y and has a great vibe.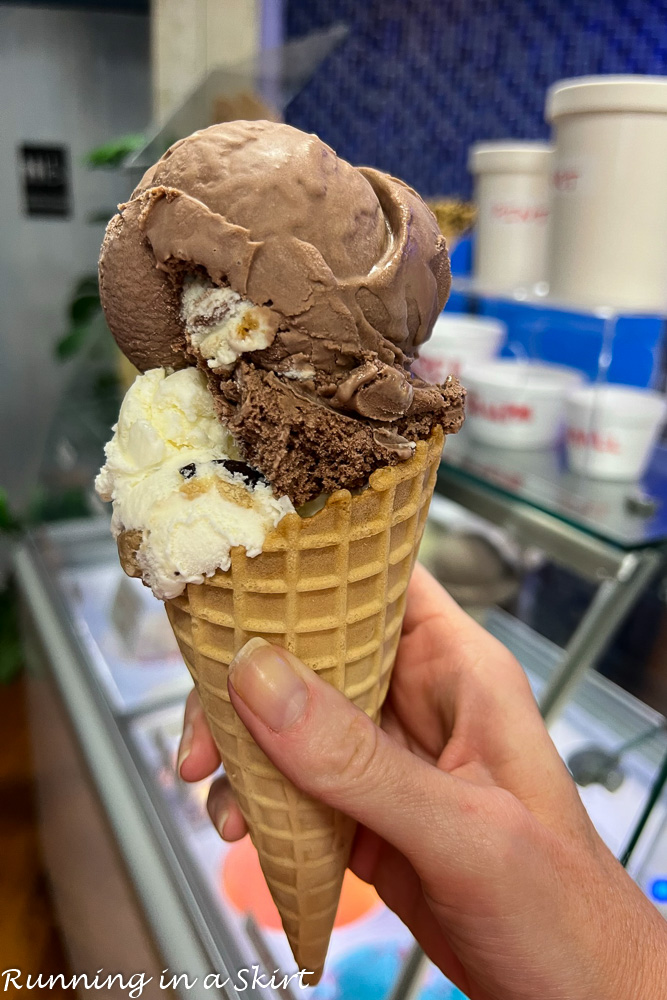 Don't miss their amazing ice cream sandwiches.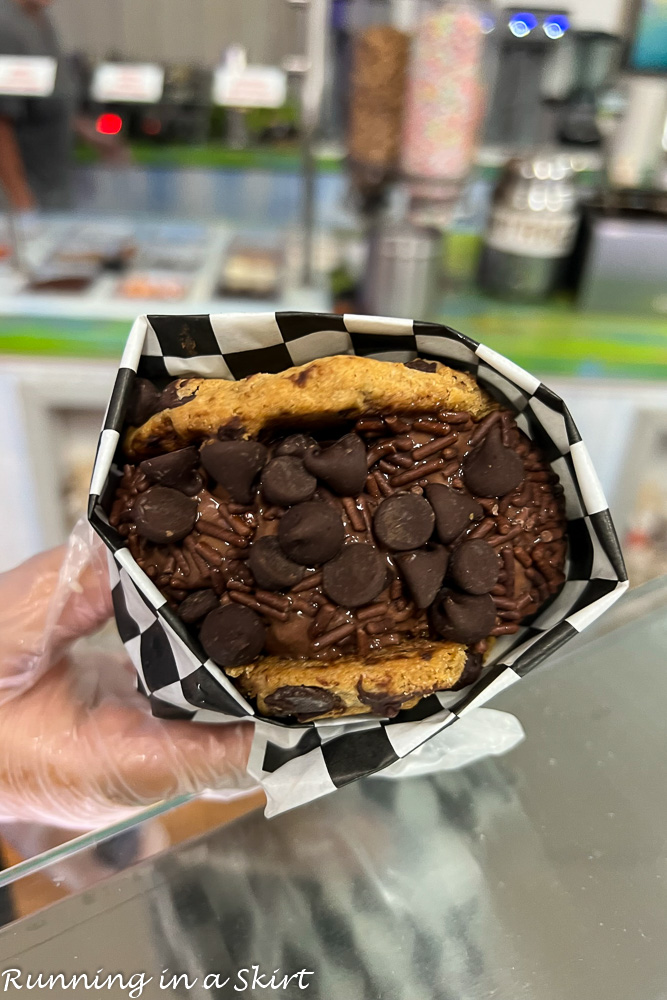 Booty Treats Ice Cream
Another beloved Nags Head ice cream shop for desserts, Booty Treats, is great for getting ice cream, shaving ice,e and more. They are popular, so expect a wait in high season in the evenings.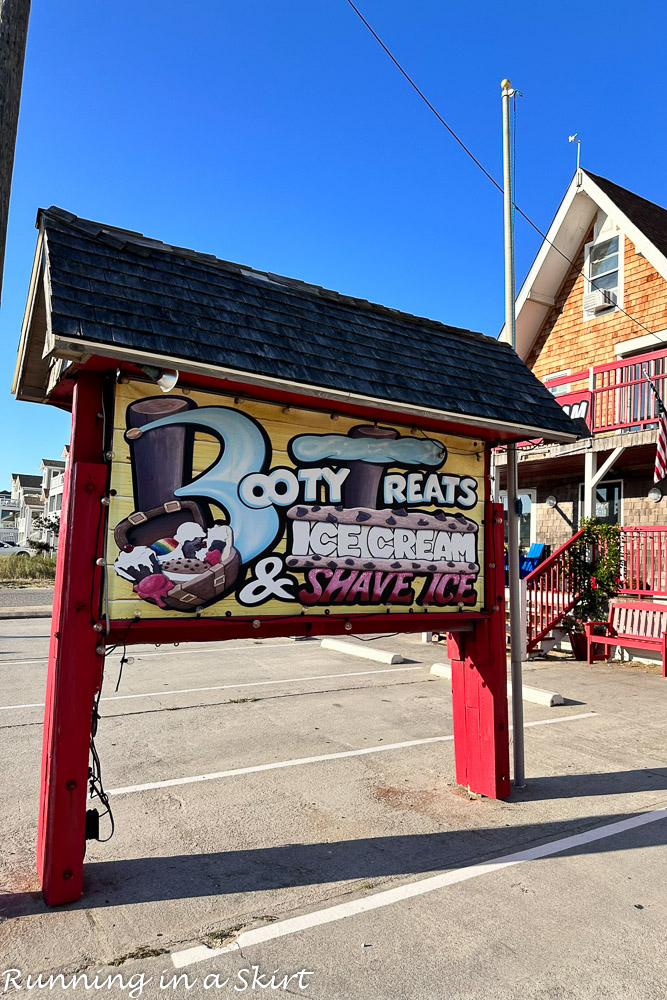 Duck Donuts Nags Head
Duck Donuts is an Outer Banks or OBX institution, that makes fresh customized donuts before your eyes. The donuts are made on a machine you can watch and then whatever combination of toppings, coatings, and drizzles are added to your taste.
There are many locations in the Outer Banks including in Nags Head.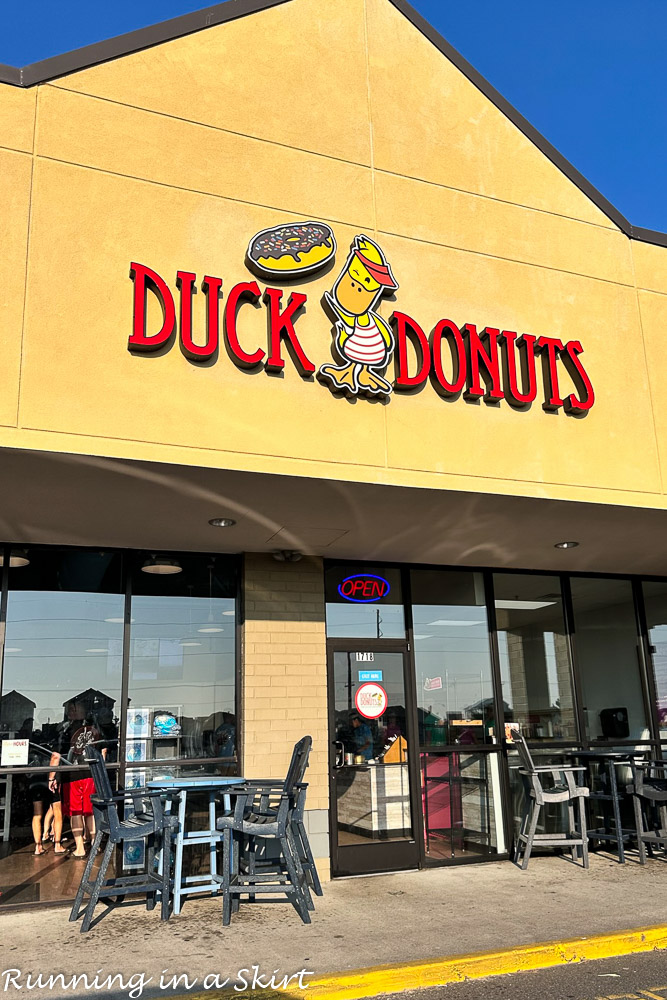 It's fun to customize them and so tasty! This small chain is now in other places too, but it originated in the Outer Banks, making it a must-stop for your trip.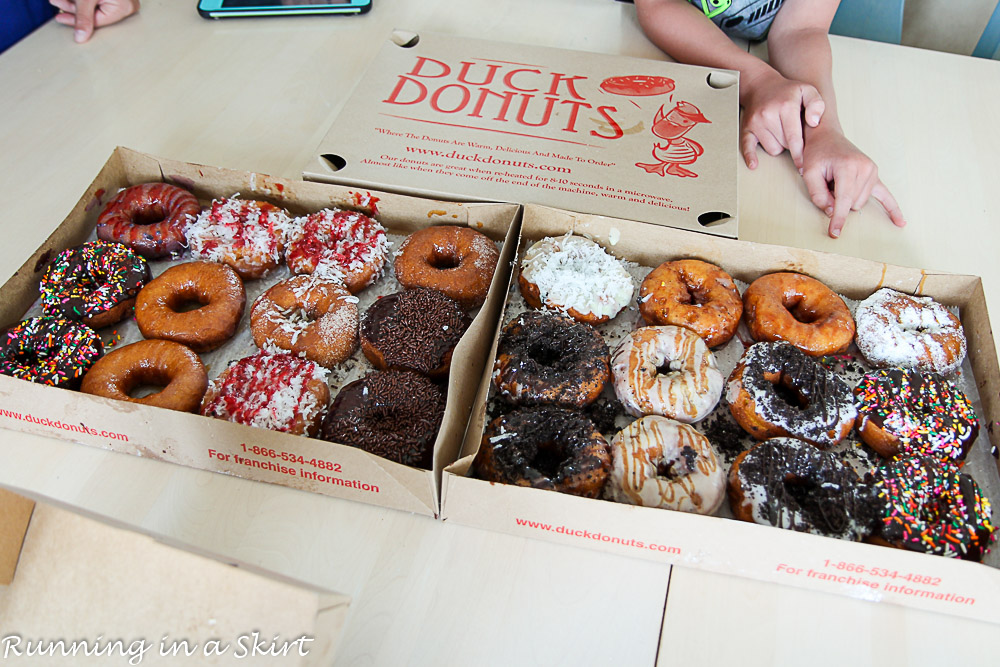 New York Bagels
Getting bagels is a beach trip traditional for my family, and since there wasn't a bagel shop in Nags Head, I had to drive to Kill Devil Hills to New York Bagels to get our fresh bagels for the trip! It's a cute shop and the sandwiches were good.
Another option for bagels is Lighthouse Bagels in Corolla, which has some of the best bagels outside of New York.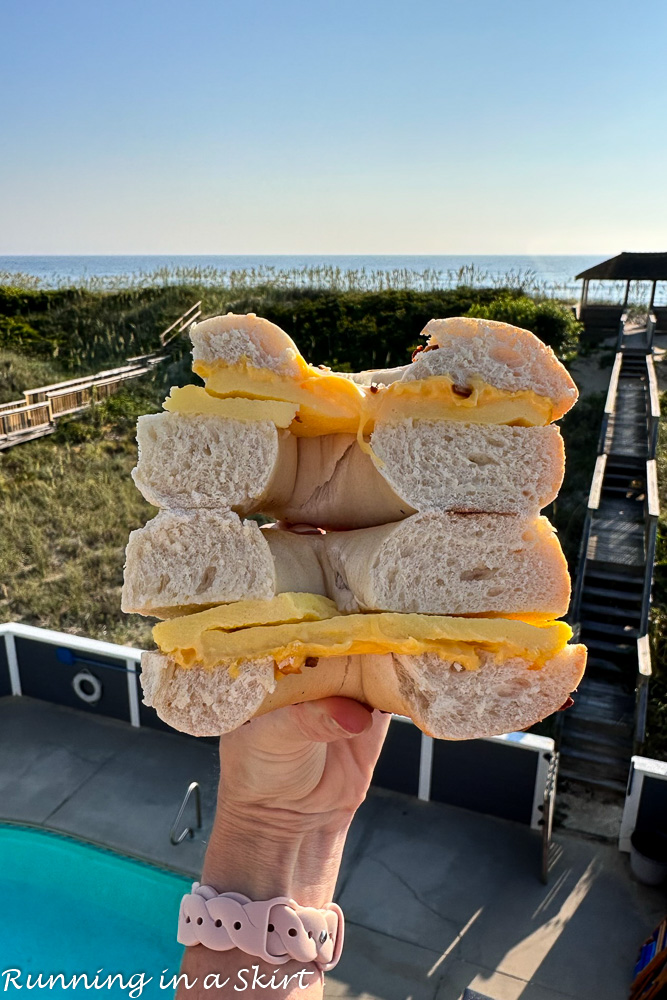 More Nags Head Restaurants
Here are some more tasty Nags Head Restaurants to try! Some of these have been around for decades.
Outer Banks Restaurants Worth the Drive
I focused on Nags Head Restaurants above, but if you are willing to drive a bit further, here are some other beloved Outer Banks restaurants from everywhere from Kitty Hawk to Hatteras Island that are worth considering for your trip. These are some must-try OBX restaurants.
Planning a Trip to Nags Head or the Outer Banks?
More Nearby Beach Restaurant Guides
Pin for later: