Hello! Hello!
Last day to enter the Vega giveaway!
I'm finally getting settled back into normal life after some time at the Outer Banks last week. I've lived in North Carolina for nearly 13 years now and had never been to that area. It actually takes just as much time to get to Florida or Pittsburgh from where I live in the mountains. North Carolina is such a WIDE state.
Luckily, the Hubs family decided to rent a giant beach house and I finally had the chance to go! We had a big group, including six kids, so we needed all the space we could find. We loved our location right on the beach path with ocean views.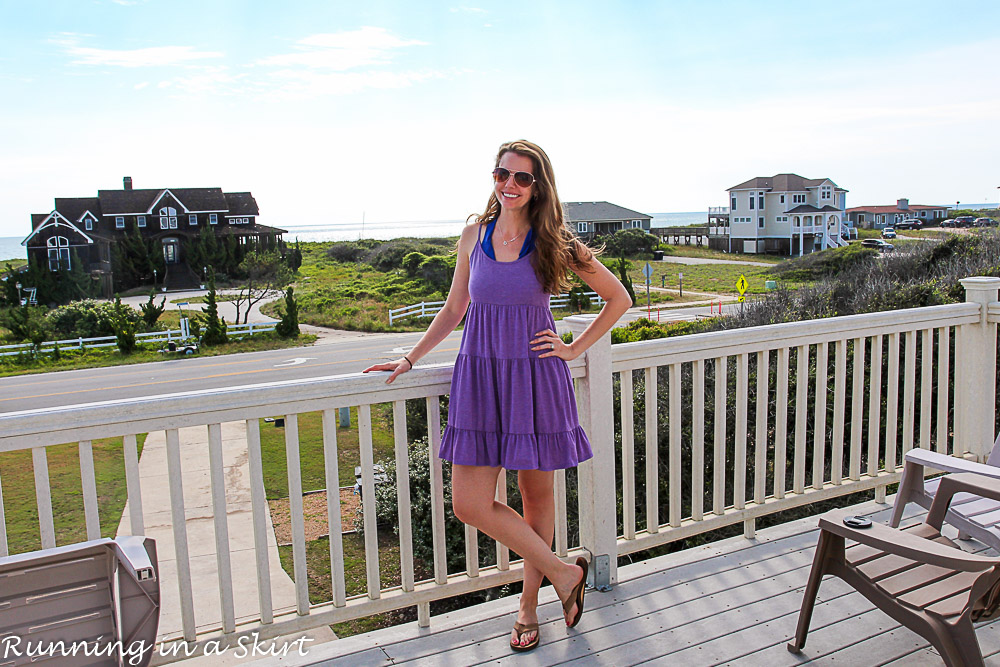 Most of our time was spent hanging out with family, cooking and moving between the beach and the pool. All six of my nieces and nephews were there, so there was never a dull moment! Instead of sharing the day to day stuff, I thought I'd pick out some of the highlights.
Spoiler alert: I saw WILD HORSES!!!
Wright Brothers National Memorial
I was the only person (other than the kids) who had never been to the Outer Banks before, so I wanted to make sure I saw some of the must-see sights including where the Wright Brother's first flew. Since the Hubs and I love aviation, I didn't want to miss it.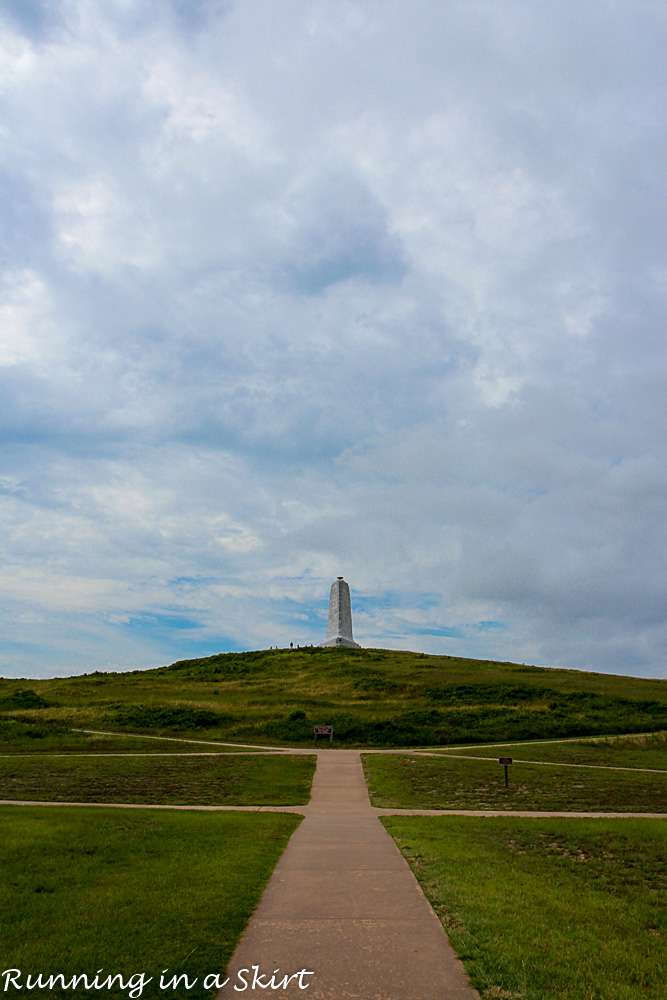 The memorial is on what seems like the only hill in the Outer Banks. It's where the brother's practiced hang gliding before they used a powered plane.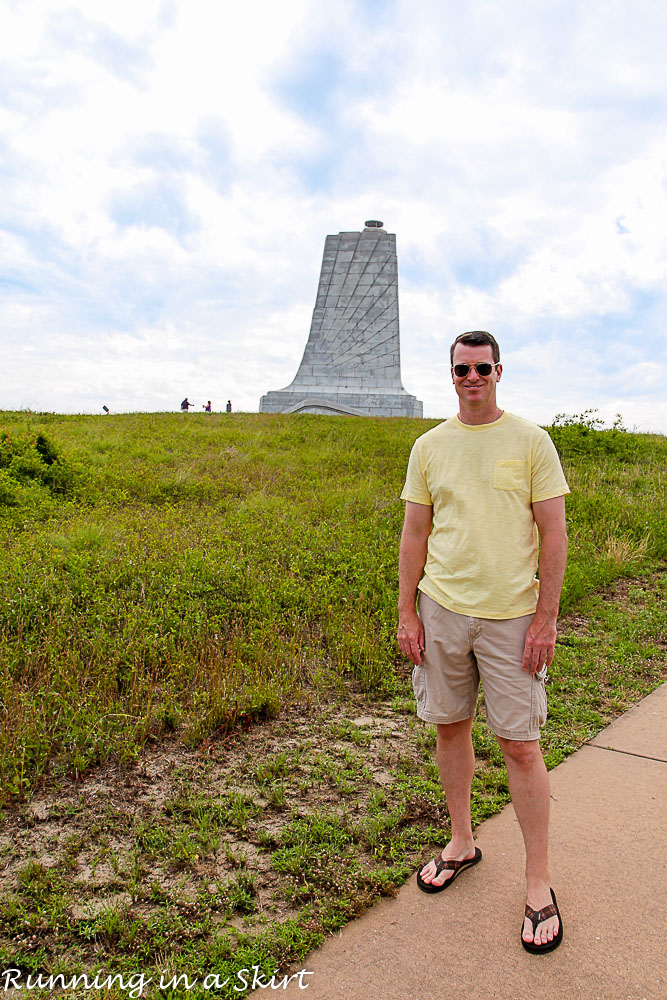 It's a nice walk up to the top! Can you imagine just flying off of this?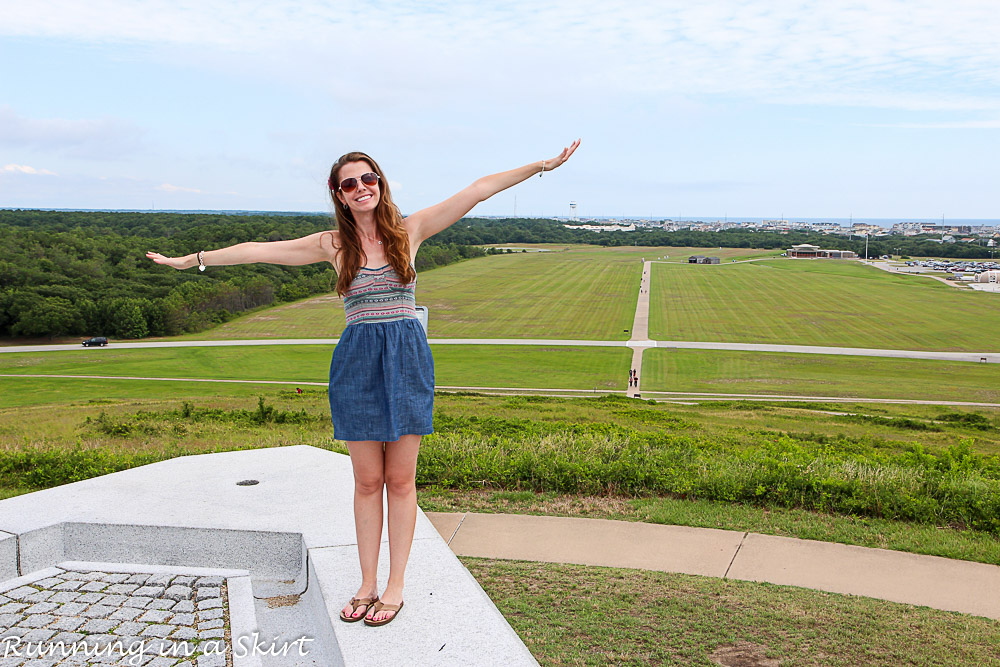 The memorial was dedicated in 1932 and is a really pretty site.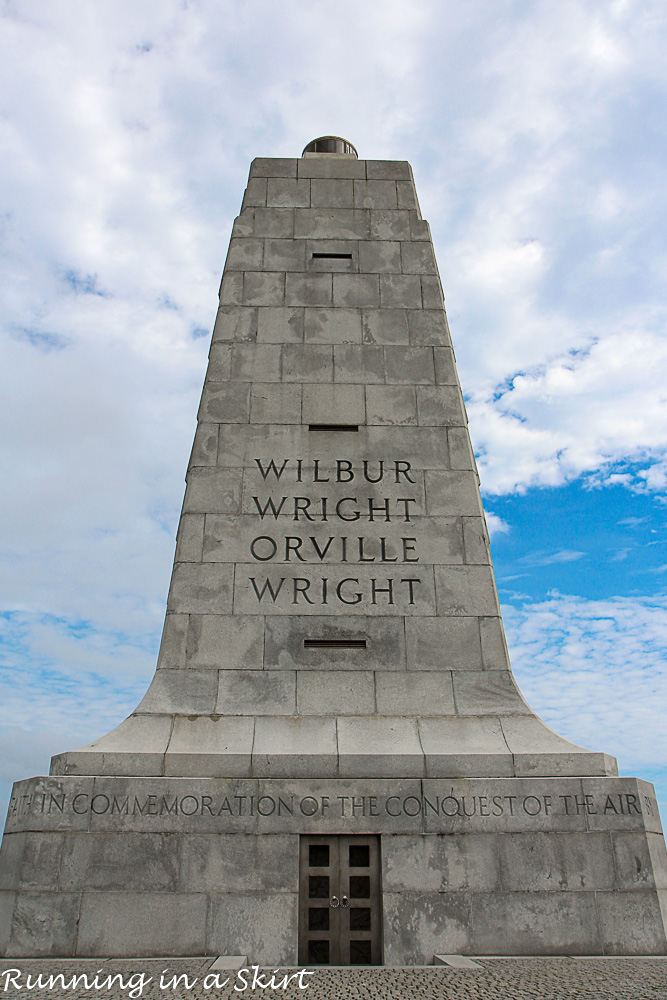 I wanted a clear picture, but was happy those clouds were keeping the climb to the top a bit cooler.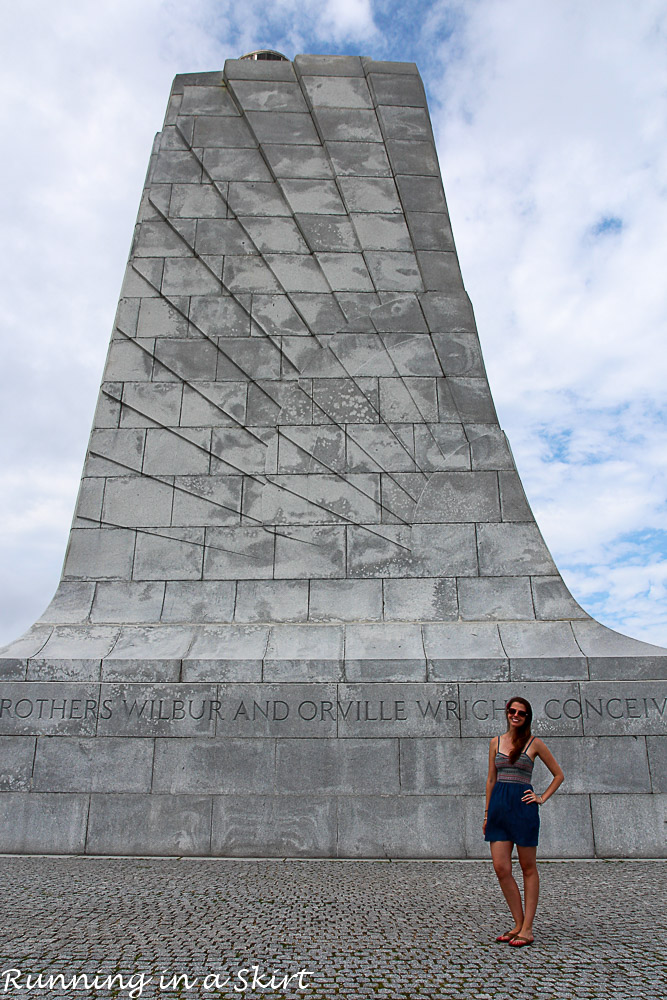 At the bottom of the hill is the location where the brothers first actually flew. The rocks mark the place where they took off and how long the first four flights were. It was fascinating!
The most interesting thing I learned was that they used a rail for takeoff to the keep the plane from sinking into the sand. It's still there!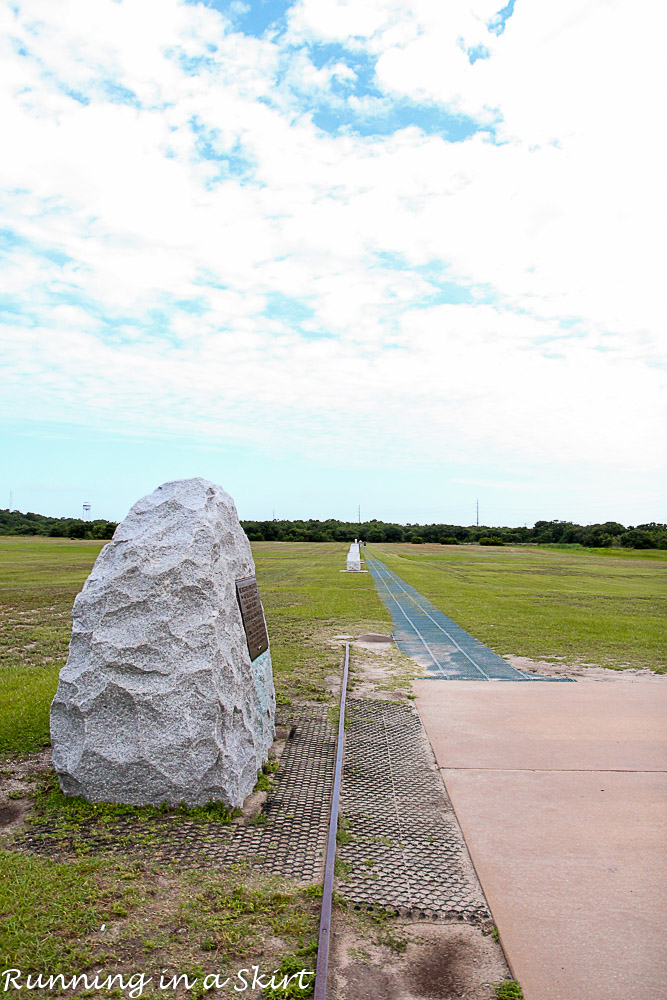 As a pilot, the Hubs loved this!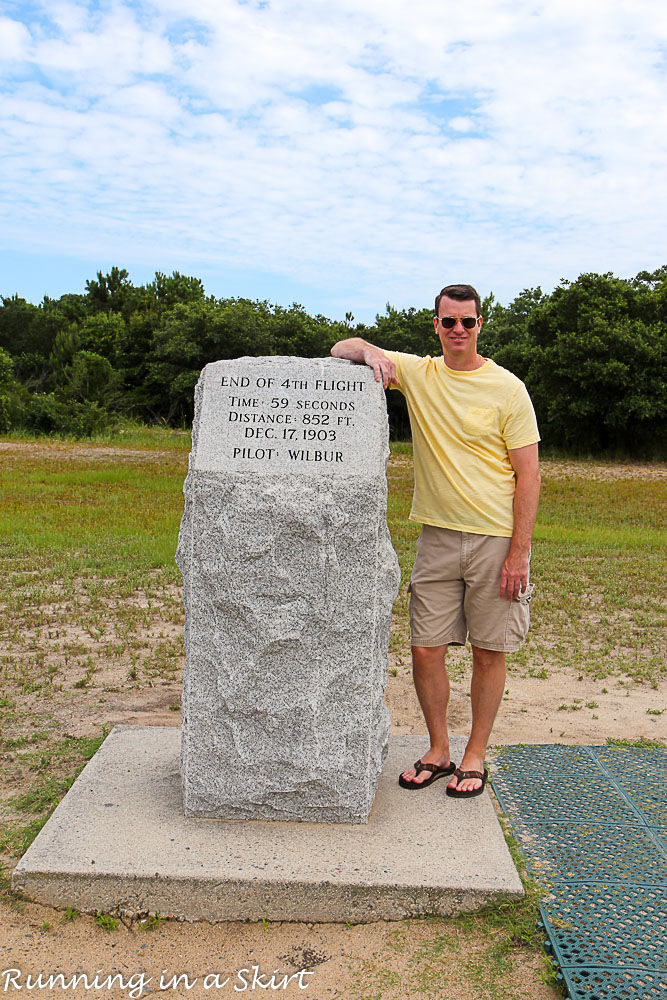 Inside the museum there is a replica of the original plane. I'd seen one before at the Air and Space Museum in Washington, DC.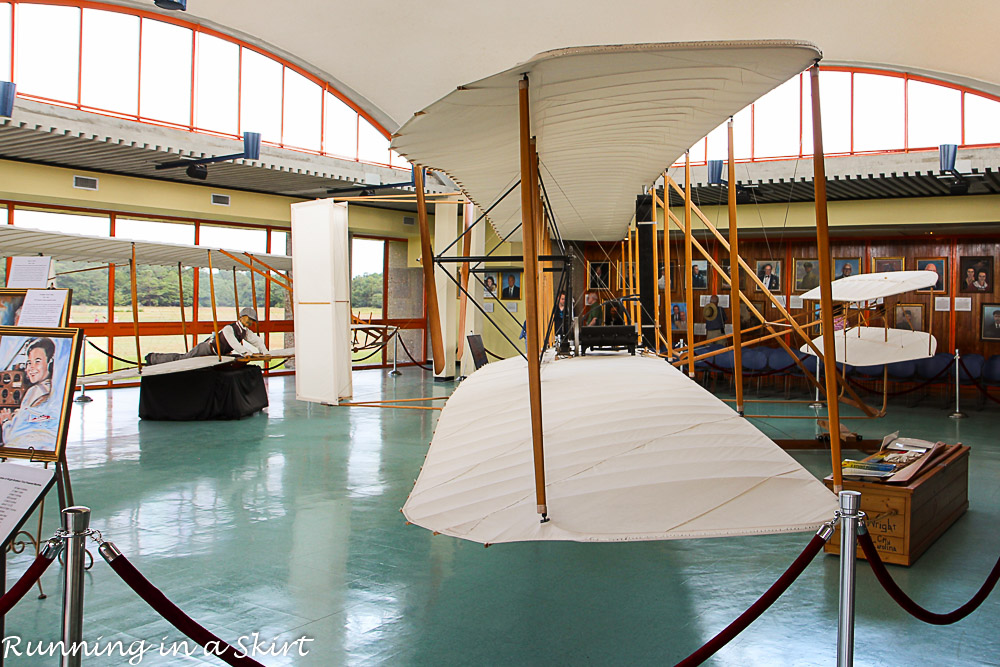 On our way back to the house we stopped at Booty Treats for some shave ice! <--- Made me giggle just typing that... can you tell I spent the week with a bunch of boys? haha!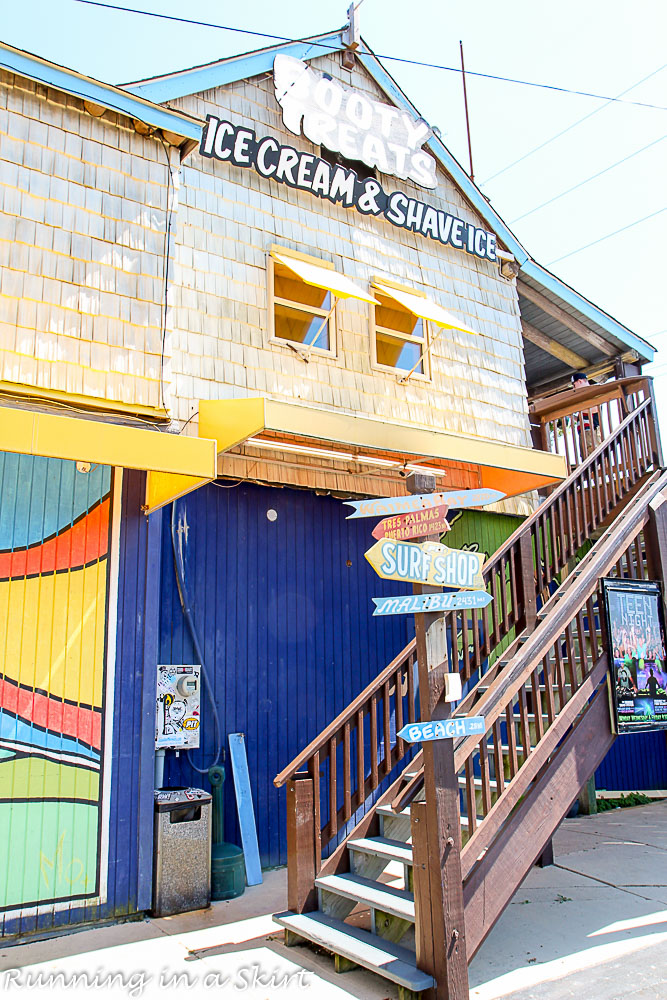 It wasn't exactly like Hawaii's... but was still pretty awesome!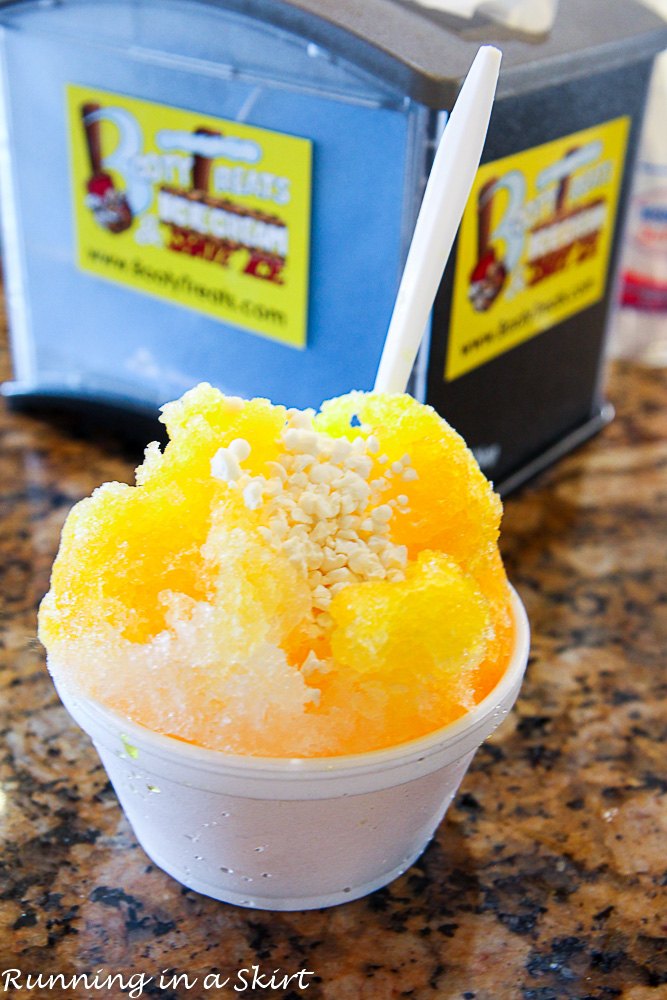 Duck Donuts
My friend Marilyn highly recommended we get donuts at Duck Donuts on our trip. I'm honestly not much of a donut fan, so I probably never would have done this if she hadn't suggested it. I'm so glad she did though!
One morning I gathered up some of my favorite men (and little men 🙂 ) and found the closest Duck Donuts. We had to wait in a line out the door, but it moved fast. The fun of Duck Donuts is you get to watch the donuts come out of the fryer and then pick all of your topping combinations. The options were nearly endless.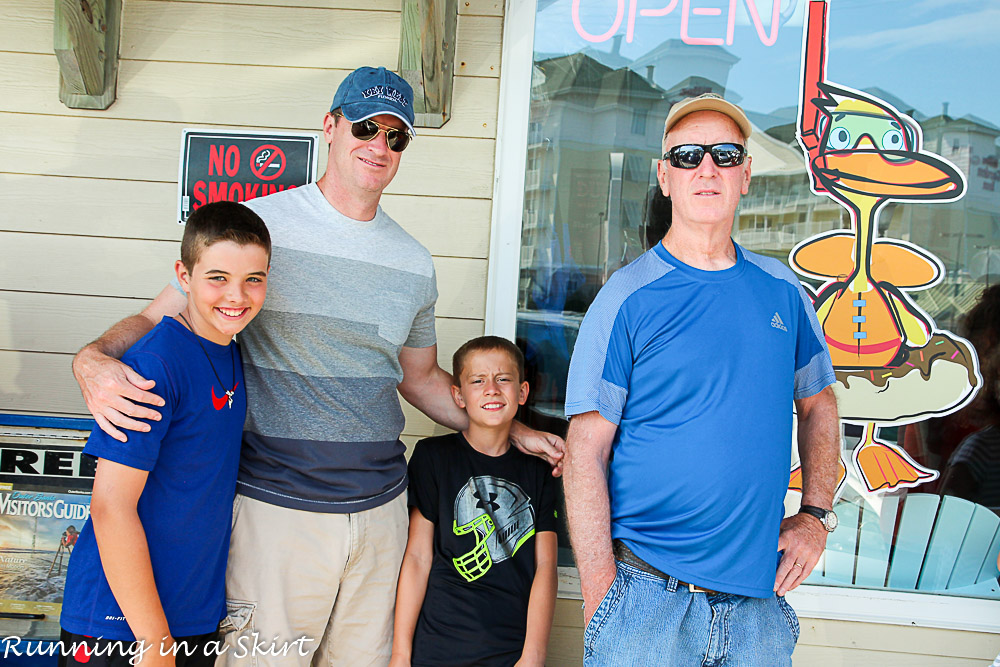 The boys put me in charge and I came up with this array! I can't tell you how hard it was to get this picture before all those little hands dove in. haha!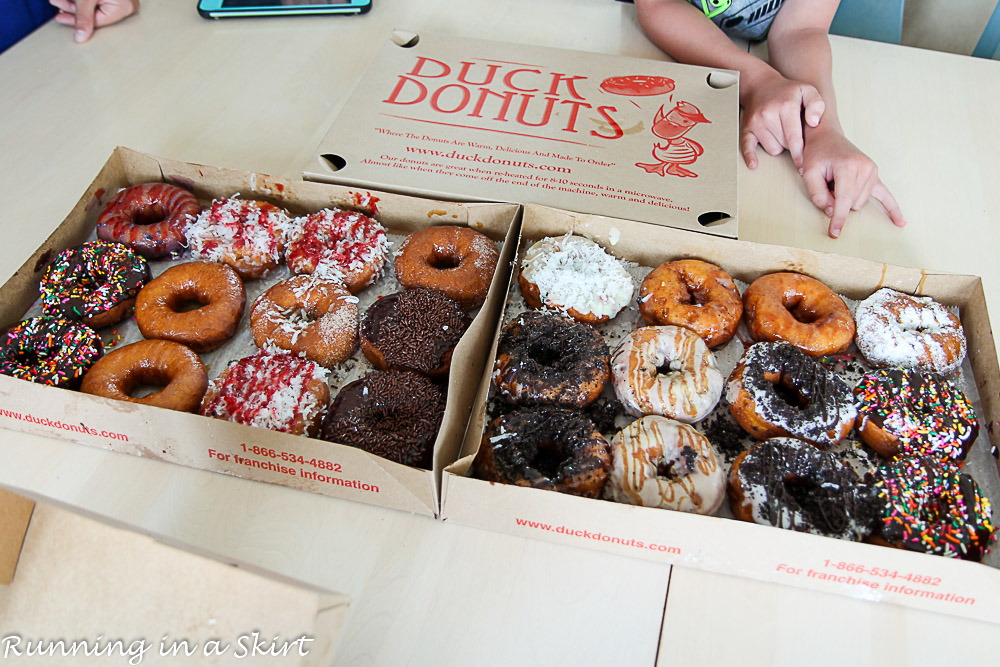 The whole concept of mixing and matching toppings is a lot of fun and the actual donuts were some of the best I've ever had. So even if you aren't a huge donuts fan like me, I still recommend a visit.
Family Outings
We went out to dinner a few times as a family, including to this super kid-friendly shark themed restaurant. The kids had a blast!
Aren't they all freakin' adorable? And can you believe how big Owen is?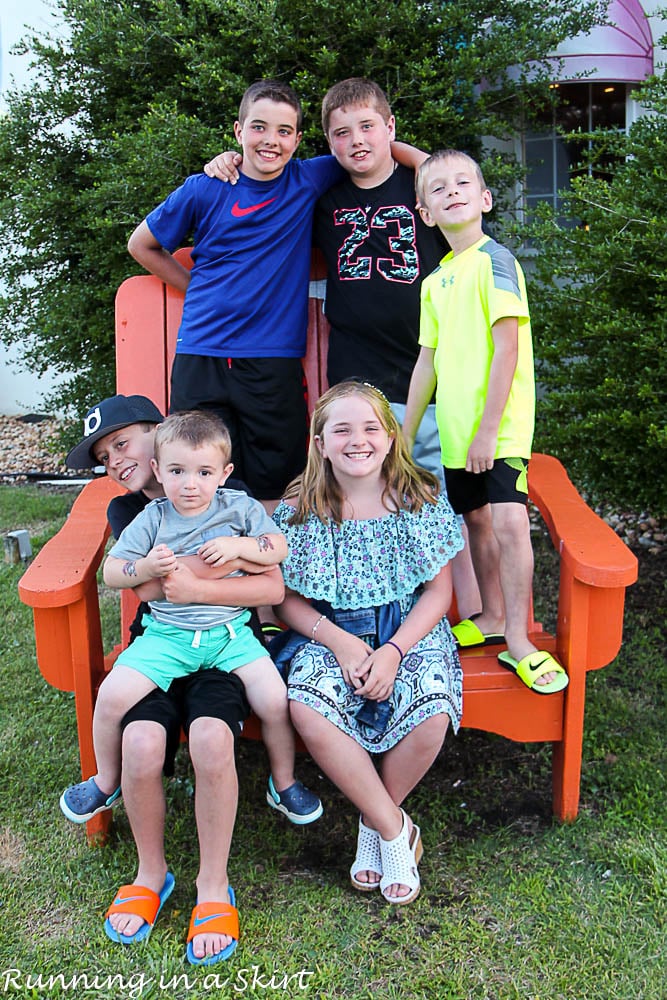 Probably the most fun family outing was Put-Put Golf! Gatta love those summer nights. Cue the music...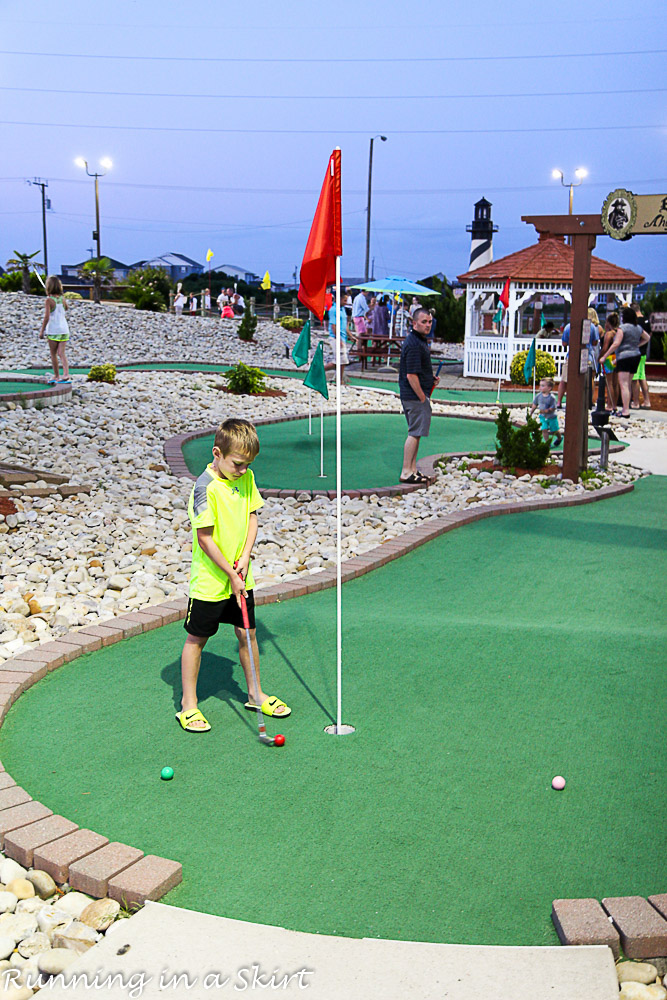 Triple D Restaurant
My Father-in-law, the Hubs and I have a tradition of visiting a restaurant off the show Diners, Drive-ins & Dives on vacation. I did some searching and found Coastal Cravings, which was featured on the show. It was attached to a gas station, but was so good!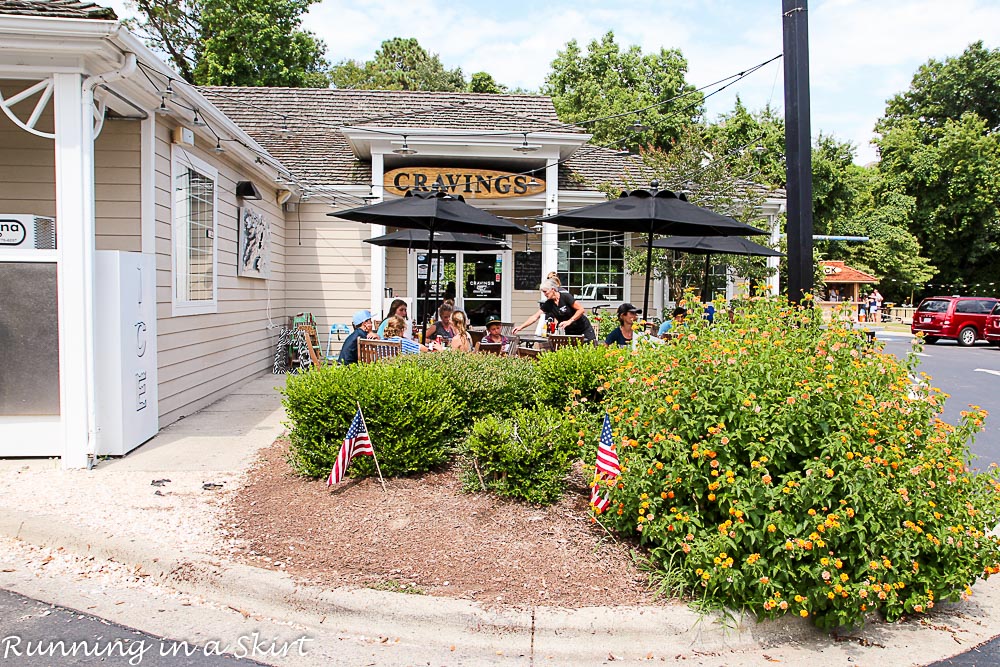 This might have been the best lobster roll I've ever had!
And the crab cake sandwich was legit.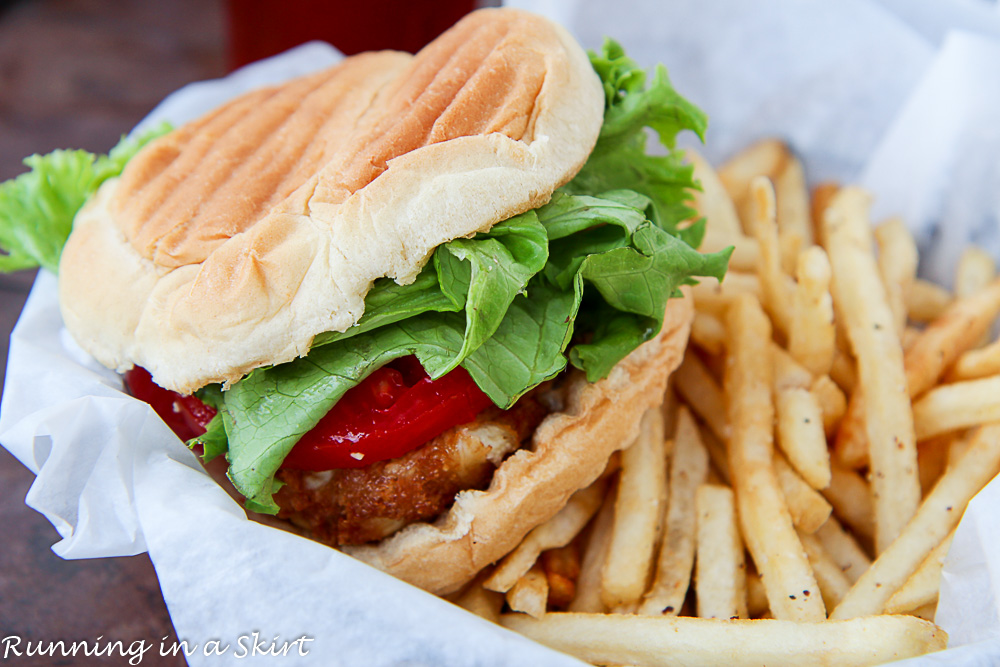 Wild Horses
Ahhhhh!!! I saw wild horses!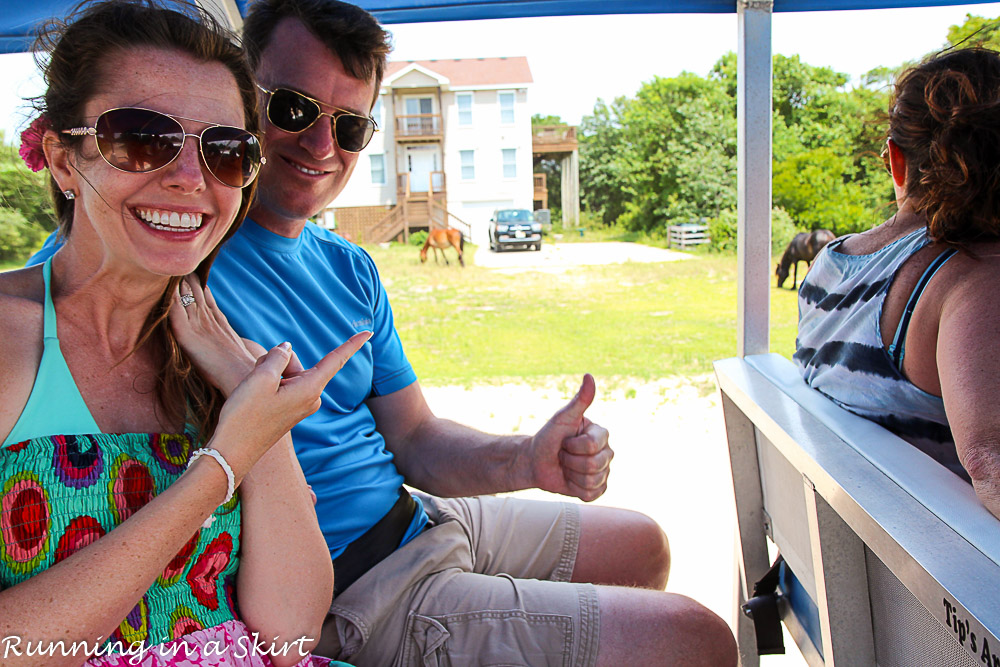 When I got the Outer Banks I learned you had to go out to the 4WD area to see the wild horses. Since I didn't think it was a good idea to "borrow" my Father-in-laws nice, new huge truck to actually go four-wheeling I booked a tour to see the horses.
The Hubs and my sister-in-law Megan came along.
It was like another world in the 4WD area. No roads, just sand, vacation homes and wild horses!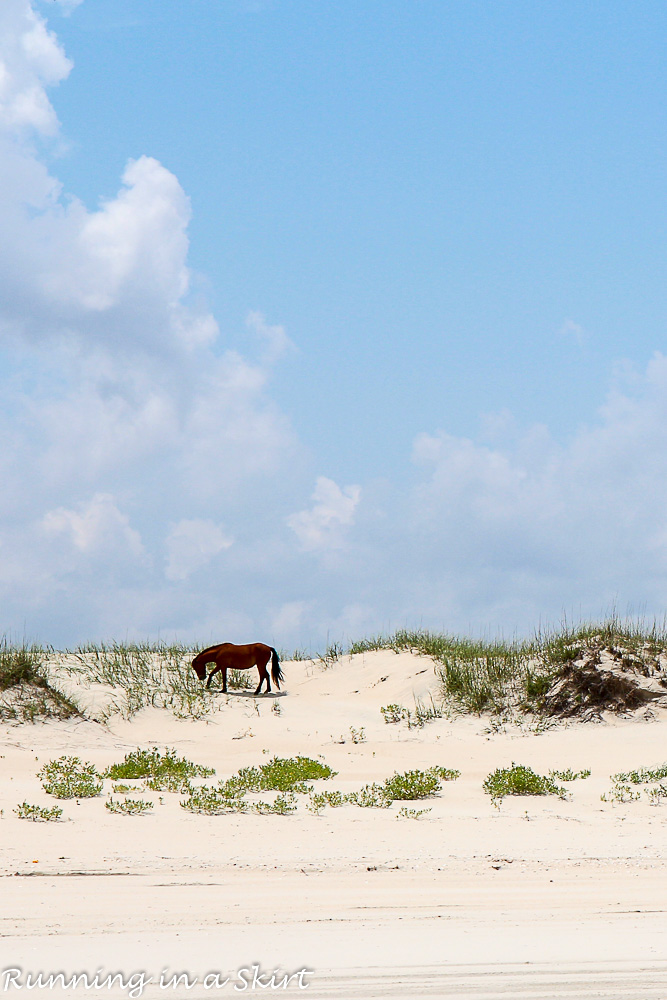 It was like no other place I've ever seen.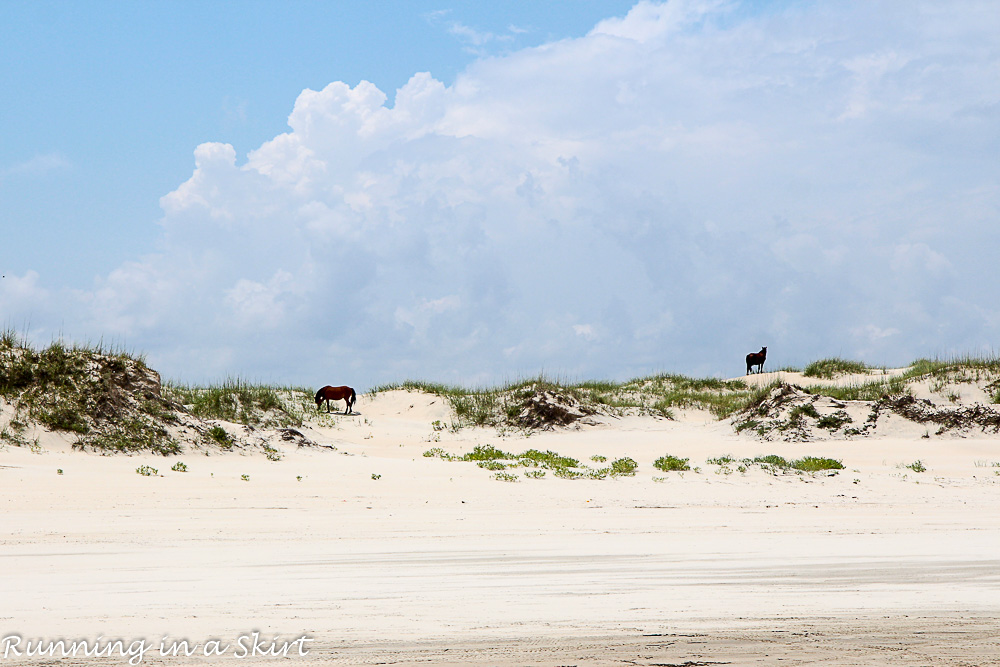 Can you imagine staying in this house with the horses to keep you company?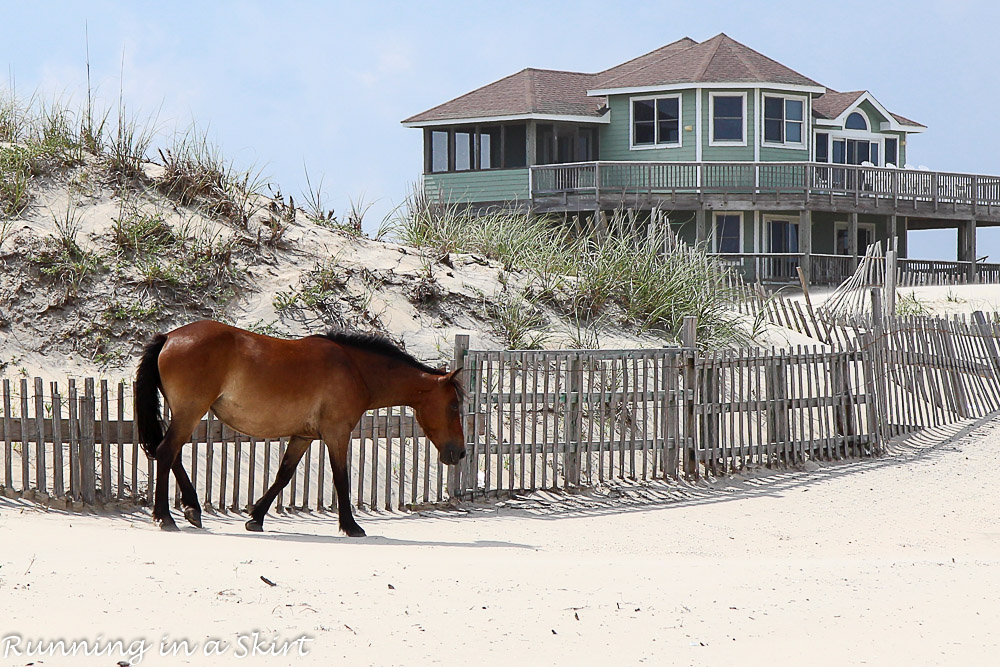 I loved seeing all of the horses and also really enjoyed the landscape in the northern areas.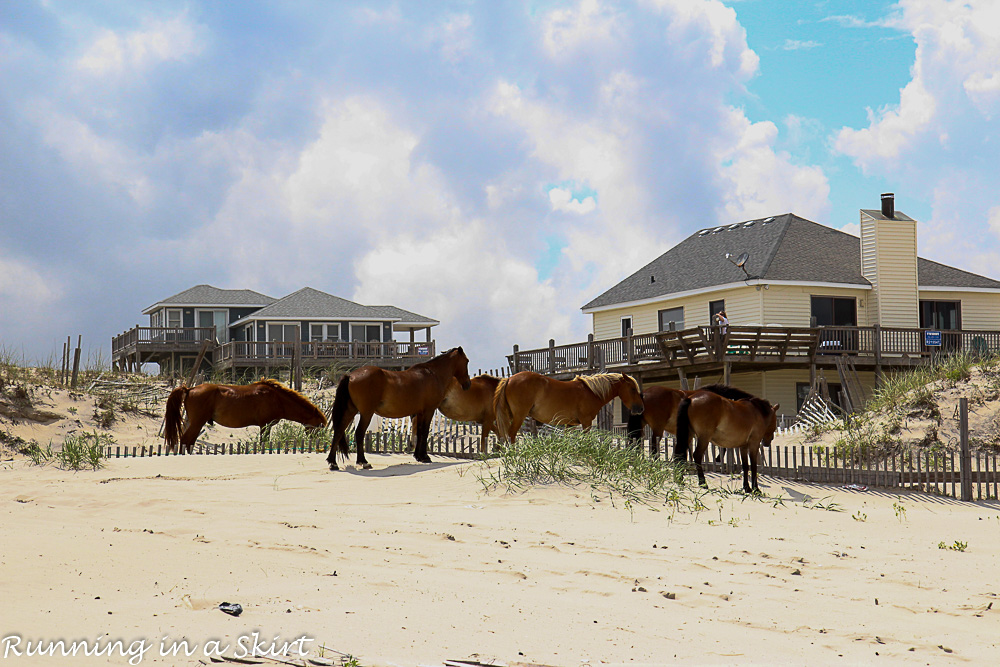 I was a little afraid a tour would be cheesy and a waste of money, but I loved every minute.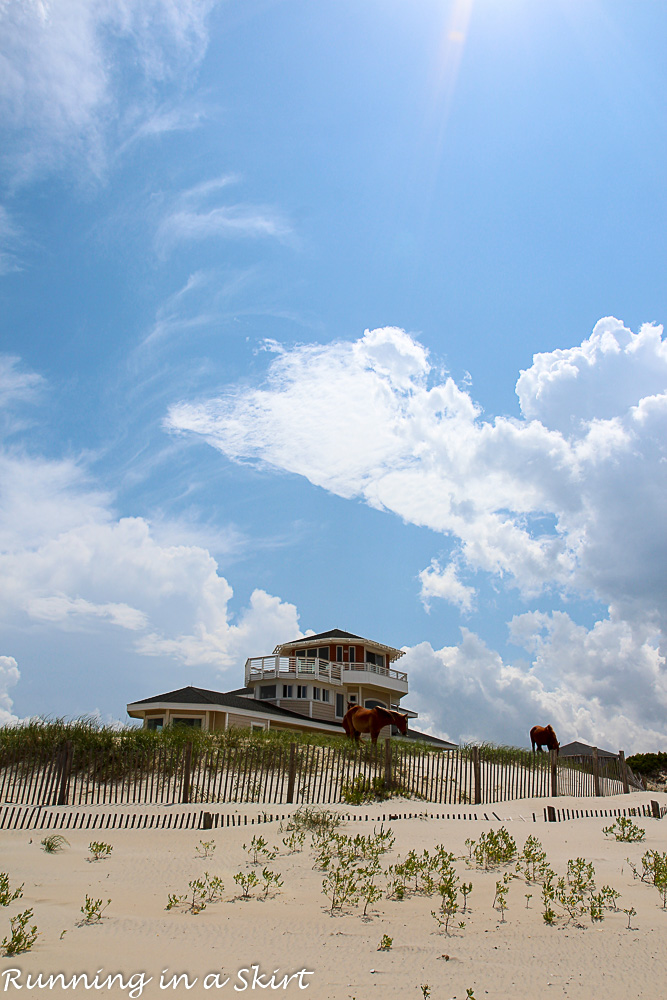 The Hubs and the tour guide had to pull me back on the truck because I wanted to just stay. 🙂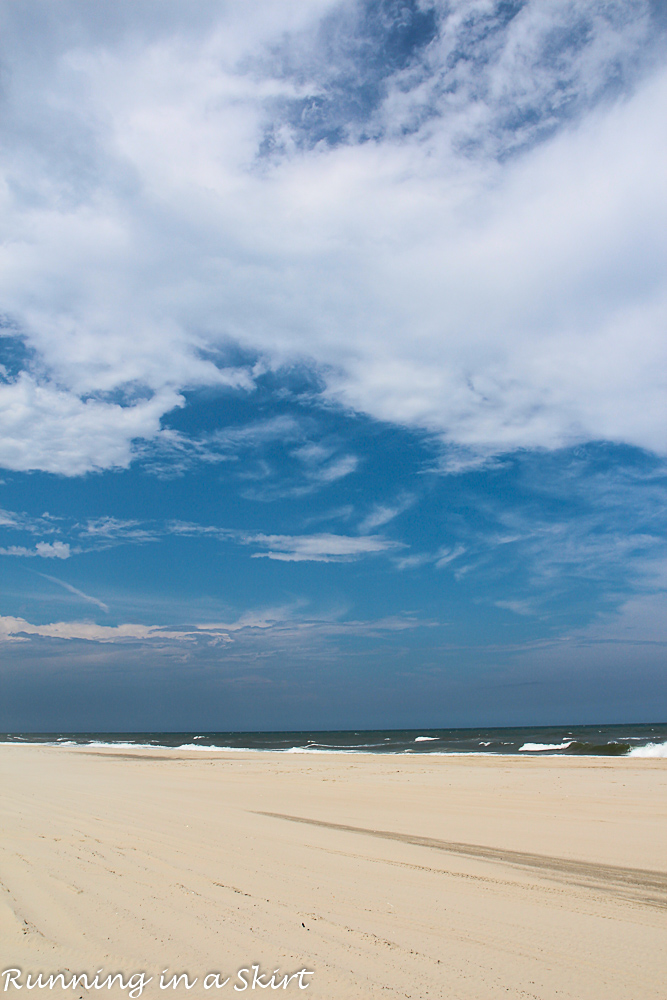 Sadly, we had to cut the trip short due to those giant storm clouds. The beach cleared out, it got crazy windy and started pelting huge stinging rain drops. So needless to say, the ride home wasn't as much fun as the ride out there.... but I'd still say it was worth the trouble.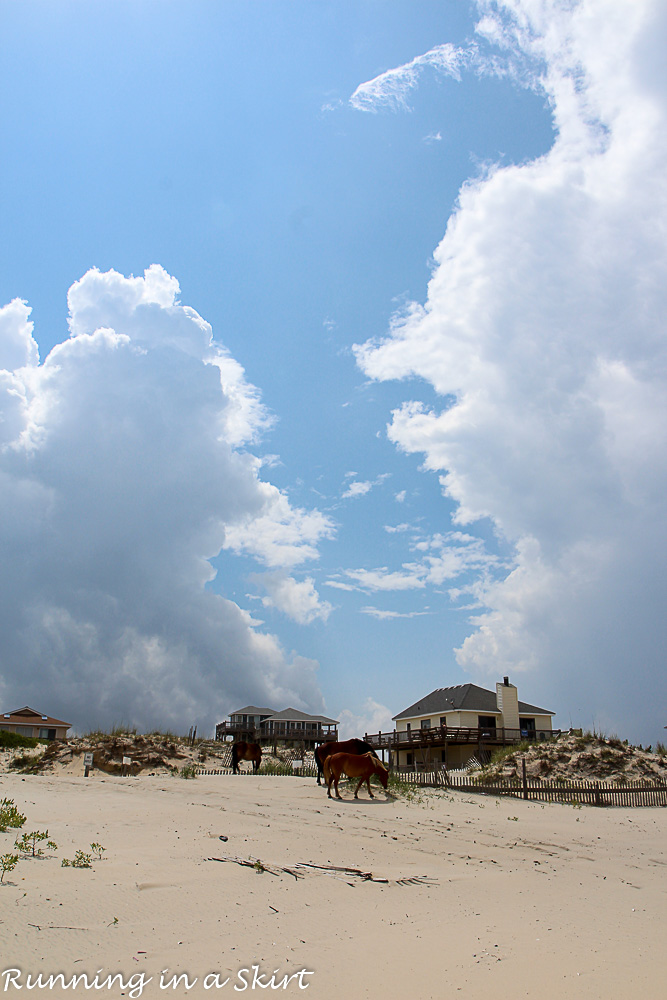 The three of us had a blast!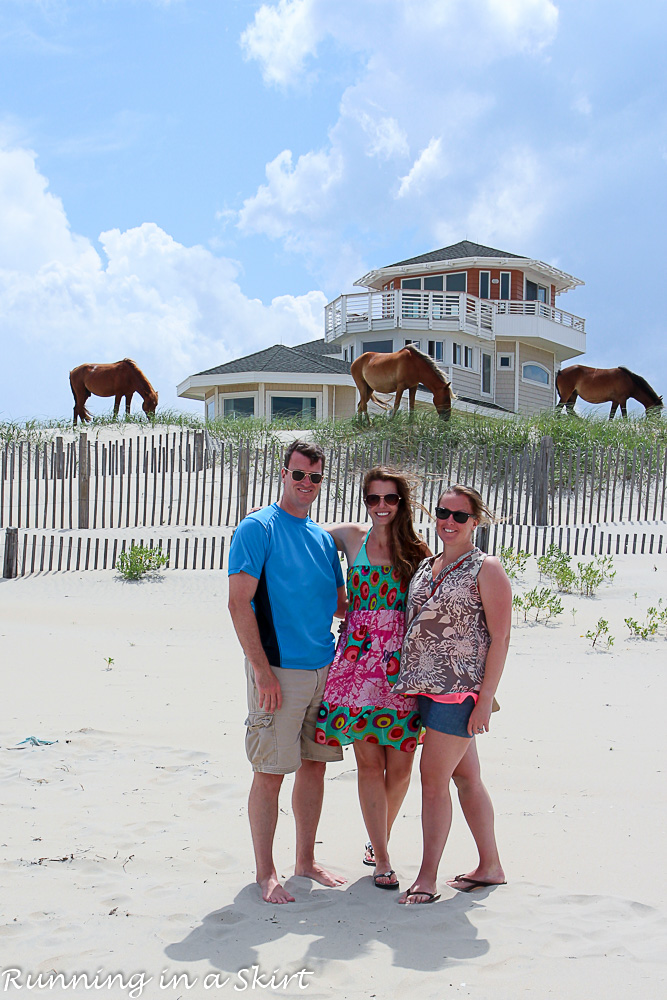 Outer Banks Family Vacation 2016
What a great time with family! It is so hard to get everyone together and we are all so blessed that it just worked out this year. The entire trip came together at the last minute and all worked out so well.
Other highlights include vacation running and a yoga class on the beach with my sister-in-laws. We saw dolphins playing in the water during lunges! Megan loves dolphins even more than I do (which is a lot,) so that was a huge deal for us!
Here's the clan! A little more sun-kissed than when we arrived. 😉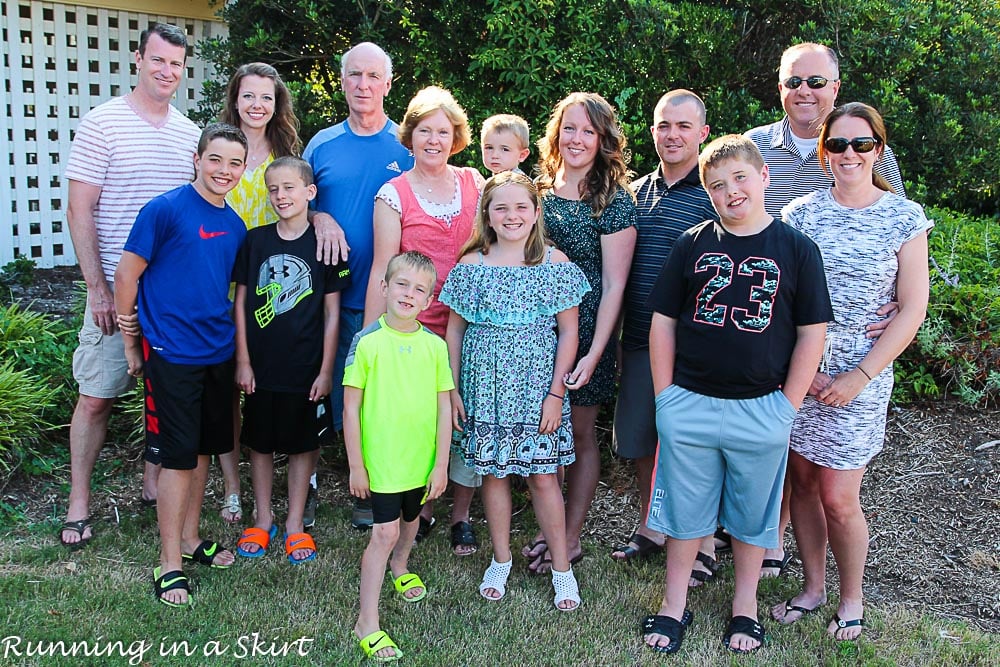 Thank you so much for reading today! See you tomorrow for those delicious stuffed portobello mushrooms.
I'm linking up with: Wanderlust Wednesday, Wanderful Wednesday, Happiness Linkup, Thinking Out Loud Thursday & City Trippin.
Your turn!
Have you been to the Outer Banks?
Any summer beach trip plans?