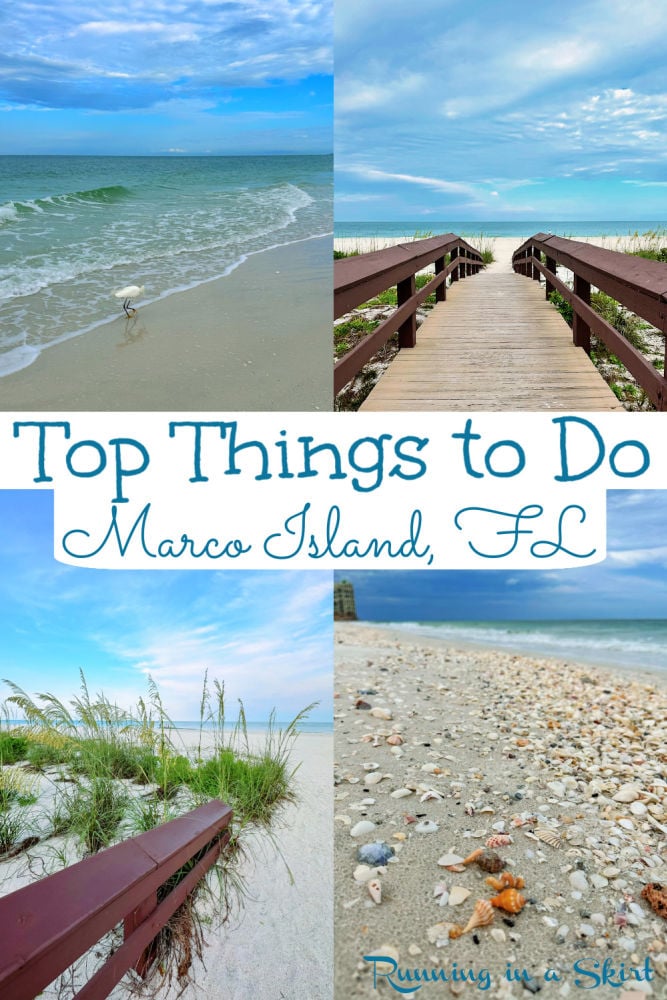 Look no further for the Top Things to Do in Marco Island Florida. This guide covers 30 fun things to do on this island which is the perfect blend of nature and commercialization. From the best beaches, boat tours, shelling, restaurants, and more, this is the ultimate resource to plan your family vacation along Florida's Paradise Coast.
Planning a trip? Also, read my Top 20 Favorite Moments from Marco Island.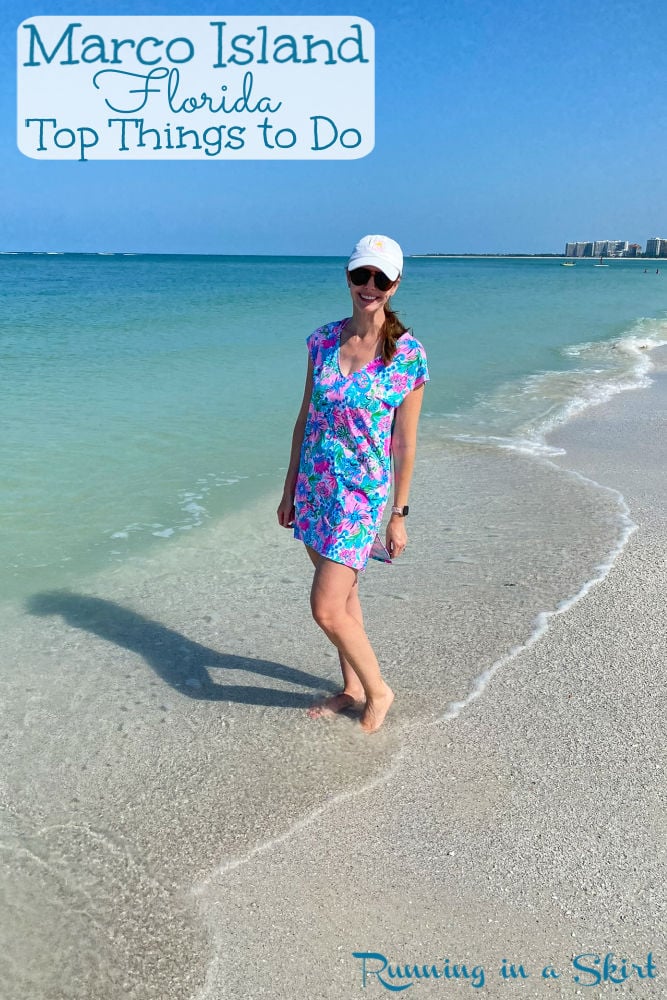 Things to Do in Marco Island Florida
Are you planning a trip and looking for the top things to do in Marco Island Florida? This visitors planning guide has everything you need to know to decide what to do on your trip. From gorgeous beaches, boating, excellent fresh seafood, cute boutique shops, fishing, and more, this sun-drenched island has something for everyone. Whether you want to spend the day just relaxing on the 6 miles of white sand beaches or staying active and exploring nature, this island has you covered.
If this island isn't on your bucket list, it's time to add it!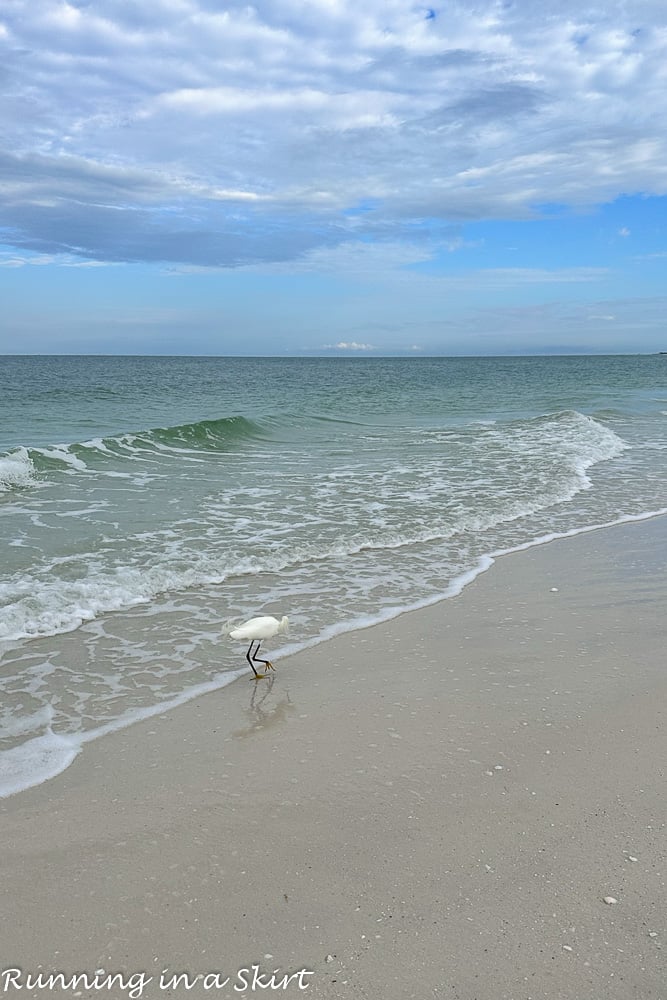 All About Marco Island Activities
While nearby islands like Sanibel and Anna Maria offer more old-school Florida vibes, Marco Island gives your more of a glitzy retirement community vibe. It's developed with bigger roads and high-rise condos lining the beach. That development means the island is filled with restaurants, plenty of things to do, and even fancy resorts. Even with the development though, you don't get that big city on the beach feel like Ft. Lauderdale or Miami across the state. In fact, the entire island is only 24 square miles with an easy-paced lifestyle lacking in bigger cities. It's a great combination of a developed Florida beach community that's still retained some small-town laid-back charm. It's also still a nature and boaters lover paradise if you know where to go and can look beyond the condos.
There are so many things to do in Marco Island, it's hard to decide where to start!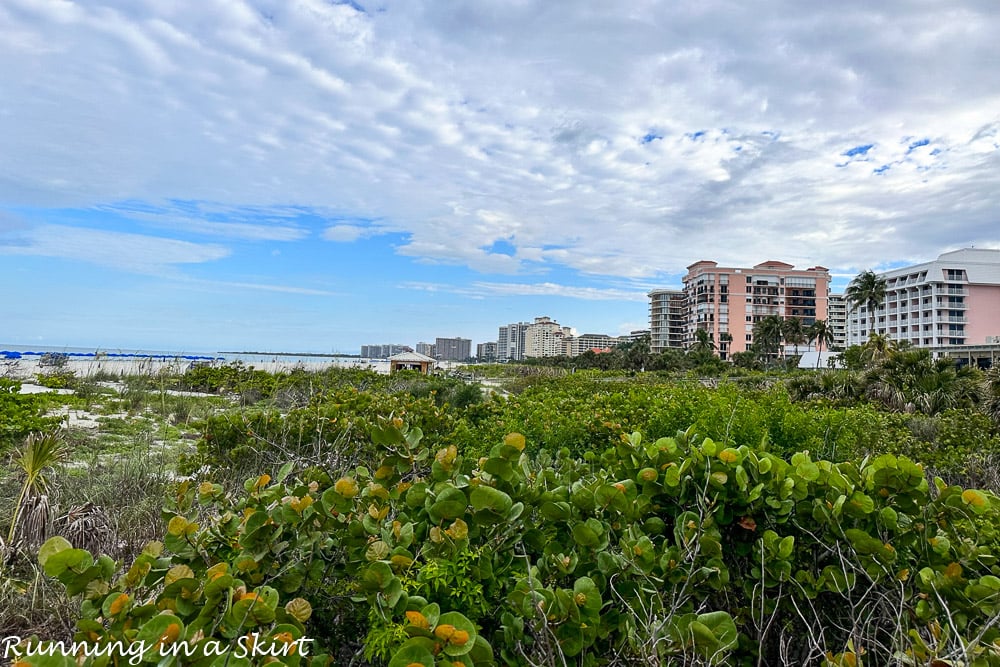 Where is Marco Island?
Marco Island is in the Southwest corner of the Gulf Coast of Florida. Naples is 15 miles north and Everglades City is just 30 miles South. Part of its charm is you have easy access to both Naples and the Everglades staying in Marco. It's the largest of Florida's Ten thousand Islands which means it's surrounded by small undeveloped islands.
If you are flying to the area, the closest airport is the Southwest Florida International Airport (RSW) which is in Fort Myers, FL. RSW is 47 miles north of Marco and it takes about 55 minutes to drive there.
What is Marco Island Known For?
Marco Island is known for its gorgeous crescent-shaped beach, 100 miles of waterways, and its year-round hot weather that's perfect for visiting even in winter. Beach lovers adore it for its white sand, shell-lined beaches, and chill, laid-back vibe. Retirees and snowbirds flock to the island for these reasons, but it's also popular for vacationing families.
Since it has a tropical climate that stays warm in the winter, its high season is in the winter months where the 15,000 population of the island can swell to nearly 35,000 people.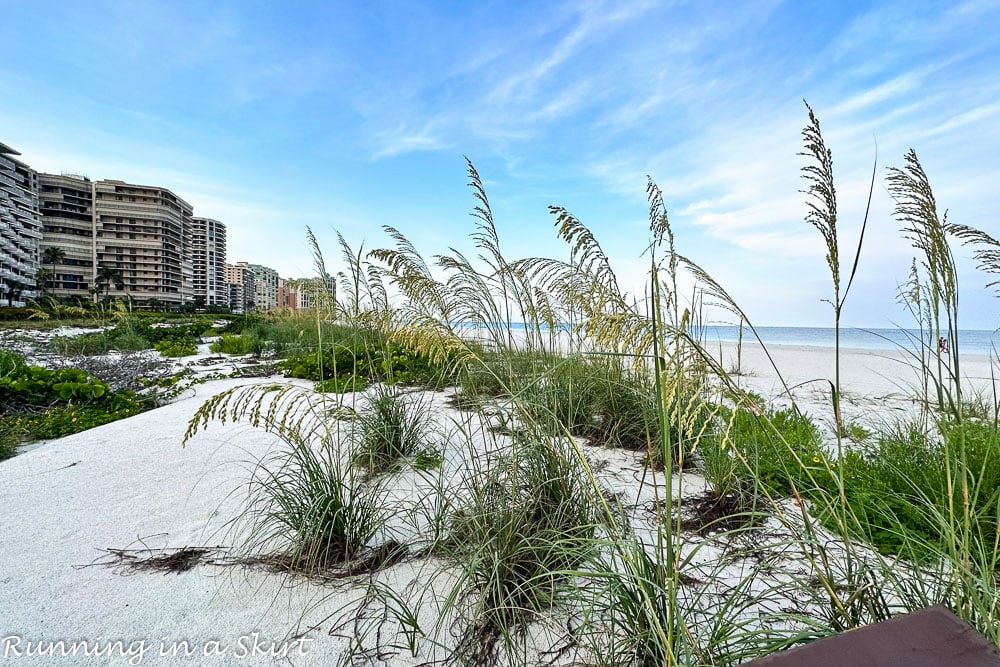 Things to Do in Marco Island Florida
Marco Island Beaches
Visiting the 6-mile, crescent-shaped beach on Marco Island is one of the top things to do in Marco Island Florida. In fact, I'd say this world-renowned stretch of sand is the single reason most people visit the island.
Marco Island beaches are consistently ranked some of the best in the world and for good reason. You can't beat this gorgeous stretch of sand. The water isn't quite as clear as the Bahamas or Key West, but it is still a very nice emerald green color.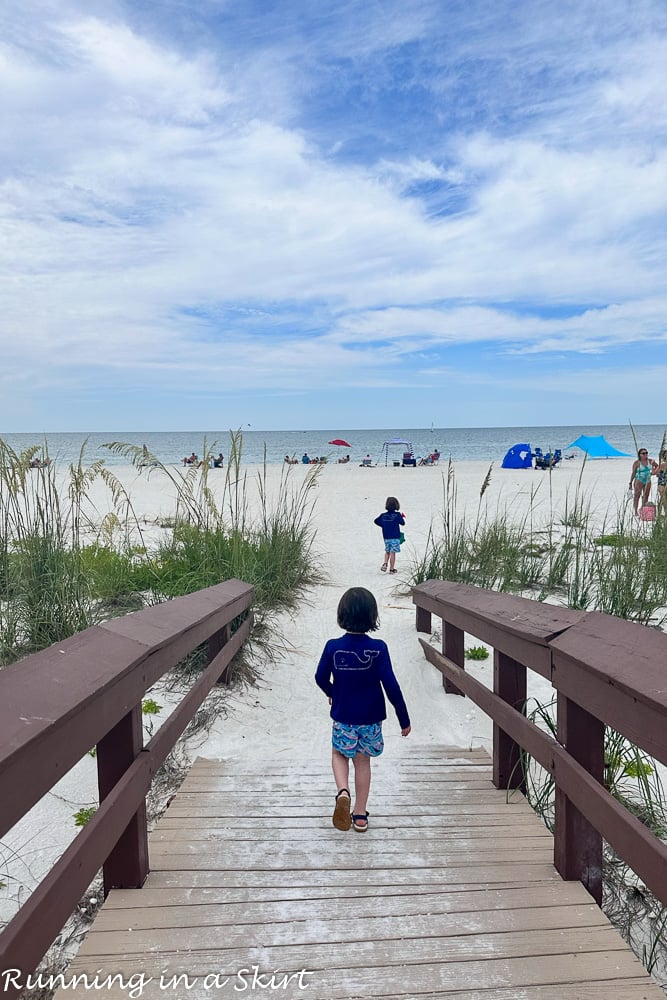 Since there are only two public beaches, the best way to enjoy the beach is to stay at a beachfront resort or rental so you can have private access to the beach.
However, you can still go to the public beaches on the north and south ends of the island. The public beach on the north side is Tigertail Beach, which I have more information on below. The most convenient public beach is South Marco Beach which has a public parking lot at Swallow Avenue. Public parking is $8 per day. The walking path leading to the public beach is between Apollo Condominiums and Cape Marco. There are restrooms and chair rentals too.
Tigertail Beach is natural too, but it requires a much longer walk to get access.
There are also two other Marco Island public beach access points, but neither is great if you need parking. You can access the beach between the Royal Seafarer and the Madeira Condominiums at 350 South Collier Blvd. There is no parking here, making it tricky, so you will need to walk, ride a bike, or get dropped off.
There is also access near the Marriott Vacation Club off South Collier Blvd. The sidewalk is between the Charger Club and Vacation Club. The nearest parking is at the Turtle Lot Parking on South Collier Blvd. It is located at the corner of South Collier Blvd and Valley Avenue.
Make sure to check out the latest information on Marco Island Public Beach Access before you go.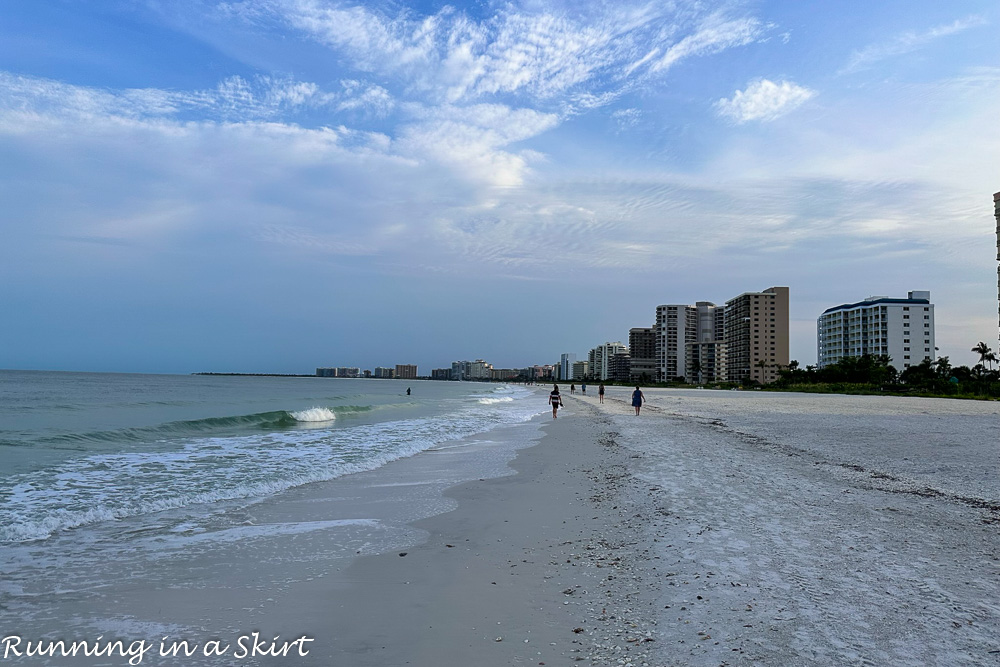 Shelling
Marco Island is known for its world-class shelling. You can easily just walk the beaches and find shells lined up along the coast like this. You can also take shelling tours to nearby islands including one of the best shelling beaches in Florida.
Whether you are a shelling fanatic, or just love casual beachcombing, this is one of the best spots in the world for shelling. You can even find the famed Junonia shell. I found two Alphabet Cones on our trip.
If you are interested in shelling make sure to pick up a shelling bag, net, and shovel before you go.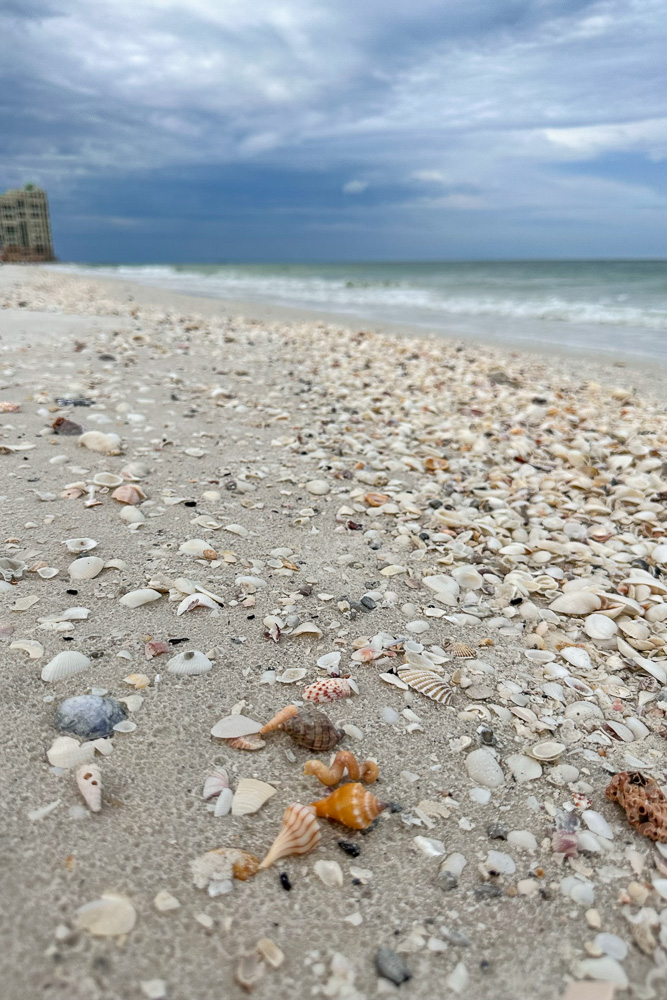 Visit Tigertail Beach and Sand Dollar Spit
Tigertail Beach Park is one of only two public beaches on Marco Island and is very unique. Because of that, it's one of the top things to do in Marco Island Florida. It's an unspoiled beach on an island whose beaches are nearly entirely developed. The beach area consists of the beach itself and a lagoon that you have to cross to get to the beach. To get to the actual beach you either have to take a half-mile walk or cross the lagoon which is about waist-high during high tide. Sand Dollar Spit extends away from the beach. For an easier crossing to the beach, visit during high tide.
The beach has chair rentals, tables, grills, playground restrooms, and more. You can also rent paddleboards and bikes.
There is also a public parking lot with rates of $8 a day.
10,000 Islands National Wildlife Refuge
Marco Island is just one of the Ten Thousand Islands which are barrier islands that run along the coast. The refuge sits on 35,000 acres of protected land. Getting out on the water and exploring this area is one of the most magical things to do in Marco Island. There are mangroves that are home to lots of fish and animals. You can either go on a boat tour, rent a boat, rent a private boat charter, or even go out on a kayak. You can stay in the boats to see the islands or even get out and explore the beach. This is a must-do while visiting Marco Island as the unspoiled nature is a breath of fresh air from the developed island.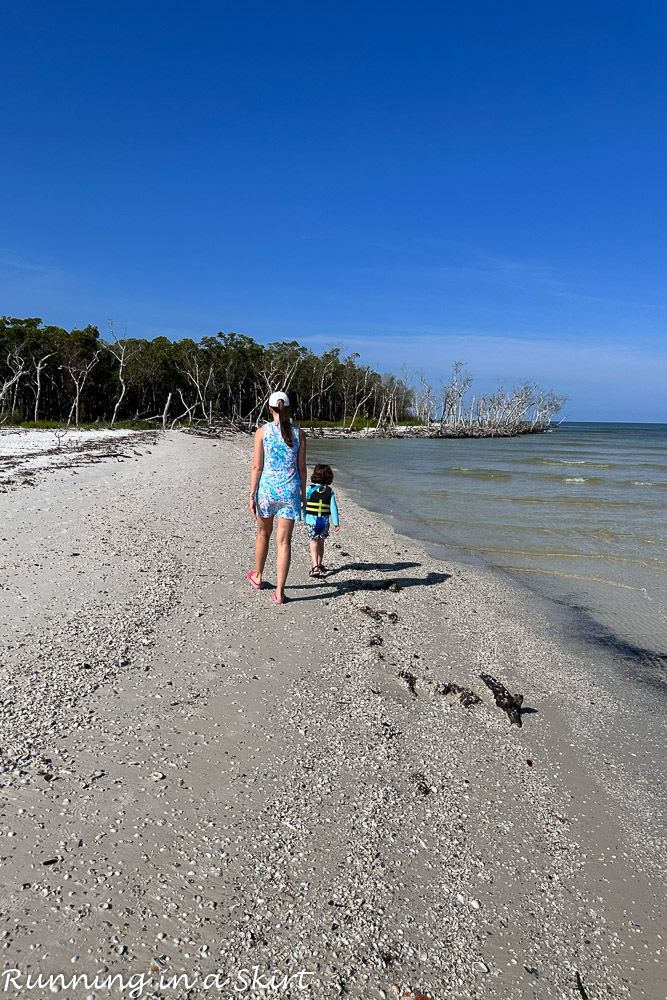 Keewaydin Island
Here's another one at the top of the list of things to do in Marco Island. Keewaydin Island is one of the most well-known of the 10,000 islands and is only accessible by water. You can go via private boat or the Hemingway Water Shuttle which departs from Rose Marina. There are no facilities on the island, but the remote nature is why it's so charming. You'll find a gorgeous beach, shelling, swimming, and more. And while there are no facilities on the island, there are a few boats that are food and drink vendors that dock along the shores on popular days.
Dolphin Tours
Watching dolphins frolic in waves is another favorite activity. This area of the Gulf of Mexico has resident dolphins who frolic not only along the coast but around the Ten Thousand Islands Wildlife Refuge. There are lots of dolphin tours that focus on taking you out into the refuge to see the marine animals in the wild, or you can rent a private boat with a captain to explore with your family. Here are a few of the tour companies.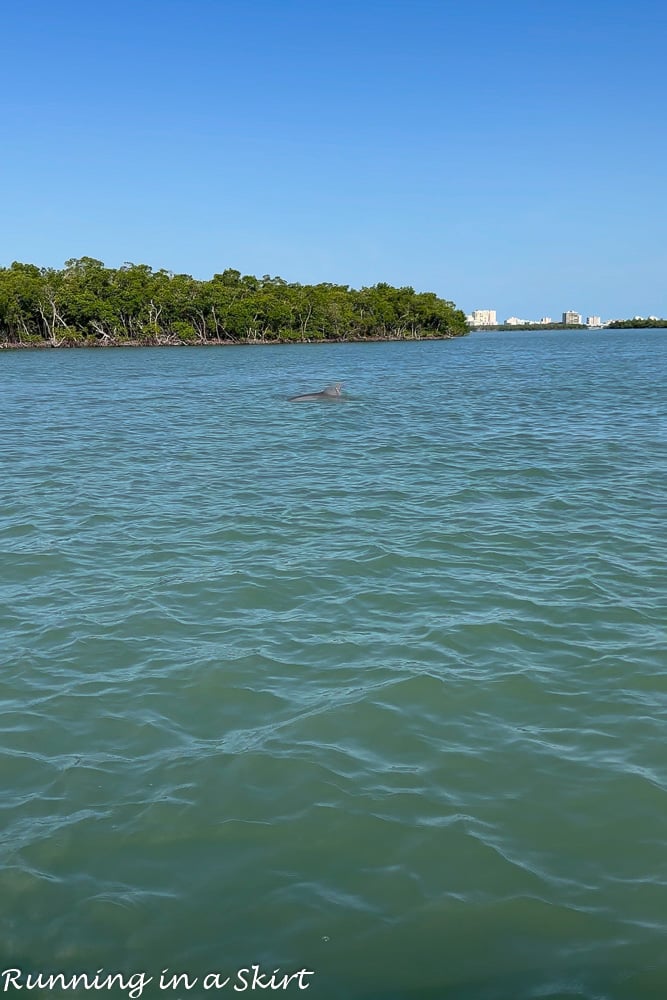 Take a Private Boat Tour or Fishing Charter
One of the more popular things to do in Marco Island is to book a private boat tour. The marsh waters surrounding Marco Island can be tricky to navigate if you aren't an experienced boater, so renting a private boat tour can be a great way to see the area. The private boat tour can take you to see dolphins, go shelling on the small undeveloped islands, see Keewaydin Island, and explore the Ten Thousand Islands National Wildlife Refuge. There are different size boats, which became a great activity for families of all ages.
You can also take out a fishing charter for full or half days catching everything from grouper, snapper, cobia, tuna, tarpon, and king mackerel.
We did this and had a wonderful experience with Island Excursions. This was my favorite thing we did on Marco Island and I highly recommend this company.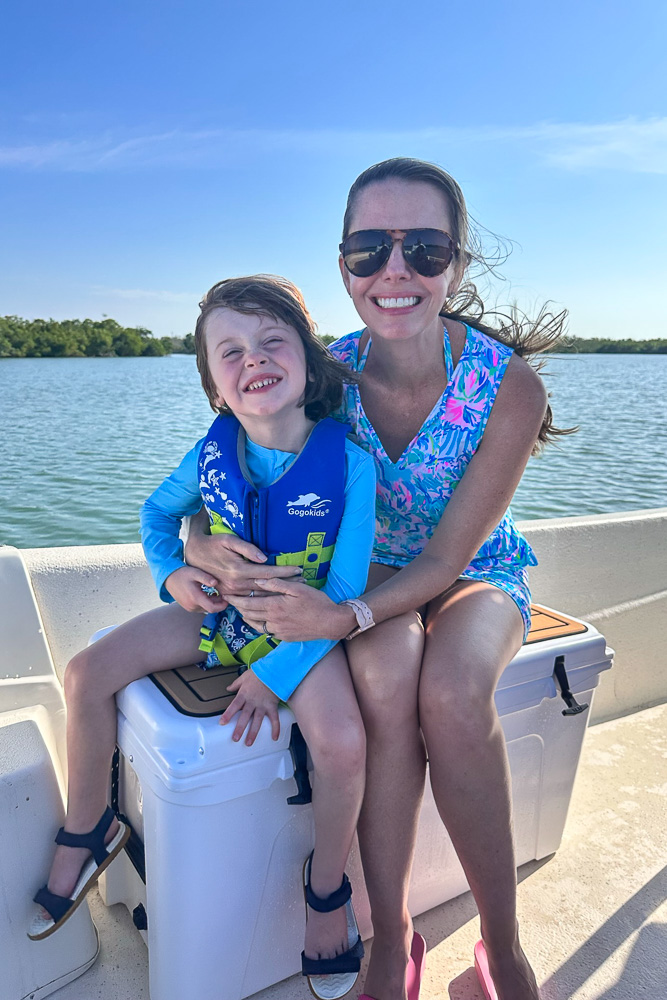 Swimming
With the nearly tropical climate in Marco Island, it can get downright hot! That makes swimming and hanging out in pools one of the top things to do in Marco Island. Most condos have at least one swimming pool to cool off in the heat!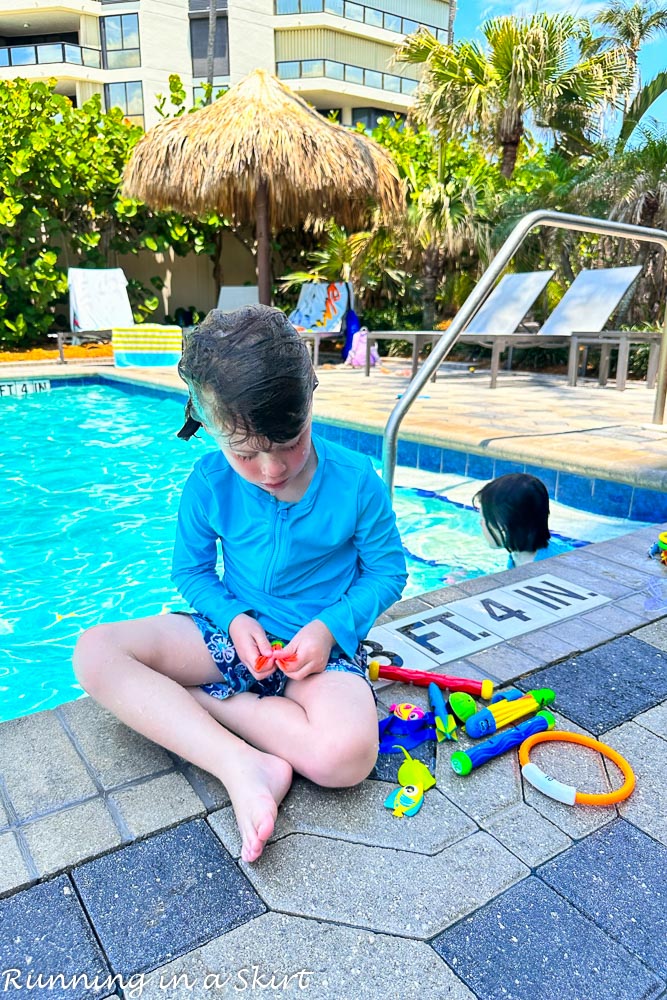 Watch Sunset
With its prime west-facing location, watching the sunset is at the top of the list of things to do in Marco Island. You can catch the sunset anywhere along the ocean of the island or even take a sunset cruise. Here are a few popular options.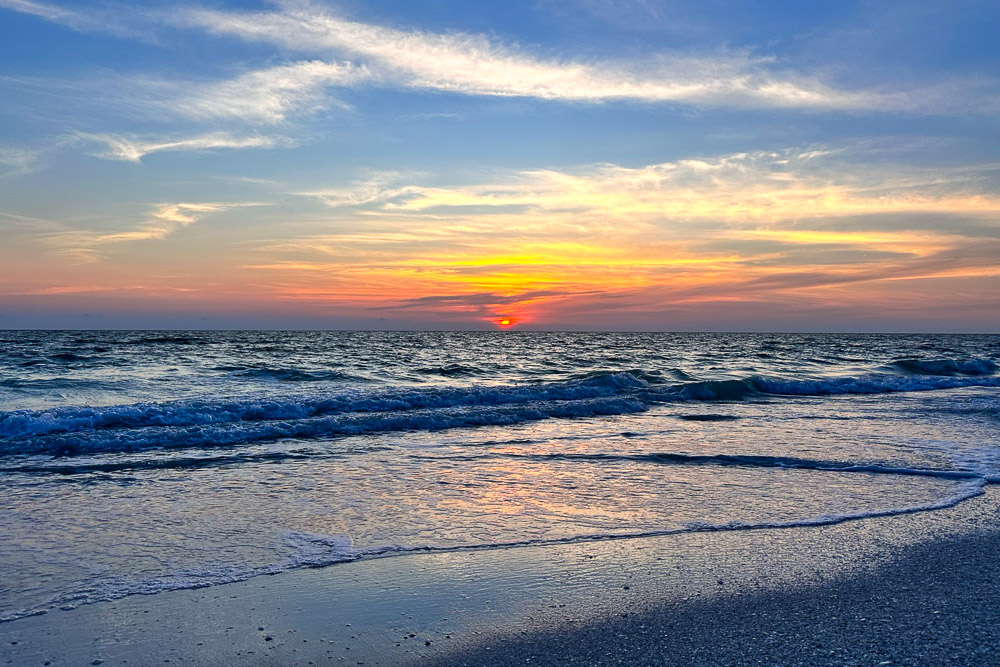 Marco Island Farmer's Market
The Marco Island Farmer's Market is fabulous and is a great addition to the best things to do on Marco Island. The Farmer's Market runs every Wednesday from 7:30 AM to 1 PM at Veteran's Community Park. It only runs in the high season from November to April. It's a great spot to pick up local fruits, vegetables, flowers, and food like baked goods, jellies, cheeses, pickles, and olive oils that are grown or produced in the area. There are also some crafts like handmade jewelry!
The market does not allow plastic bags so bring your own reusable bag or purchase one when you get there.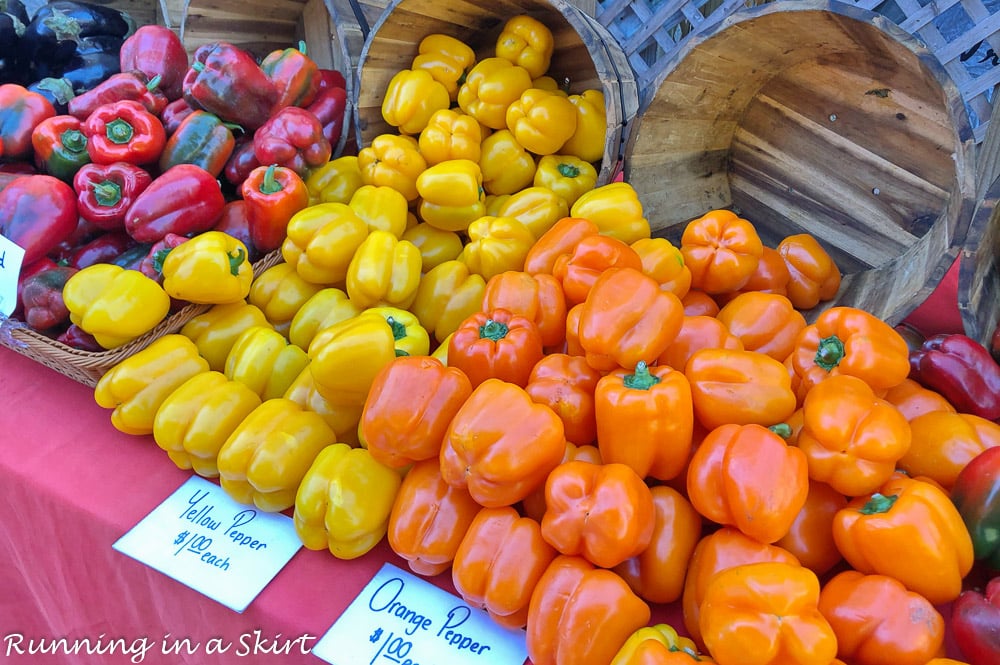 Otter Mound Preserve
Looking for a land-based activity on Marco Island? The Otter Mound Preserve is a 2 ½ acre wildlife preserve that has wildlife to see including Florida gopher tortoises, raccoons, armadillos, 57 species of birds, and 127 species of plants. Some folks have even seen a bobcat!
The site also has a rich cultural history and great archaeological significance. The preserve is home to a mound constructed by the Calusa tribe somewhere between 800 and 1500 years ago. Because of that, it's locally known as Indian Hills.
Whether you are a history or nature lover, this is a great spot to add to your trip.
Parasailing, Waverunners, and Banana Rides
Watersports are fun and the top things to do in Marco Island. While Marco Island is a more low-key beach, it does still have some classic beach activities like renting wave runners, parasailing, paddling-boarding, and banana boat rides. If you have kids who want or need some adventure on their vacation this a great activity.
There are rentals at many of the resorts including the Hilton and JW Marriott. Here are two companies that offer rentals including parasailing.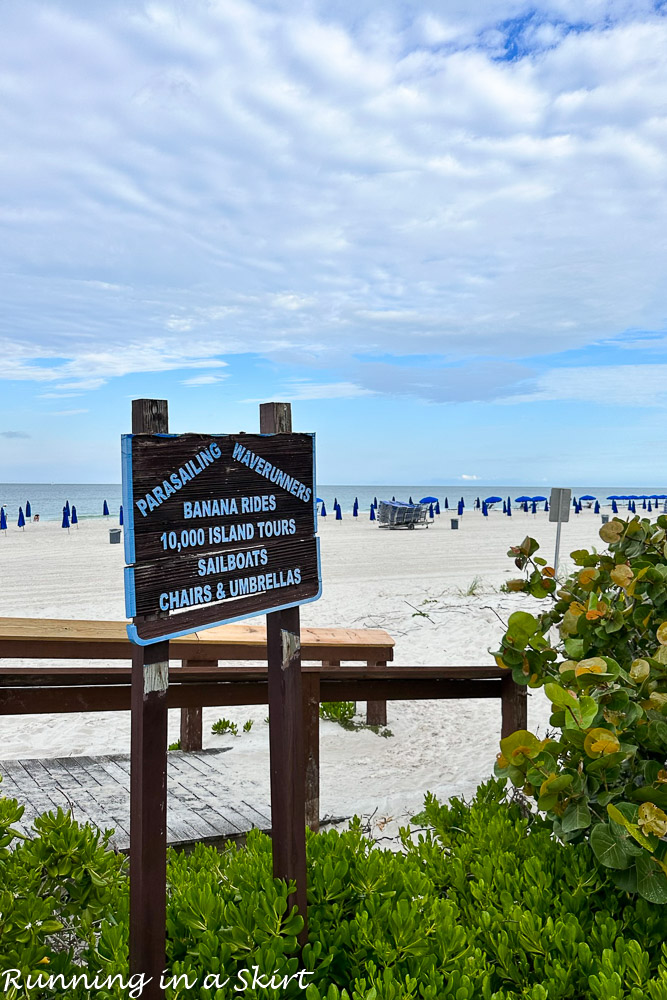 Marco Island Historical Museum
Looking for an indoor activity in Marco Island? Or are you a history buff? The surprisingly interesting Marco Island Historical Museum is a spot to learn about the island which has more history than you might think.
The island actually has a history of Southwest Florida's Calusa Indians. The entire civilization vanished and the museum bring to life the history with a recreated village scene. The island is also famous for the discovery of the Key Marco Cat — one of the most remarkable discoveries in North American archaeology - and the artifacts are at the museum. It belongs to the Smithsonian but is on loan to the museum.
It also explores the more modern-day history of the island as everything from a fishing village, pineapple plantation, and clam cannery. Plus its explosive development in the 1960s by the Miami-based Deltona Corporation.
Marco Island Shopping
While nearby Naples is known for its ritzy and high-end shopping, Marco Island shopping is more filled with charming boutiques and beach-side shops. Most of the shops are concentrated in a few shopping centers listed below. One of my favorite finds from the trip was Beach Daisy, which is in the Marco Walk Plaza.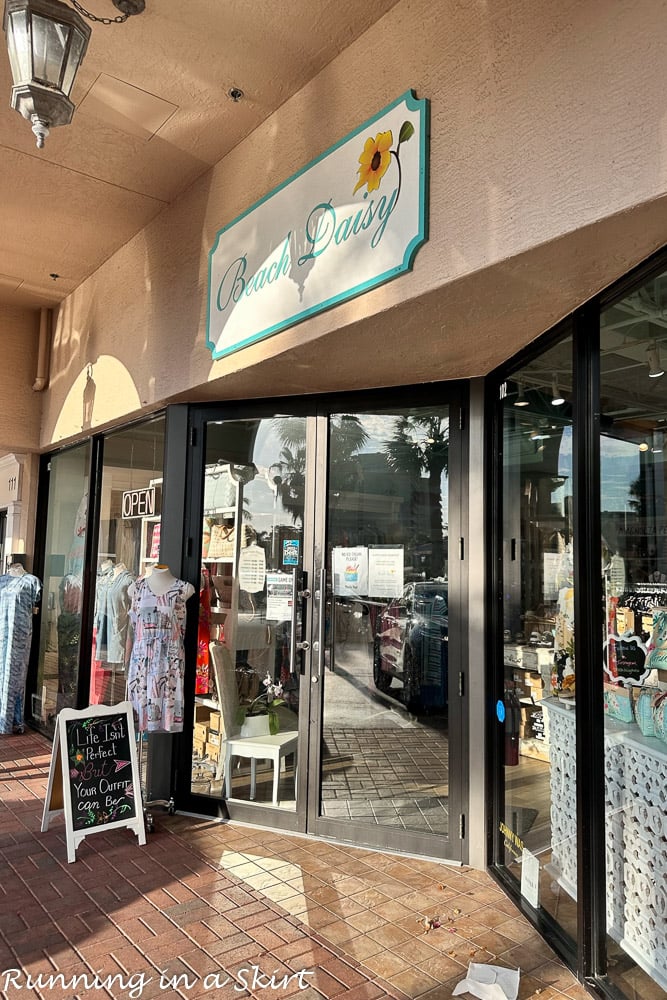 Marco Golf and Garden
Marco Golf and Garden is a great addition to the list of things to do on Marco Island. It's a charming putt-putt golf course that also has tropical garden plants.
If you want an active break from the beach, this is a great spot to enjoy an 18-hole round of mini-golf.
If traditional golf is more your style, there aren't courses on the island but nearby Naples is home to world-class golf. A few popular courses are Rookry at Marco, Hammack Bay Golf Club, Lely Flamingo Island and Mustang Course, Treviso Bay, and Fiddler's Creek.
Watch the Sunset Fire Dancer at the JW Marriott Marco Island Beach Resort
The JW Marriott is one of the most luxurious and luxe resorts on the island and this huge resort has lots to explore and do if you are staying there.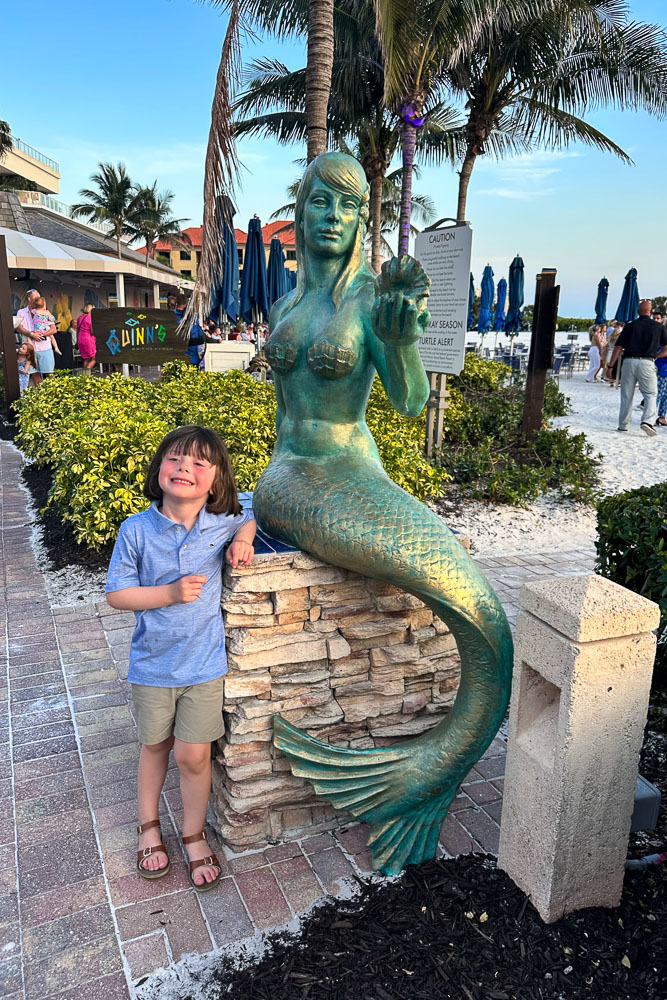 If you are not, book a dinner reservation for Kane's Tiki Bar and Grill before or after sunset and stick around to see the fire dancer that does a performance every night at sunset. He even poses for photos afterward for a tip!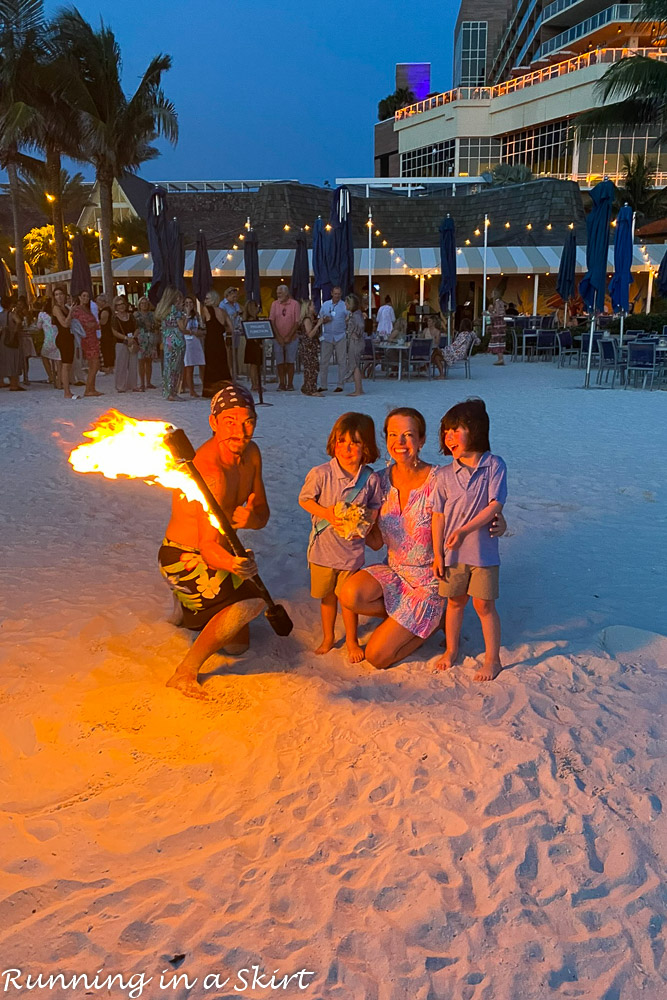 Briggs Nature Center
This spot, Briggs Nature Center, has miles of trails that are dog and kid-friendly. It has lush greenery and is a spot that feels like you are more out in nature and has lots of wildlife like woodpeckers, river otters, bald eagles, snakes, alligators, turtles, and more. There is an elevated 2.5-mile boardwalk that is great for walking.
Dine in Style
Marco Island is full of fabulous restaurants and dining out in style is one of the top things to do in Marco Island. The island is known for its fabulous eateries, many focusing on fresh Florida seafood including grouper. Many offer live music in the high season. I love delicious seafood on vacation and Marco Island exceeded all of my expectations with delicious eateries for breakfast, lunch, and dinner.
These are a few of my favorites, but be sure to check out my post on Marco Island restaurants publishing soon.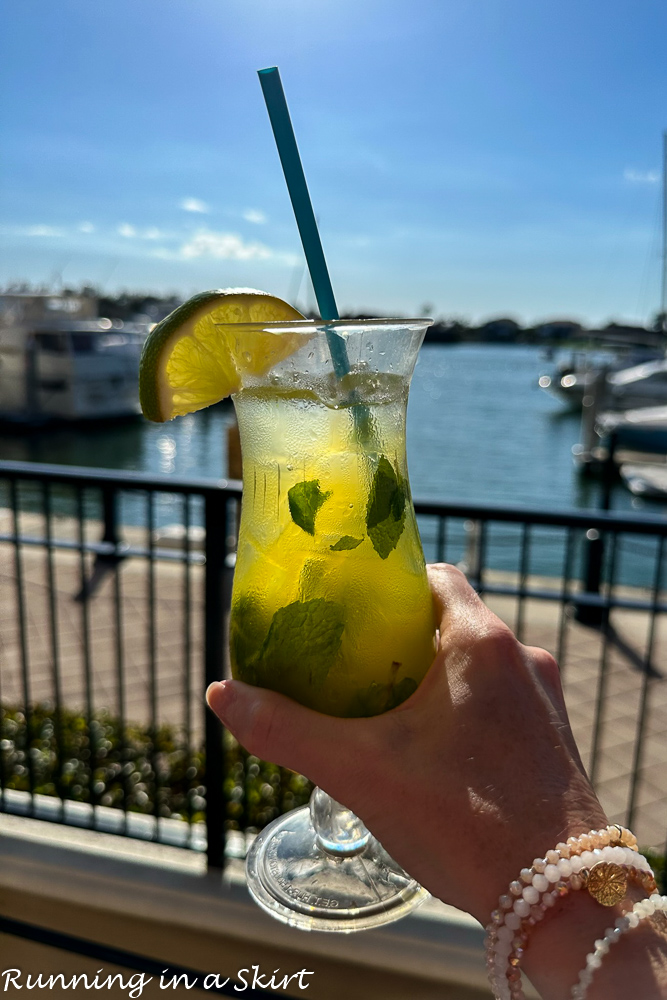 Get Ice Cream
Sweet Annie's Ice Cream Parlour is a classic and charming ice cream shop that is so iconic on Marco Island, it deserves its own spot on this list of things to do in Marco Island. It's one of the original ice cream shops on the island. Check out all of the flavors! They also have candy and toys for the kids.
Visit the Isles of Capri
The Isles of Capri are a nearby island developed on smaller islands adjacent to Marco Island sitting in Rookery Bay. Taking a day trip there is a great place to get a taste of old Florida. Visit the Isle of Capri Marina to rent a boat or eat at one of the charming waterfront restaurants like Isle of Capri Fish House to eat on the sand. This place is a hidden gem and a great break from the more developed Marco Island.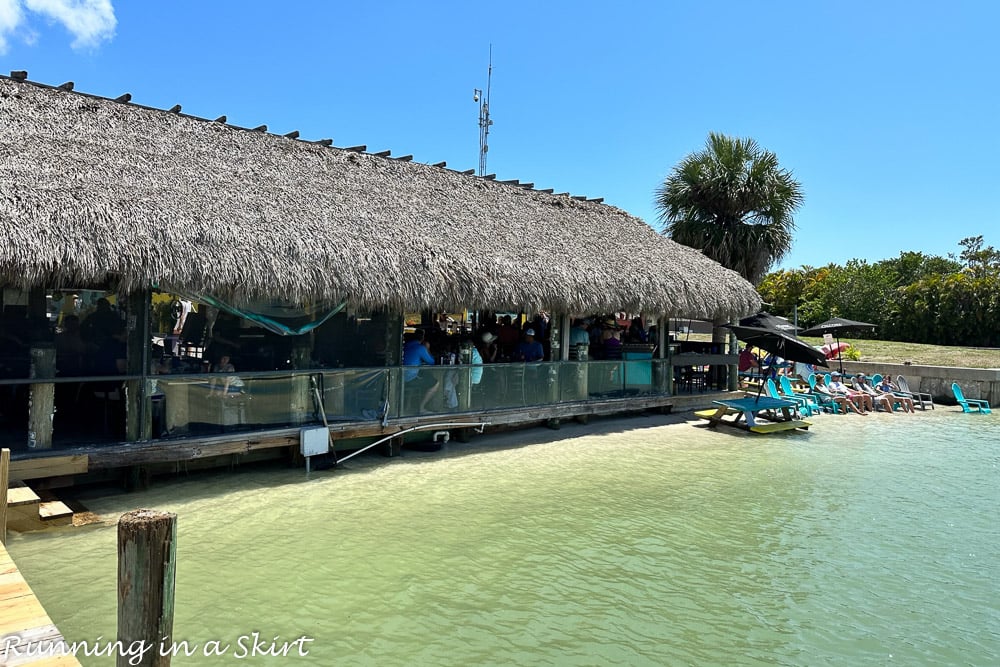 Day Trip to Naples
Visiting Naples is on the list of top things to do in Marco Island because it's fabulous and unique high-end shopping in a beautiful historical city. It's also known for its restaurants, culture, and arts. It's also only about 30 minutes away from Marco Island.
For a great starting point to shop, start at Fifth Avenue South and Third Street South for some glitzy boutiques.
There are also more traditional big city attractions like the Naples Zoo at Caribbean Gardens, Naples Botanical Garden, Golisano Children's Museum of Naples, and The Baker Museum.
Take a Day Trip to the Everglades
Marco Island is actually a great gateway point for visiting the famous Everglades National Park. The best entry point is Gulf Coast Visitor Center in Everglades City.
The park is a fascinating natural park that's remote and wild as Florida gets. The park offers hiking, boating, airboat rides, kayaking, Native American history, and even a few restaurants. There are thousands of plants and animals including alligators and manatees.
It's a combination of tropical wetlands, wild beaches, and the famous sawgrass habitat all combined with Florida marshes. Airboat rides are the most famous thing to do in this area. You can book one here.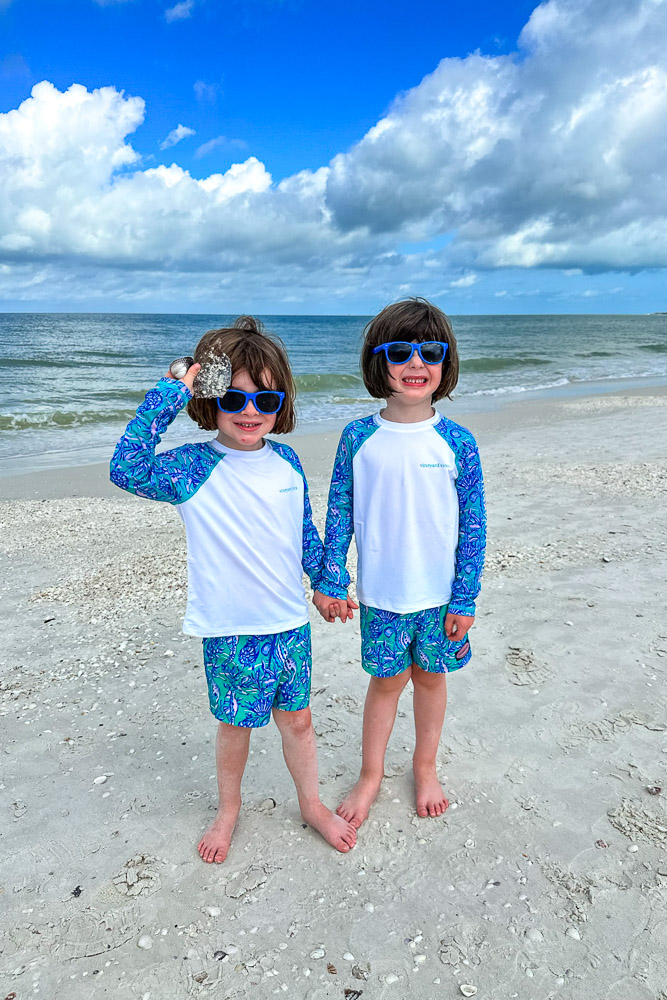 More Things to Do in Marco Island
There are so many things to do in Marco Island, I had to add a few more favorites to try. Some of these are seasonal events!
Marco Island is a Fun Vacation Spot
Marco Island is a great blend of a commercialized beach town and a nature lovers' paradise. If you look beyond the main drag with lots of high rises, you'll be surprised at the lovely and exciting things to do on the island. Whether you want to spend your day on the beach, boating, shopping, or even hiking, this spot has you covered. Plus the easy access to the Everglades AND Naples makes it an even more interesting vacation destination.
I normally venture to less-developed beach towns, but I found Marco Island to be such a lovely vacation spot. With its warm sunny skies, glitzy restaurnt options, dive bars, and gorgeous beaches, plus expensive boating opportunities, I quickly learned why this island is one of the more popular vacation destinations in Florida! I am now a Marco Island believer.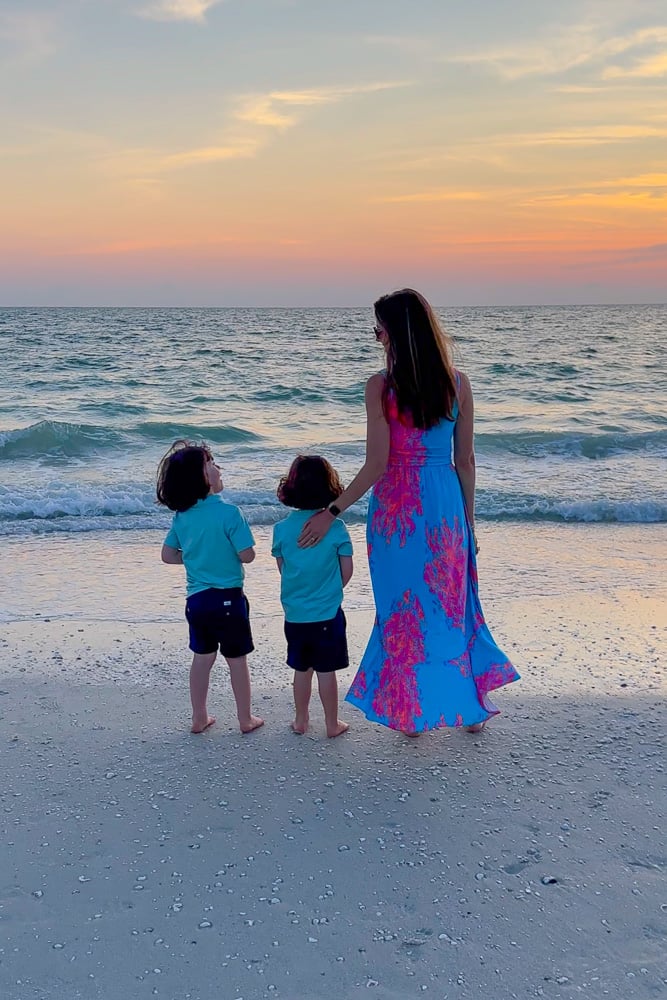 FAQ
Which is better Maro Island or Sanibel?
I have spent time on both islands and I can honestly say they are both lovely, fabulous places. They have some similarities but are also very different. I think it depends on what you like as to which island you would prefer. They both have great year-round climates, and gorgeous sunset views, have pretty beaches and they both have great shelling. Marco Island has more high-rise large condo buildings lining the beach, a large main paved road with stop lights, and more high-end restaurants in strip malls. There are also a few very large high-end resorts. It's much more developed and has more of a small-city vibe. The beach on Marco Island is wider and overall a bit nicer.
Sanibel Island has more of a small-town vibe with a single, 2 lane road and no stoplights. All the development on the island is further off the beach and limited to 3 stories high. There are no large chain resorts. The restaurants are still amazing but definitely smaller with more of an independent feeling. It's more laid-back and chill without nearly as much development. The beach is still very nice, but not as wide as Marco Islands. And of course, now, they are still recovering from Hurricane Ian.
I personally prefer Sanibel Island but honestly, you can't go wrong vacationing in either spot.
Can you walk around Marco Island?
Yes! If you are staying in the main tourist strip there are lots of sidewalks to walk to nearby shopping centers and restaurants. It's very walkable in that area. However, if you need to go to the grocery store of travel to the other side of the island, you'll probably want a car.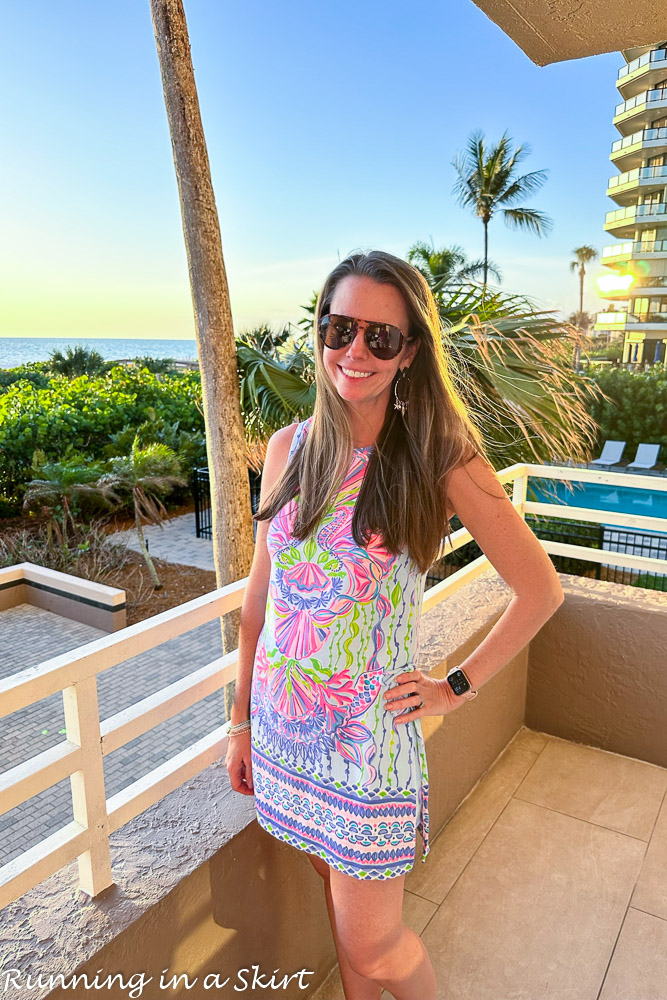 More Beach Town Travel Guides:
Pin for later: