Who needs a pot of gold when you have a totally delightful Rainbow Green Smoothie Bowl recipe?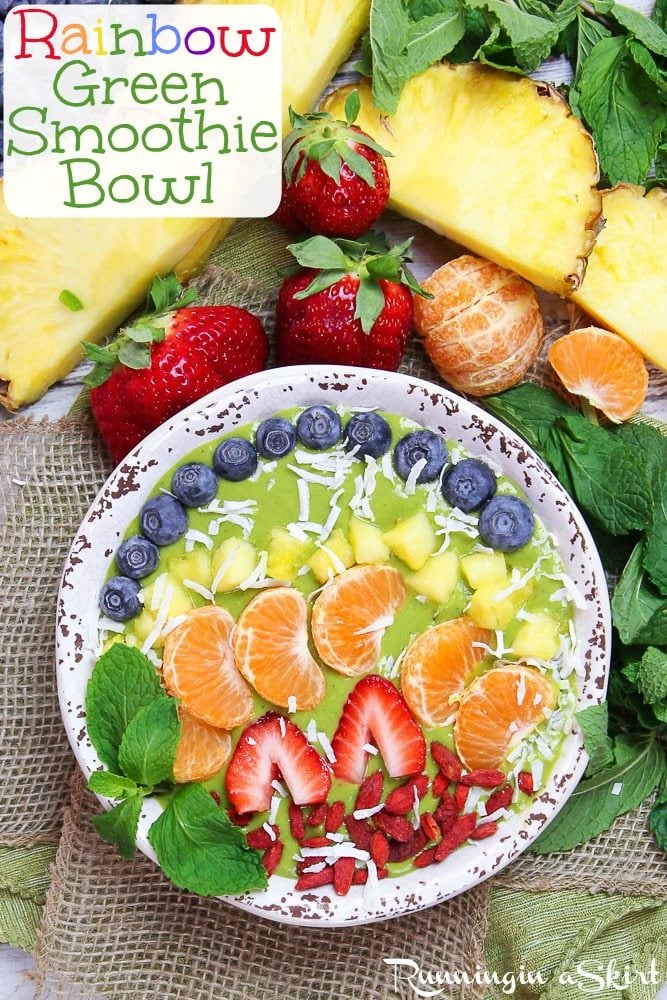 Hi guys!
You may have noticed but I've been on a bit of a smoothie bowl kick lately. Even though there is still a chill in the air, I love the ease of blending together breakfast. PLUS if you had a handful of greens like kale or spinach, it's a super easy way to start the day with a huge, natural vitamin boost.
So in honor of St. Patrick's Day next week I decided to make a fun Rainbow Green Smoothie Bowl recipe!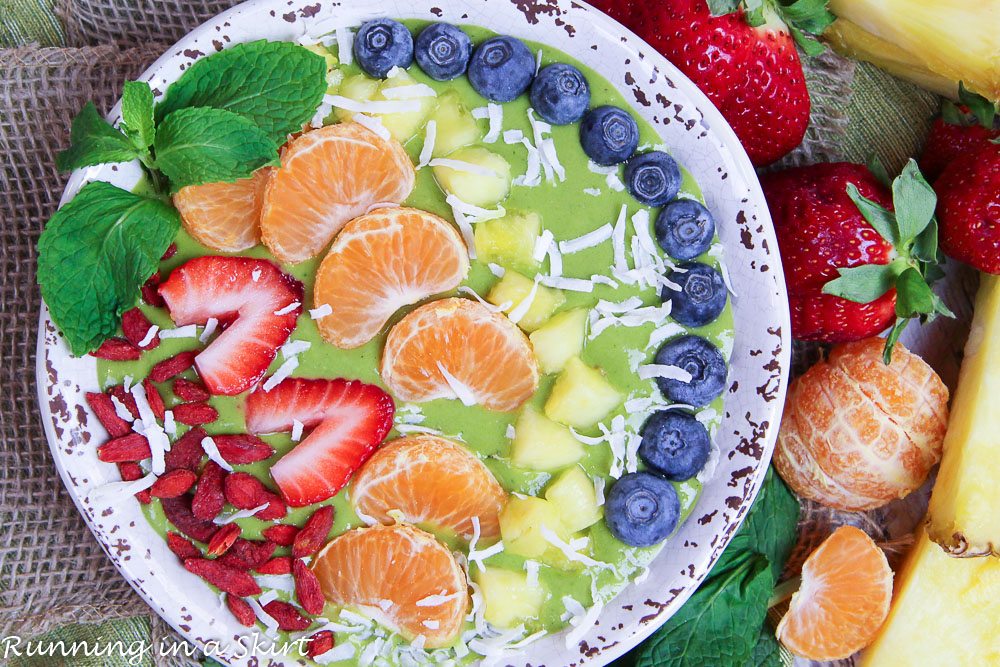 Here's how to make a Rainbow Green Smoothie Bowl...
I've played around with the green smoothie bowl base and I love the way mango and banana balance out the greens. So this smoothie bowl is a simple combination of frozen mango, banana, a handful of kale and almond milk. You can also use spinach if you like that more. I've been trying to watch my protein intake, so I also added a scoop of plant based protein powder.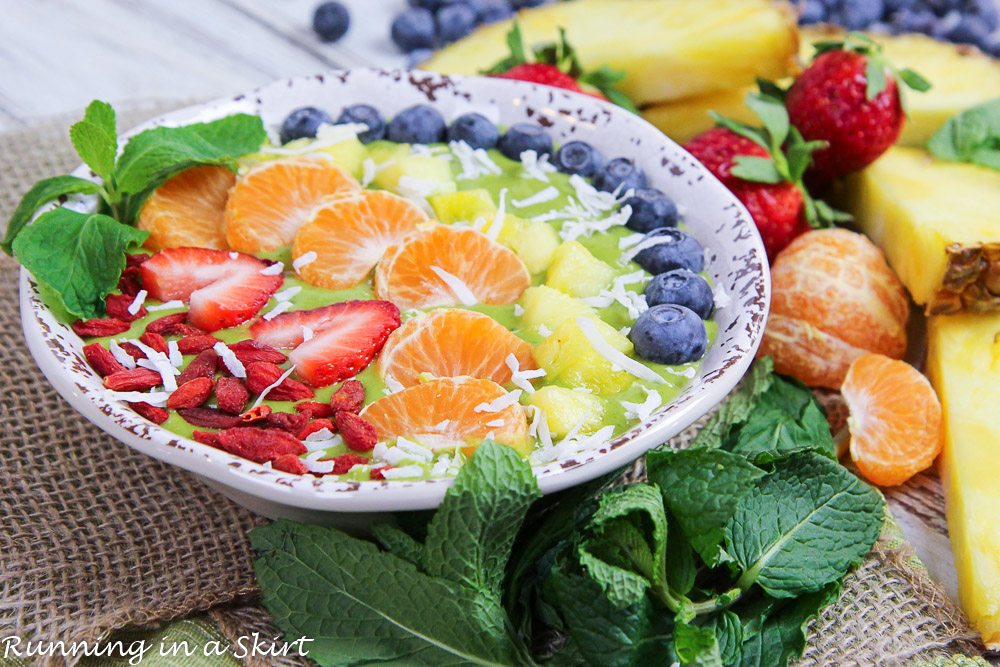 If you don't like frozen banana you can easily sub frozen pineapple, but I love the creaminess and sweetness of the banana. If you haven't blended a smoothie bowl yet, remember to add just a little less liquid than you would with a normal smoothie. That gives you the thickness that is perfect for using a spoon.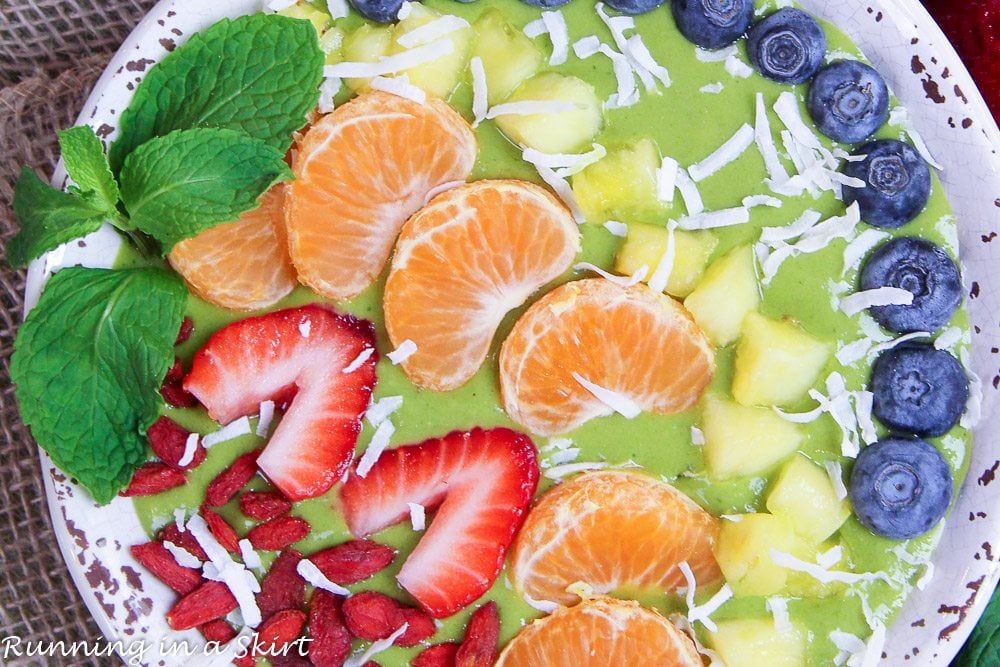 Now of course the star of the show for my Rainbow Green Smoothie Bowl recipe is the toppings!
SUREEEEEE.... you could just throw them on top... but I feel like life is more fun with pretty food. I have a feeling that if you are reading this, you just might agree with me. 🙂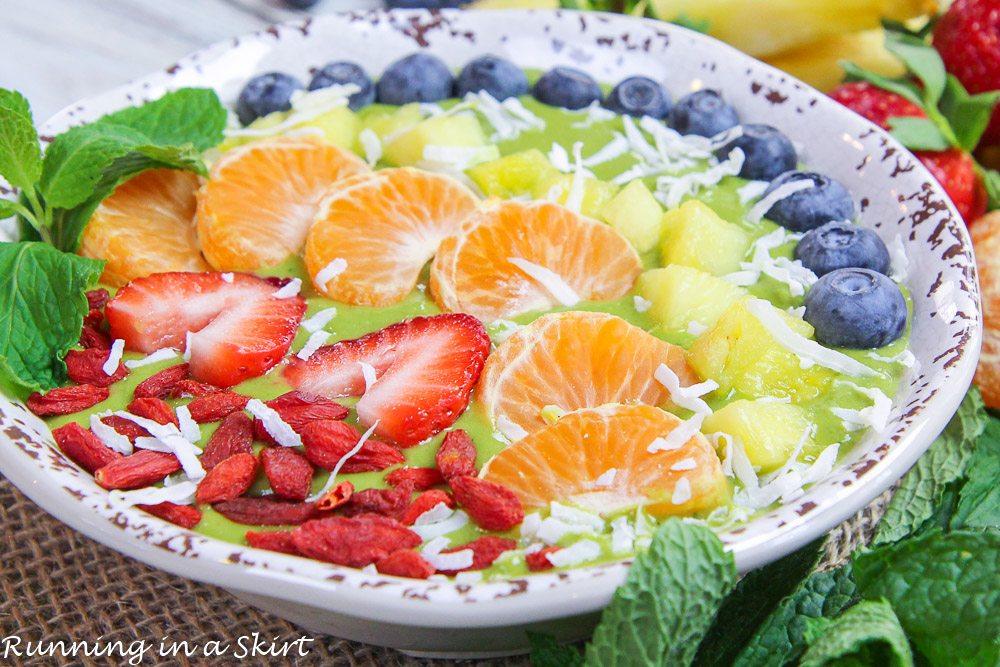 To make the rainbow I used Goji berries, strawberries, clementines, pineapple, blueberries. You can use whatever fruit you can find fresh in those colors though. I also added some coconut and fresh mint!
I like the Goji Berries because they add a different texture and they are a fabulous superfood, especially for folks on a plant based diet. They are a little pricey, but the bag lasts a long time.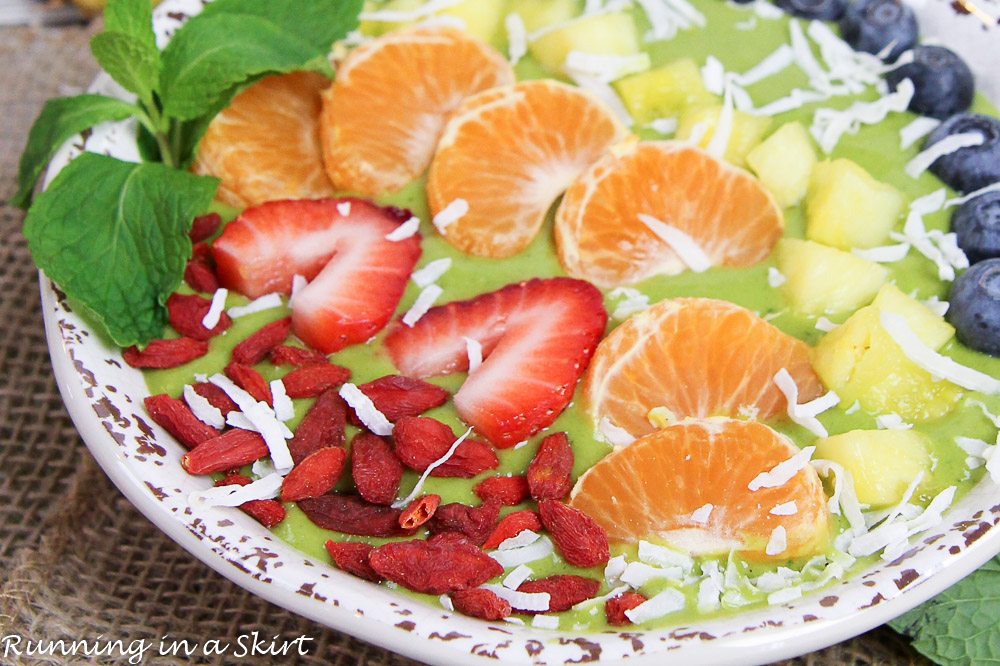 This oh so pretty rainbow meal may look a little fancy, but it comes together quickly and is so delicious. You've got to jump on the smoothie bowl train with me.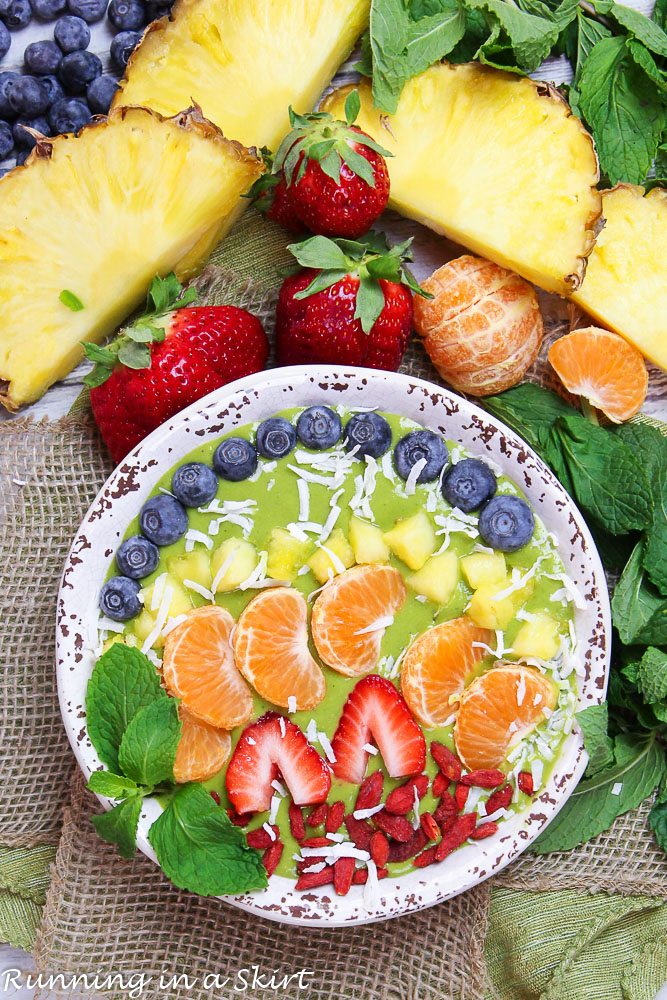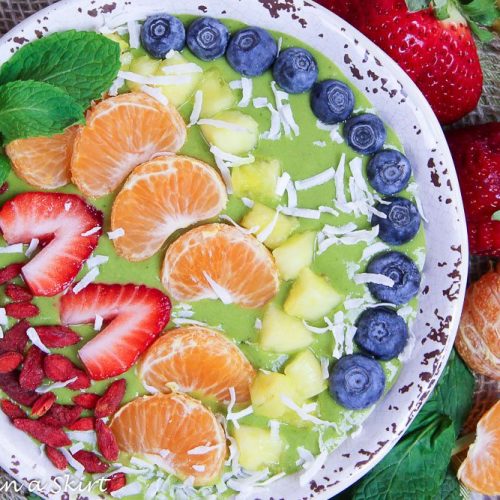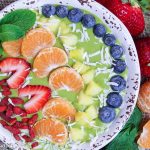 Rainbow Green Smoothie Bowl recipe
You'll love this healthy Rainbow Green Smoothie Bowl recipe!
Ingredients
For the Smoothie Bowl
¾

cup

frozen mango

1

frozen banana

1

handful

kale or spinach

scoop

protein powder

½

cup

almond milk or coconut milk
For the Toppings
goji berries, strawberry, clementines, pineapple and blueberries
Instructions
Put all the ingredients in a blender and mix until smooth. Add just enough milk to get the blender moving.
Nutrition
Calories:
213
kcal
Carbohydrates:
49
g
Protein:
4
g
Fat:
3
g
Saturated Fat:
1
g
Sodium:
177
mg
Potassium:
792
mg
Fiber:
5
g
Sugar:
31
g
Vitamin A:
4711
IU
Vitamin C:
95
mg
Calcium:
213
mg
Iron:
1
mg
Like my Rainbow Green Smoothie Bowl recipe? I'd love it if you could pin this to your favorite Pinterest board! Thank you so much for the support.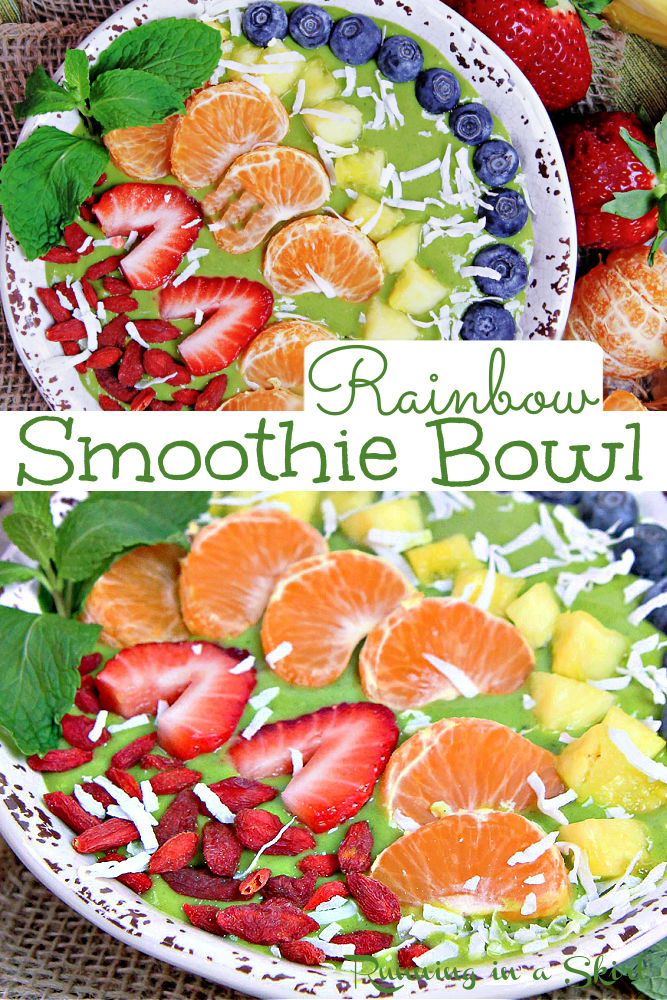 Also try...
Or check out these 15 Fun & Fabulous Smoothies!
Thanks for stopping by today! Tomorrow I'm sharing another favorite salmon recipe.
Your turn!
Spinach or kale?
Smoothie or smoothie bowl?