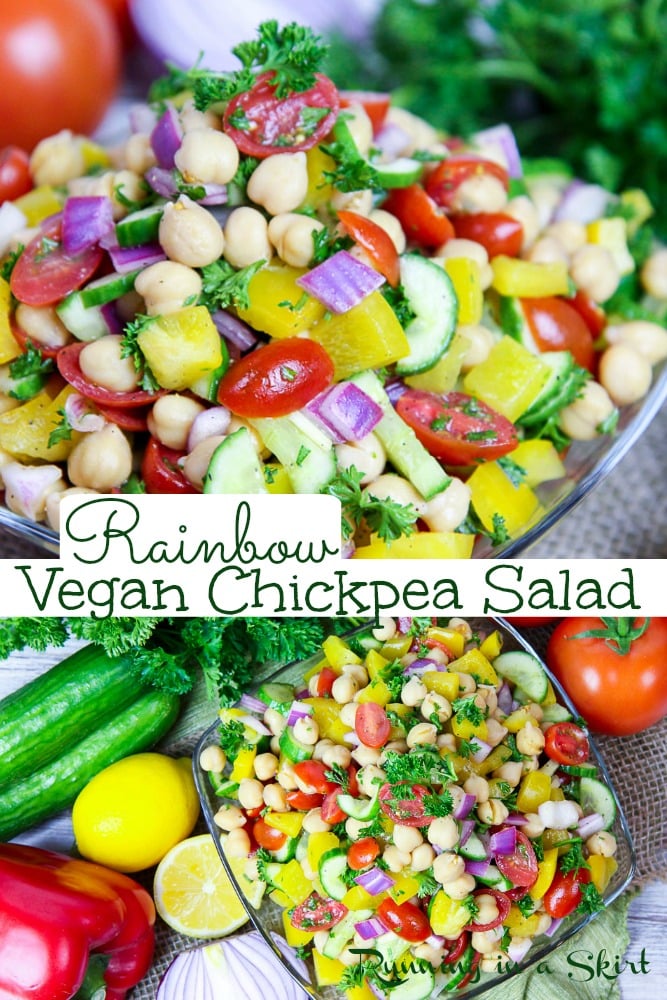 This filling and healthy Rainbow Vegan Chickpea Salad is the perfect side dish for a summer. Packed with filling fiber, plant-based protein, and lots of fresh veggies, this salad is so quick to prepare making it the perfect easy vegan side dish for a potluck.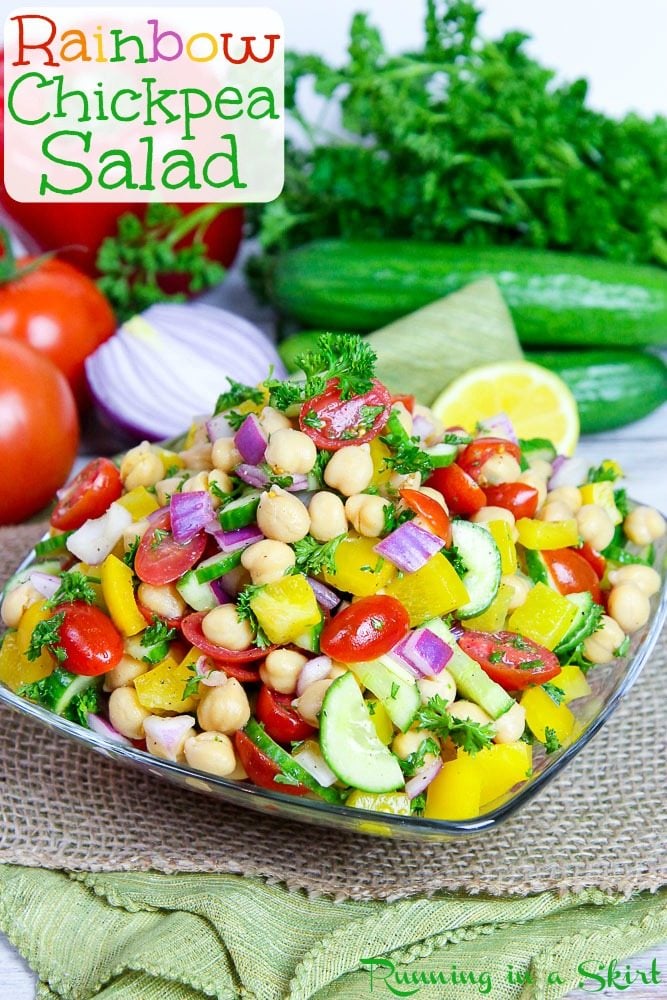 Vegan Chickpea Salad
I love this time of year because it often means simple, healthy meals that involve some mixing... but not a lot of actual cooking like this Vegan Chickpea Salad. During late spring and summer, the Hubs and I will go for a walk when he gets home and then eat dinner on our deck. The garden is blooming and we'll enjoy our meal and leisurely sitting outside as the day winds down after the boys go to bed.
I wanted to get a jump start on some new meal ideas for this summer that involve mixing- but no cooking and to create a veggie-packed dish using chickpeas for protein! Before I knew it this delicious Chickpea Salad recipe was born. This recipe gets bonus points because it uses all sorts of veggies that are easy to grow if you do garden.
The end result is a Rainbow Vegan Chickpea Salad that has nothing to spoil so it's the perfect vegan side dish for a potluck.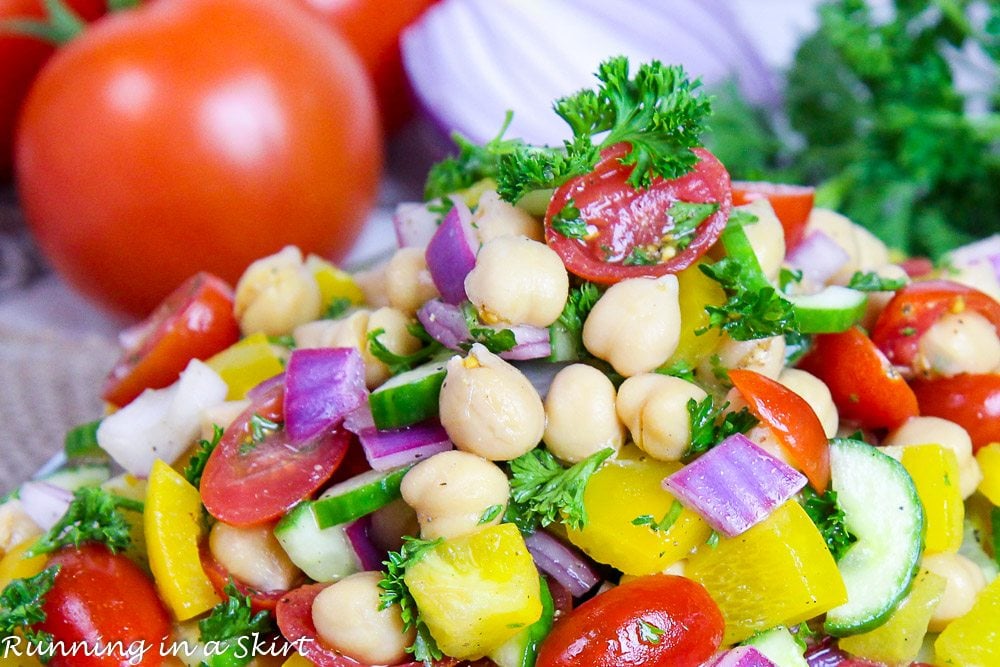 Looking for Vegan Side Dishes for Potluck? Start Here!
This delicious vegan chickpea salad recipe comes together in a flash and makes a perfect vegan side dish for potluck. It uses canned chickpeas and rainbow of veggies. Talk about plant-based goodness! I went with red tomatoes, yellow bell peppers, green cucumbers, and purple onions for the complete rainbow. You can enjoy this and know your dinner is packed with all kinds of nutrients and vegetables. It's hearty enough for meat eaters, vegetarians and vegans.
The simple and light dressing is made with lemon, red wine vinegar, and a touch of good olive oil.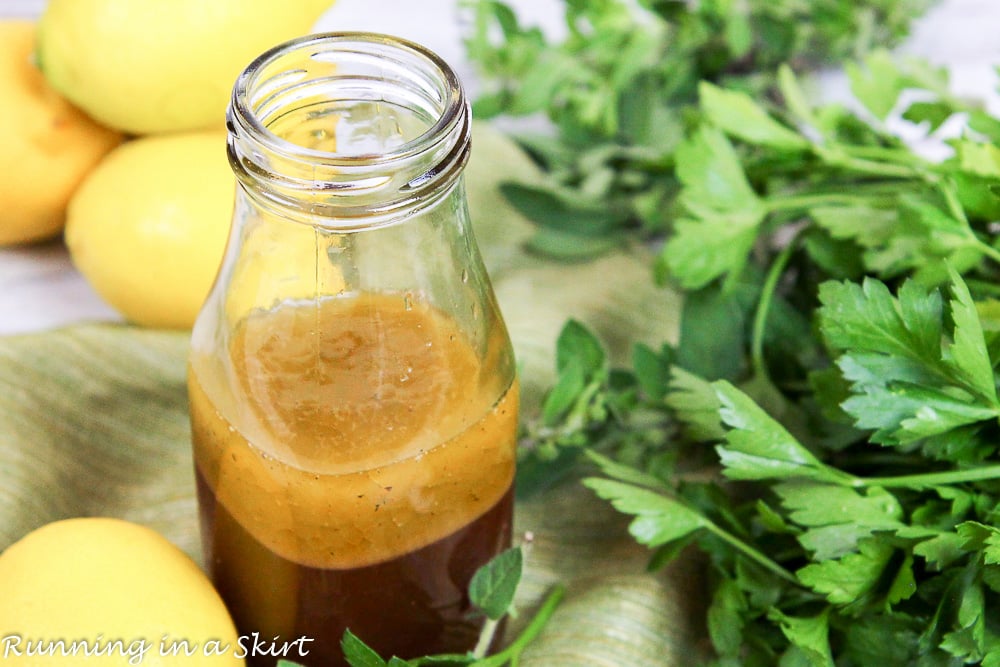 Vegan Chickpea Salad Potluck Idea
Serve it as shown, as a side dish or over a big bed of salad greens. Either way, it's delicious. I even like to make a batch on Monday and have it for lunch over greens. I just love knowing I'm getting all my veggies in for the day without a lot of fuss.
This is also a fabulous potluck dish because it doesn't have any dairy to spoil and it is super easy to put together. It's an ideal no cook potluck idea.
PLUS... it's just so darn pur-ty! You know it will disappear.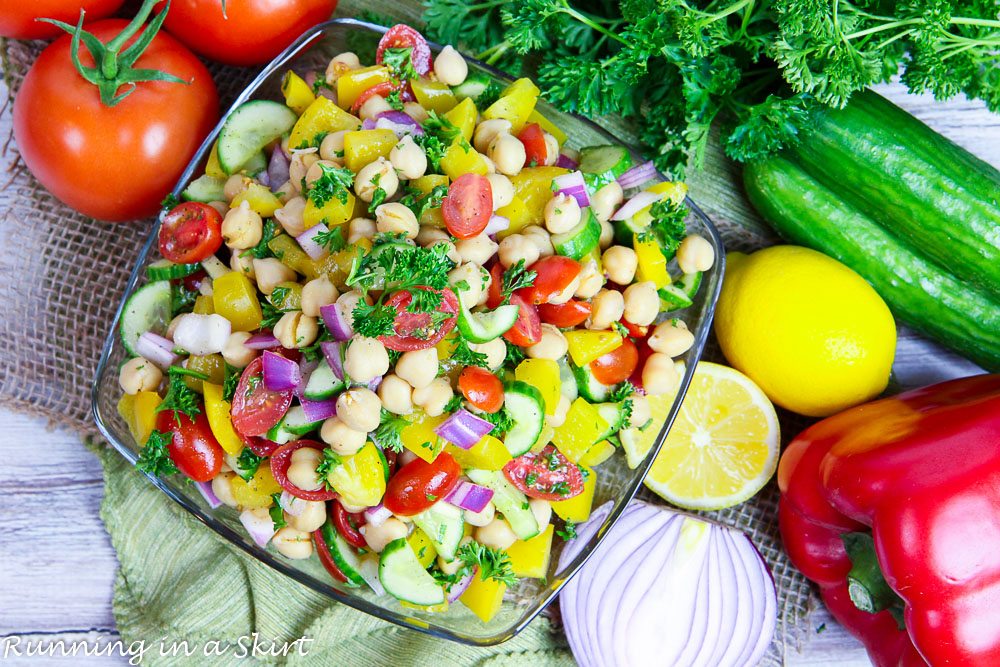 Ingredients in this Chickpea Salad
Red wine vinegar: Red wine vinegar is the perfect way to brighten up any salad, including this chickpea salad!
Olive oil: Since there are just a few ingredients in this chickpea salad use a high quality olive oil.
Lemon: Lemon brightens up this dish and makes it feel fresh.
Chickpeas: I prefer to use canned chickpeas as it makes this salad that much faster to put together, but you can certainly use dried chickpeas instead.
Red onion: Red onions have a great flavor and strong "bite", which is why I like to use them in salads. But if you aren't a fan of the "bite" you can mellow the taste a bit by soaking a chopped onion in ice water for 10 minutes.
Cherry tomatoes: Cherry tomatoes are the perfect addition to this salad as you don't have to spend any time dicing them.
Yellow pepper: Yellow peppers have a pleasantly sweet taste that perfectly compliments the other flavors in this salad.
Cucumbers: I like to use mini cucumbers as their skin doesn't need to be peeled (let's keep this recipe easy!) - it is thinner and less bitter than that of regular-sized cucumbers.
Parsley: Any fresh herbs ads some fresh vibrance to the salad.
How to Make the Vegan Chickpea Salad
This vegan chickpea salad is super simple to make and requires no cooking.
Whisk together the dressing ingredients in a small bowl.
Add the other salad ingredients and toss until well combined. Enjoy!
Variations and Pro Tips
If you don't need this salad to be vegan you could add cubed mozzarella cheese or feta. Both would be delicious.
Use any fresh herbs to mix up the flavors.
This is great for a potluck because it can sit out for long periods of time without spoiling.
Can I eat chickpeas from the can?
Canned chickpeas are already cooked and ready to eat, so you can toss them directly into the salad as is (or do a quick rinse of them first)! They are a great source of vegan protein.
Can I use dried chickpeas?
You certainly can use dried chickpeas, but it will take more preparation time. This is why I opt for canned chickpeas, it makes this salad so much easier to throw together.
Are chickpeas good for weight loss?
Chickpeas are great for weight loss! They are full of fiber, which keeps you feeling full for longer so you won't feel the need to eat as much. This entire Vegan Chickpea Salad is only 273 calories per serving.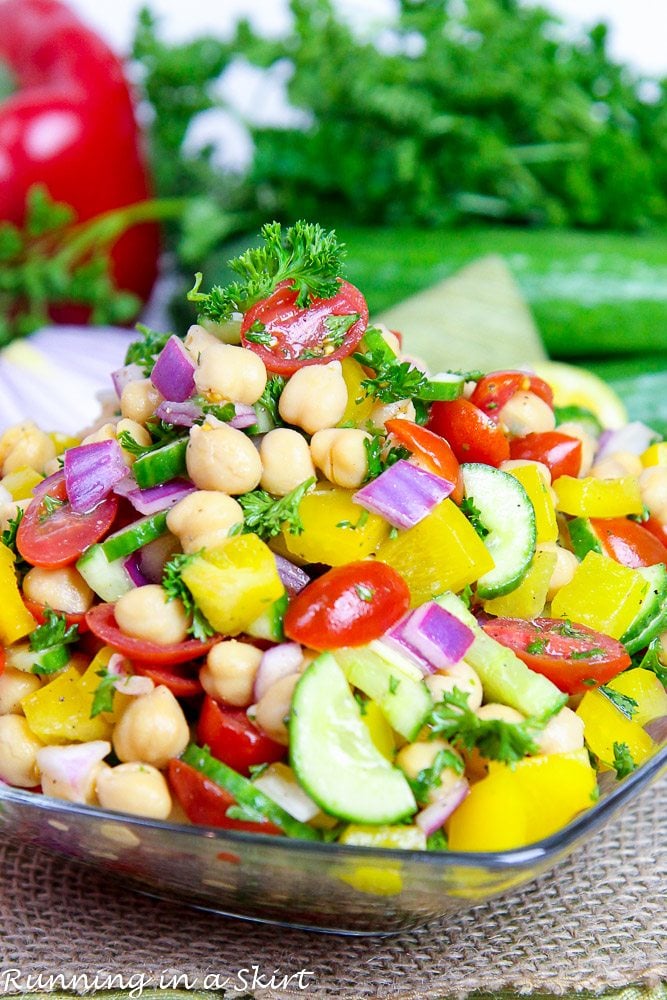 This Vegan Chickpea Salad is great for a weekday meal or it's perfect for vegan potluck ideas. It's also super hearty making it great for vegetarian potluck recipes too.
I hope you'll give this delicious chickpea salad recipe a try! It's the perfect rainbow of summer food goodness. If you need me I'll be enjoying a batch on my deck. Bring on summer!
More Vegan Side Dishes for a Potluck
If you make this recipe, I'd love to hear what you think! Leave a comment and a star rating ★ below. Make sure to follow me on Instagram, Pinterest, and Facebook too!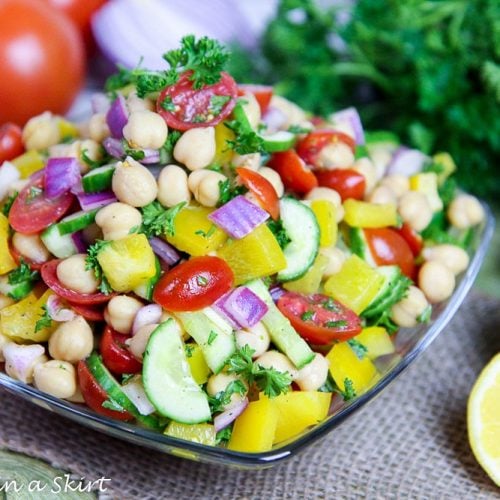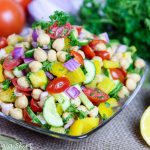 Rainbow Vegan Chickpea Salad
This filling and healthy Rainbow Vegan Chickpea Salad is the perfect side dish for a summer potluck. Packed with filling fiber, plant-based protein, and lots of fresh veggies, this salad is so quick and easy to prepare!
Instructions
In a large bowl whisk the red wine vinegar, olive oil and lemon together.

Add of the other ingredients on top and toss until well combined. Salt and pepper to taste!
Notes
* Or use one regular size cucumber.
This dish is great for a potluck because it has no diary to spoil!  Perfect for vegans and vegetarians.
Nutrition
Calories:
273
kcal
Carbohydrates:
44
g
Protein:
13
g
Fat:
7
g
Saturated Fat:
1
g
Sodium:
29
mg
Potassium:
852
mg
Fiber:
11
g
Sugar:
11
g
Vitamin A:
1354
IU
Vitamin C:
111
mg
Calcium:
103
mg
Iron:
5
mg
Pin for later...