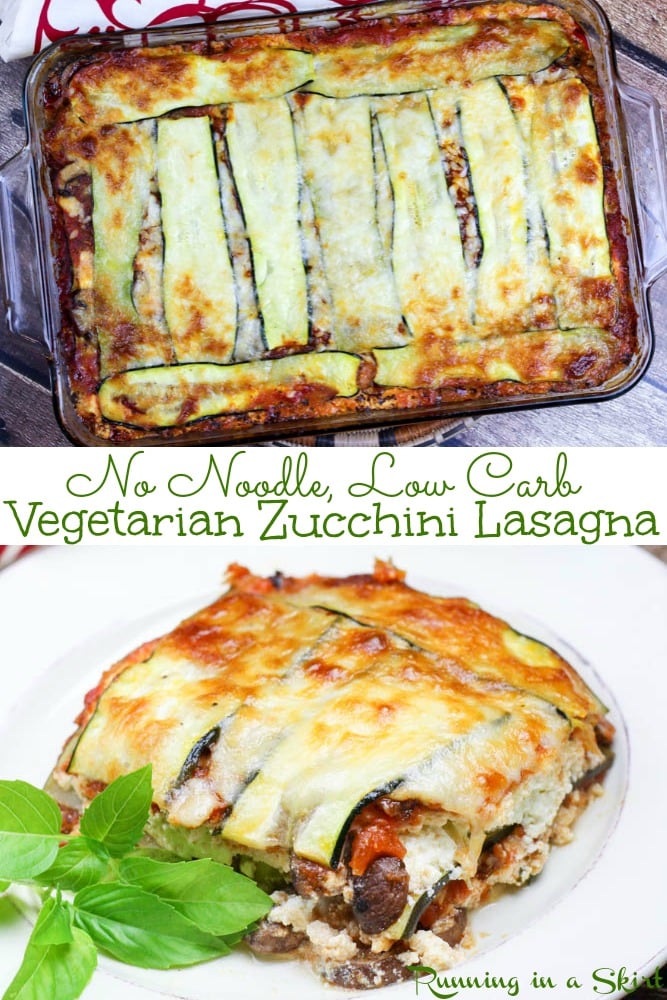 Roasted zucchini noodles and thick, meaty portobello mushrooms are the stars in this delicious, no noodle vegetarian zucchini lasagna! Low carb and gluten-free, you'll love how much this healthy meatless vegetable lasagna zucchini tastes like classic lasagna!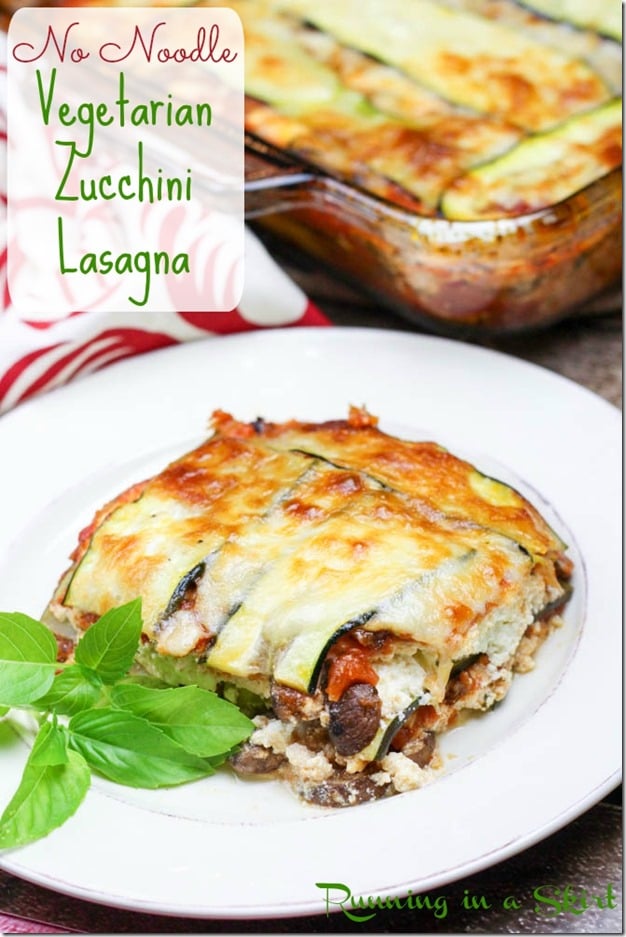 No Noodle Vegetarian Zucchini Lasagna
Vegetarian Zucchini Lasagna is so delicious. This is one of those dishes that you make and are actually excited to eat again for leftovers because it's so good AND good for you. As I'm typing this I am counting the hours until I can eat round two of this No Noodle Vegetarian Zucchini Lasagna.
If you crave a good baked pasta dish or lasagna but are trying to low carb or need to be gluten-free, this recipe is for you. In fact, even if you do eat carbs (I DO!) this no noodle vegetarian lasagna is a great way to mix up your dinner routine with lots of fresh vegetables in a comfort food package.
I love that this gorgeous recipe tastes just as good as it looks with fresh zucchini, hearty portobello mushrooms, marinara sauce, and just enough cheese to get that cozy feeling. It's so filling that you'll never miss the actual pasta noodles or pasta sheets.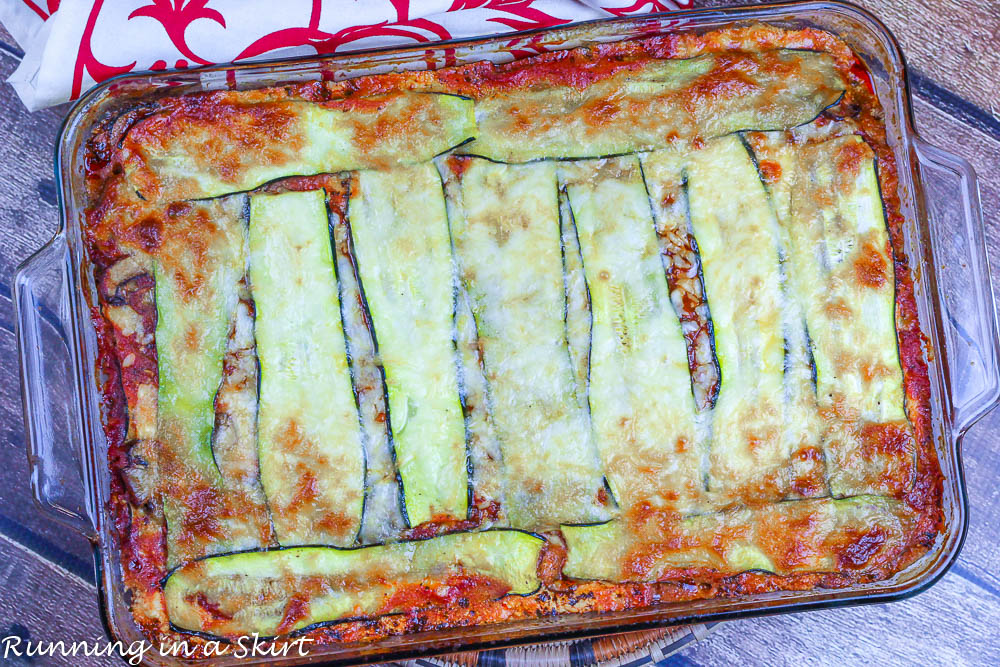 Why you'll love this Vegetable Lasagna No Noodles...
This vegetarian lasagna is a bit of gluten-free and low carb heaven.
Instead of traditional lasagna noodles, I used thin slices of zucchini making this the perfect vegetable lasagna no noodles with zucchini instead. The rest of the dish is made up of your favorite marinara sauce, perfectly seasoned portobello mushrooms, and just enough ricotta and mozzarella. It's one of those hearty vegetarian dishes that even meat-eaters love including my Dad and the Hubs.
For the sake of full disclosure, this recipe is a little more labor-intensive than most of the ones I publish. However, the work is worth it considering how great it tastes and how you can get several meals out of one pan.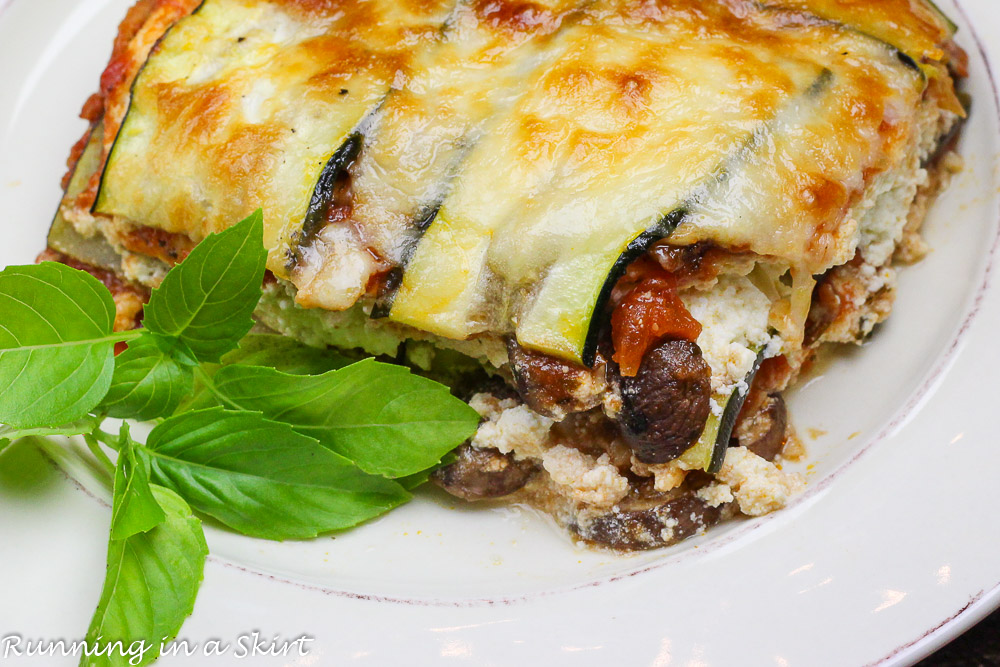 What you need for No Noodle Vegetarian Zucchini Lasagna
This No Noodle Vegetarian Zucchini Lasagna uses just a few simple ingredients!
Zucchini: To get the best thin slices, I recommend cutting the zucchini with a mandolin. I love this one. (affiliate link)
Mushrooms: Hearty portobello mushrooms add a meaty texture and rich flavor that you don't find from other mushrooms.
Ricotta: Thick and creamy ricotta cheese works perfectly for this lasagna. You can use fat-free or full fat depending on your diet.
Cheese: You'll need shredded cheese. You can pick either mozzarella or an Italian cheese blend. I also included some parmesan in this recipe. Depending on how much time you have, you can shred your own. It melts better that way but pre-shredded also works!
Egg: An egg helps keep the ricotta mixture together and makes it fluffy.
Favorite Pasta Sauce: Use your personal favorite pasta sauce or make your own. Here is my Slow Cooker Marinara recipe.
Spices: I added basic Italian seasoning to my ricotta mixture. If you don't have that use any combination of basil, oregano, or parsley.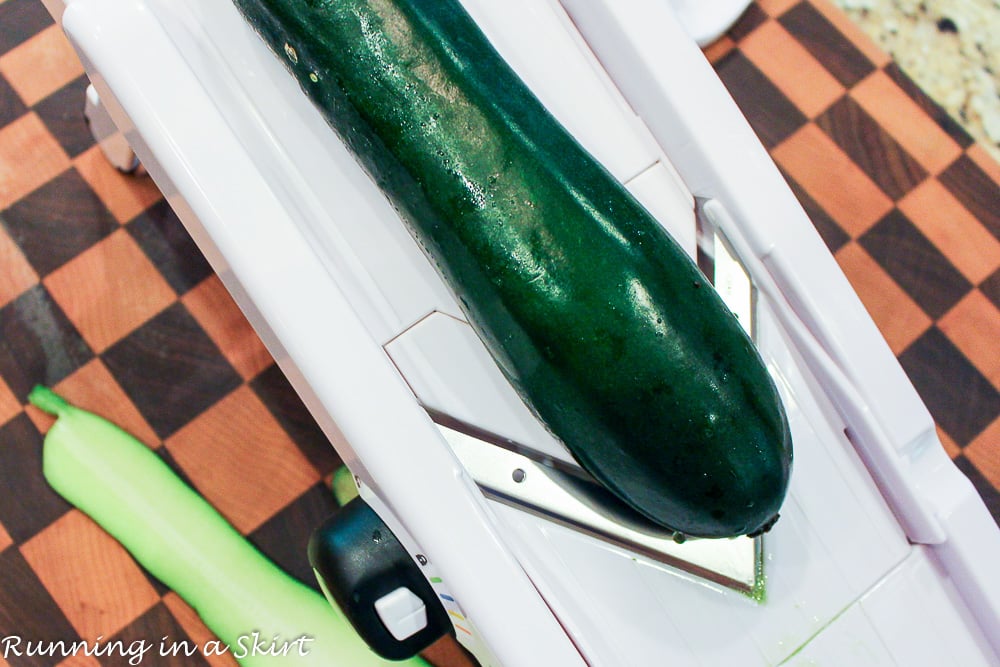 How to make No Noodle Zucchini Lasagna...
Curious how to make vegetable lasagna without noodles? This recipe for Vegetable Lasagna No Noodles is quite a few steps, but it is worth it!
Cut zucchini "noodles" with a mandolin. Be careful not to cut your hands. I use these gloves when I use my mandolin because I'm kind of clumsy. 🙂
Get the water out of the zucchini by sprinkling the zucchini slices with salt. Allow the zucchini to sit and then blot it off as much as possible.
Roast zucchini in the oven at 400 degrees to help get more water out of it and turn it into "noodles." When they are done cooking dry the noodles off again. You can even leave the noodles sitting on paper towels while you prep the rest of the lasagna. This might seem tedious, but it really helps keep the lasagna from turning into just water.
Cook the mushrooms by sauteing them over medium heat for 5-8 minutes.
In a bowl, mix ricotta, eggs, and Italian seasoning.
Layer Lasagna by adding the marinara sauce, then the zucchini noodles, ricotta mixture, mushrooms, and then cheese! Repeat for a second layer and finish with a last zuchini noodle layer and shreded cheese.
Bake the No Noodle Zucchini Lasagna until bubbly.
Enjoy!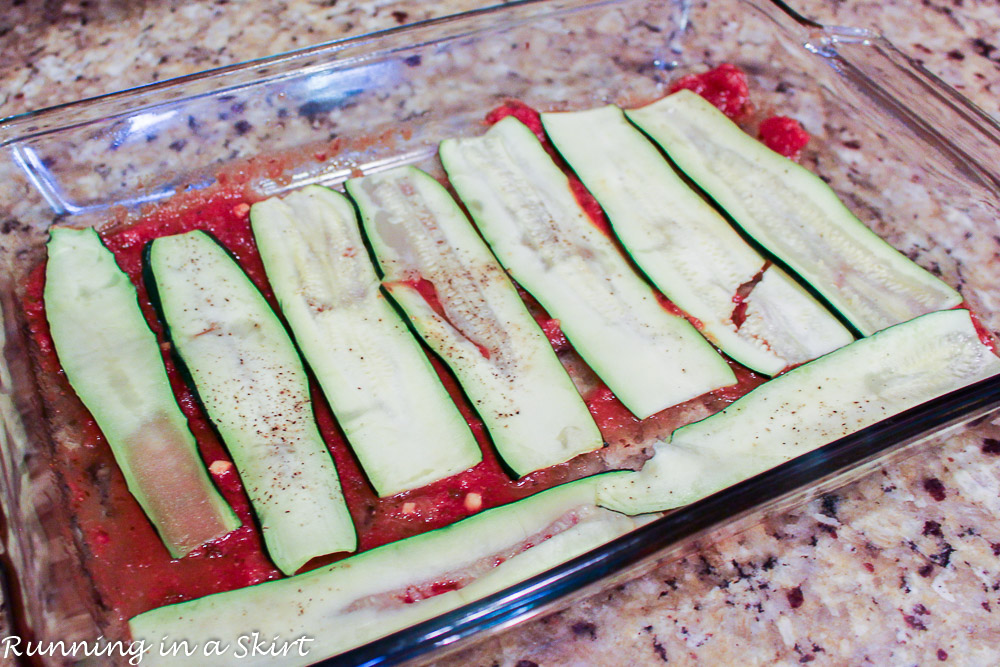 Variations & Pro Tips
To keep this lasagna vegetarian, use your favorite meat crumbles substitute instead of the mushrooms.
Add some red pepper flakes in your marinara to give the vegetarian zucchini lasagna without noodles a kick.
Add some spinach or kale to your ricotta mixture for more nutrition.
Use cottage cheese instead of ricotta for an even creamier no noodle vegetarian lasagna.
How do you get the water out of zucchini lasagna?
Zucchini is naturally VERY watery is it's super important to take a few steps to keep this zucchini lasagna from being too watery. The amount of water in individual zucchini can also vary so sometimes it's hard to get it all out.
Slice the zucchini into thin slices (I.e. mandolin). Thinner slices mean less zucchini which results in less water content.
Salt the zucchini slices and allow to sit for 15 minutes before assembling the lasagna. Adding salt helps to draw out the moisture. Blot the slices with a paper towel.
Roast the zucchini to pull even more moisture out of it. Continue to blot the zucchini noodles and allow it to sit on paper towels to dry out while you get the rest of the lasagna ready.
Remove the foil during the second half of the baking time to allow the dish to continue to dry out.
If you STILL end up with some water in the dish just cut the first piece of lasagna out and let the water drain to one side of the pan. Use a paper towel to blot up the extra moisture. Even if you still have some water, it will still taste amazing.
What can I use if I don't have a mandolin?
A mandolin works best by far but if you don't have one you can use a large chef's knife or get smaller zucchini and use a sharp vegetable peeler.
Do you rinse zucchini after salting?
NO! If you try to rinse it you will just add the moisture BACK into the zucchini and our goal is to get all the moisture out. Most of the salt with come off when you blot it however a little salt makes it taste better.
Should you peel zucchini?
You don't need to peel the zucchini, just slice it and you're good to go!
What other veggies can you use?
The options are endless when it comes to this vegetable lasagna! Use your favorite veggies - onions, peppers, spinach, and even eggplant! Just saute the vegetables you want to add with your mushrooms until they are tender.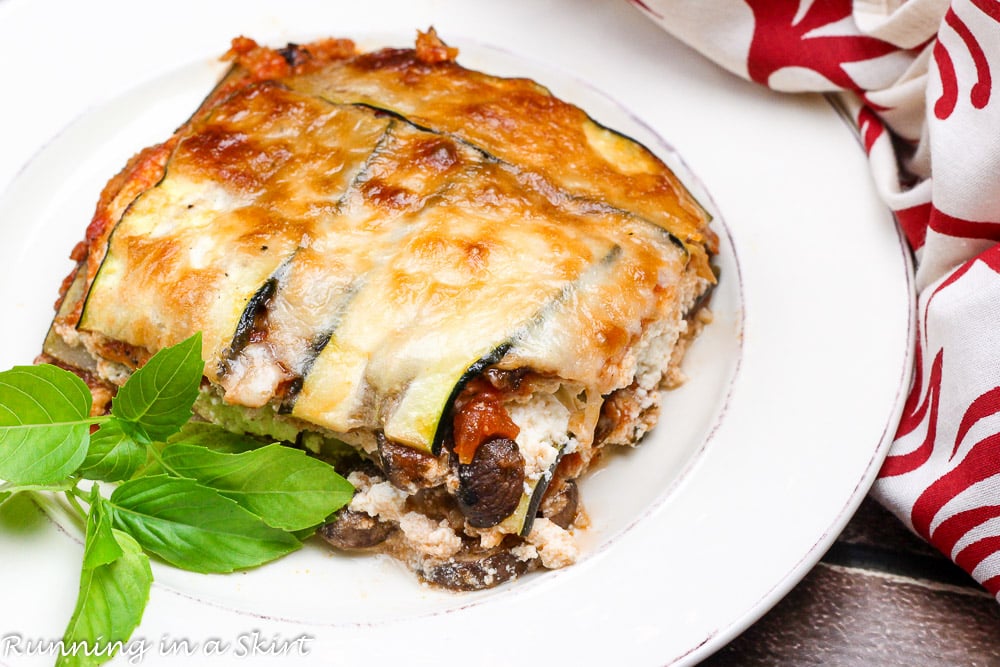 My No Noodle Vegetarian Zucchini Lasagna is a labor of love… but boy is it worth it! The finished product is filling and delicious AND it is totally enough to handle any carb-y cravings you might have in a low carb, no pasta kind of way.
Serve It With:
Also try...
If you make this recipe, I'd love to hear what you think! Leave a comment and a star rating ★ below. Make sure to follow me on Instagram, Pinterest, and Facebook too!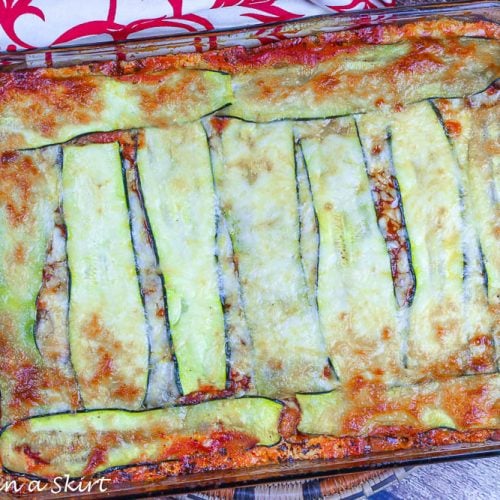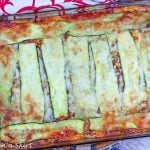 No Noodle Vegetarian Zucchini Lasagna
Roasted zucchini noodles and thick, meaty portobello mushrooms are the stars in this delicious, no noodle vegetarian zucchini lasagna! Low carb and gluten-free, you'll love how much this tastes like lasagna!
Ingredients
2

large zucchini

¼

teaspoon

salt

,

plus an additional pinch, divided

¼

teaspoon

pepper

,

divided

1

tablespoon

olive oil

16

oz

Portobello mushrooms

,

sliced

30

ounces

skim milk ricotta

2

eggs

,

beaten

¼

cup

grated Parmesan

2

teaspoons

italian seasoning

2

cups

shredded part-skim mozzarella cheese

1 25

oz

jar of pasta sauce

Cooking spray
Instructions
Slice the zucchini with a mandolin into 3/16th thick slices.

Put in a strainer and lightly sprinkle with salt. Allow to sit 15 minutes and blot with paper towels as you see moisture. You are trying to get as much moisture out of the zucchini as possible.

Preheat oven to 400 degrees and grease a 9x13 casserole dish

Over medium heat, sauté the mushrooms in the olive oil with half of the salt and pepper. Cook until tender 5-8 minutes. Set aside.

Dry zucchini strips well and lay out on cookie sheets. Sprinkle both sides with the rest of the salt and pepper. Roast for 10 minutes, flipping once. Carefully dry off any moisture.

While zucchini is roasting mix the ricotta, eggs, parmesan, and parsley in a bowl. Set aside.

Once the zucchini is roasted, you can start layering the lasagna!

Start with a thin layer of pasta sauce. Add ⅓ of the zucchini noodles.

Carefully top with ½ the ricotta, ½ mushrooms and ⅓ of the shredded cheese.

Repeat!

Finish with a last layer of the zucchini noodles and the rest of the shredded cheese.

Cover with foil and bake for 45- 50 minutes. Remove foil after 20 minutes. Rest 10 minutes before serving.
Notes
There may still be some additional moisture in the lasagna when you first cut it. Allow a paper towel to soak it up after you cut the first piece and that should take care of it!
Nutrition
Calories:
245
kcal
Carbohydrates:
18
g
Protein:
21
g
Fat:
9
g
Saturated Fat:
4
g
Cholesterol:
79
mg
Sodium:
915
mg
Potassium:
684
mg
Fiber:
3
g
Sugar:
10
g
Vitamin A:
804
IU
Vitamin C:
17
mg
Calcium:
455
mg
Iron:
2
mg
Pin it for Later!