Hi everyone!
A quick blog note first. I've been having technical trouble with my e-mail lists. Sorry to anyone who got an e-mail for a post that hasn't published yet Sunday. That post will be coming out soon. I'm also working to figure out why the e-mails are no longer going out consistently. I'm hoping to resolve the issue this week! Thank you for your patience.
Last Thursday the Hubs ended work a little earlier than normal and we took a quick trip up the Blue Ridge Parkway to see some of the pretty fall leaves. He works long days, so we were rushing to the top of the mountain hoping to catch sunset at a nearby hike location, Craggy Pinnacle. It's such a pretty region that people travel from all over the world to drive along the Parkway in October.
As we were climbing up the parkway and taking in the gorgeous views, we realized we weren't going to make it in time for sunset. (btw... sunset was at 6:37 last week! Can you believe how early it is?) We almost decided to just stop, take a few pictures of the leaves and head back down. But then we had a change of heart and decided to rush up the mountain, and still do the short hike before we lost all the light of the day.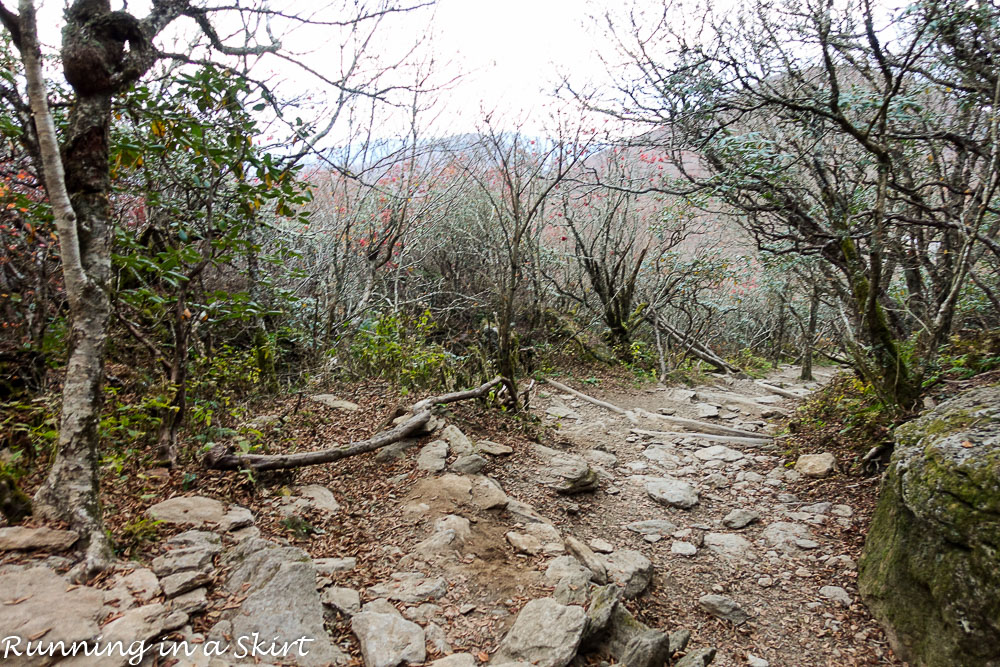 The Craggy Pinnacle hike is about a mile one way, so we scrambled up the familiar path taking in the crisp fall mountain air. It was in the 80's last week, so it felt amazing at nearly 6,000 feet.
There is something so comforting about an old hiking trial. This one is well-loved by our little mountain town.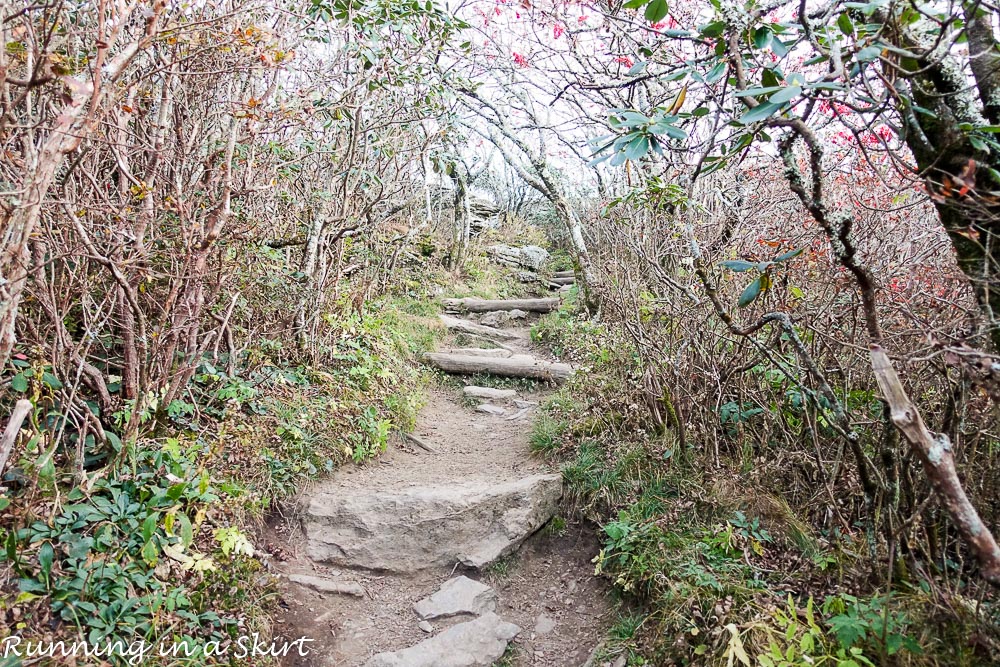 The leaves were most vivid around 4,000 feet, but there were still some signs of fall hanging on for dear life. I'm certain these leaves didn't survive the rain/wind storm we had the next day.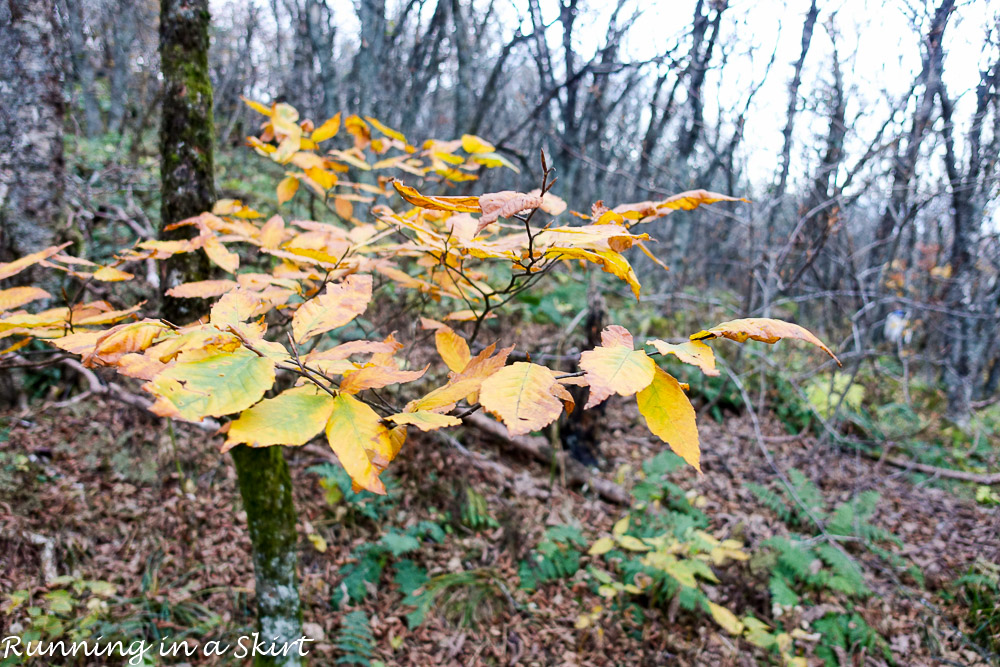 The crazy weather even had some rhododendron confused on which month it was. They produce the most beautiful archway of pink blooms in June. (Want to see them in full bloom? Check out this post.)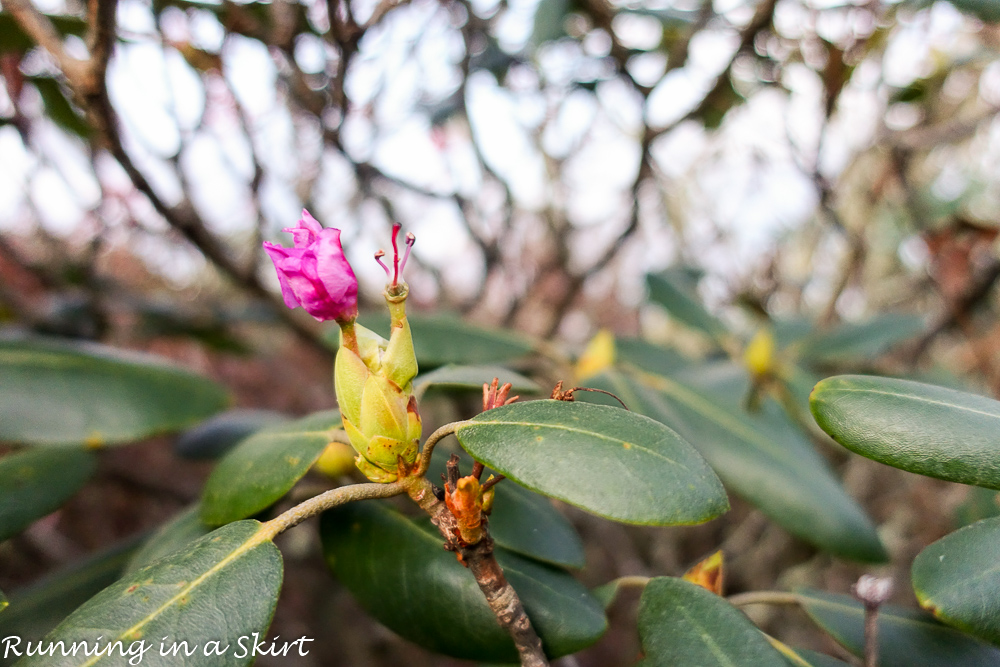 After a brisk and quick climb, we popped up on top and fell in love with the views.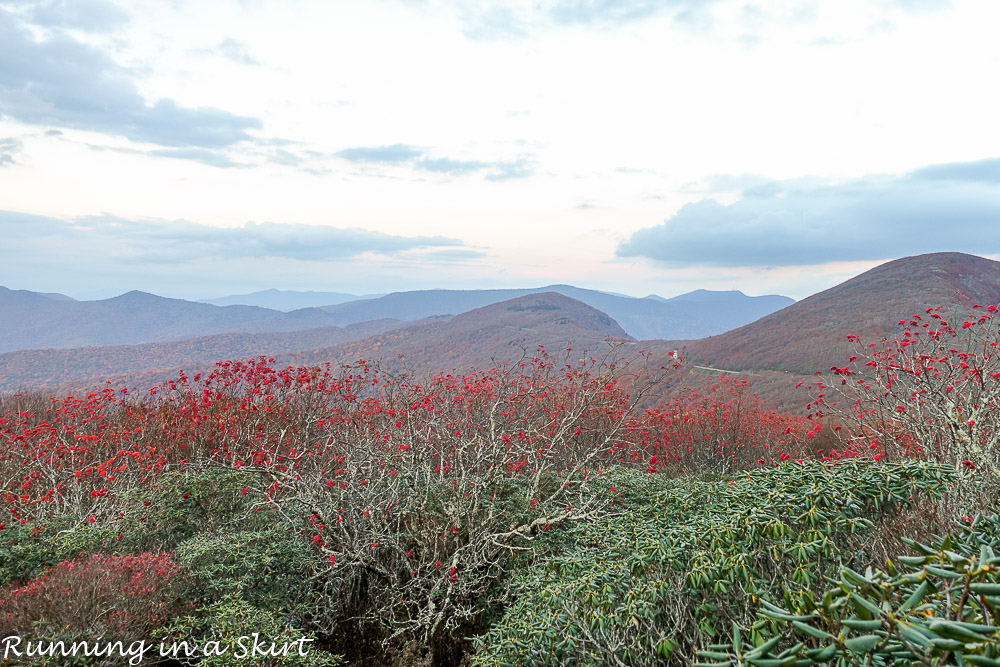 I've done this hike many times, but every time it looks so different. This time there was a carpet of stunning red berries at the top of the tree line.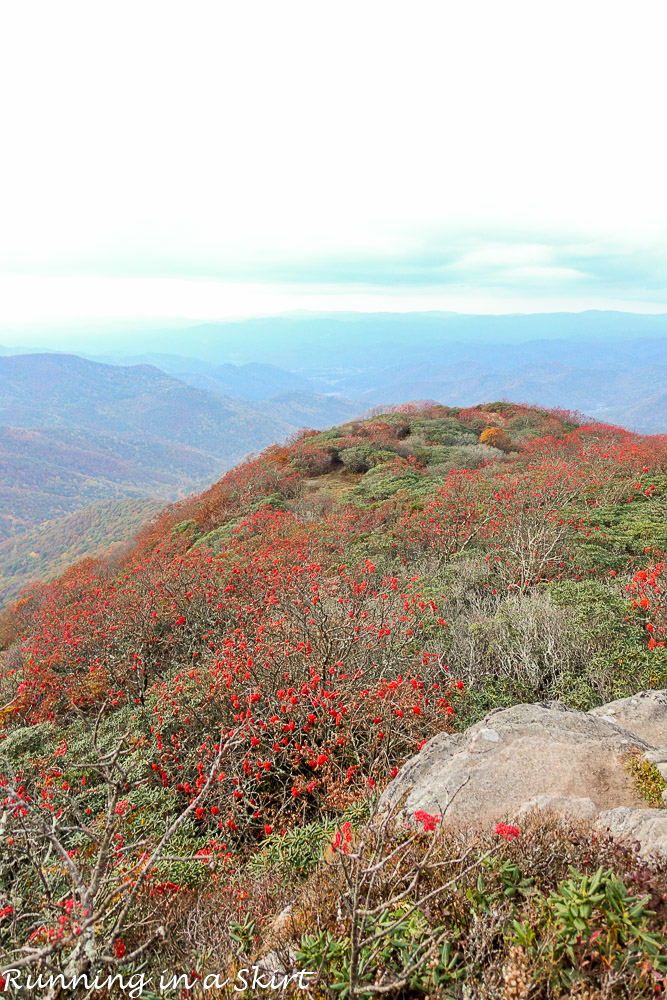 We didn't have much light to work with, but the cascading mountains views were spectacular.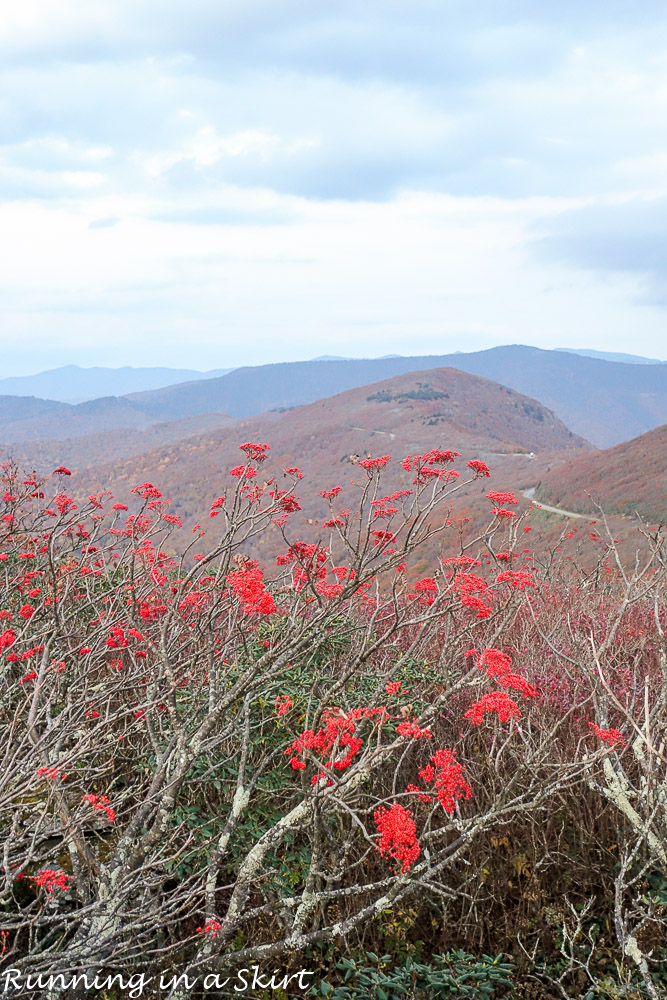 I just stood at the top breathing the clear, refreshing air. I swear it just feels different way up there.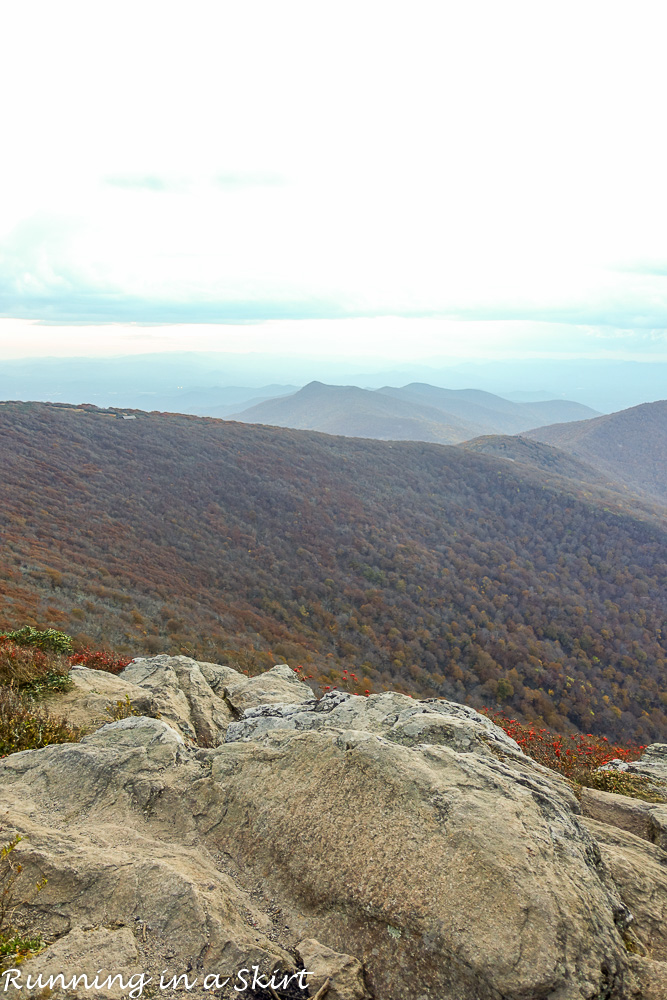 So... no I didn't catch my spectacular sunset shots, but I still got to take in a small amount of beauty in this little corner of the world. And that was just what I needed.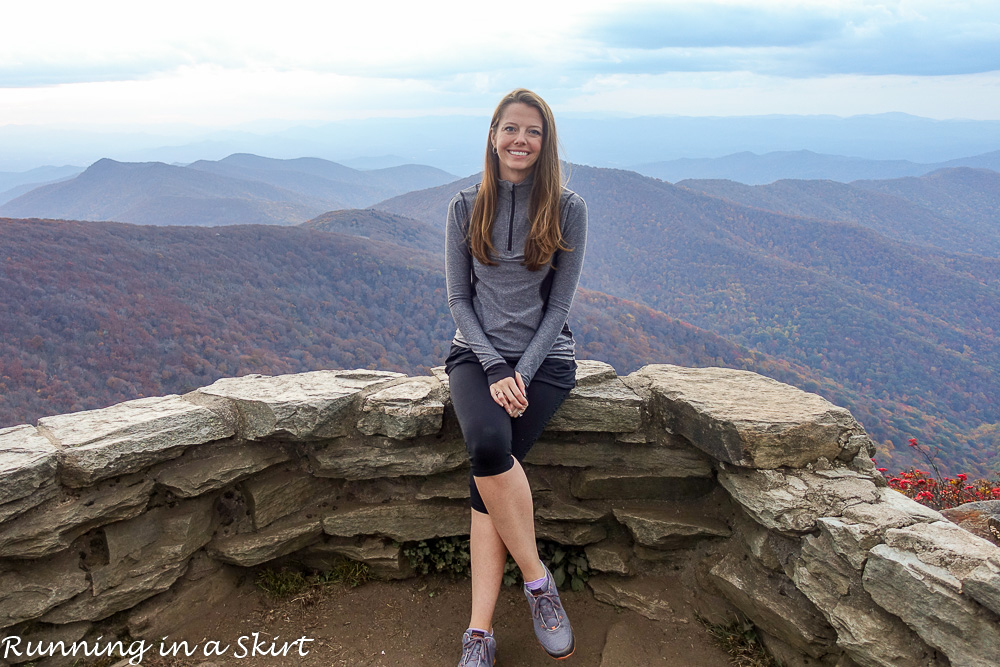 The Hubs and I had a pretty nice adventure for a Thursday evening. We live in these breathtaking mountains and don't do this enough.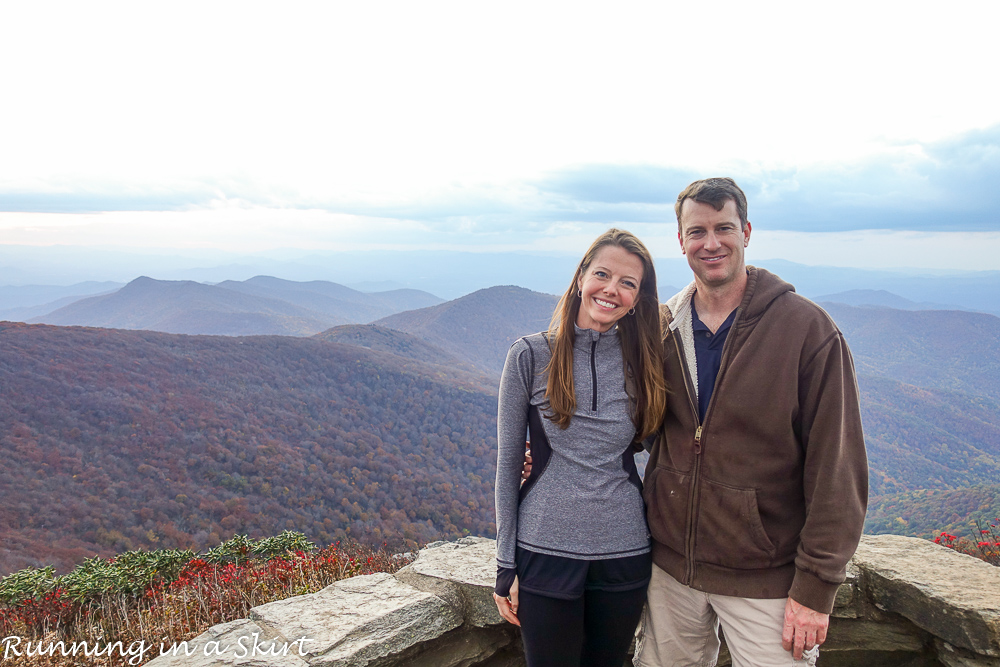 We scrambled back down the mountain to make sure we were back in the car before it turned pitch black and loved every minute of our unplanned, impromptu adventure.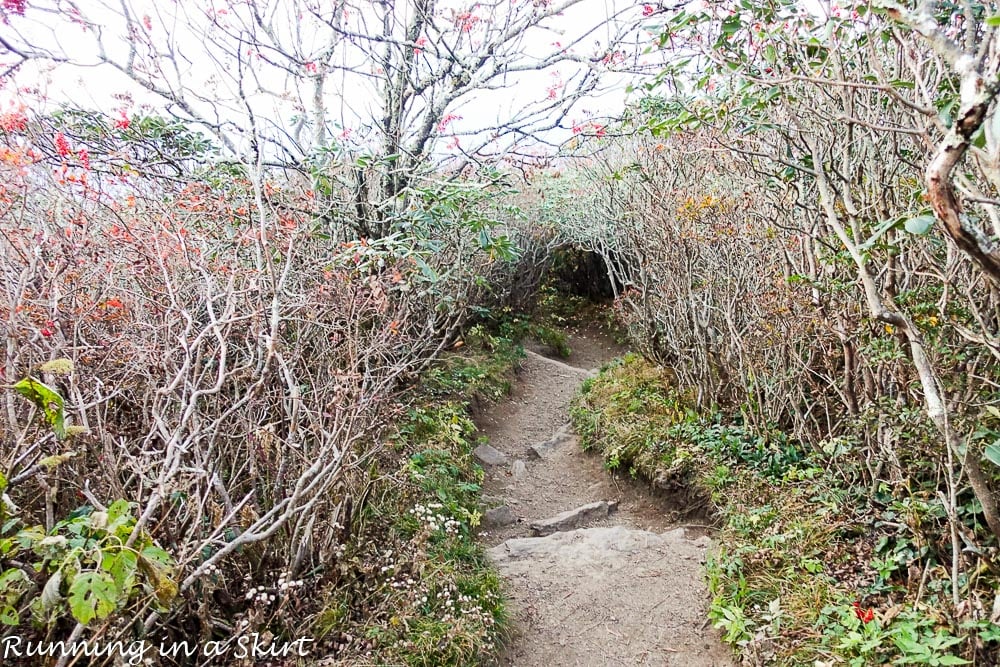 The reason I'm telling you this story is to hopefully inspire you to live more than just for the weekend. When I worked at the TV station my weekday schedule was so intense that I never did anything but work and workout during the week. I was in bed by 7 and hardly even saw the Hubs during the week. During that phase in my life I was literally living for the weekend. It was sad.
When I left WLOS, one thing I wanted to do was to live EVERY DAY, not just weekends. I did pretty good for awhile making sure I did things I loved during the week too, but I've slacked off recently. I've gotten wrapped up in my computer and I'm the first to admit that the Hubs and I have weekday TV nights way too much. We rarely leave the house after work on a weekday and we can be real homebodies. Beyond that he works hard, long hours and it's hard to do anything else most of the time.
But last Thursday, we had a small opportunity and we made it happen. It didn't go perfectly and we were rushed BUT we had an adventure on a Thursday night and it was awesome. I'm not saying each and every day should or can be spectacular, but I am suggesting to push your comfort zone and find something to do during the weekdays on occasion. It feels refreshing to shake things up a bit and live for more than the weekend.
It doesn't have to be anything fancy... you could find a new place to run, go to a new yoga studio, try a cooking class, go on a hike or even invite friends over in the middle of the week. I know first hand that work can make this very hard sometimes, but try to make the most our of your current situation.
Life is too short to constantly be wishing away those five days in the middle. If we weren't living for the weekend, Mondays wouldn't seem so gloomy... would they? Starting this week, I'm going to make a new effort to live for more than the weekends. This is your friendly reminder to try to do the same.
[fusion_builder_container hundred_percent="yes" overflow="visible"][fusion_builder_row][fusion_builder_column type="1_1" background_position="left top" background_color="" border_size="" border_color="" border_style="solid" spacing="yes" background_image="" background_repeat="no-repeat" padding="" margin_top="0px" margin_bottom="0px" class="" id="" animation_type="" animation_speed="0.3" animation_direction="left" hide_on_mobile="no" center_content="no" min_height="none"]Don't waste the 5 days in the middle. #Inspiration to live for more than the weekend. #motivation #hike #wnc Click To Tweet
Have a blessed Monday every one.
Also check out Craggy Pinnacle in Summer, Early June (when the rhododendron are in bloom) and August.
See you tomorrow for a Halloween themed candy smoothie!
I'm linking up with Marvelous Monday.
Your turn!
Do you live for the weekend?
When's the last time you've done something fun during the week?[/fusion_builder_column][/fusion_builder_row][/fusion_builder_container]