Thanks for stopping by Running in a Skirt! You can also follow me on Facebook, Twitter, Pinterest, Instagram. or subscribe by entering your e-mail address to the right!
People keep asking me "So how ARE you doing?" Since it seems to be a question running through my life right now, I thought I'd write a little bit about it here.
It's been exactly a month since my last day at WLOS and the dust is finally settling.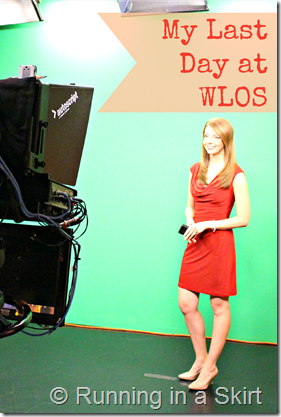 The last few weeks of July felt like utter chaos in my life. I knew I had made the right decision to leave the station, but going through the motions was nothing short of painful for me. I cried a lot. I woke up August first and felt like I had a hangover and I hadn't had anything to drink. I was physically and emotionally exhausted of being in that limbo stage. My hubby knew I needed some r & r pretty badly so he took me to the beach.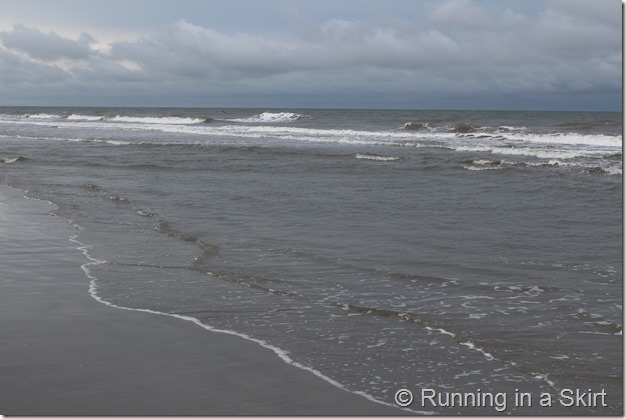 There was something about getting away and having some time to think and focus that made me stop my negative thoughts about the situation and really focus on all the good things that can now happen because I am not at the tv station any longer.
Sometimes you have to close one chapter in your life, to start something new.
Leaving WLOS for health reasons has given me the chance to start over. I have had this crazy dream to make Running in a Skirt a player in the blog world for some time. A positive place on the internet that is a go-to resource for fitness ideas, recipes, travel and fashion inspiration. I envision an online magazine for people with interests similar to mine.
I know it's a big dream.
But I believe in dreamers.
Especially big dreamers.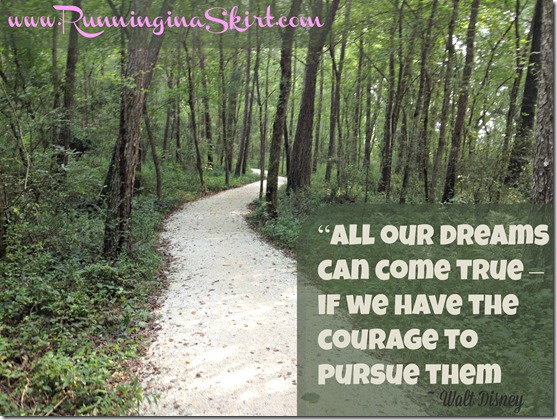 A teacher in High School told me I'd never make it as a news personality and look what happened. If you tell me I'm not capable of doing something, I'm even more likely to figure out how to make it happen. I halfway think that is why I latched onto running so much; because I once told MYSELF I could not do it.
Going into business for myself and building my own brand is scary and unpredictable but it is also bringing a flexibility to my life that I have needed for a long time. Some great opportunities are on the horizon and I am feeling really good about my future.
So how am I doing?
I am sleeping like a regular person and for the first time in my adult life and I don't permanently feel like a zombie. I am still occasionally waking up at 3AM but those nights are becoming less frequent. I am feeling pretty good and have not had one voice or asthma issue since I left and I am using much less medicine.
I see my husband more than 10 minutes a day and we eat dinner together every day. We even occasionally go out to dinner in the middle of the week. (I know! We live on the edge- haha) I had Mexican food at one of my favorite local joints on a Wednesday night and was so excited you might have thought I won the lottery.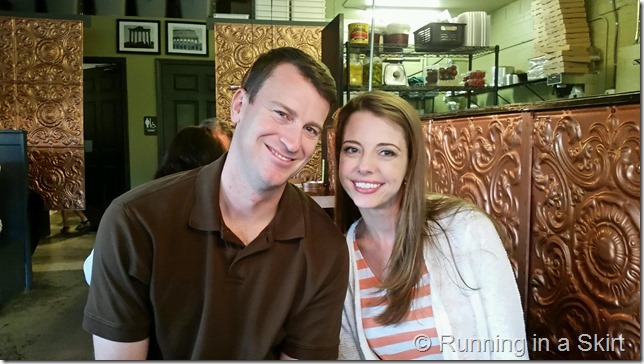 The blog is keeping me just busy enough. The best part is I get to decide when I work. I found out my hubby's parents were making a visit for my birthday so I worked really hard ahead of their visit and rearranged my days to have a Friday off to spend with them. That kind of flexibility is priceless.
Rhett and Reina and I go for more walks. They love my new life.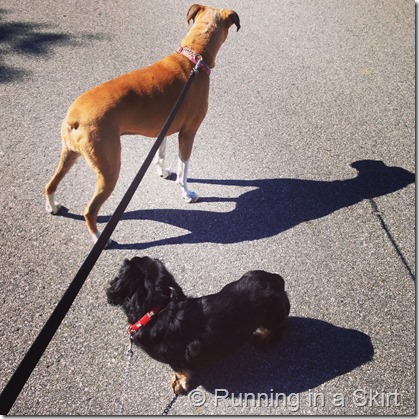 I am learning again! I have been working on my photography skills to improve Running in a Skirt and I have been having so much fun learning. I even got some lights for my birthday that have been really fun to experiment with and I signed up for a Fall photography class.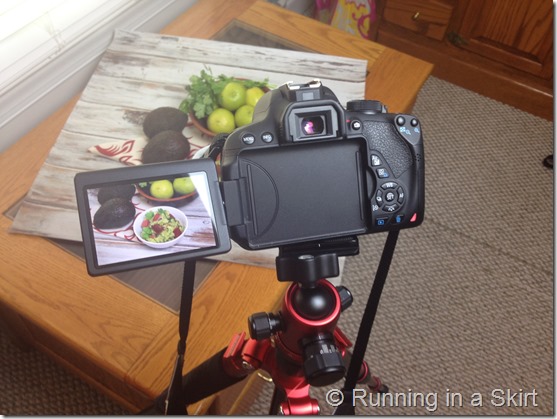 I miss the viewers and my morning co-workers terribly.
I also really do miss telling the weather. I walked outside one day in a summer dress and flip flops and it was raining and the high was in the 60s. I'm still laughing about that one. I decided it was time to start doing my own forecasts again, even if I wasn't getting paid to do it right now. I'd still love to find a way to incorporate a small about of weather into what I'm doing, but I haven't figured that out yet.
In fact that seems to be a common thread going through the past month. I'm still putting together the pieces of this new self made career. It seems to be a little bit of a puzzle, but it keeps coming together in the best way possible.
So, thank you so much for asking. I am doing just fine. In fact, I'm happier and healthier than I've been in a very long time.
How about another update about this time next month?
Your turn?
How was August for you?
What are you working on now that is new to you?[/fusion_builder_column][/fusion_builder_row][/fusion_builder_container]