Craggy Pinnacle and Craggy Gardens are the perfect stop to hike along the Blue Ridge Parkway. Come in June to see the rhododendrons in bloom.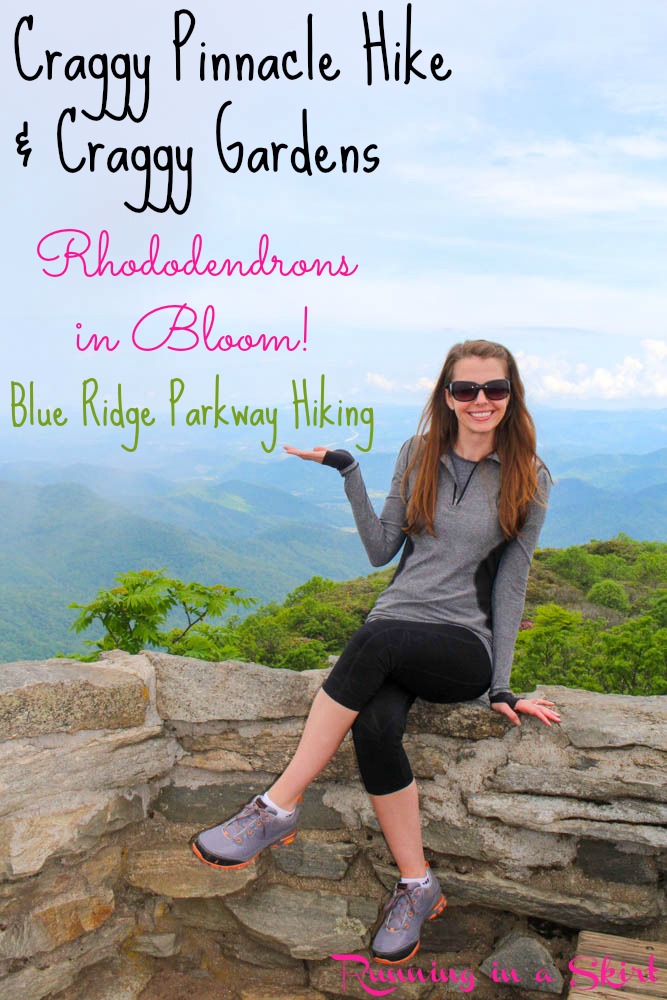 Happy Wednesday friends!
This week is flying by for me. Winter seems to drag, but time in summer seems to go by at warp speed. I want to enjoy as many "summer" activities as possible like hiking in these gorgeous mountains I call home. Yet, there never seems to be enough time!
Today I'm revisiting the Craggy Gardens hike I went on the other week. I mentioned it briefly in my Hiking Shoe Giveaway post, but promised more detail today! Btw, the hiking shoe giveaway is open until June 24th, so don't forget to enter!
The Craggy Gardens hike and Craggy Pinnacle Trail is one of my favorite easy hikes near Asheville. The hubs and I always have a great time going. This time around we started our adventure at Craggy Pinnacle.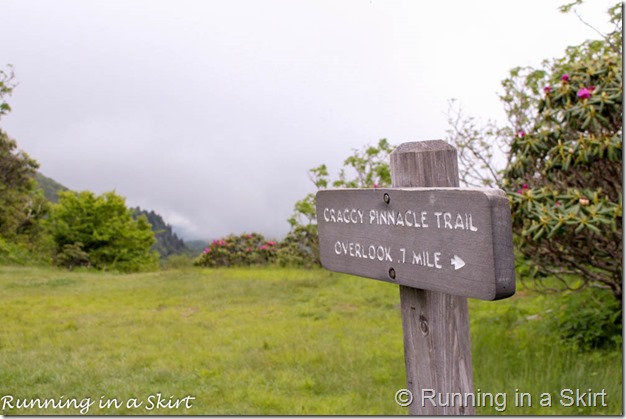 I have been a few times now, but never caught the famed rhododendrons in bloom.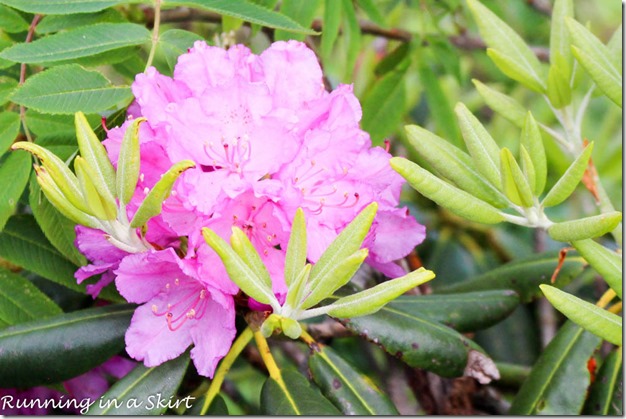 They were just starting to bud when we were there, but now (early to mid June) is the peak time to see them.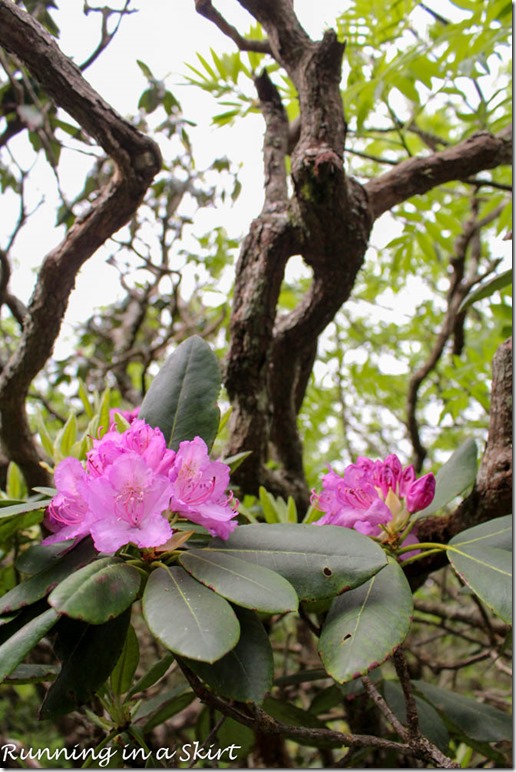 They were so beautiful and totally lived up to expectations!
The trail for the Craggy Pinnacle Hike is rocky and uneven at points and does gain 252 feet elevation. It's not for everyone, but it is a pretty easy hike for the area.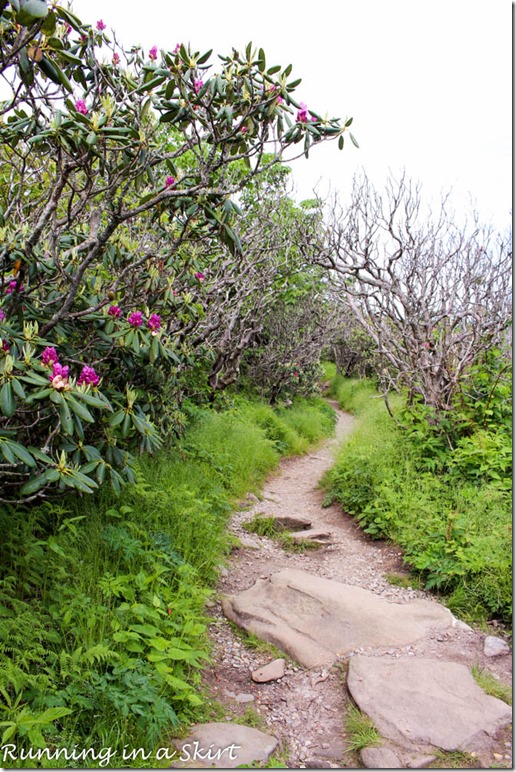 My favorite part is the tunnel of old twisty trees covering the path.
The weather is tricky and unpredictable at this elevation and it is hard to find a perfectly clear day to see down to the valleys! It seems like every time we go we dodge clouds, but it is still worth it. If you go, take a sweater because the weather can be 15-20 degrees cooler than Asheville.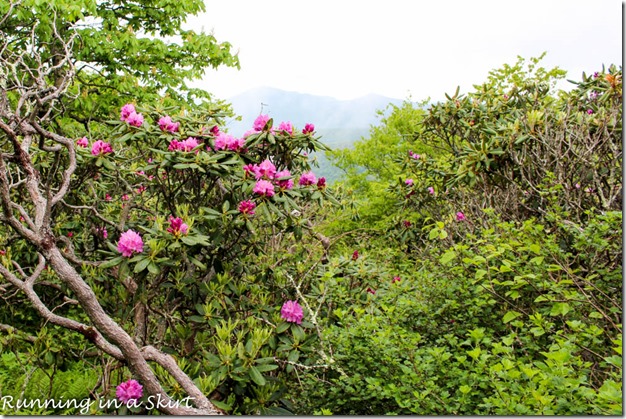 It's about a 1.5 mile round trip hike that goes from 5,640 feet to 5,892 feet.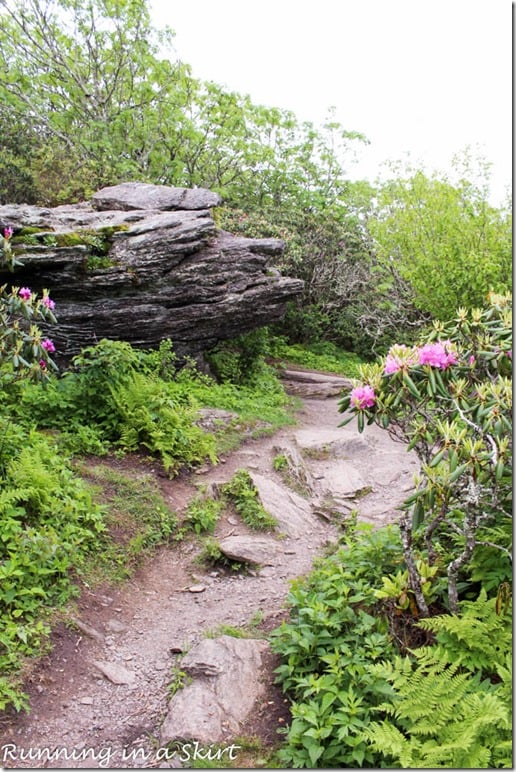 I just can't get enough of the flowers. The rhododendrons are spectacular and make the views and pictures even more beautiful.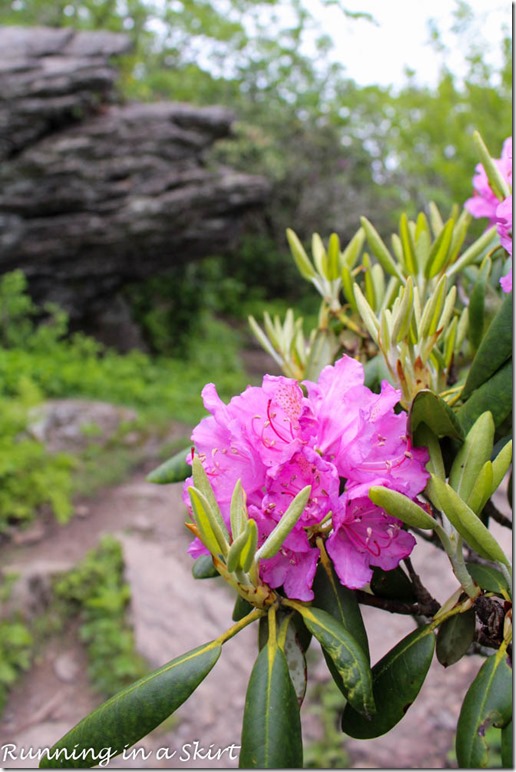 Near the top, there is a fork in the trail.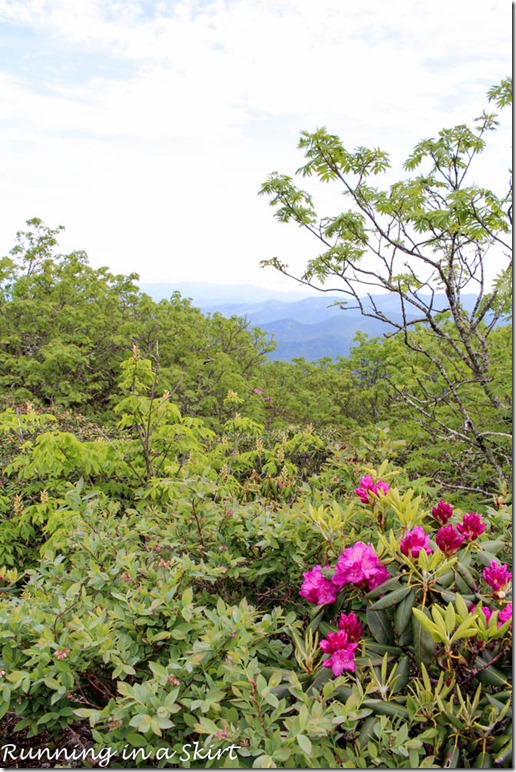 Take the upper trail to get to the pinnacle.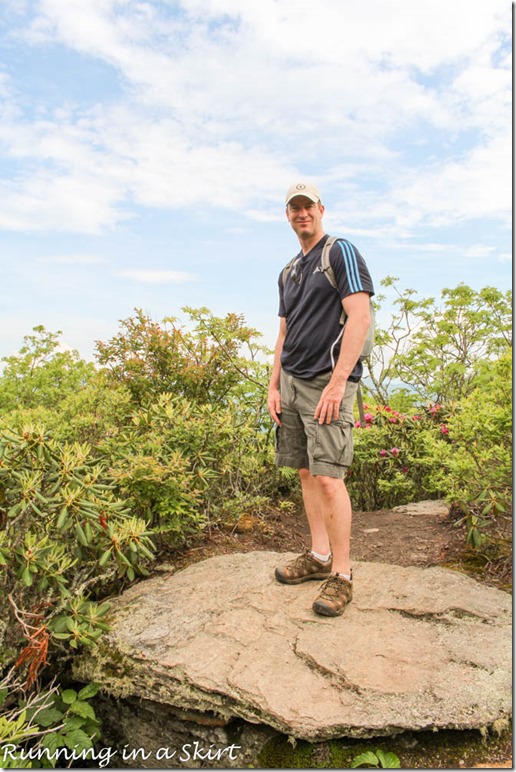 If you can catch a moment between the clouds, the views are so pretty! I especially love this time of year because of the contrast of the spring green foliage next to the Carolina blue skies.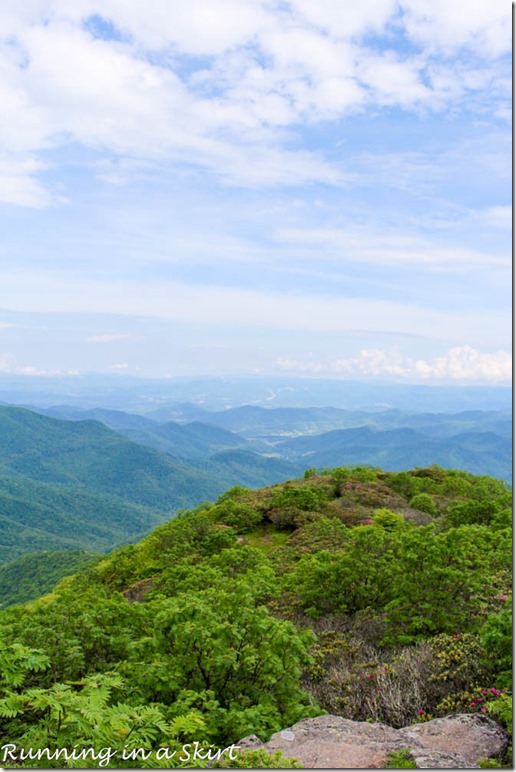 Do be on the lookout for pesky clouds and storms though! They can move in quickly. Look at those clouds!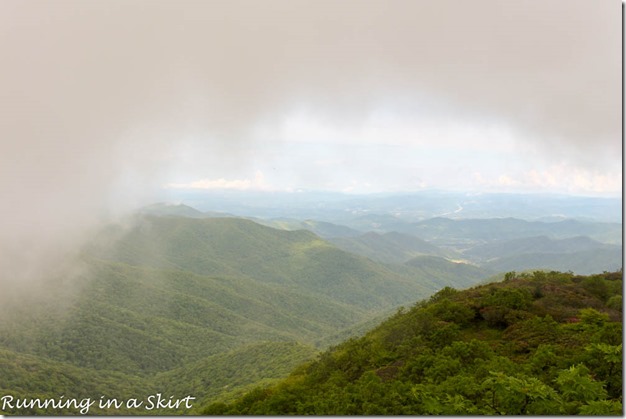 I always find the hike back down more tricky, but take your time and you will be fine!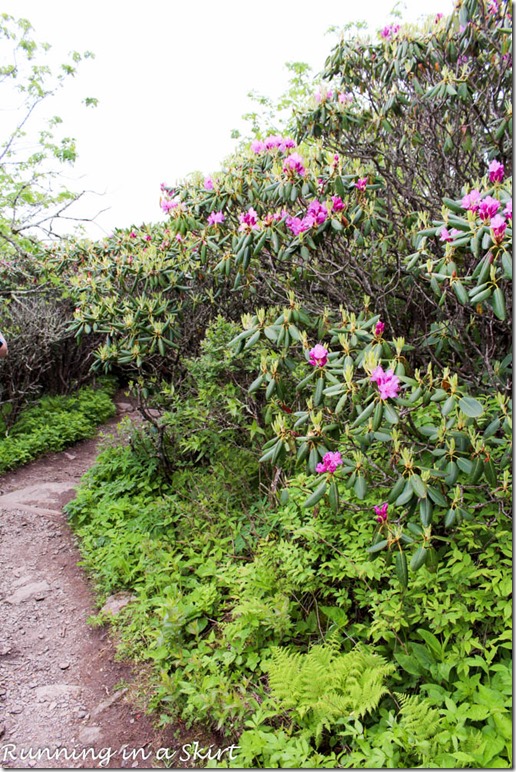 After enjoying the Pinnacle hike, the hubs and I went back to the Craggy Gardens hike area. The rhododendrons were a little more in bloom there (slightly lower elevation) and made for some gorgeous pictures.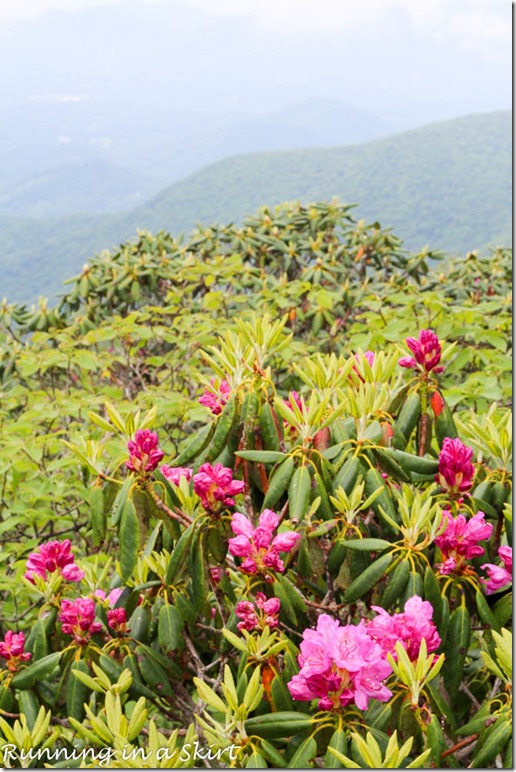 This alone made the trip worth it!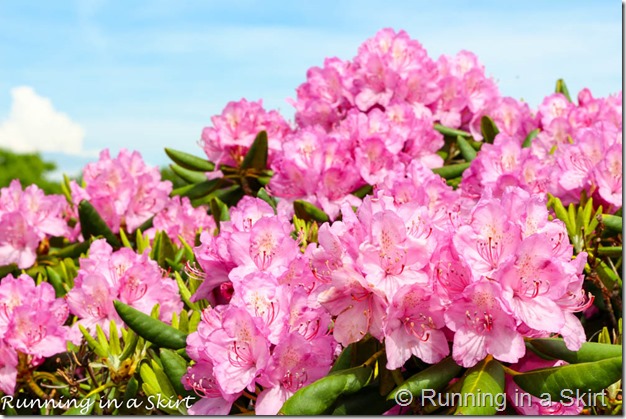 If you have any free time this time I year and you are in the area, I highly recommend the trip!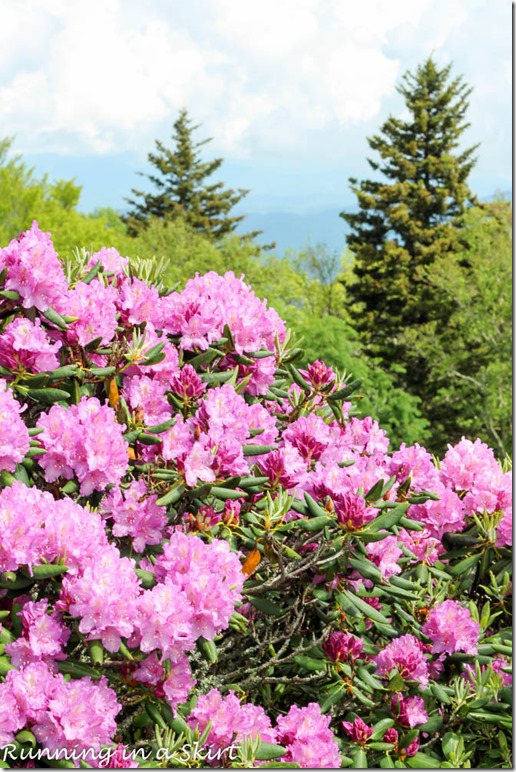 Travel tip: Driving North from Asheville the trip is only 24 miles, but takes closer to 45 minutes due to the slower speed limits on the parkway. Craggy Gardens is located at Milepost 364 and the Craggy Pinnacle Trail is just a short drive up at Milepost 364.4. Take a lunch and eat at the Craggy Gardens picnic area to make a day out of it!
Thanks for stopping by today! Come back tomorrow for a tasty and seasonal salad featuring strawberries. The homemade dressing is so easy and is made with ingredients you probably already have in the pantry.
I'm linking this post with Wild Workout Wednesday and Jill Conyers for Fitness Friday. Thank you so much ladies for the link up party!
Your turn!
Favorite hike? GO!