Happy Fashion Friday!
A few weeks ago I was itching to get some new fall clothes. (Little did I know I'd be wearing shorts for the next week... haha) I stumbled into Old Navy and found some really cute things including this maroon swing dress. Maroon is such a gorgeous color for fall and it is particularly popular this year. I decided to wear the dress last Sunday when we visited a local winery for Oktoberfest! The winery is in the middle of apple country, so we snapped the photos in an old grove.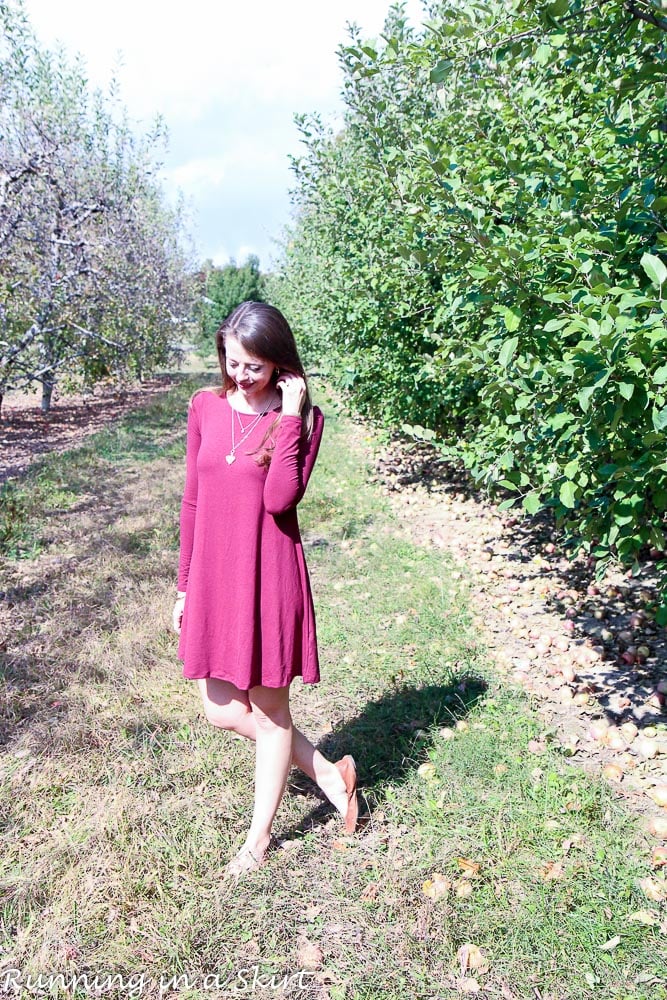 This isn't sponsored in anyway, I just really thought Old Navy had some cute casual fall stuff. Lots of tunics perfect for leggings and some dresses that will be great with tights and layers even through winter. This swing dress came in all sorts of colors and I might have come home and ordered the pink stripe one, black one and black and white stripe one. I liked it that much. It will be perfect for laying in the winter.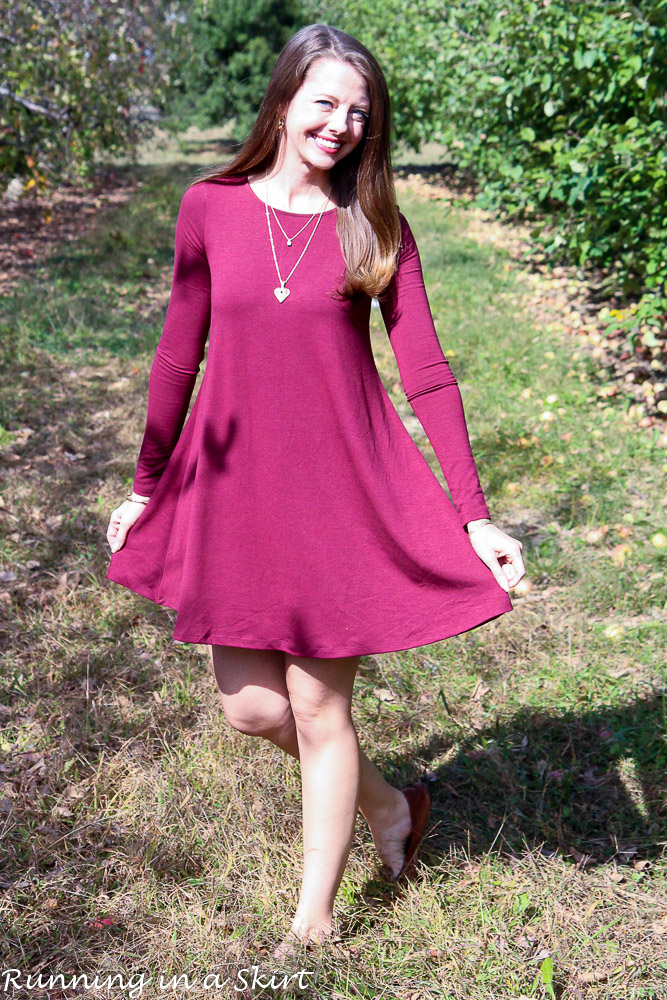 Bonus points because they are between $17-$30 dollars right now, depending on what color you choose.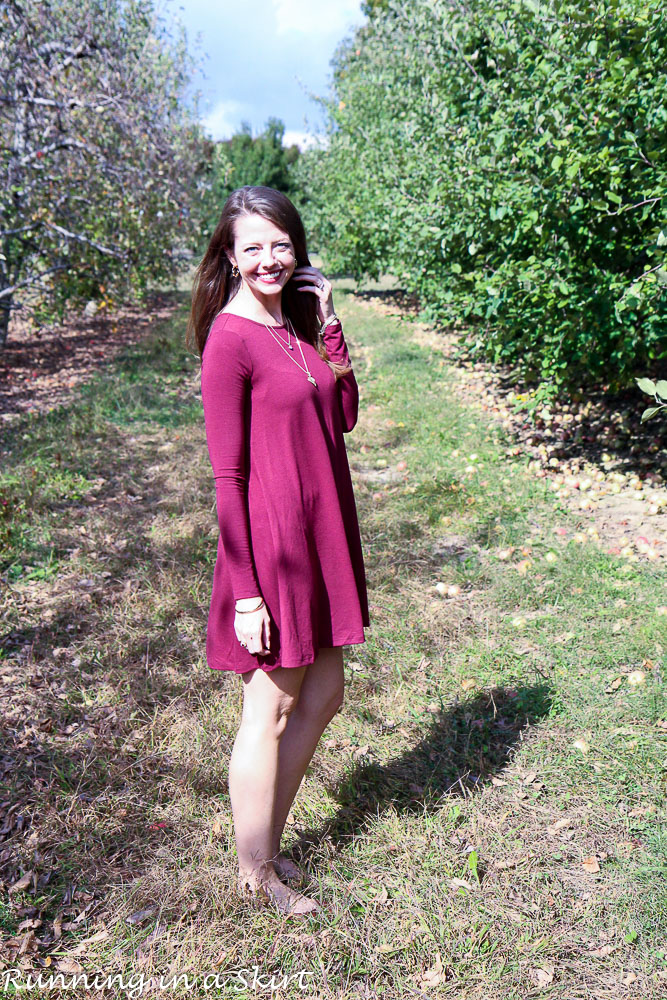 For this look, I layered the dress with a long necklace and added my favorite comfortable fall flats. I talked a few weeks ago about how much I love these shoes and still do. I could walk all day in them without my feel hurting.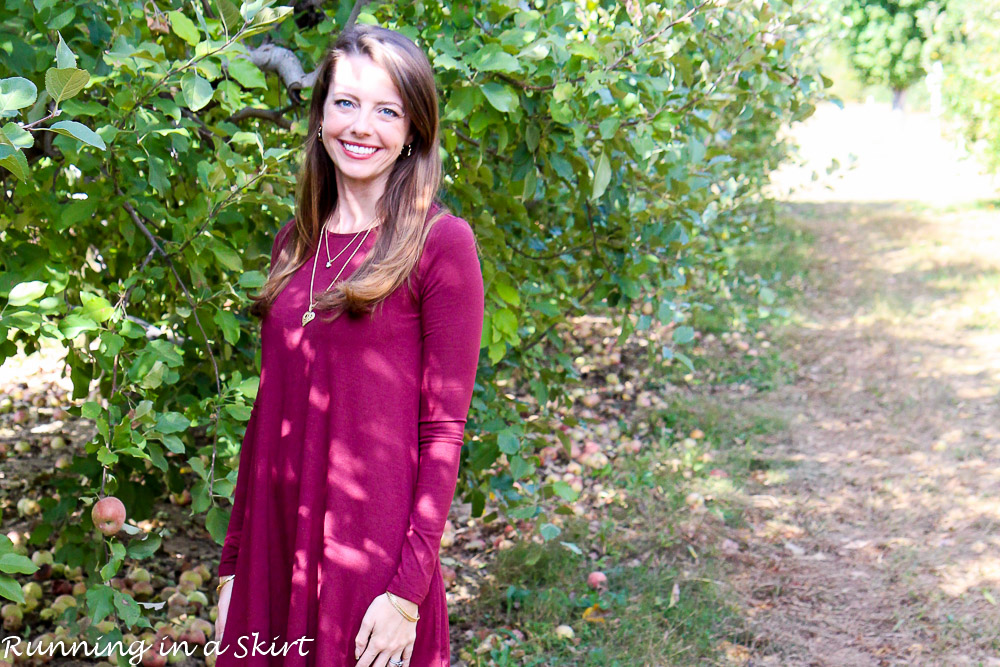 Later in the season I plan on piling on a big blanket scarf, tights and tall boots.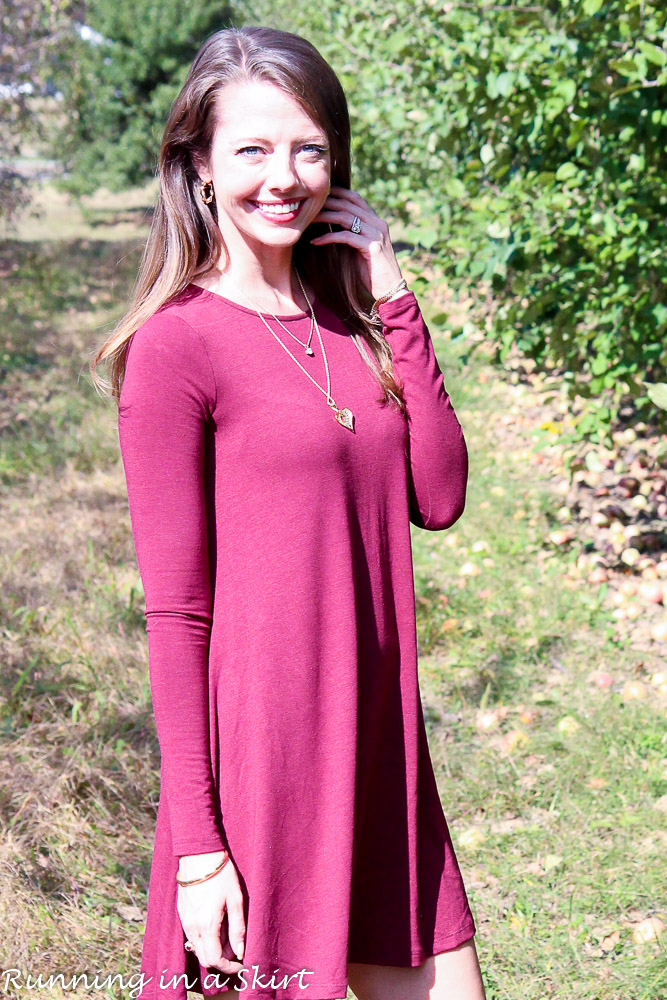 Either way the entire outfit comes in at less than $100, making it a total keeper!
[fusion_builder_container hundred_percent="yes" overflow="visible"][fusion_builder_row][fusion_builder_column type="1_1" background_position="left top" background_color="" border_size="" border_color="" border_style="solid" spacing="yes" background_image="" background_repeat="no-repeat" padding="" margin_top="0px" margin_bottom="0px" class="" id="" animation_type="" animation_speed="0.3" animation_direction="left" hide_on_mobile="no" center_content="no" min_height="none"]What a deal! Loving this Maroon Swing Dress for fall. #FashionFriday #ootd #fblogger Click To Tweet
Shop the Look:
Dress: Old Navy Marion Berry color
Shoes: Lucky Brand via Macys
Necklace: Old, similar HERE, HERE or HERE
So nice to see you today. Have a great weekend and come back Monday for some thoughts on weekday adventures.
This post is not sponsored, but contains affiliate links. I do make a small commission for clicks and purchases. It cost you nothing. Thank you for supporting Running in a Skirt.
I'm linking up with: Nicole for the Fit and Fashionable, Jolynne Shane for Fashion Friday, Turning Heads Tuesday. Thank you so much for the lovely linkup ladies
Your turn!
What color are you loving this fall?
What are you doing this weekend?[/fusion_builder_column][/fusion_builder_row][/fusion_builder_container]