Happy Fashion Friday!
I am finally starting to feel so much better. I still have a small lingering cough, but it's finally almost gone. This week has been all about catching up from traveling and getting ahead for my next trip.
This weekend I'm hosting a party with all ALDI ingredients! I've got all sorts of yummy recipes planned and I'll be sharing the shopping, prep-process, highlights on Instagram Stories Saturday. It should be a good time.
Couple of blog notes...
Make sure to check out my post sharing the highlights of my New York Trip and the best eats on the trips first!
There are still two giveaways happening on the site. First an EPIC $350 Value NOW Foods giveaway and a pretty awesome QALO Ring Prize Pack. QALO rings are super fun silicone wedding rings that are great for travel and an active lifestyle. It's free to enter and there are no strings attached, so make sure you put in your name. Directons to enter are on both of those posts.
Did you miss this?
Fashion Friday
In keeping with my theme of all things NYC on the blog this week, I took Fashion Friday on the road to the craziness of the city. I wore this outfit to see the Broadway show, The Great Comet. I know not everyone gets all dressed up to go to a show, but I can never pass on an opportunity to pull out something nice.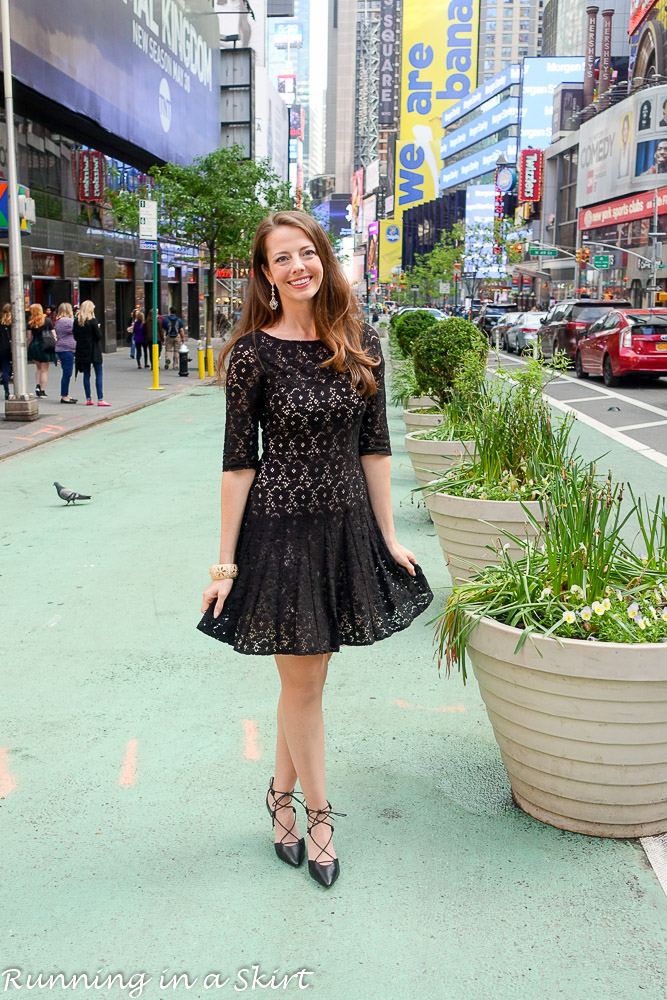 This is a dress I've had in my closet for a season or two, but it has been super useful for events like this. It's Betsy Johnson and I found it our our Dillard's Clearance Center for a steal! I think it was less than $30.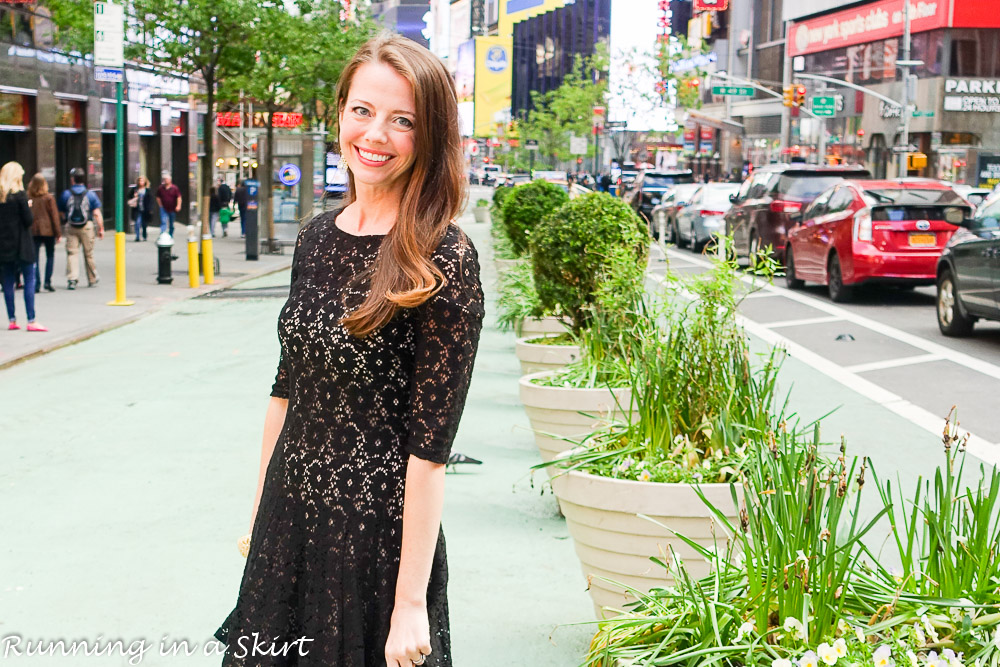 For accessories I went with large gold chandelier earings and a bangle bracelet.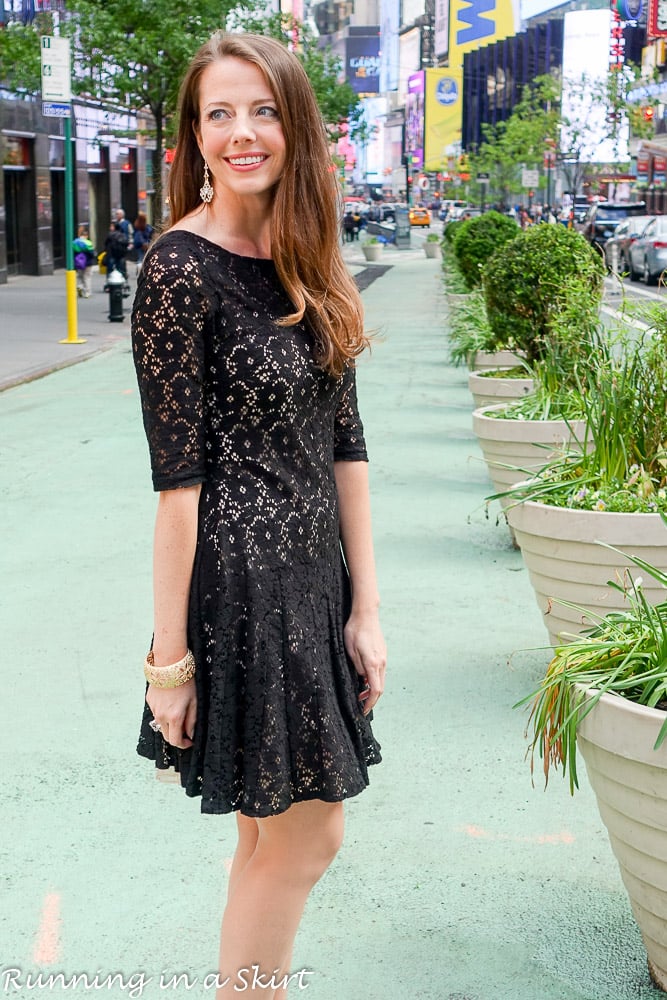 The shoes are one of my most favorite recent purchases. They are Sam Edelman heels. I love the way they tie and believe it or not they are actually pretty comfortable for what they are. I had no trouble walking in between our hotel, the restaurant and show in them.
I have had amazing luck with Sam Edelman shoes lately. They are a little pricier, but SO much more comfortable and wearable than a lot of brands.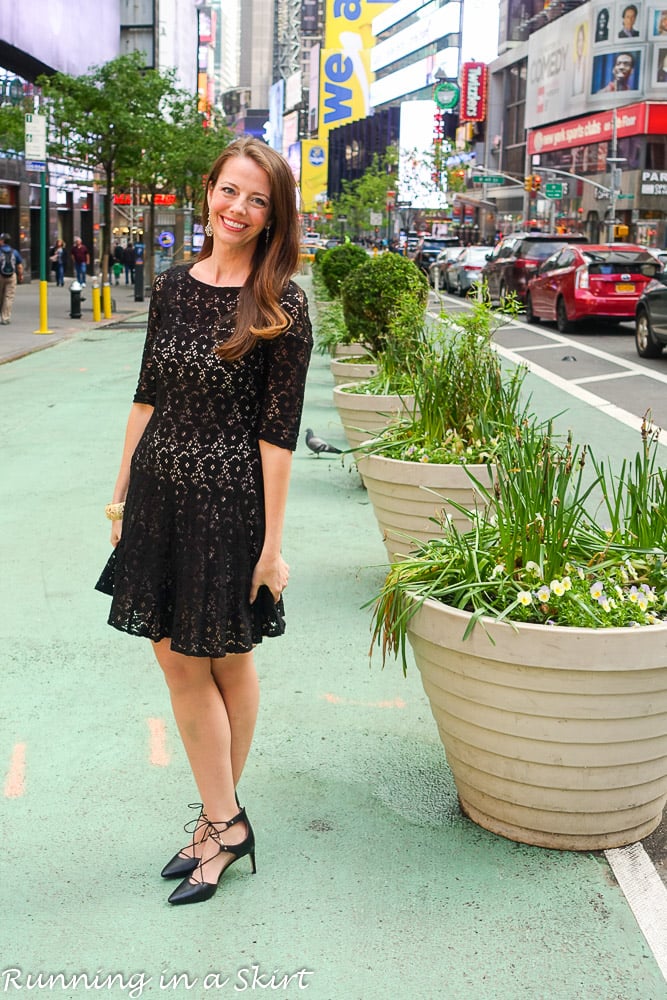 I think a classic dress like this is one everyone needs in their closet! You can wear it for years and keep it current with the shoes and accessories. Happy shopping and have an amazing weekend!
Shop the Look:
Dress: Betsy Johnson (old), similar HERE<---almost identical!, HERE <---less than $100 or HERE <--- less than $70. Also super cute---> HERE & Adrianna Papell for a steal HERE
Shoes: Sam Edelman
So nice to see you today. Have a great weekend and come back Monday. I'll be sharing more about ALDI including three different ways to make their fabulous quinoa with ingredients found in their store.
Your turn!
What are you doing this weekend?
This post is not sponsored, but contains affiliate links. I do make a small commission for clicks and purchases. It cost you nothing. Thank you for supporting Running in a Skirt.
I'm linking up with: Nicole for the Fit and Fashionable, Jolynne Shane for Fashion Friday, Turning Heads Tuesday. Thank you so much for the lovely linkup ladies